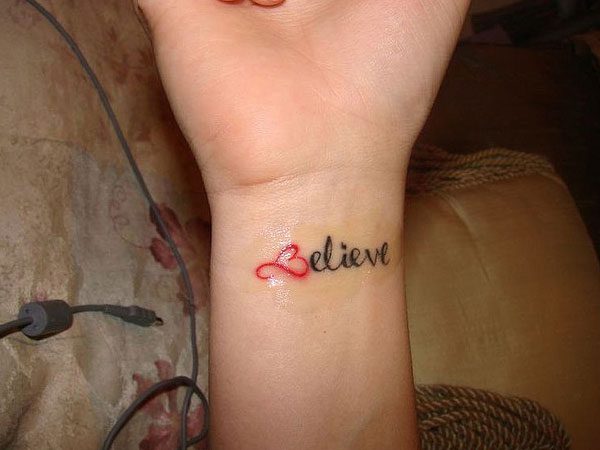 'Believe' is such a simple word yet packs in so much of meaning. This one word can change the destiny of a person and transform their lives into something pure, fresh, and rich. Your faith and belief in something or someone can uplift your life. When life takes an unavoidable tragic turn, it is important that you have something to hold onto so you do not easily give up.
The universe has powerful energy flows that we can tap for ourselves to enrich our lives, but only if we believe. For religious people, it can be their belief in the love of God. For old romantics, it can be a strong belief in the power of love. Or it can be that deepest core belief, to believe one's own self. Tattoos are one of the oldest forms of body art perfect in celebrating the beauty and magic of belief.
When it comes to Belief, a simple Believe tattoo has enough power to carry you through a lifetime. Many people get inked with Believe tattoos and Faith, Hope, Love tattoos on their wrist to remind themselves to believe in love, beauty, and goodness everyday. With so much of the positive energy surging through the universe, stars, butterflies, and vines can be the perfect decorative patterns to color a 'Believe' tattoo.
A simple underlined stroke flourishes and loops in key letters, or a pretty pattern of stars can be ideal to complete a Believe tattoo. Often, you may find the word tattooed alongside other positive inspiration words on the side of a foot. The word 'Believe' can also combine with a red heart or musical notes to make interesting patterns that you can use to start a conversation. You can also celebrate the magic power of self-belief with a neat red heart to replace the dot of the 'i' in a Believe tattoo.
Life is not all positive. Sometimes, you will encounter some roadblocks and it can get understandably frustrating. However, one thing you should not do is give up. Just believe that everything will turn up and push through with life. Continue to believe in beautiful designs as you look at these lively Believe Tattoos.
If you like this article, you might be interested in some of our other articles on One Word Tattoos, Life Death Tattoos, Tattoo Sayings and Let It Be Tattoos.
Believing In Love Tattoo
A red heart-shaped 'B' marks the powerful beginning of a love tattoo saying 'Believe' on the wrist with this Believe tattoo. This tattoo can get you to believe in the power of love.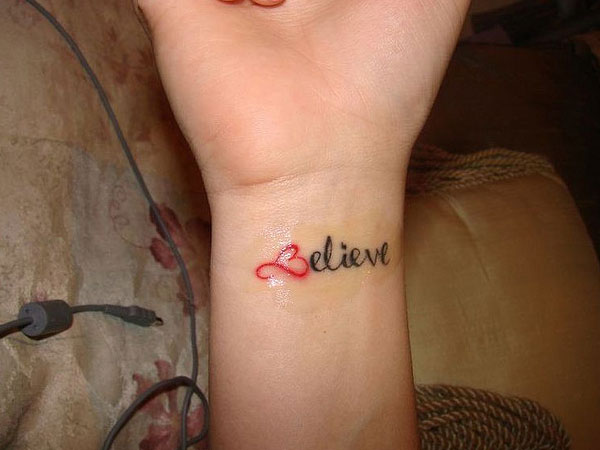 My Wrist Tattoo
Two little stars right after the 'e' make this a unique Believe tattoo on the wrist. The two stars at the end complete this Wrist tattoo.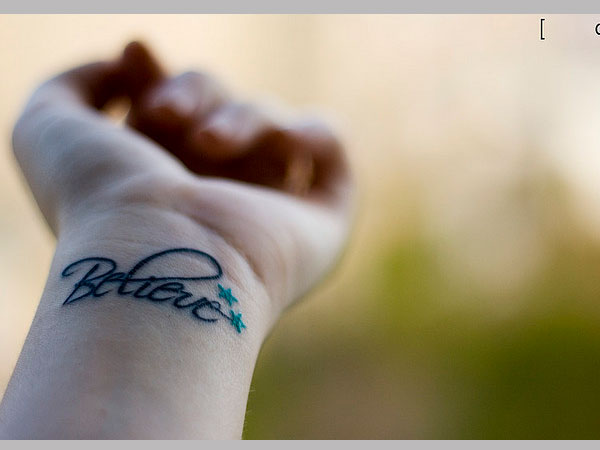 "I Believe" Tattoo
A loop each in 'B' and 'e' marks the beginning and end of this stylish one word Believe tattoo. This cursive script will surely add a classic accent to your tattoo.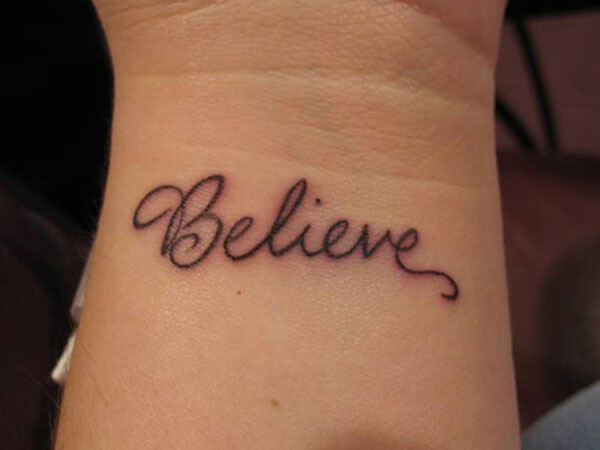 Believe On My Wrist
Italics and loops mark this retro style classy one word Believe tattoo on the wrist. Choosing a different script will allow your tattoo to stand out from the rest. Putting it on your wrist acts as a reminder that you should not give up.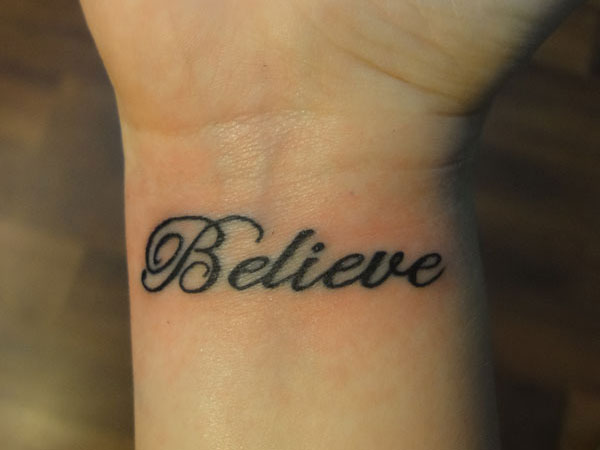 Just Believe
Done in a casual everyday font this simple wrist tattoo emphasizes the power of continuing to believe in every moment. The underline below just highlights your Believe tattoo. This simple tattoo will definitely brighten your day whenever you see it.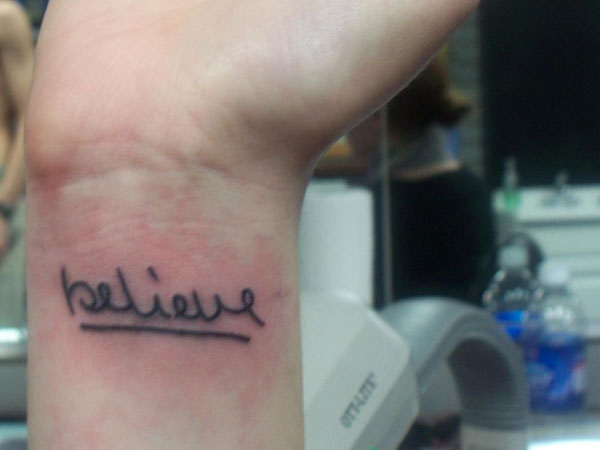 Just Believe
Foot Believe
Styled in a mass of loops and curls this is a pretty word tattoo in black ink for a girl's foot. This tattoo can make your foot look so much better.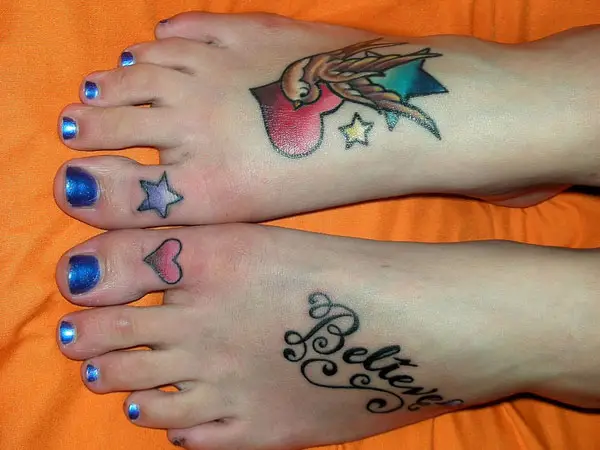 Religious Tattoo
The cross right through the red heart in this Believe tattoo makes it a powerful showcase for religious belief. This Believe tattoo just pays homage to your underlying faith in God. When life throws some lemons on your way, seeing this Believe tattoo will remind you that you just need to believe in God.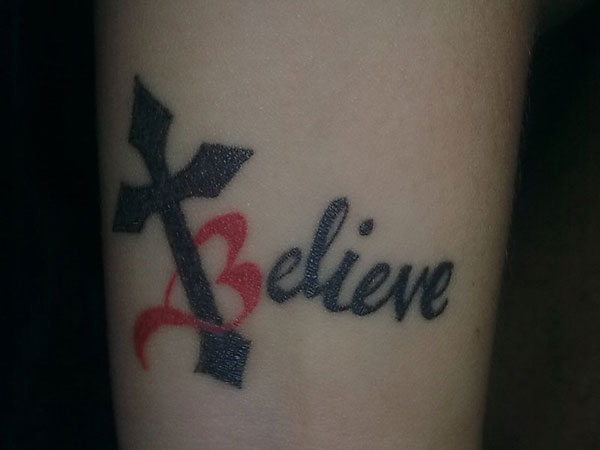 Powerful Belief
The red ribbon that symbolizes AIDS and the word 'Believe' come together to make a powerful message in this tattoo design. This Believe tattoo shows its support to the HIV/AIDS community in their fight against the stigma. AIDS is a human condition that patients should not be ashamed of. Getting inked will surely send off a strong message.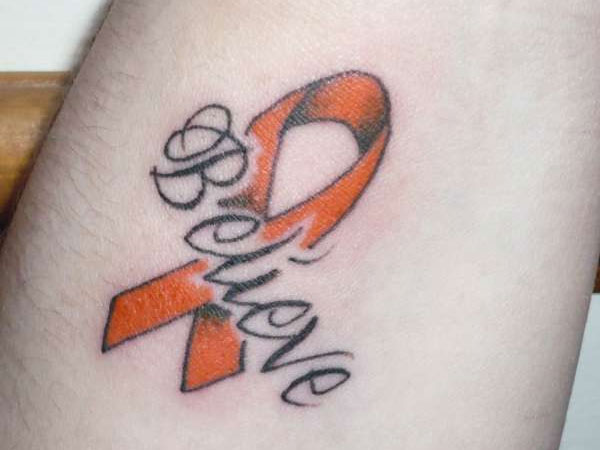 Colorful Belief
An artistically inked cross comes together with a colorful wavy pattern in this inspiring Believe tattoo. This colorful Believe tattoo will definitely make your skin look pretty. Whichever body part you choose to get inked, it will definitely get accentuated.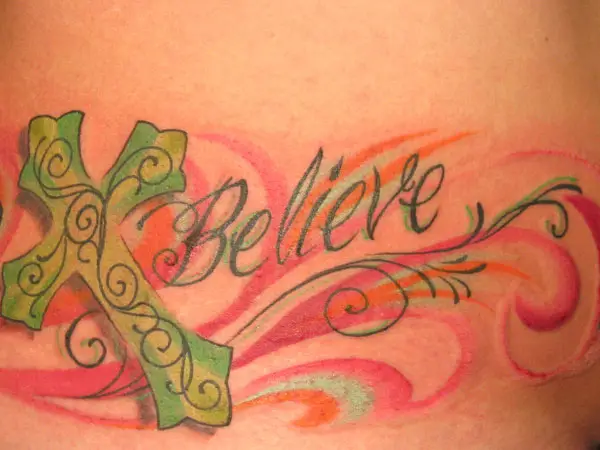 Believe Everyday
The side of the palm with its long shape makes for a great place to get inked with this Believe tattoo. Inked in a Medieval English font, this Believe tattoo adds a pretty motif.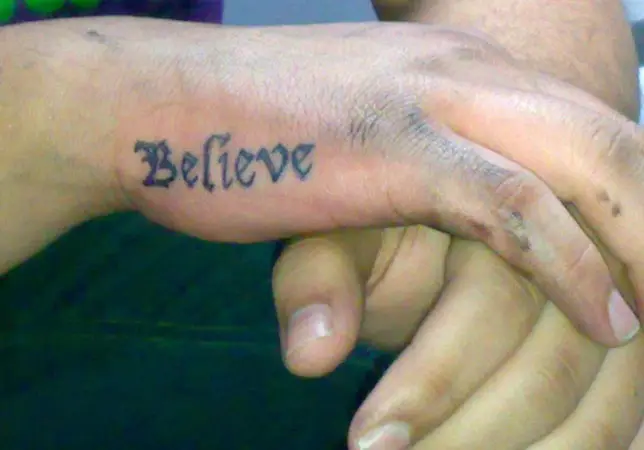 Fresh Tattoo
Inked in uniform letters in an italics style this is an elegant Believe tattoo in black. This Believe Tattoo is written in a script font that would make your wrist elegant. This black ink will surely get someone's attention.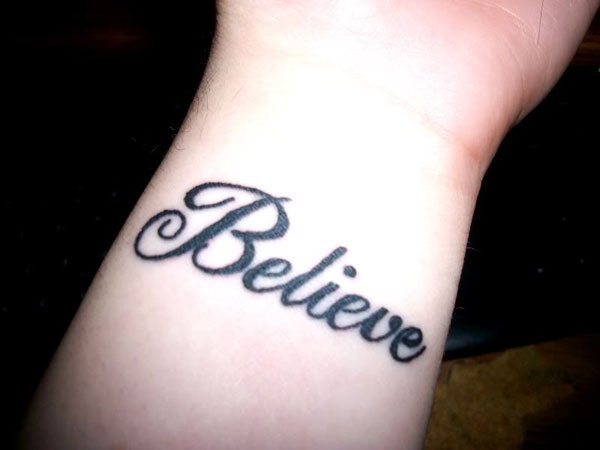 Formal Font Tattoo
The 'B' is styled with a huge flourish to add a touch of drama to this simple Believe tattoo on the wrist. This tattoo design will highlight your wrist and have your wrist look good with a rustic bracelet.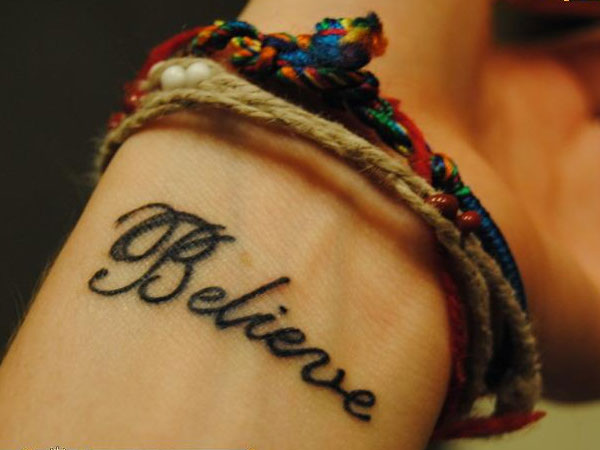 Formal Font Tattoo
Believe In Peace
Believe in peace, says this elegant word tattoo inked in pure white on the wrist. This is one tattoo that you normally won't see unless you know what you are looking for. White ink tattoos are a recent trend that make your wrist stand out.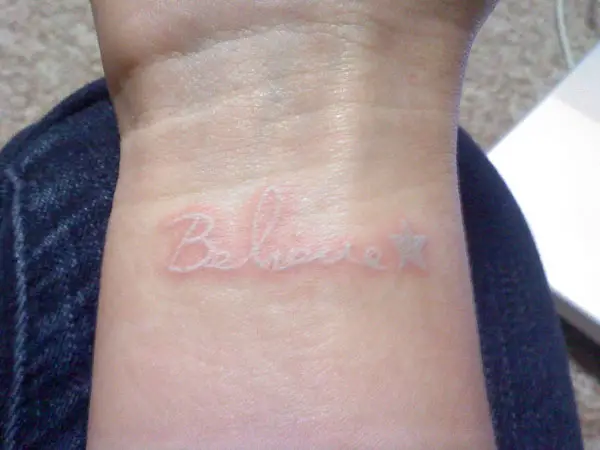 Strong Belief
This Believe tattoo on the wrist is inked in a strong font and underlined with a flourish for a bolder effect. You will never consider your wrist as plain and boring after you get this tattoo design.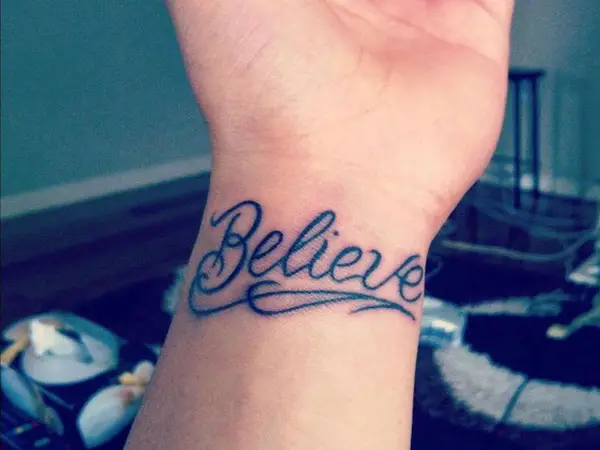 Love Tattoo
The 'B' shaped like a cute red heart is a pretty touch on this Believe tattoo. This Believe tattoo starts with a cute and cheeky red heart that allows you to believe more on love.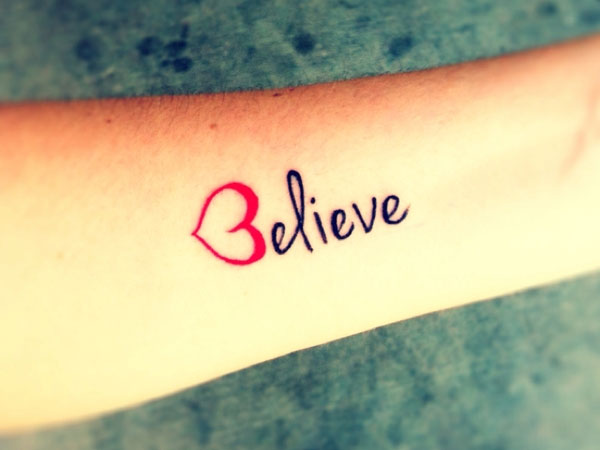 Love Tattoo
Leg Tattoo
Strong lines in a bold font mark the letters of this Believe tattoo. This is one fantastic and inspiring way to accentuate your leg.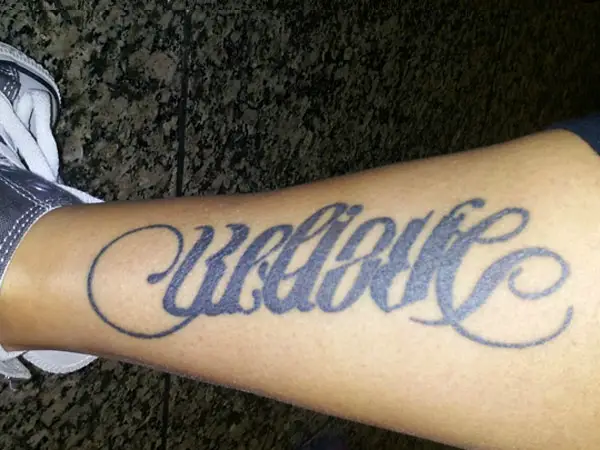 Word Tattoo
The strong swirls and loops add an old-style classy look to this 'Believe' tattoo. The more you age, this Believe tattoo will look much better.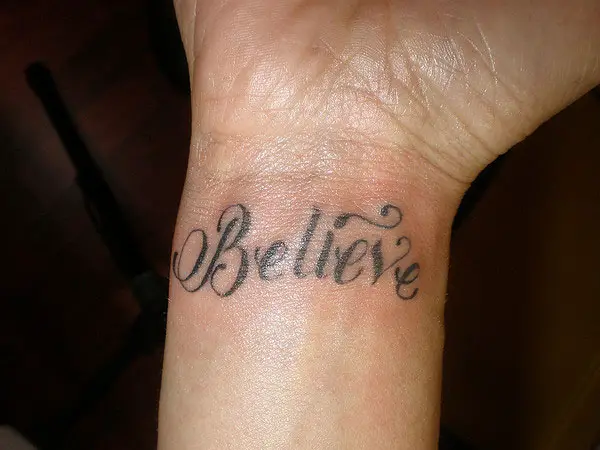 Simple Tattoo
You can get the simple yet powerful word 'Believe' word on your wrist in a regular font to look at everyday, especially during the trying times of the day. Sometimes a simple tattoo is enought o remind you of your belief.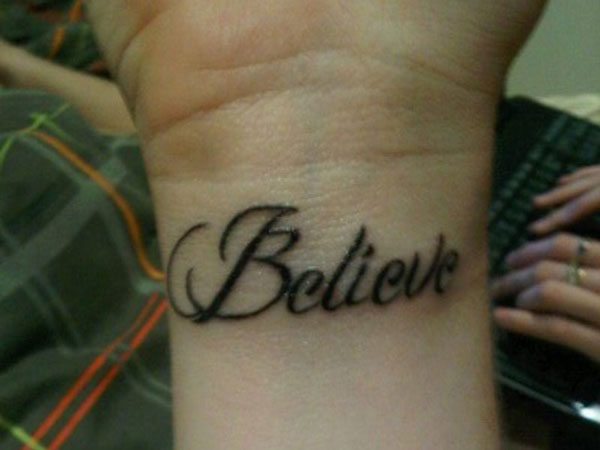 Touch Of Pink
This elegant word tattoo in black ink has a pink touch for a colorful effect. This is one way to add some colour into an otherwise black tattoo. It also shows to people that you have some flair.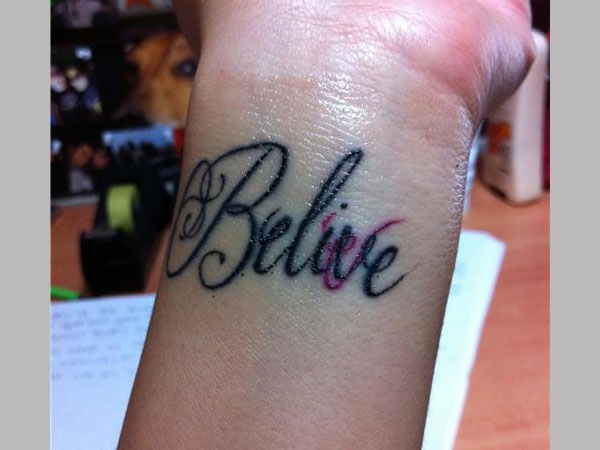 Music Love
Believe in the power of music, says this tattoo that cleverly combines the 'Belief' tattoo with musical notes in the design. For musically-inclined people, this is quite a great tattoo to ink on your wrists.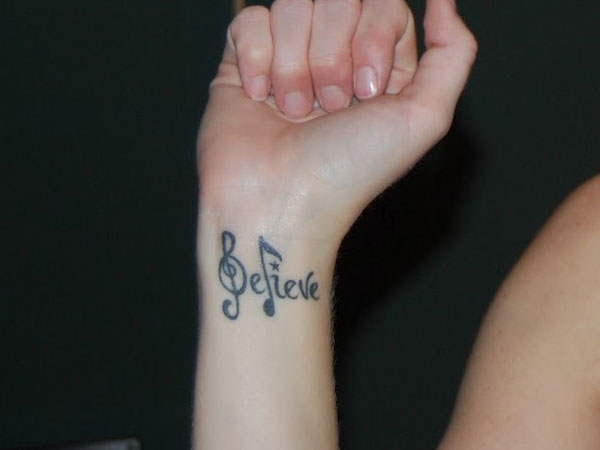 Tattoo On My Foot
The side of the foot is long enough to get an elaborate Believe tattoo in a formal font. This foot tattoo allows you to wear sandals and heels with a simple foot tattoo.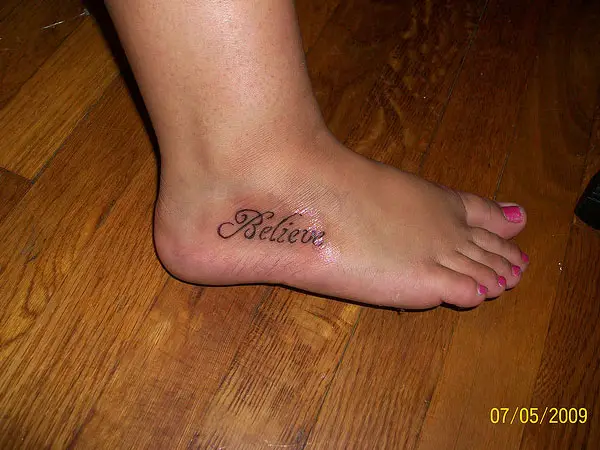 Powerful Tattoo
Strong angles and straight lines add power to this graphic design style Believe tattoo. This bold tattoo on your bicep can show how strong your belief is.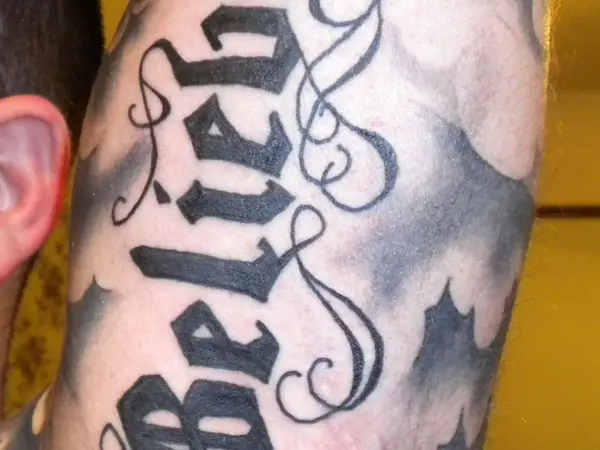 Red And Black Tattoo
Red and black combine dramatically in this word tattoo written in a small hand. This tattoo highlights in red the word lie inside the word Believe which could have some deep metaphorical meaning for the person.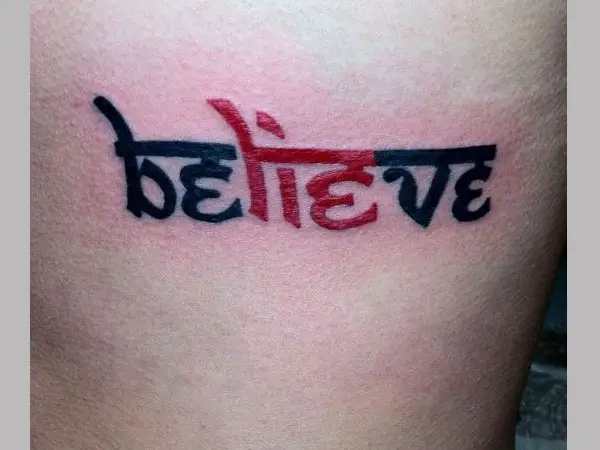 Manga Inspired Tattoo
Orange shades and stylish spikes mark this elaborately styled word tattoo on the leg. If you are fan of Rock, this Believe tattoo will surely get you intrigued. Done with wavy lines, this tattoo can get anyone's attention.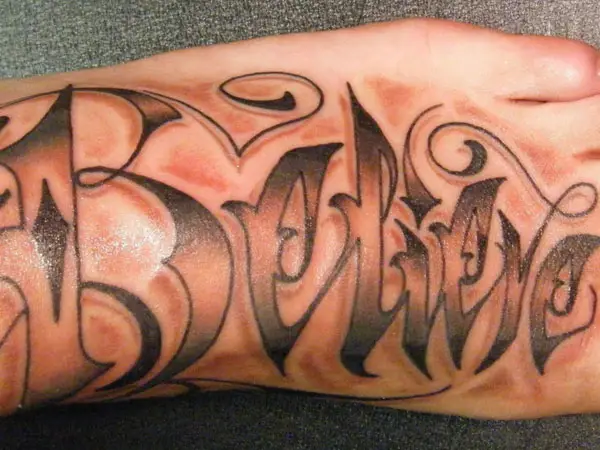 Girly Tattoo
Inked in pure white this is an elegant 'Believe' tattoo to showcase on one foot. White Ink tattoos are great as it stands out from the usual dark colored ones. This means that you would have to really look closely before you see it, which can be an allegory to one's belief.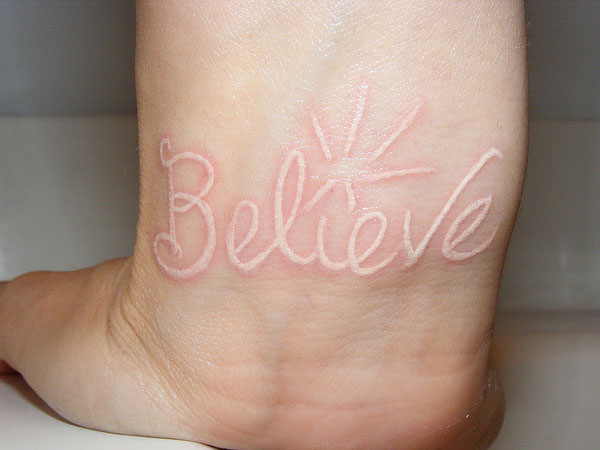 Spring Tattoo
The patterns of spring bloom in eternal combinations in this beautiful Believe tattoo with stars and butterflies for decoration. Butterflies, Stars, and Leaves decorate this Believe Spring Tattoo design.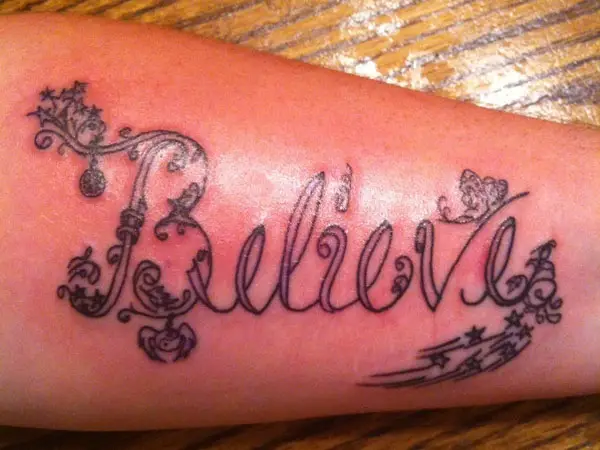 My Colorful Tattoo
Colorful patterns of stars, a butterfly, and pretty vines add decoration to this Believe tattoo. This person said screw simple and just went all out with the additional designs like butterflies, stars, and even a peace sign. Using Blue ink, this tattoo stands out even more.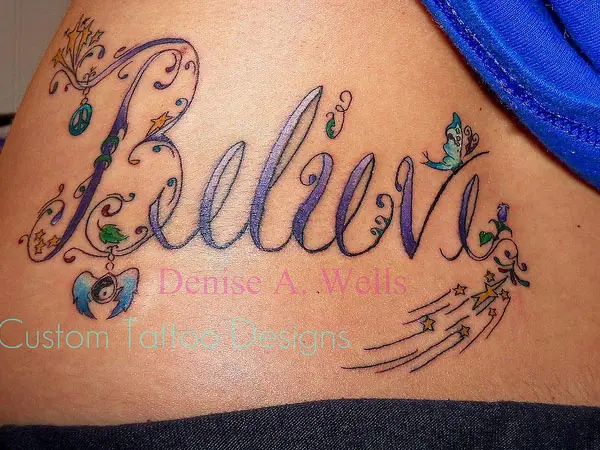 Art Of Lines
A rich pattern of curvy lines sits inked below this stylish Believe tattoo. This Believe tattoo is designed with wavy patterns and shades that would make your tattoo look simplistically elegant.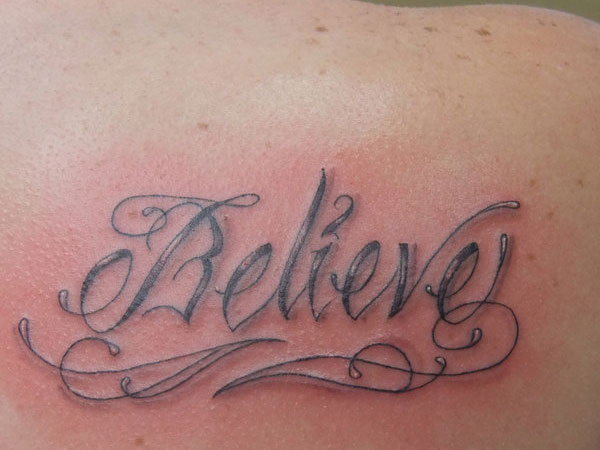 Art Of Lines
Shadow Art
A lighter shadow style repeats the flowing lines of this powerful word tattoo. With just a few black lines and shades, this Believe tattoo is given an additional shadow.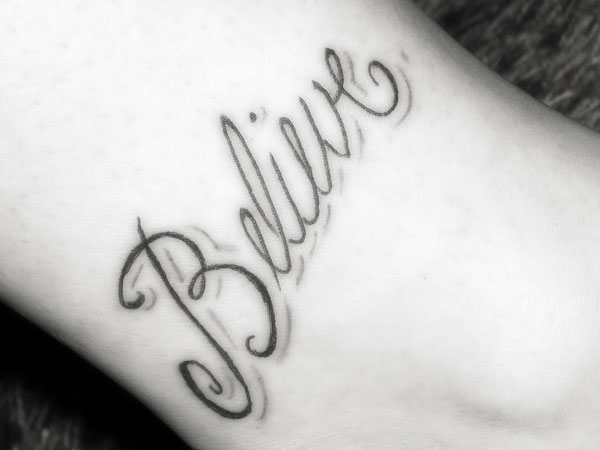 Stylish Believe Tattoo
The lines of this Believe tattoo get a touch of drama from the elaborate mass of swirls and the red heart-shaped 'i'. Flair and drama is added into this Believe tattoo making it so much more decadent on the eyes.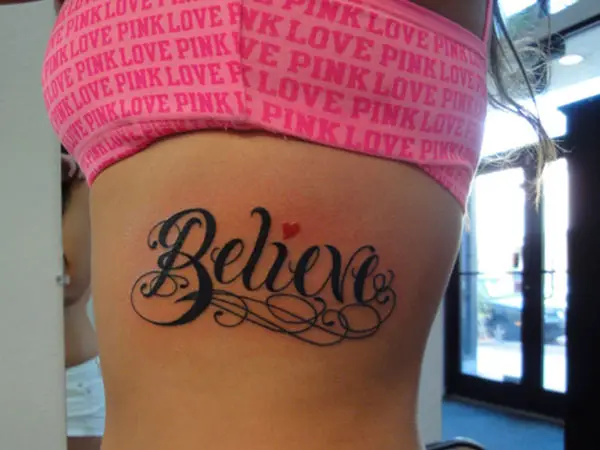 Be Live
Inked in a small hand this simple tattoo in black sends out a powerful message to believe. Simple yet elegant, this tattoo makes sure that its message is sent out properly.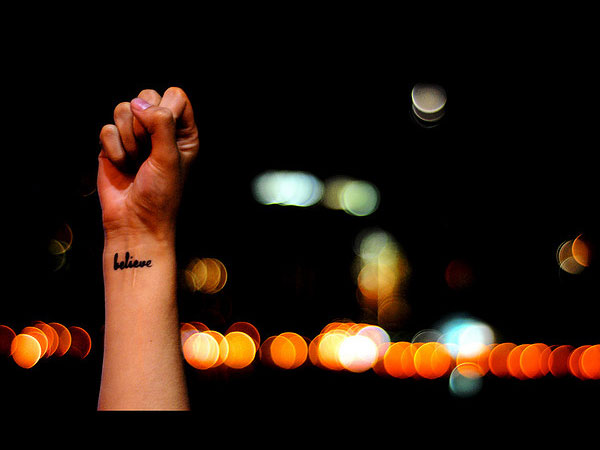 Delicate Tattoo Design
Note the fine line that finishes off this stylish Believe tattoo on the wrist. Don't undermine this small tattoo as it still sends out a strong idea.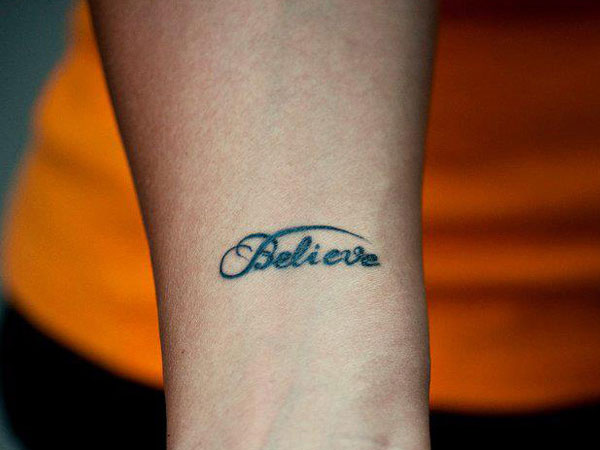 Life Inspiration
The word 'Believe' sits among other life affirming powerful words in this beautiful tattoo on the side of the foot. Trust. Believe. Dream. Dare. Four important words to live by.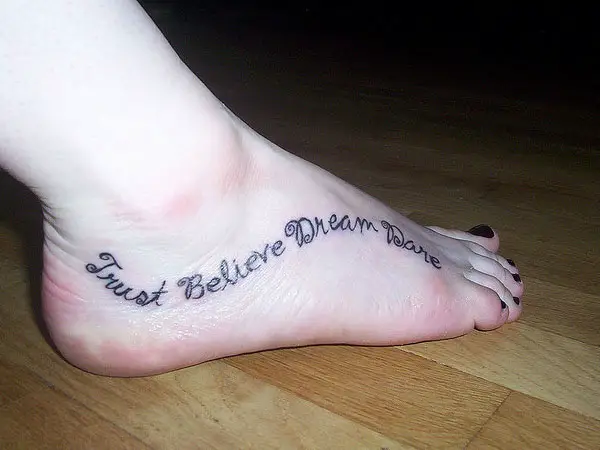 Life Inspiration
Yes, Believe
Inked in a flowing cursive font this narrow style Believe tattoo looks really elegant on the inner wrist. This simple tattoo just gives off a straightforward message that make your wrist look better.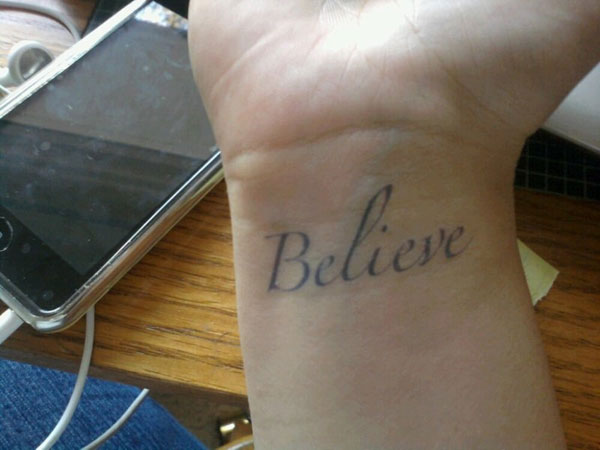 Note To Self
Styled in a strong cursive font this simple phrase tattoo is all about believing in one's own self. This message helps not only the wearer but also anyone who sees it. You never know who you run into on the streets that might need to hear or see this message.