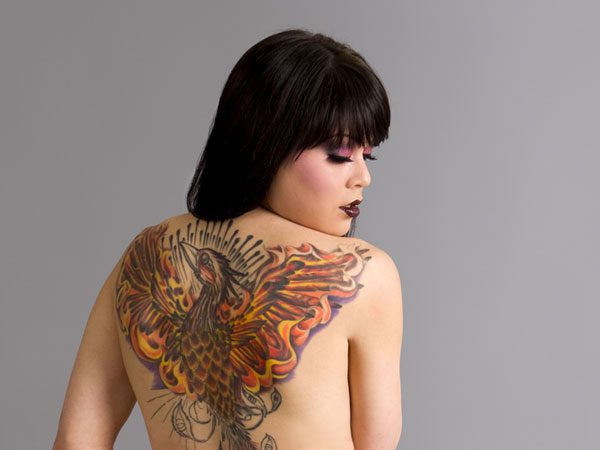 The graceful forms of birds make for beautiful tattoo designs. Ever since the earliest human looked upward and saw birds flying, the desire to fly has been a part and parcel of our existence. Many people express their dreams of flying with colorful bird tattoo designs. Birds not only express the wish to fly, but also the urge for freedom beyond restrictions. The flight of birds in an open sky is a common theme of tattoos celebrating a free spirit.
Brightly colored bird tattoos celebrate the joy of life. Birds and flowers have a sweet and natural relationship, so birds are often inked in floral tattoos. A colorful hummingbird is shown hovering near a hibiscus flower, in many bird tattoo designs. The spread out wings of birds add beauty to a tattoo. Birds flying in a regular formation, are often inked in vertical design back tattoos. Many people also go for bright and hopeful tattoos showing colorful songbirds. Vibrantly hued birds on a bare wintry branch express the hope of new life. Birds also feature in powerful myths. The phoenix tattoo, for example, celebrates the theme of transformation. The bird of death, the vulture, inked alongside a skull, expresses the idea of mortality.
Proud Fire Bird Tattoo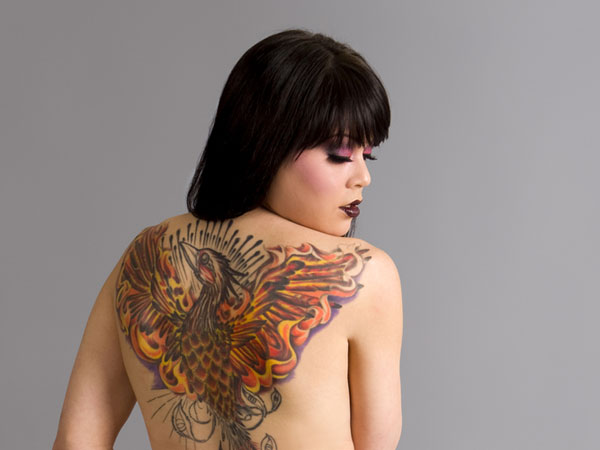 A proud phoenix with wings of fire is tattooed on the woman's back.
Patterns Of Bird Tattoo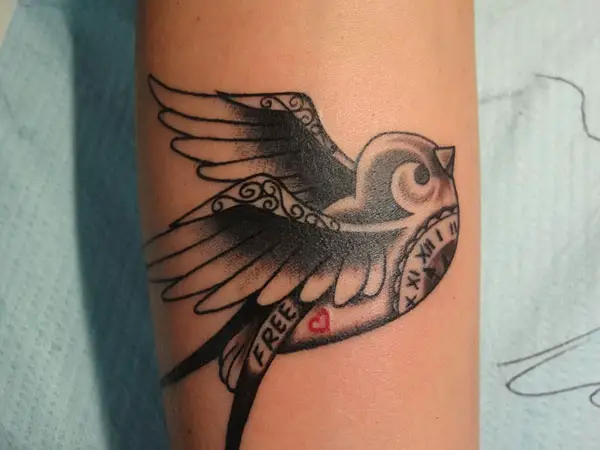 The swallow motif displays a clock with Roman numerals, a red heart, and the word 'Free'.
Cute Little Owl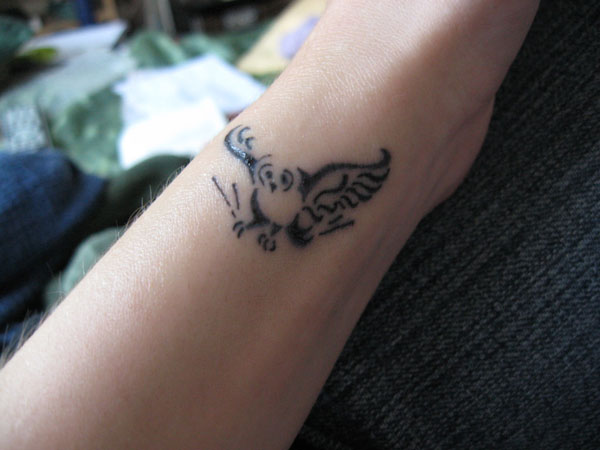 Curvy dancing lines have been used to ink this cute flying owl tattoo.
Sensuous Upper Thigh Bird Tattoo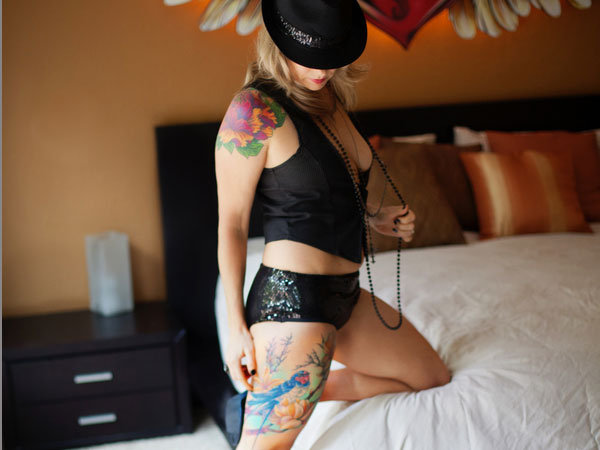 The shaded blue bird among colorful flowers looks sensuous on the upper thigh.
Sensuous Upper Thigh Bird Tattoo
Music Flow Tattoo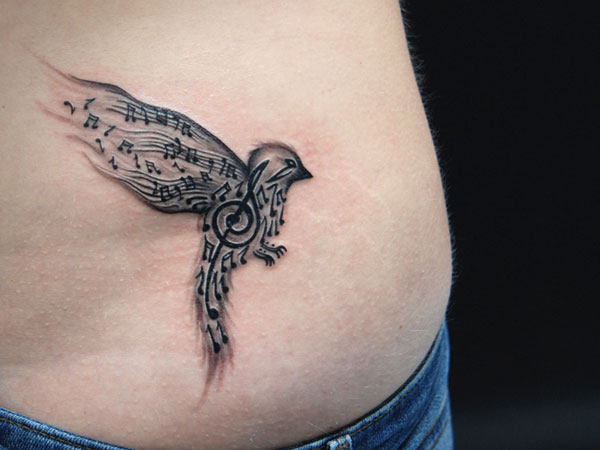 Musical notes flow through the delicately shaded bird design.
Free As A Bird Tattoo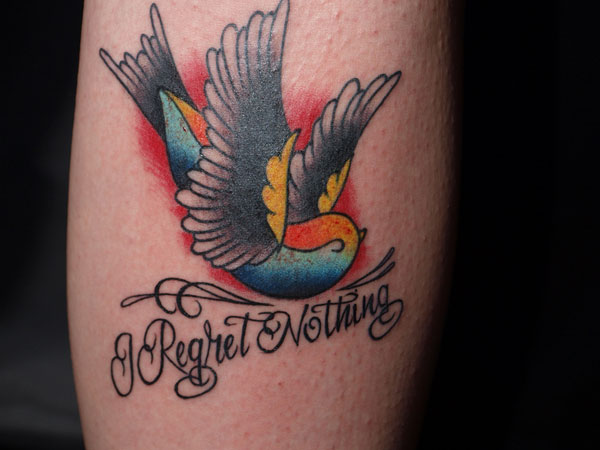 A bird in bright cyan, gold and gray shades has the text 'Regret Nothing' below the design. Red hues surround the bird.
Frame With Birds Tattoo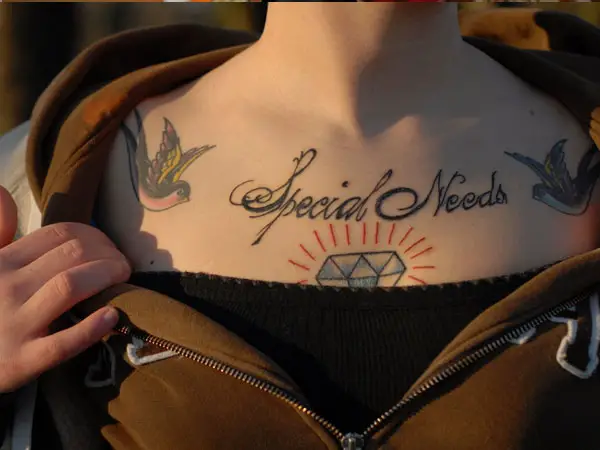 Two symmetrically inked swallows frame the cursive font text 'Special Needs'.
Flowerbird Tattoo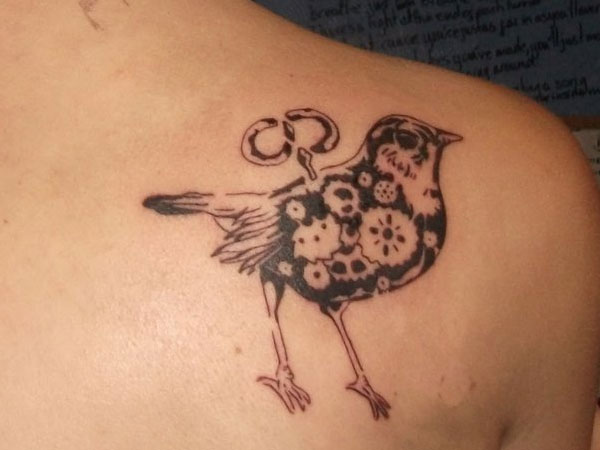 The gracefully shaded bird is patterned with flowers. A key is shown, fitting into the body of the bird.
Bird Of Death Tattoo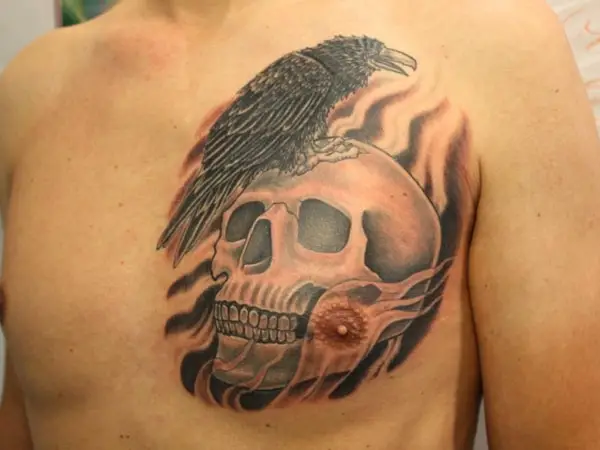 A densely shaded vulture sits on the skull, in this realistically shaded tattoo. The male nipple incorporated in the design, looks like a flower.
Blue Bird Tattoo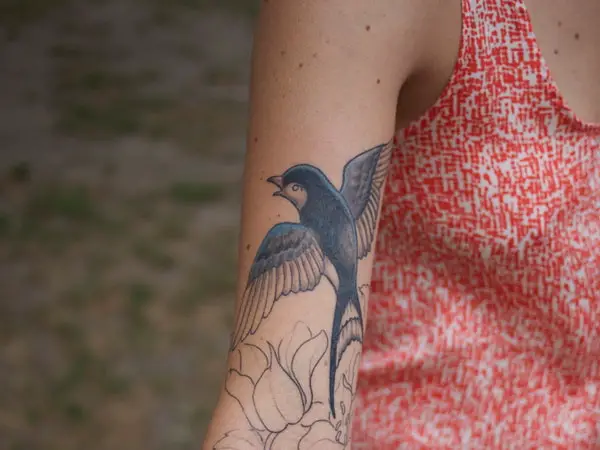 A blue swallow spreads its graceful wings, in this arm tattoo design.
About To Fly Tattoo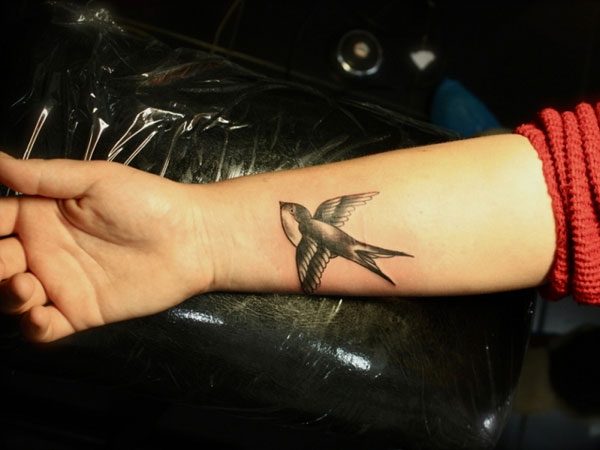 The realistically inked swallow looks ready to fly, in this arm tattoo.
Dandelion Birdflow Tattoo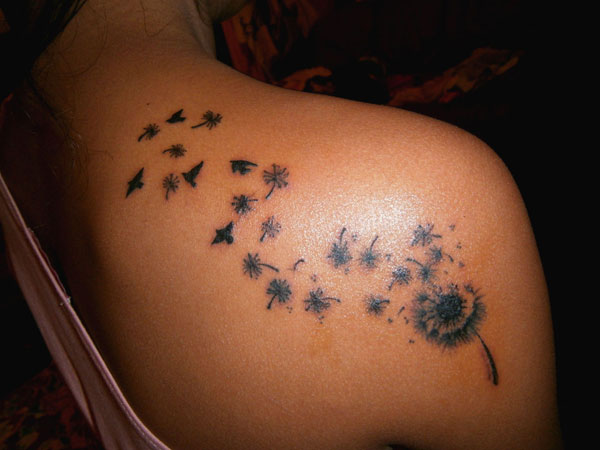 The soft tufts of the dandelion separate and stream outward. Tiny black birds hover among the flying tufts.
Flying Bird Silhouettes Tattoo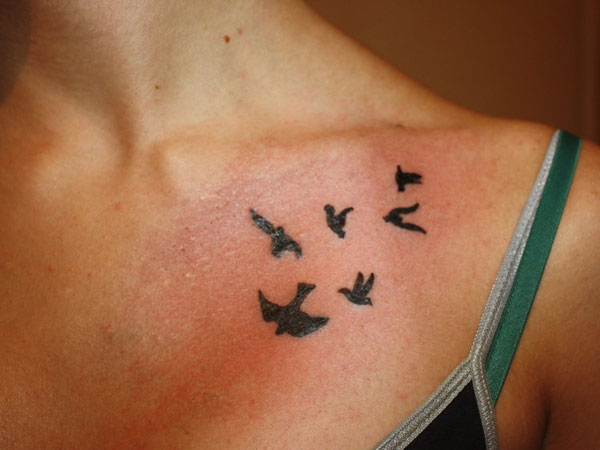 Tiny flying birds make interestingly shaped silhouettes, in this tattoo design.
Flying Bird Silhouettes Tattoo
Fantail Bird Tattoo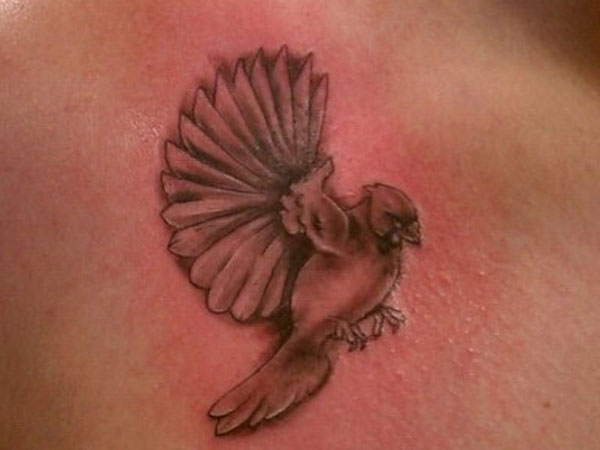 The delicately shaded bird has a tail spread out like a fan. A lovely realistic bird tattoo.
Night Owl Tattoo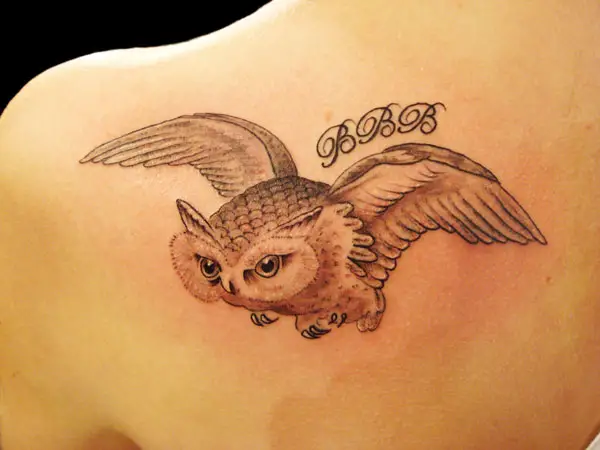 The realistically shaded back tattoo depicts a flying owl with intent eyes.
Classic Hummingbird Tattoo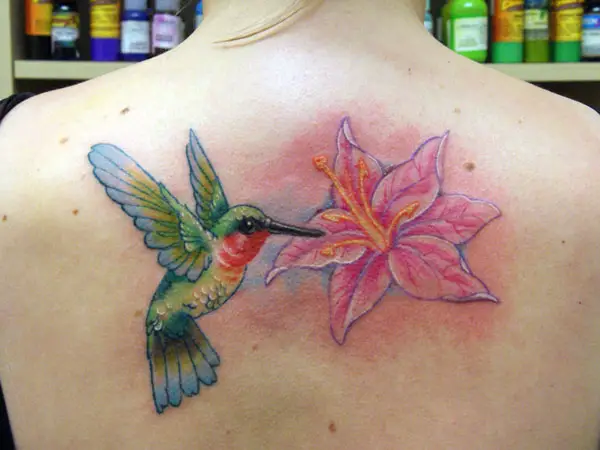 A colorful hummingbird comes to sip the nectar from a delicate hibiscus flower.
Three Birds Fly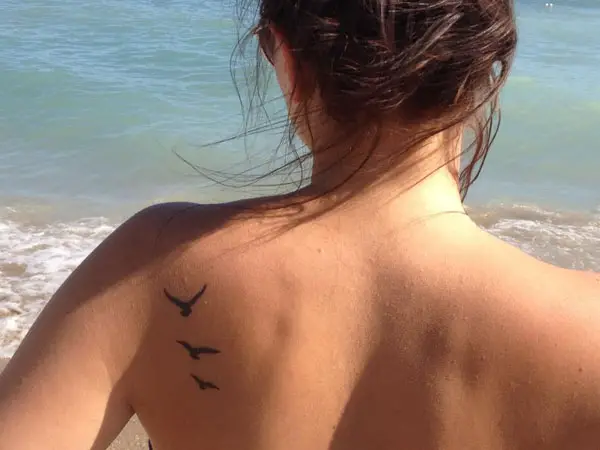 Three flying birds in ascending order of size make up this pretty back tattoo.
Proud Bird Colors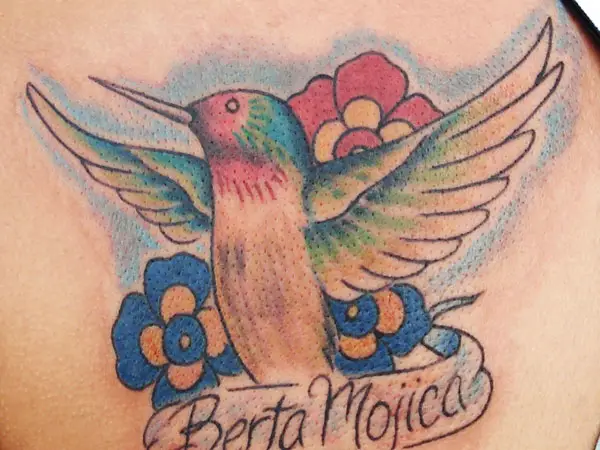 The blue and green shades look bright on the body of this proud bird. Flowers and the text 'Berta Mojica' frame the colorful design.
Line Of Birds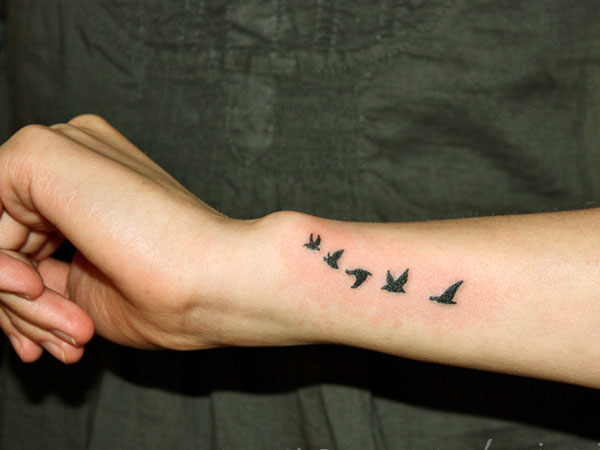 A line of birds flying in formation is the theme of this pretty arm tattoo.
Three Black Birds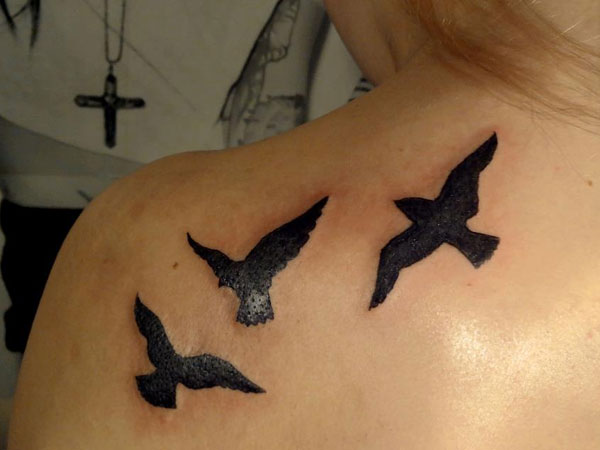 The three flying birds have been shaded in solid black, in this upper back tattoo.
Stylized Black Bird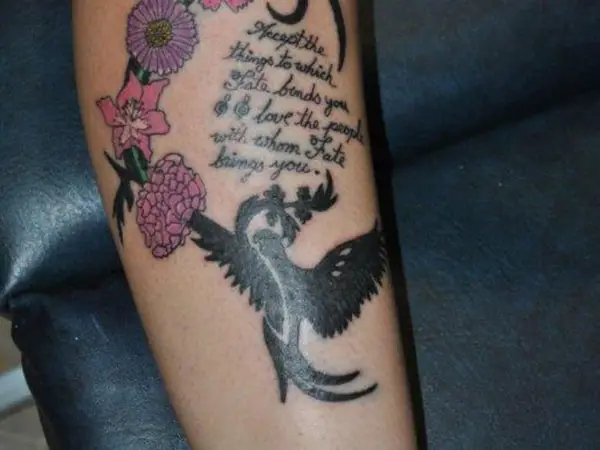 A stylized black bird frames the bottom portion of the colorful flowers and text tattoo.
Royal Bird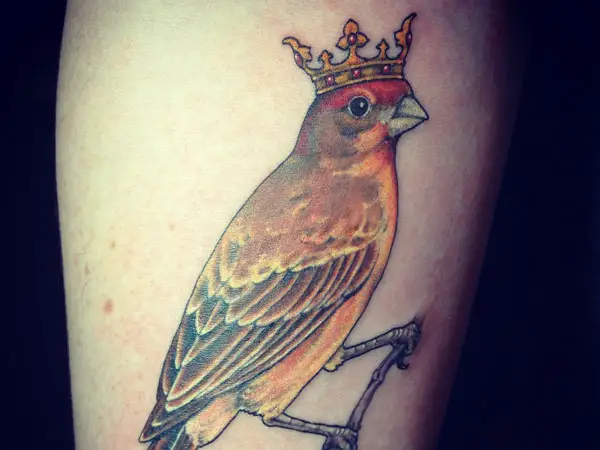 This majestic bird wears a golden crown. The warm brown feathers highlighted in gold, look graceful.
Colorful Splashes Hummingbird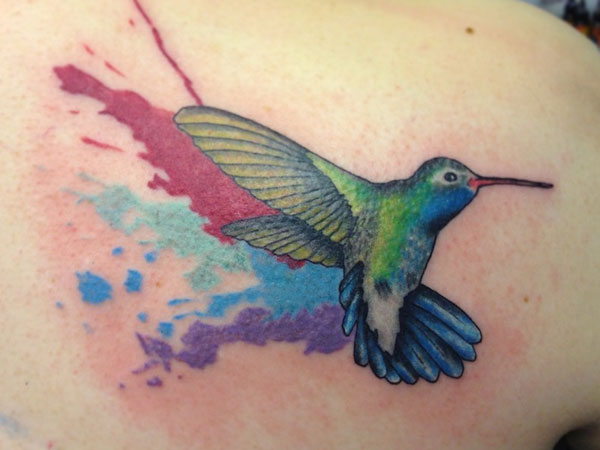 Colorful splashes form the background of the humming bird tattoo.
Lone Bird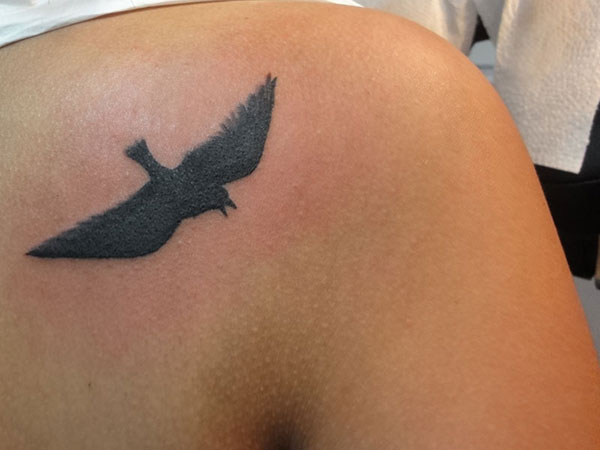 A lone black bird with symmetrically spread wings, sits on the shoulder.
Realistically Shaded Bird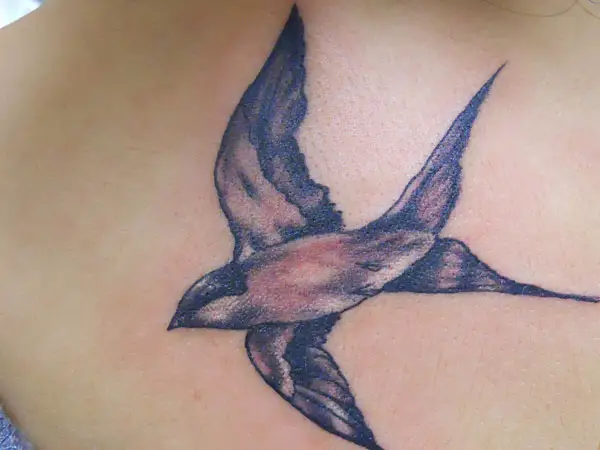 The swallow tattoo is realistically inked in deep gray and soft pink hues.
Three Winter Birds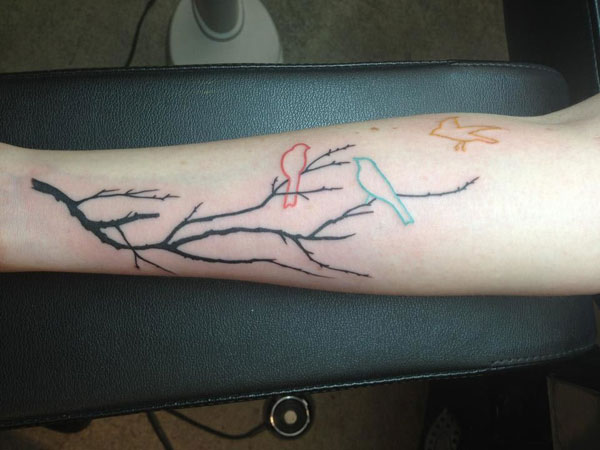 The colorful outlines of the three birds add brightness to the bare branch.
Birds Flying Back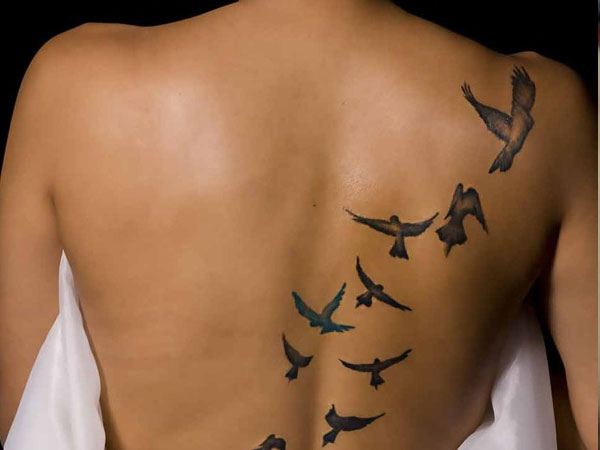 Multiple birds fly upward in a diagonal pattern, in this rich back tattoo.
If you like this article, you might be interested in some of our other articles on  Japanese Tattoos,  Thigh Tattoos For Women,  Women With Tattoos  and  Angel Tattoos.