Tattoos have been in use since ancient times, Romans and Greeks have been famous for their cryptic tattoos. For centuries, tattoos are in play to proudly display allegiance, sentiments, and abstract thoughts on the body of the wearer. In recent times, people have been using matching tattoos to proudly display their sentiments, commitment, and friendship. Since a tattoo is permanent, it symbolizes eternal commitment and everlasting friendship.
Tattoos designs have evoloved over time, while in ancient times tattoos were mostly worn by men, today women have begun experimenting with tattoos as well. There are various tatto designs available today, from contemporary designs to traditional ones, and therefore choosing a design, especically a matching one can be hard and confusing. We bring to you an amazing collection of best friend tattoos, to help make your decision easier.
Let's take a look at some of the most interesting and beautiful best friend tattoos today!
If you like this article, you might be interested in some of our other articles on  Heart Tattoos For Women,Tribal Heart Tattoos,  Rose Tattoos For Women,  Skull Tattoos For Men.
United Friends Tattoos
The finely inked cursive font tattoos spell out, 'All for one and one for all'. You can personalize this best friend tattoo design to say whatever you want!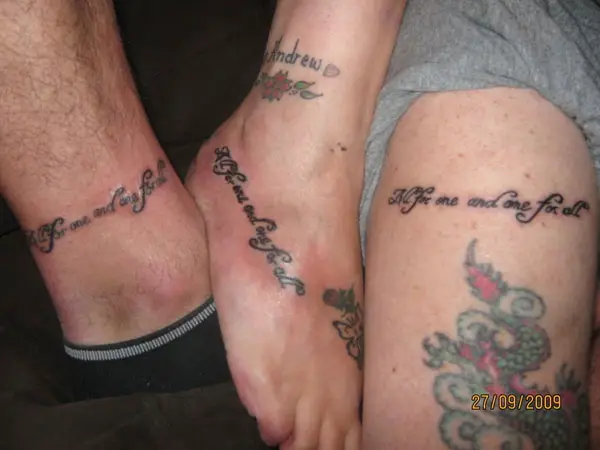 Brothers In Arms
An intricately inked ancient book is framed by Jesus's famous saying ' Blood of my blood, flesh of my flesh', the sentence is thought to indicate to the close bond between the two, just two blood raltives are suppose to share a close bond.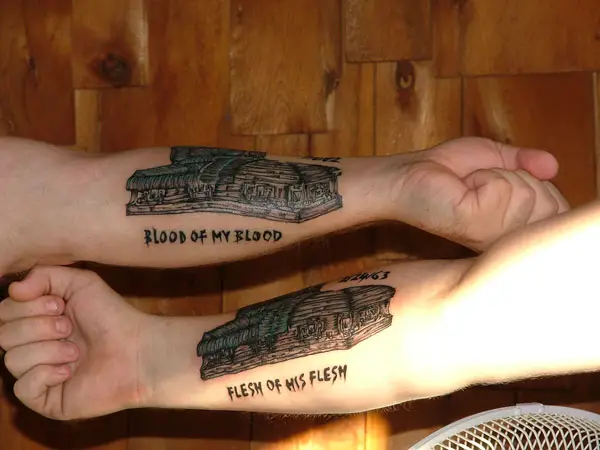 Foot Tattoo Friends
Delicate curves and spirals make up this pretty foot tattoos. This could ideal idea for you and you bestie, if you want something simple yet expressive.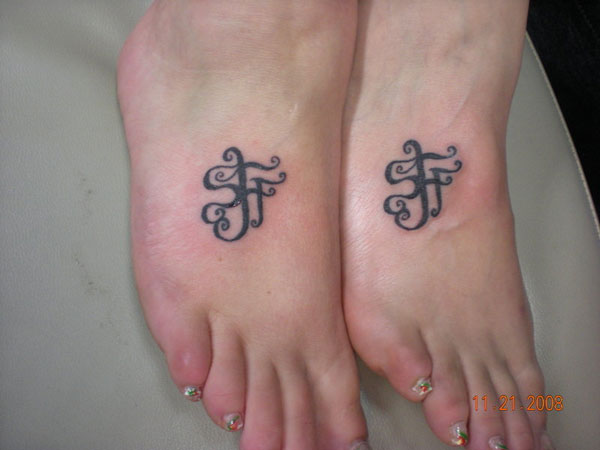 Flowers For Friends
The red shaded hibiscus flowers looks stunning, you can choose a different anatomical location or change the color to this beautiful best friend tattoo to personalize it for your own use!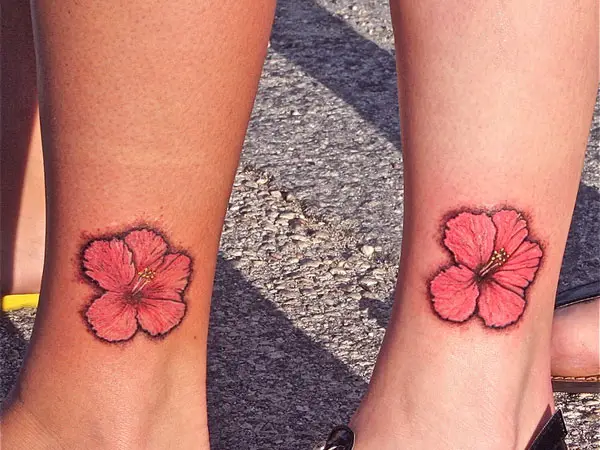 Wrist Stars Friends
The inner wrists of the two friends are marked with identical blue stars. Cute and elegant.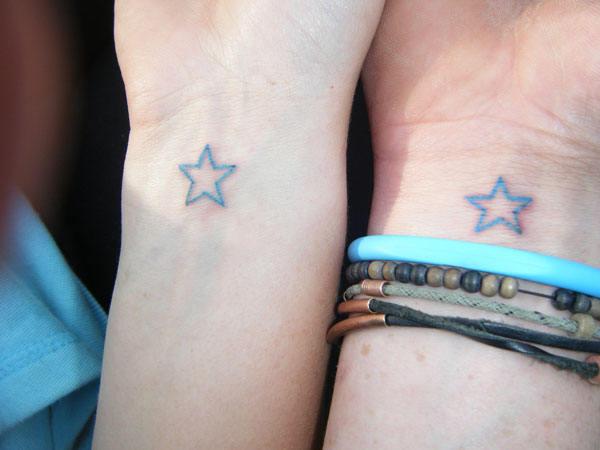 Brigado Best Friends
The stylish cursive font tattoo design on the wrists, says 'Brigado'. You can customize this design to say whatever you think best!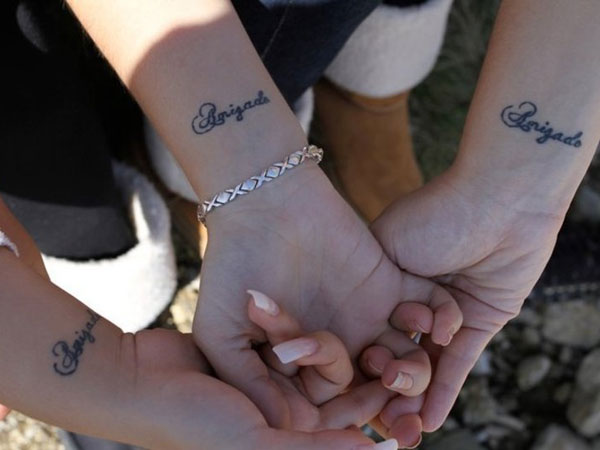 Best 3 Friend Stars
Red multi-pointed stars with a hole at the center look simple and sophisticated.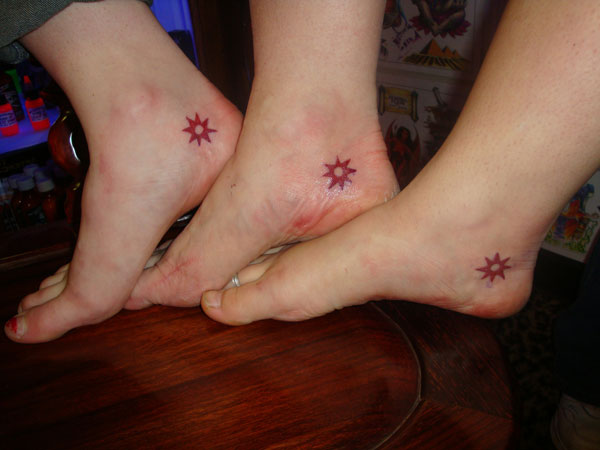 Best Friend Spiral Tatttoos
The tiny spiral wrist tattoos have text on the top saying, 'Will of Fire'. Again, you can customize this cute best friend tattoo with your own personal text.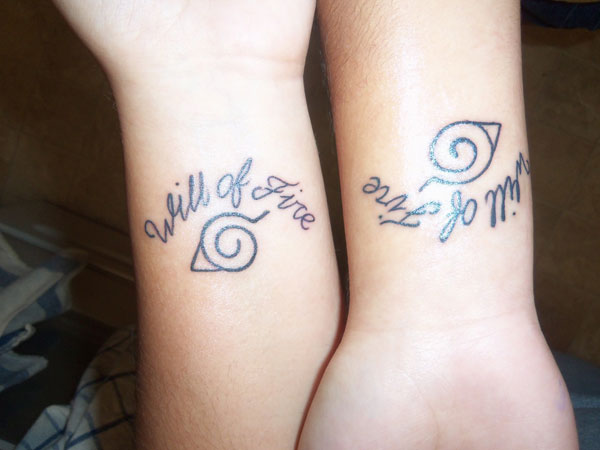 Best Friends Identical Tattoos
In these playful tattoos, spiderwebs are framed by blue helmets with mauve bands.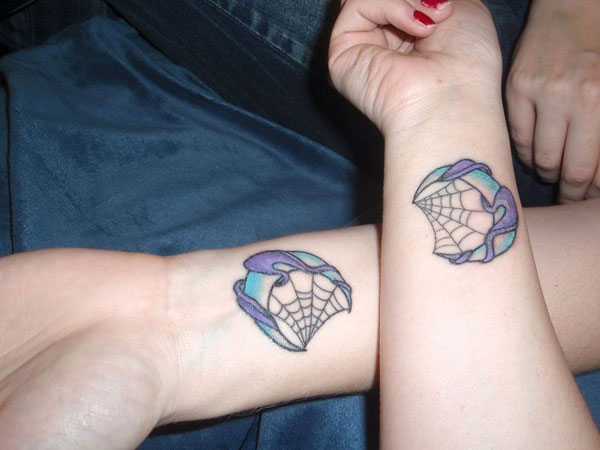 Best Friends Identical Tattoos
Best Friends Beads
The tiny chain of beads showcases cursive font text in blue.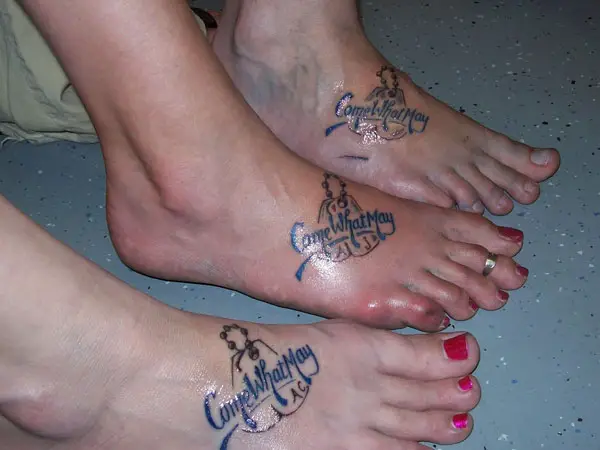 Cute Figure Hatted
Check out the stick figure wearing a hat and pushing a toy car, in this cute, monochromatic best friend tattoos.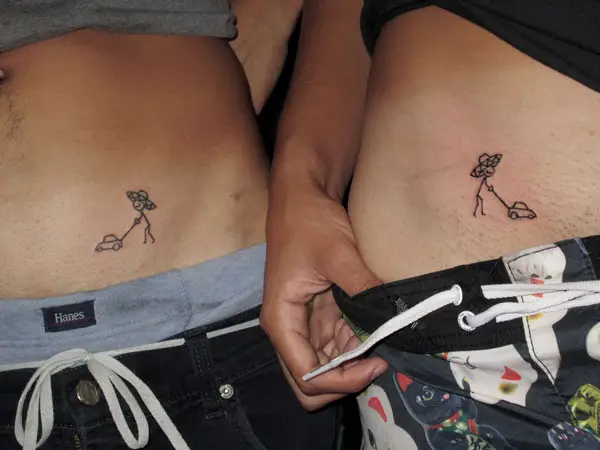 Kite Friends
The simple ankle tattoos show a kite with a string. A bow decorates the middle of the string. Elegant, yet expressive.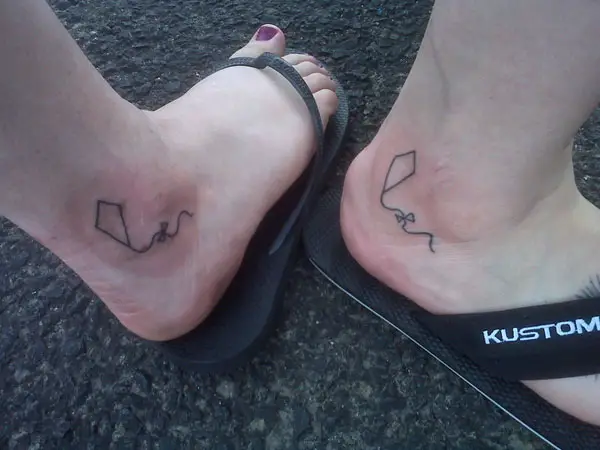 abc
Positve Negative Friends Forever
These creative best friend tattoos showcase a black lizard on one friend's foot, and the negative or stencil of the same lizard on the other friend's foot.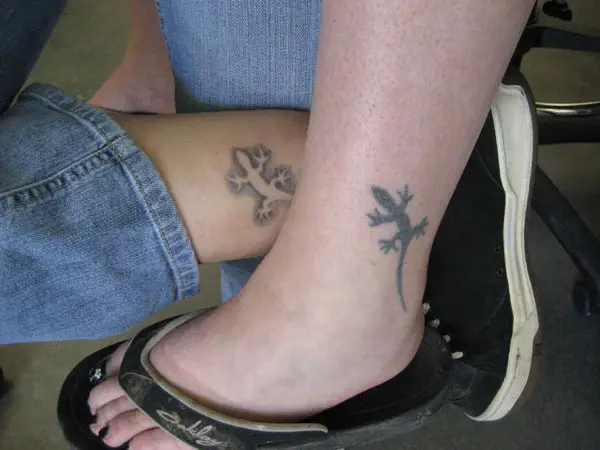 Positve Negative Friends Forever
Our Forever Sentence Tattoo
The best friend stomach tattoos joined together make a complete sentence. Use this idea for inspiration!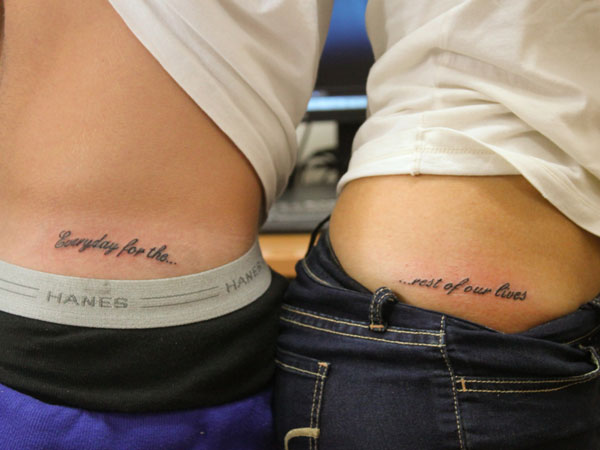 Infinitely Heart Tattoos
The elegant ankle tattoos show two hearts arranged as a bow. It could also be seen as a variant of an infinity loop.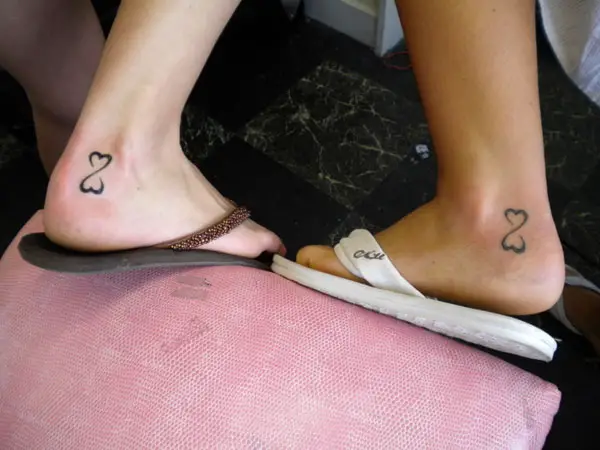 Red Circle Tattoos
A red circle with a black border has a shaded design inside. SImple and fascinating illustration!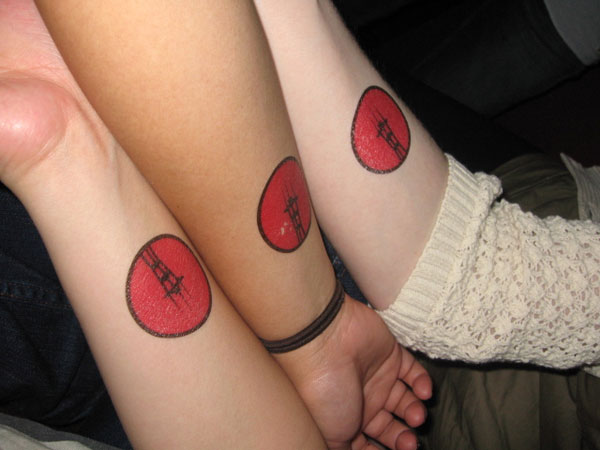 Combined Starry Friendship
Joined together, the foot tattoos showcase a big star surrounded by infinity loops, blue and green shades, and smaller stars. This could be your inspiration if you want something vibrant and elaborate!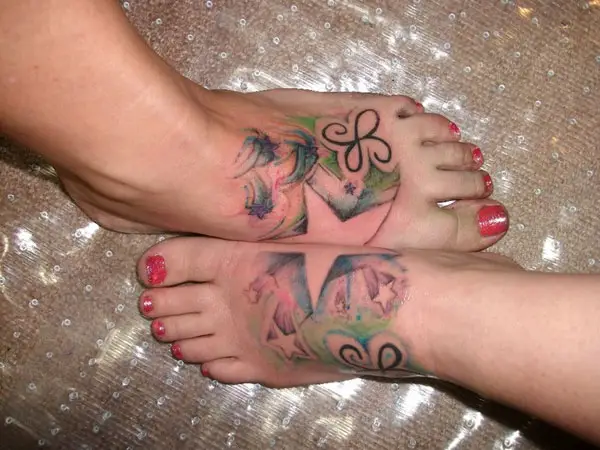 Lizard Friends
A green lizard sits alongside a pink lizard, this is an adorable tattoo idea for best friends.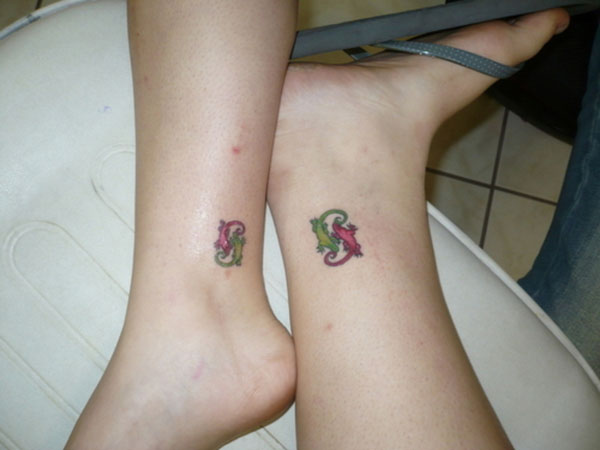 Stick Figure Tats For Friends
The three feet display quirky stick figures. A beautiful way, to tell the story of your friendship.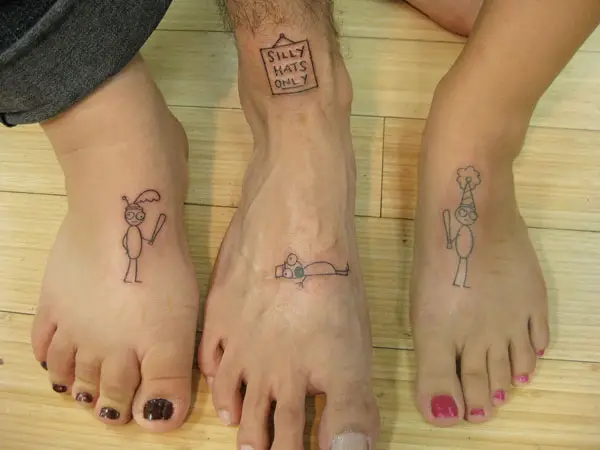 Open And Infinite
Open infinity loop patterns combine to make a pretty tattoo design.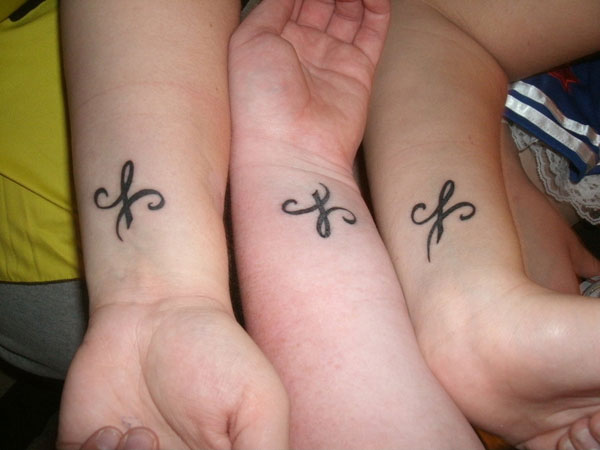 Open And Infinite
Crossing Arrows
Two arrows criss-cross with 'U' and 'E' are written on either side of the design.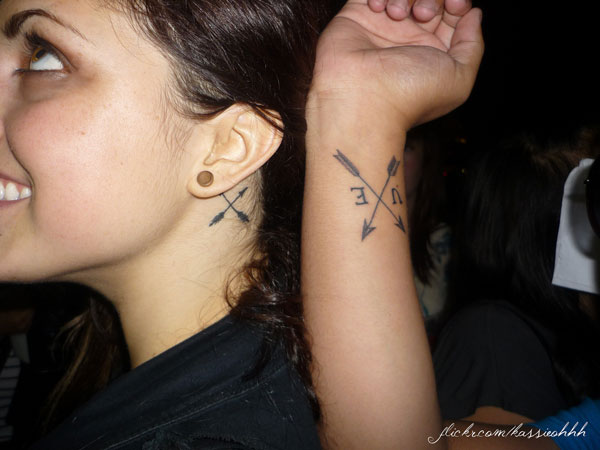 Daisy Bracelet Friend Tats
You can display the strength of your friendship, wearing this permanent daisy bracelets with green leaves.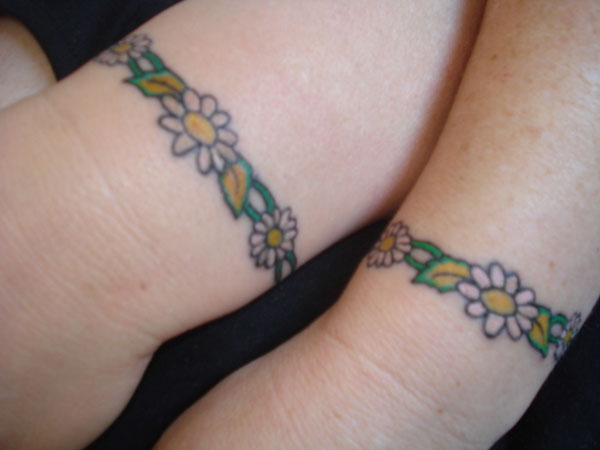 Friendly Lightning Tats
Each wrist has a lightning flash tattoo with an alphabet below, personalizing the design.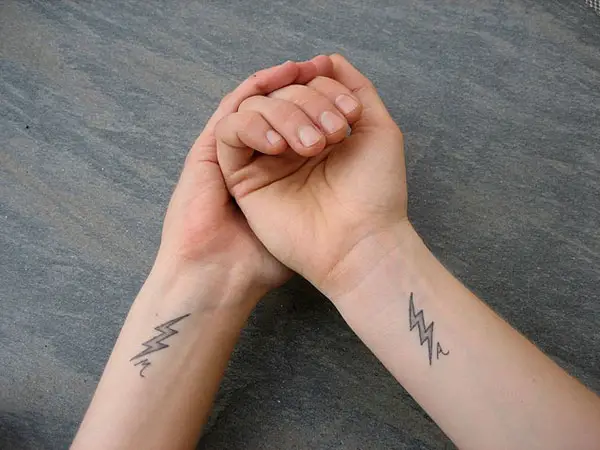 Arm To Arm
Elegant spirals and shaded patterns come together, in this arm text tattoos.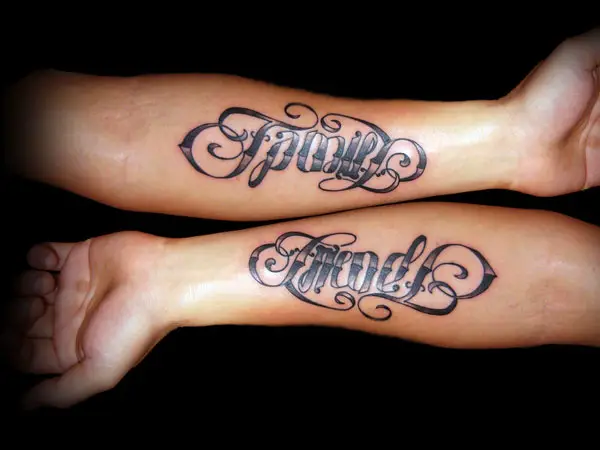 Best Friends Like Roses
A red rose on either side, diagonally frames the text banner saying, 'Friends till the end'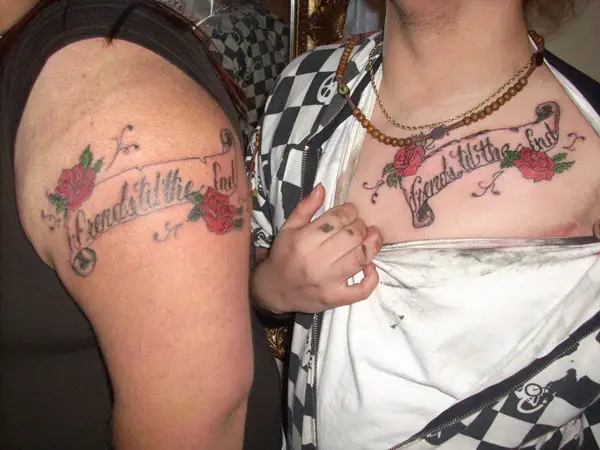 Best Birds Tattoo
The elegant shaded swallows face each other. A magnificent way to display your friendship.