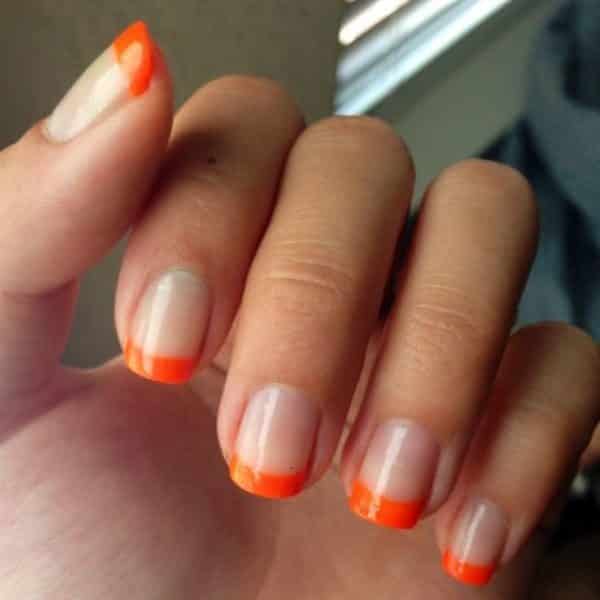 A French manicure is a classic design. The white tips are subtle and simple, yet sophisticated and elegant. But, sometimes you want something a little more colorful and fun, especially during the summer months! If you're still pretty partial to French tips, you can still get the look and a little color with some colored French tips!
Colored French tips can be any color you want. Use your favorite color, or use a few different colors. Bright neons make for a fun summer look, but other colors, including pastels, can also look stunning. Add a little glitter polish for some fun sparkle!
Looking for a few ideas for some colored French tips? Here are a few ideas to get you started!
1. Orange French Tips
Orange is a bright and fun summer color! Add a bold splash of color to your nails with these orange tips!
2. Orange Nails and White Tips
If you like the classic white French tips but want a splash of color too, these orange nails and white tips might be something to try. Of course, you can also use any other color you'd like.
3. Colored French Tips
Why pick just one color for your colored French tips? Use a few different colors for a fun look! Add a white and silver outline to take these colored French tips to the next level.
4. Pastel Colored French Tips
If you want a slightly more subdued look, try using muted pastel shades for your colored French tips.
5. Yellow French Tips
Lemon yellow French tips add a splash of fun color to summer nails!
6. Bright Pink French Tips
A bright pink neon ink polish makes for some super colored French tips for summer! The glitter base color is optional, but it adds some cute sparkle.
7. Lime Green Nail Tips
All of your girlfriends will be green with envy when they see these colored French tips!
8. Multi-color Neon French Tips
Neon polishes make some super colored French tips during the summer! If you can't choose which color to cover your tips in, choose them all!
9. Neon Gradient Glitter French Tips
Or, try some neon gradient colored French tips with a glitter topcoat.
10. Colorful Zebra Print French Tips
Colorful French tips don't have to be just one boring color. Take a walk on the wild side with these colored French tips in zebra print.
11. Teal French Tips
Turquoise and teal are hot nail colors this summer. Try a modern twist on an old classic with some turquoise colored French nail tips.
12. Gold and Teal French Tips
A subtle gold polish makes a great base color for these colorful teal French tips.
13. Purple French Tips
The bright purple polish used on these colored French tips manicure isn't the only reason it's so pretty. The tips actually come to a v-shape, instead of the traditional curved or straight French tip line.
Hopefully you've gotten some great inspiration from these colored French tips ideas and you're ready to get out there and create your own colorful French tips.