Cheery, colorful flowers bring instant joy and a bright feeling. The sight of flowers can fill your hearts with love and contentment.
It is great to have floral backgrounds on desktops and websites for a pleasant treat to eyes.
Being naturally artistic, the flower backgrounds are a sheer delight to look at.
To give you a feel of spring and blossoms, we have collected 40 fabulous flower backgrounds here. High-definition pictures will make your desktop come to life. You would thoroughly enjoy the beauty and variety of these lovely floral wallpapers. Scroll down to add some colors to your wallpaper collection.
If you like this article, you might be interested in some of our other articles on Web Page Backgrounds, Wallpaper Patterns, Colorful Backgrounds & Textured Backgrounds.
Illustration of Abstract Floral Background
Artistic abstract floral illustration of pretty pink flowers and bottle green strokes.
Illustration of Abstract Floral Background
Red Flower Wallpaper
Enchanting red floral effect, perfect for a romantic setup.
Jasmine Background
The purple delight with the subtle white accents on a beautiful jasmine painting.
Illustration of Abstract Floral Background
Take a walk through the garden of dreams under the tender sunlight of the setting sun.
Illustration of Abstract Floral Background
Ideal Floral Background
Some vines and starry flowers to give life to a plain background of the deep blues.
Compo Floral Background
Look at the divine hallowed creation of these beautiful white lilies.
Floral Wallpaper
Elegant and royal floral background with classic patterns of vines.
Green And White Abstract Floral
A serene definition to the nature's abstract beauty that comes from its two prominent colors- green and white.
Green And White Abstract Floral
Rose Campion
Charming Rose Campion with jewel-like dewdrops oozing the pink radiance.
Floral Abstract Background
Shades of green and the whites with sparkling dewdrops embellishment.
Damask Wallpaper
The imperial Arabic art of Damask pattern for a graceful arty backdrop.
Frangipani Flower
The princely flower, white and yellow, symbolic of ancient Roman times.
Abstract Floral Background
Flowers, swirling vines and butterflies on soft pink and white background.
Black White Floral Background
Black and white damask pattern inspired from ancient Arabic fabric art.
Floral Headbands
Slick and colorful headbands crafted in lovely floral design.
Clean Vector Floral Background
Neat green vector floral illustration appearing as is dawn and night is shown in a single setting.
Clean Vector Floral Background
Another Abstract Floral
Modern and classy floral abstract work with cute red butterflies and shining swirls.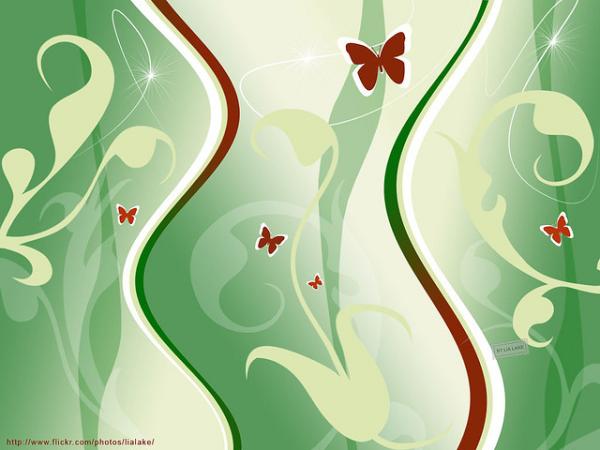 Vector Floral Background
Awesome abstract art representing enchanting effect of a solar eclipse.
Isphere Foral Background
That's love and gloomy feeling in one, represented with pink and blue.
abc
Light Flower Background
Magical rays coming from the heaven and are appearing like a blessed flower.
Floral Pink Background
Tribal magnetism rendered on pink and purple floral design.
Floral Swirl Background
Bright, shimmering swirls of white and blue vines on a dark brown background.
Free Floral Background
The radiance of the heavenly blue with bright white swirls and butterflies.
White Floral Background
Stunning and meticulous details of an extremely delicate white petal.
White Floral Background
Blue Floral Backgrounds
The gleam of an art that lies in flowers, swirls and vines.
Vintage Flower Wallpaper
Unique grunge background with sweet but raw flower art on it.
Vintage Flower Wallpaper
Illustration of Abstract Tree Background
Some small, some large petals on some kind of tribal fabric texture.
Illustration of Abstract Tree Background
My Vector Floral Wallpaper
The vibrant and soft pinks and its transition into a dark, grim black.
Horizontal Dirty Lines
Brilliant black and silver thin stripes and brightly shining white floral pattern.
Floral Closeup
That's sweetness personified – so near and tender to feel.
Through The Fire
The hue of blues set aside with beauty and creativity.
Gaze Floral Background
The spectrum of red, purple, pink and green blooming like childhood.
Gaze Floral Background
All The Colors On The Canvas
Dipped the brush in all the colors and the magical strokes turned a black canvas into a colorful floral painting.
Floral Rainbow
Abstract illustration representing colors of landscape in sunset.
Abstract Floral Pattern
Strikingly cute floral abstract accentuating the slick pink, purple and green.
Red Floral Border Backgrounds
Beautiful, fiery red flower set on a side for an amazing contrast of red and white.
Vintage Window Frame
Simple yet sweet vintage floral abstract background.
Contemporary Vintage Damask
Colorful drapes with vivacious floral patterns.
Soft Floral
Heavenly soft touch and the eye-pleasing purple delight.
Soft Floral
Cream Asian Floral Backgrounds
Elegant gray and rustic accents on the cream Asian floral background.