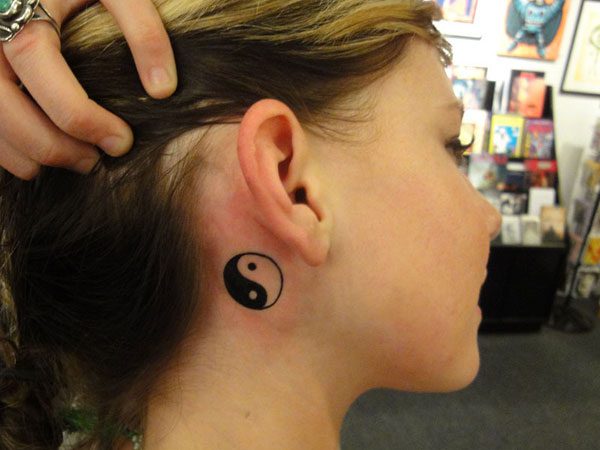 Body art often showcases many ancient symbols that hold deep meaning. One of the most popular symbols that is known the world over is Yin Yang. Drawing on the philosophical traditions of ancient China Yin Yang highlights a perfect balance of opposite forces. Just like fire and water the Yin and Yang elements are balanced in our bodies in a beautiful harmony.
Yin Yang Tattoos express the balance, harmony, and beauty that make up life.
In a classic Yin Yang tattoo design the black and white elements shape into a perfectly balanced circle that symbolizes the circle of life. Many tattoos play with variations on this basic design adding more meaning and significance. You can see tattoo designs that combine the Yin Yang motif with animal figures, or use contrasting colors like red and blue to create a colorful design. Many Yin Yang patterns club two or more ideas in one design. You can see designs which highlight the opposing natural forces of fire and water in the shape of wings on either side of the classic Yin Yang motif. As an expression of love the Yin Yang design works great to hold the names of the two partners. Yin Yang patterns are often combined with traditional symbols of peace such as a full lotus or a five-pointed star for a rich effect.
If you like this article, you might be interested in some of our other articles on Asian Tattoos, Indian Tattoos, Chinese Writing Tattoos and Chinese Tattoos.
My Lucky Tattoo
A basic Yin Yang tattoo can be as big or small as you want. Check out this neat Yin Yang tattoo that the lady shows off behind her ear.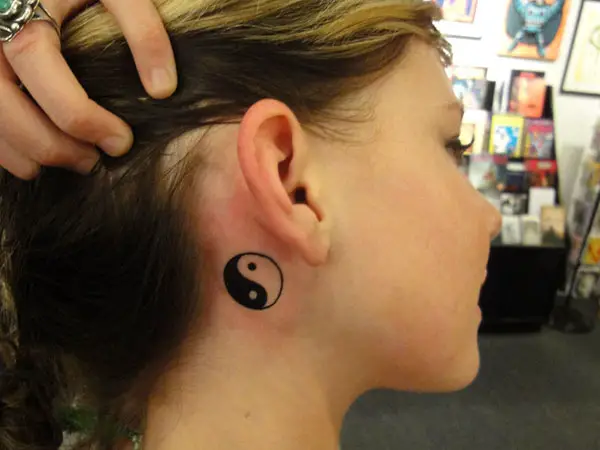 Yin Yang Animals
The tiger and dragon motifs look well-matched as they face each other across this elegant Yin Yang back tattoo.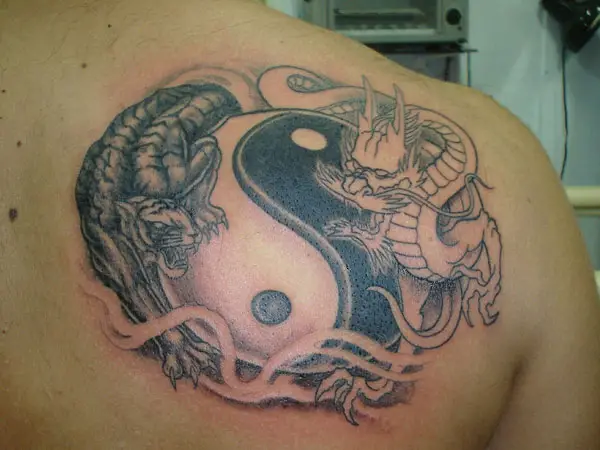 Yin Yang Patterns
This shaded Yin Yang tattoo comes with the typical black and white dots for balance. See how the stylish spike like design extends in a vertical pattern on the arm.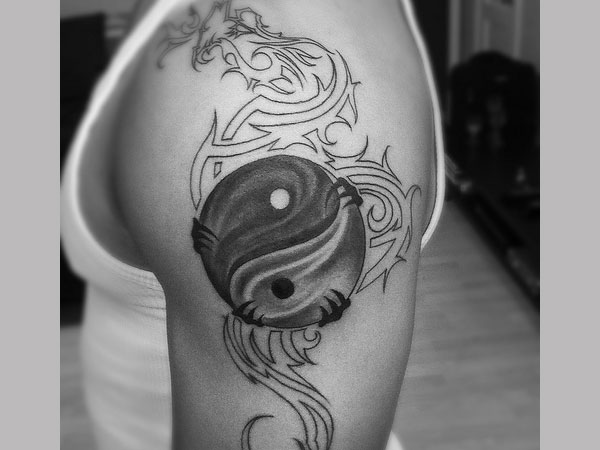 Yin Yang Sun Design
A mysterious blue shades one half of this colorful Yin Yang tattoo while the red fire pattern and a sword like shape with a loop makes up the rest of the design.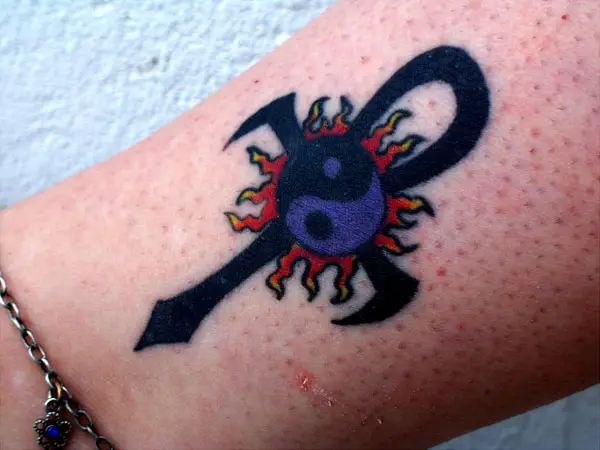 Serpentine Yin Yang
Serpent like shapes find their place inside this elegant Yin Yang tattoo with graceful arches and curves.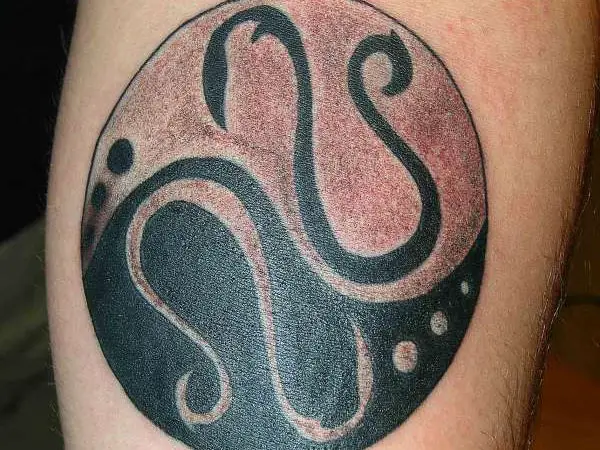 Yin Yang Dragon Tattoo
An intricately inked dragon in shades of green wraps around this awesome Yin Yang pattern tattoo.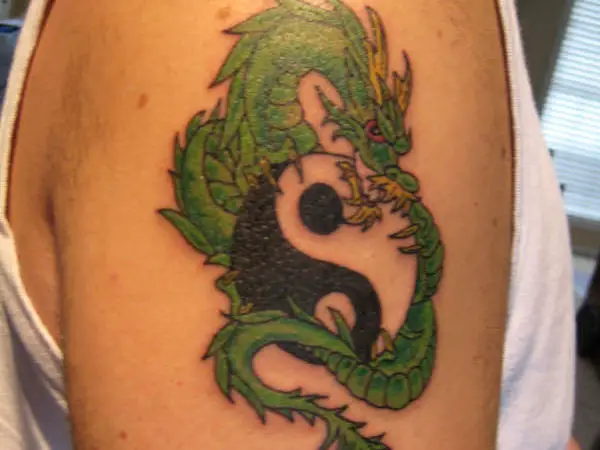 Yin Yang Elemental
Fire and water are perfectly balanced elements that play as opposites as this fantastic Yin Yang design shows.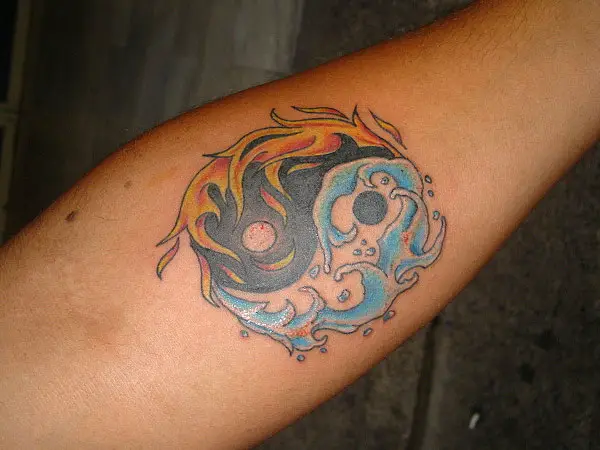 Winged Yin Yang Tattoo
Styled with spiky patterns and a wing formation this Yin Yang pattern is a great leg tattoo design.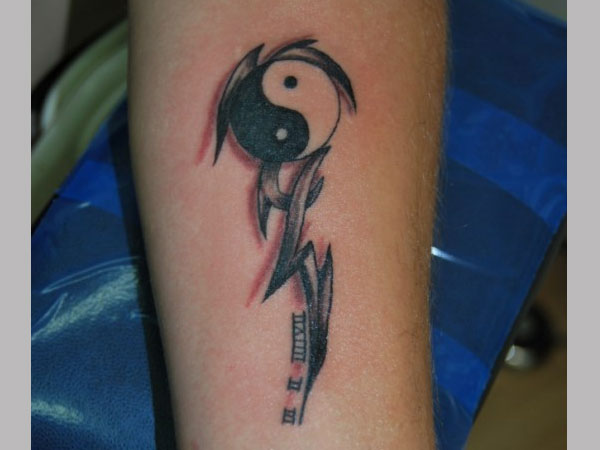 Yin Yang Paw Design
This cool tattoo for the back combines a Yin Yang pattern with an animal paw motif. Note the powerful claws that complete the design.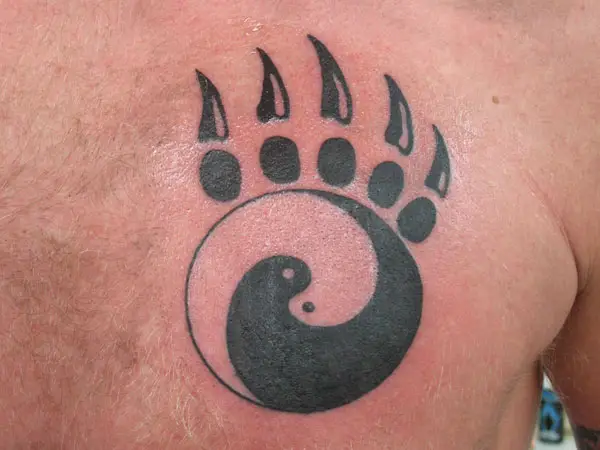 Intricate Yin Yang Motif
A Yin Yang pattern forms the centerpiece for this intricate tattoo with a ten-pointed star and a curvy flower motif completing the design.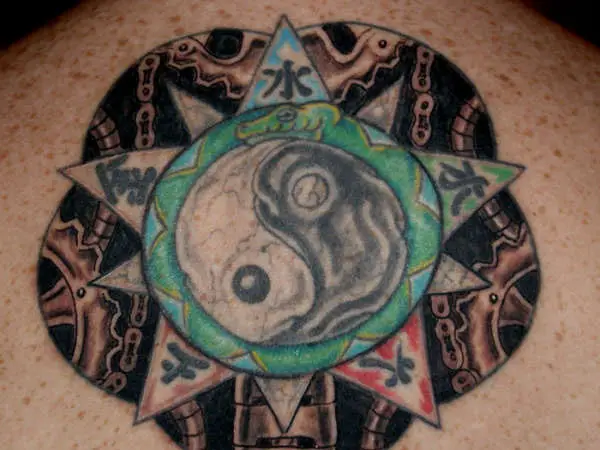 Yin Yang Dual Energy
With wings of fire and water extending on both sides this Yin Yang design highlights the neat play of opposite forces.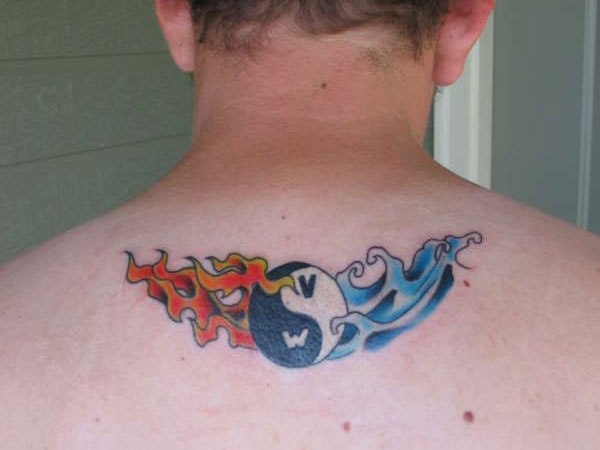 Star Of Fortune
A five point star inked in realistic shades holds a Yin Yang pattern as a symbol of fortune on this man's chest.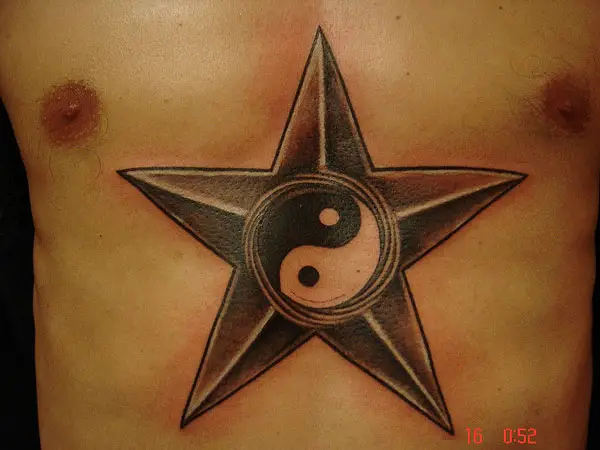 Colorful Yin Yang Style
Alternating spikes in blue and green form a cheery sun like pattern around this elegant Yin Yang tattoo.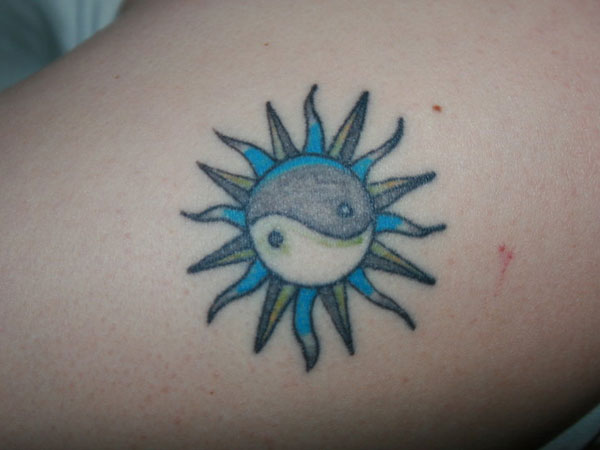 Perfect Match
The Yin Yang design is an ideal background for a pair of names making it a great design for lovers' tattoos.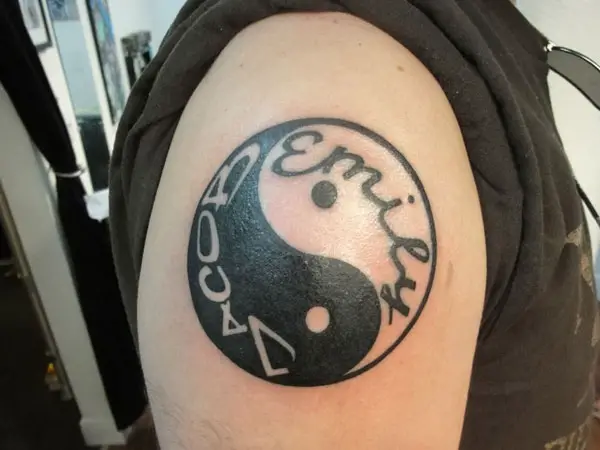 Modern Yin Yang Tattoo
Fresh and styled with cracks this Yin Yang design with 3D hole patterns seems to be inspired by modern life.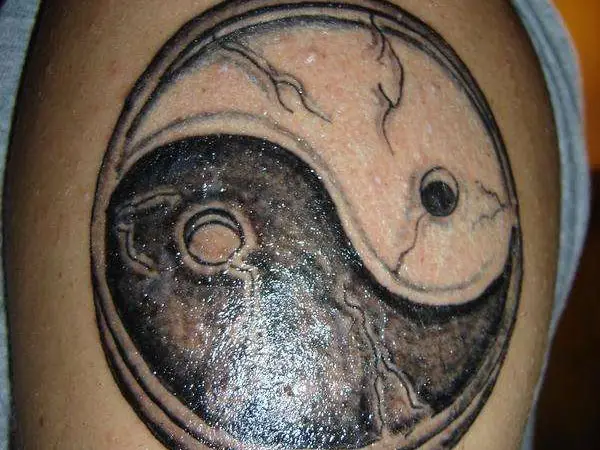 Yin Yang Wave
A colorful wave fills out one side of this Yin Yang tattoo with an inspiring phrase decorating the sides.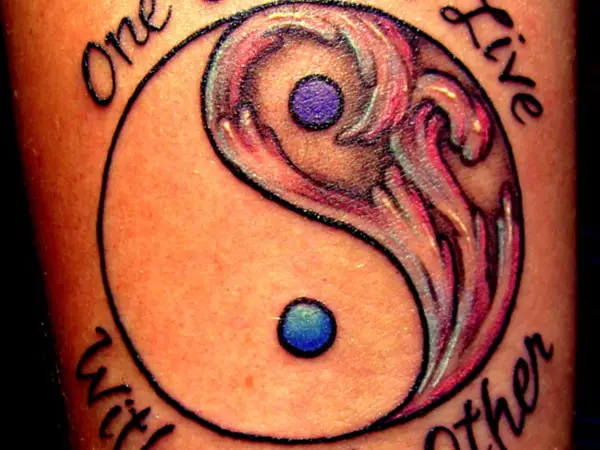 Fire And Water
Ying and Yang are opposed and balanced forces much like this design that balances fire and water motifs in a single tattoo.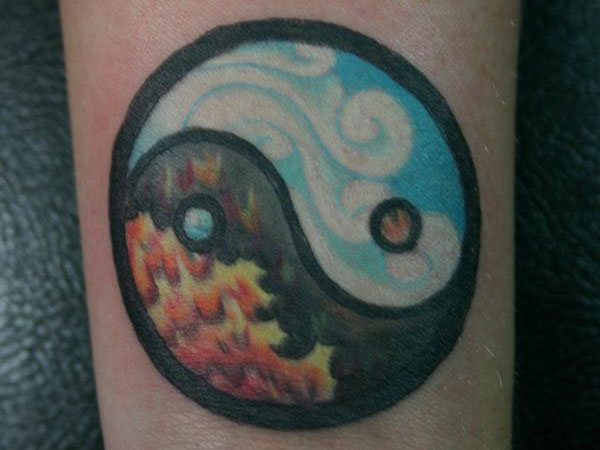 Metallica Yin Yang
Styled with metallic spikes and brilliant blue and red this seems to be a rocker's version of a Yin Yang tattoo.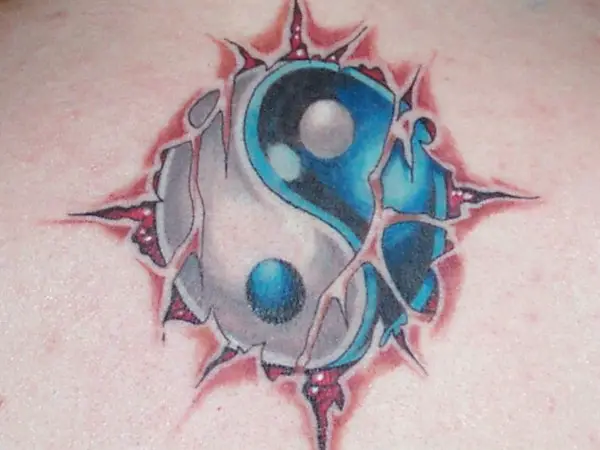 Number Yin Yang
This unusual hand tattoo with a Yin Yang inspired motif has a stylish number 13 alongside. Note how the curved design sits gracefully on the closed fist.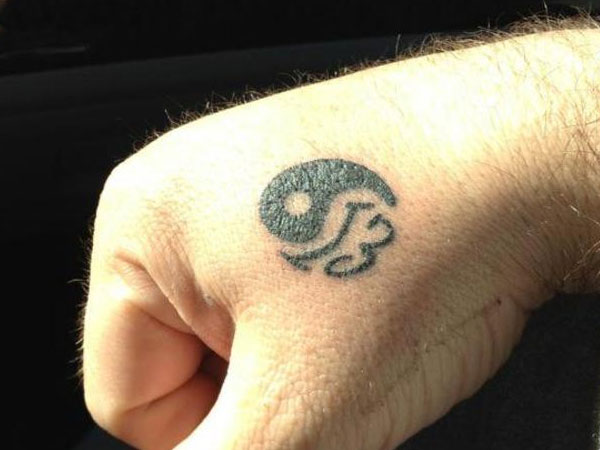 Beautiful Lotus
The full form of an open lotus surrounds this beautiful Yin Yang tattoo as a symbol of peace and enlightenment.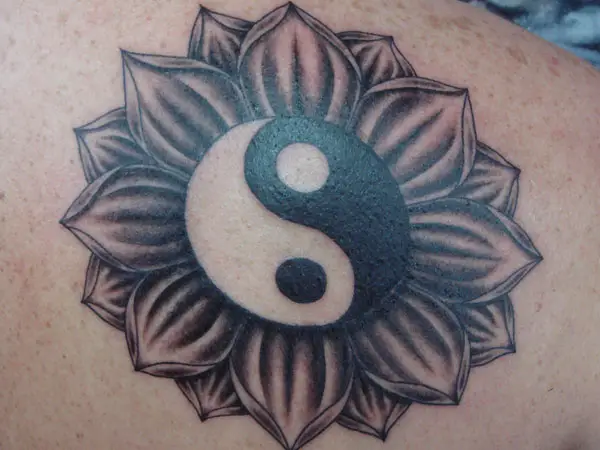 My Yin Yang Tattoo
A large animal paw balances the Yin and Yang parts of this custom back tattoo.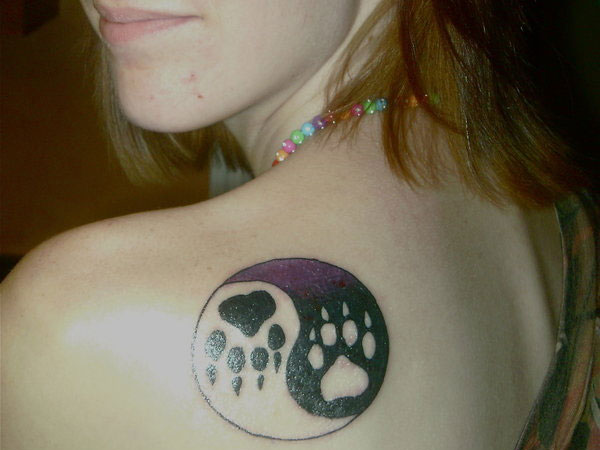 Yin Yang Armor
With a fence like pattern on both sides this Yin Yang tattoo is designed with a green armor like pattern.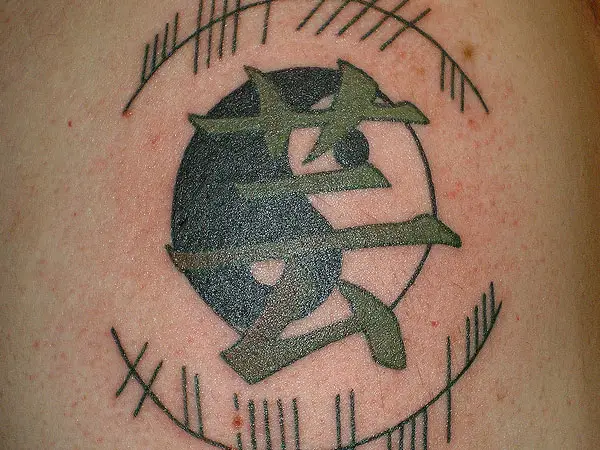 Yin Yang
Two gracefully entwined fishes form the Yin Yang balance in this beautiful tattoo design.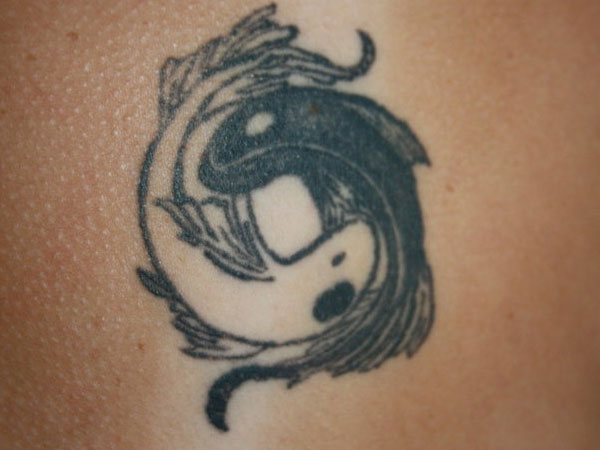 Creative Design
The Yin Yang balance comes out in this beautiful design with a graceful arch. Note the larger dots that balance the smaller dots inside the Yin Yang pattern.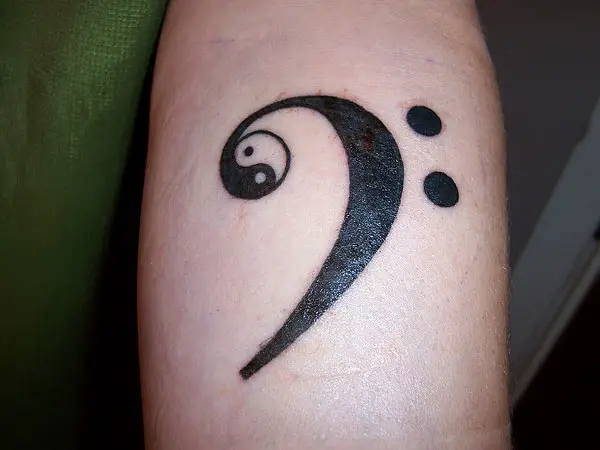 Yin Yang Simple
Graceful curves forming a perfect circle with balanced elements of black and white is a key feature of a classic Yin Yang tattoo.