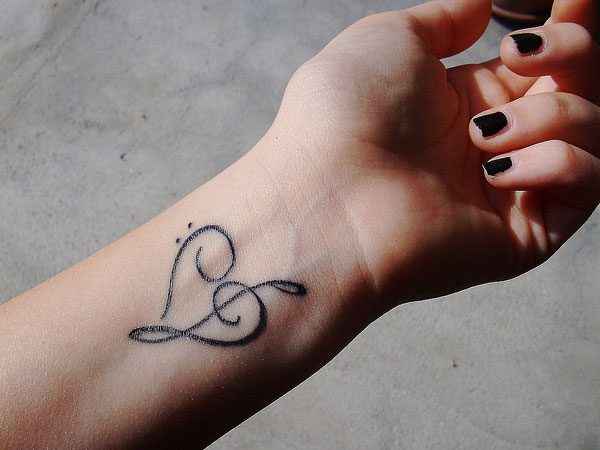 If you're a fan of music and have a thing for getting new ink then you're probably a fan of quality  treble clef tattoo designs  as well which is completely understandable. Unlike some people, we totally understand the beauty of these tattoos and what they can mean to the right person such as a musician. Music is a way of life for some people so much that they often get treble clef tattoos done.
Of course, everyone has different taste in music and you'll find that some people even get tattoos of their favorite artists. We've seen people that get Eminem tattoos, tattoos of old metal bands, and pretty much anything else music related that you can possibly think of.
With that being said, we decided to put together a list of 30 Superb Treble Clef Tattoo Designs that will literally blow you away.
Not only are these tattoos unique, fun, and cool but they also have meaning behind them. We'd be willing to bet that most of the tattoos that you'll see in the list below are on musicians, aspiring musicians, or people that live and breathe music. Like most people, we absolutely love music as well but we're far from musicians. However, that doesn't mean we don't appreciate these tattoos.
So, if you're ready to take a look at our list of 30 Superb Treble Clef Tattoo Designs, scroll down and enjoy the list!
This is the meaning of the treble heart symbol carved on the slender forearm of the girl.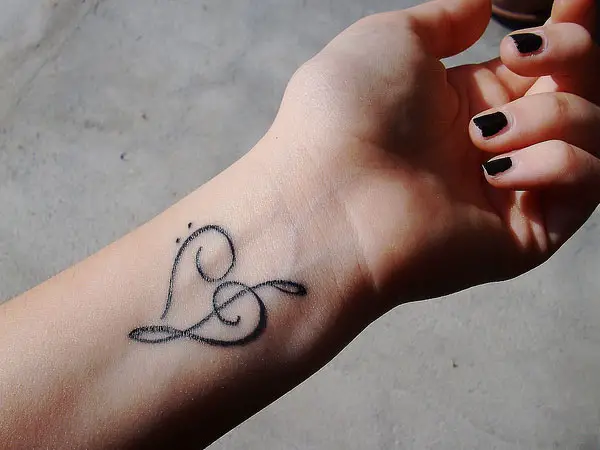 Sober Side Piece
Done with light blue ink, this treble clef with music note, sitting on the ribs, looks very sweet.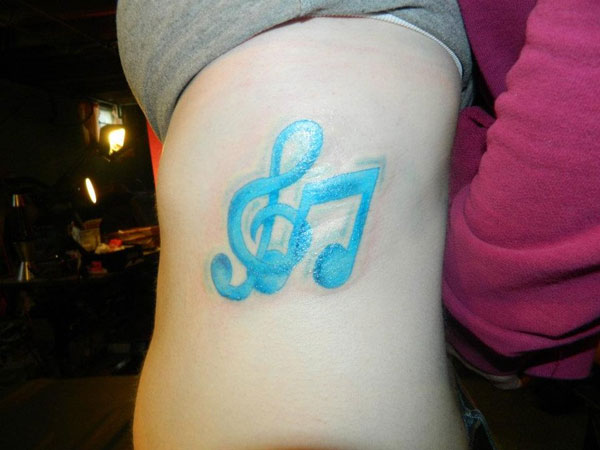 Bold Clef Tattoo
This treble clef tattoo has a flashy and neat look that displays a fabulous aura, sitting on the back of the girl.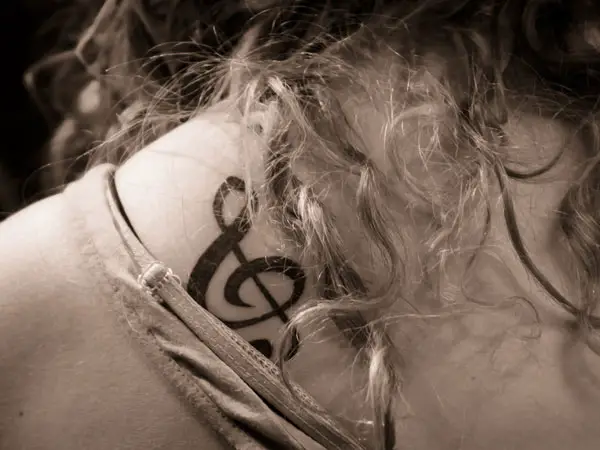 Bold Clef Tattoo
Treble Clef Foot Tattoo
The cute and curvy treble clef symbol sitting on the petite foot of the girl looks very charming.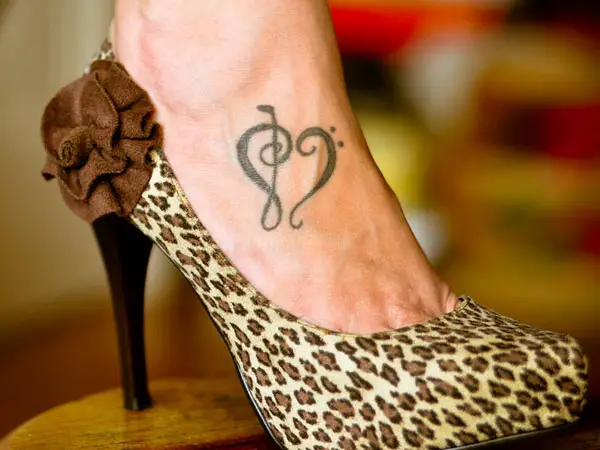 Treble Clef Foot Tattoo
Forearm Tattoo
Done in a fine manner with half thick and half thin lines, the treble clef symbolizes the wearer's love for music.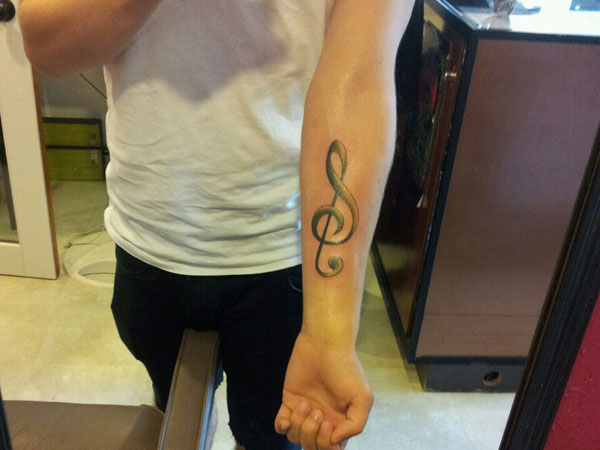 Musician Tattoo
Carved on the edge of the wrist, this treble clef inspires the musician and also works as a sort of identity card.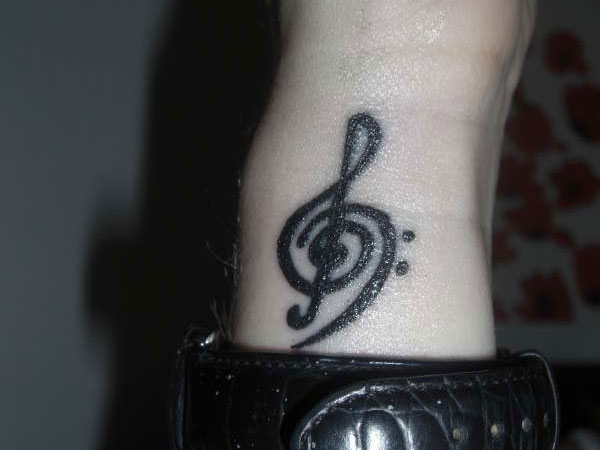 Music Inside Me
This tattoo with broken patches in between stands for the desire of the wearer to learn music that has not been fulfilled till date.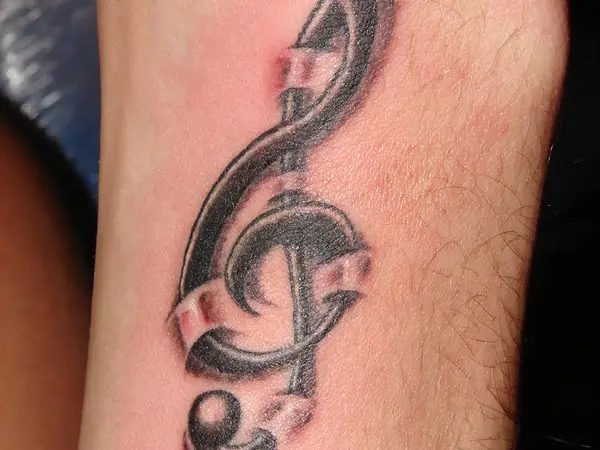 Love Hearing Music
The treble clef symbol carved behind the ear represents the music lover inside the woman.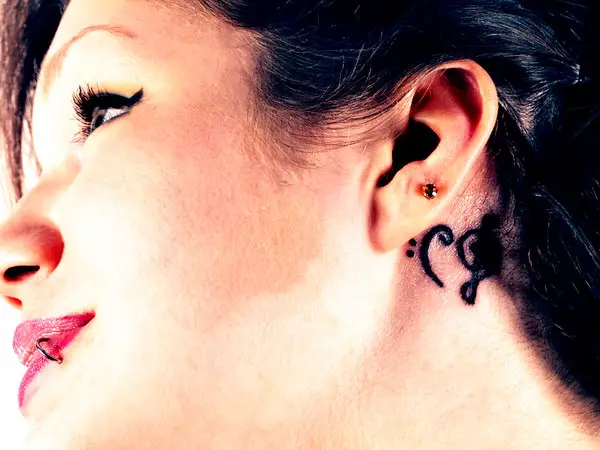 Musical Heart
Cool and creative treble clef tattoo piece that shows where the heart of the wearer lies.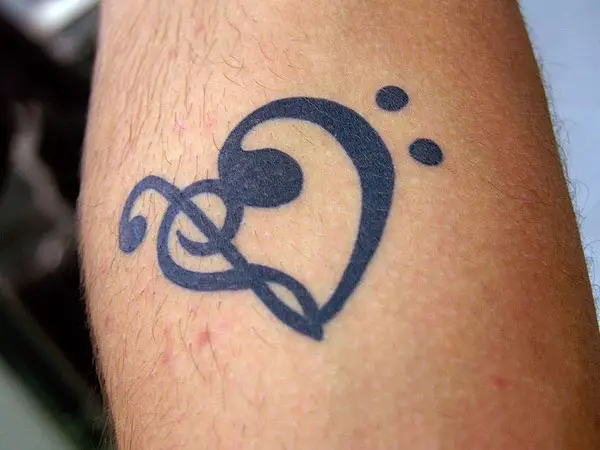 Slim Musical Tattoo
Very simple and slender, the treble clef stands for the simplicity with which music slips into our hearts.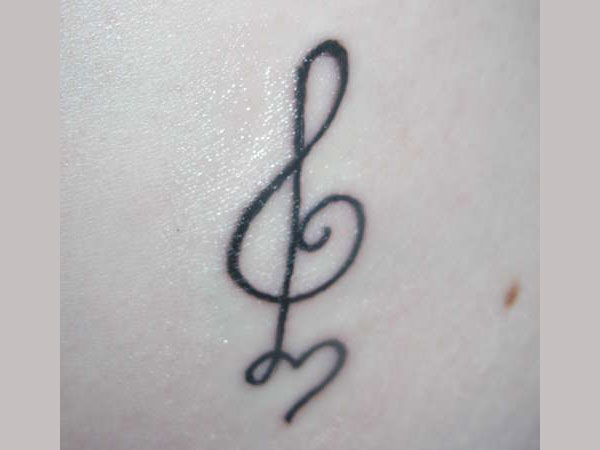 Hunger For Music
Carved on the center of the back, this large treble clef represents the big appetite this wearer has for music.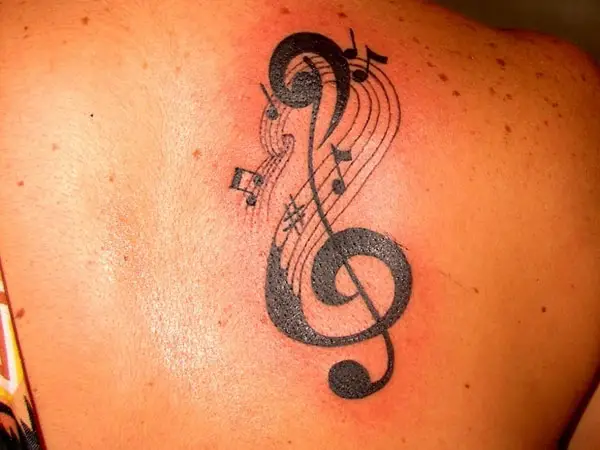 Treble clef Gift
The girl got this first tattoo as a musical treat to herself on her 18th birthday.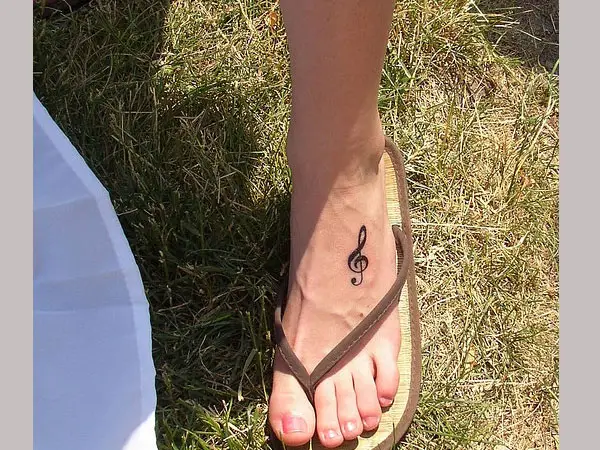 Twin Musical Tattoos
The F clef and the G clef sitting on both the wrists have got a pretty and neat touch that looks cute.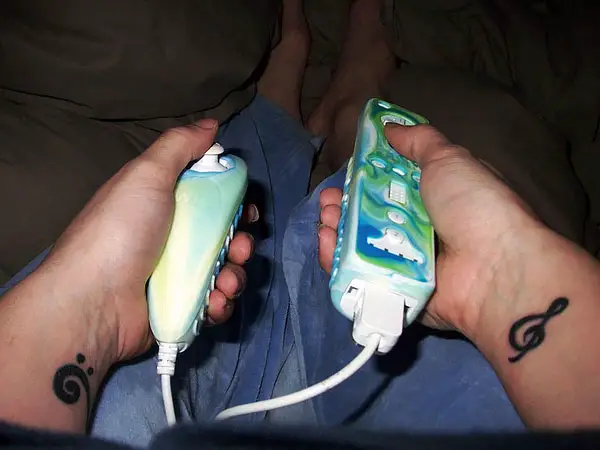 Symbolic Wrist Tattoo
This tattoo is a symbol of the musical shine that has made many singers a star.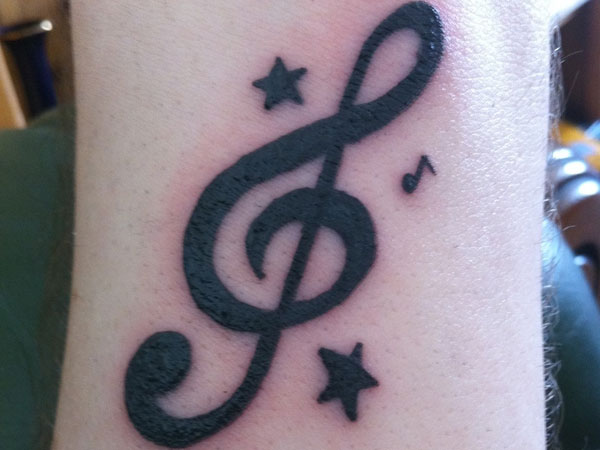 An Ear For Music
The flowing musical notations towards the ear starting from the treble clef stand for the person's rich musical taste.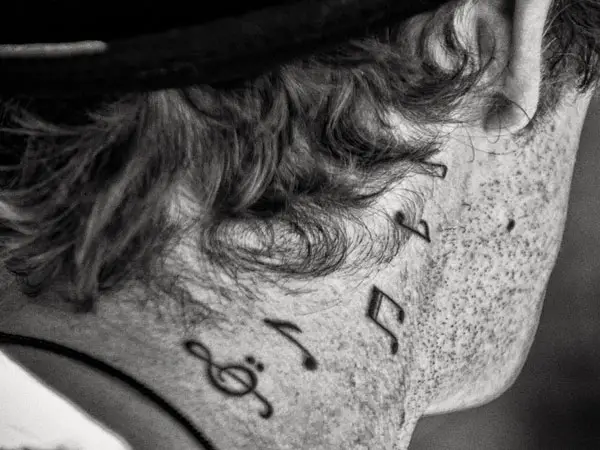 Amazing Tattoo Piece
The swallow escaping through the treble clef is a symbol of the freedom and bliss music brings to the listeners as well as singers.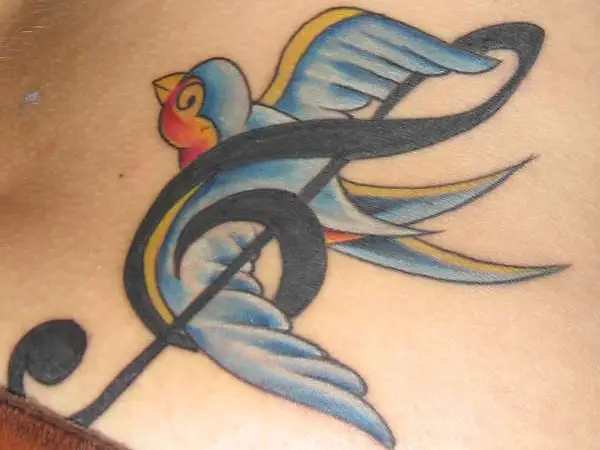 Treble Bass Clef Heart Tattoo
This tattoo, resting on the wrist, represents the wearer's passion for music that throbs in his heart and pulse.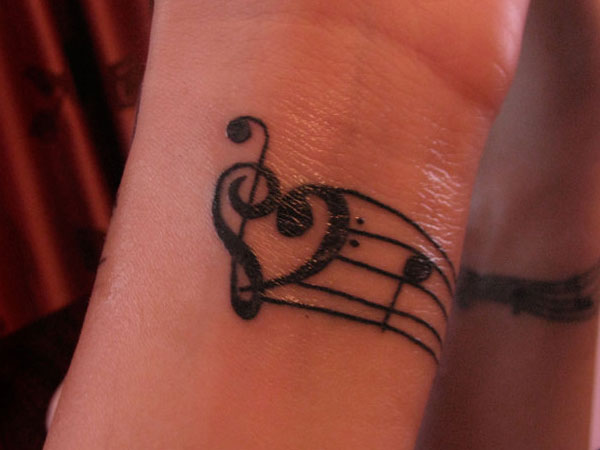 Treble Bass Clef Heart Tattoo
Clef Tattoos
Another music lover with the treble and bass clef symbol carved on his wrist that embodies his enthusiasm for music.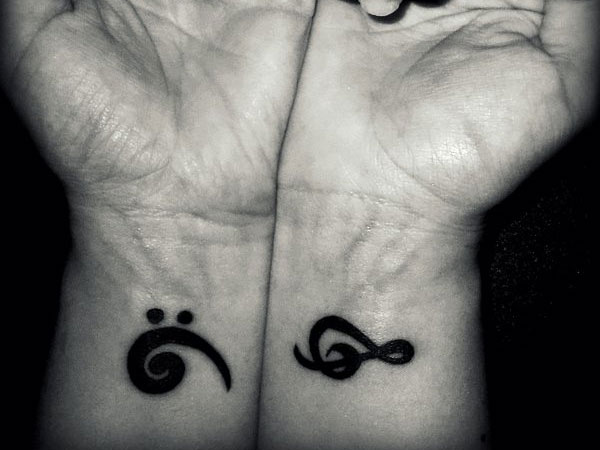 Music Is My Life
The girl is an avid music lover and to express her intense passion she got a tattoo for herself.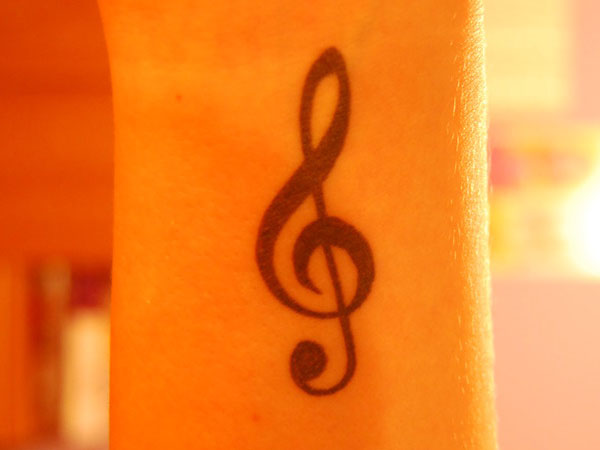 Music Is My Life
Arm Tattoo
This musical tattoo, carved on the arm of the musician, is a symbol of the fragrance with which his life is always blooming.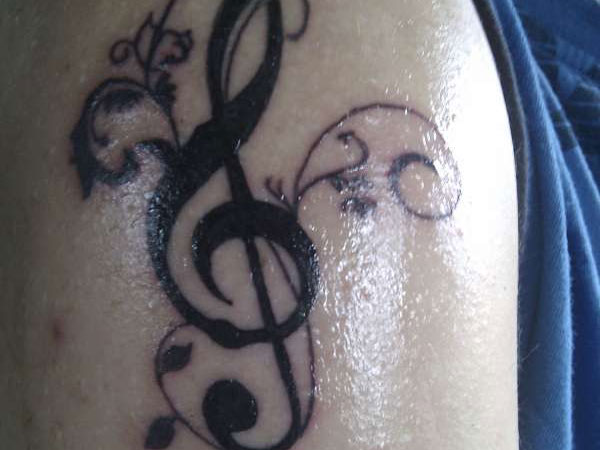 Finger Tattoo
A pianist with a simple treble clef on his finger that always reminds him to give his best during the performances.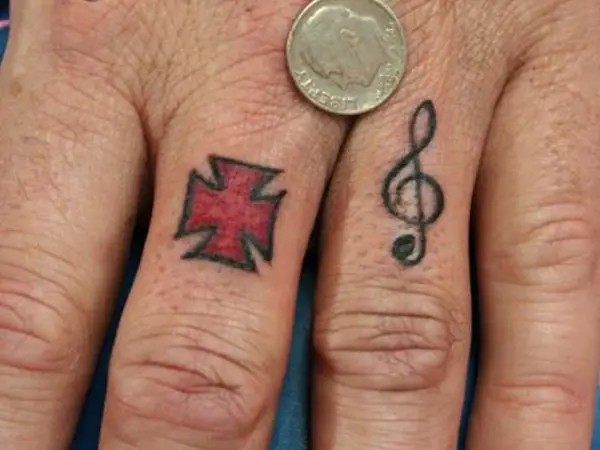 Lovely Foot Tattoo
The treble and bass clef symbol entwined together create a cute tattoo design that looks charming.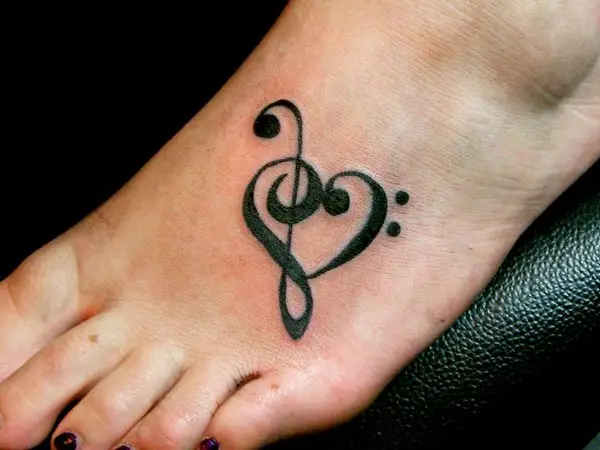 Tiny Treble Tattoo
Created on the nape, this small treble clef tattoo, represents the girl's love for music.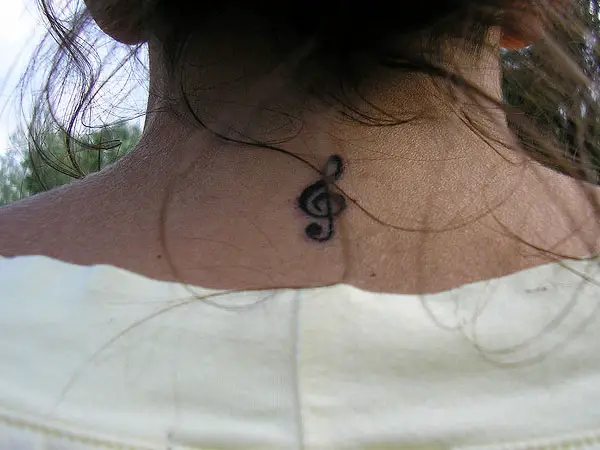 Ankle Tattoo
This treble clef bass heart symbol exhibits a lovely and catchy look that gets more appealing with the every step the wearer takes.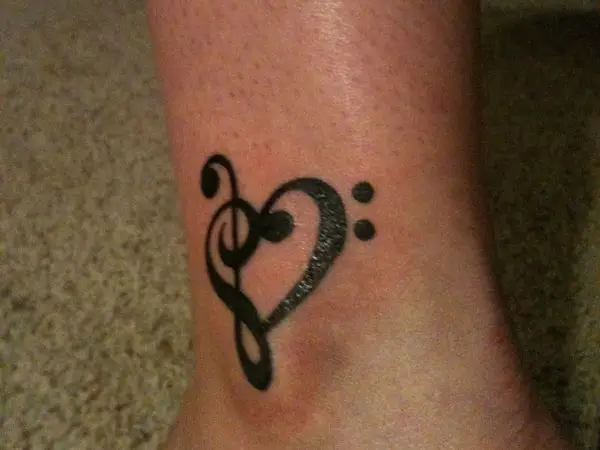 Music Maniac Tattoo
This girl is crazy after music and got a treble clef behind her ear to symbolize that same involvement.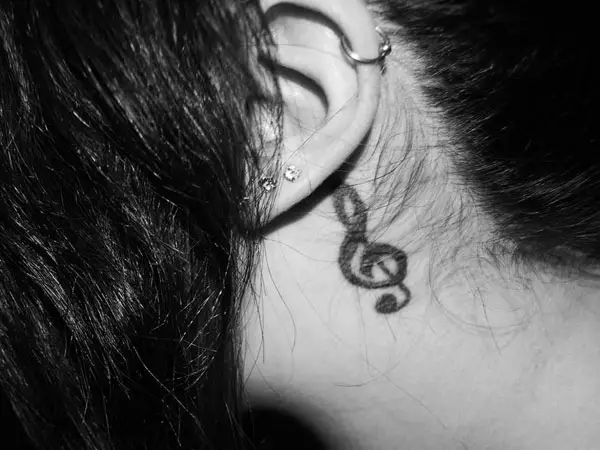 Musical Appetite
Treble clef with music notes, done on the side of the stomach, is an indicator of the wearer's craving for music.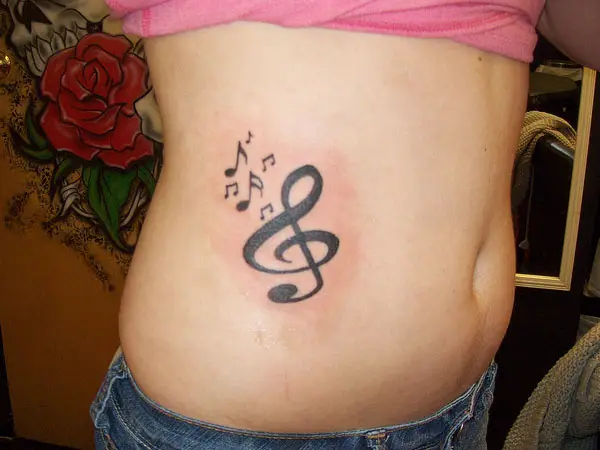 Leg Tattoo
This colorful musical tattoo, carved on the leg, stands for the harmonious steps a man must take to lead his life.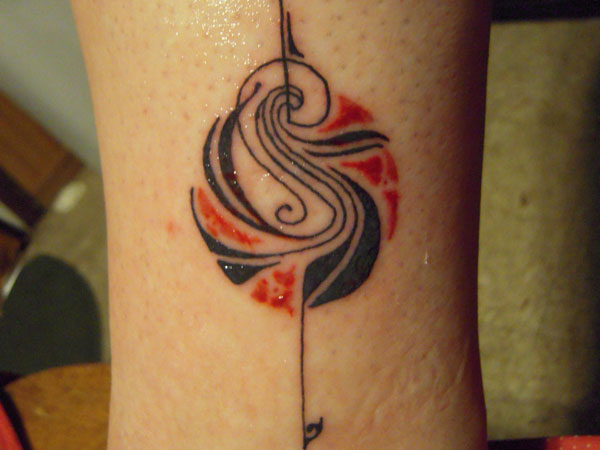 Leg Tattoo
Terrific Treble Tattoo
Framed by a star, this treble clef symbol depicts the shining aura of music that always uplifts our mood.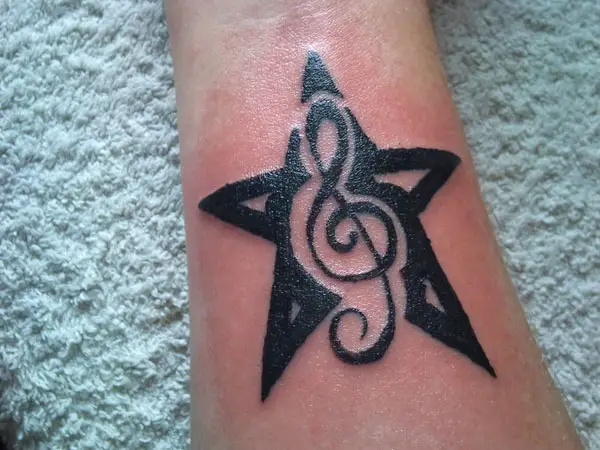 Cool Treble Clef Tattoo
Exhibiting a greenish-yellow shade, this expansive treble clef tattoo looks pretty cool.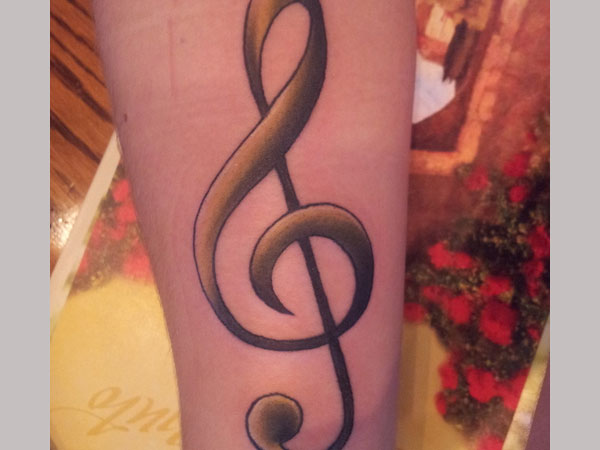 Cool Treble Clef Tattoo
Chest Tattoo
Small treble clef symbol resting on the chest that depicts how close the girl is to music.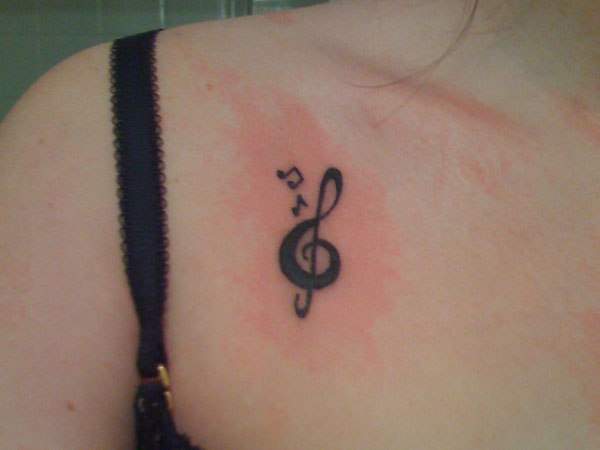 If you didn't have an appreciation for music and the dedication that musicians tend to have to it, hopefully now you do. You won't find many lists like this out there so be sure to share this one with your friends. If you know a musician or someone who simply loves music, be sure to share it with them as well. We promise it'll be almost as good as giving them an early Christmas present!
If you like this article, you might be interested in some of our other articles on  Infinity Symbol Tattoo,  Yin Yang Tattoos,  Hourglass Tattoos  and  Tear Drop Tattoos.