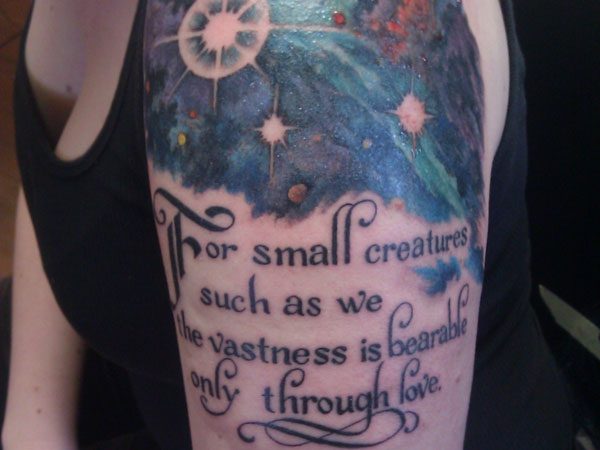 Imagine a piece of writing that you can carry with you all the time right on your skin. Imagine your favorite quotes fading on your body as you go through the seasons of your life. That is what the finest tattoo quotes are all about. You can get words tattooed on you that are precious and mean something to you. Girls have plenty of choices when it comes to tattoo quotes, and the themes may range from surviving, to love, to freedom, to passionate desire, etc… Tattoo quotes for girls are words that shape you as you go through life.
When it comes to Tattoo Quotes For Girls places to get the quote tattooed on you depends on how long the quote is.
If it is a very short quote of about four or five words you can get it inked somewhere that it is easily seen, such as your inner wrist, leg, or upper arm. For longer quotes you need to choose the area of your body carefully. To show it to the whole wide world you can get your favorite meaningful quote inked on the back of your neck running down your spine. You can also get a quote inked on a private part of your body, such as the lower back, or the area above the waistline. The large area near the shoulder blades is a great place for horizontal tattoo quote designs. Another popular place to get inked is on the side of your body going all the way down to the top of your waist or even down on your thigh. You can also add a small motif like a red heart or colorful designs that bring more depth and meaning to your beautiful quote tattoo.
Love Is All We Need
This stunning design with a rich blue space and stars comes with a meaningful quote about the power of love.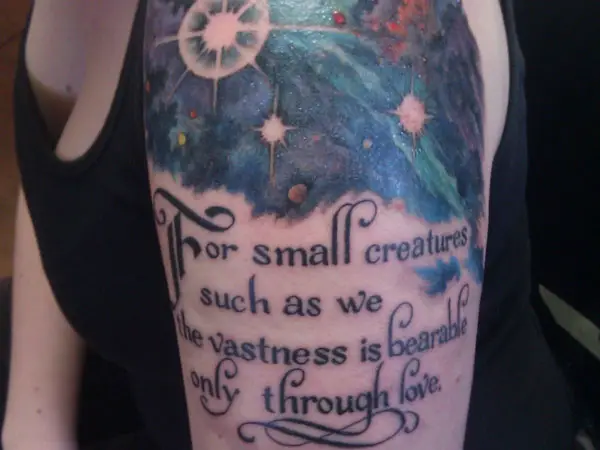 Love Is All We Need
New Beginning Tattoo
What better way to celebrate a new beginning than with a quote tattoo that celebrates new beginnings and the passing of the old?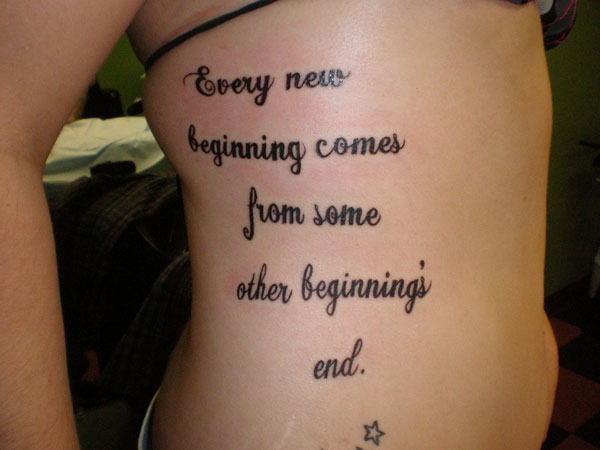 Tattoo For Bold Girls
This is a bold tattoo about living life with courage running right across a beautiful upper back.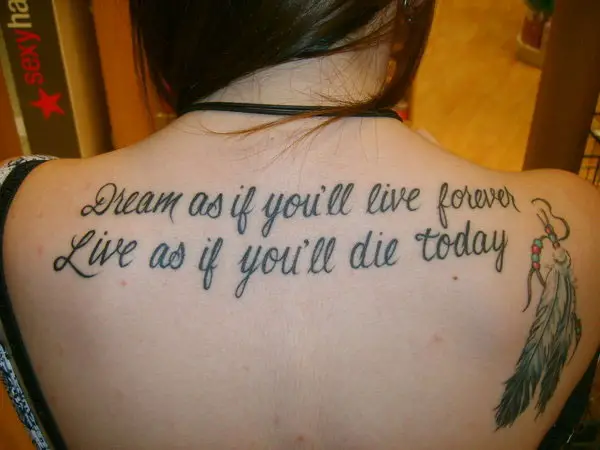 Dreamy Girl's Tattoo
This dreamy quote about wishes by the heart comes complete with a cute red heart motif.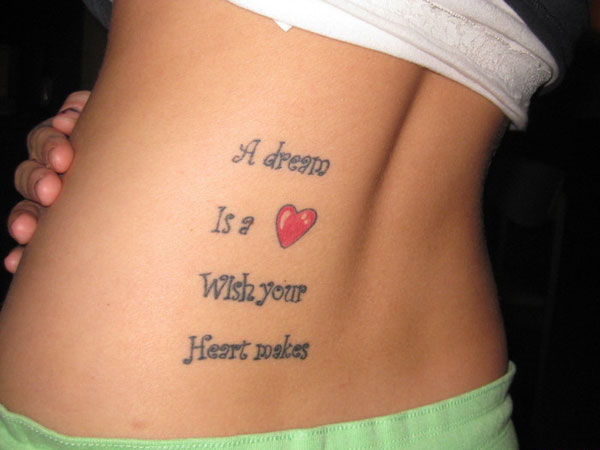 A Girl Forever
Check out this beautiful old style quote tattoo with meaningful patterns of flying birds, feathers, and a cross inked in rich black on the upper back.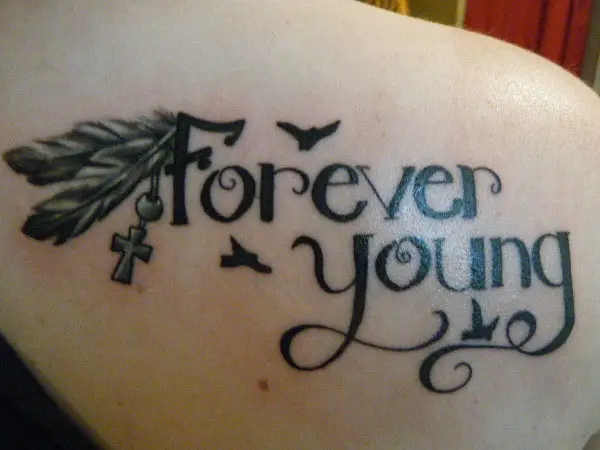 A Girl Forever
Powerful Quote
Styled in an ornate font in black this meaningful two sentences quote fits well on the lower arm.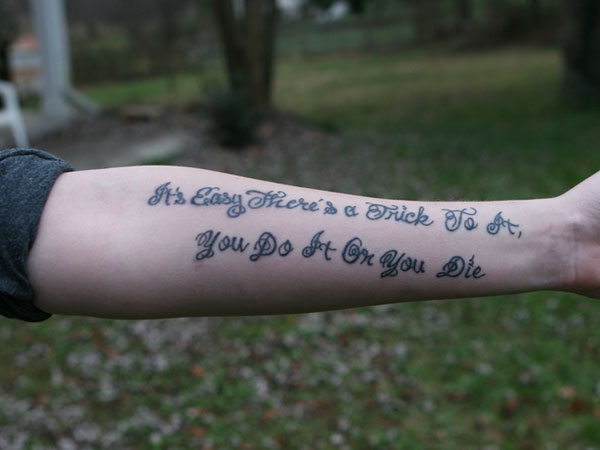 Simple Is Beautiful
This quote tattoo inked in small letters looks beautiful as it runs below the collar-bone.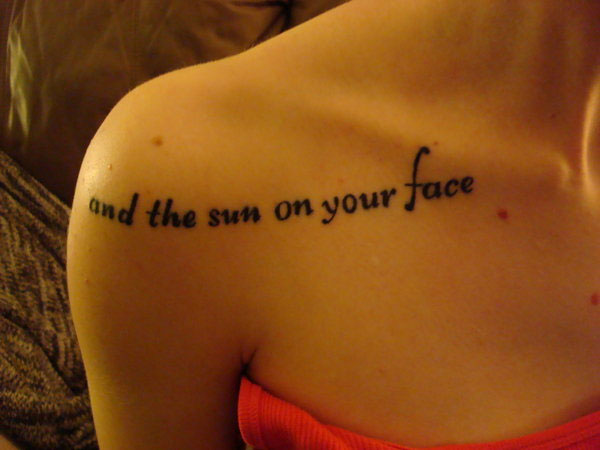 Live Free Quote
Check out this amazing tattoo about living life free inked right on the lower back in simple and bold black lettering.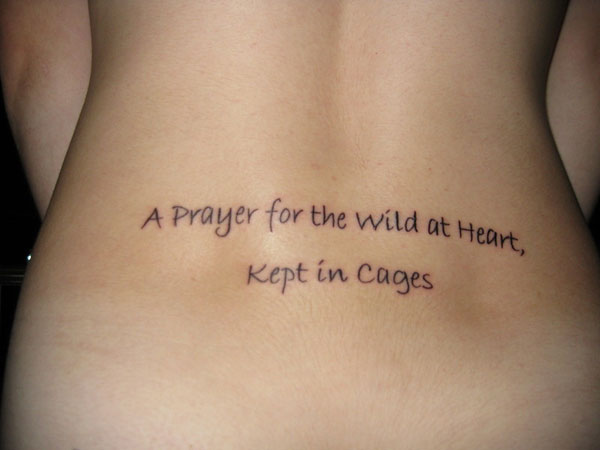 Girl's Foot Quote Design
The double lettering style in an elegant font along with the red rose adds to the beauty of this foot tattoo.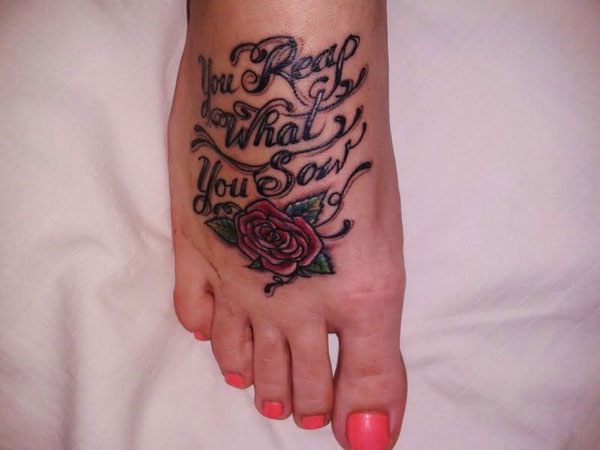 Girl's Foot Quote Design
Believe Quote Tattoo
Inked right across the two lower arms this tattoo split in two parts runs in small and clear black letters. Check out the cute spaceship motif at the end of the quote.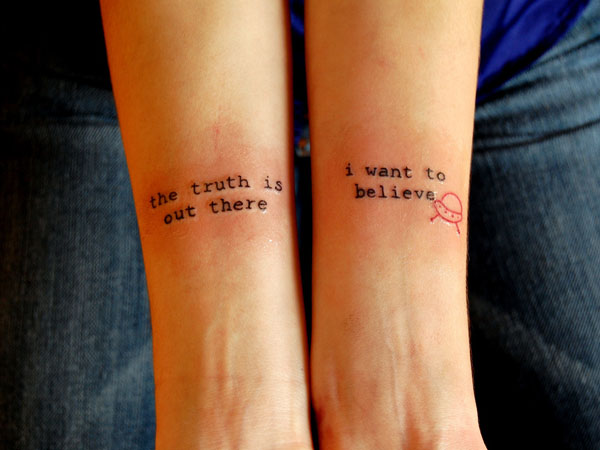 Commitment Quotes Tattoo
This shoulder tattoo about loving commitment is inked in black with a design of flying birds in a blue sky.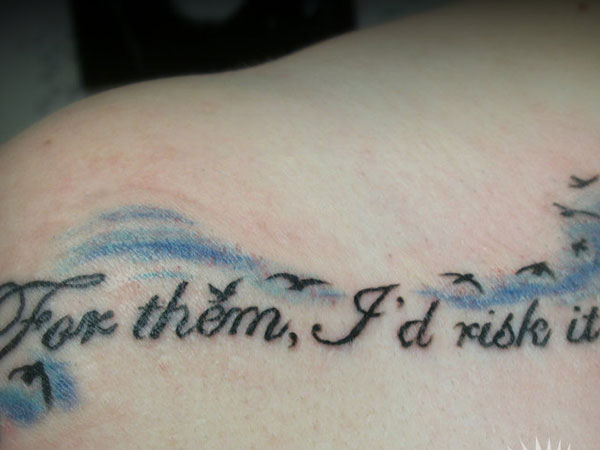 Fearless Quote Tattoo For Girls
The side of the body is perfect for this long and meaningful quote tattoo in black about living with hope and without fear.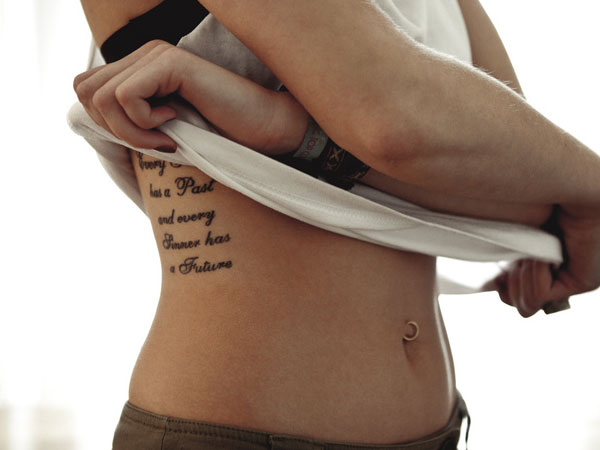 Fearless Quote Tattoo For Girls
Girl's Beautiful Tattoo
The inner wrists are great places to get inked with quote tattoos combined with delicate floral designs.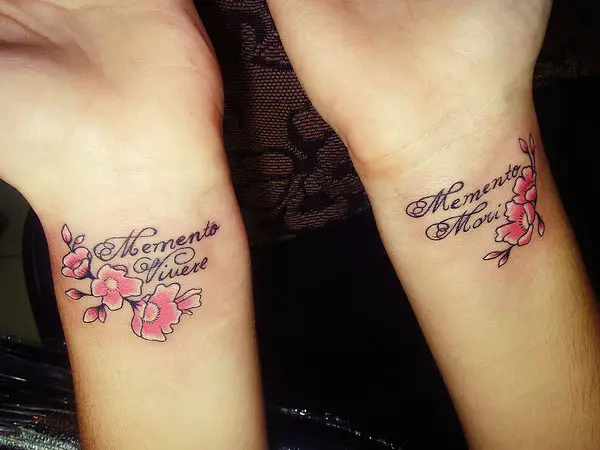 Girl's Beautiful Tattoo
Acceptance Quote Tattoo
Split in halves this tattoo across the two thighs stuns you with its deep meaning and courageous acceptance of life.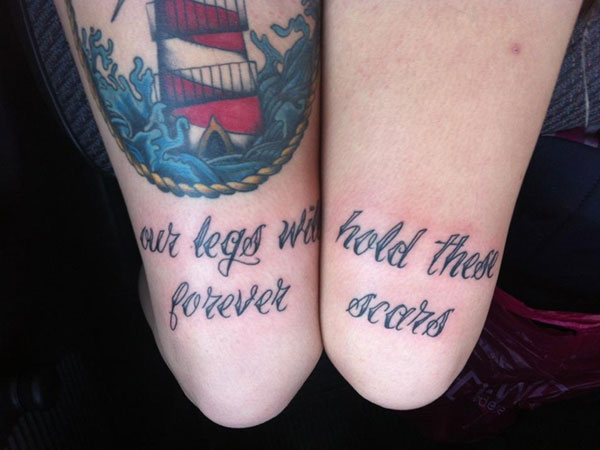 Acceptance Quote Tattoo
Red Love Tattoo
Here is a beautiful quote tattoo about love framed in a simple heart with a touch of red on the shoulder.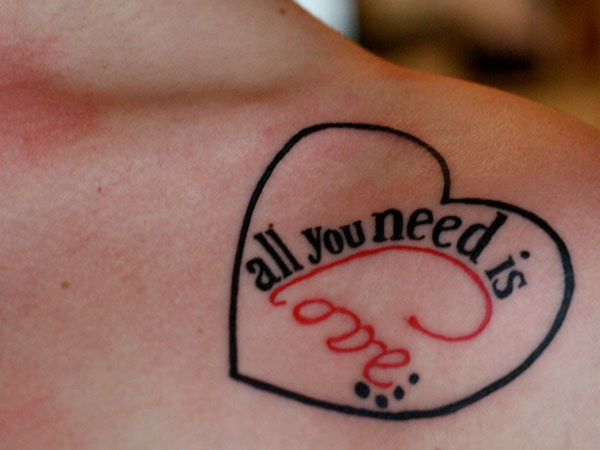 Religious Quote Tattoo
The search for meaning in life and one's personal journey comes out through this powerful Biblical quote running down from the back of the neck along the spine.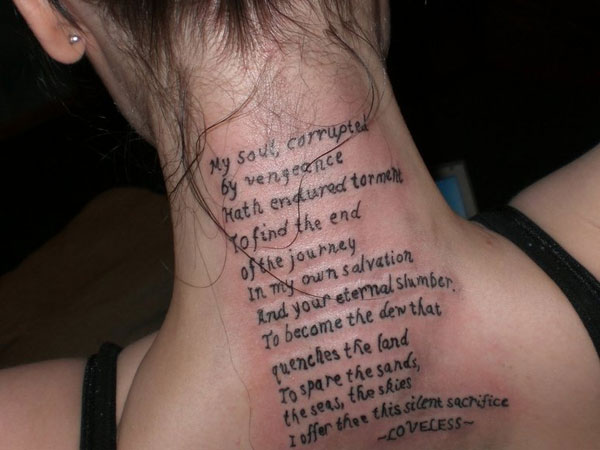 Bible Quote Tattoo
He walks with me, says this meaningful tattoo about God's love inked very suitably on the side of the foot.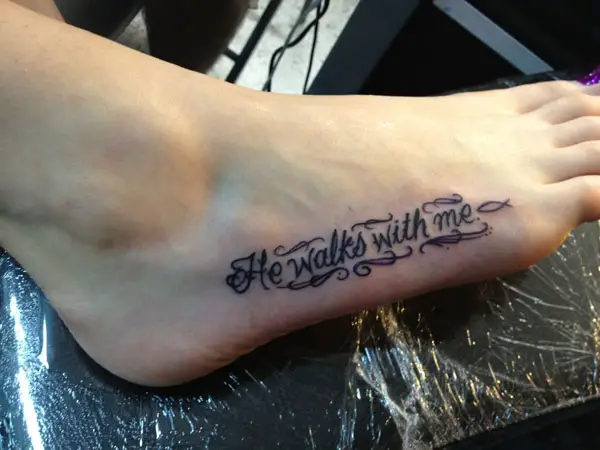 Bible Quote Tattoo
Hopeful Spring Tattoo
Pretty little blue birds and branches with flowers sit beside this hopeful quote tattoo on the arm.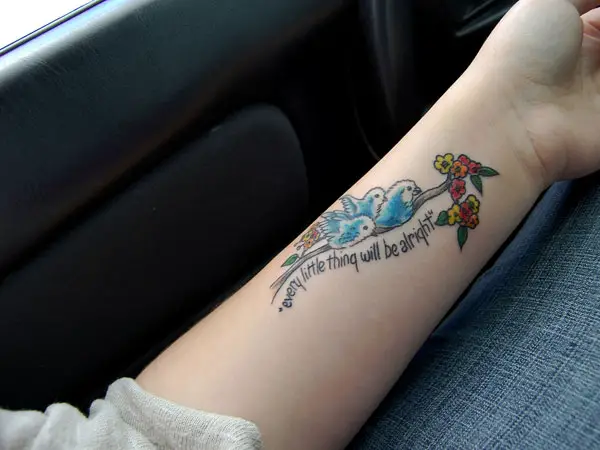 Four Words Tattoo
Just in four simple words this powerful quote tattoo on the upper arm tells you all about life.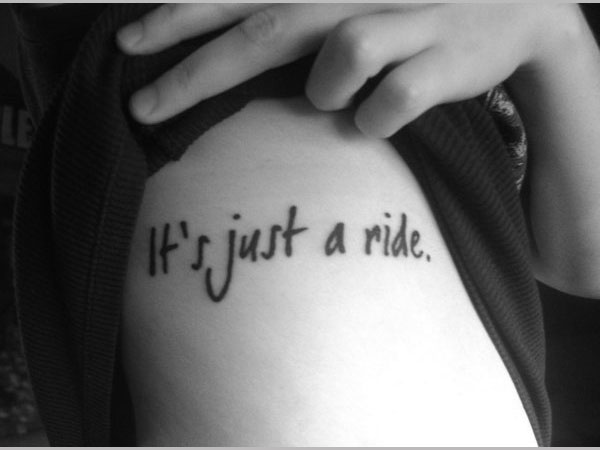 Celebrating Life Tattoo
Some quotes never do grow old. Here's a classic tattoo about the beauty of life celebrated in three simple words on the lower arm.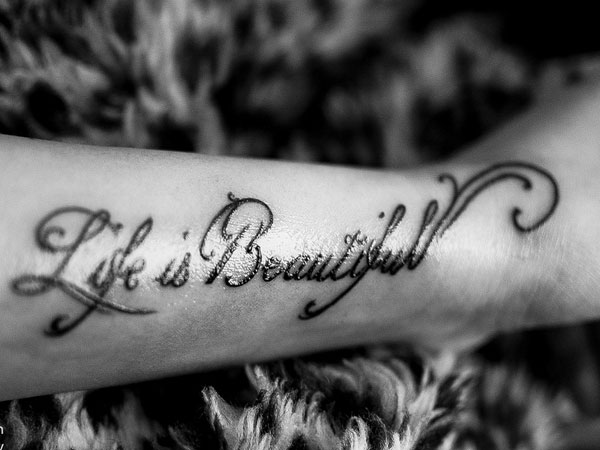 Happy Foot Tattoo
This quote about living without worry and being happy runs in a happy smiling curve across a pretty foot.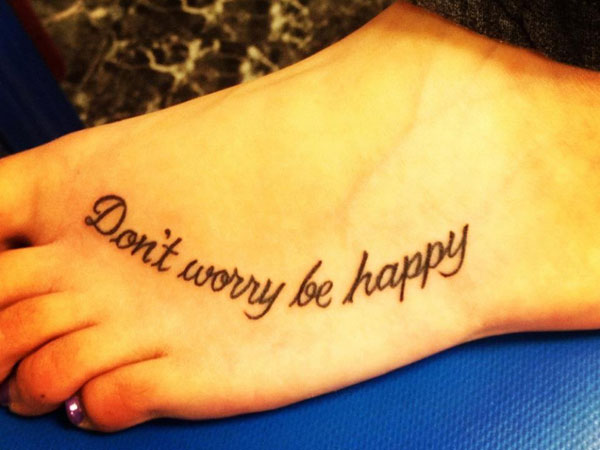 Happy Foot Tattoo
Survivor's Quote Tattoo
With an artistic wind-swept tree inked alongside this quote tattoo in black about courageous living looks amazing on the woman's shoulder.
Wonderful Tattoo
This long and meaningful tattoo about the wonder of life finds a suitable place on the side of the body.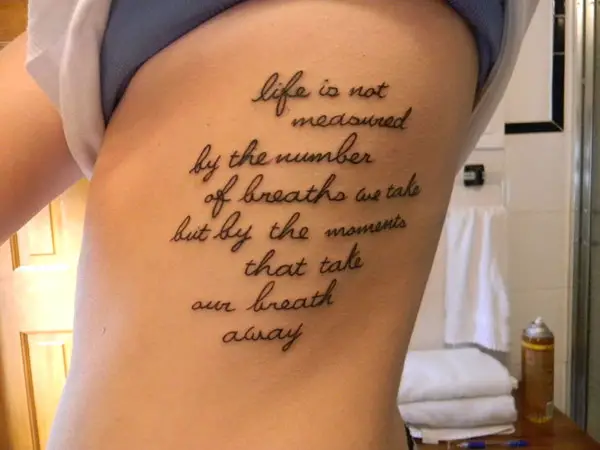 Mystery Of Life Tattoo
This quote celebrates the awesome mystery of life with stunning purple stars in a tattoo design.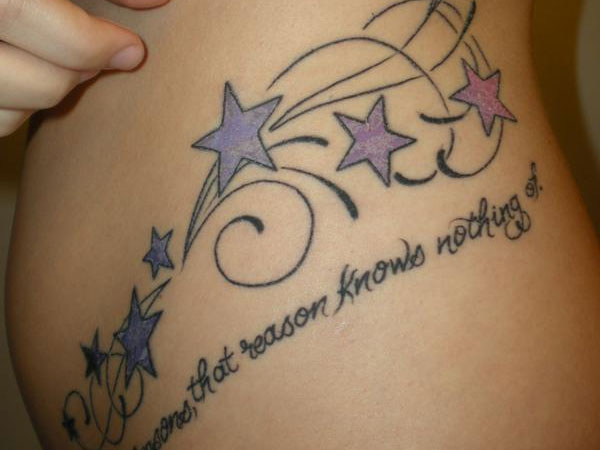 Cat Walk
Designed in arty black cursive letters this quote tattoo arching across a pretty foot is just right for a wildcat girl.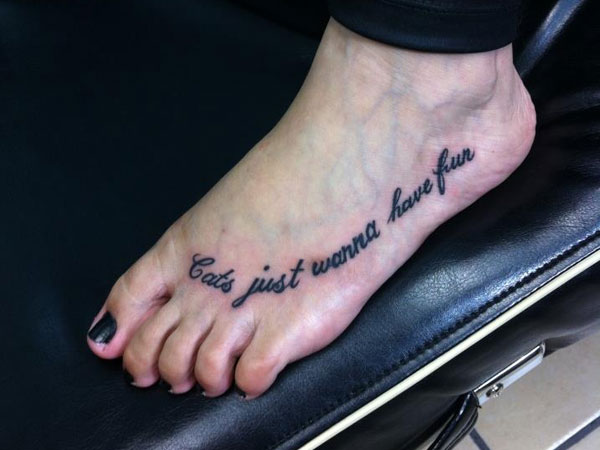 Cat Walk
Collar Bone Heart
Three simple words about the power of the heart sit inked in elegant small letters below this woman's collar bone.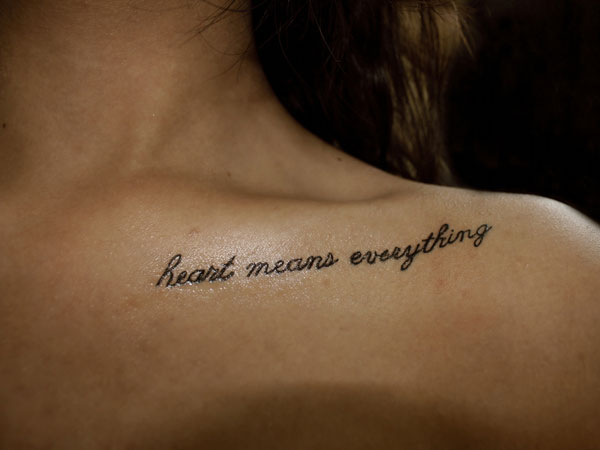 Tattoo Meaning
This beautiful lower back is just right for the lines of rich poetry about life and death.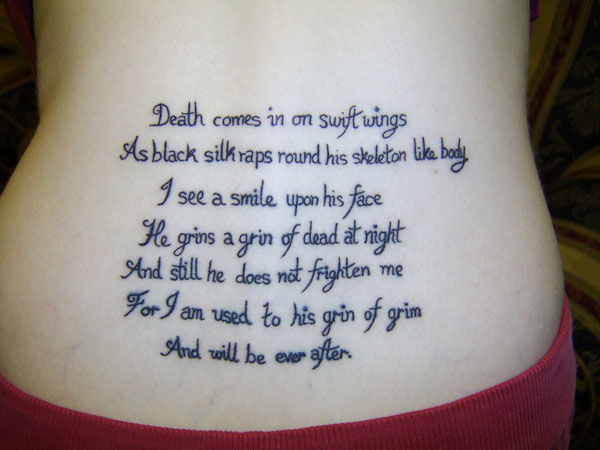 Girl's Back Tattoo
Written in Latin in a classy old style font this is a meaningful quote tattoo for a girl's upper back.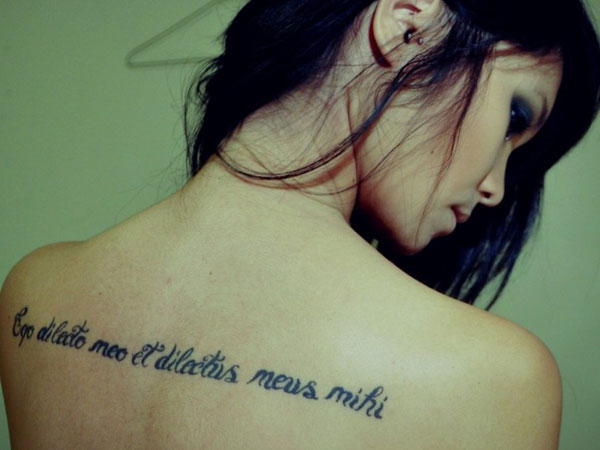 Shoulder Quote Tattoo
The four simple words of deep meaning sit perfectly inked in black small lettering near the shoulder.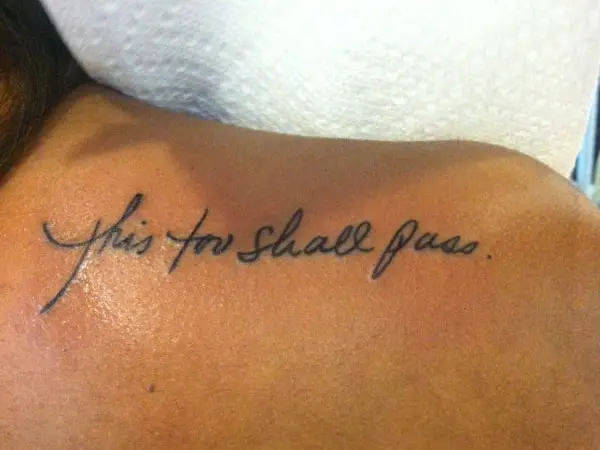 Shoulder Quote Tattoo
The Present Is Here
A simple horse motif gets framed by two lines about life and death above and below in this elegant upper back tattoo design.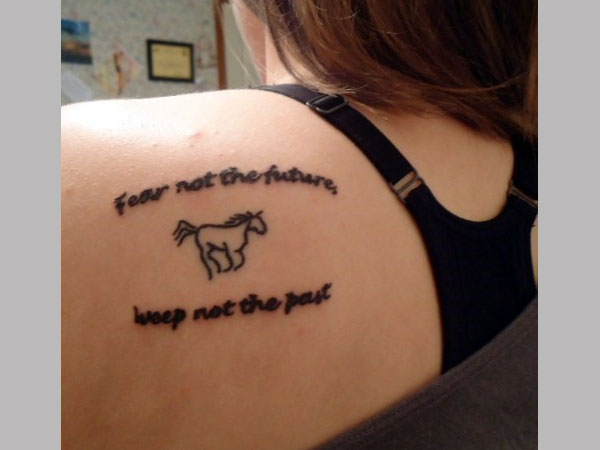 Coming Back To Life
Shaded in artistic strokes and rich colors this beautiful compass design is complete with a quote about being lost and found.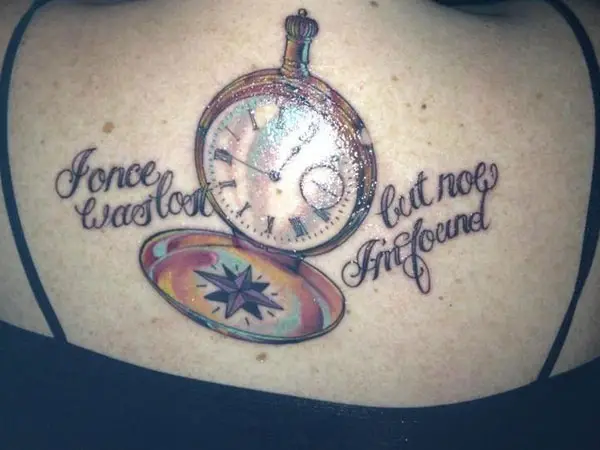 Coming Back To Life
Deep Quote Tattoo
Styled in newspaper style regular letting in bold black this is a darkly meaningful quote tattoo for a girl who's survived.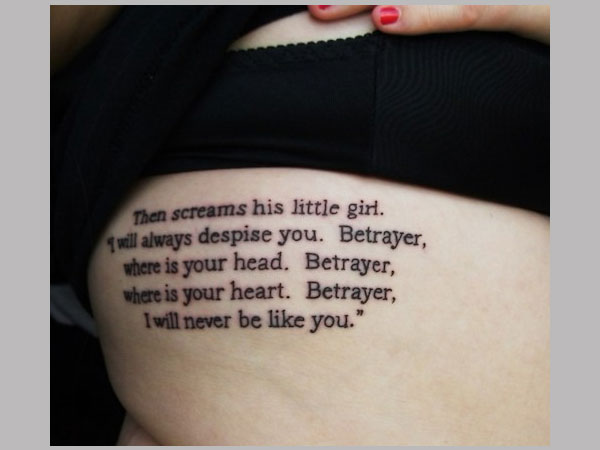 Till Death
A bleeding heart is the perfect motif to sit below this quote tattoo about love and death on the side of the body.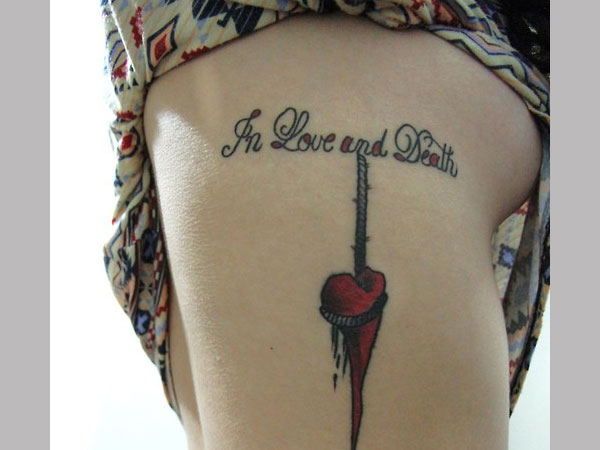 Till Death
Surviving It
The small hand modern lettering in black goes well with this meaningful quote tattoo on the upper back.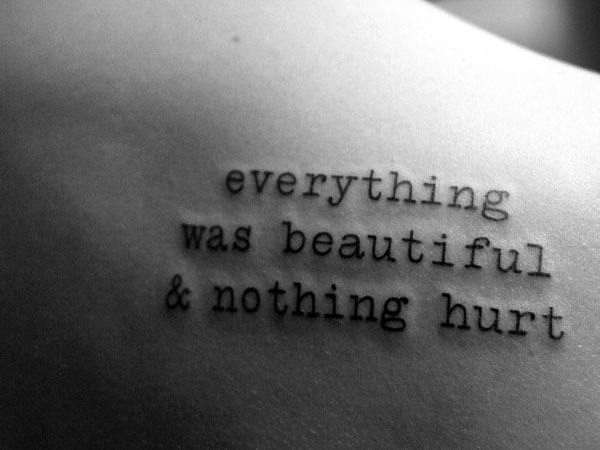 Loving It
Love like crazy, thus goes the wording of a powerful three words love quote right below the shoulder.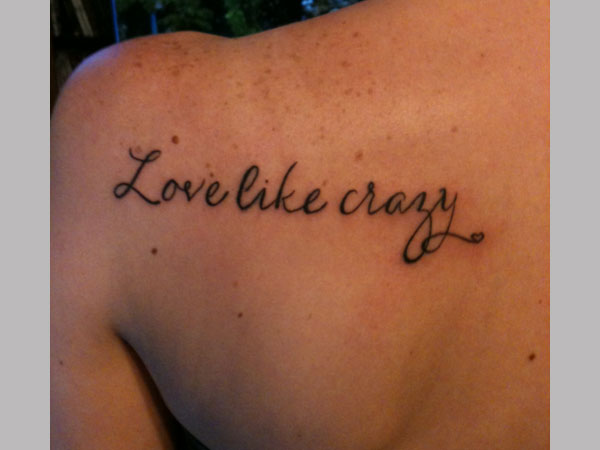 Loving It
Elegant Quote Tattoo
Cursive font lettering makes up this elegant quote tattoo framed in a brown cloud design.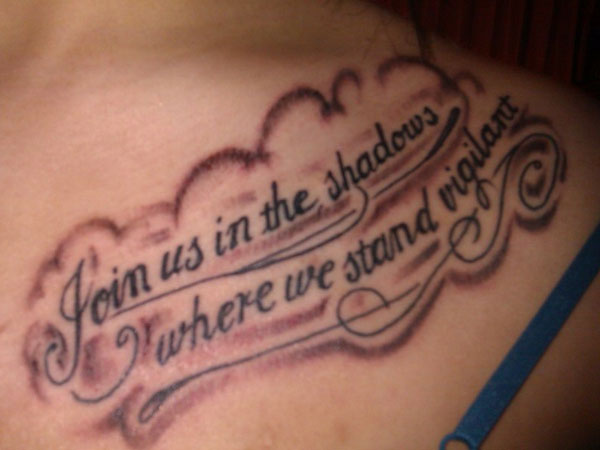 Heart Quote Tattoo
The flat side of the foot makes for a great place for this simple three word tattoo quote about the heart.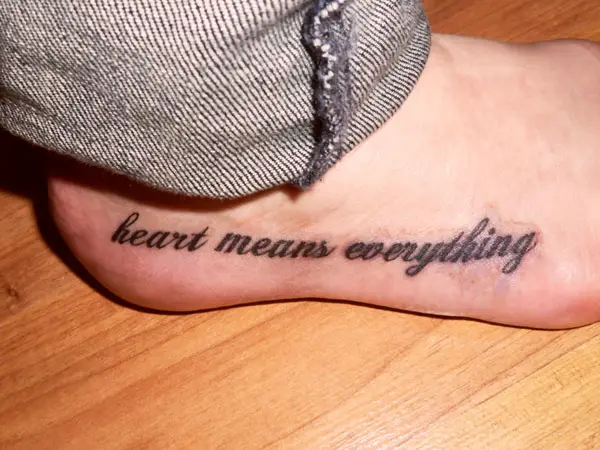 Heart Quote Tattoo
Quote Tattoo From The Dark Side
Designed in stylish ink drip style lettering in bold black this is a powerful tattoo on the side of the body.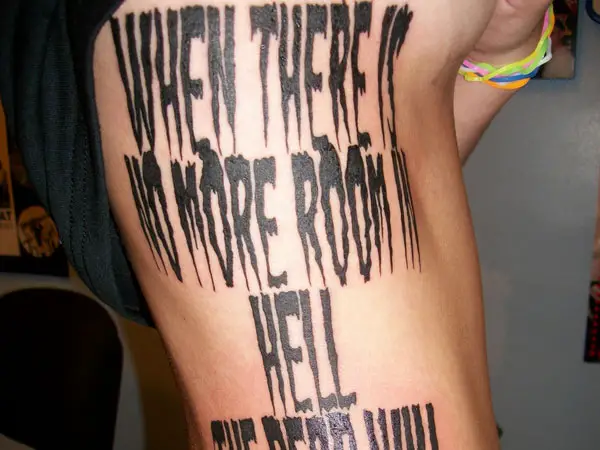 Quote Tattoo From The Dark Side
Dance Tattoo
Here's a great quote tattoo fitting right above the waistline that's perfect to show off in a dancing mood.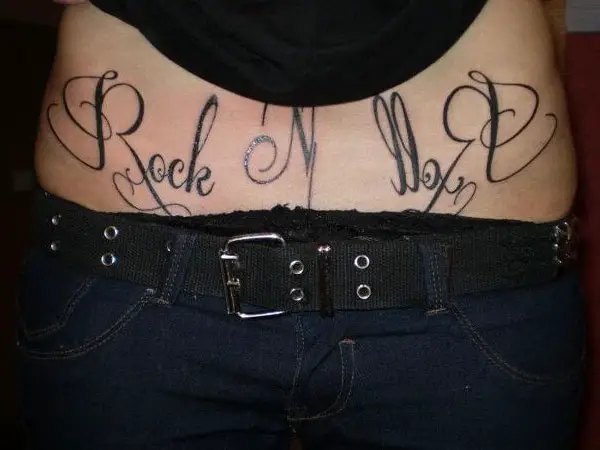 Dance Tattoo
Present Perfect
This long quote tattoo about the past, present, and future is split over four lines in this tattoo quote design.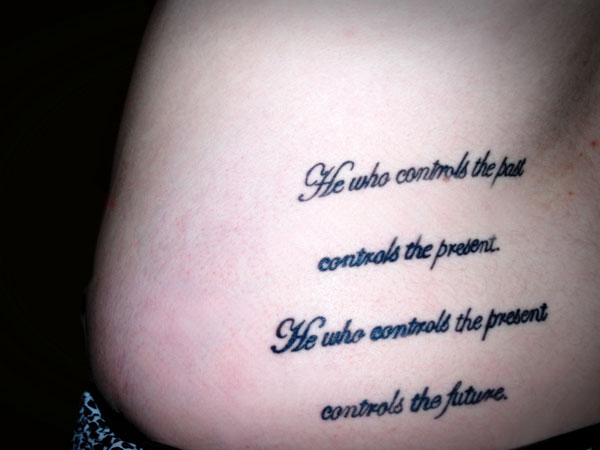 As you can see, there are a ton of places on your body that you can get a quote tattooed. The above images should give you some ideas of some good areas to get a quote tattoo. However, you need to make sure you get a quote that actually means something to you. That way, you won't be stuck with some meaningless words tattooed on your body. We hope you've enjoyed the list!
If you like this article, you might be interested in some of our other articles on  Believe Tattoos,  One Word Tattoos,  Tattoo Sayings  and  Let It Be Tattoos.