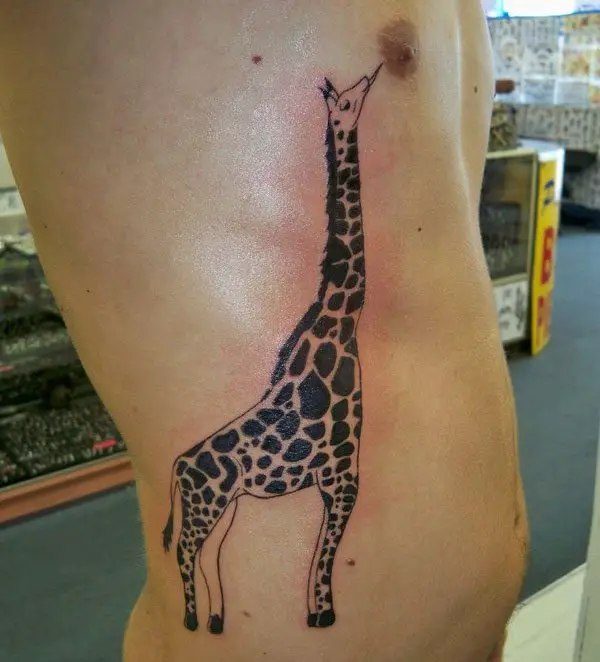 Some people can go over the top to prove the mettle of their poor humor. Stupid tattoos are a visible example of some crazy imaginations. Tattooing something illogical, random and hilarious for life is a matter of immense madness.
However, art has not limit and tattooing is known for extreme inspirations and eye-popping designs. Moreover, it is a great treat to explore rip-roaring funny tattoos.
Therefore, we are more than excited to present you this very entertaining list of stupid tattoos.
If you like this article, you might be interested in some of our other articles on Bad Tattoos, Crazy Tattoos, Funny Tattoos, Tattoo Ideas.
Giraffe
Not all tattos have to hold  a deep philosophical meaning. Some of them can be just for fun. This can translate to cute tattoos, funny tattoos or even just stupid tattoos. The wearer, for example, right here has an entire giraffe inked across his ribcage with the giraffe's tongue coming up to lick his nipple. I guess this guy just loved giraffes.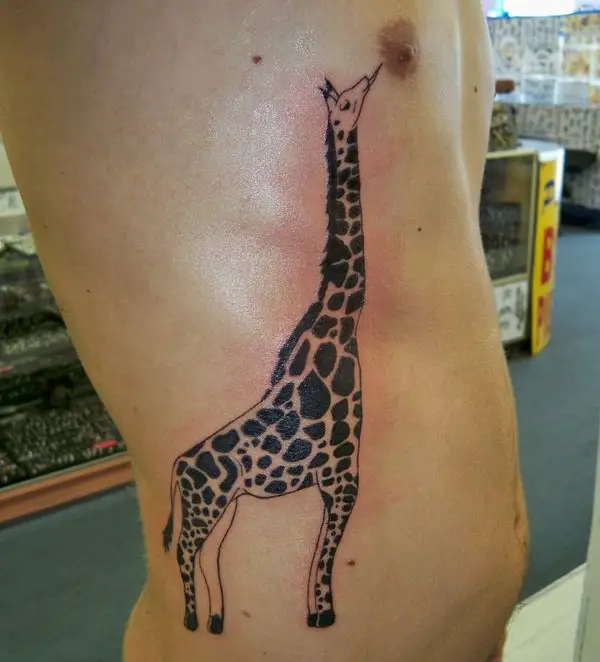 Peter Funny Tattoo
Peter Griffin is the main character of the animated sitcom Family Guy. Forearm tattoos are usually tribal tattoos that make the wearer look more tough. This guy, however, has a sense of humor and had the face of the beloved cartoon inked on his forearm. A case of stupid tattoos or funny tattoos? You decide.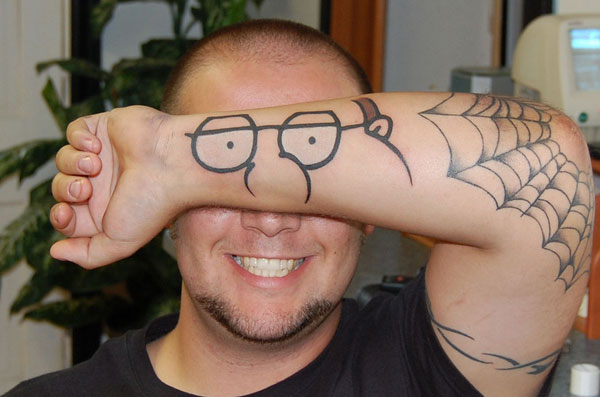 While it is certainly colorful and an eye-catcher, is it really a wise decision to have this tattoo art on your head? We'll let you decide on that one. Sadly though, this piece does not even crack the top 10 worst tattoos on this list. Maybe it would be best to just get simple tattoos next time?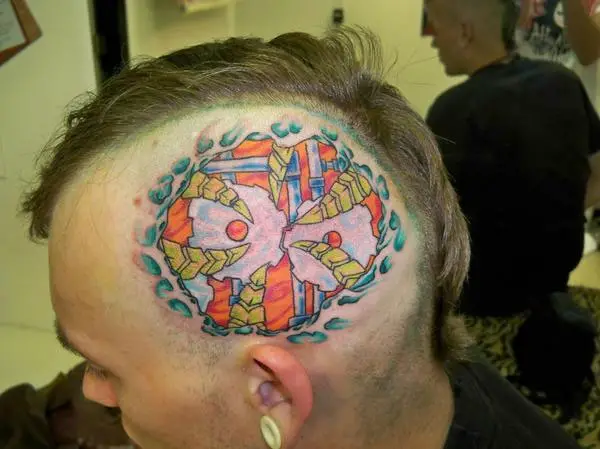 Three Funny Characters
Sometimes you just need to be reminded that life should not be taken seriously. These collection of funny tattoos will add a bit of positivity into the life of the wearer and anyone who sees it. In restrospect, it might not exactly be the best of tattoo ideas for men but it will definitely boost your mood.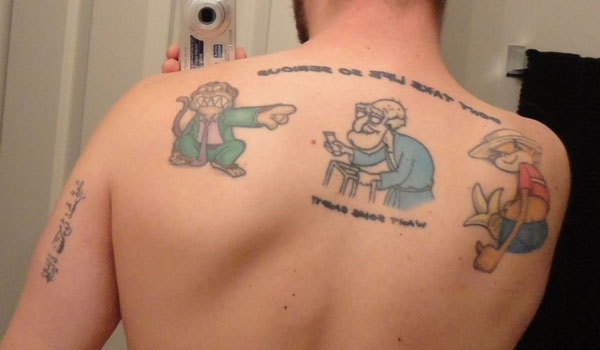 Tie
You will never have trouble with tying your tie when you get this tattoo inked on your body. This tattoo design is not exactly one of the worst tattoos ever to get. Funny tattoos like this would truly be a creative way to showcase your sense of humor. Now, this wearer can joke about never needing a shirt during formal events.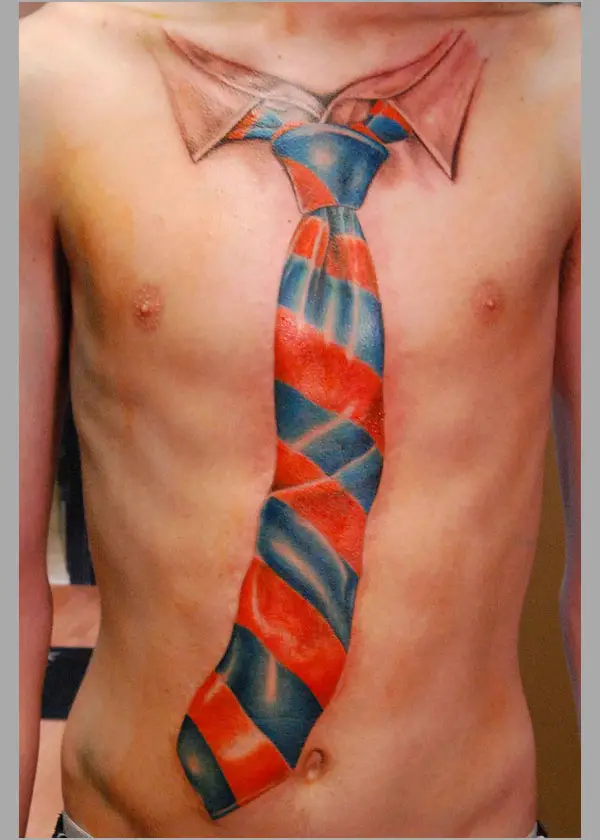 Bull Grilling Steaks
Speaking of worst tattoos, this piece may actually be one of the funny tattoos that makes you wonder about the sanity of the wearer. Just how high or drunk were they when they decided to get this tattoo of a bull grilling steaks and taking a dump?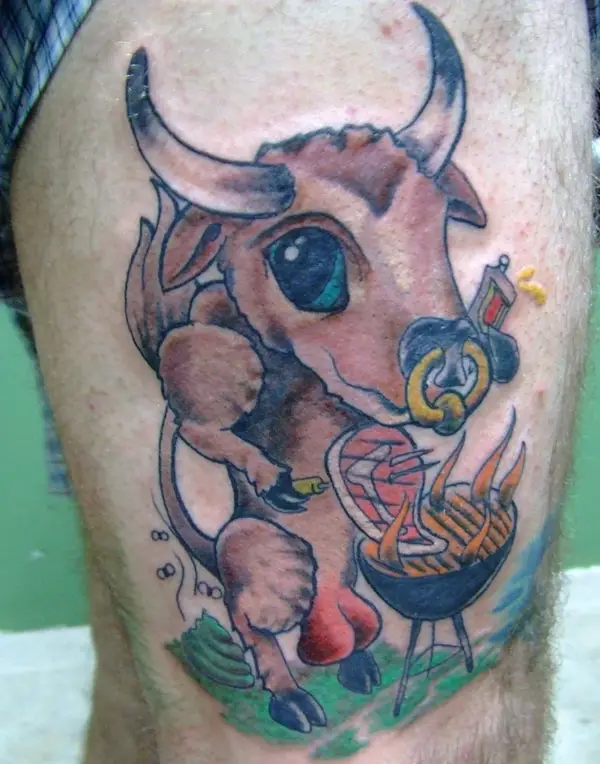 White Ninja
This White ninja character from the white ninja comic strips makes the list for funny tattoos that men can get. The white ninja character is definitely one of the most iconic symbols on the internet. It has definitely become one important image of this generation's meme culture.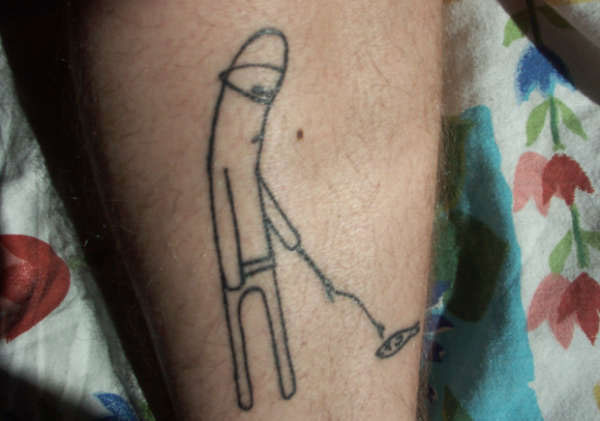 Poo
Talk about original stupid tattoos. If there is a competition to the worst tattoos ever to get, this piece might be one of the higher-ranked pieces. Talking about funny tattoo ideas for men, this tattoo is a little chocolate icing mascot with its tongue hanging out. To onlookers, it also looks like faecal matter.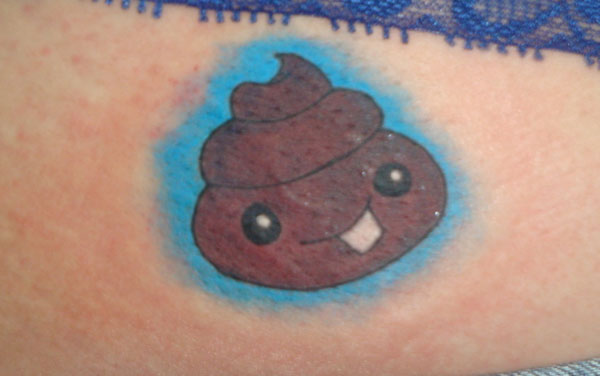 Pizza Lover
We get it. You love pizza. But just how much do you have to love this dish to have a hot, sizzling pizza slice with smoke and melting cheese tattooed on your body? But I guess this beats the other stupid tattoos on this list. A tattoo drawing of a hot pizza slice is still better than having faeces inked on you.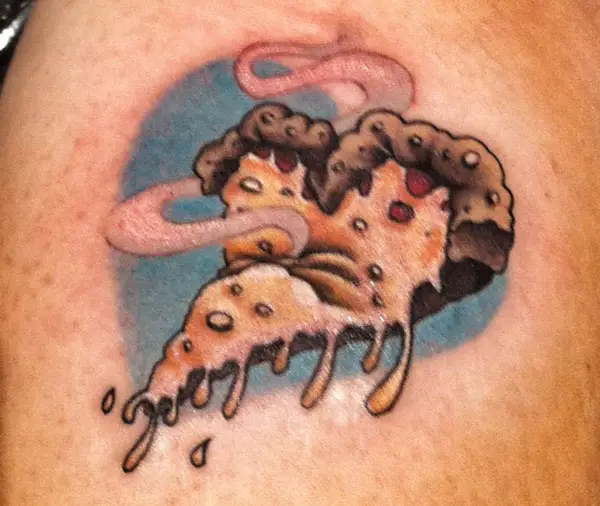 Marshmallow Burn
This funny cartoon character burning in fuming flames make up the majority of these funny tattoos. When it comes to cool tattoos, this burning marshmallow makes the list on great tattoo ideas for men. Simple tattoo designs can be boring and mundane for some. If they're going to get inked, they might as well go for the gold.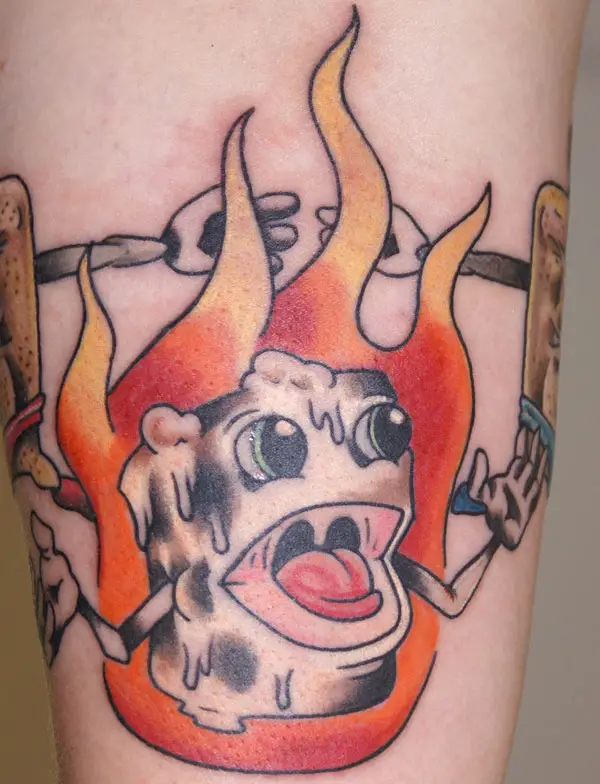 Snail
Vehicles are one of the best selling tattoo ideas for men. Seen as a masculine image, vehicles and car parts are great tattoo ideas like this angry automobile wheel transformed into an evil snail.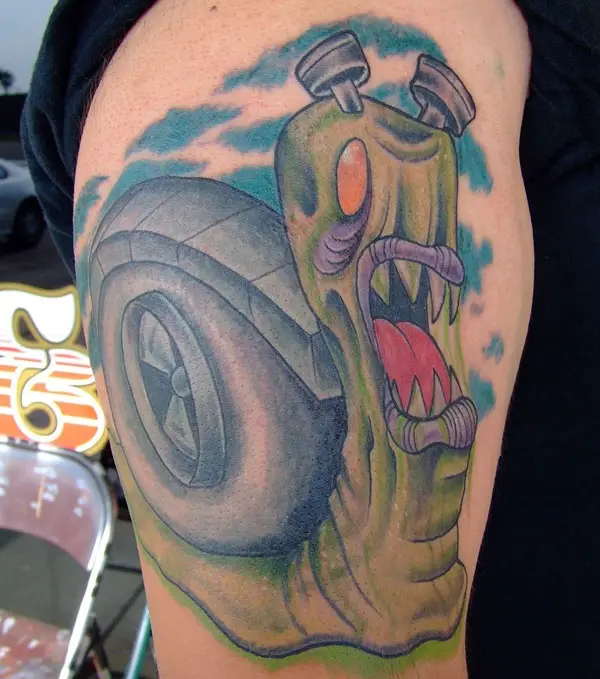 Captain K'nuckles Tattoo
Distorted version of Captain K'nuckles tattooed on forearm.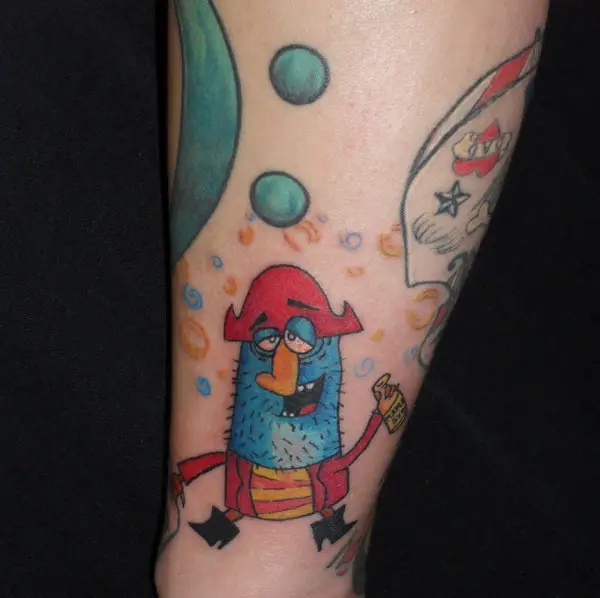 Cheesy
Cheesy bumps with one eye winked, looking side-splitting.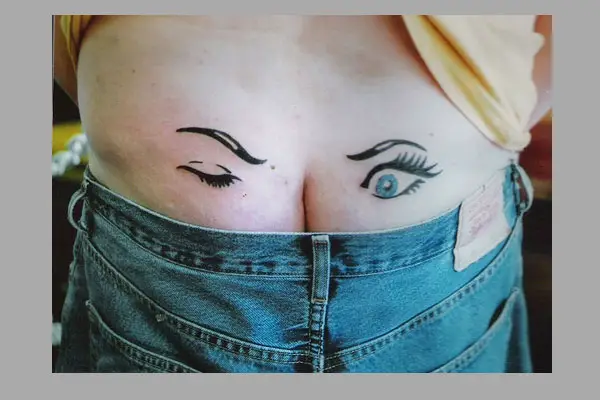 Fish
Could it be the ugliest fish, which has ever been tattooed?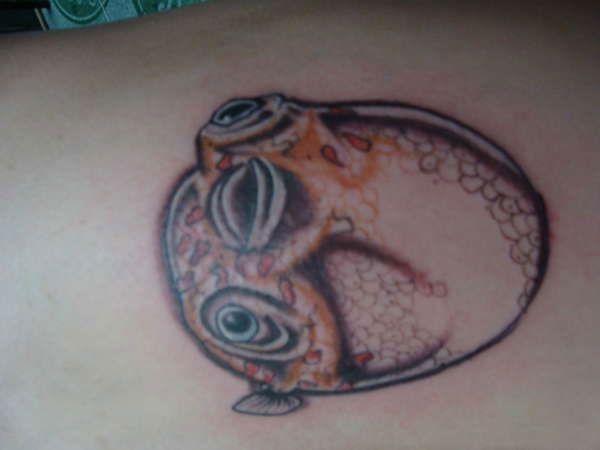 Spring Break Tattoo
No words for this kind of imagination, it's funnily crazy.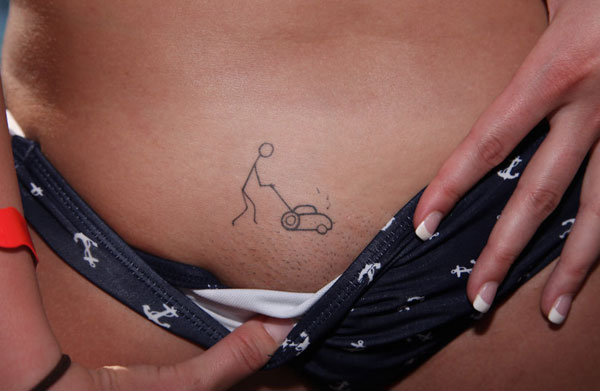 Hot Air Balloon
Unique obsession with a funny hot air balloon.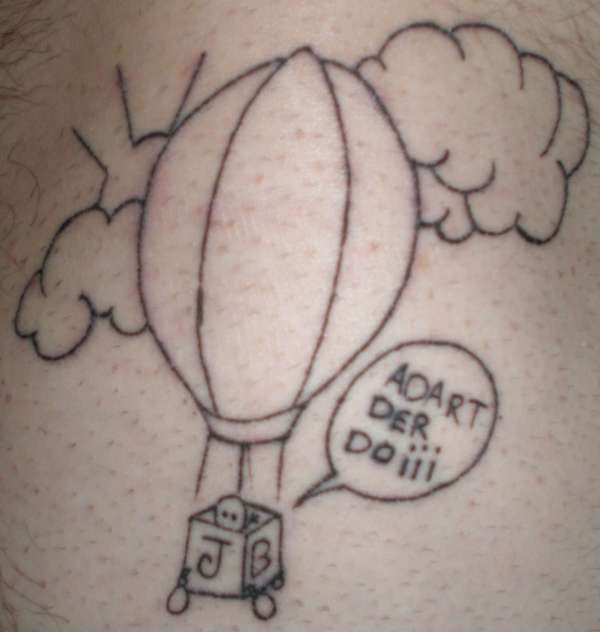 Zombie
This would bring dreaded expression on the faces of real zombies.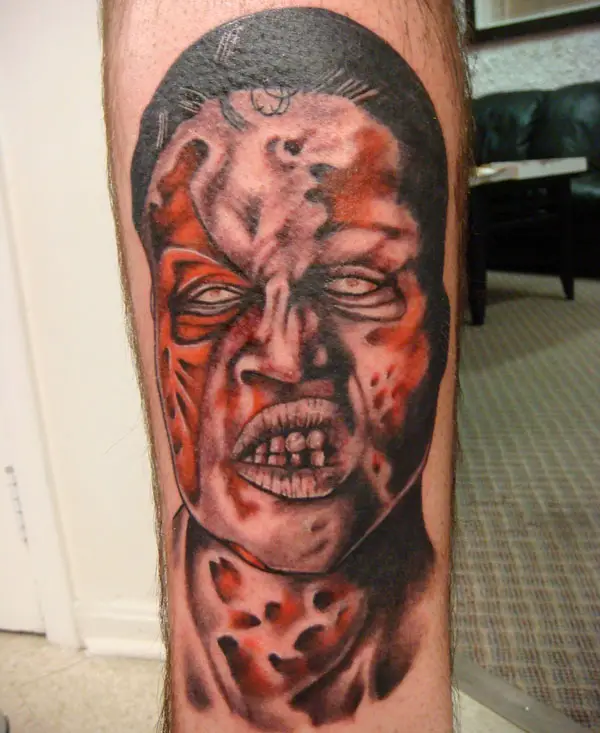 Evil Monkey
It does not look evil as much as it is looking freaking frustrated.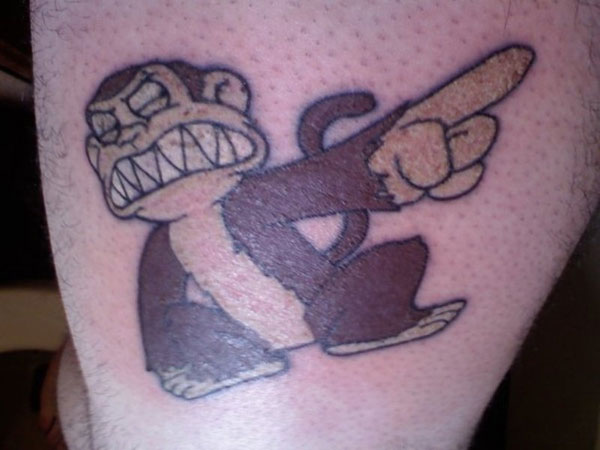 Vegvisir
It will be great if anyone of you could identify this creature, as it's beyond my understanding.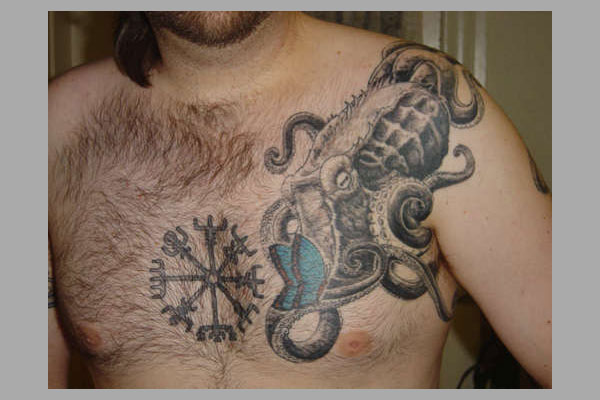 Green Eyed Bandit
Blue skull who seems to be trying real hard to make a scary impression.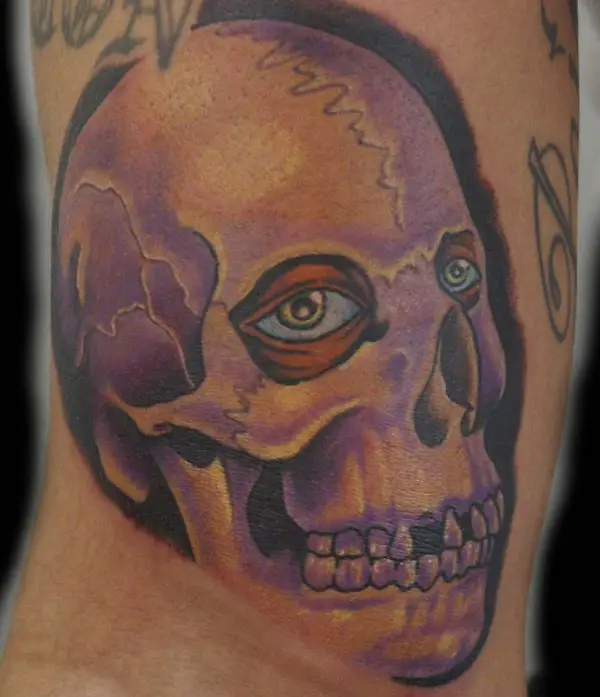 Keep It Real
Trying to imitate Bansky's signature art. Great attempt, is all I can say.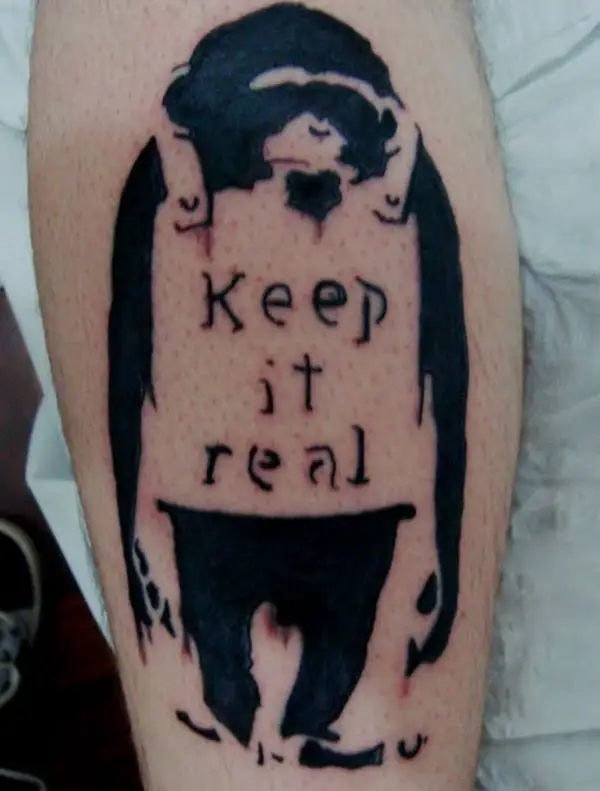 Throat Ink
Starved-out skull with wings, who has died again after death.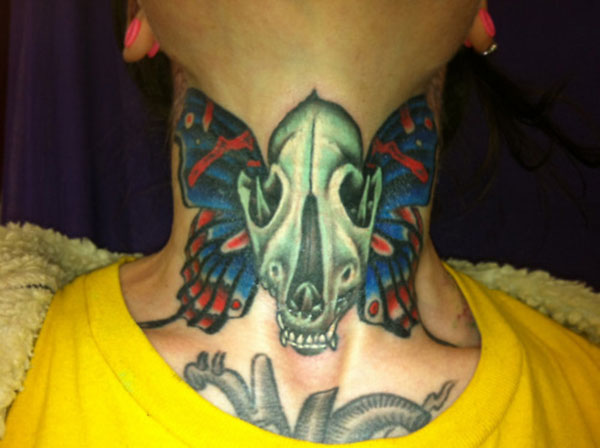 Monkey Magic
The monkey king, the head of a jungle tribe, in its complete ethnic getup.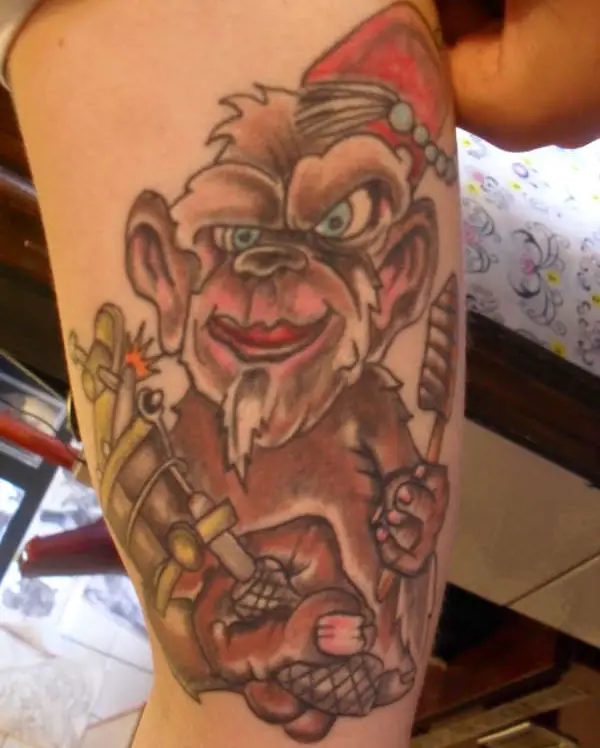 Burning Star
Poor star, not liking to be burnt so ruthlessly.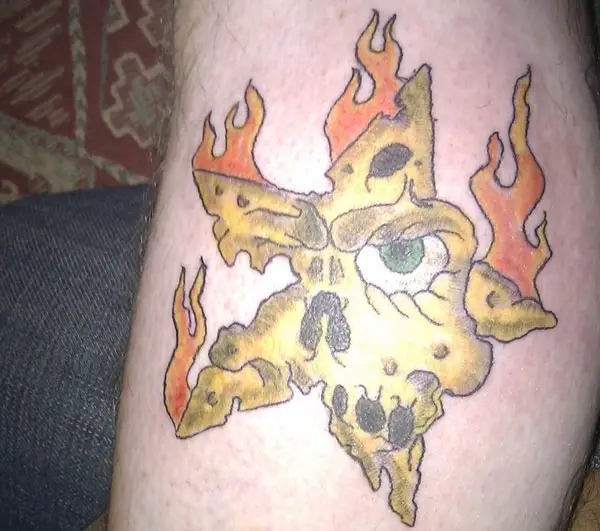 Little Robot
Tiny robot with a soldier's hat in memory of someone.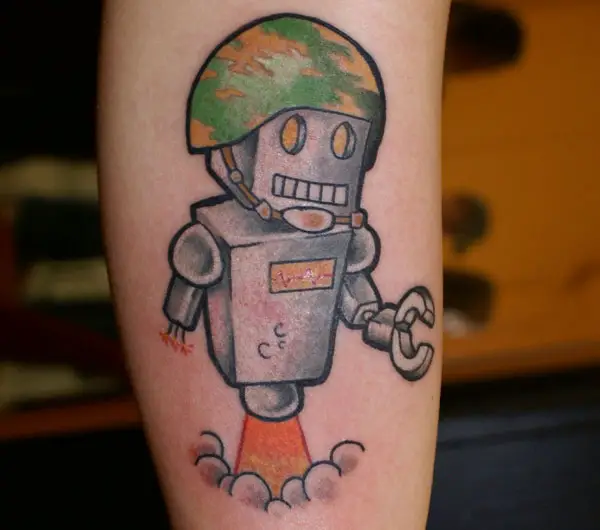 Bloody
Badass adaptation of an epic in gothic style.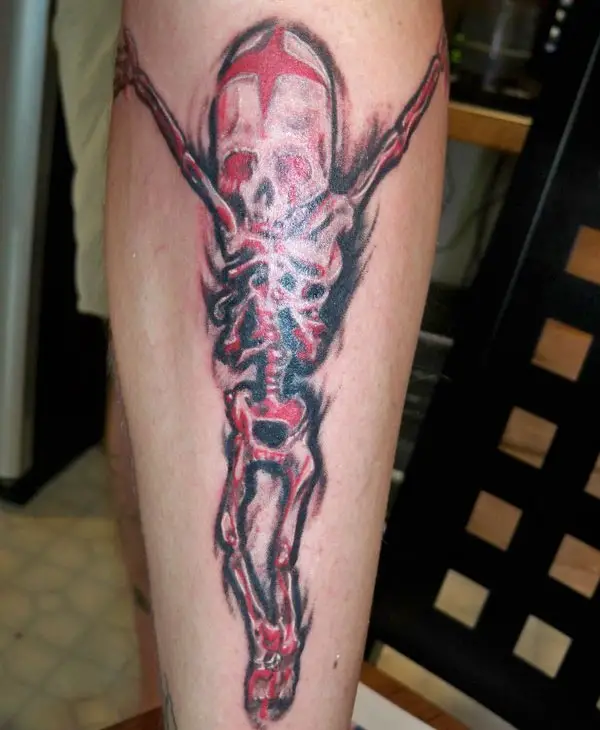 Bee
Crowned bee looks very upset with the idea of being tattooed on someone else.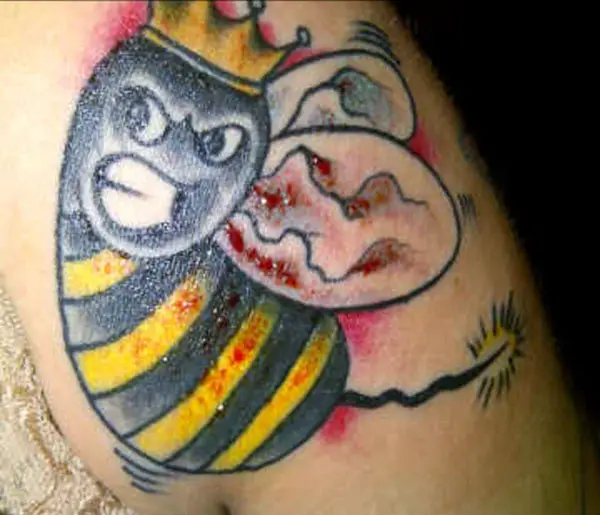 Bee
Ugly Doll Tattoo
Doll face tuned into a horrible nightmare and even tattooed.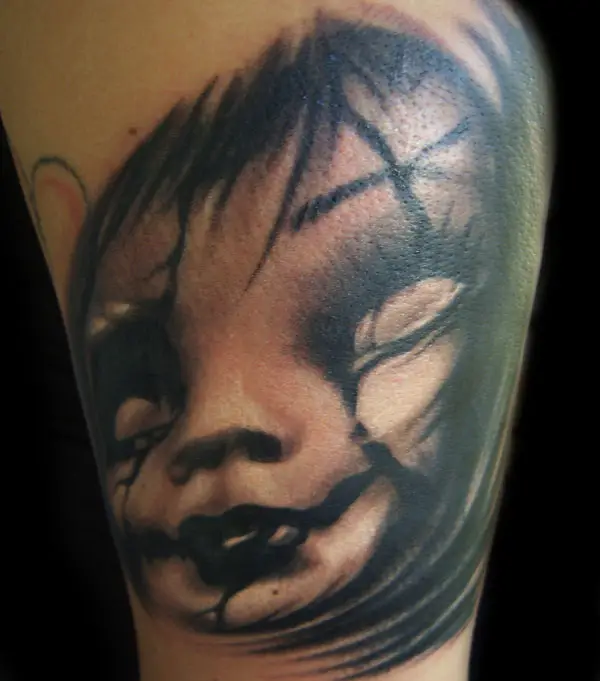 Blue Graham Cracker
It's a blue graham cracker sumo, which rather looks like a stale toast.