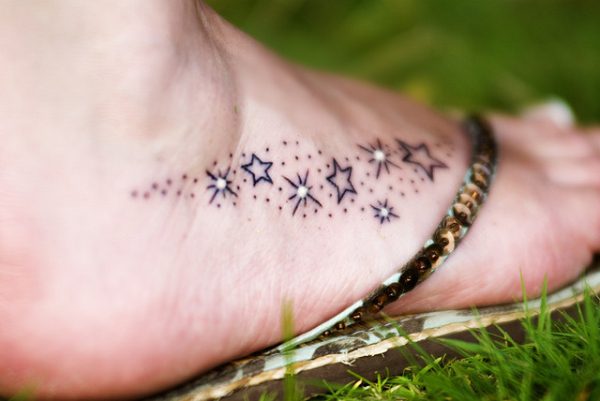 Stars have always fascinated mankind…its always so delightful to look up at the night sky and to see shooting stars or stand alone stars. They light up the sky making it look prettier.
When it comes to a choice of tattoo, many people choose to get stars tattooed on their bodies. Stars as a design can be made creatively with so much choice and color. Furthermore, it is a design which is bound to look good on anyone. Ideally, girls look great with star tattoos, especially when they are placed in visible body parts like their anklets or wrists. Men too can get variations of stars designed on them for a more manly look. Shooting stars specifically make a great theme for tattoo lovers.
Here below is a list of 25 cool and suave shooting star tattoos.
If you like this article, you might be interested in some of our other articles on Moon Tattoos, Sister Tattoos, Tree of Life Tattoos, and Feather Tattoos.
Beautiful Star Tattoo on foot
The cluster of shooting stars on the foot looks like a sweet design and can look mysterious with the right set of foot wear.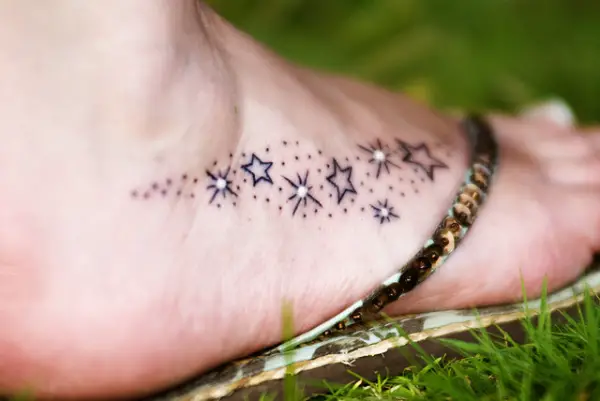 Cool Stars on a Foot
A cluster of differently sized stars around the foot looks great with a pair of high heels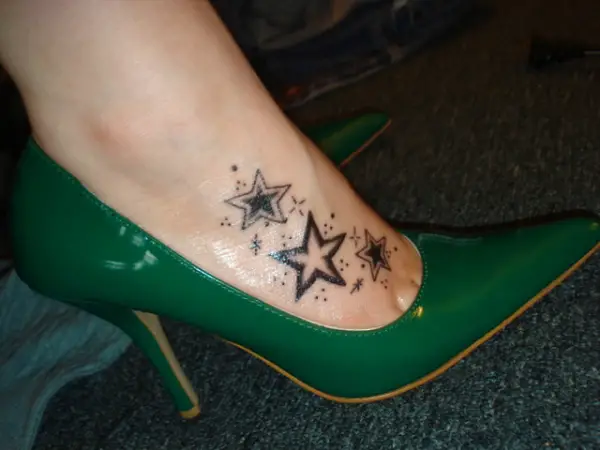 Shooting Star With Musical Notes Tattoo
If you like music and you like stars, put the two together for an awesome shooting star tattoo with musical notes in the middle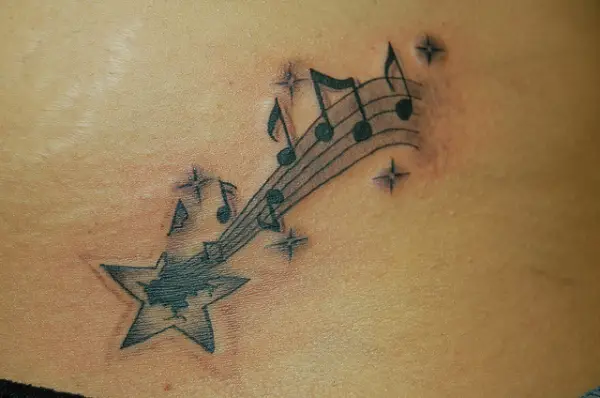 Shooting Star With Musical Notes Tattoo
Three Star Tattoo with names
If you love stars and certain people in your life, it will be a great idea to honor them by tattooing their name amongst your stars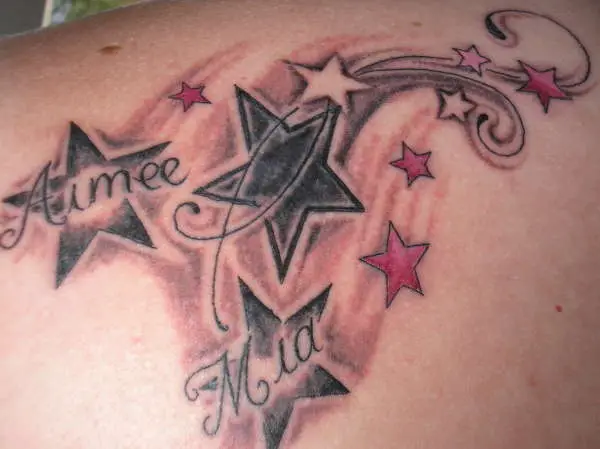 Traditional Shooting Star
The ideal depiction of a shooting star with the flame at the end of it is the perfect tattoo for people who consistently believe in shooting stars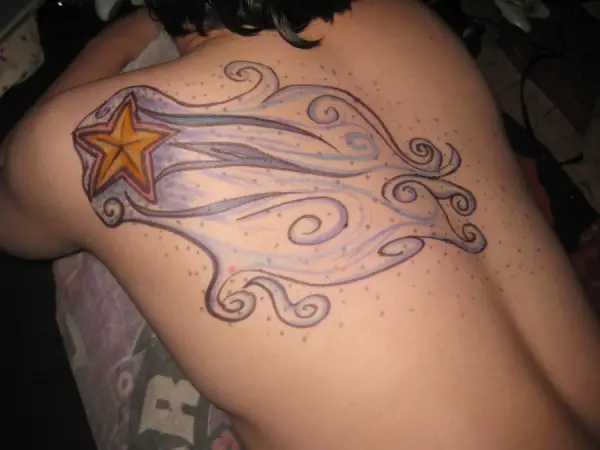 Flowery Star Tattoo
You can give your stars a girly touch to it by sketching flowers around the flowing stars as seen in this beautiful flowery shooting star tattoo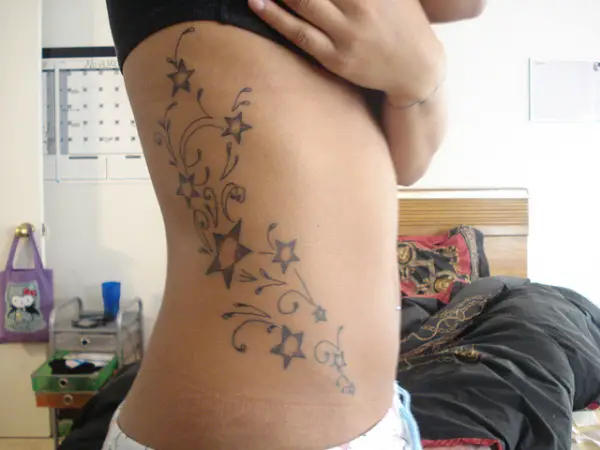 Shoulder Back Shooting Stars
This artistic sketch of shooting stars flying through your back gives you a nice celestial look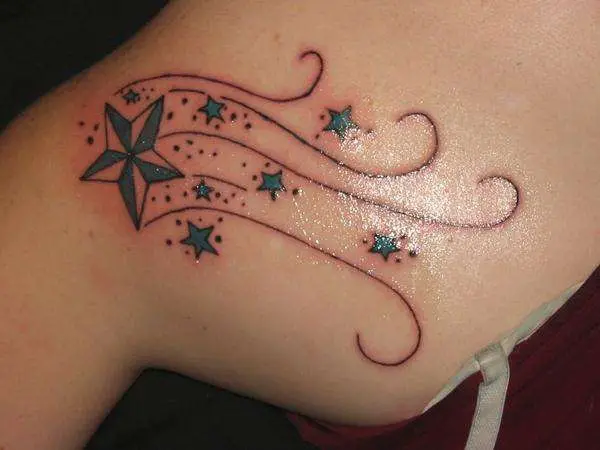 Colorful shooting stars on the foot
Add some color to your foot with this creative bunch of colorful shooting stars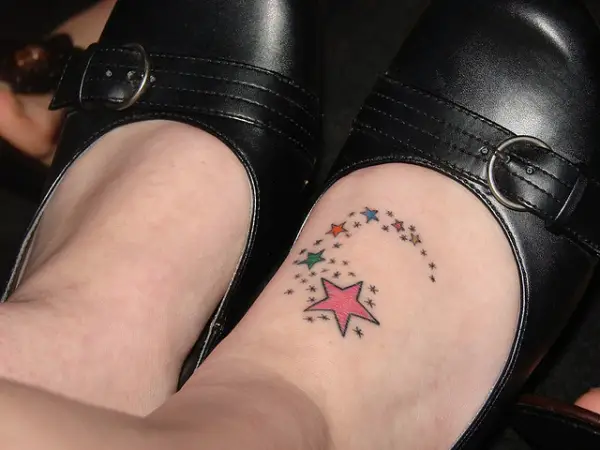 Shooting Star across the back
A blue themed shooting star set right in the middle of your back is a lovely idea, the back can act as spacewhile you customize the design with names to suit your choice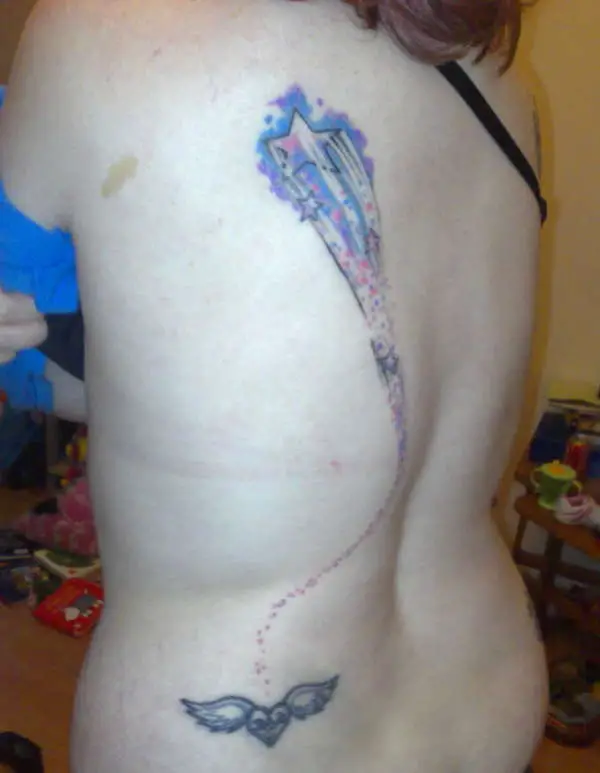 Falling Star Shoulder Tattoo
What would it be like if the stars fell? Find out, with a sweet tattoo of falling stars…falling across your body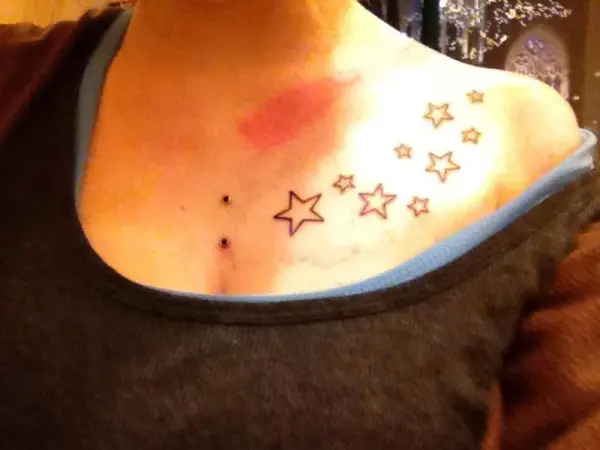 Black Falling Stars Tattoo
A line of simple black stars growing or falling across any part of your body always looks creative and cute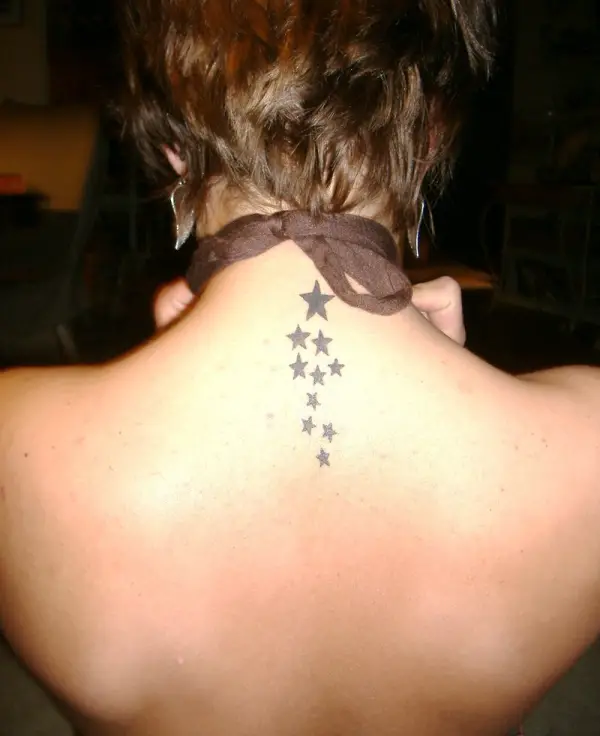 Shooting Stars on Lower Rib
Want to have a tattoo but want to be discreet about it? Here is an example of a shooting star tattoo placed strategically on someone's rib…a great idea for professionals who want to hide their wild side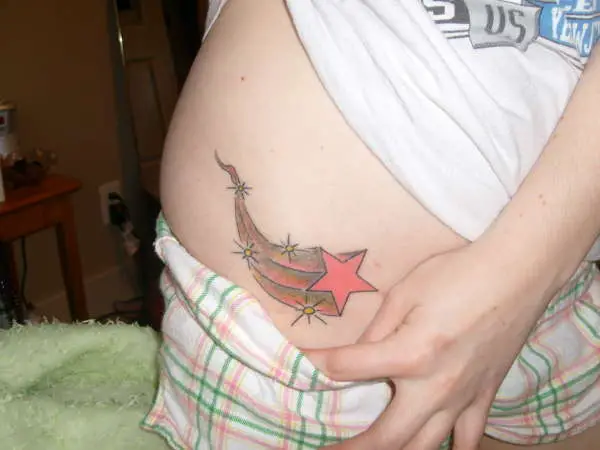 Shooting Star At Side Lower Rib
Burning Star Tattoo
Have a fetish for fire? Then the burning stars could be the ideal pick for a person of your taste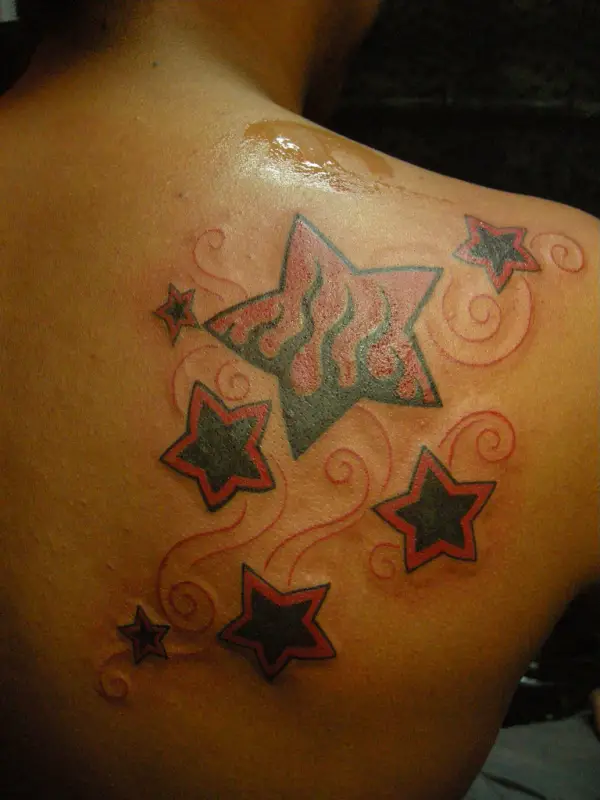 Falling Stars on the hand Tattoo
Cover your hand with a sprinkle of falling stars…pay tribute to the people closest to you by etching their namesin the middl of the stars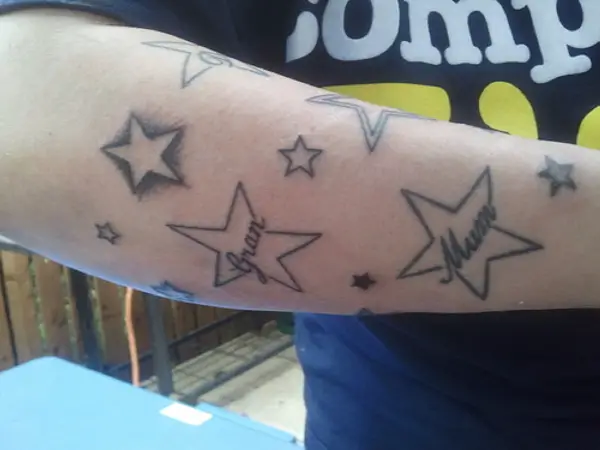 Chain of stars across the belly
If you are in the mood to decorate your belly, choose a chain of stars to go around your belly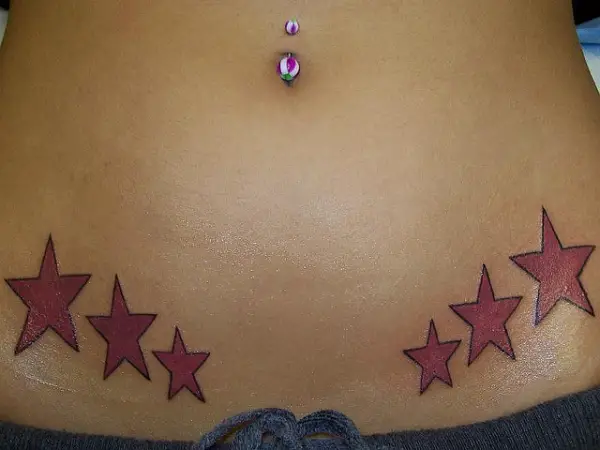 My Shooting Star Tattoo
Customize your shooting star like this blue and orange colored star placed at the back of a neck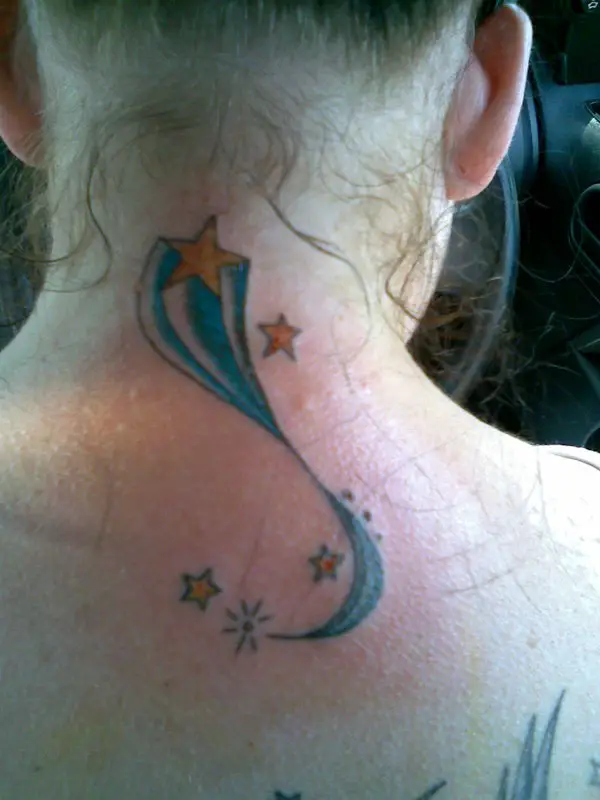 Shooting Waist Star
How big a star would you like? Make it as big as you want and place it on your waist to make it look like its flying through your skin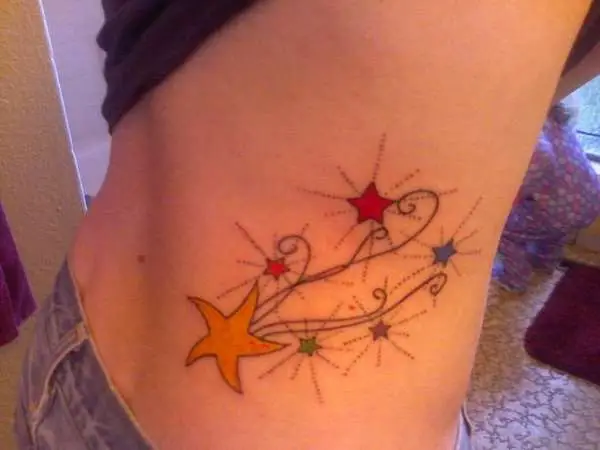 Tribal Star Falling Tattoo
The wrist is one of the best places for a star tattoo…here is a perfect example of a wrist star tattoo which looks like it will fall out of the hand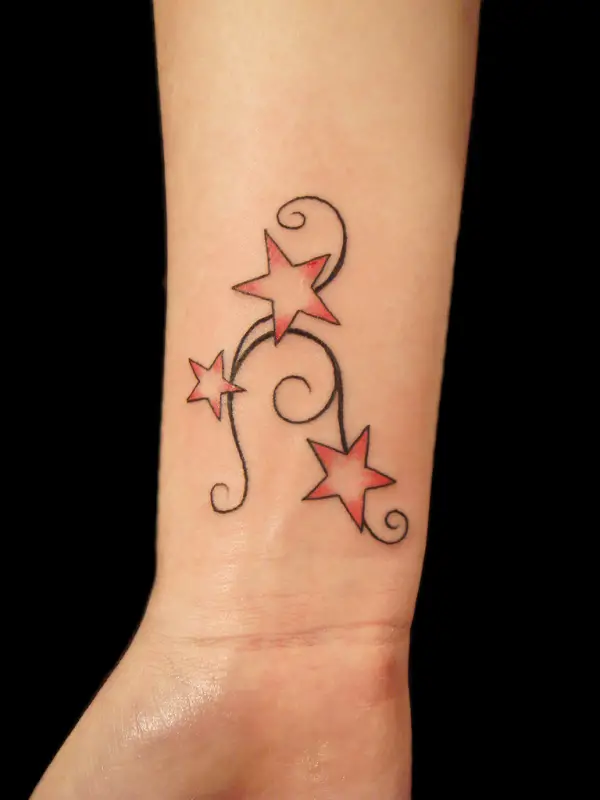 Shooting Stars Full Ribs
Use the expanse of your rib cage to get a creative and big shooting star tattoo that covers half your body, not only does it look fancy, it gives you a sweet starry eyed look!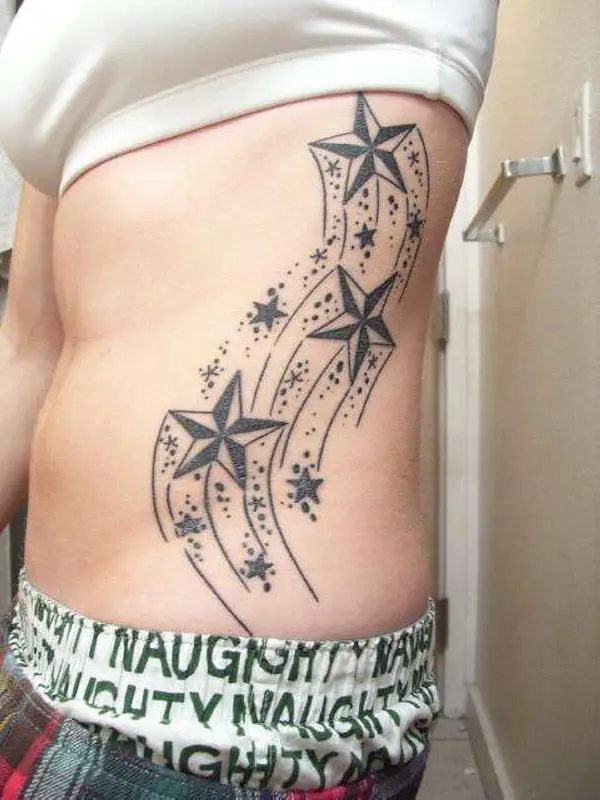 Rainbow Glowing Shooting Star Tattoo
Want your tattoo to glow in the dark? Get a night color design which glows in the dark and explore with the colors of the rainbow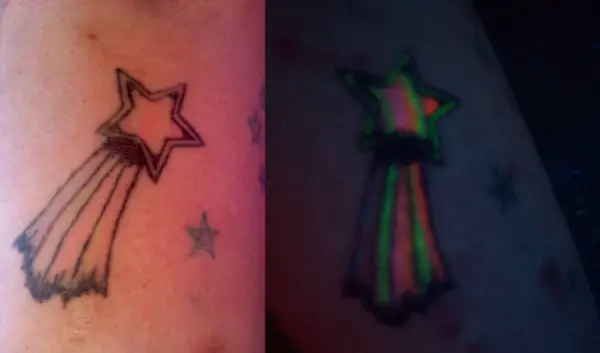 Rainbow Glowing Shooting Star Tattoo
Cool Rib Shooting Star
Another example of a cute and colorful shooting star, shooting across your belly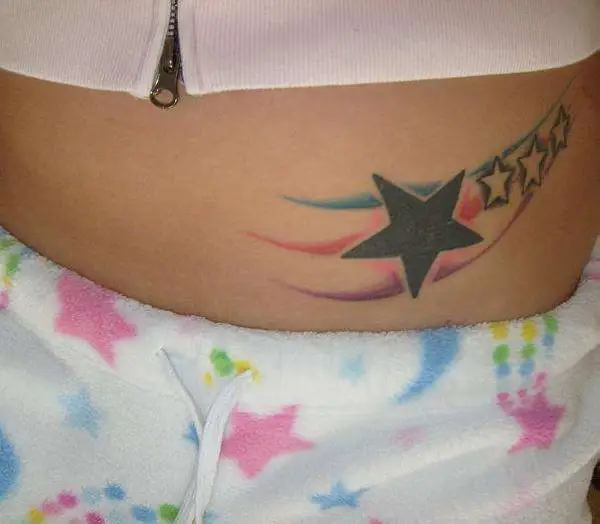 Star Dust Tattoo
The star dust tattoo is a cute sprinkle of little stars across your hand, one that will turn heads for sure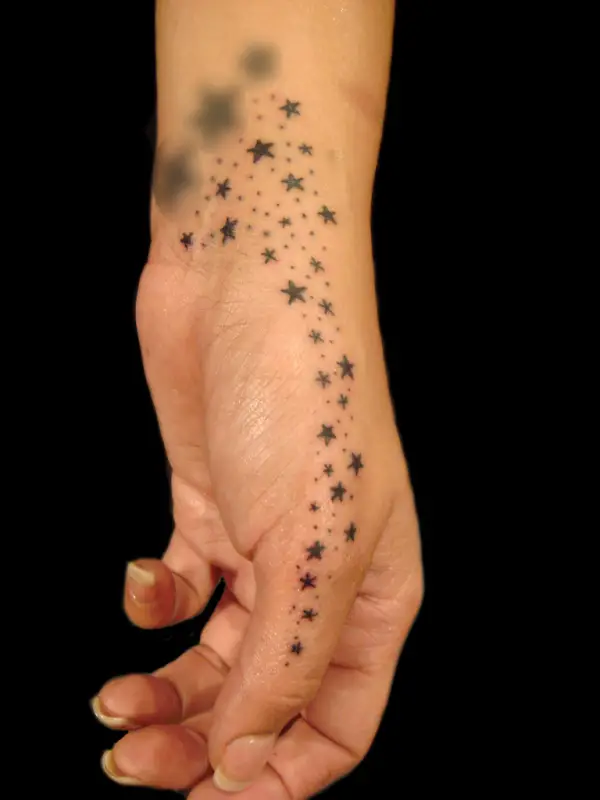 Shooting Stars Up Ribs
Let the stars shoot their way up your ribs with this colorful cluster of shooting stars on the rib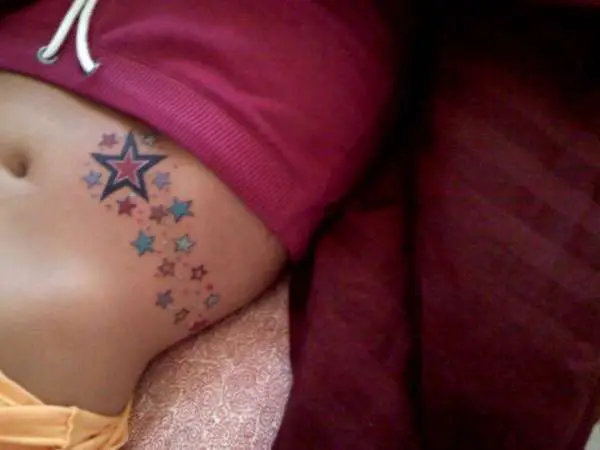 Star At Ear Back
Want your piercings to have some color? Get a cute star tattooed behind your ear for added effect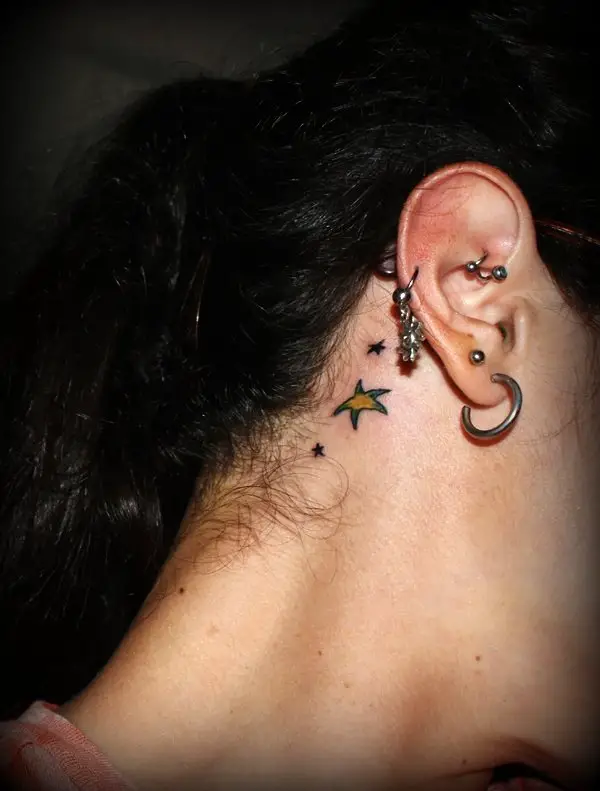 Neck Line Tattoo
Cover one of your shoulders with a clusted of stars to make it look unique and creative