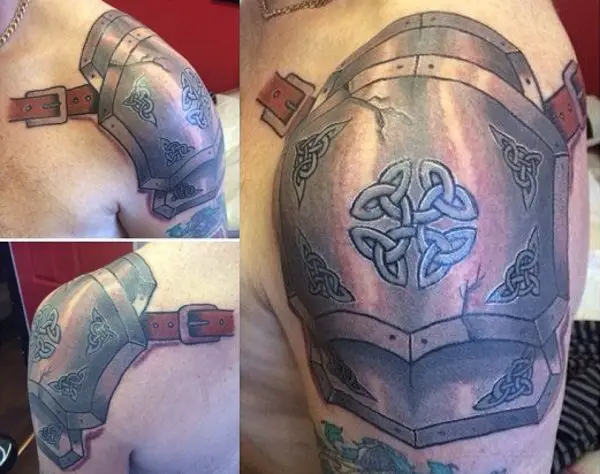 A knight in shining armor is a well recognized image across the globe. Those covered in thick armor were known to be warriors, overflowing with courage, honor, and strength. The armor covering these warriors not only protected them from harm, but also usually held symbols of their rank, nationality, and heritage.
Today, modern day warriors don't wear the bulky metal contraptions of their ancestors. That doesn't mean that they wear no armor at all, however. These days, a person's armor is figurative rather than physical. People have a way of developing our own sort of armor, not necessarily against physical harm, but emotional pain.
To symbolize their figurative armor against the woes of the world, some people may consider having armor inked into their skin permanently.
Shoulder armor tattoo ideas are particularly popular.
These are usually large pieces that cover most of the shoulder and sometimes ajoining parts of the body, including the arm, chest, neck, and back.
If you're looking to give life to your own figurative armor, take a look at these amazing shoulder armor tattoo ideas!
1. Celtic Knot Shoulder Armor Tattoo
Warriors with Celtic blood might be ready to strap on this shoulder armor…tattoo, that is.
2. Scaled Armor Tattoo
Rusty old scaled armor may not be very impressive in battle, but it sure looks amazing as a shoulder tattoo!
3. American Flag Armor Tattoo
If you're looking for patriotic armor tattoo ideas, adding an American flag—or any national flag, for that matter—can really add that much needed patriotic symbolism.
4. Celtic Crest Armor Tattoo
Most shoulder armor tattoo ideas can be personalized to include a family or national crest, like this wolf crest.
5. Shoulder Armor Tattoo With Bird
An embossed bird on the arm adds some artistic and beautiful depth to shoulder armor tattoo ideas.
6. Dragon Shoulder Armor Tattoo
Menacing dragons and shoulder armor tattoo ideas just seem to go hand in hand, no?
7. Shoulder Armor and Sleeve Tattoo
Extending the design down the arm for a sleeve tattoo is possible with nearly all shoulder armor tattoo ideas.
8. Chainmaille and Armor Tattoo
A chainmaille tattoo design pairs perfectly with most shoulder tattoo ideas, and the detail in this tattoo is amazing in both the chain and armor in this tattoo!
9. Lion Armor Shoulder and Arm Tattoo
A fierce lion is the perfect embellishment for a lionhearted warrior's armor.
10. Gold Jeweled Armor Tattoo
Gold jeweled armor is fit for a king!
11. Armor and Peeling Skin Tattoo
Skin peels away to reveal a tough interior.
12. 3D Fleur de Lis Armor Tattoo
The 3D detail in this fleur de lis armor design is simply stunning and utterly fierce.
13. Cross Armor Tattoo Ideas
A little protection from otherwordly beings on your armor never hurts!
14. Celtic Cross and Armor Tattoo
Go a step further with a Celtic cross tattoo by adding it to shoulder armor.
15. Cross and Chainmaille 3D Tattoo
This tattoo design is pretty amazing by itself, but it's the detail work and artistry that really makes shoulder armor tattoo ideas come to life!