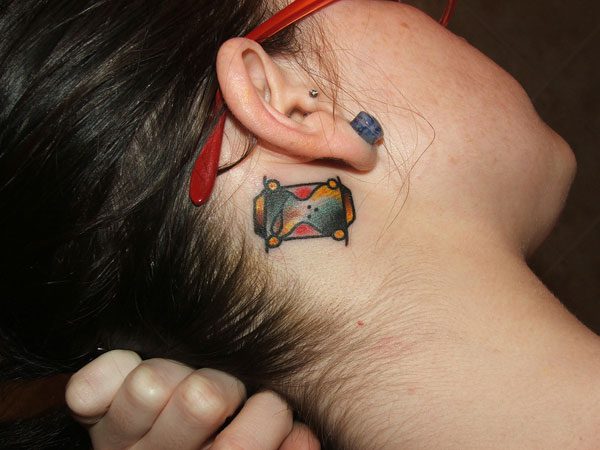 Time is the most precious asset in life which, if invested wisely, yields great returns and can make you highly successful. On the other hand, wastage brings only tears and regret. The most amazing thing is that all of us possess an equal amount of this resource and it is always available but keeps on running away. This makes time an amazing and enigmatic phenomenon. To give expression to the phenomenon, people get hourglass tattoo carved on their body parts. It is a way of conveying and reminding that time is constantly ticking away and must be spent wisely.
The hourglass tattoo also has a feminine charm.
All of us have heard about the hourglass figure. Therefore, the tattoo makes for an aesthetic piece too, which accentuates the appeal of the particular part where it has been carved. Now, isn't it wonderful? Beauty with meaning; anyone would love to have such a tattoo. In this post, you will find 25 hourglass tattoos, in beautiful designs and colors. If you are also mesmerized with the phenomenon called time and want to give it a shape, you can find cool ideas and inspirations from here. Take a look.
If you like this article, you might be interested in some of our other articles on Dice Tattoos, Broken Heart Tattoos, Chopper Tattoos and Disney Tattoos.
Superb Piece
This small hourglass is there to sing into the ears of the wearer the constant slithering of sand.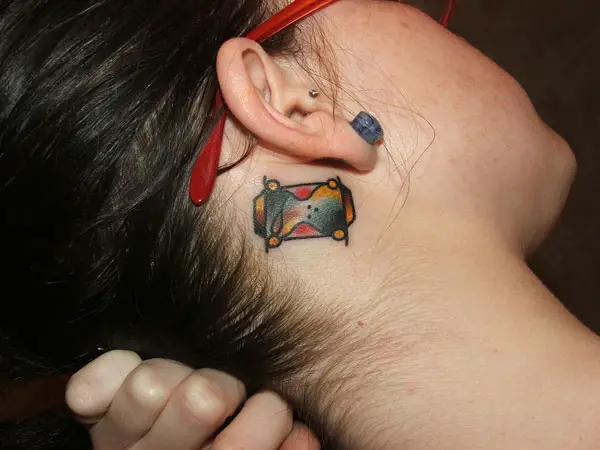 Arm Hourglass Tattoo
This colorful hourglass with wings indicates that time flies away just like the birds.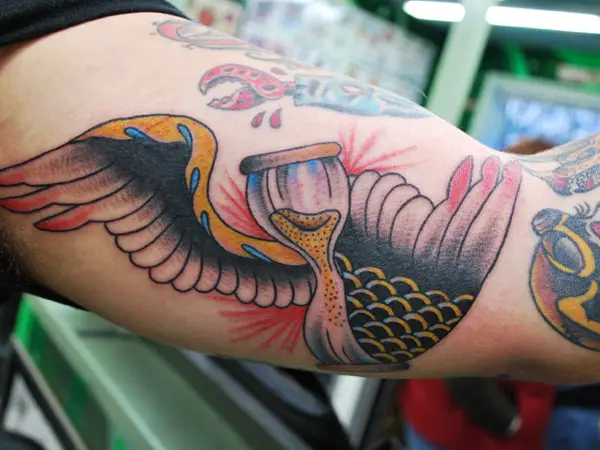 Amazing Tattoo
Back hourglass tattoo with wings and roses, carved in the center, looks elegant and majestic.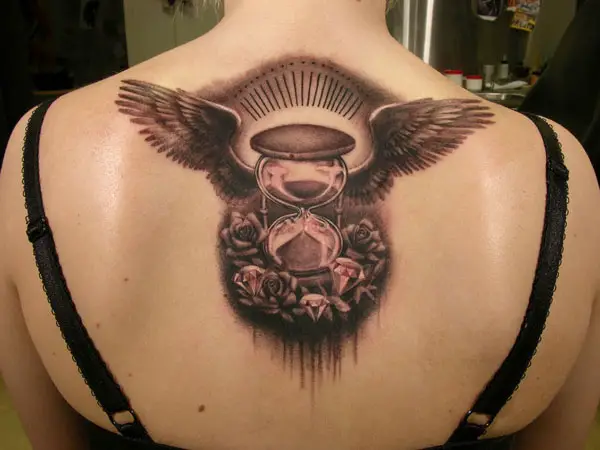 Heart Hourglass Tattoo
This is a nice chest piece with blue wings around the hourglass that also looks sexy.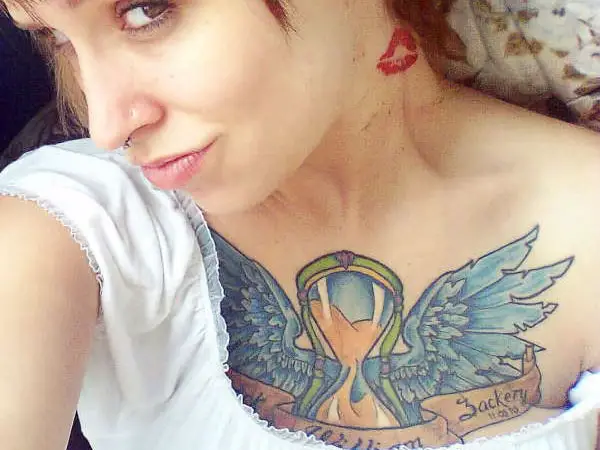 Forearm Tattoo
The hourglass, created on the forearm, with sand inside it is sure to catch the eyeballs.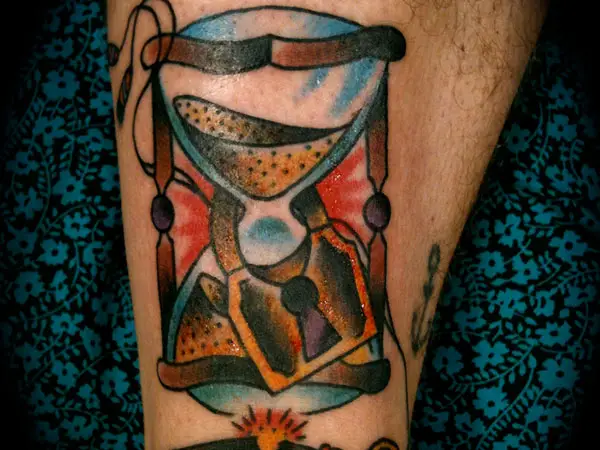 Chained Hourglass
This hourglass tattoo with a green leaf in the middle and a chain around it looks very bright and lively.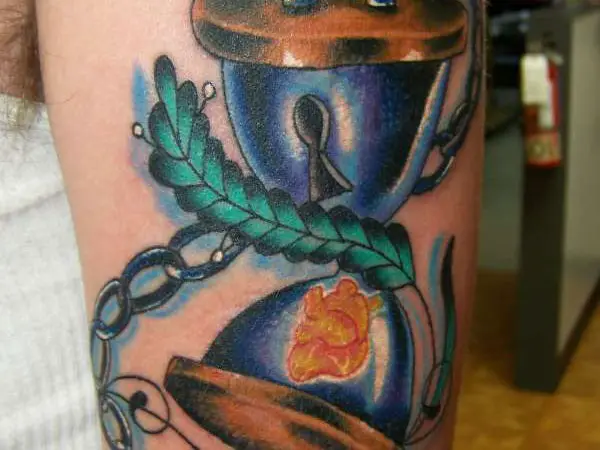 Keeping An Eye
The hourglass with an eye symbolizes the importance of sticking to schedules and being on time.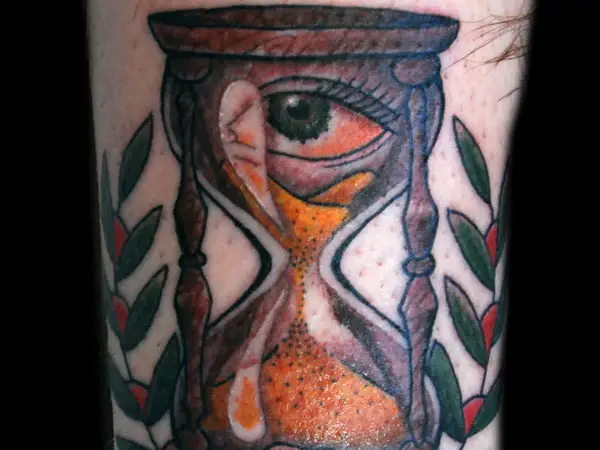 Traditional Hourglass
The hourglass with sand drooping from it in between the two halves presents a sober picture.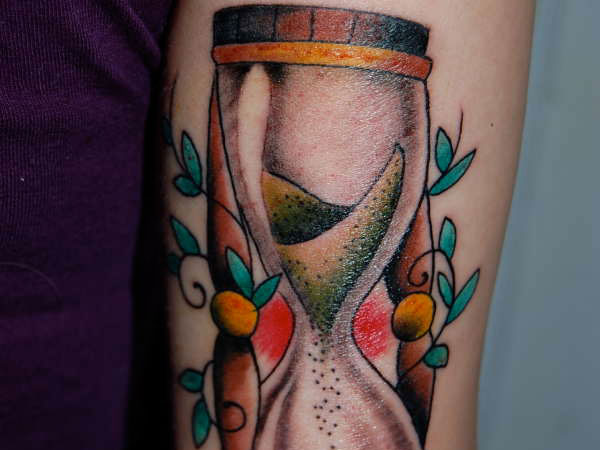 Hourglass And Roses
A beautiful hourglass with two black roses looks fantastic and makes for a cool forearm tattoo.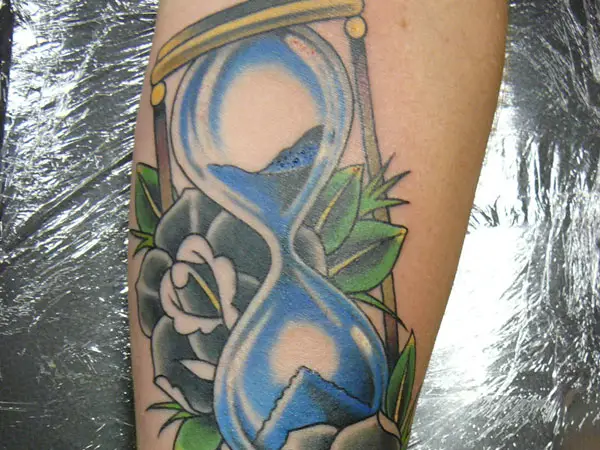 Scary Hourglass
Hourglass with a skull and clover leaf in the two halves with blood oozing from them looks frightening.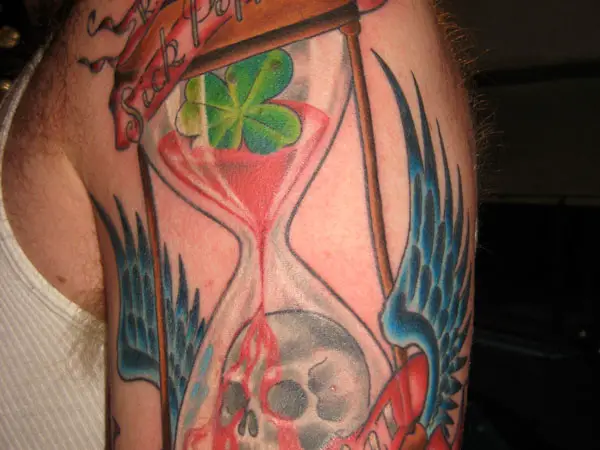 Time Waits For None
This arm tattoo of hourglass has been carved to convey the continuous moving nature of time.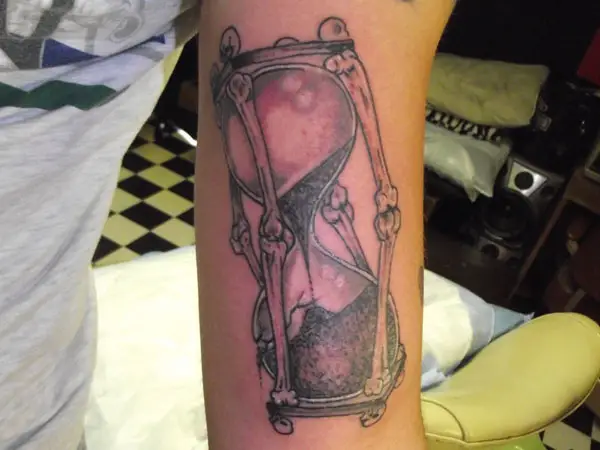 Time is a great healer, this seems to be the message of the lines inscribed on the colorful hourglass.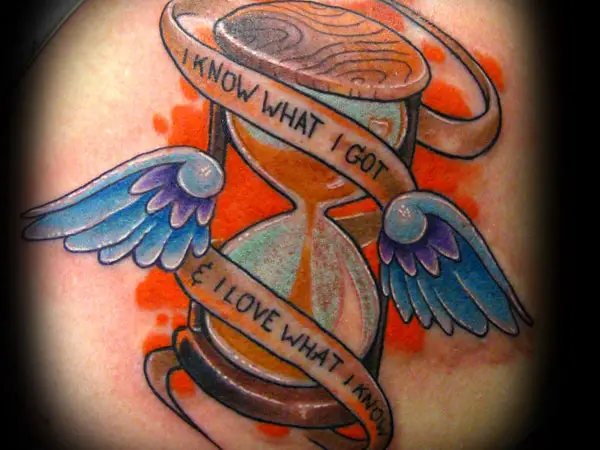 Life And Time
The hourglass tattoo is an expression of the great wonder life that keeps on moving with time.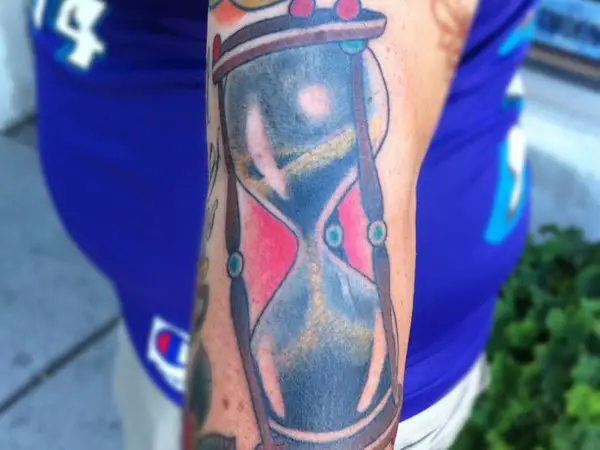 Cruel Times
The musician with a guitar in his hand looking at the hourglass stands for the waning popularity he is experiencing.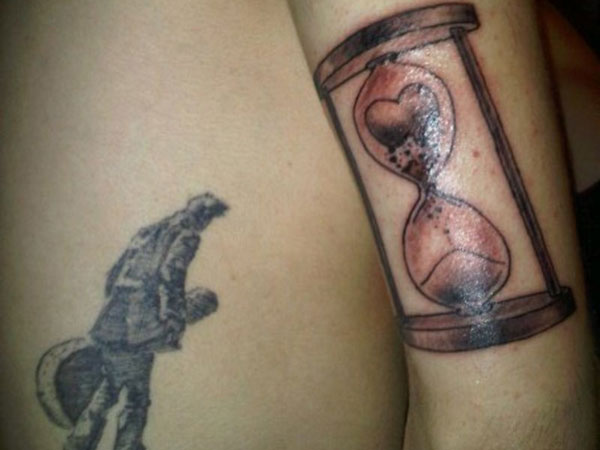 Walking With Time
Hourglass tattoo on foot stands for the fact that a man must alway keep track of time and walk with it.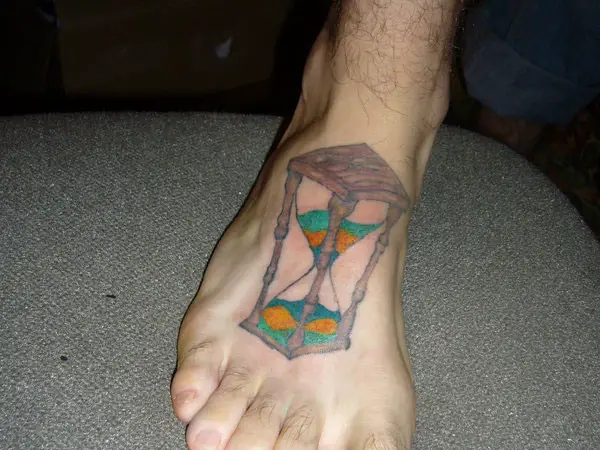 Cool Hourglass Tattoo
This hourglass with dark wings curled around it is a reminder of death that is inevitable in our life time.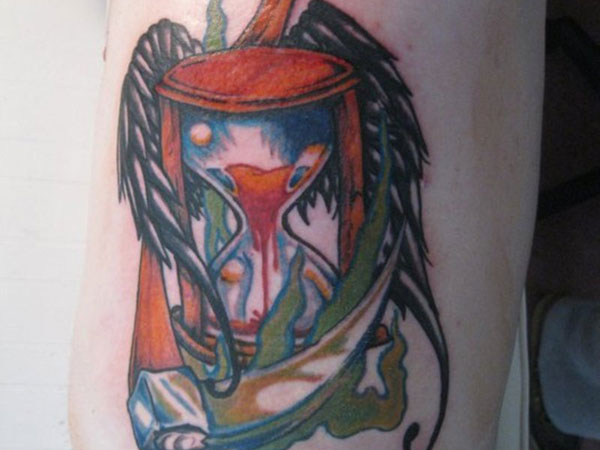 Poppy Tattoo
The vibrant red poppy flowers surrounding the hourglass look attractive and have a heady feel.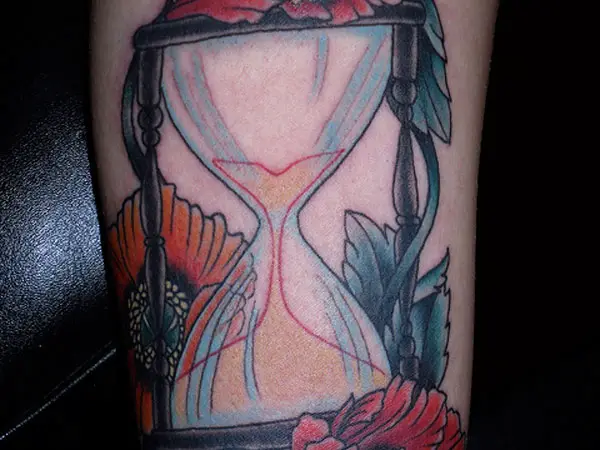 Poppy Tattoo
Inner Arm Hourglass
Hourglass with angel wings and pearl decoration looks beautiful and has an ornate display.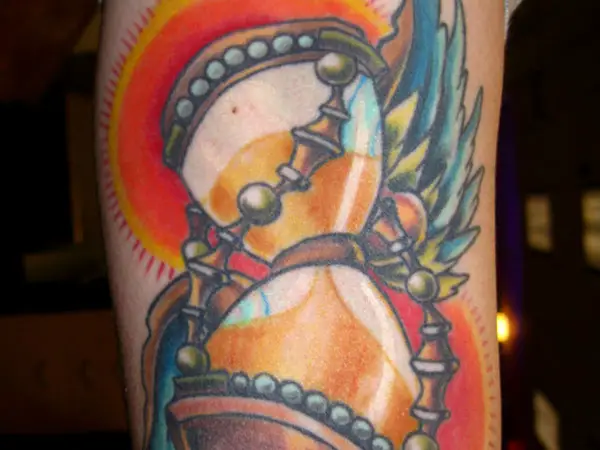 Beating Time
An hourglass on the wrist beating with the pulse symbolizes that time is passing away with each beat.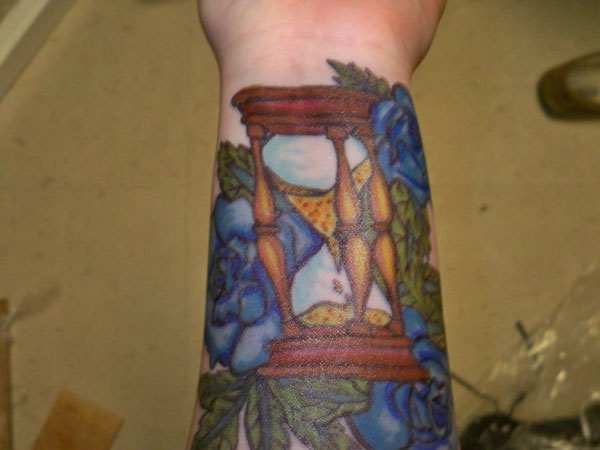 Time Devours Everything
This hourglass with a human heart on top and skull below into which blood is dripping is an indicator of death.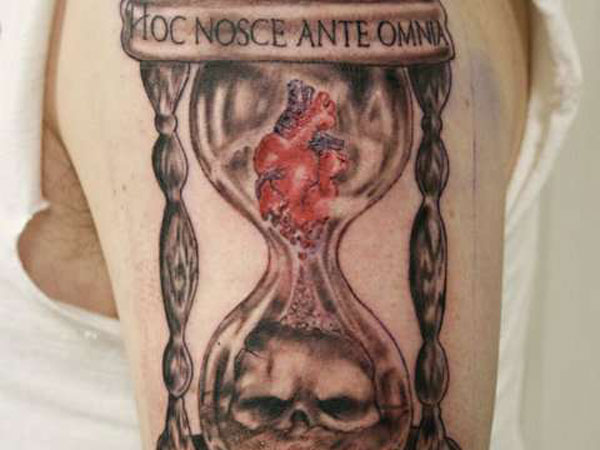 Artistic Tattoo
This red and blue hourglass has a graceful look and makes for a designer tattoo piece.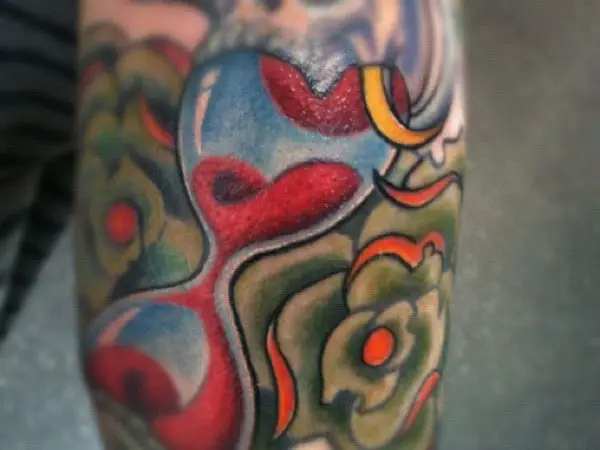 Resourceful Time
This hourglass with a liner means that there is much time left in life and should be spent wisely.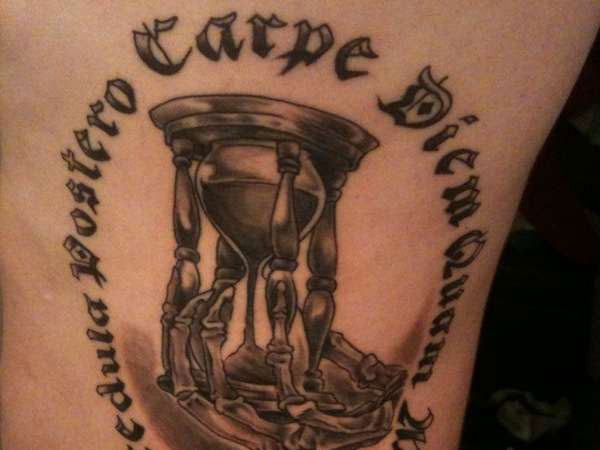 Flying Hourglass
Time flies away in an instant, this is the message of the hourglass with wings.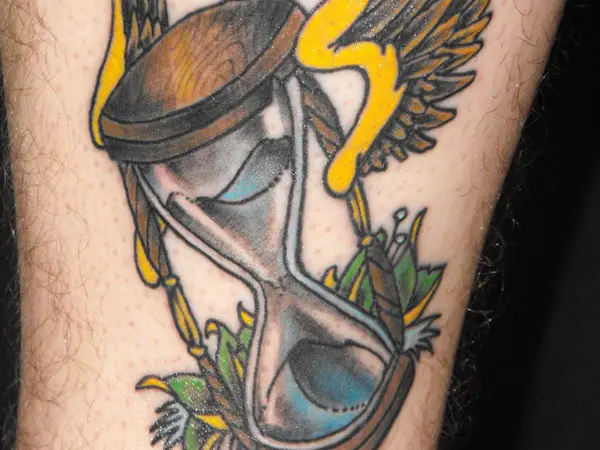 Green Hourglass Tattoo
Hourglass covered with leaves from sides looks beautiful and has a natural feel.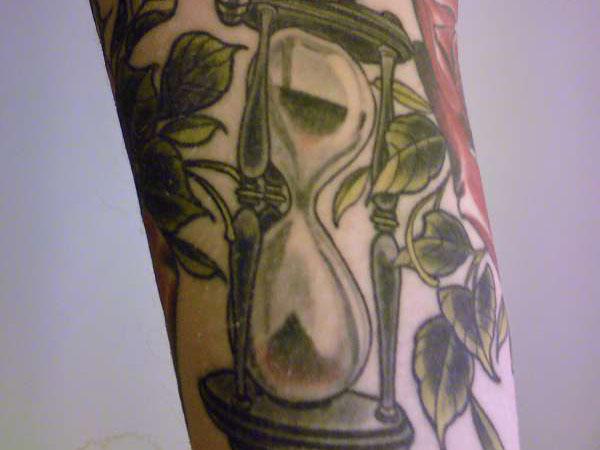 Killing Time
The beautiful dagger piercing the hourglass stands for the waste of time we indulge in which could be used in a productive way otherwise.