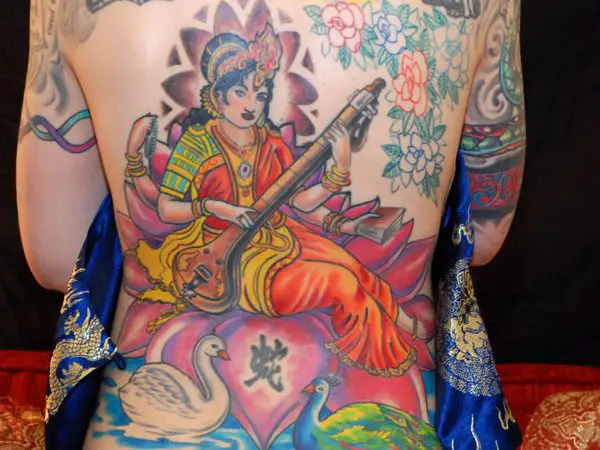 Hindu mythology has myriad stories of bravery, love, loyalty, war, passion, success, etc. But the main message has always been the victory of good over evil. These are some superlative Hindu tattoos that you will like. Each Hindu God or Goddess is prayed to asking for a different boon. The holy trinity is revered in many different forms. Surya, the Sun God, gives life. The five elements that sustain us are because of Him. Sudarshan or Vishnu is the caretaker who protects us during our life span. Shiva is the one who determines the life span and control your health during your life time.
Hindu deities are revered even by the most modern Indian. Religion and the colorful mythological stories are read and shared even today. Gods and Goddesses are found in most Hindu homes in the form of idols and pictures. The Hindu scriptures have great stories of valor, pride, love, passion, loyalty, etc. But the main theme of these stories has always remained the victory of good over evil. Different Gods are prayed to for different boons. For example Lord Ganesha is the remover of obstacles. The three Goddesses bestow power, wealth and beauty.
This is a collection of Hindu tattoos that look superlative examples of art.
If you like this article, you might be interested in some of our other articles on Sacred Heart Tattoos, Irish Tattoos For Men, Japanese Tattoo Art and Chicano Tattoos.
All Things Nice
This is a beautiful and colorful tattoo of the Goddess Saraswati, who is a mark of beauty, perfect speech, music and art.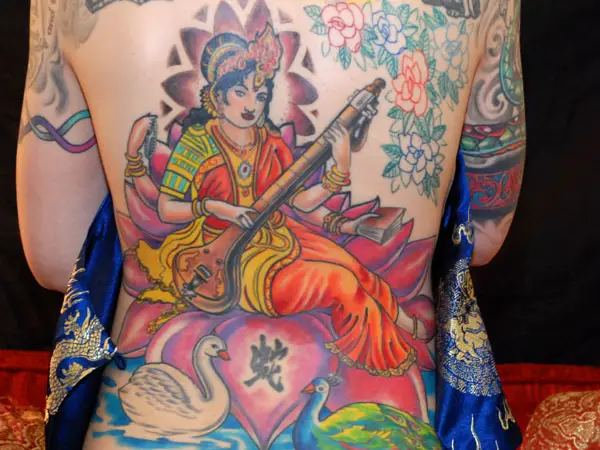 Swastika and Lotus
The Swastika and Lotus are Hindu religious symbols for strength, beauty and wealth. This tattoo is real class.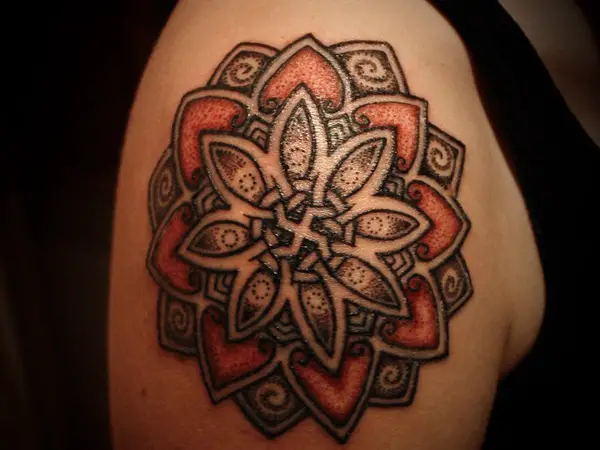 Symbol of the Universe
The Om symbol has a profound meaning. When you say the word aloud it sounds like the Universe reverberating.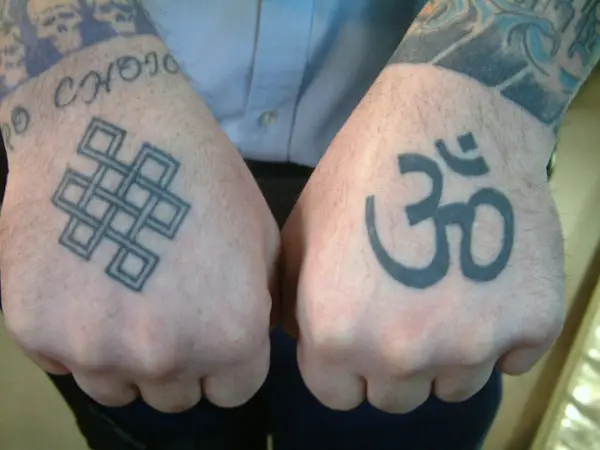 Tandav Dance of Shiva
This is when Lord Shiva performed the tandav dance. His anger unleashed 1000 warriors that destroyed evil.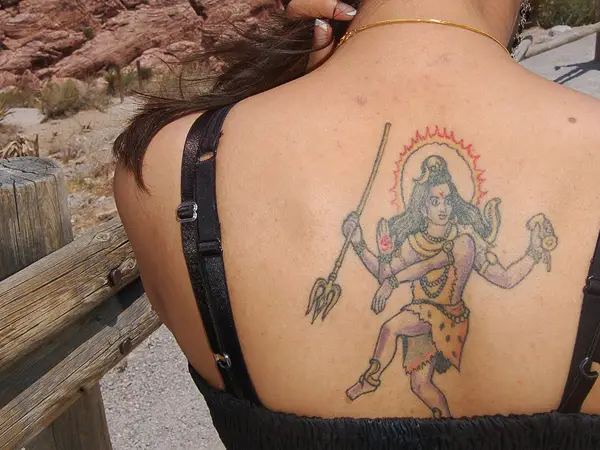 Power and Devotion
Lord Hanuman, the symbol of power and devotion, has been designed in simple yet artistic lines in this Hindu tattoo.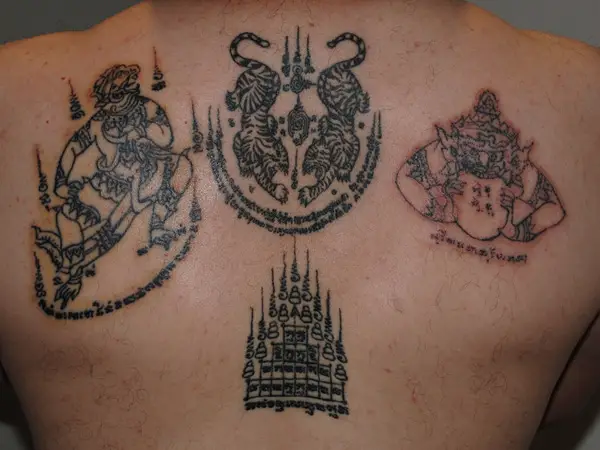 Unleashed Anger
When the anger of Lord Shiva, The Destroyer, is unleashed, this is how the force would be.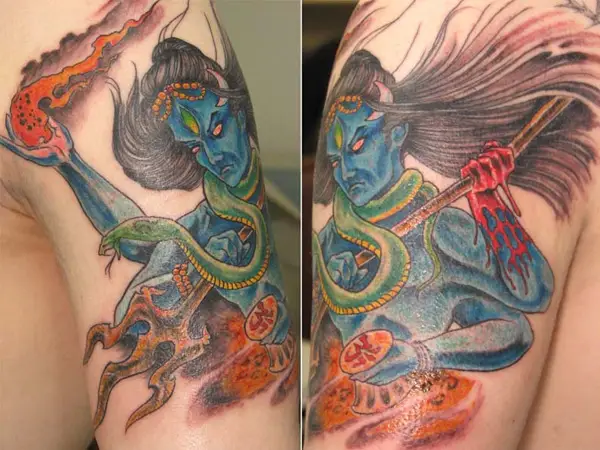 Vishnu Avatar
This Hindu tattoo is a prayer paying homage to Narasimha or Lion Man, one of the ten Avatars of Lord Vishnu.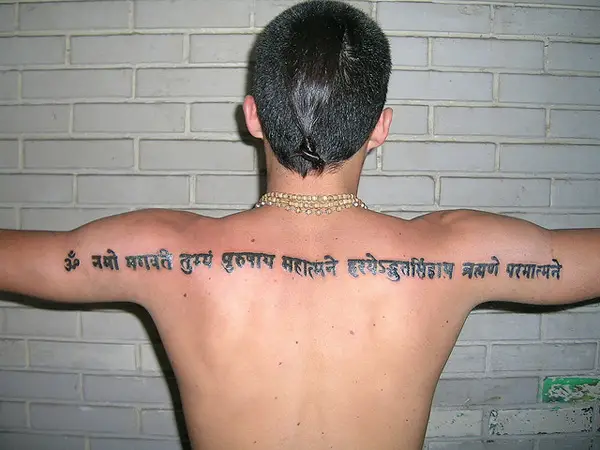 Giver Caretaker Destroyer
This is a beautiful tattoo combining Sun the giver, Sudarshan the caretaker, and Shiva the destroyer.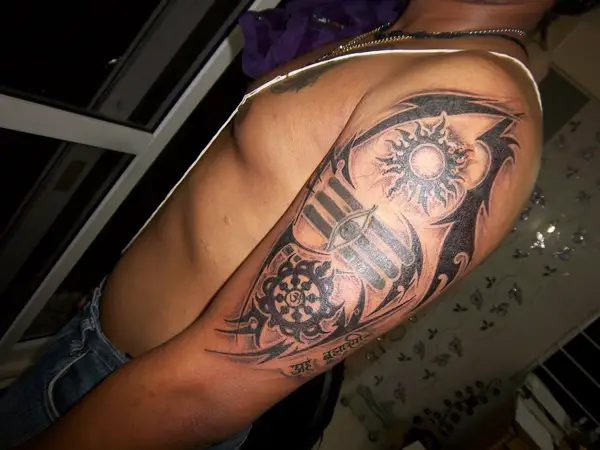 Beauty and Power
This is a fantastic and intricate Hindu tattoo depicting Goddess Durga, the symbol of beauty and power.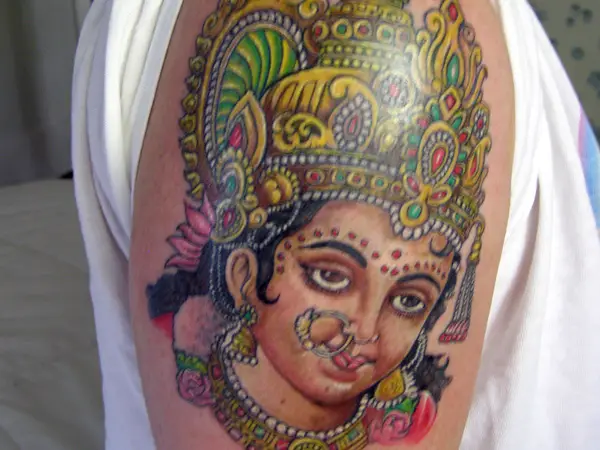 Most Endearing Lord
Ganesha is the most endearing God of all. He is the remover of all obstacles in the path of success.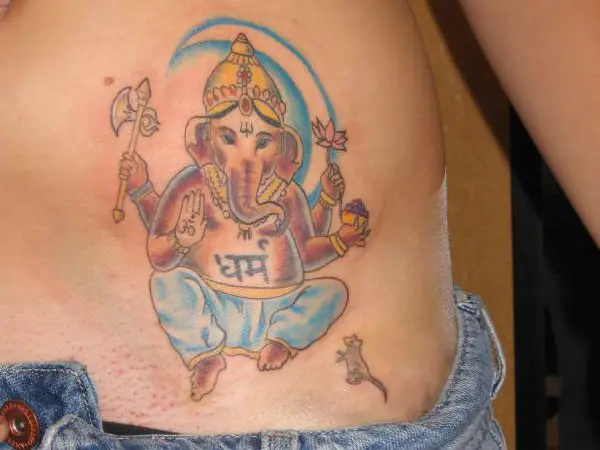 Lord of Prosperity
Lord Ganesha looks sublime in this tattoo. This is a symbol of luck and prosperity for self and family.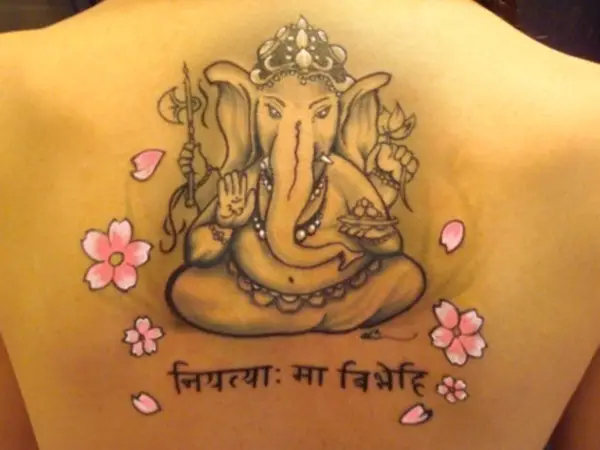 Goddess of Wealth
Laxmi, the Goddess of wealth, is the central figure surrounded by other Gods in this fantastic Hindu tattoo.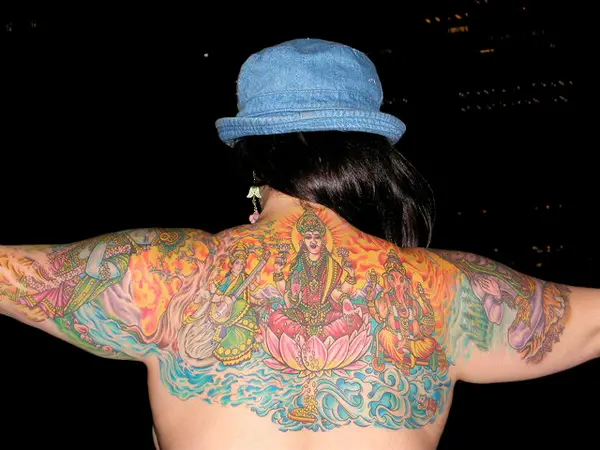 Devotion Personified
This artistic Hindu tattoo shows Lord Hanuman, the symbol of devotion and power.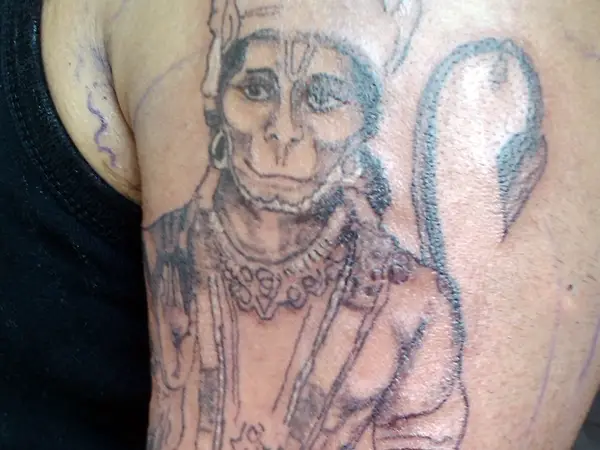 Shakti
This is Shakti, the form of Durga depicting her power. The Hindu tattoo shows her riding on a tiger.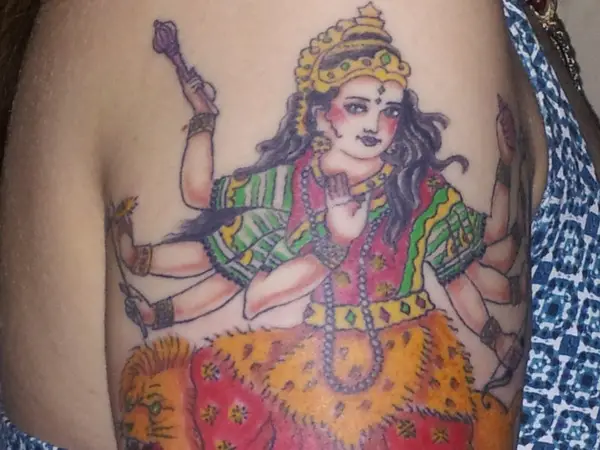 At Peace
This sublime form of Lord Shiva signifies His forgiving and generous side. He is the Lord of health and peace.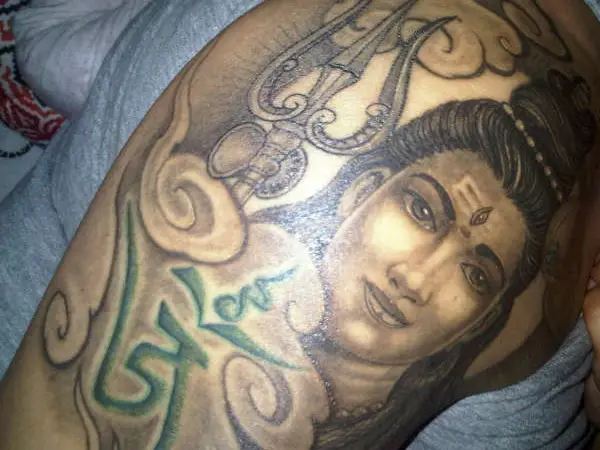 Baby Krishna
The baby Lord Krishna looks very lovable while he steals butter. His half-guilty look makes you want to forgive.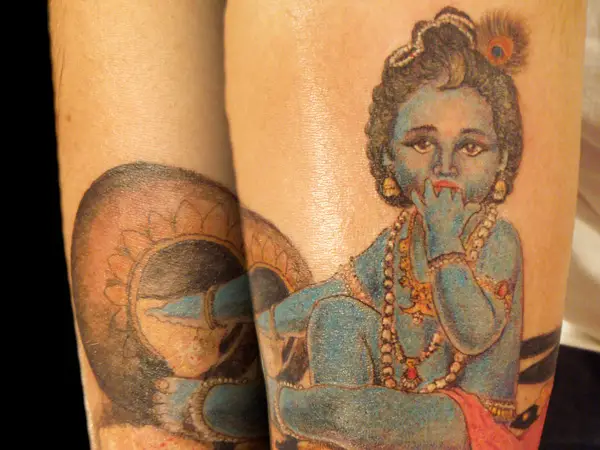 Artistic Ganesha
This is a modern and artistic Hindu tattoo showing the Ganesha head in a lovely design.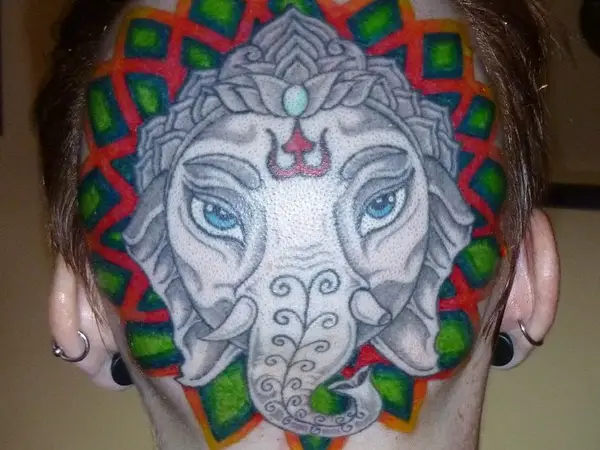 Durga Unleashed
This colorful tattoo shows Goddess Kali, a form of Durga when her shakti (uncontrollable power) is unleashed.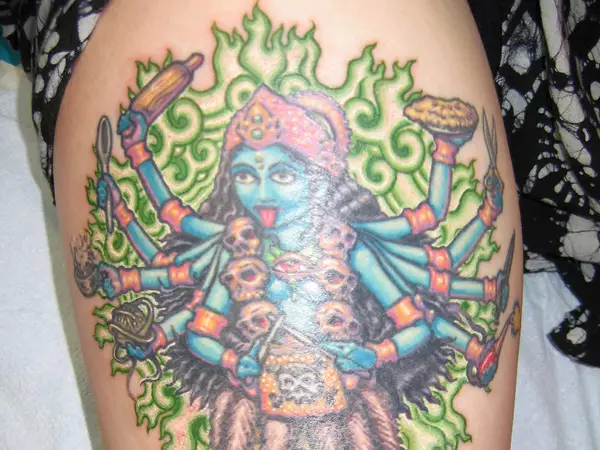 Benevolent Mother
Here Goddess Durga is in her giving and benevolent form. The tattoo shows her in a peaceful mood.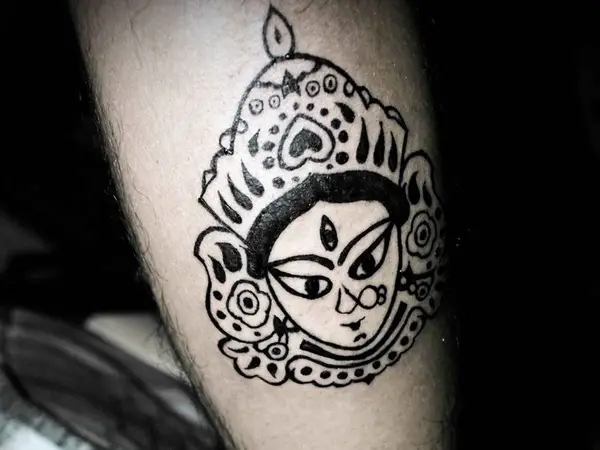 The Destroyer
This is a very artistic Hindu tattoo of Lord Shiva, the God of health, peace, and family prosperity.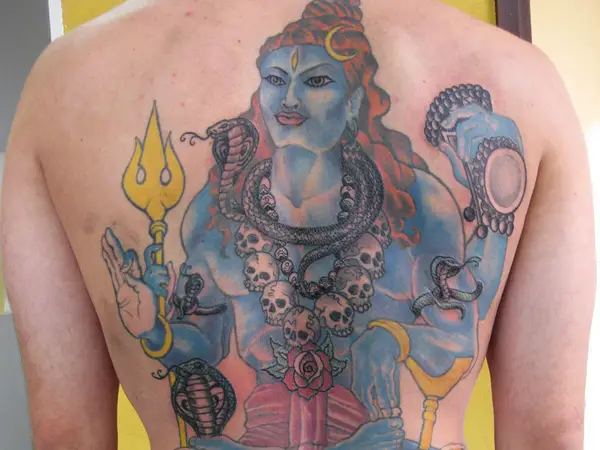 Mother Kali
Goddess Kali is revered by Indians for her shakti (power). She is the destroyer of evil.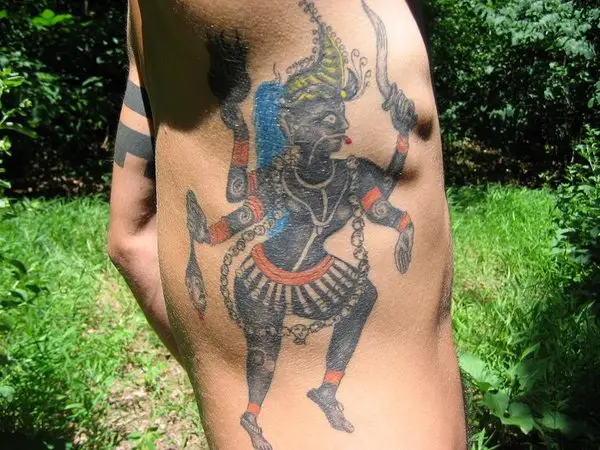 Truly Secular
This colorful Ganesha tattoo is very unusual because it there is an image of Mother Mary alongside.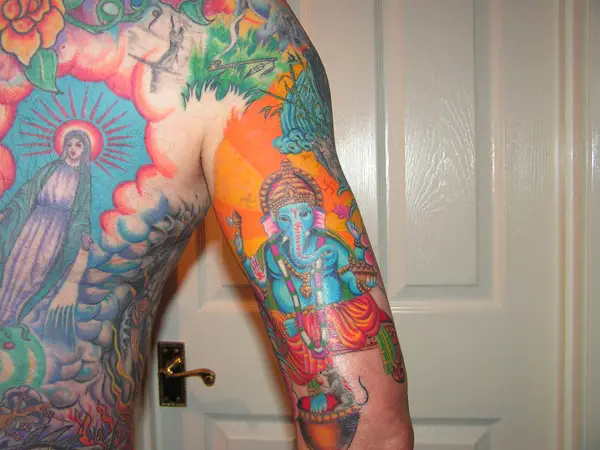 Everlasting Love
This romantic Hindu tattoo of Krishna and Radha is a figure representing everlasting love.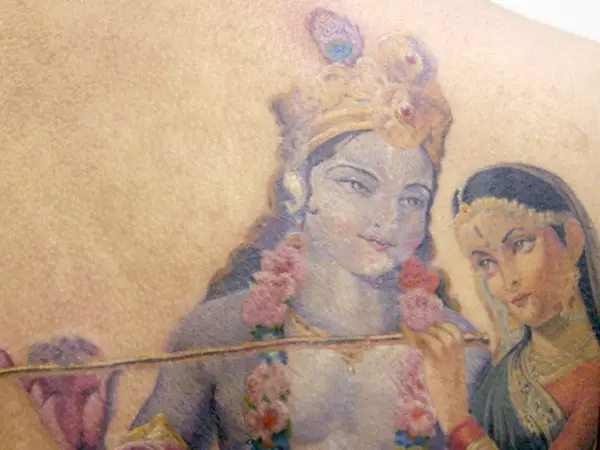 Beauty at Best
This tattoo shows Goddess Saraswati at her best. She personifies beauty, art and culture.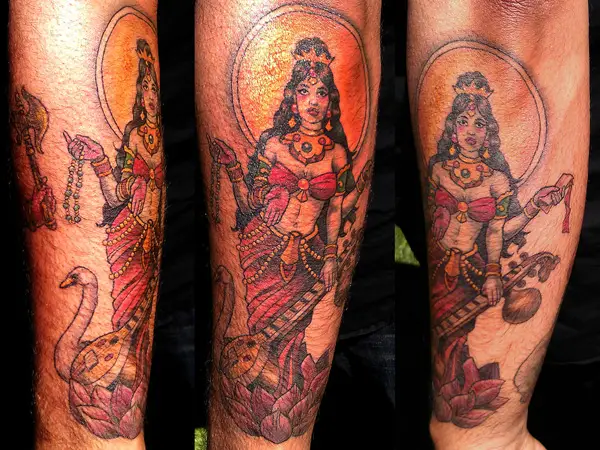 Complete Blessings
This is a superlative tattoo showing all the Hindu male Gods and the seven Sages in one picture.