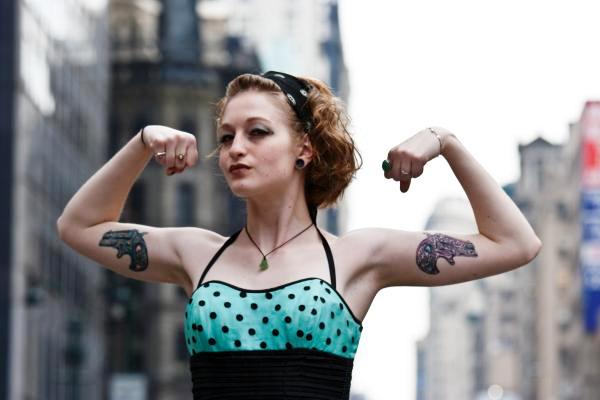 If you love action and possess a fighter spirit in your personality this article may tempt you to go for an ink experience. The killer gun tattoos look cool, different and add a solid dimension to your aura. Often seen as a tough symbol, gun tattoos are surprisingly seen flashed by quite a few girls also.
Popular themes for killer gun tattoos are guns and roses, skulls, machine guns and traditional rifles and pistols.
Sport them on your back, chest or lower waist, guns on your bodies will represent your love for action and adventure.
If you like this article, you might be interested in some of our other articles on Moon Tattoos, Owl Tattoos, Anchor Tattoos and Rebel Flag Tattoos.
Flaunting two classic and royal looking pistols on her biceps. A rare combination of a beauty with guns.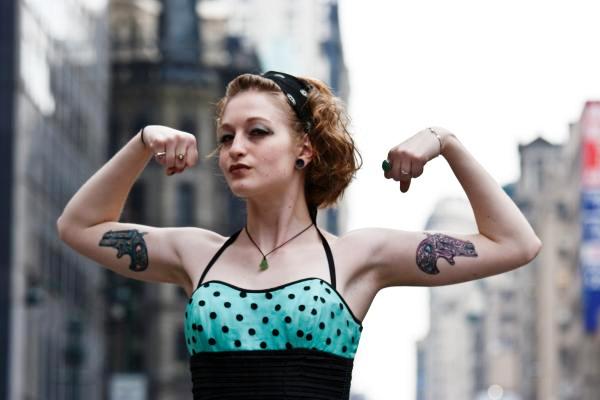 Angel Gun
Angel guns with wings for a humble killer, who kills for good.

Super Gun
Terrific M4 gun tattoo for a fighter with a killer and winning spirit.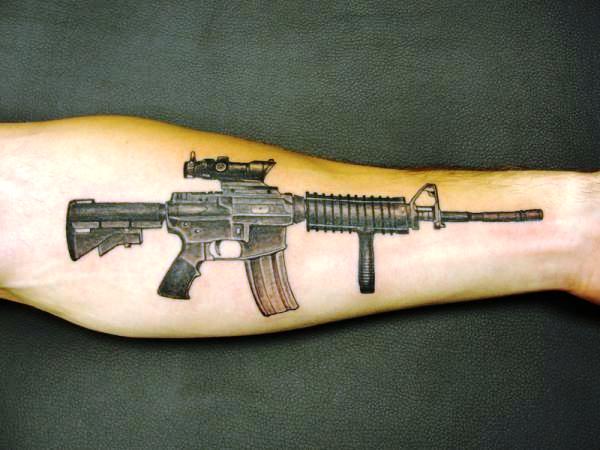 War Guns
Exotic half-sleeve tattoo based on the Punisher, showing some amazing intricate work.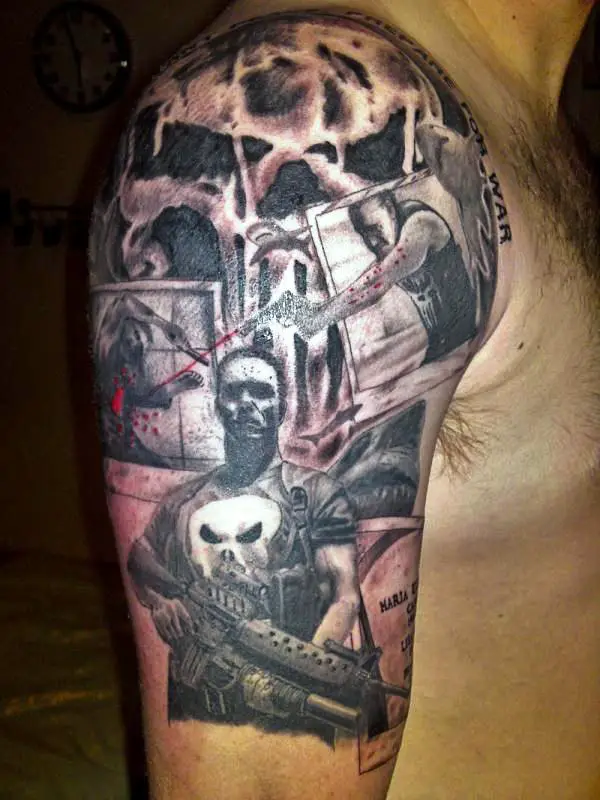 Machine Gun Tattoo
The action hero wearing a machine gun on his forearm.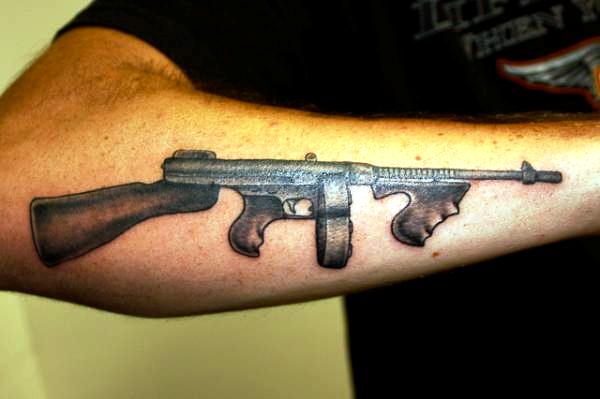 Double Tattoos
Two guns tucked on the lower waist. The eternal grey shading looking superb.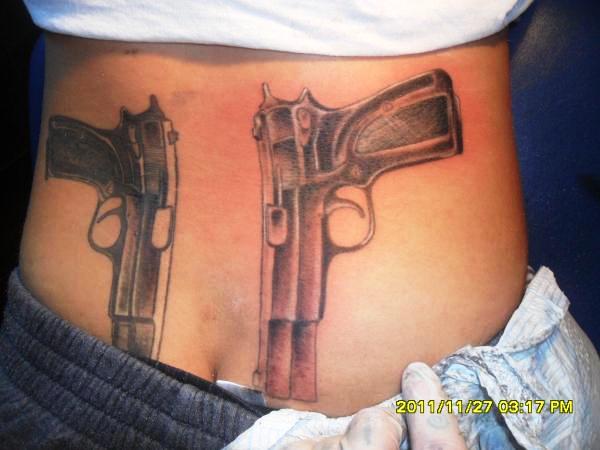 The Derringer
The classic Derringer tattoo featuring some awesome detail work.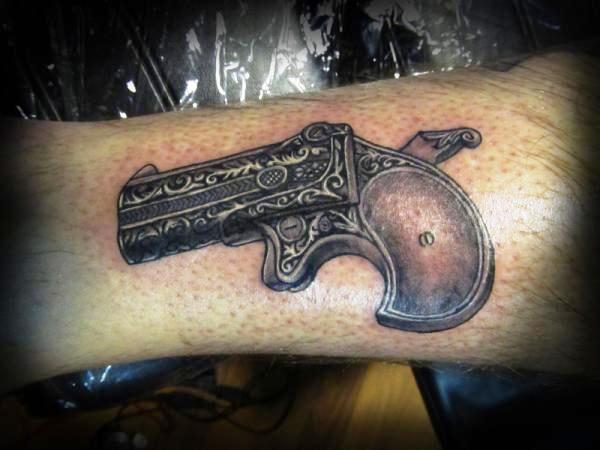 Black Gun
A hunter's gun tattoo for the girl who is obsessed with guns.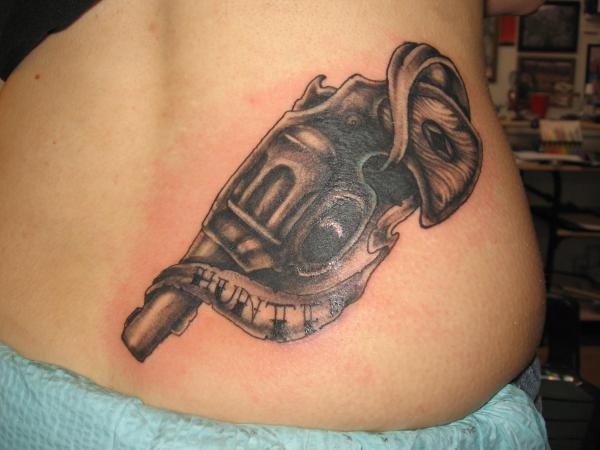 Cool Gun
A cool old-school pistol inked on her side lower-waist, looking smashing.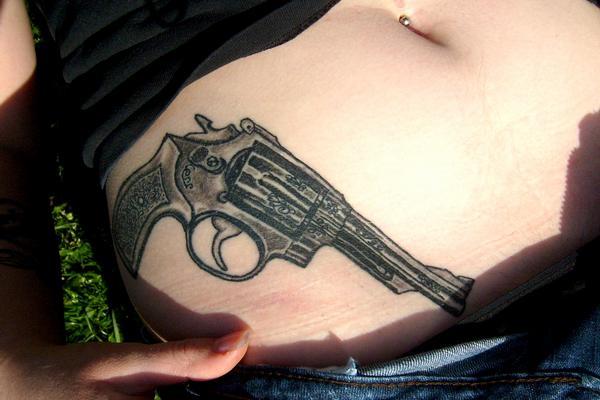 Cool Gun
Colorful sugar skull with two guns in his mouth and roses in the bottom.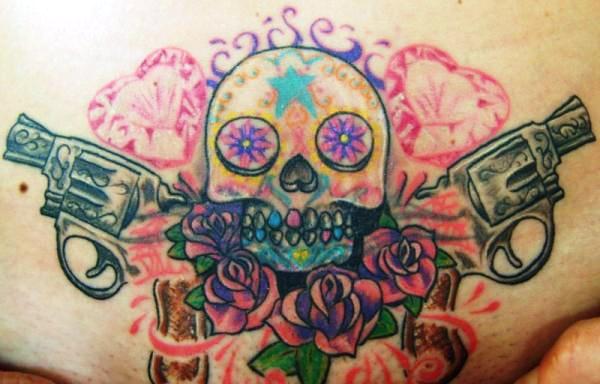 Old Gun Tattoo
An old gun tattoo with mysterious figures and stories engraved on it.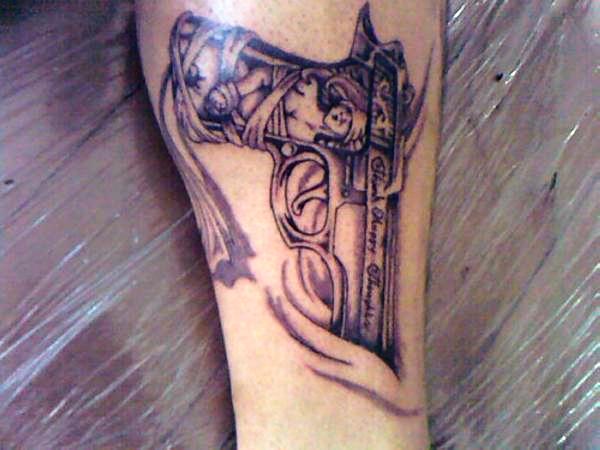 Dragon With Guns
The powerful devilish dragon-man shooting from his two guns.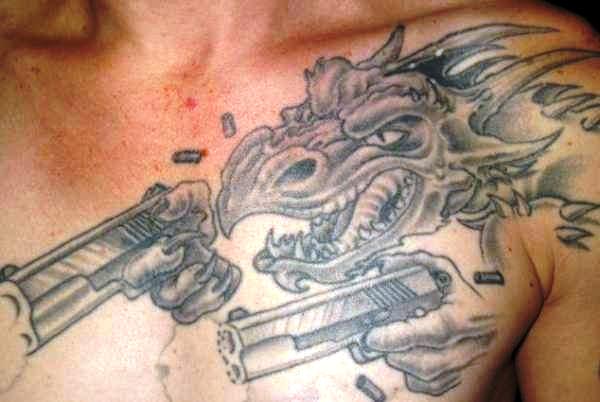 Cowboy Skull With Guns And Leaves
Innovative concept of a cowboy skull with a gun and leaves.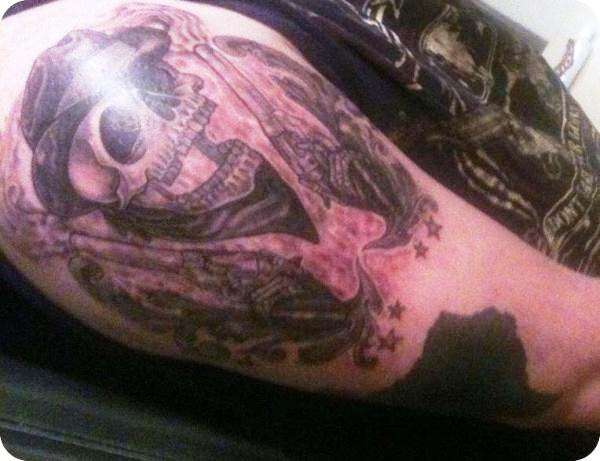 Cowboy Skull With Guns And Leaves
Right Arm Tattoos
A Jack Sparrow piece with guns and roses inked on the right shoulder.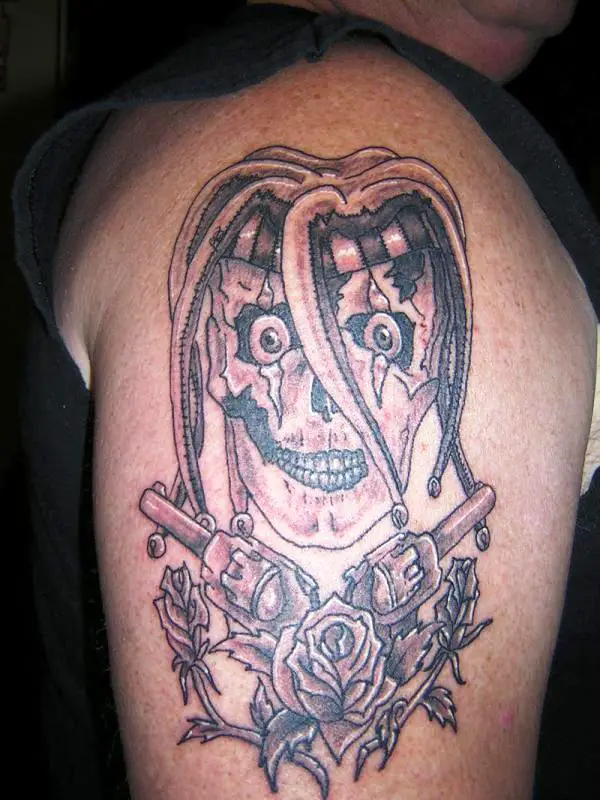 Right Arm Tattoos
Golden Gun Show
A golden gun tattoo with smoke coming out if it as if it has just made a shot.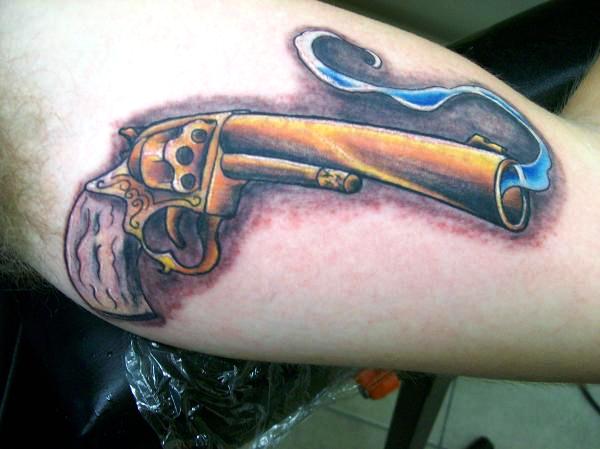 Beauty With Gun
A warrior pin-up girl in long boots and short outfit posing with a large gun.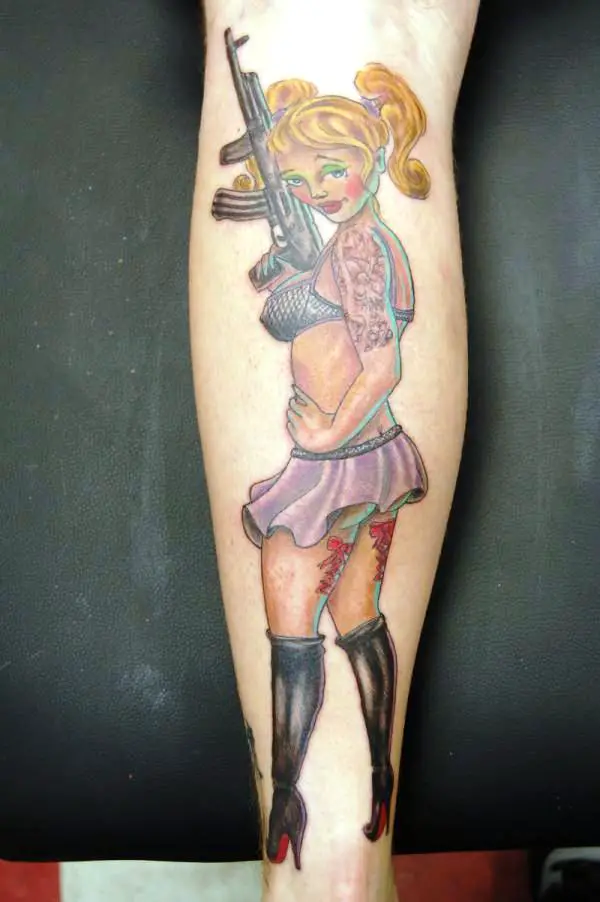 Skull And Guns
A skull with a scary expression and two guns standing behind it.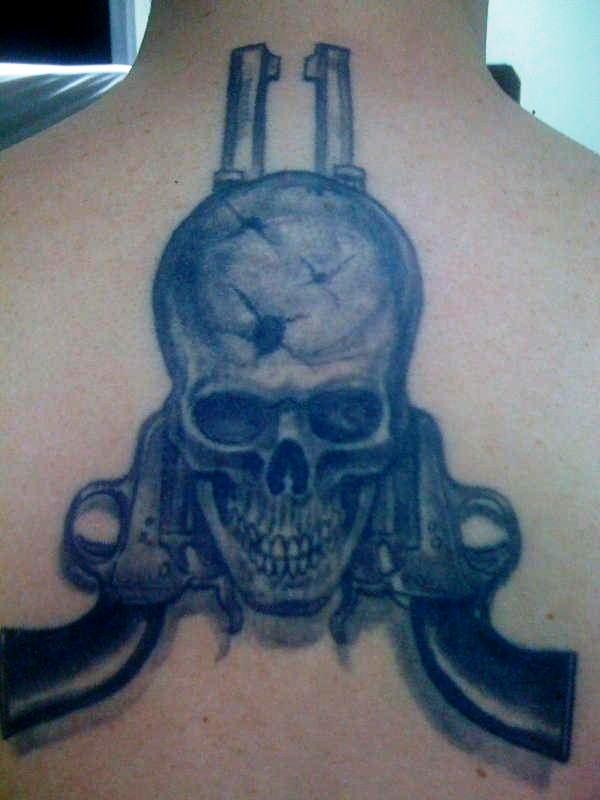 Guns And Flower
Seems like a floral tribute has been given to a favorite gun, which probably has become an antique now.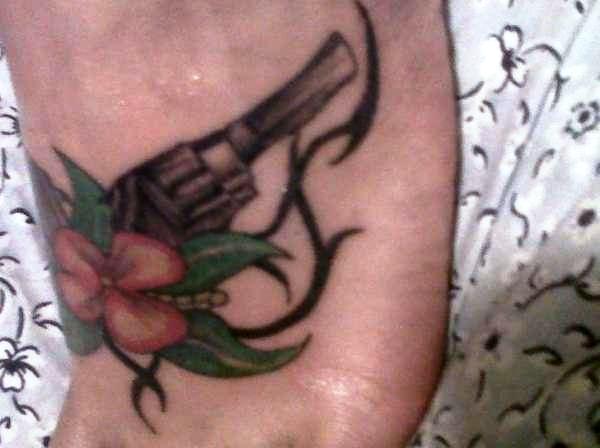 Skull Guns
Smoking skull wearing a biker's hat with guns cross behind it.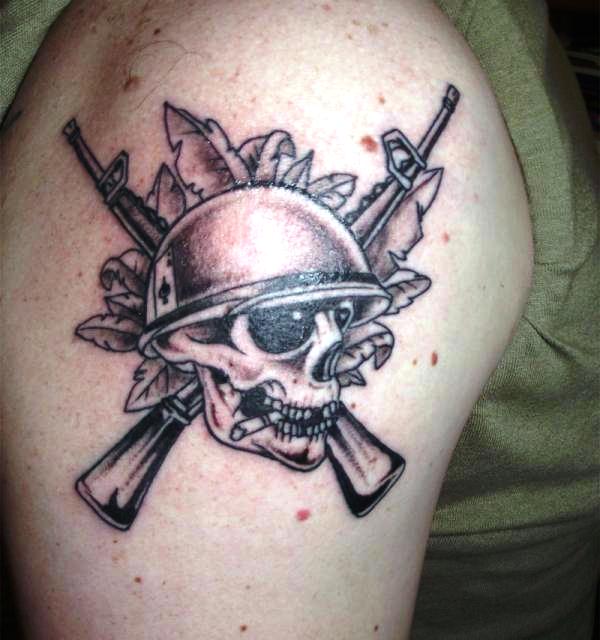 Army Gun Tattoo
Great tribute to brave soldiers with an Army gun tattoo and honoring words.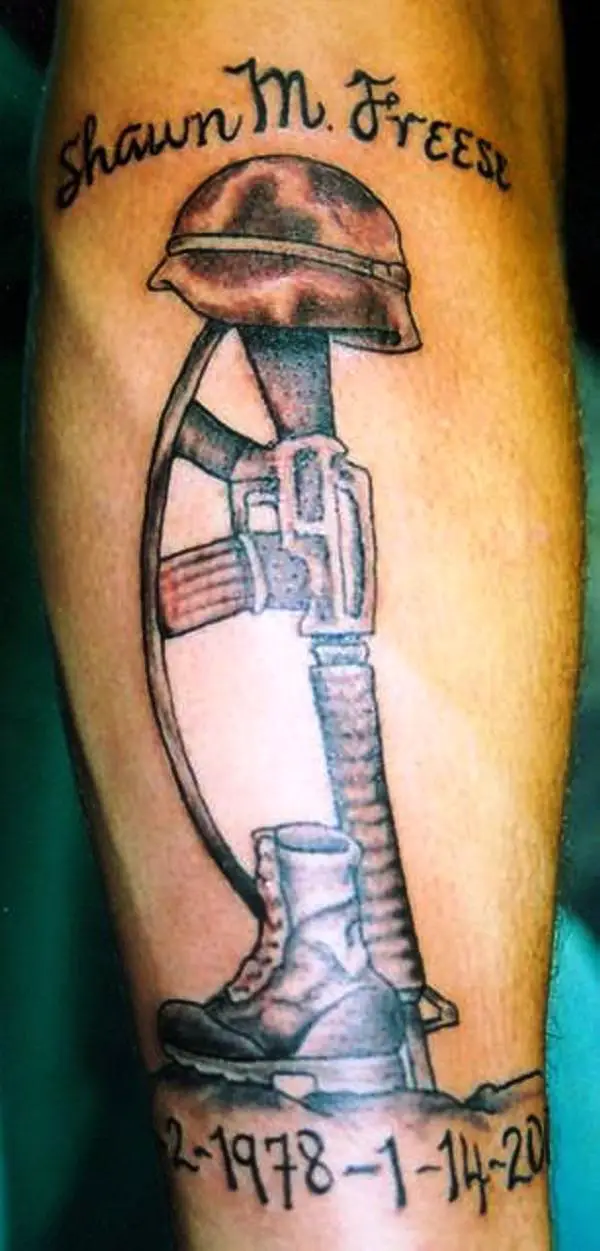 Veritas Gun Tattoo
Veritas gun tattoo with a scroll wrapping around it with its title.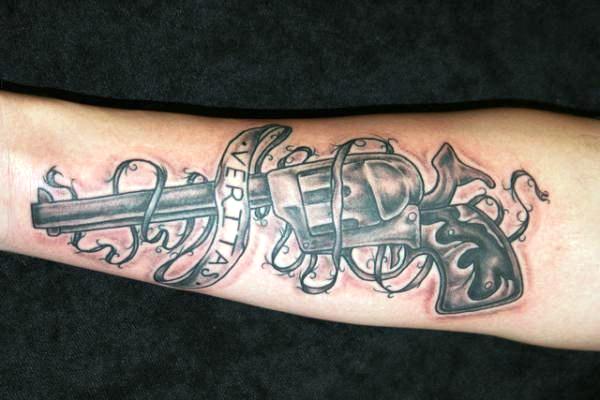 Gun Tattoo
AK-47 rifle inked with original gun's details like wood stock and the slant muzzle break.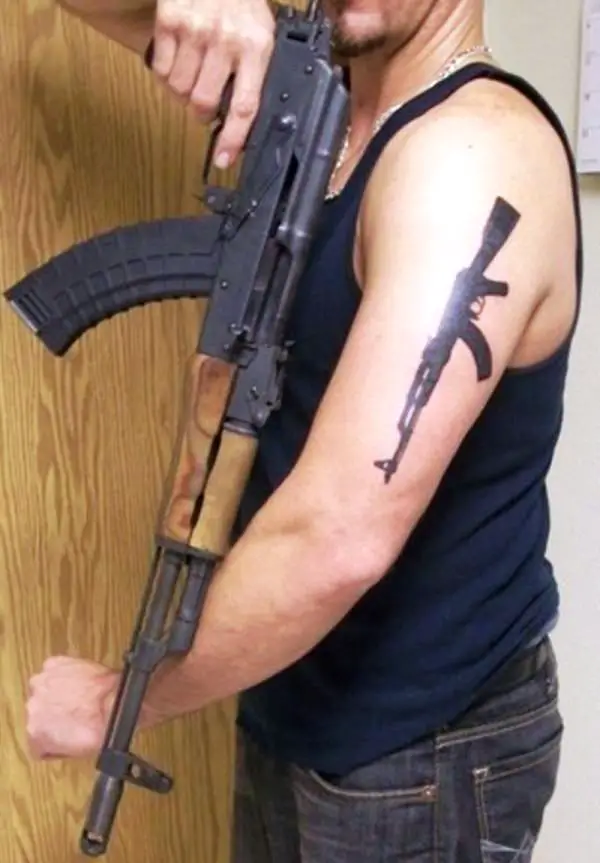 Gun Fighter
Cool skull and guns with lettering that declares he is a gun fighter.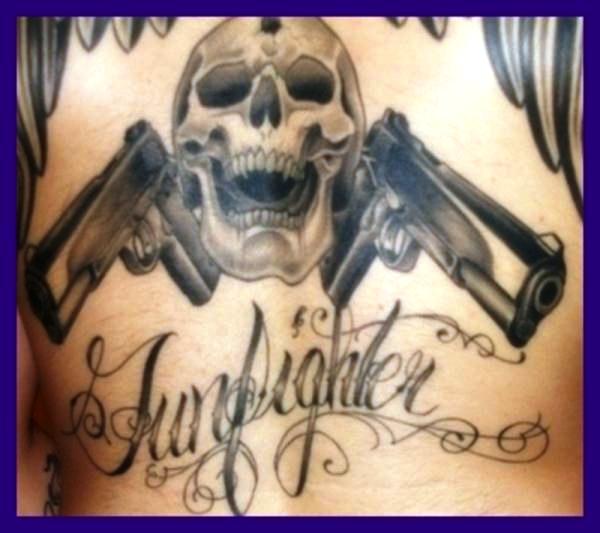 Gun Tattoo
For your tomorrow gun tattoo with a woman held and tied like a prisoner, on it.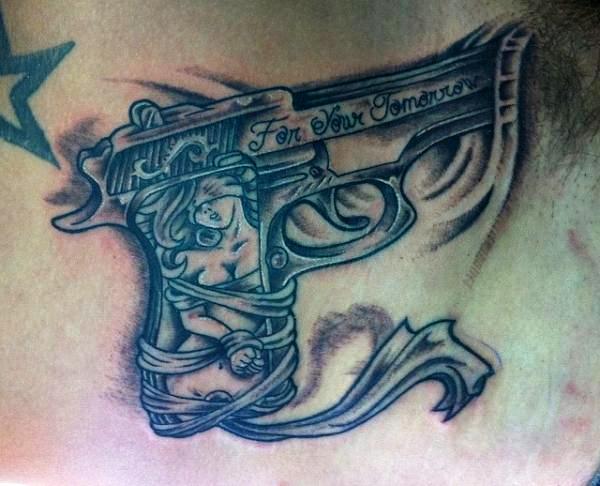 Guns And Roses
Great looking Guns N Roses tattoo with a microphone representing the rockstars.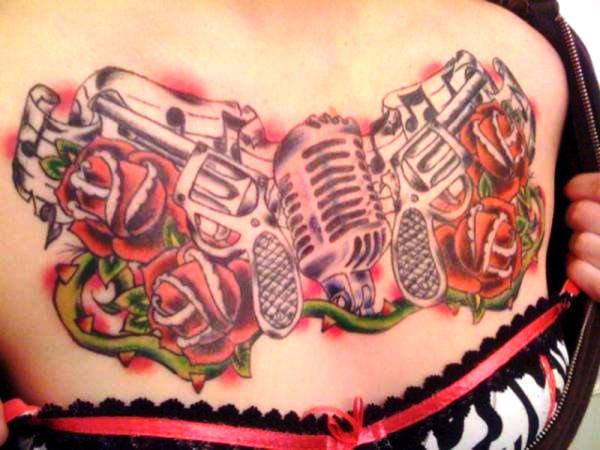 Guns On Back
Heart and two guns with lettering saying "RBW" on the lower back.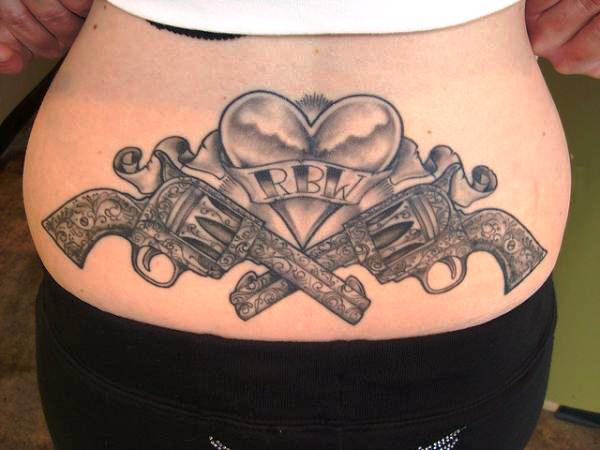 AK 47
Two AK 47 rifles on the back of the fighter.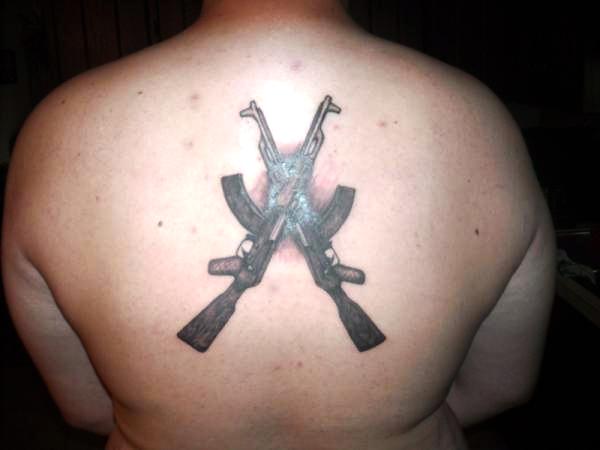 Guns And Clouds
Awesome traditional guns with smoky clouds in the background.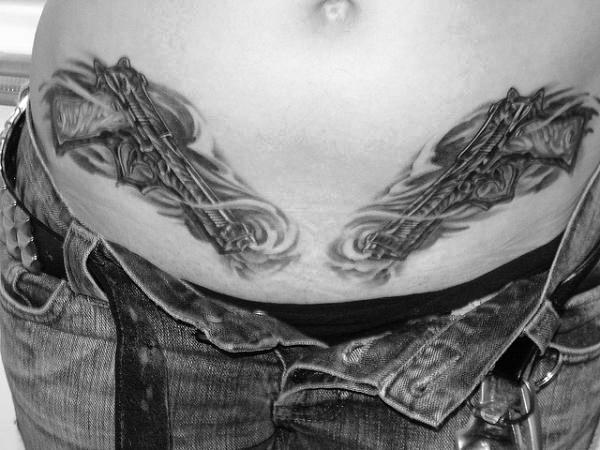 Two Revolvers
Flashing guns and a rose on her upper back, here's a woman with killer attitude.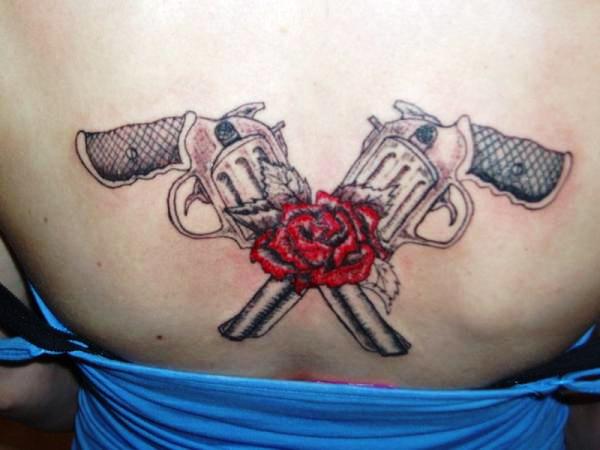 Revolver Tattoo
Artistic old western style revolver tattoo on the forearm.