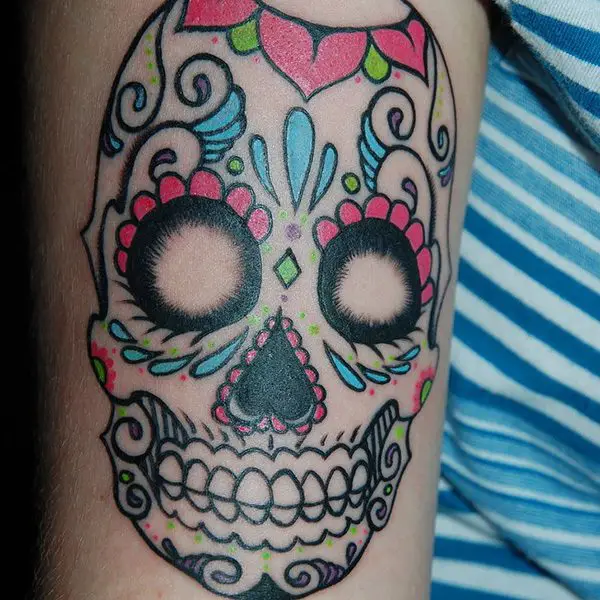 Tattoos are a symbol of fashion and style. They can be used to present your views and emotions. Cultural festivals are a great place to adorn your body and mind with amazing colors and feelings. The sugar skull tattoos are one of the most historic but well-understood tattoos today. Modern designs preserve their basic cultural meanings and at the same time add style and colors to make them more appealing.
The reason why these tattoos are called sugar-skull is that in middle-age Mexican cultures, people made skulls out of clay molded sugar and placed them on the gravestones of the departed ones to hope for their return on the Day of the Dead. The culture of decorating the skulls with floral patterns has historically come from Aztec civilization, but today it is intermixed with modern-day designs to create new tattoos. These tattoos are typically sported on the El Dia de los Muertos the Day of the Dead in Mexico. There is a series of days on which different tattoos with different features are created; for example, smaller tattoos on the All Saints Day and larger ones on the All Souls Day. Irrespective of these traditions, modern fashion has brought forward a wonderful fusion of tradition and art. So when you are going for a sugar skull on your body, try to make sure you get it with the right spirit.
If you like this article, you might be interested in some of our other articles on Zodiac Tattoos, Cancer Tattoos, Texas Tattoos and Graffiti Tattoos.
Subtle
Only three subtle colors are used here along with black to bring out a picture that's neither too dull nor too funny.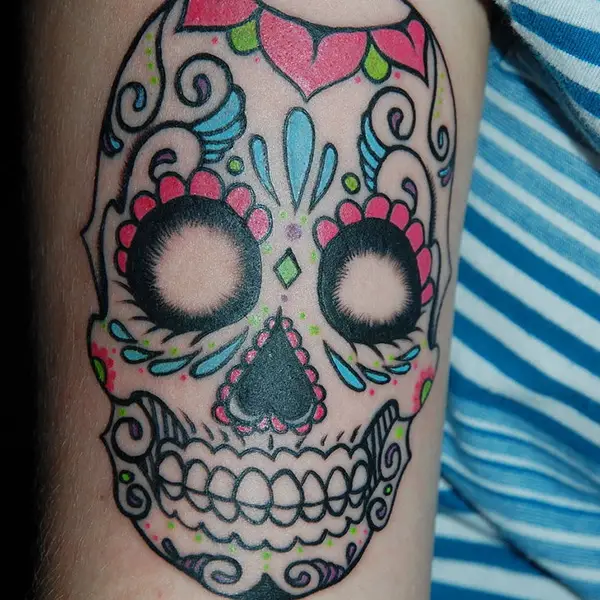 Petals
Arms have remained and will continue to be the favorite spot for skull tattoos in the case of men.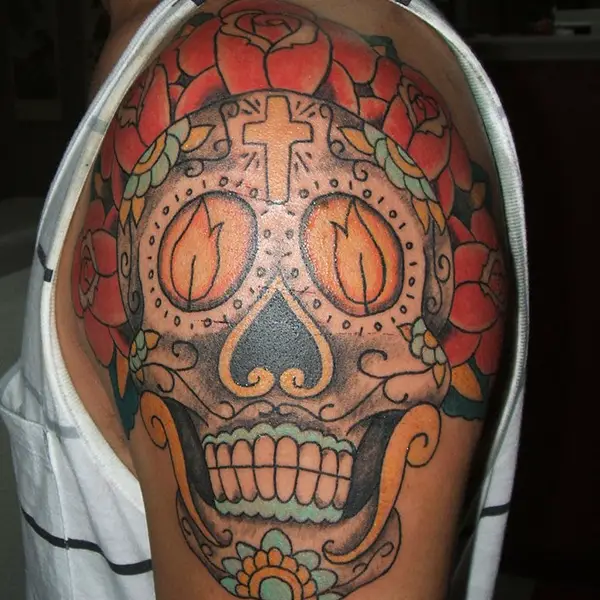 Rich Sugar Skull
Rose is perhaps the only flower that finds a reserved place in floral skull tattoos, maybe because it's a starkly opposite symbol in terms of meaning.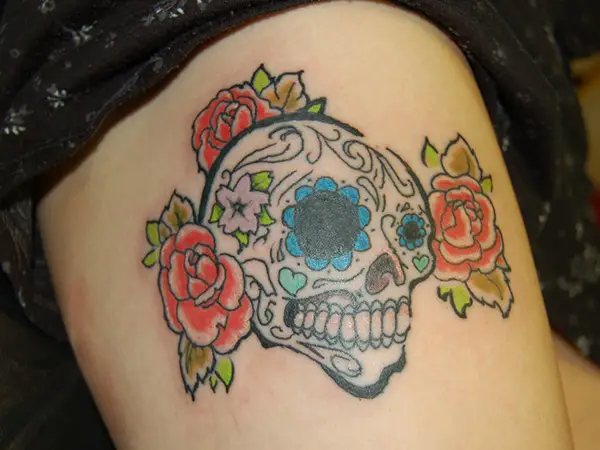 Rose Eyed
Rosy eyes and the cross make this a great tattoo to have on your arm. The color combination is cool.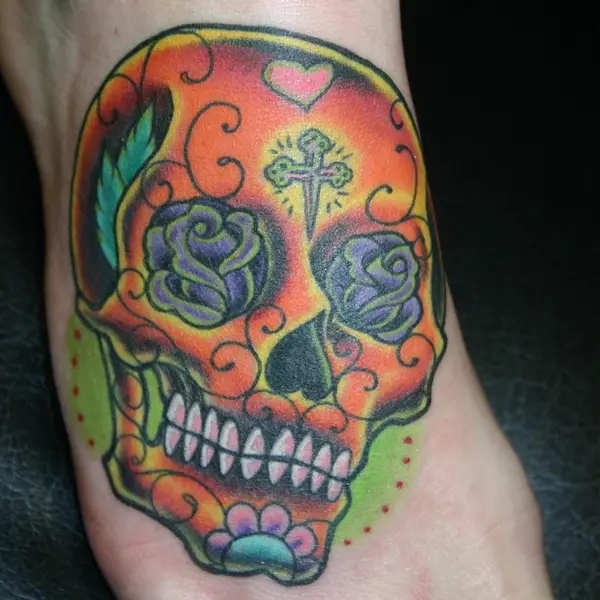 Colorful
The colorful teeth of the skull and the roses tilt its meaning to a funny and lighter side.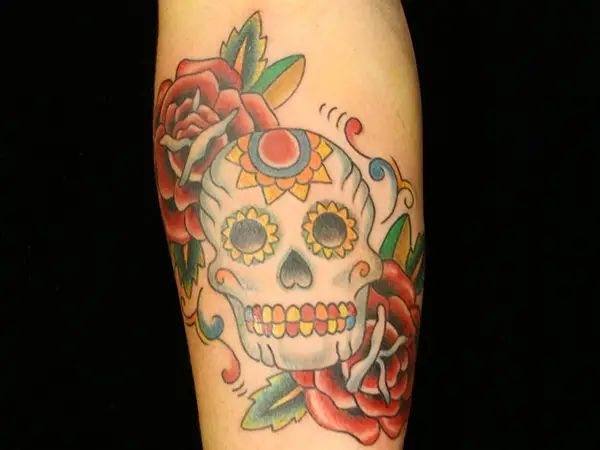 Terrifying
Sporting blood in the eyes and an inverted cross, this skull sure as hell is a harbinger of fear.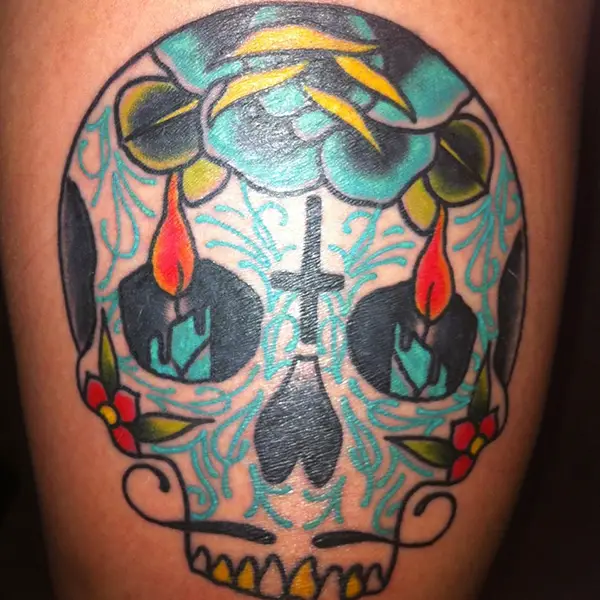 Terrifying
Open Jaw
One of the most constricting parameters of the human skull is that it can't open the jaw much too far like an anaconda. This skull defies that to some extent.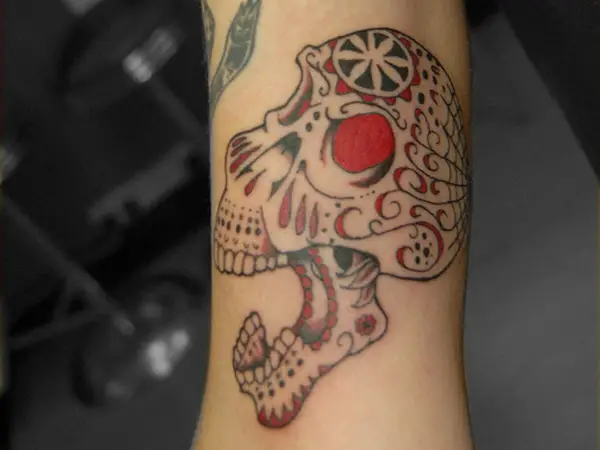 Stiched
Flowers set up a great contrast with skulls. Historically never used together, these have combined to be the latest trend among tattoo-getters.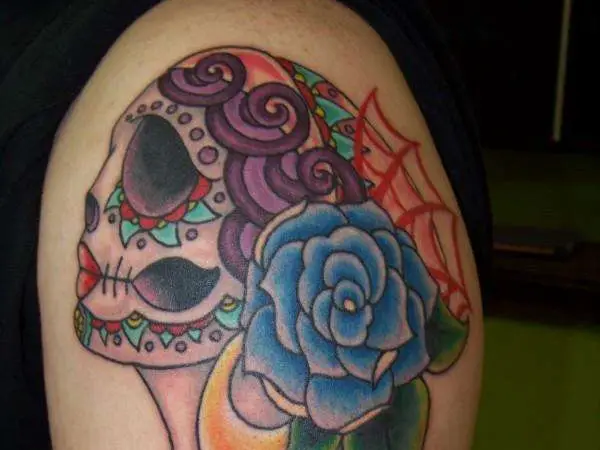 Arm Sugar Skull
Artistic and imaginative capability is exploited to the maximum in this one as it fills up scores of designs within itself.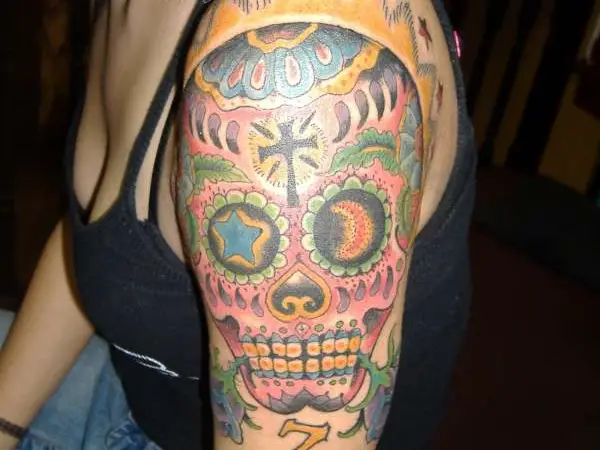 Red Tooth
One red tooth among all other white teeth is sure to be the center of attraction in this tattoo. The floral patterns on the forehead are nice.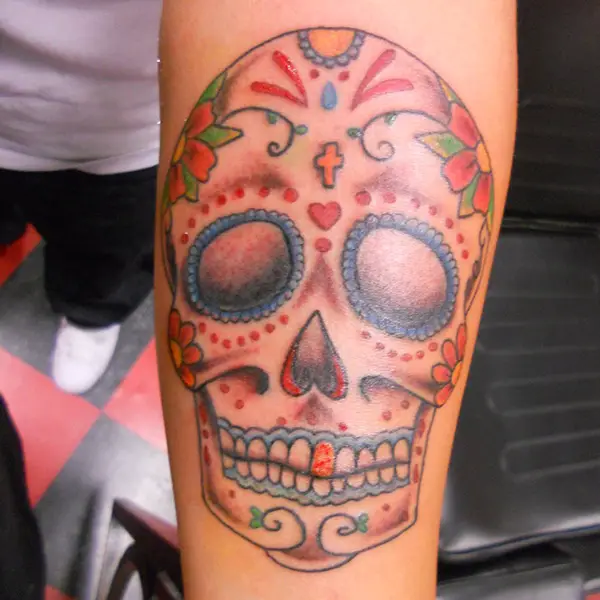 Green Haired
A skull with hair is one popular sub-category of the skull tattoo class. It portrays a character closer to humans, possibly a rebirth.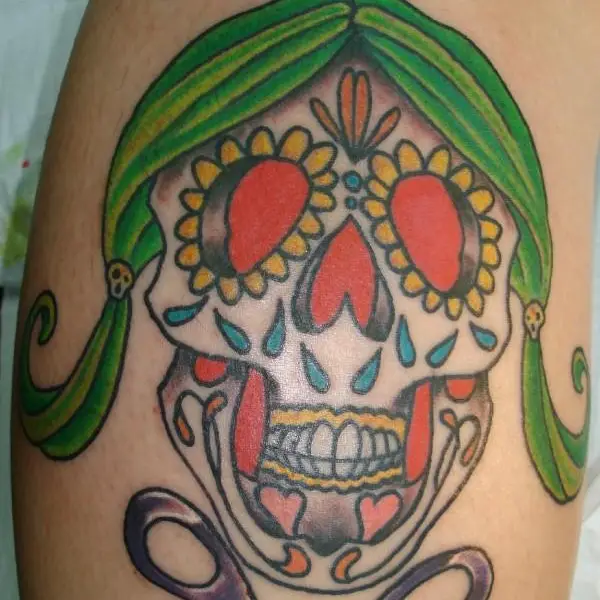 Green Haired
Fantastic
Arms are a good place for your skull tattoo. Regardless of conventional styles, women today are also going for skull tattoos, particularly colorful sugar skull tattoos.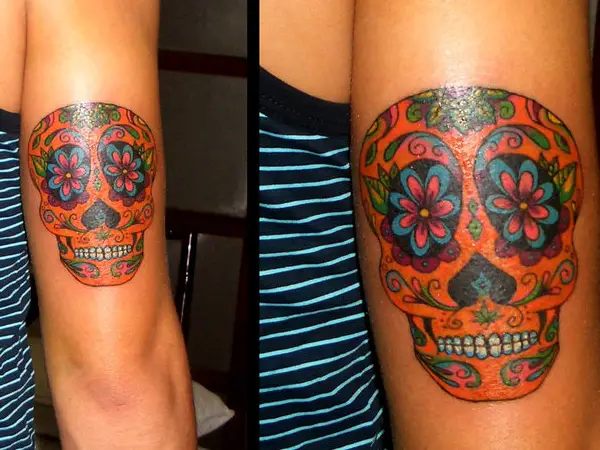 Ominous
Red is a color both for imminent danger and fear. The shades of blue and black in the hair adds more of it.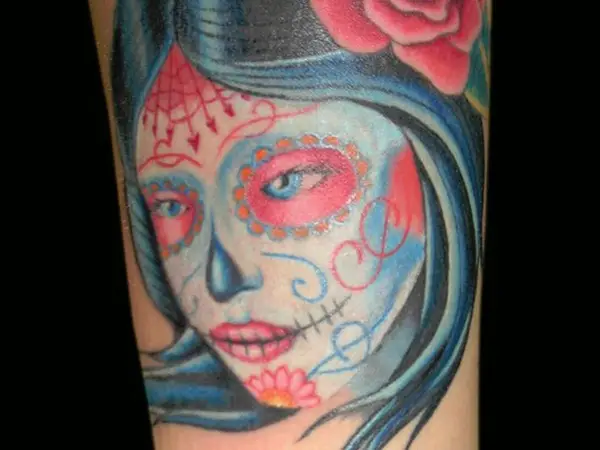 Ominous
Black Skull Tattoo
Using only one color and creating well-thought patterns, this tattoo shows why it's not necessary to get scores of colors in your tattoo to make it appealing.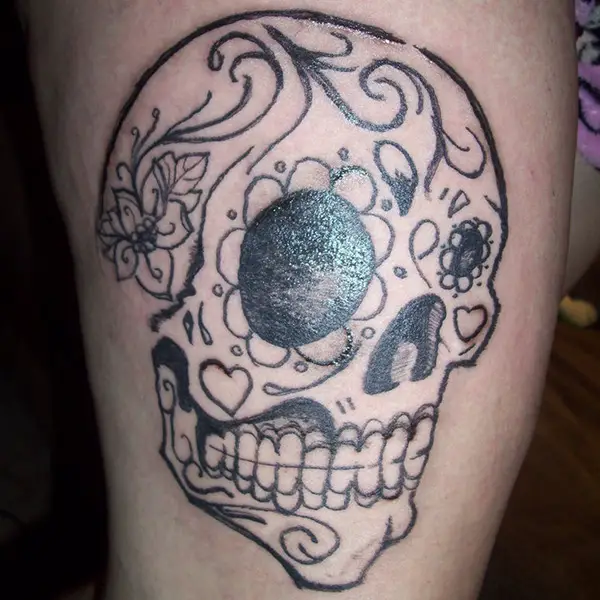 Three In One
The beautiful color combination employed in the roses above and below the skull adds feathers to this tattoo.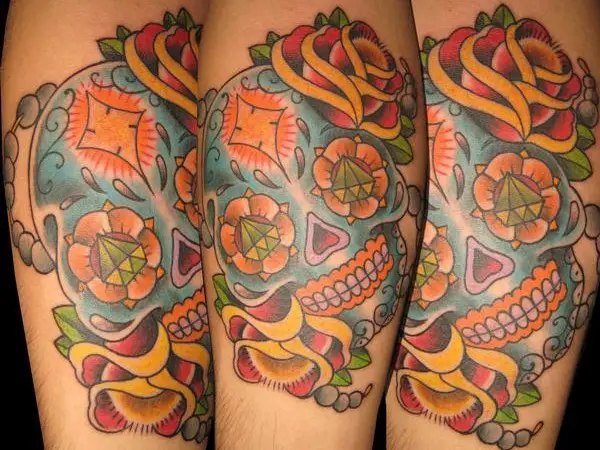 Three In One
Dangerous
The red pupil inside the hollow black eyes of the skull represents fear and an ominous existence.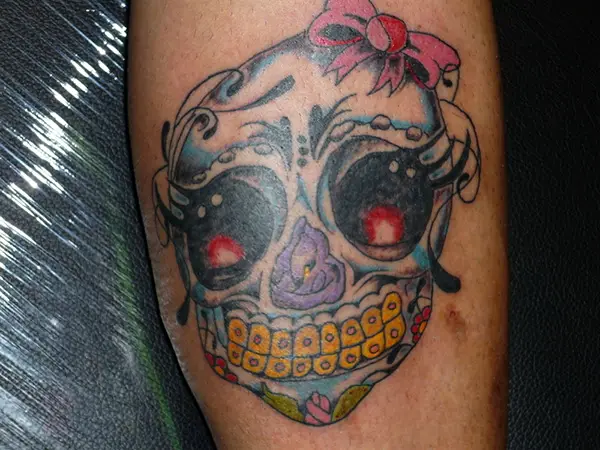 Fiery Skully
Red is the preferred color when it comes to fear and panic, primarily because it's the color of our blood.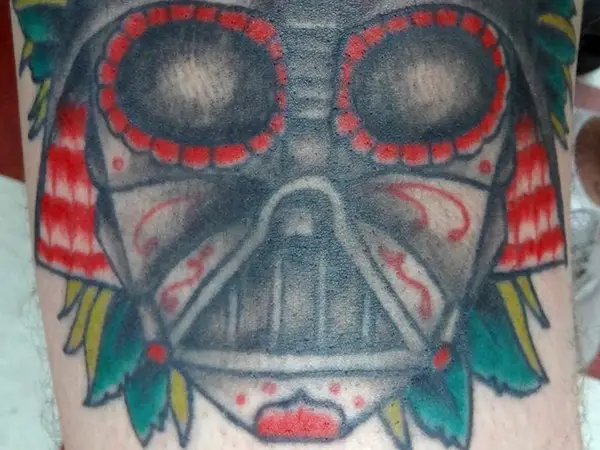 Rich Colors
Richly innovative and artistic, tattoos like this require a good deal of effort to create and deserve to be amazing in looks.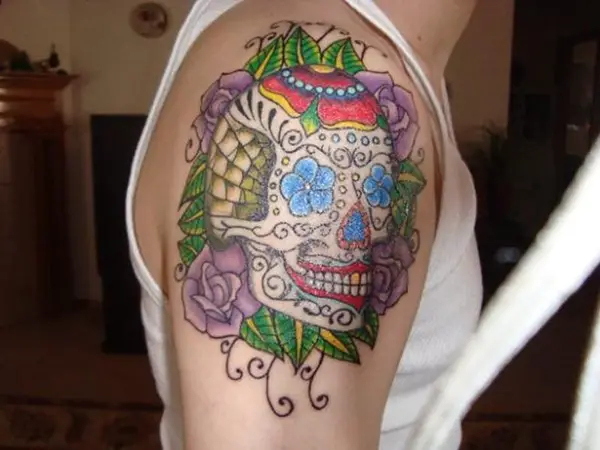 Pentagram
The pentagonal star in the eyes coupled with the red roses and the broken nose paints a beautiful presentation of the skull. The slight shades of blue enhance the looks.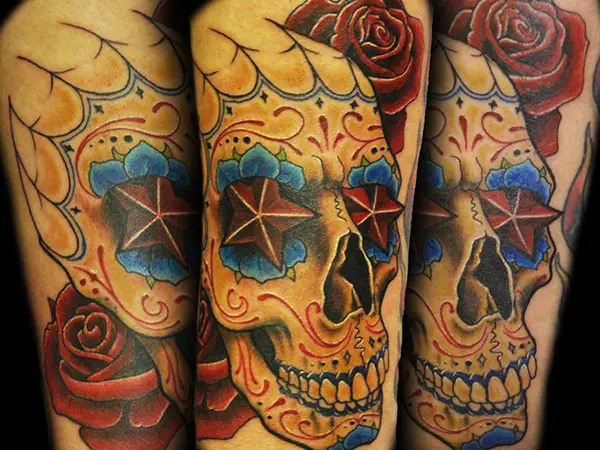 Skull And Roses
Legs are also catching up as one of the most popular spots for getting an amazing skull tattoo. It, however, limits you to wear shorts to be able to flaunt it.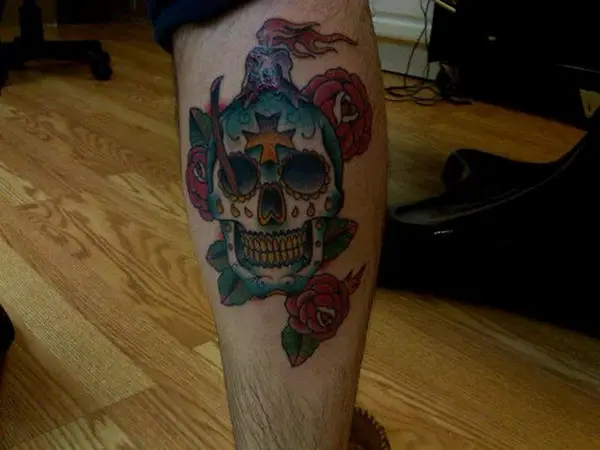 Smiley Skully
Floral patterns and plants add the natural charm to a skull, perhaps suggesting a rebirth from nature.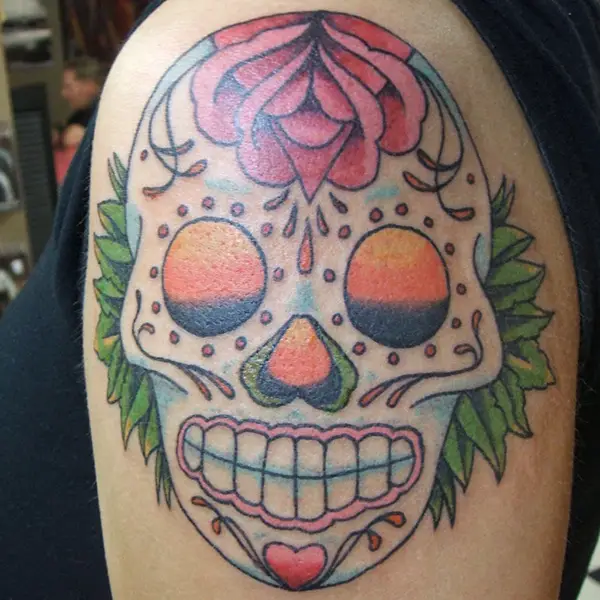 Back Sugar Skull
Back is the favorite spot for women when it comes to tattoos, and a good combination of floral and abstract patterns integrated with a skull are sure to rev up the appeal.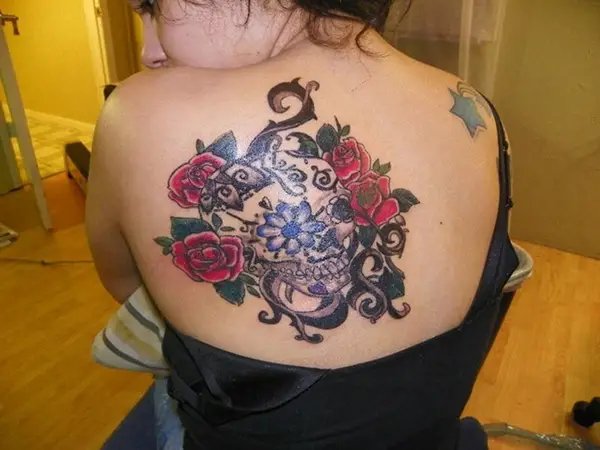 Purple Shade
Trying to make a human out of a skull is what many tattooists base their works on. Adding jewelry and haircuts are pretty commonplace in this approach.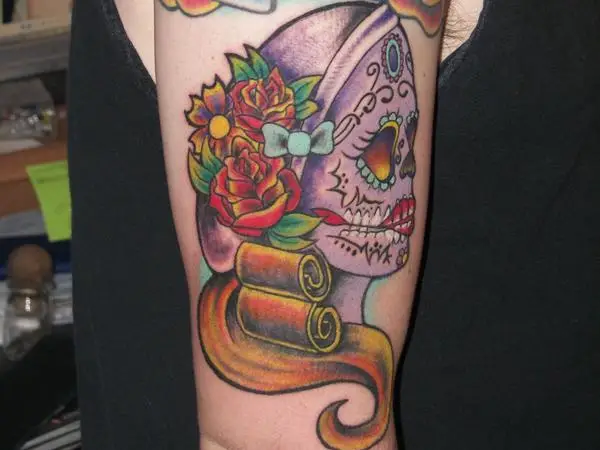 Olive
The olive leaf is a historical symbol for peace. It is an integral component of the logos of many prominent organizations, for example the United Nations. Inked with a skull, it changes its meaning completely.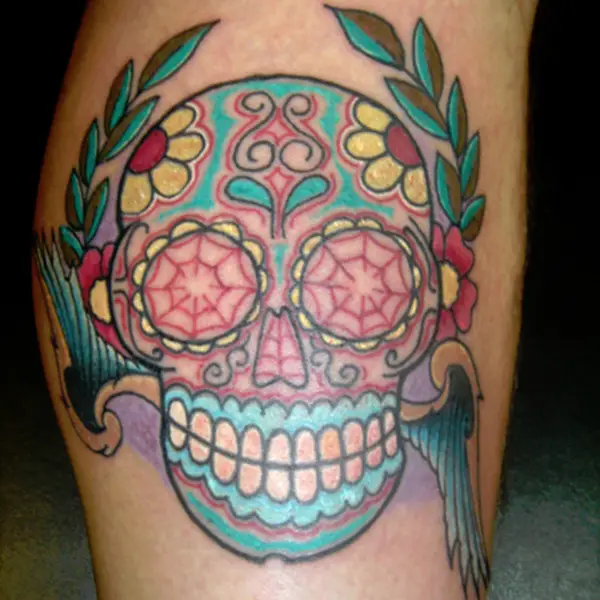 Traditional Sugar Skull
The spider web in the background is the most distinct feature here, next to the wax flowing down a candle on the forehead.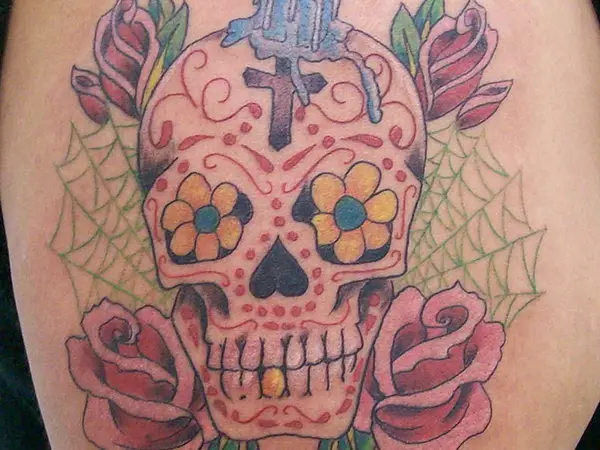 Classic Sugar Skull
A pretty conventional one, this tattoo is a great choice if you have an easy-going attitude. Use of a single color makes it appealing.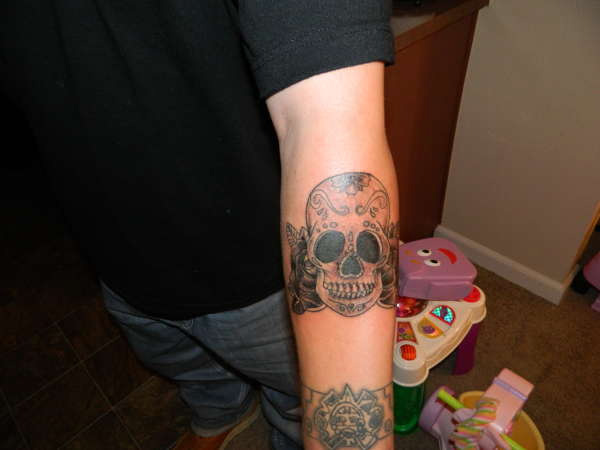 Diamond Bones
Colors are a good thing when it comes to tattoos, but you would have to make sure the subtle shades fit nicely with the skin.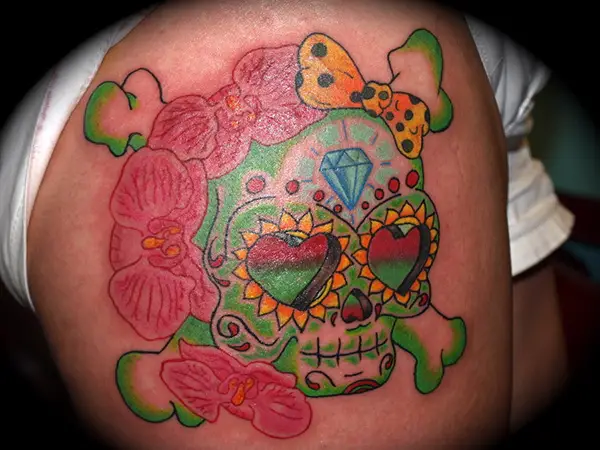 Chest Skull Watching
Innovative and richly created, this extensive tattoo pattern shows a skull with eyes, the most striking feature. Also an inverted hand with a pentagram on it surely brings out a satanic appeal.