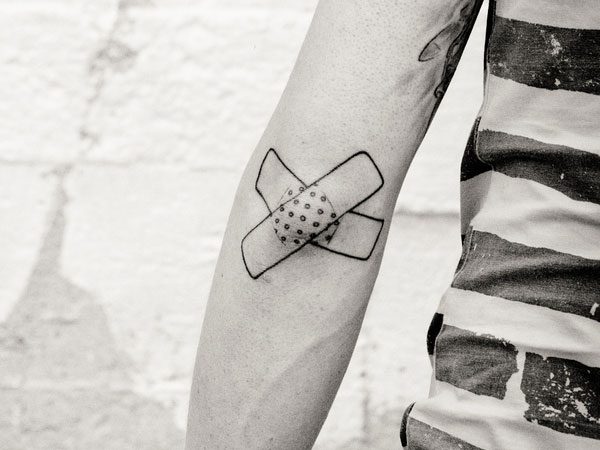 If you are looking for a small space on which to place a tattoo the elbow is a good idea. Circular designs look especially beautiful with the elbow as the center of the design. When you move your hands or are engaged in any activity you can showcase your beautiful elbow tattoo to the world.
Elbow Tattoos are of many kinds, based on what kind of theme you want to portray, but most of them involve designing around the circular shape of an elbow.
You can get inked with a wide variety of elbow tattoo designs either using a single color, two colors, a play of rich and complex shades, or a rainbow burst of colors. Mexican tattoo designs look great when you get them inked on the elbow, and flower and skull theme designs are the top pick when it comes to Mexican flavored elbow tattoo ideas. You can also got funky modern twists on a traditional Mexican skull tattoo by getting inked with a design that shows a skull wearing headphones. You can creatively use the surface area around the elbow, either by filling in the area, or keeping the heart of the design empty. Quirky designs such as a band-aid reminding you of the many times you have fallen and hurt your elbow as a kid, or a design with comic book sounds inked in colorful patterns also make great elbow tattoo ideas. The circular shape of spider webs and their neat interlocking design also make them popular as tattoo design ideas for elbows.
If you like this article, you might be interested in some of our other articles on Hand Tattoos, Knuckle Tattoos, Face Tattoos, Eyebrow Tattoos.
Hurt Heal Tattoo
This delicate elbow tattoo is inked in the shape of a cute band-aid making for an unusual tattoo design.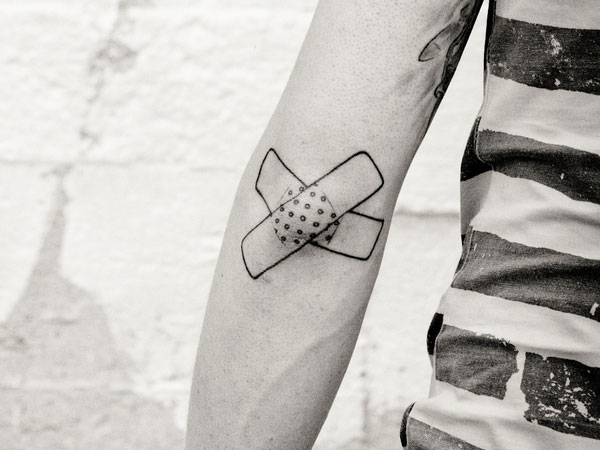 Hurt Heal Tattoo
Fresh Elbow Tattoo
Inked in a dense 3D style this fresh tattoo combines strong star-shaped patterns inspired by geometry with abstract motifs for a cool look.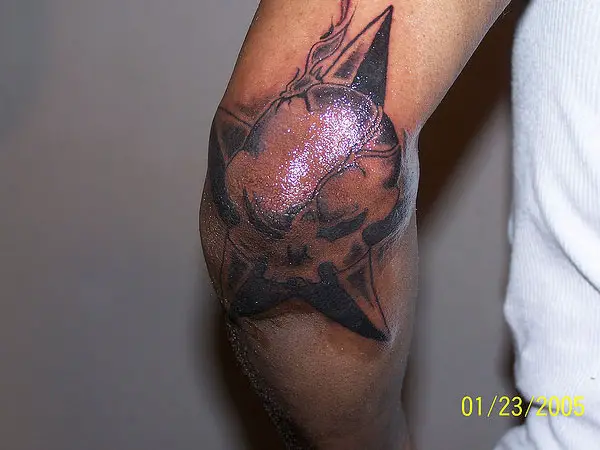 Fresh Elbow Tattoo
Feather Stars
The pattern of a 5 point star and delicate feathers combine in this red and orange shaded elbow tattoo design.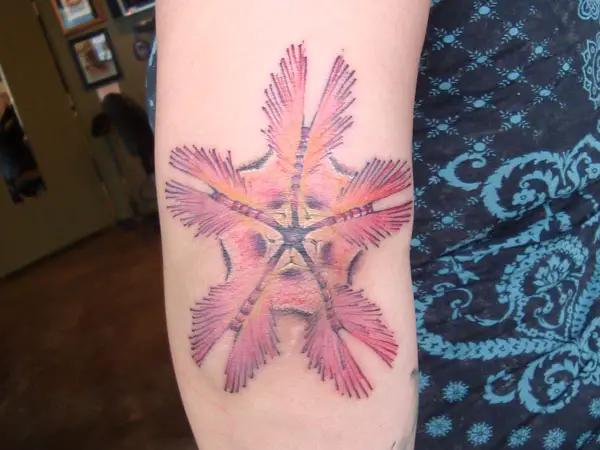 Cracked Star
Realistic looking cracks mark the huge 3D style star in this dramatic single colored elbow tattoo design.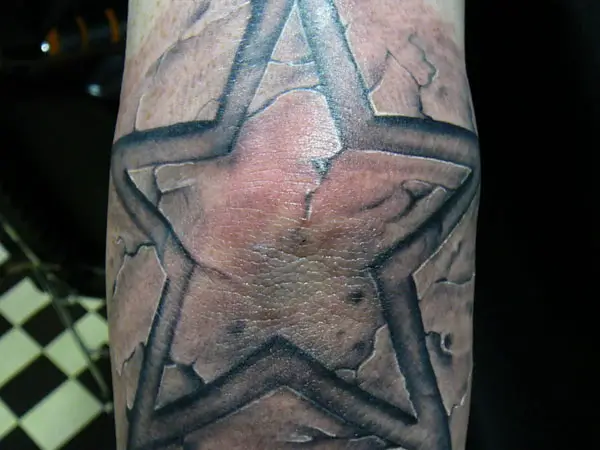 Flower Of Love
Rich red and black floral designs with bright yellow and orange towards the center make this a stunning elbow tattoo design.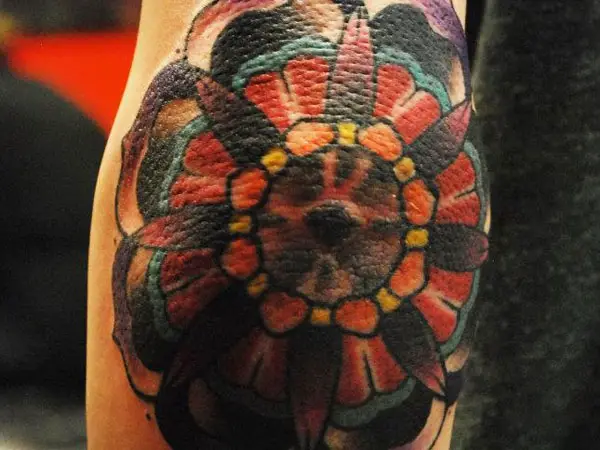 Flower Of Love
Sunflower Happiness Elbow
Sunflower petals alternate with blue petals in this complex and rich floral theme elbow tattoo design.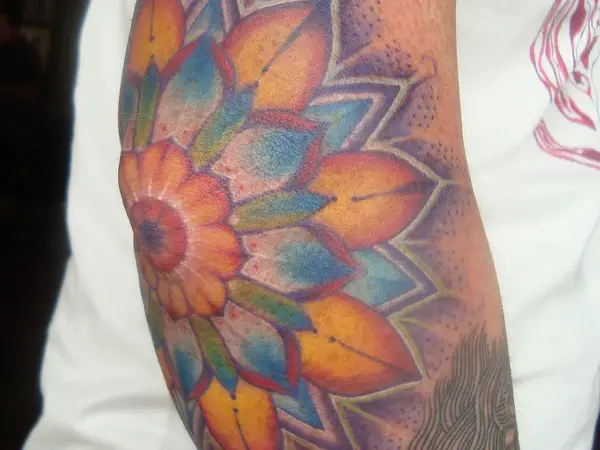 Jewel Flower Tattoo
This bright red flower theme small tattoo is surrounded by blue decorating motifs making the elbow look very colorful.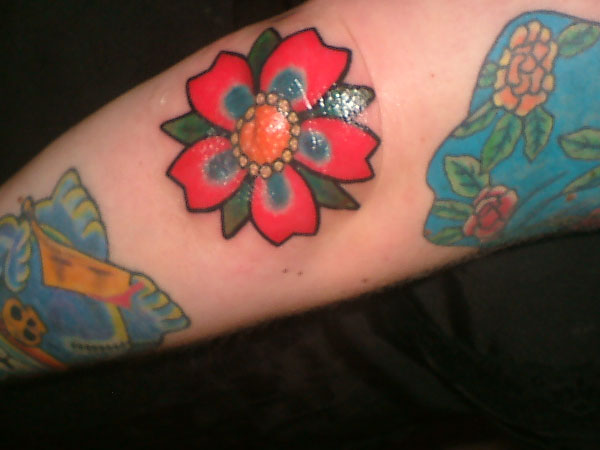 Flower Colors
The empty flower shaped space at the heart of this tattoo design is bounded by pretty patterns of blue and red alternating petals.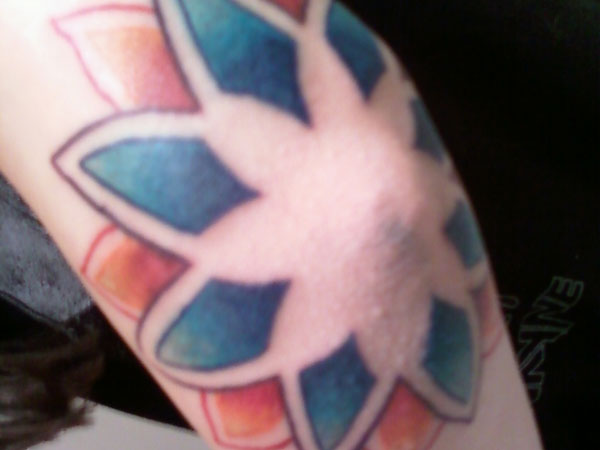 Flower Colors
Symbol Elbow Tattoo
Rich black and brilliant blue shades in this text theme elbow tattoo design look very colorful.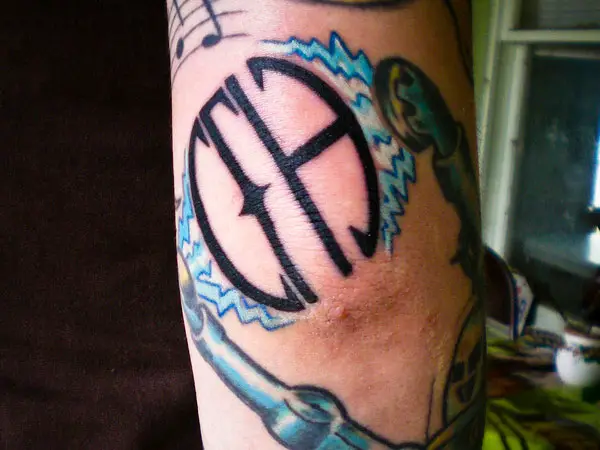 Nautical Tattoo
A complex arrangement of knots in a beautiful pattern sits inked in this small but elegant tattoo design.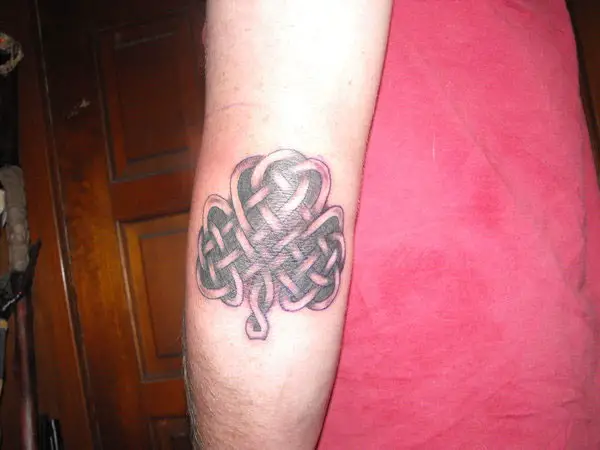 Web Spider Elbow
Styled in a mix of red and black this is a beautiful spider web tattoo design right on the elbow.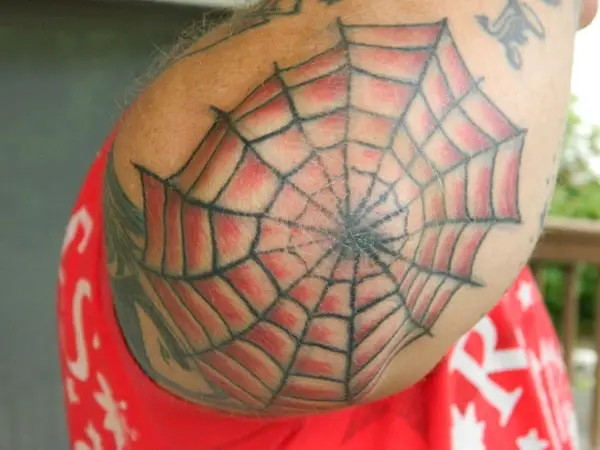 Cartoon Elbow
The comic style sounds written in the design, the bright colors, and black shadow 3D effects celebrate the world of comics in this tattoo design.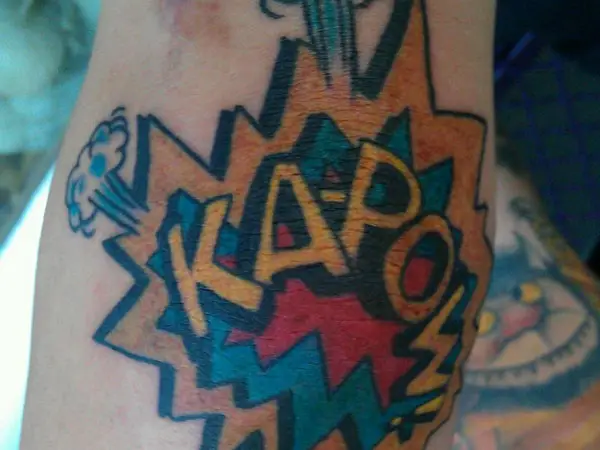 Web Of 13
This elegant tattoo breaks free from the unlucky vibes associated with 13 with a beautiful web pattern and a 13 at the heart in a single color tattoo design.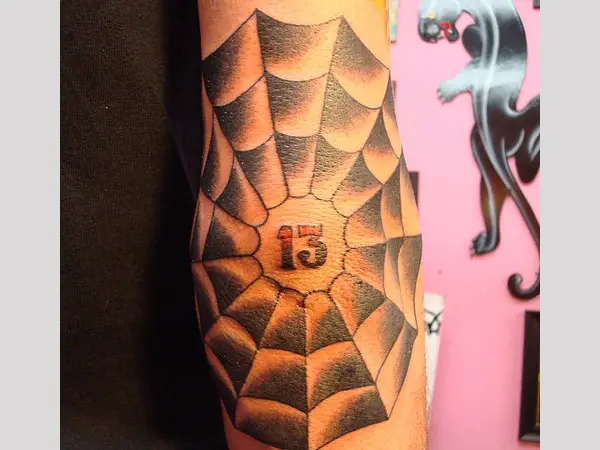 Elbows Cross
Two strong cross shapes with straight dark outlined lines marks this cool double elbow tattoo design.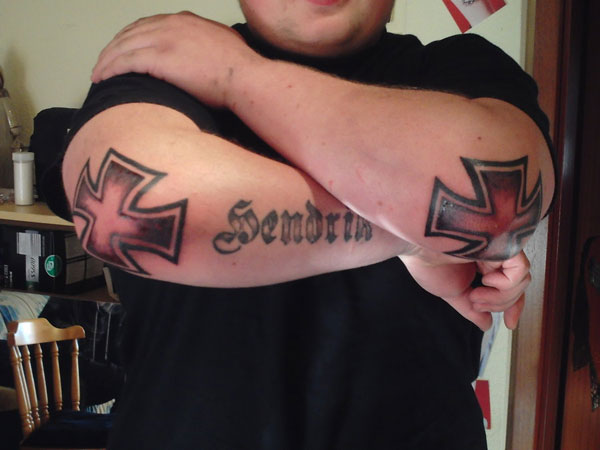 Elbows Cross
Rose Mexicana
Rich red shades with golden rims and green leaves mark this burst of colors in the rose theme elbow tattoo.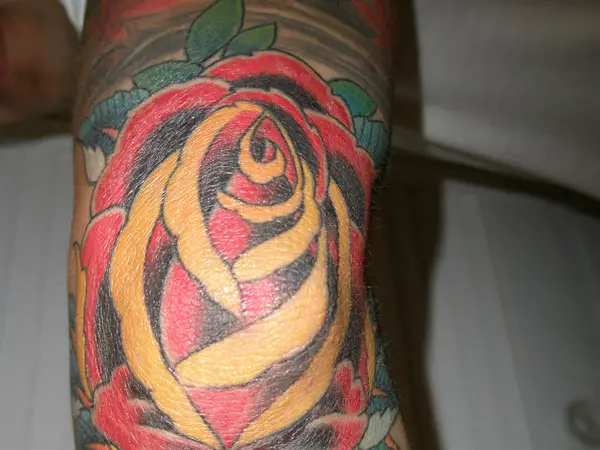 Black Stars
A bold star inked with thick solid black lines and a smaller solid black star make up this stunning single color elbow tattoo.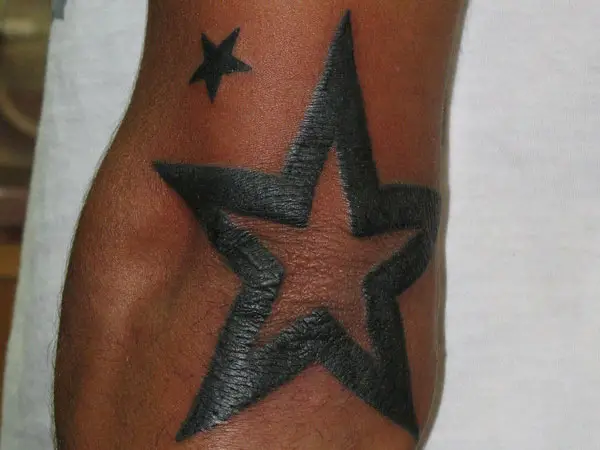 Skull Blues
A blue shaded skull with headphones on is a great tattoo for a music lover who also enjoys many-colored tattoo designs.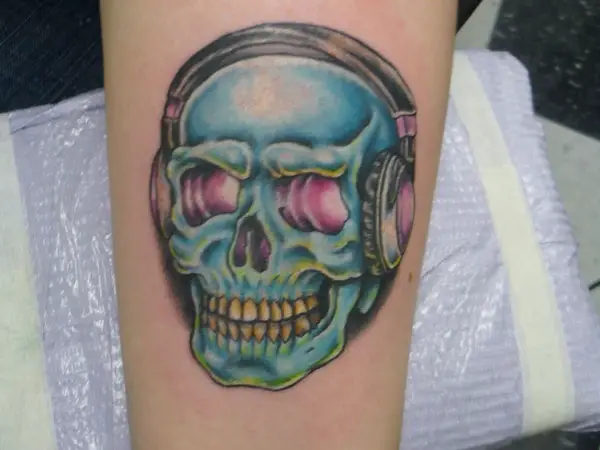 Football Patterns
A beautiful circular shape with waves of patterns all around look more gorgeous thanks to the dot pattern that shades the design in this elbow tattoo.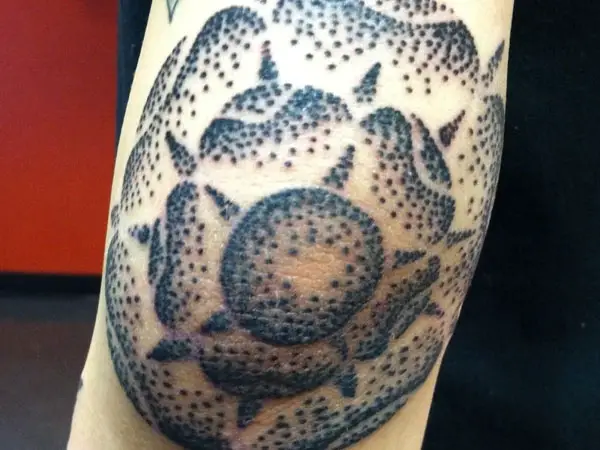 Heart Cake
This delicious looking cupcake filled with heart-shaped yummy fruit on the elbow celebrates the sweet joy of love.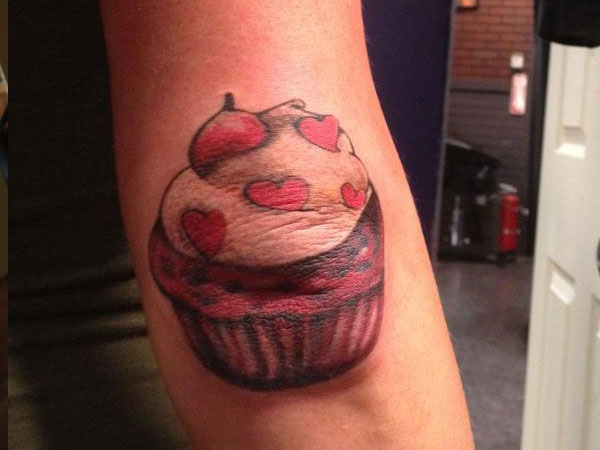 Black Web
Styled in fine lines and delicate shades this circular elbow tattoo pattern shows a spider web.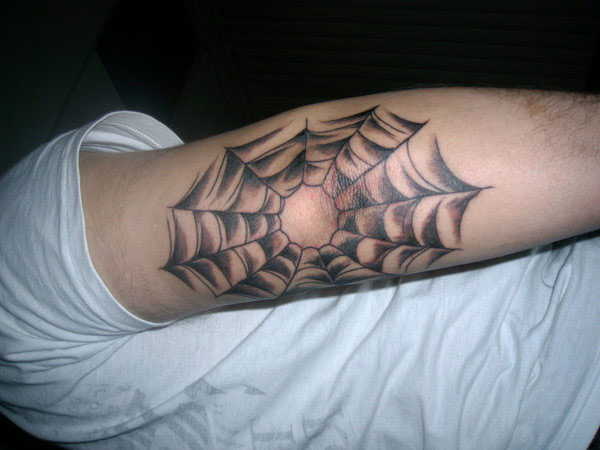 Purple Cloud
This is a beautiful abstracy design tattoo for the elbow with the black outlines folding in purple cloud shades with an outer pattern of green leaves.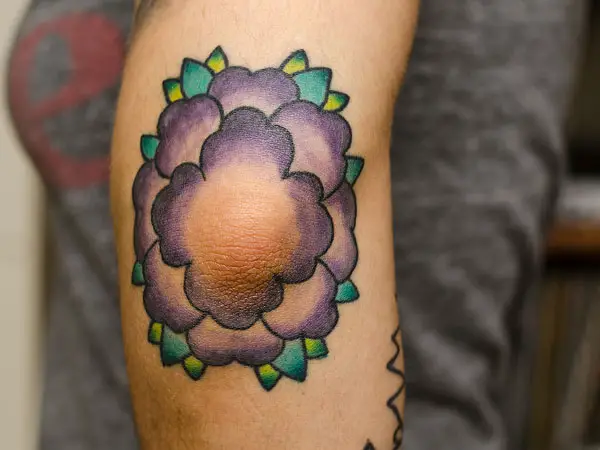 Lucky Elbow
A beautiful natural pattern in shades of green and a three-leaf design covers the elbow in realistically inked shades.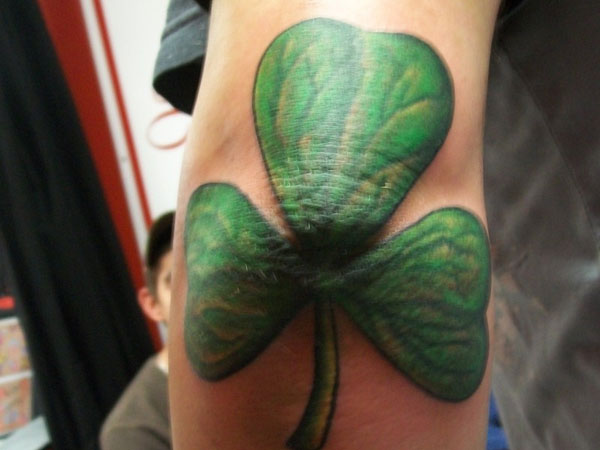 Gorgeous Elbow Tattoo
Rich shades of red and yellow mark the bright Mexican rose design on this elbow. Check out the touches of leaf green patterns in the rest of the design.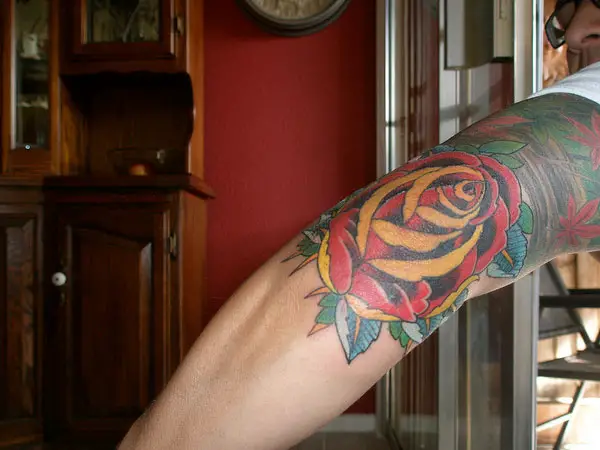 Sand Elbow
Flower patterns in a jigsaw puzzle style make a beautiful decoration in shades of red on the elbow.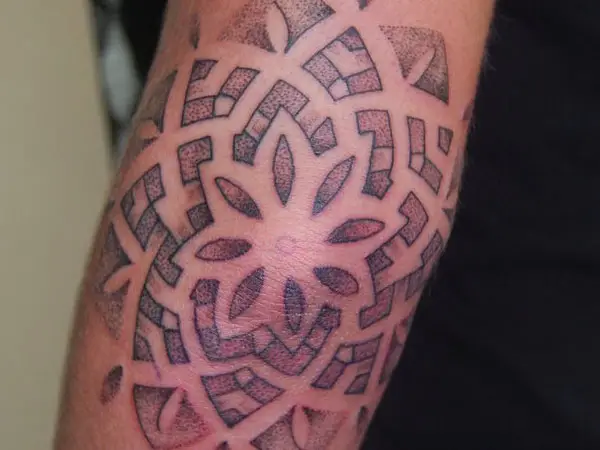 Aperture Science Logo
A collection of black solid triangles much like Chinese puzzle pieces surrounds the elbow in a circle in this geometric tattoo.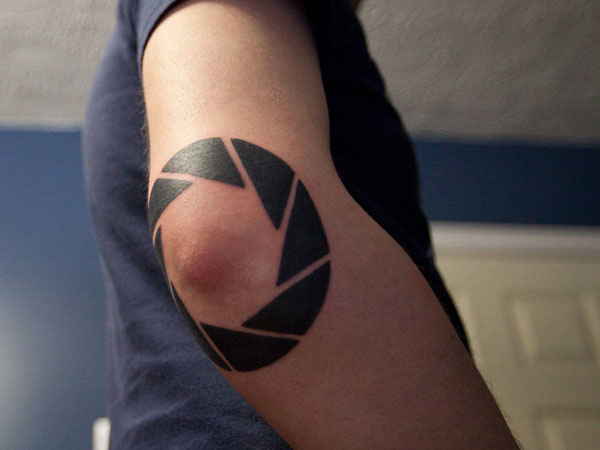 Jewel Drive Tattoo
Red shades the elbow with a brown oval framing the design. Check out the blue beads forming the elbow tattoo decor.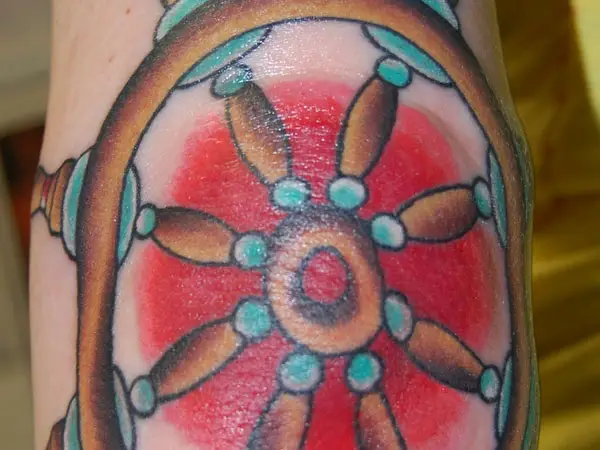 Mask Elbow
A sinister looking masked face with a toothy smile decorates this elbow in shades of black.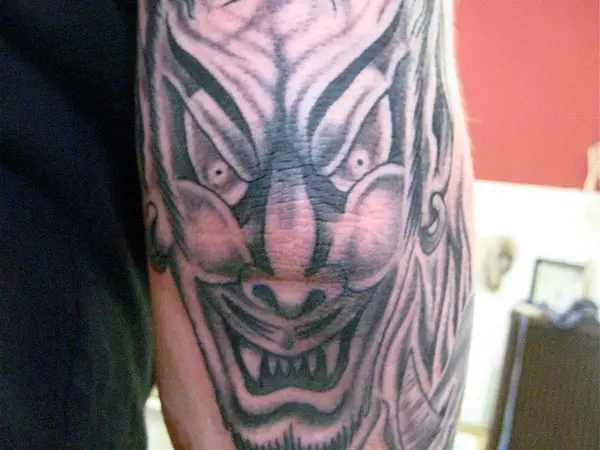 Smiley Elbow Tattoo
A cute round smiley with a tongue sticking out is the high point of this elbow tattoo.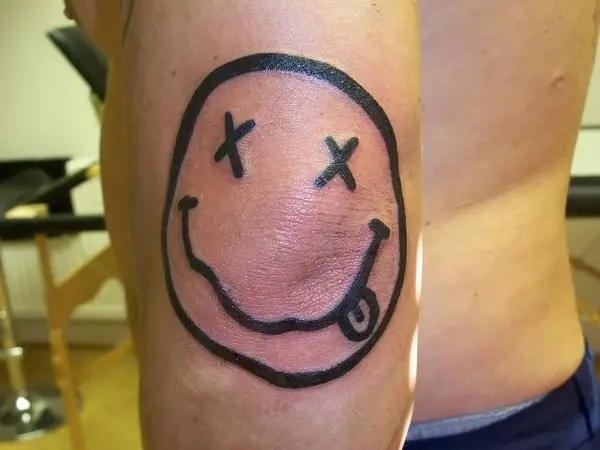 Shaded Tattoo
Dark outlines with delicate shades inside mark every part of this umbrella design elbow tattoo.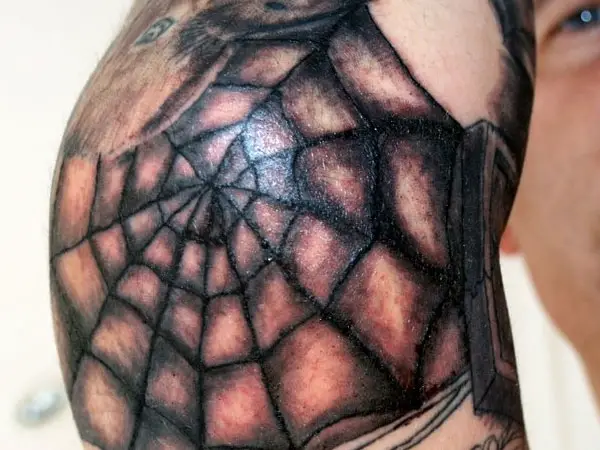 2D Web Elbow
Check out the beautiful patterns of this cyclical elbow tattoo design that looks much like an open umbrella.