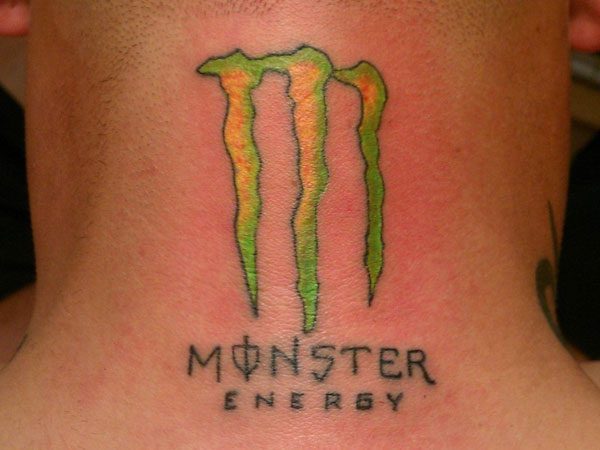 Permanent ink designs look awesome on the powerful neck of men. Colorful tattoo designs inked on the neck make a stunning style statement, and also express the dreams and fantasies of the wearer. The rounded shape of the neck makes it ideal for small tattoos featuring a few simple elements. The nape, the side, and the front of the neck are some areas where men get themselves inked.
Neck tattoos for men range from simple designs featuring a basic monochromatic pattern, to intricate many shaded symbolic designs.
The nape is great for symmetrical tattoos with the main element placed at the center. A gorgeous red rose as the centerpiece, or a Cross framed by angel wings, looks stunning. Single elements such as a frog prince, a red flower, text messages, and a bright star, make for awesome neck tattoo designs. In a narrow vertical design, the theme can be inked in a bold tribal style, highlighting the basic form. Men, who love the Monster Energy brand of energy drinks, often get the vibrant logo inked on their nape. A mermaid outlined along the nape, or a barcode with the word 'Free', creates stunning views from the back. Here are some neck tattoo designs.
Logo Neck
The green and yellow hues look bright, in this Monster Energy inspiration tattoo.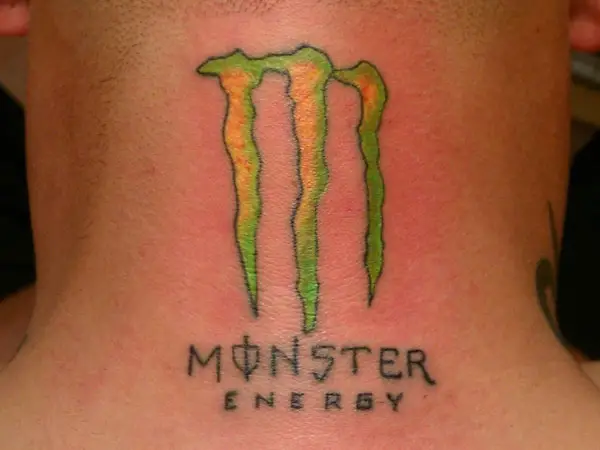 Neck Star Men's Tattoo
A densely inked star sits at the center of a lightning flash, in this vertical design tattoo.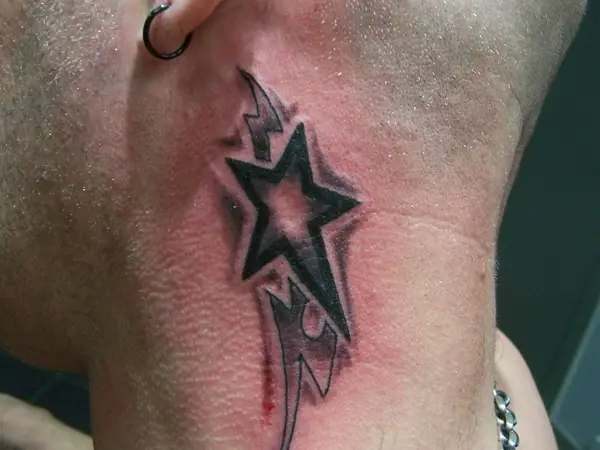 Neck Rose
An enormous red rose with green leaves, blooms along the side of the neck.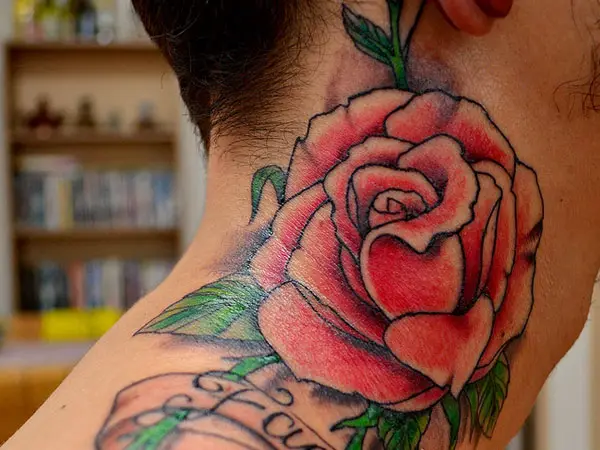 Neck Rose
Ornate Neck Tattoo
A golden crown and a pair of blue and purple roses, make up this neck tattoo.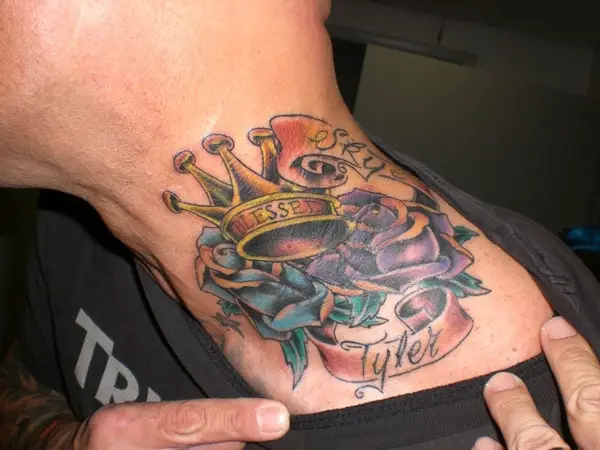 Cross Within Cross Tat
The neck tattoo design is cross-shaped. A Cross at the center is framed by angel wings.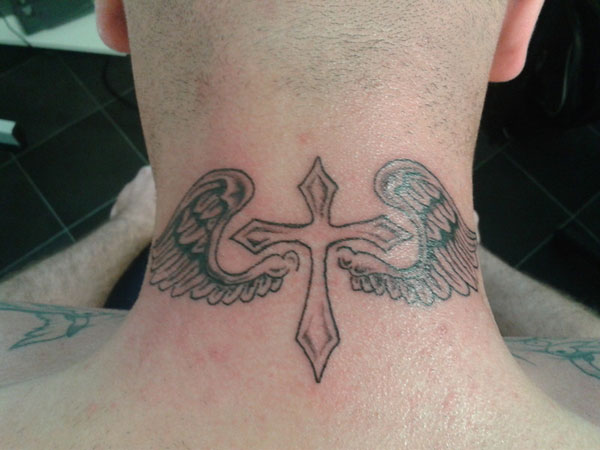 Initials Tattoo
Stylized initials with a spray paint style border, sit on the side of the neck.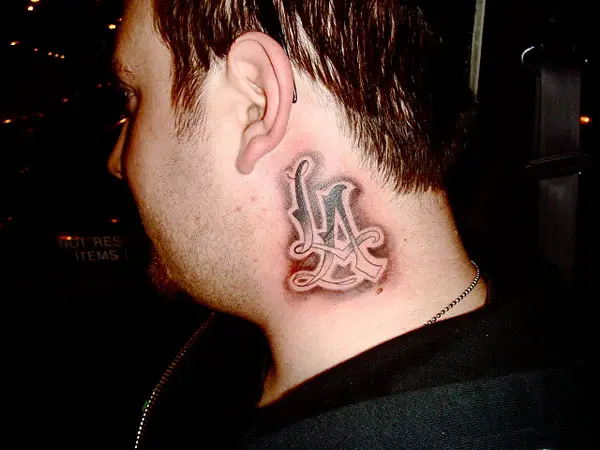 Quest Neck Tattoo
Green double frames form the background of this strange design, featuring an eye and a narrow crescent moon.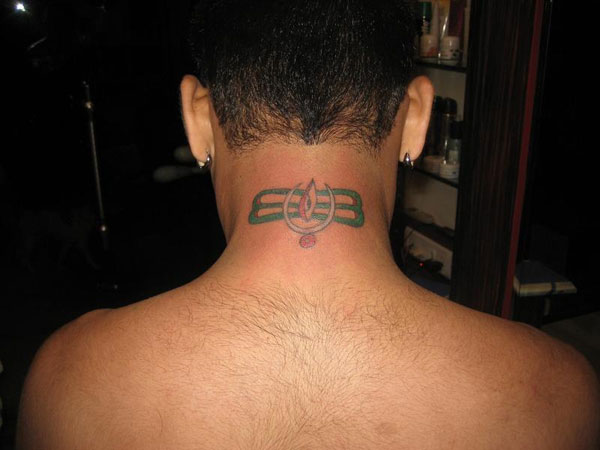 Son's Tattoo
A bright blue diamond is framed by cursive style text, in this neck tattoo.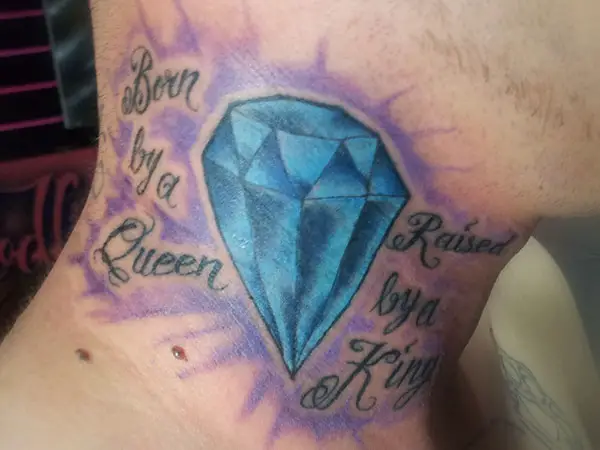 Fairytale Neck Tattoo
The playful silhouette style tattoo depicts a frog prince. A cute graphic design inspiration tattoo.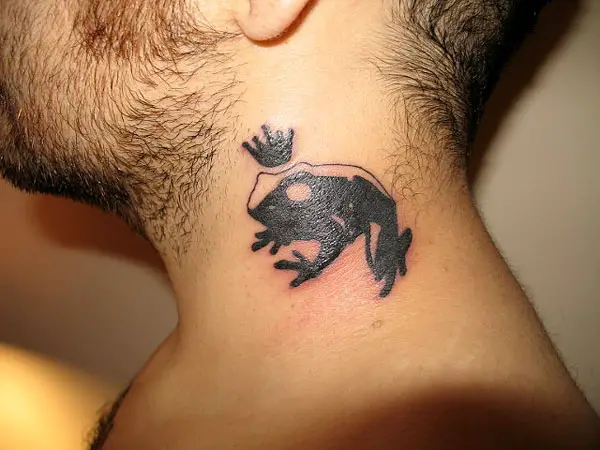 Men Fantasy Tat
The outlined mermaid tattoo with its curves and lines goes into the realms of fantasy.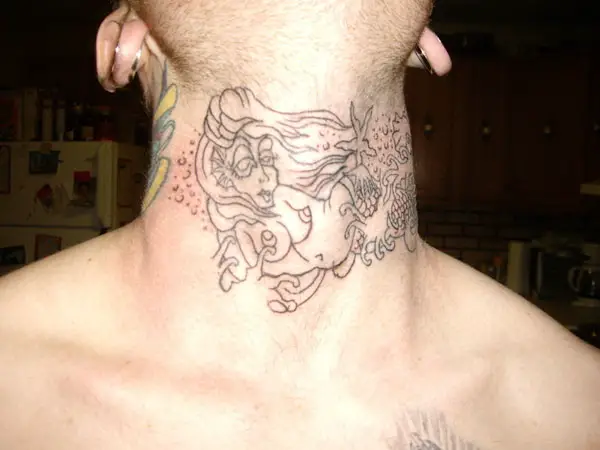 Nautical Hearts Neck Tat
The sharp ends of the anchor touch a bright red heart on either side.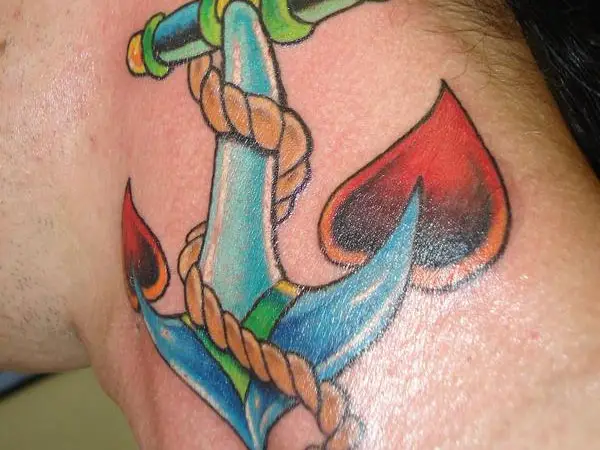 Men's Cross Tattoo
This elegant neck tattoo combines angel wings and a Cross in the design.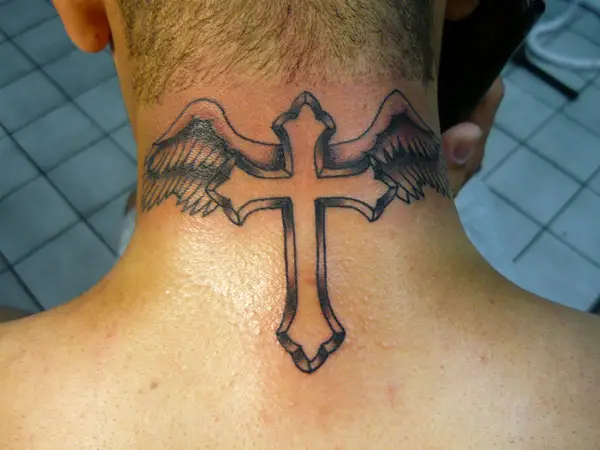 Sunny Crown Neck Tattoo For Men
The pencil sketch style tattoo depicts an ornate crown with gems sparkling like the sun.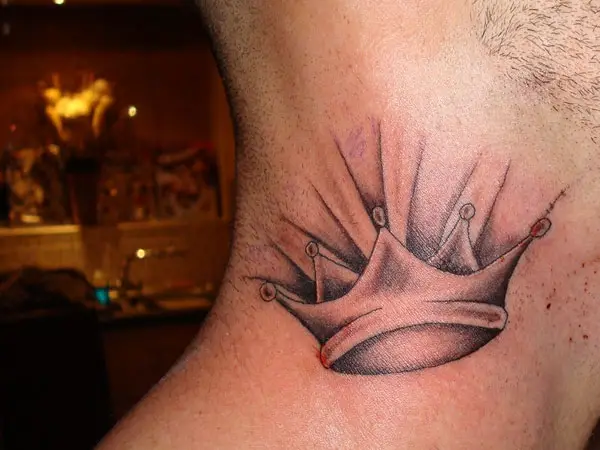 Sunny Crown Neck Tattoo For Men
Men's Tattoo For Mom
The densely shaded tattoo has a border of sun rays. It features 'Mom' written in a strong cursive style.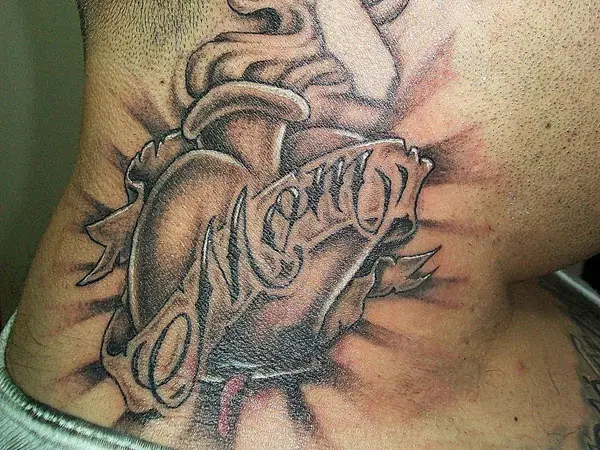 Men's Quirky Tattoo
The quirky skull man wears a white tribal necklace and a crown of bones.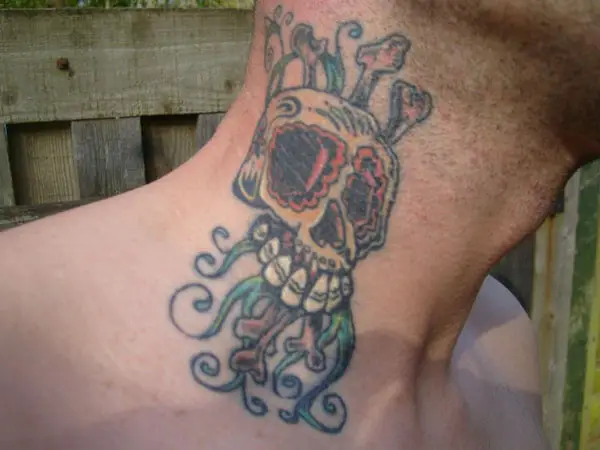 Free For Sale Tattoo
The neck tattoo features a barcode with the word 'Free' written in a stylized font.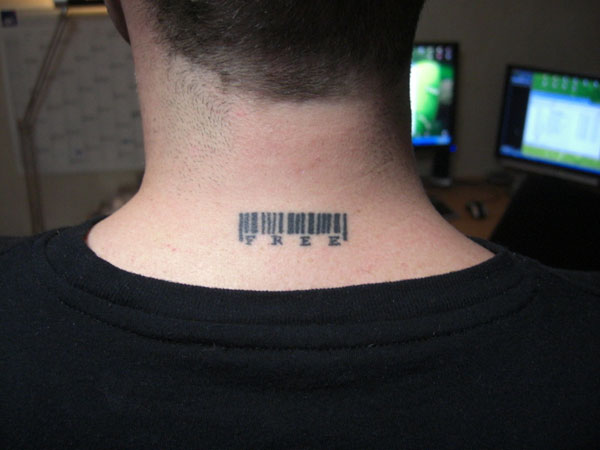 Dark Crown Men's Tattoo
The side of the neck features a densely inked crown in a monochromatic design.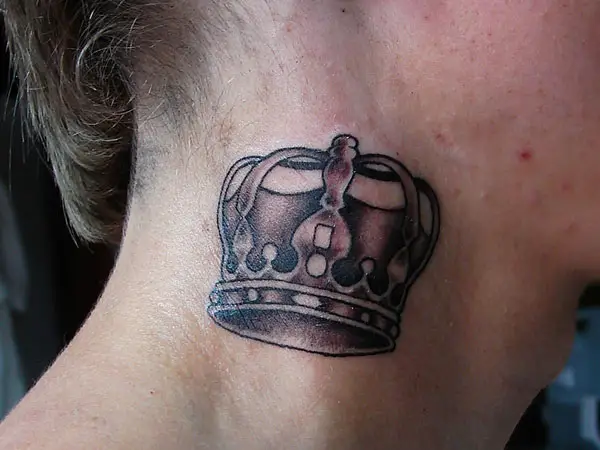 Bright Ship Men's Tattoo
A brightly colored ship framed by an orange flower, makes up this neck tattoo.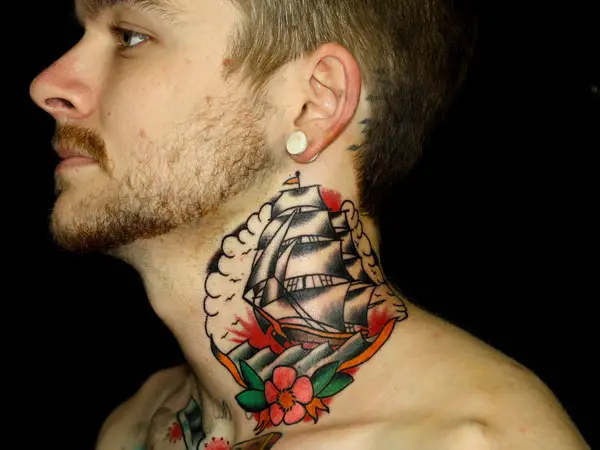 Colorful Men's Tattoo
This colorful tattoo shows a machine with a patterned body, red ribbons, and Roman numerals.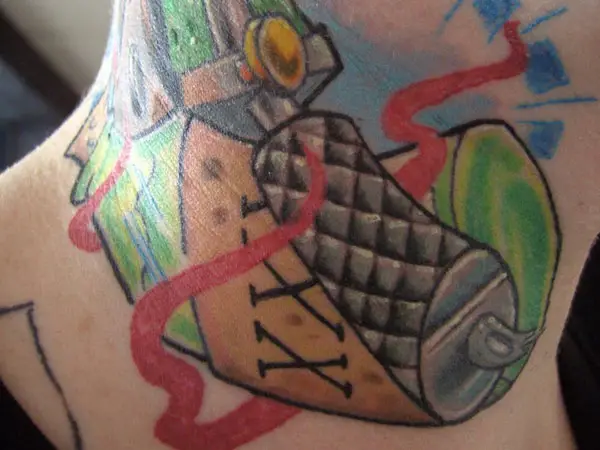 Colorful Men's Tattoo
Stylish Primitive Men's Tattoo
Spikes and curves dance together in this elegant vertical design tribal tattoo.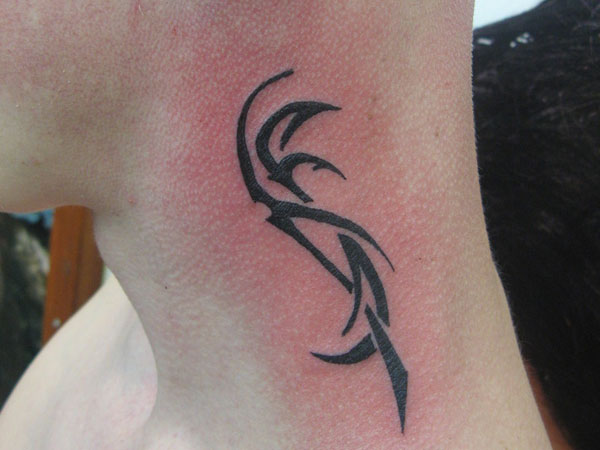 Stylish Primitive Men's Tattoo
Neck Text Men's Tattoo
The front of the neck is inked with text, written in an elegant font.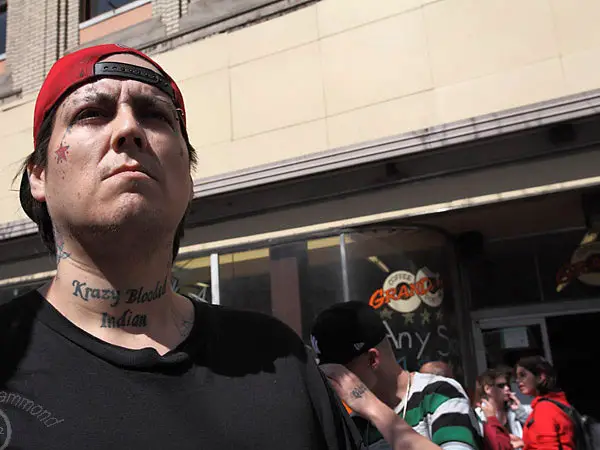 Rose Woman Men's Tattoo
A huge red rose blooms at the center of the nape. A graceful woman wearing a pearl necklace sits on the side.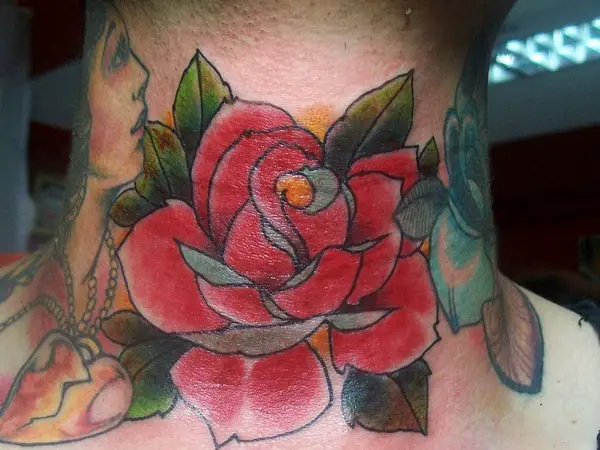 Red Indian Men's Tattoo
The tribal design tattoo shows a Red Indian headdress on the side of the neck.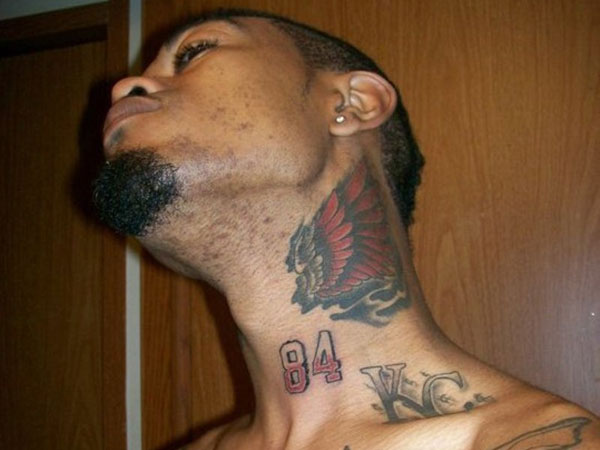 Smoky Men's Neck Tattoo
The neck features a tattoo showing bullets floating in clouds of smoke.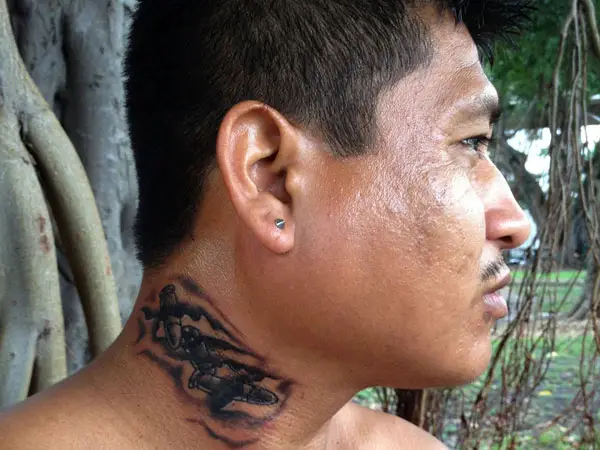 Hope Bright Men's Neck Tattoo
Framed by a hopeful sun and a red striped flag, an eagle spreads its wings.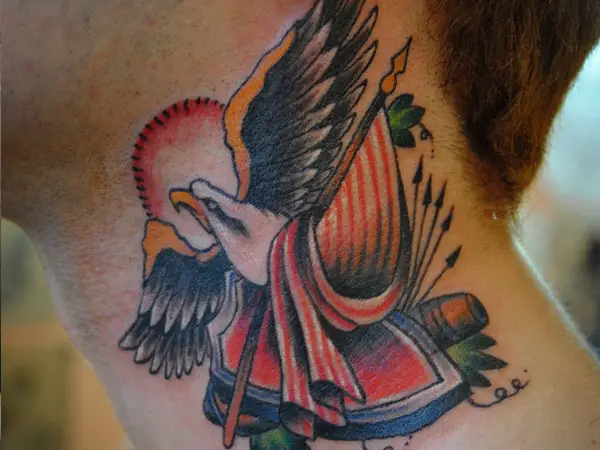 Freeze Fishy Men's Neck Tattoo
This quirky design shows a pair of golden fish and a blue patterned backdrop.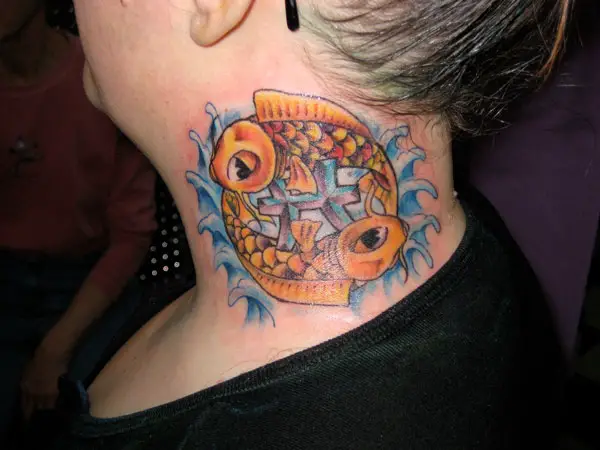 Freeze Fishy Men's Neck Tattoo
If you like this article, you might be interested in some of our other articles on  Pig Tattoos,  Black and Grey Tattoos,  Old People With Tattoos  and  Life Tattoos.