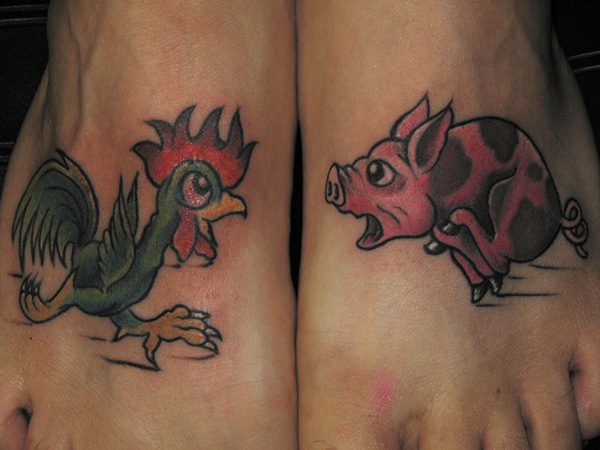 What is it that is pink, round, super plump, and has a cute and soft snout? The answer is of course the pig. The rounded shape of the pig with its cute ears and expression are a great inspiration for fun and colorful tattoo designs. Pig Tattoos come in both single colored artistic shading with subtle details, and richly colored designs with bold black outlines. The fun element of pig designs and the cartoon feel of the snout make them very popular as tattoo designs.
When it comes to cute and pink patterns, tattoo ideas with pigs can be cartoon like in feel or perfectly realistic. You can look online for a variety of pig tattoo designs ranging from fun and cheerful, to scary, to cool and evil-looking, and much more. The big eyes and pointy ears can be given amazing expressions to show an excited pig, a happy pig, or a scared pig depending on the kind of design you choose. You can get imaginative and creative with a wild world of joyful fantasy in your tattoo design.
Pig tattoo designs with wings can show off your fun creative spirit.
Tiny wings attached to a pig as it flies makes for a cute ink design for any part of your body. You can also have fun with scared pig designs on your foot, or go for a plump pig face on your leg. Whether you get your pig inked in pale pink, or white and black, or pink and gray, or even a sinister green, pig tattoo designs open up a whole world of fun. You can also experiment with animal paired tattoos on your feet, so one foot can have a rooster, while for the other foot a pig tattoo can look really cool.
If you like this article, you might be interested in some of our other articles on Weird Tattoos, Tattoo Sketches, Tattoo Flash Art and New School Tattoos.
Scared Piggy Tattoo
Get a look a this scared pig tattoo shaded in pink and gray on the foot. With legs raised for flight, this cute pig looks just about to begin running.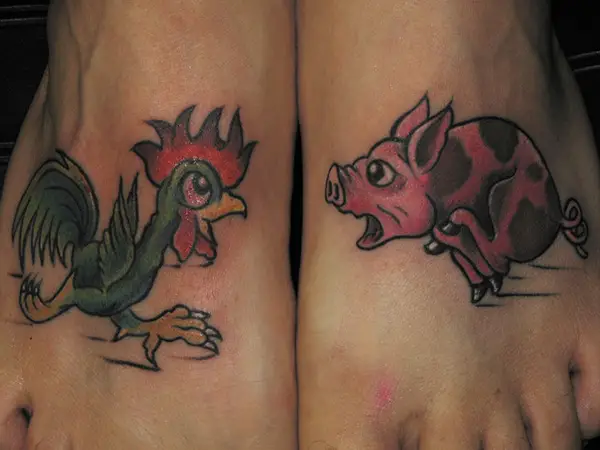 Cute Pig Tattoo
The bold black outline and solid pale coloring give a fun cartoon feel to this pig tattoo on the leg.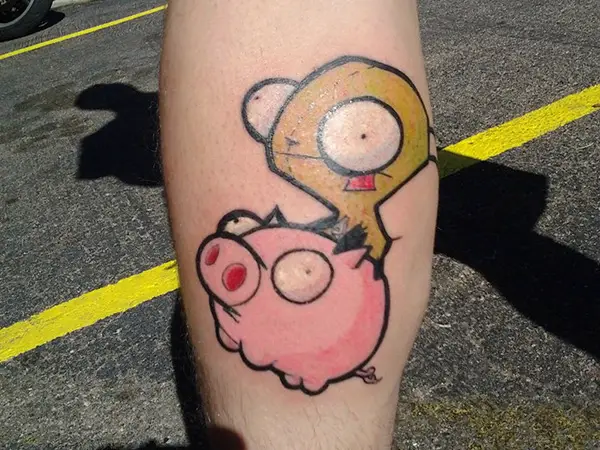 Pig Stitched Tattoo
The soft shading gives a supple 3D feel to this cute forearm single color tattoo showing a stitched pig.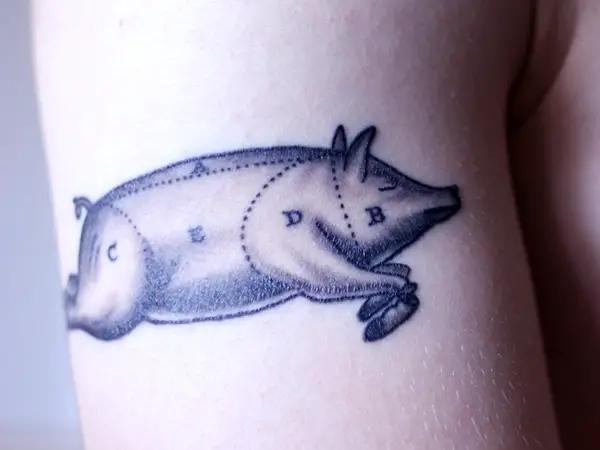 Pig Stitched Tattoo
Swimming Pig Tattoo
You can see a black and white pig with ears laid back and eyes wide open in this scared pig in water tattoo design.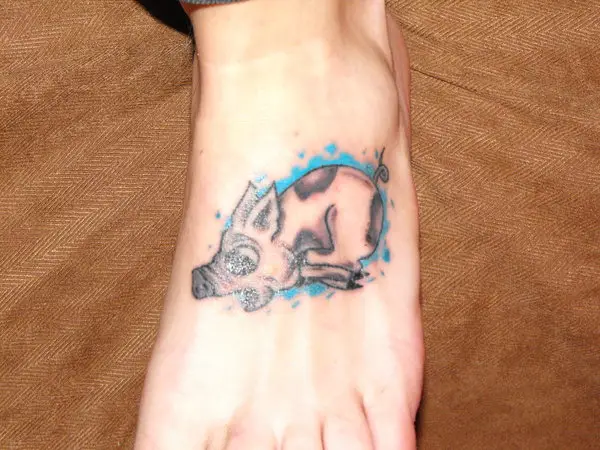 Monster Pig
Here is a look at a monster style wrist tattoo design showing a face with chains and fire leaping up in flames.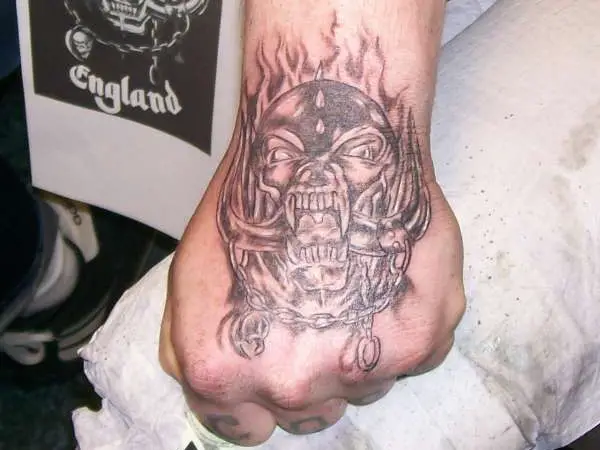 Pig Foot Tattoo
This pig face tattoo on the foot with large ears and a pink realistic shading has a rather sad expression.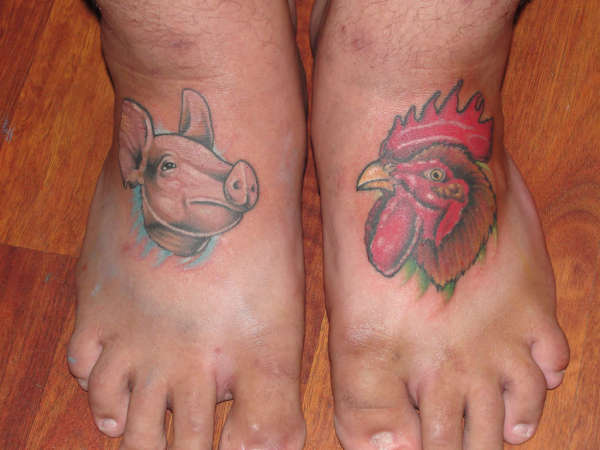 Pig Can Fly Tattoo
Styled with straight lines and soft curves this delightful tattoo in brown and black shows a cute and happy flying pig.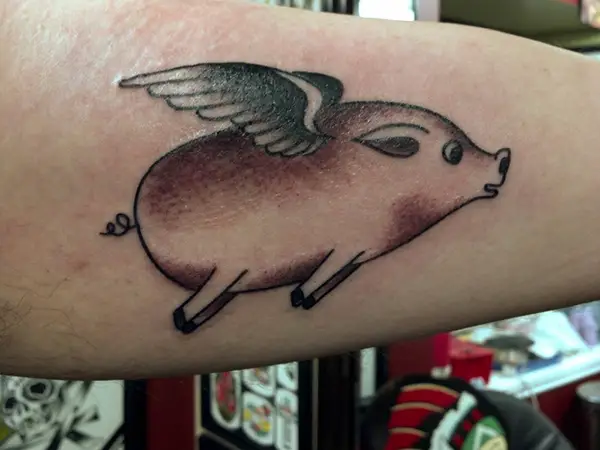 Big Eyed Pig
Check out the red mouth and inner part of ears in this awesome tattoo showing a scared black and white pig.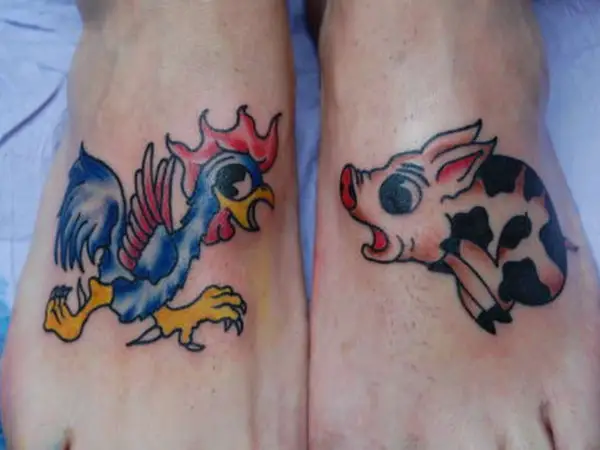 Green Pig
The dark green shading with brown touches goes well with the rounded eyes and cute pale green snout in this pig face tattoo design.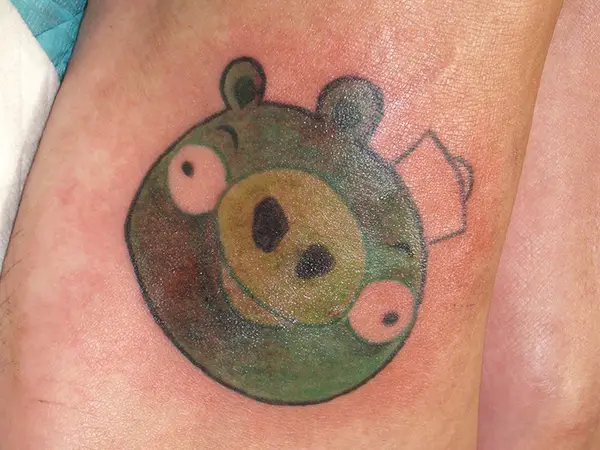 Angry Pig Tattoo
This pig foot tattoo in light beige has an angry expression as it stares at the rooster tattoo on the other foot.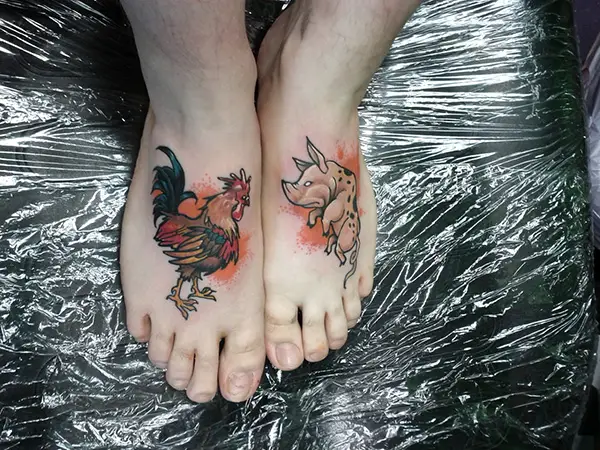 Angry Pig Tattoo
Angel Pig Tattoo
Check out the big round form with shaded pattern in this cute pig tattoo showing a pig with wings surrounded by apples, broccoli, and other items.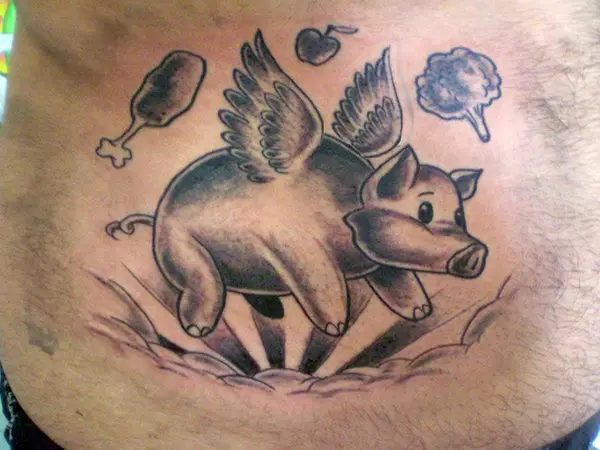 Pink Pig Tattoo
Round face, big eyes, a pink snout, and little ears sticking out of the face give a cute look to this flying pig face tattoo.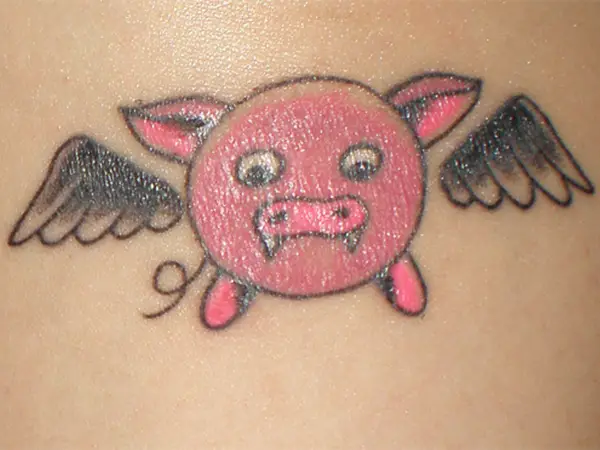 Pig Run Foot
With mouth wide open and big eyes looking cute and adorable this little pig looks to be flying off the foot in this foot tattoo design.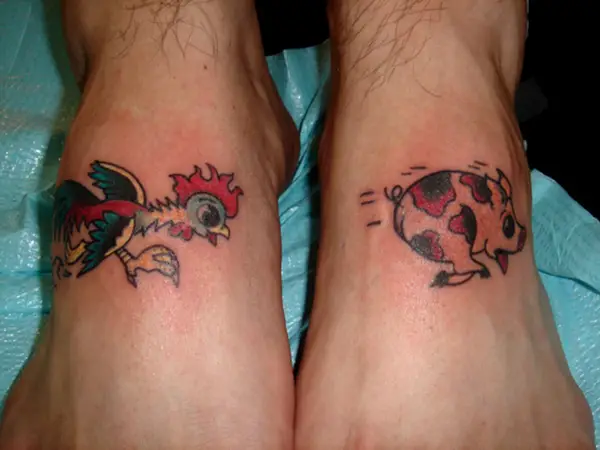 Run Pig Run Tattoo
With the porky pigtail, the big scared eyes, and the running feet this is a very cute pig tattoo design.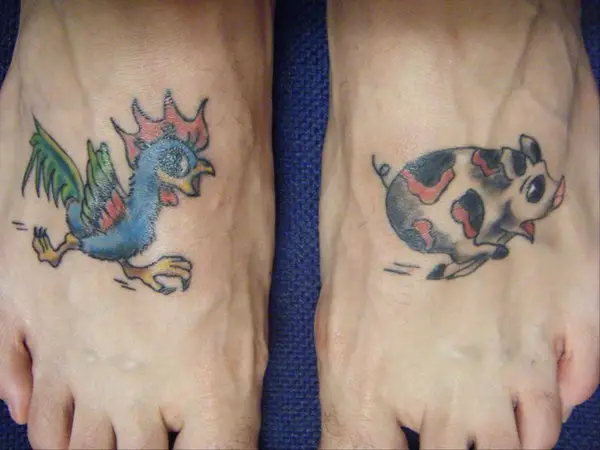 Horned Pig
Get a look at this colorful golden and pink shaded pig with angry eyes and huge teeth in this tattoo design.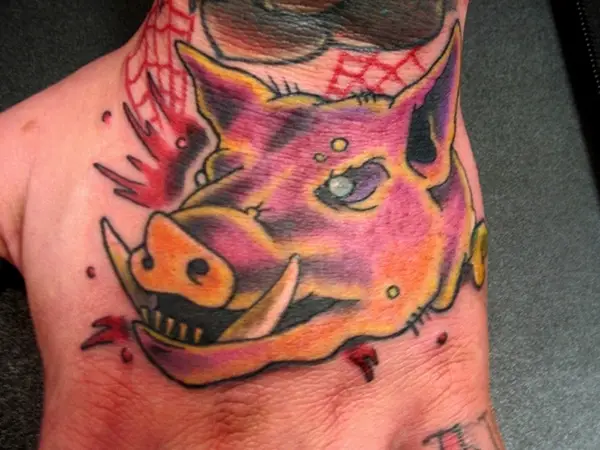 Pig Motif Tattoo
The intricate style with bold areas of black bring to life a pig tattoo done in a tribal patterned design on the foot.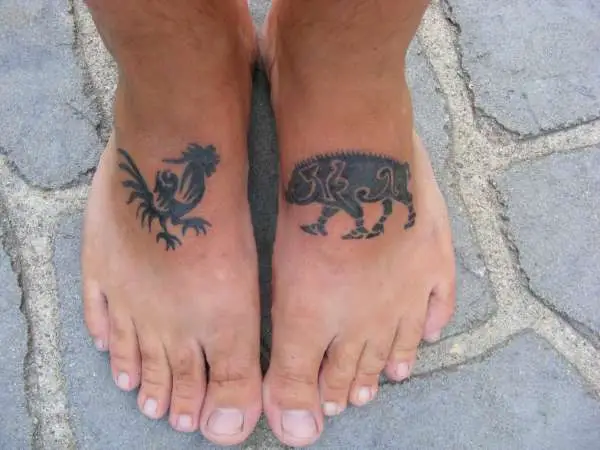 Monster Green Pig Tattoo
The sinister green shades give a monster look to this pig tattoo with pink eyes. The wings at the back give a cool devilish feel to the design.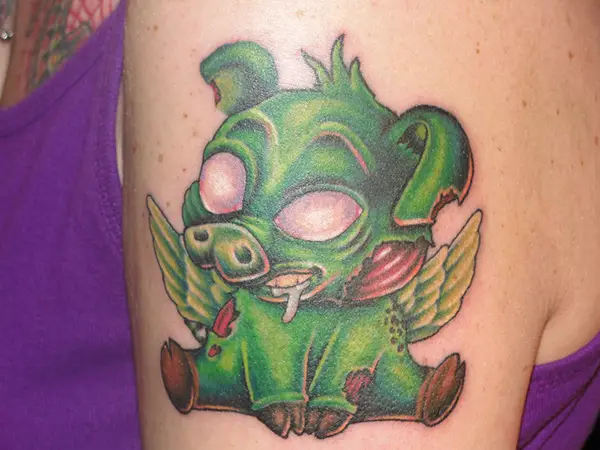 Flying Baby Pig Tattoo
Done with black outlines and a soft pink shade this baby pig tattoo with outstretched wings is super adorable.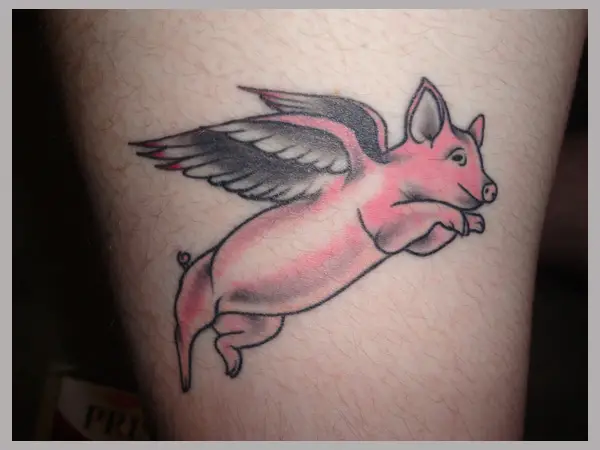 Flying Baby Pig Tattoo
Colorful Pig
With a rich red background and a blue cup in front this cute pig in a teacup design has a really colorful look.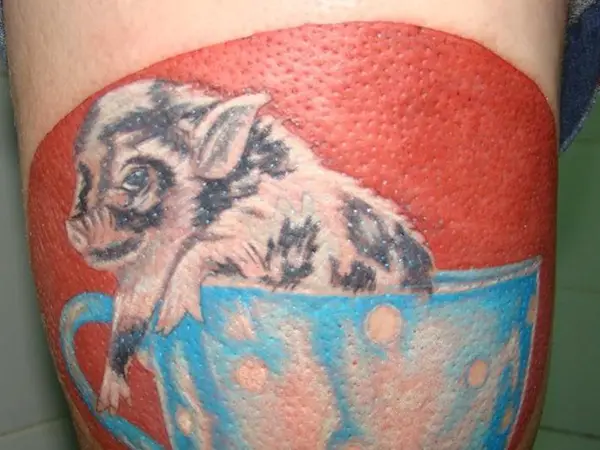 Ancient Flying Pig
Take a look at this bold outlined pig design with strong folds of skin. This foot tattoo shows the pig holding a fruit in its mouth.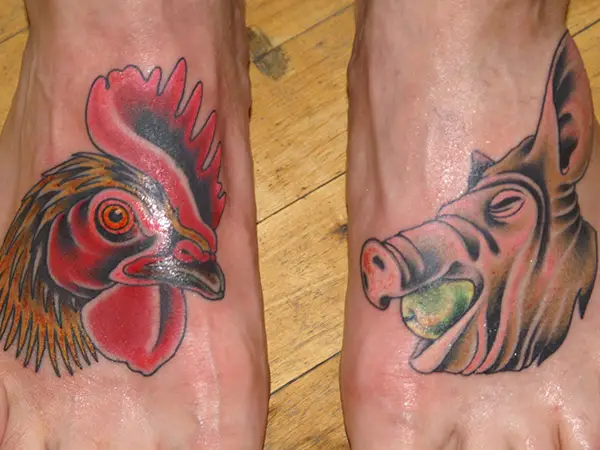 Sad Pig Tattoo
The artistic pale pink shades give a life-like look to this sad pig face tattoo surrounded by blue shaded designs.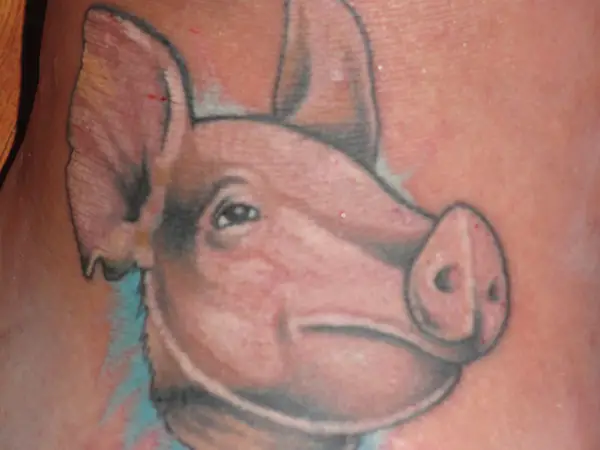 Roman Pig Numerals
Shaded with dark pink at the corners to give a 3D look this tattoo combines a pig with Roman numerals.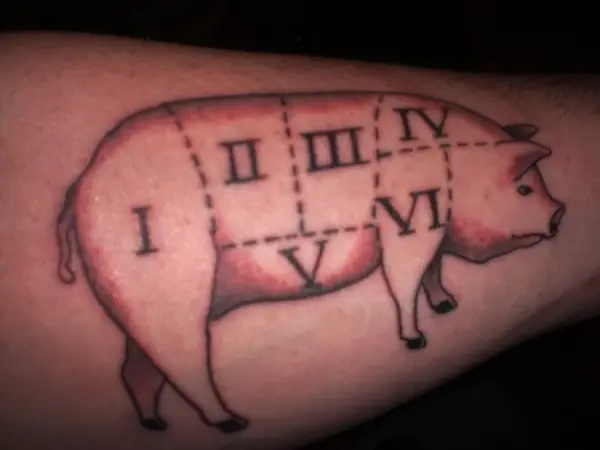 Cowed Pig
Check out this cute cartoon style pig tattoo inked in a colorful design with big brown and black spots.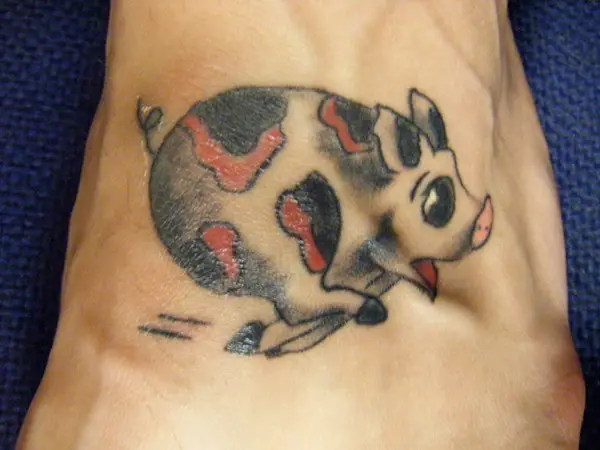 Pig Small Tattoo
Inked in a black outline design with pretty colors this is a tiny tattoo with a pink pig at the center.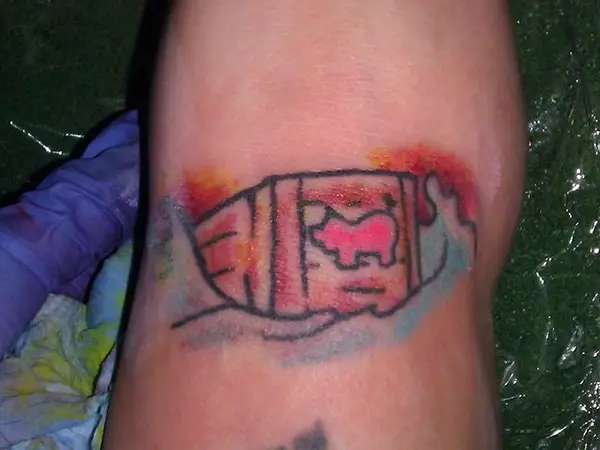 Pig Small Tattoo