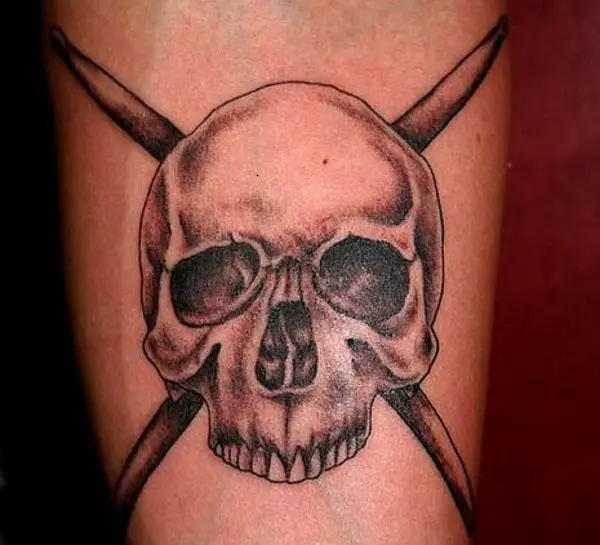 Almost anytime you listen to music, you're bound to hear the beat; the beat that you can't help tapping your foot too. This beat is provided by the drummer in almost any band. The drummer is the band member that sets the beat for the rest of the band and gives each song its to tapping allure. Other band members rely on the drummer to provide a consistent strong beat to follow. Without it…well, without a drummer's beat, a song just wouldn't sound right at all!
Drummers are a unique bunch of people—talented, gifted, dedicated, and passionate. Anyone who has the pleasure of knowing a drummer also knows that drummers are also quite unique individuals and even a little whacky at times. If you're a drummer yourself, chances are you're always looking for ways to express yourself.
And, what better way to do that than with a drummer tattoo?
1. Skull and Crossed Sticks
A skull and crossbones tattoo is way to plain for a drummer! Try a skull and crossed sticks tattoo instead!
2. Skull Stabbed With Drumsticks
Soften hard core drummer tattoos, like this skull and drumstick tattoo, with delicate elements, like this rose.
3. Skeleton Playing Drums Tattoo
A skeleton playing drums tattoo is interesting and a little fun, albeit a little creepy as well!
4. Drum Set Side Tattoo
The side of the torso is a fantastic place to put large drummer tattoos, like this full set of drums.
5. Funky Drummer Tattoo
A funky drummer who dances to his own beat needs a funky drummer tattoo!
6. Back Drummer Tattoo
A full set of drums inked across the shoulders on the back is an amazing way to show passion for your art!
7. Forearm Drummer Tattoo
Because of the length of it, the forearm would also be a great place to put a full set of drums tattoo.
8. Crossed Drum Sticks Tattoo
Crossed drum sticks may seem like a simple tattoo for drummers, but it's just as powerful as the more complex and detailed designs!
9. Hands Holding Drumsticks Tattoo
When you're a drummer, you're literally holding rhythm in your hands, so this is a fitting tattoo for drummers!
10. Music and Drumsticks Tattoo
Music notes and a pair o drumsticks are a fitting tattoo tattoo for music loving drummers!
11. Drum Sheet Music Tattoo
Sheet music for drums, however, may be a little more fitting.
12. The Beatles Drums Tattoo
A drum set from one of the most recognized and popular rock bands of all time makes for a fun little drum tattoo!
13. Vitruvian Man Drummer Tattoo
One can't help but notice the similarities between this drummer tattoo and The Vitruvian Man!
14. Lilies and Drums Tattoo
Adding another symbolic element to a drum tattoo, like these beautiful lilies, makes it even more meaningful.
15. Star Drummer Tattoo
Because drummers can be the star of the show too!
16. Full Back Drum Set Tattoo
Your drums tattoo is sure to steal the show if it's this awesome!
17. Bicep Drummer Tattoo
The detail in this drum set tatoo is simply stunning, and looks phenomenal on the bicep!
18. Hats and Kick Foot Pedal Tattoos
This is a somewhat subtle tattoo for drummers, but passionate players will get it…
19. Drum Foot Pedal Tattoo
If drum sets and sticks aren't your style, maybe a subtle foot pedal tattoo?
20. Drum Pedal Foot Tattoo
Or, here's a fun and clever twist on a drum foot pedal tattoo!
21. Drum Stick Memorial Tattoo
A pair of drum sticks makes a great tattoo to honor and remember a loved one that passed.
22. Drum Set Memorial Tattoo
Forever remember a band member with a memorial drum set tattoo.