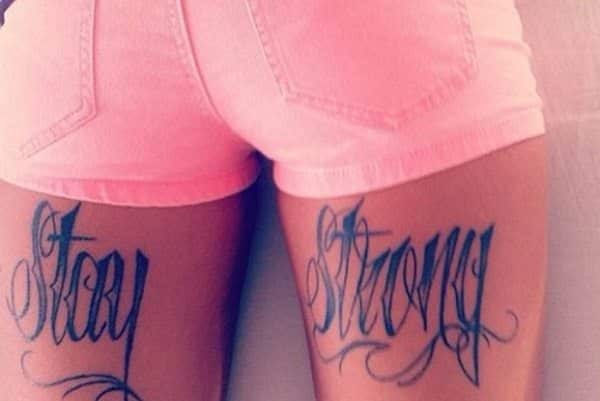 There are sometimes in life when we all need to be reminded to "stay strong", some of us more than others. A Stay Strong tattoo design might just be the way to remind ourselves to do just that.
Getting a Stay Strong tattoo design inked on your body is extremely meaningful. People may choose this simple saying for any number of reasons, mainly because they've gone through their own hard times and their strength helped them come out on top. People who have overcome diseases, injuries, heartbreak, or just plain hard times, for instance, would be great candidates for Stay Strong tattoos.
Stay Strong tattoo designs are usually quite simple. Oftentimes, they are nothing more than simple text.
However, other design elements can also be incorporated into these tattoos.
If you're on the hunt for your own Stay Strong tattoo, take a look at these amazing designs…
1. Simple Stay Strong and Cross Tattoo
Such powerful words really don't need a large, fancy design. The cross next to this Stay Strong tattoo design, though, adds a much deeper meaning and symbolism.
2. Handwritten Stay Strong Tattoo
A handwritten Stay Strong tattoo design is simple and pretty. The little red heart next to the tattoo adds a nice feminine touch.
3. Stay Strong Heart Tattoo
A bright red heart really makes a Stay Strong tattoo design pop. The mix of two different fonts also creates an interesting design element.
4. Stay Strong Rib Tattoo
A bold script with Stay Strong written across one side of the ribs serves as an attractive reminder to power through!
5. Stay Strong Bird Tattoo
Birds add a nice element to many tattoos. This bird tattoo also adds a fitting symbol of strength and freedom to this Stay Strong tattoo design.
6. Stay Strong Feather Tattoo
Feathers are a wonderful way to add an interesting design element to quote tattoos. This Stay Strong tattoo design is no exception!
7. Infinity Stay Strong Tattoo Design
A wispy feather looks stunning when combined with an infinity symbol and such a strong and meaningful saying.
8. Matching Stay Strong Tattoos
The wrists are the perfect place to ink a couple of matching words in a saying like Stay Strong.
9. Connected Stay Strong Tattoo
The two words in this quote are connected by the two letters in the beginning. Overall, a creative and unique Stay Strong tattoo designs!
10. Stay Strong Fairy Tattoo
The fairy in this Stay Strong tattoo could have a number of different meanings for the wearer. And, it adds a beautiful element to an already gorgeous script tattoo!
11. Horse Stay Strong Tattoo
Nothing portrays strength like a powerful horse!
12. Stay Strong Forearm Tattoo
These words scrawled across the forearm in a bold script is a great option for men looking for a more masculine Stay Strong tattoo design.
13. Stay Strong on Forearms Tattoo
Or, if you're looking for an even more masculine Stay Strong tattoo design for guys, spreading the saying out to two forearms may be the way to go. The heavy lettering and dark design also makes this a great option for guys.
14. Watercolor Stay Strong Tattoo
Watercolor tattoos are colorful and soft tattoo designs, perfect for women. A splotch of pink and blue watercolor makes an excellent background for these words!
15. Watercolor Feather Stay Strong Tattoo
Add some gorgeous color to your Stay Strong tattoo with a watercolor feather!
16. White Stay Strong Tattoo
White ink tattoos are quickly becoming popular these days. This Stay Strong tattoo design in white ink is both beautiful and subtle.
17. Stay Strong Legs Tattoo
A large Stay Strong tattoo design across both thighs creates a single eye-catching and impactful design!