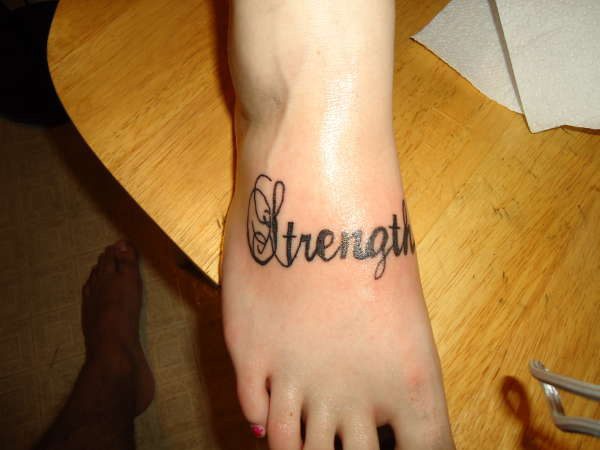 Tattoos have innumerable themes. One of the most popular themes is strength. Strength can be depicted with tattoos in many different ways. The Chinese letter tattoo for strength has the maximum demand despite being a simple tattoo. Just on its own, the letter has great meaning and looks good too. When you merge it with other designs and graphics then the tattoo becomes a piece of art. These are some fantastic designs of strength tattoos that will attract most people. Just the word "strength" tattooed also looks very stylish and meaningful. Whether designed in bold lines or thin shapes, these tattoos are a class apart.
Body Painting and Tattoo Art has been evolving
Body Painting and Tattoo Art has evolved tremendously over the centuries. Strength Tattoos has always been part of tradition since the dawn of time. Tribes would ink their bodies as symbols of strength and perseverance. The idea of strength varies from every culture but there is no denying that it is a desirable trait around the entire world.
While the view on tattoos have changed, some very simple designs and themes have sustained the test of time as well as changing trends. This is a collection of some strength symbol tattoos that most people will like. They have ancient symbols of strength that are considered very important even today. The lion from the Tarot card for strength is one such symbol. The Chinese alphabet for strength is also another ancient style that is considered trendy even today. These design tattoos for strength are usually without bright colors but have very artistic designs. They project a message and are style statements too.
If you like this article, you might be interested in some of our other articles on Ring Finger Tattoos, Sailor Tattoos, Zodiac Tattoos and Wedding Ring Tattoos.
The Anklet
This strength tattoo with the single word looks like an artistic and attractive anklet. Whether you're wearing heels or sandals, you will definitely have attractive feet. Now you don't have to hide your feet in fear of it looking ghastly.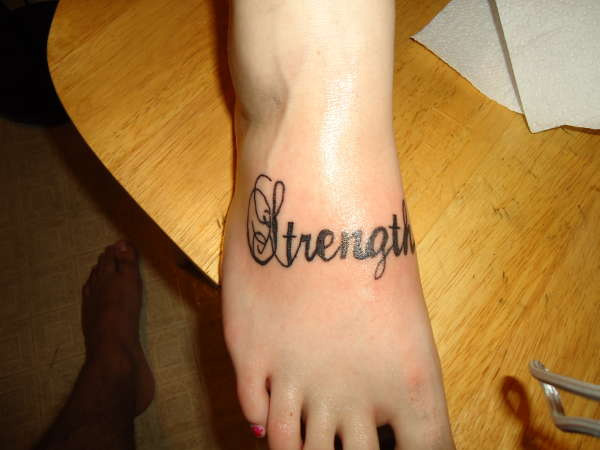 Explicit Tattoo
Kanji Tattoos for strength combined with the wearer's name makes this a very explicit strength tattoo. This minimalist tattoo is perfect for showing off your name. The kanji symbol for strength just highlights the wearer's respect for strength.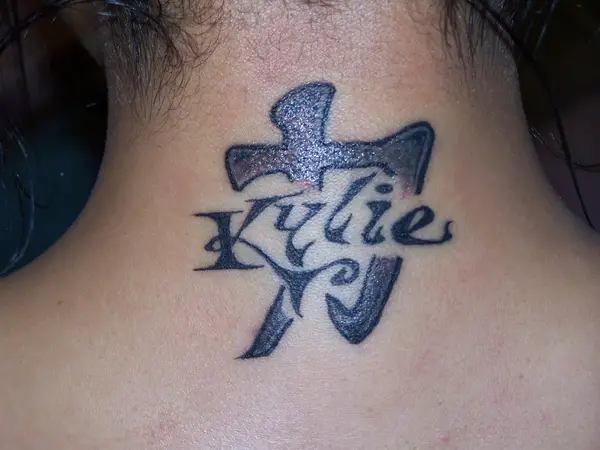 Twin Tattoos
Twin tattoos showing courage and strength in bright colors is a superb idea for a strength symbol tattoo. This cool tattoo is one great way of paying homage to your mom and dad while also showcasing the wearer's two top qualities: Courage and Strength.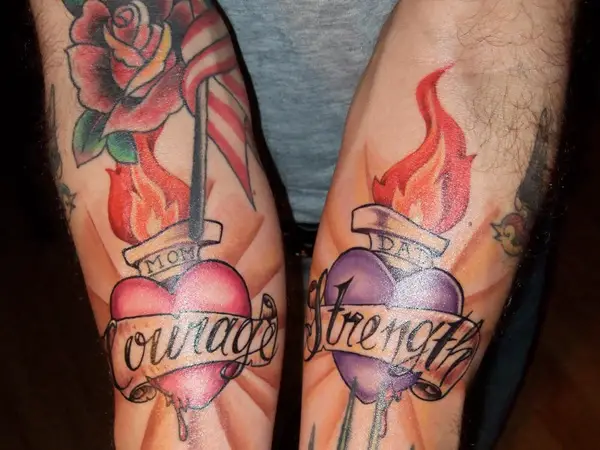 Tarot Cards for Strength
These Tarot cards as symbols of strength and perseverance are a brilliant and colorful idea as strength tattoos. Tarot Cards are a cool way of showing not just the qualities you desire but also act as a way to proudly share your hobby of Tarot.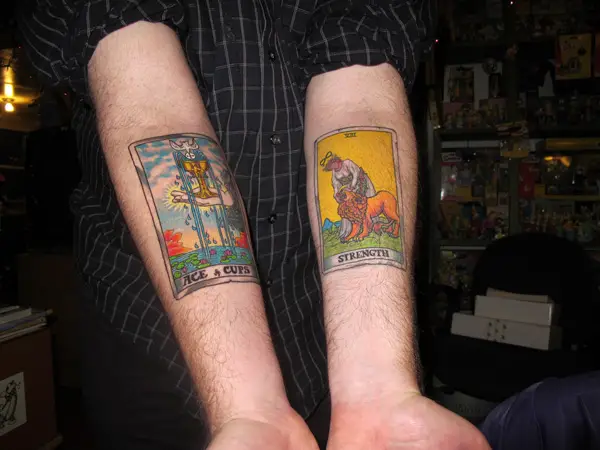 Simple Lines
Just a simple line or curve can hold a huge meaning like this strength symbol tattoo. A minimalist tattoo such as this tattoo design perfectly accentuates your back.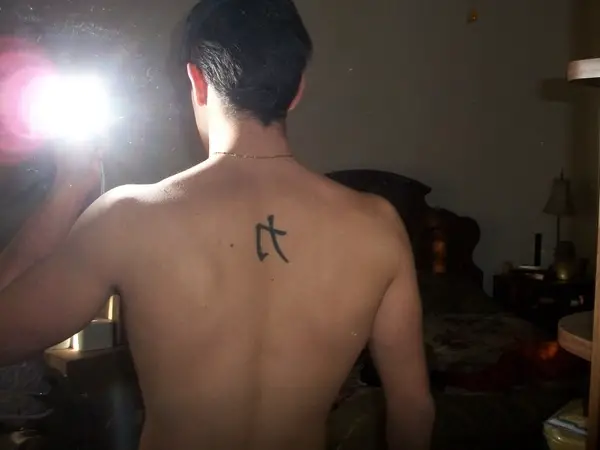 Leonine Strength
This person must be really very strong. The Lion Tarot Card is a notable symbol of strenght which looks superb as body art.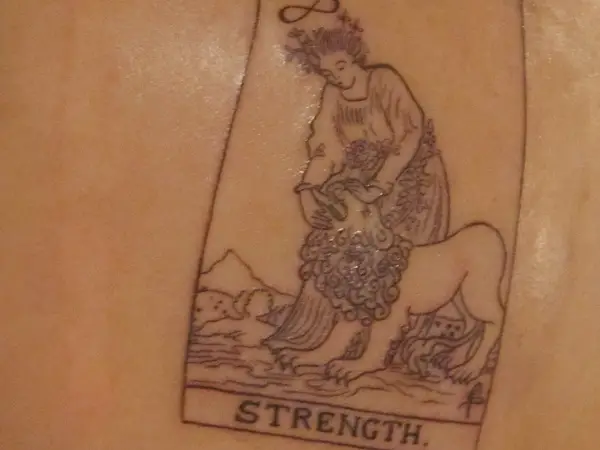 Lettered Tattoo
Just the word "strength" tattooed on the torso tells you how strong the wearer must be. This simple tattoo for strength will surely show how strong the wearer is. Designed in cursive, this cute tattoo just screams out elegance.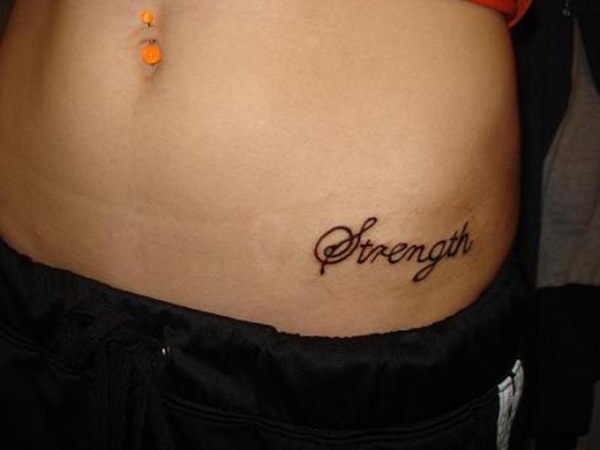 Strong Combo
The combination of strength tattoo and a delicate rose in this strength look really attractive. By using different shades to make this Strength tatoo stand out, the tattoo artist is memorializing the wearer's passion for strength.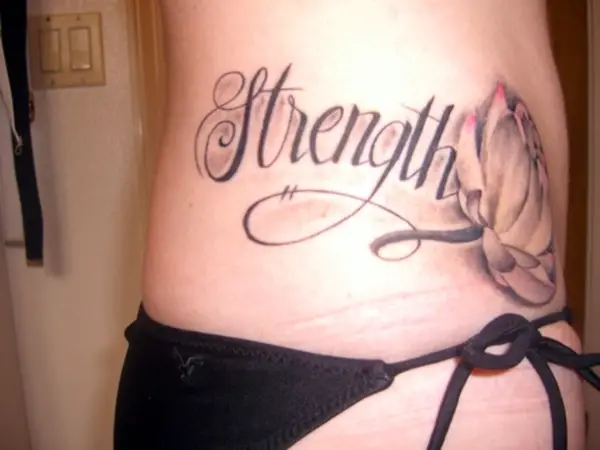 Words Designed
The Hebrew letters for the English word Strength with their curved shapes look very stylish as a strength symbol tattoo. This strength tattoo not only commemorates the wearer's respect for Strength but also his proud Jewish heritage. The back of the neck is also decorated by this strength tattoo.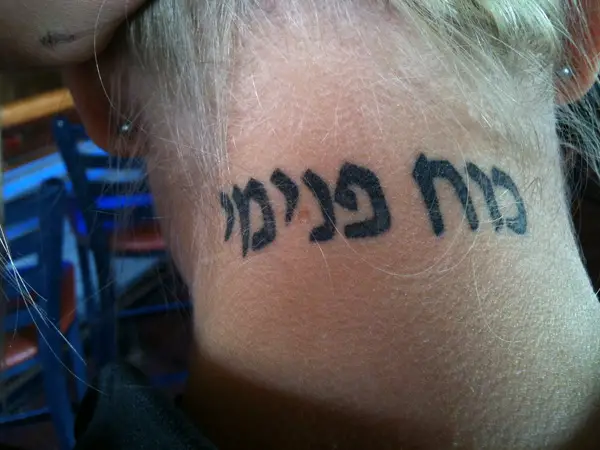 Tribal Style
This strength tattoo created in the tribal geometric designs is a classy piece of art. What better way to showcase your strength than by having it portrayed with tribal art. This tribal design has probably existed for hundreds of years commemorating Strength.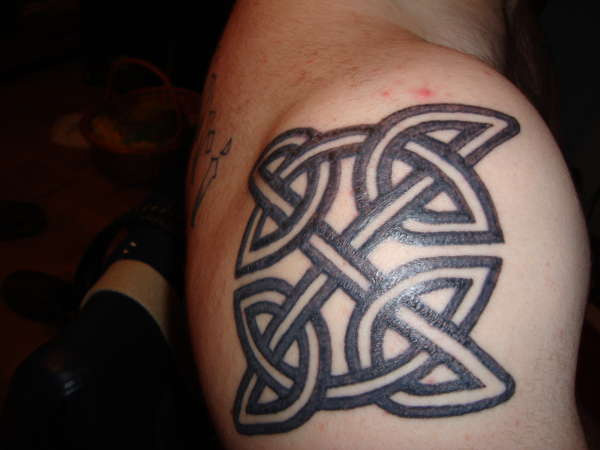 Ethnic Art
This ethnic design as tattoos for strength is an attractive looking symbol. The design is really worth copying. Strength tattoos can be depicted in a lot of ways. This is one cool way of doing so — by using ethnic symbols as a tattoo design.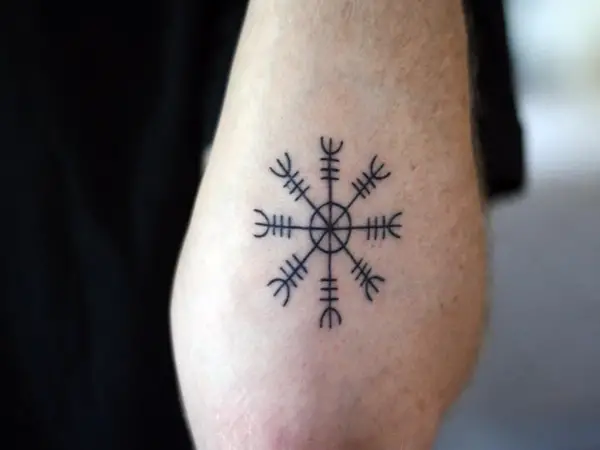 Arabic Strength Tattoo
A strength tattoo in Arabic letters looks very trendy despite being in simple black ink. These tattoos are definite symbols of strength. Not only does it show Strenght but also allows the wearer to be proud of his Arabic lineage. Ranking decently high on the Tattoo pain chart, this tattoo serves proof for the wearer's strength.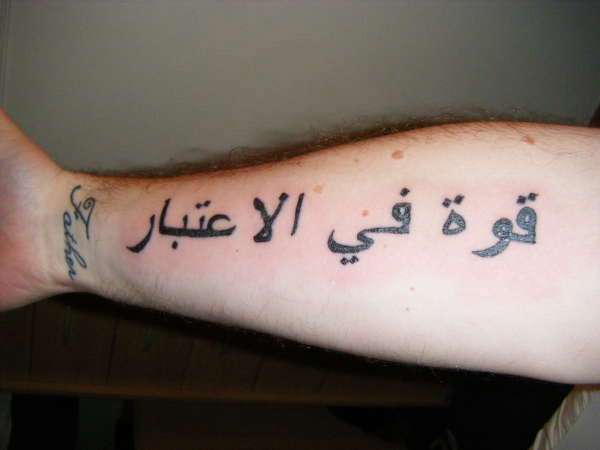 Love for Family
This strength tattoo depicts family loyalty and power with the words forming a heart shape. Loyalty. Hope. love. Family. Believe. Strength. These words are what is needed by the wearer to have fulfilling and happy life. When you feel yourself burdened by the everyday struggles of life, this strength tattoo does its job of reminding you not to give up.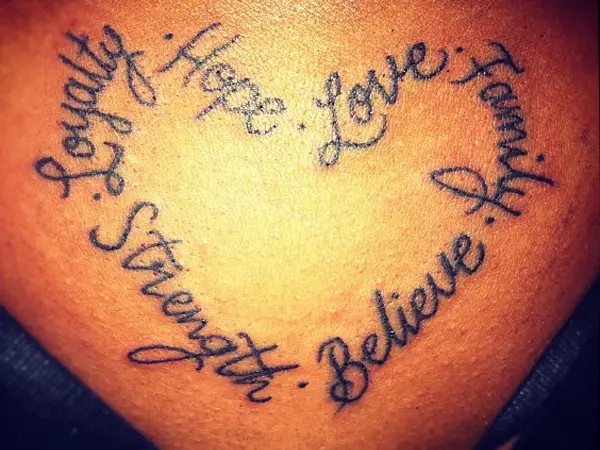 Artistically Strong
The words love and strength are designed very artistically in these twin strength tattoos. Tattoos, in itself, is an artform. By adding anaother form of art, this time visual art, to the mix, you are creating a stunning piece of Love and Strength tattoo that you can show off even fifty years from now.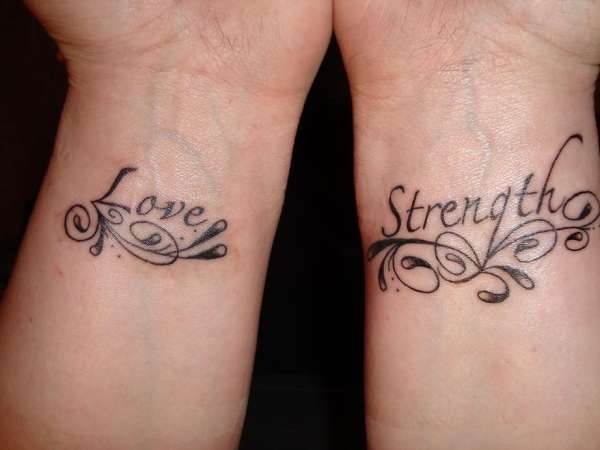 Flowers and Letters
The roses and oriental letters in this strength symbol tattoo look very prominent and attention grabbing.This strength tattoo is further highlighted by the dark hues used by the tattoo artist making it stand out on the skin of the wearer. This will surely get anyone's attention which could hopefully turn into a nice conversation.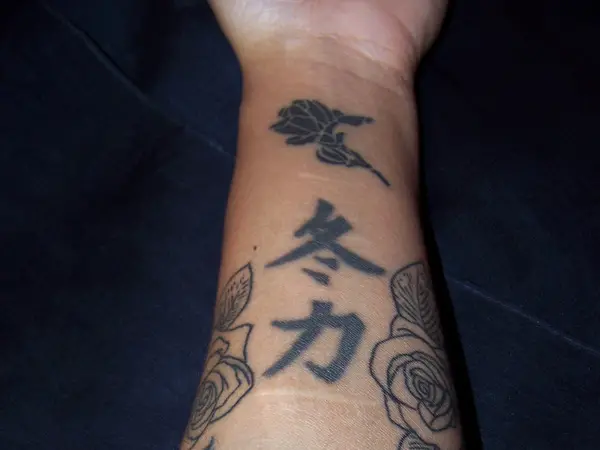 Graphically Clear
This strength tattoo, with just one word, makes it graphically clear how strong the bicep is. These symbols of strength will surely make you look stronger among your peers. This bulging bicep Strength tattoo just further highlilghts the wearer's strength.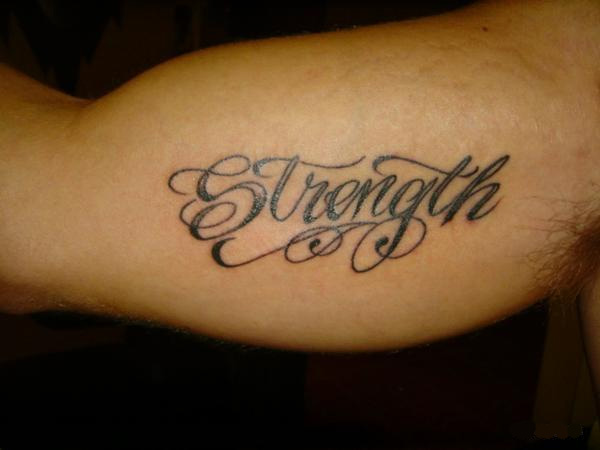 Oriental Letters
Oriental letters are a popular theme as symbols of strength. The flowers look very stylish too. This strenght tattoo clearly does not have any problems with meshing together feminine images such as flowers with the symbols for strength. A true strong woman indeed!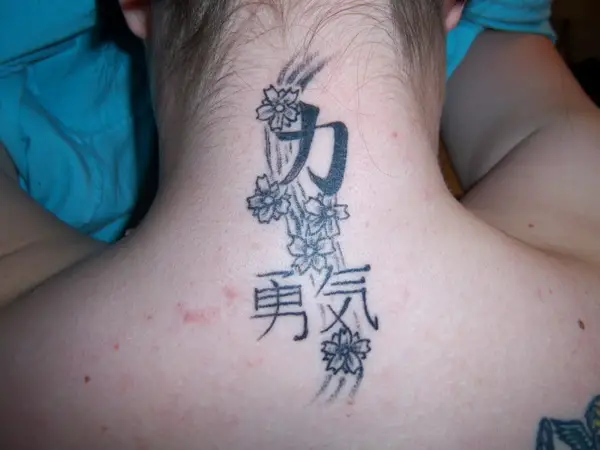 Dual Effect
This is a classy tattoo. The tattoo spells strength one way and spells courage when read upside down. Not only does it show the wearer's strength but also its wit and brain. The wearer only has to flip his arm to get the message that he needs, be it Strength or Courage.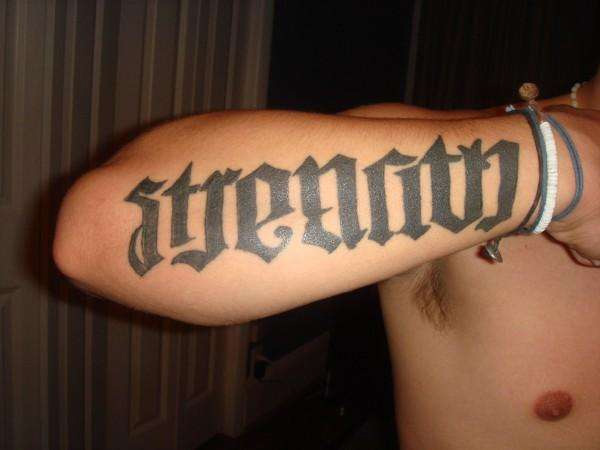 Eastern Style
These are simple yet stylish tattoos symbols of strength. The oriental letters have been designed in artistic fine lines. Simple and delicate, this strength tattoo provides a great design addition to your foot.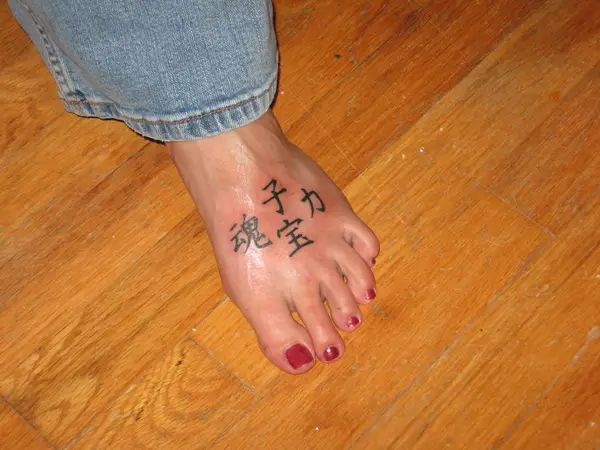 How Simple!
A Chinese alphabet for strength is the simplest and most graphic strength tattoo ever. A simple tattoo of the Chinese symbol for Strength is enough for this wearer to proudly share to everyone that she is strong.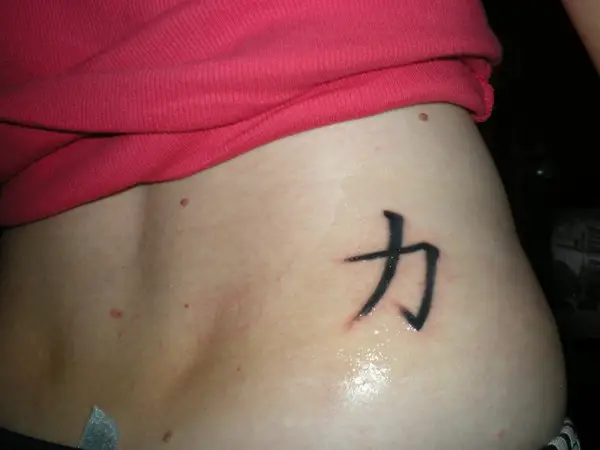 Birds in Mid Air
The feather, letters and flying birds make this a very unusual symbol of strength worth copying. The intricate design of the feather and the entire design also highlights the strength of the wearer while having this design inked.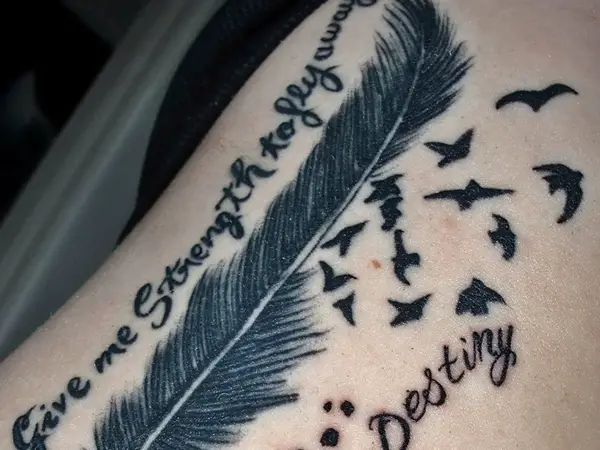 The Lovely Lady Bird
The ladybird with the words strength and courage make this a cute and colorful symbol of strength. This cute tattoo not only acts as a symbol of strength but also of luck, the main symbolism of the ladybug.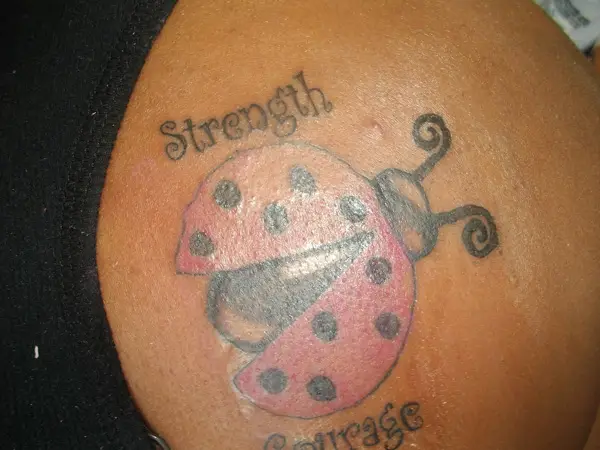 Strong Lines
The bold dark lines of this strength tattoo rightly emphasize the power in that wrist. Simple and elegant yet packs a lot of meaning, this Strength tattoo is surely one of the best on this list of tattoo designs.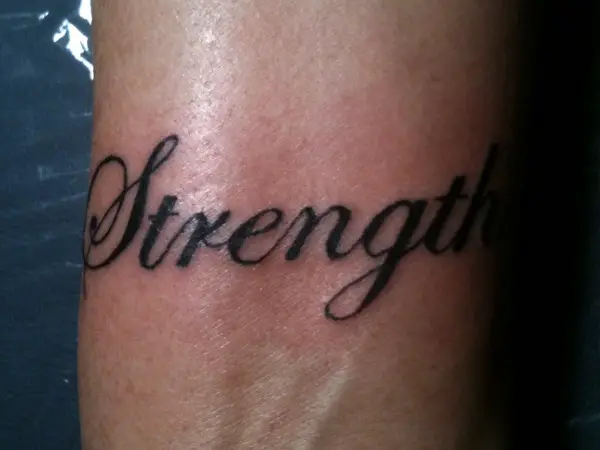 Stylish Spelling
This stylish oriental letter spells strength. The shading makes it a very classy tattoo. The blue shades ensure that this Oriental Strength Tattoo stands out from the wearer's skin.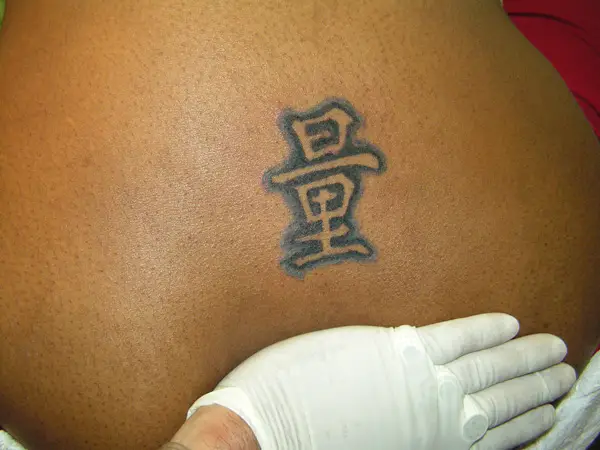 Styrka
Styrka, the Swedish word for strength is a neat and nice tattoo that is meaningful. Inked with a cursive script, this Swedish Strength Tattoo is a perfect embellishment for your wrist.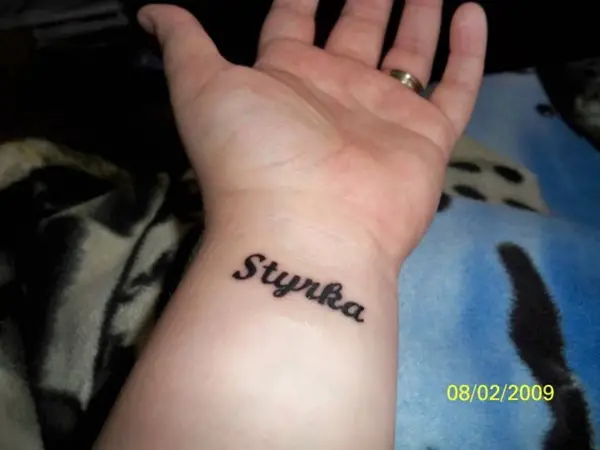 Freedom
Strength and courage have been freed from bondage in this trend-setting strength tattoo. These symbols of strength can very much be one of the body art that you can get.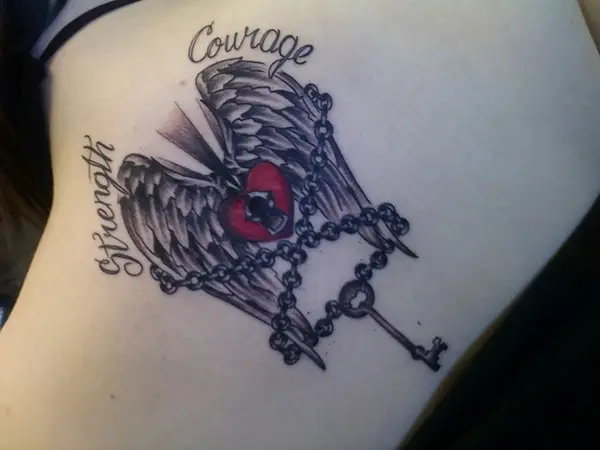 Twin Words
These twin strength tattoos have the words strength and honor designed in an attractive display. These arm tattoos take the adage Arm in Arm way too literally which could allude to how there is strengh in unity.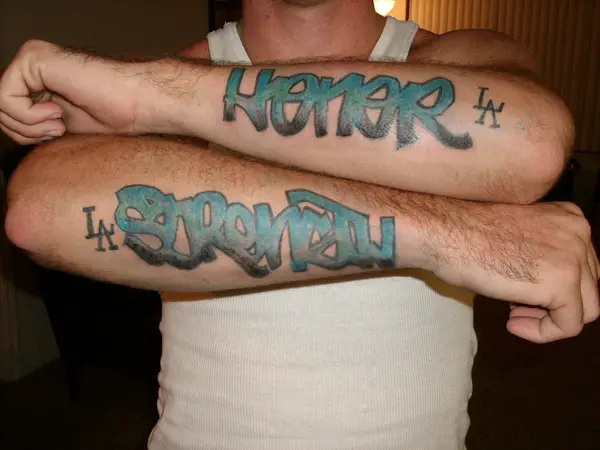 Cursive Tattoo
The Kanji letters for strength have been designed in cursive making this as classy tattoos for strength. This strength tattoo will surely make your arm stand out from the rest of the tattooed arms there are.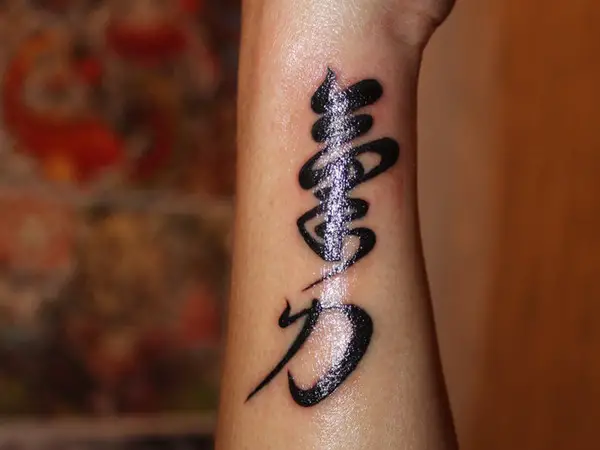 Not So Simple
The simple Chinese letter for strength is adorned with flowers in this stylish strength tattoo. The Chinese symbol for strength is made much more beautiful with the blue flowers and curly lines.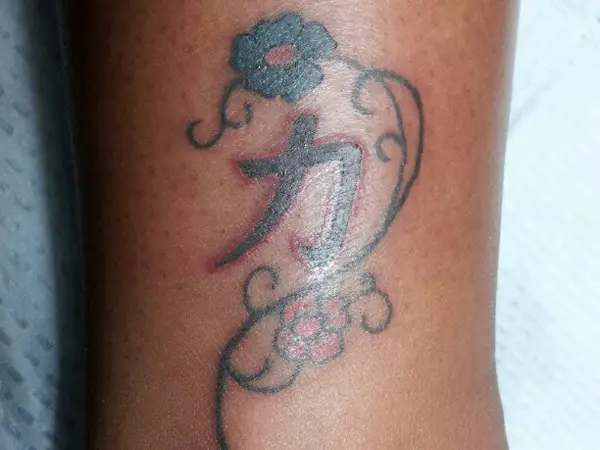 Dark Black Tattoo
However simple this may be, the dark inked strength tattoo looks very neat and stylish. You can't get a more simplistic and minimalistic tattoo than this.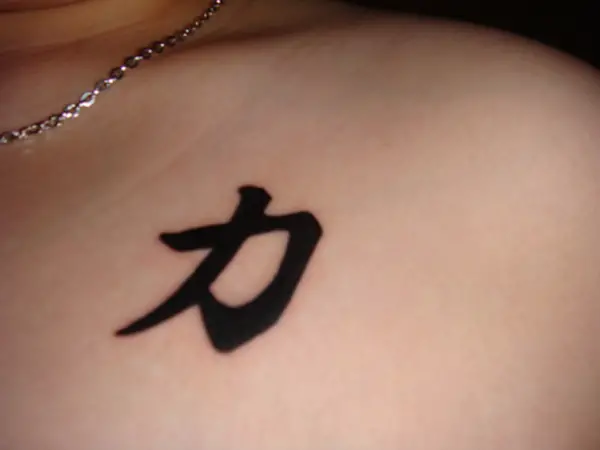 Cause and Effect
The set of words "from struggle" "comes strength" make these twin tattoos looks really trendy. This adage is definitely one of the best quotes to invoke optimism on someone.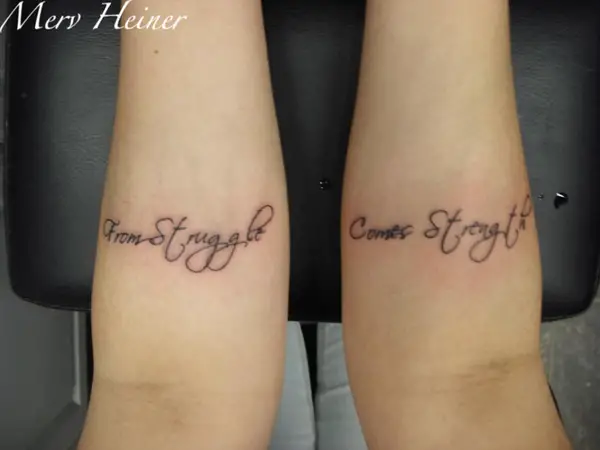 Love Brings Strength
Love brings an inner strength with it. This strength tattoo is very clear in its meaning. Love for one's self is one of the best strengths that a person should truly embody to have a happy life.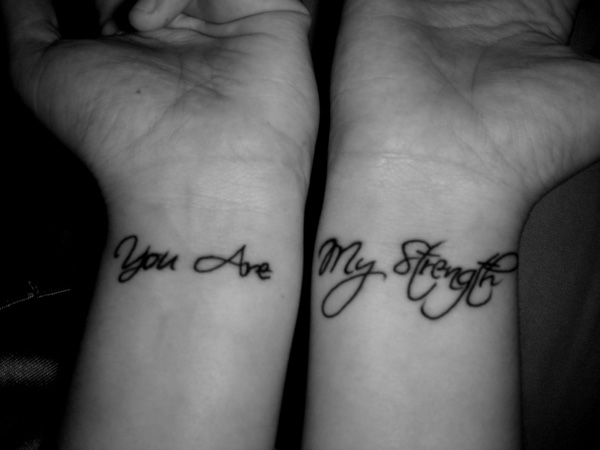 Ethnic Combo
Ancient Chinese letter for strength is embedded in the geometric shapes of tribal tattoo art. This tattoo is classic.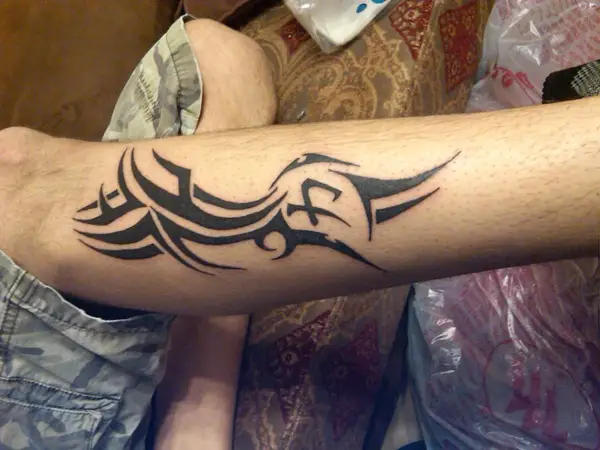 Very Focused
The focus of this attractive strength tattoo is entirely on the letter without other designs.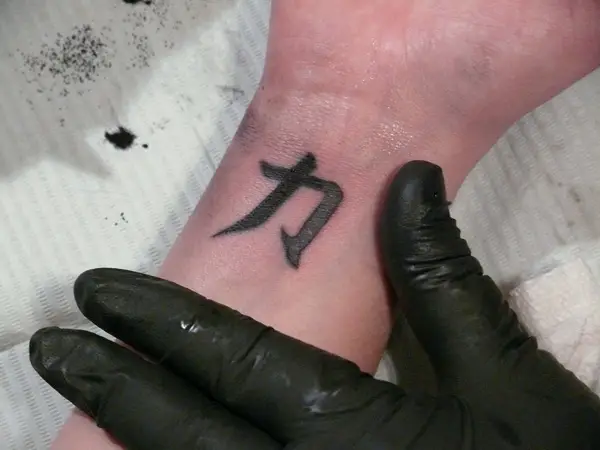 Many Blessings
This strength tattoo has all the attributes of luck, respect and strength in its design. These Chinese characters not only provide a good aesthetic for your arm but is also believed to bring with them luck.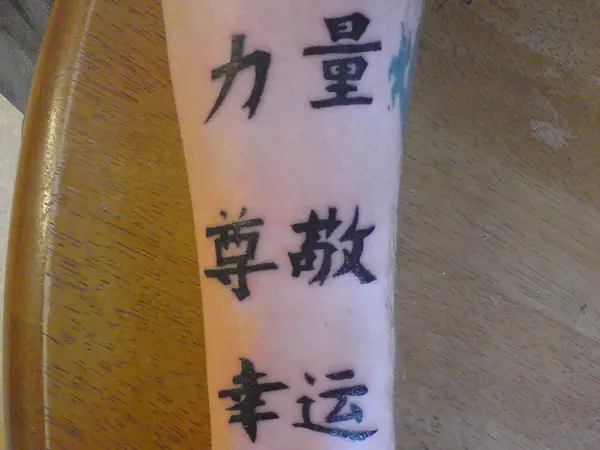 Virtuous
This man admires strength, respect and loyalty going by this classy strength tattoo. The wearer further highlights his core values in this Chest Strength Tattoo of Strength, Respect, and Loyalty.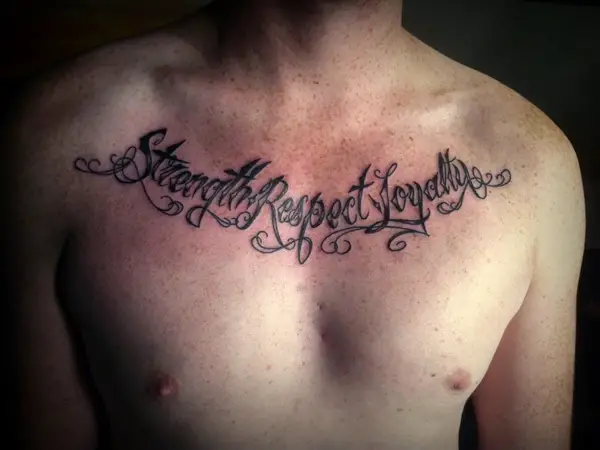 Negative Ink Kanji
This negative ink kanji letter for strength makes it a very unusual tattoo worth imitating. What makes this Strength Tattoo stand out from the rest is its use of Negative Ink shades.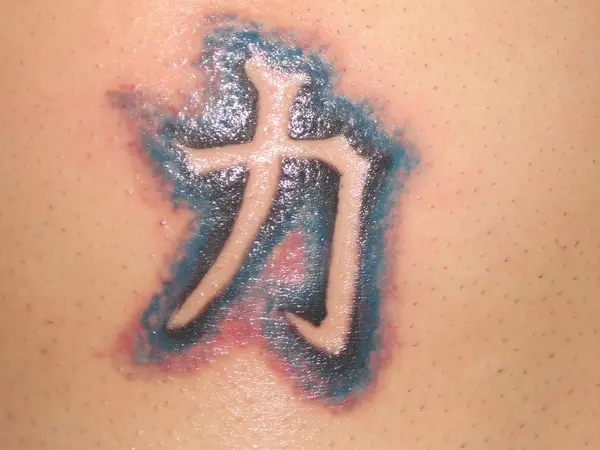 Hopeful
Strength and hope are beautifully and graphically designed as twin strength tattoos in this snap. These wrist tattoos are one of the best designs to remind you to just keep going through your day.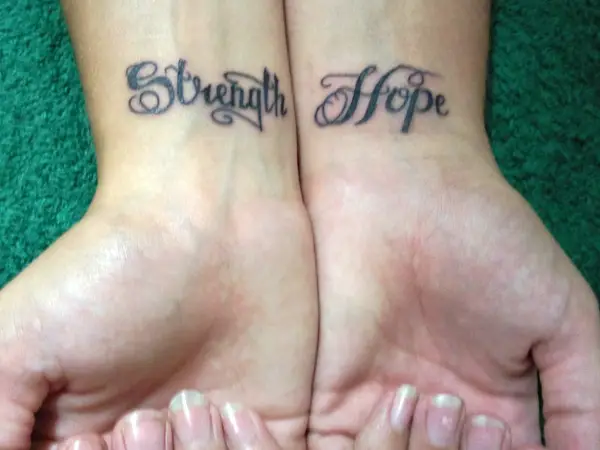 Artistic Strength
This is a very artistically designed strength tattoo with superb shading of the rose.
Flowered Strength
The Chinese letter as a symbol of strength overlaps the beautifully designed flowers in this strength tattoo.