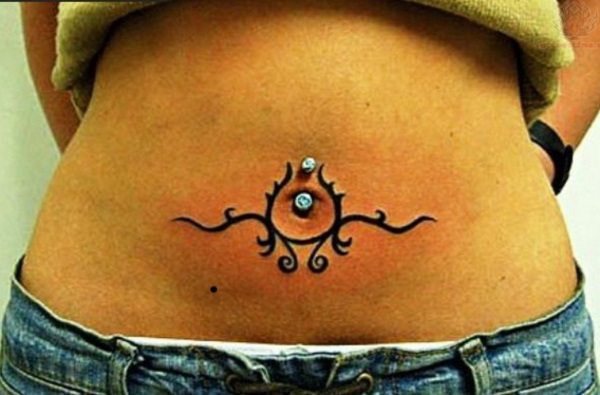 A tattoo and piercing, each by itself, is beautiful body art and a great way to express your style and enhance your appearance. It's not uncommon for a person to have both a tattoo and piercing. In fact, body art enthusiasts often have at least a few tattoos and piercing.
What's not so common, though, it a tattoo and piercing combination. Piercings are a great way to enhance the look of a tattoo, and the tattoo and piercing combinations are becoming a little more popular. Different types of piercings may be used in these unique body art combinations. For instance, a tattoo in an are like the belly button or ear can usually be enhanced by a traditional piercing straight through a thin piece of flesh. Tattoos in other areas, however, like the back require surface piercings or dermal anchors.
If you're considering a tattoo piercing combination, you're pretty much limited to your imagination. For some great inspiration, check out the awesome examples below!
1. Belly Piercing and Tattoo Combination
Belly button piercings are pretty common, as are tattoos around the belly button area. Combine the two, though, and you have a stunning and unique piece of body art!
2. Full back Tattoo and Piercings
Wow! This large tribal back tattoo looks even more amazing with several small dermal piercings incorporated into it!
3. Ear Piercing and Tattoo
A small flower ear tattoo is super cute, but the piercing in the center just makes it even better!
4. Lower Back Tattoo and Piercings
A tattoo and piercing combination on the lower back is a sexy choice for women!
5. Hip Piercing and Flower Tattoo
Flowers are pretty tattoo ideas for women, and hi piercings are definitely sexy!
6. Cherry Blossom Tattoo With Piercings
Small rhinestone piercings look perfect in the center of flower tattoos!
7. Black Rose Tattoo and Thorn Piercings
The piercings at the tips of the thorns on this large black rose turn this tattoo from basic to beautiful!
8. Oyster With Pearl Piercing
This has got to be one of the most clever tattoo and piercing combinations on this list!
9. Crown Tattoo and Piercing
What better way to add some sparkle to a crown tattoo than to add a pretty rhinestone dermal piercing piercing to the top?
10. Studded Crown Tattoo
For a little more sparkle, a row of rhinestone piercings can be added to the crown tattoo.
11. Cute Kitty Tattoo and Piercing Combo
Just add some whiskers, a nose, and a cute bow around a surface piercing, and you have an adorable little kitty!
12. Heartbeat Tattoo and Piercing Combination
The rhinestone piercing at the beginning of this heartbeat tattoo fits in perfectly and makes the whole design simply gorgeous!
13. Accented Bow Neck Tattoo
Jazz up a pretty feminine bow tattoo with a single tattoo in the center is super cute and definitely eye catching!
14. Bow Hip Tattoos With Piercings
a pair of bow tattoos on the hips accented with a couple of piercings is a very alluring sight, no?
15. Skeleton Tattoo With Rhinestone Eyes
A mischievous skeleton is even more spooky with some sparkling rhinestone eyes!
16. Bird Tattoo and Piercing
This pretty pink peacock is rockin' those rhinestone eyes!
17. Leopard Tattoo With Pierce Eyes
This tattoo and piercing combination gives a whole new meaning to "piercing eyes"!
18. Pierced Butterfly Tattoo
Butterfly tattoos are popular choices for women, and these cute pierced accents on the wings make this design even better!
19. Tribal Butterfly Tattoo With Accents
Turn a tribal butterfly tattoo into something extraordinary with a couple of pierced accents on the wings, tails, and body!
20. Pierced Dragonfly Tattoos
If you're considering dragonfly tattoos, this pierced version might be just the thing to turn a few heads!