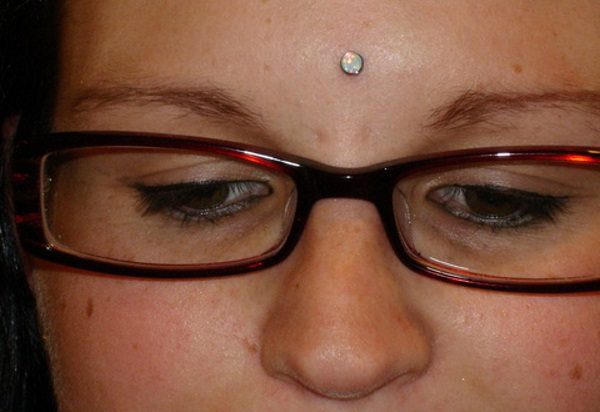 A dermal piercing is a type of dermal anchor, which is also sometimes referred to as a microdermal piercing or single-point piercing. Unlike other piercings, which pass through a piece of tissue of skin, a dermal piercing only has one point of entry. The top of the piercing is visible as a bead or jewel on top of the skin, while the bottom of the piercing is embedded just under the skin.
Dermal piercings are relatively new types of piercings. They are, however, quickly becoming popular among body modification and piercing enthusiasts. Dermal piercings can be placed almost anywhere on the body, particularly on flat expanses of skin that can otherwise not be pierced. Although men can and do get dermal piercings, these types of piercings are often requested by women. A dermal piercing can add a little bit of mystery, intrigue, and sexiness to any woman!
One of the hardest parts of getting a dermal piercing for women is choosing the area for the new body jewelry! If you're excited about getting your new dermal piercing but still not quite sure about placement, take a look at these gorgeous dermal piercings for women for a little inspiration!
1. Third Eye Dermal Piercing
Whether you choose them for spiritual, cultural, or fashionable reasons, third eye dermal piercings for women are quite intriguing.
2. Corner of the Eye Dermal
Well placed jewels at the corners of the eyes are…well, eye catching!
3. Under the Ear Dermal
Accent your traditional ear piercings with some dermal piercings under the ear!
4. Neck Dermal Piercing
A single dermal piercing on the back of the neck is adorable…
5. Double Dermal Neck Piercings
But two is downright gorgeous!
6. Dermal Piercings on Spine
The spine on the upper back is a sexy placement for a line of dermal piercings!
7. Matching Horizontal Dermal Neck Piercings
Two dermal piercings on either side of the neck is a viable alternative to a neck surface piercing with barbell jewelry.
8. Dermal Throat Piercing
One dermal piercing at the hollow of the throat is subtle and sexy on women!
9. Dermal Collarbone Piercing
True collarbone piercings are extremely dangerous, even for the most experienced piercers, but dermal piercings under each collar bone looks just as interesting and unique.
10. Double Collarbone Dermal Piercings
Two dermal piercings under each collarbone are twice as sexy as a single dermal piercing under each collarbone.
11. Sternum Dermal Piercing
A dermal piercing (or two) on the sternum can be hidden or shown off, depending on your style for the day.
12. Back Dimple Dermal Piercings
A dermal piercing on either side of the lower back has a way of accentuating or even creating some cute back dimples!
13. Dermal Hip Piercings
One of the sexiest parts on a woman's body are her hips, and a couple dermal piercings to accentuate this area can be even sexier!
14. Dermal Hand Piercing
A dermal piercing in the hand is likely to get a couple double takes here and there, but it sure does look cute!
15. Ring Finger Dermal Piercing
Who needs the actual ring when you can wear just the stone?
16. Shaped Dermal Piercings
This Gemini symbol is a fantastic example of one of the many shapes that can be made with well placed dermal piercings!
17. Tattoo Accented With Dermal Piercing
A dermal piercing can also be used to accent pretty tattoos!
If you're ready for your own dermal piercing, take some time to choose the right piercing professional. Choose someone who s experienced in the placement (and removal) or dermal piercings. Don't forget to ask about how to care for your new dermal piercing as well!