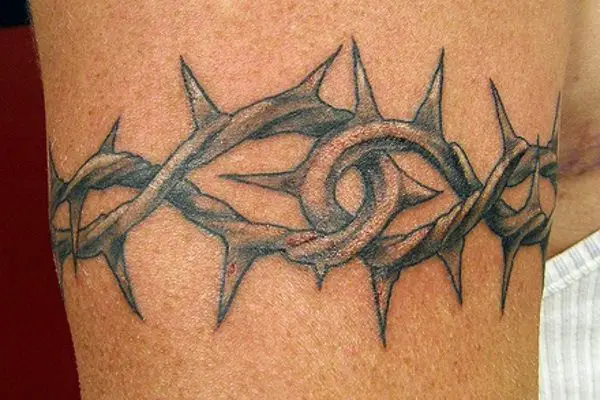 Thorns tattoo designs are some pretty wicked tattoo designs! The thorns have different meanings for different people. Some associate the thorns with beauty while some consider it a remembrance of pain. Other, more religious people, believe that thorns represent sacrifice and honor — homage to the sacrifice of Jesus Christ. The reason a person gets a thorn tattoo is usually highly personal, as with most other tattoos. Of course, it doesn't hurt that thorn tattoos are pretty awesome looking!
The versatility of thorn tattoos is one of the things that makes them so popular. These types of tattoos are usually done in black and grey, brown, or green, but they can really be done in any ink color.
Thorn tattoos can either be the star of the tattoo or as a great design to accentuate the main tattoo. The same is true for the actual design of the tattoo. Some people prefer their thorn tattoos to be trailing and viny, while others want them wrapping around an appendage. Crowns made of thorns and thorns covering crosses are also popular options for thorn tattoos, as are thorn and rose tattoos.
Your own thorn tattoo design should be personal and unique.
Its always nice to pull a little inspiration from somewhere, though, so be sure to check out lots of thorn tattoo designs for a little inspiration first before going under the needle!
Thorn tattoo designs make great armband tattoos, since the design can easily wrap around the biceps. This crown of thorns tattoo design make this one of the best tattoos for men.
2. Vine and Thorns Tattoo
Thorny vines snaking through the skin make a unique tattoo design that's hauntingly beautiful as well. A thorny vine with a single leaf could lead to the allusion that despite a thorny road, there is still beauty and life within.
3. Thorns Digging Into Skin Tattoo
This Crown of Thorns tattoo is designed so that the thorns appear to dig into the skin gives the tattoos a much more realistic look. One of the cool tattoos that you might want to get as a forearm tattoo.
4. Realistic Thorn Wrist Tattoo
Here's another realistic looking thorn tattoo design, this time placed around the wrist. These tattoo ideas are a result of a creative and talented tattoo artist. The red hues around the thorn just elevates the illusion of blood on the wrist.
5. Thorn Tattoo Dripping Blood
Thorns in this tattoo are ripping through the skin and dripping blood, much like real thorns would do. While ranking low on the tattoo pain chart, this makes it look like it was more painful than it actually was.
6. Heart Wrapped in Thorns Tattoo
A heart wrapped in thorns makes for a slightly disturbing, yet moving, thorn tattoo design. This crown of thorn tattoo artfully highlights a heart at its centre sending a message of a guarded heart that has obviously gone through a lot.
7. Thorns Wrapped Around Arm Tattoo
Instead of a more traditional looking sleeve tattoo, this guy opted to have a vine of thorns wrap around his arm, which looks pretty wicked! This crown of thorns tattoo completely surrounds this guy's arms making for a very cool arm tattoo.
8. Cross and Thorns Tattoo Design
Cross and thorn tattoo designs are quite popular with the more faithful among us. This crown of thorns tattoo design embraces the Christian cross — a very familiar image for both Christians and Catholics.
9. Spikes and Thorns Tattoo Design
Metal spikes, like the ones used to crucify Christ, wrapped in thorns makes for quite the powerful tattoo design! Can you think of a more badass tattoo design than this crown of thorns tattoo going around metal spikes?
10. Thorny Chest Tattoo
Thorny stems splayed across the chest is one of the more amazong thorn tattoo designs for guys that I've seen! This thorny tattoo will surely improve your chest's aesthetic. Your collarbone will look so much better with this tattoo design.
11. Thorny Rose Side Tattoo
If you're looking for good thorn tattoo designs for women, thorny rose tattoos are always a great option! This rib tattoo of a crown of thorns with a blooming rose at the end is hot and will surely get anyone's attention.
12. Rhinestone Studded Rose Tattoo
Dermal implants can help enhance some thorn tattoo designs by adding a little twinkle. Embellished with little rhinestones, this crown of thorns tattoo with a rose is surely one body art that you can never forget.
13. Negative Space Thorn Tattoo Sleeve
The light color of the uninked flesh on this arm makes out the axtual thorn design in this amazon thorn sleeve tattoo! Negative ink tattoos are one of the most ingenious ways of ensuring that your tattoos stand out as could be seen by this crown of thorns tattoo.
14. Tribal Thorn and Cross Tattoo Design
Tribal thorn tattoo designs are simple tattoo designs, but that doesn't make them any less powerful! This may be a simple tattoo drawing but it still stands out as one of the better tattoo designs.