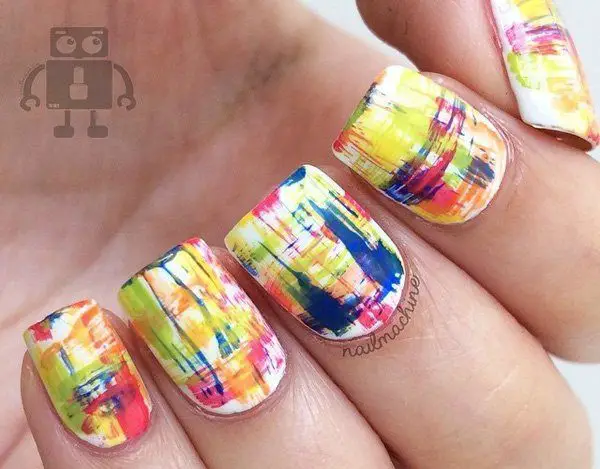 Dry brush nail art is a simple and easy nail art design to try. You don't have to have mad artistic skills to pull this look off, and it only takes a short time to create.
The dry brush nail technique involves wiping almost all excess polish off of a nail polish brush and dragging it across the nails. You can use almost any color combination you want and layer them any way you want. The effect results in a distressed or "grunge" look and by no means have to be perfect like some nail art designs!
The end results, though? Pretty spectacular! Take a look at these awesome dry brush nail art techniques and see for yourself!
1. Watercolor Inspired Dry Brush Nails
The bright colors melting into into each other in this dry brush nail art design almost seem to be inspired by a vibrant watercolor painting.
2. Neon Dry Brush Nail Art
Bright pops of neon colors on white nails make for an eye catching nail design!
3. Orange and Pink Dry Brush Nail Design
Contrasting colors like orange and pink make a great combination in dry brush nail art designs.
4. Chrome Dry Brush Nail Art
Shiny polishes like chrome nail polish also make a great addition in dry brush nail art!
5. Purple Dry Brush Nails
Purple is a fun and feminine color to use in any nail art design, and the little pop of pink here adds a fun little something extra!
6. Purple and Pink Dry Brush Nails
Complimentary colors like purple and pink make a pretty awesome design when applied with an almost dry brush.
7. Graffiti Dry Brush Nails
Bright colors peeking out under some almost grungy streaks of black create a cool graffiti inspired nail design!
8. Christmas Dry Brush Nails
Use holiday colors—red, green, and gold—for a Christmas themed dry brush manicure!
9. Metallic and Black Dry Brush Nails
Add some shimmery metallic nail polish over black nails with a dry brush for an awesome funky and dark manicure!
10. Almost Plaid Dry Brush Nail Design
The combination of colors and design in this manicure almost make it look a little like a plaid nail design, doesn't it?
11. Embellished Dry Brush Nails
Embellishments like nail charms make a great addition to dry brush nail art designs!
12. Dry Brush Accent Nails
Dry brush nail art also makes a beautiful and unique statement as embellished accent nails.
13. Pastel Dry Brush Nails
Pastel colors applied with a dry brush technique make a sweet and subtle manicure for spring.
14. Dry Fan Brush Nail Art
A fan brush is another great tool to have in your nail art arsenal arsenal and can also be used for dry brush nail art to achieve this effect…
15. Bright Dry Brush Nail Art
Layering some bright colors in a dry brush nail art design is really quite eye catching, especially when accented with some neon nail studs!
To protect your dry brush nail art design, a good quality top coat is recommended. You can always use a quick drying top coat to be on your way and out the door in not time at all!