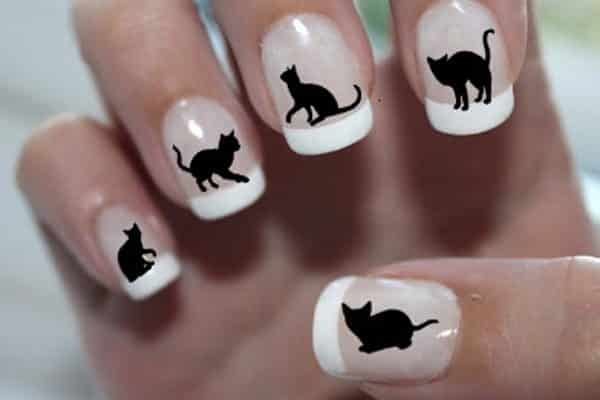 Cat nail art designs are fun for decorating your own claws when you're feeling a little feisty and fun loving! These adorable creatures make for some fun nail art designs, whether you own a cat or not. Black cat nail art designs are also fantastic nail design ideas for Halloween as well.
There are tons of different ways to do cat nail art designs. Simple cat nails may only include cat eyes or a cat face, while more complicated cat nails may include whole cats, complete with details. Although they sometimes look time consuming and complicated, some cat nail art designs are actually pretty easy to paint. A few swipes with a thin nail brush or nail dotting tool can help you lay out the start of some gorgeous cat nails!
Get started with your own cute cat nail art designs with a little inspiration from these great nails!
1. Black Cat Nail Art
Little black cats perched on your nails are a fun eye catching and mischievous look, and perfect for Halloween!
2. Cute Pink and Black Cat Nails
Mischievous black cats perched on some pink French tips look like they're ready to pounce!
3. Cat Scratch Nail Art
Anyone with a playful kitty knows just how sharp those little claws can be!
4. Black and Orange Cat Nails
Orange speckled nails with a black cat accent nail is another slam dunk look for Halloween!
5. Cat Face Nails
Loving the detail in these cat face nails, and the bright piercing green eyes make it a little spooky too…
6. Simple Cat Eyes Nail Art
Bright green cat eyes nail art really stands out against the black base coat.
7. Cute Cat Face Nail Art
One simple little cat face accent nail is really all you need for some eye catching kitty cat nail art!
8. Cat Faces and Paws Nail Art
Fun little paw print accents are a great way to jazz up some black cat face nail art! And, don't you love the little white perched kitty?
9. Colorful Polka Dot Kitty Nails
Little cartoon kitties are adorable on a polka multi-color polka dot background!
10. Curious Cat Nail Art
The eyes make you wonder what these little kitty cats are so curious about.
11. Peeking Cat Nail Art on Orange Nails
The orange nails are a great base for Halloween cat nail art.
12. Peeking Cat Nails on Blue Nails
But a light blue also makes a gorgeous background for some fun loving kitties peeking out from the tips of the nails!
13. Rainbow Peeking Cat Nails
These little peeking cats look like they're getting ready to pounce right off the nails!
14. Pretty Purple Cat Nail Art
Purple is a soft and feminine cat nail art background, and the tiny little paw prints are an adorable little detail!
15. Double Trouble Meow Purple Cat Nails
Meow! Two purple cats mean double the trouble!
16. Adorable Cat and Mouse Nails
A little mouse and fish bones make a nice addition to a cat nail art design, and the pink glitter accent nail is quite alluring!
17. Stripe and Polka Dot Cat Nails
A simple black and white cat face and fish bone design work well with the contrasting stripe and polka dots.
18. Striped Pink Cat Nail Art
This mischievous little kitty looks a little like he's been put in the slammer for his shenanigans!
19. Black and White Cats Nail Art
You can't get much cuter than two little kitty cats cuddling on pink tipped nails!
20. Black and White Polka Dot Cat Nail Art
One of the easiest nail designs—polka dots—makes a nice addition to simple white cat nails.
21. Pink and White Polka Dot Cat Nails
Some pink polka dots, though, can satiate your need for a splash of color.
22. Polka Dot Tip Cat and Paw Pint Nails
Polka dots just seem to work with cat nail art all around, especially when you add some wandering little paw prints.
23. White Cat Paw Print Nail Art
Me thinks that little black kitty cat went scampering across those white nails!
24. Cat in the Moonlight Nail Art
This little black cat seems pretty content to just hang out int he moonlight.
25. Silver Cat and Paw Print Nails
Shimmery silver polish really give these simple cat and paw print nails a little look of luxury.
As you can see, there are lots of great cat nail art design ideas! Cat nails are fun designs that work perfectly for casual or fun occasions, whether you're just hanging with friends or hitting a Halloween party. They're also easy enough to create that just about anyone can sort some super cute kitty cat nails!