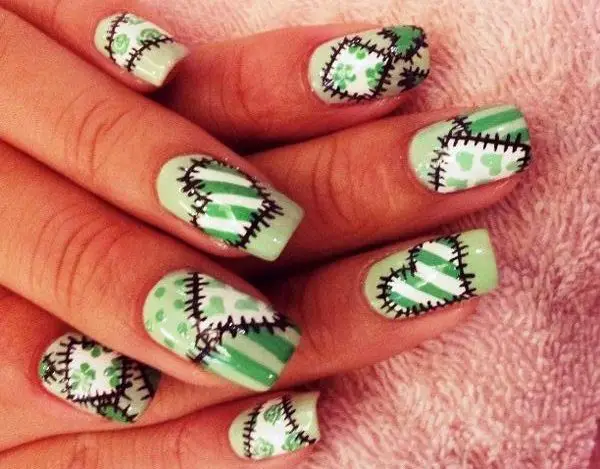 Looking to shake up your nail routine? Try your hand at some super cute patchwork nail art designs!
Patchwork nail designs are so cute, and they're sure to get you a few compliments! Although they look complicated, they're actually quite easy to paint. Just pant blocks of different colors and add some black stitching details where the colors meet. You can also use different shapes on your patchwork nails, like hearts, triangles, and circles. Patchwork nail art designs also look pretty spectacular with added details, like polka dots or stripes, added to the different patches of color.
Want some inspiration for your own patchwork nail art? Check out these awesome designs!
1. Green Patchwork Nails
Shades of green make for some super cute patchwork nails!
2. Pink Patchwork Nail Art
Pink patchwork nail art with hearts is a great option when you're feeling girly and feminine!
3. Pink and Purple Patchwork Nails
Combine pink polish with purple polish in a sweet and cute patchwork nail art design.
4. Cool Patchwork Nails
Cool colors of nail polish, like blue, purple, and mint green, combine beautifully in patchwork nail art designs!
5. Decorative Blue Patchwork Nails
Funky swirls and lacy patterns make these blue patchwork nails even more stunning!
6. Gray and Red Patched Nails
Gray patches are a great way to jazz up dark red nails!
7. Black and White Polka Dot Patchwork Nails
Basic black and white make for some awesome patchwork nails, especially with the addition of some simple polka dots!
8. Pink Heart Patchwork Nails
Pink nail polish and heart designs can be used to create some lovely patchwork nail art!
9. Patchwork and Rag Doll Nails
Add a little rag doll design to your patchwork nail art for an interesting and unique touch.
10. Colorful Patchwork Nails
If you love colorful nails, this patchwork design with its rainbow of colors might be a great option for you!
11. Purple Heart Patchwork Nails
Hearts and the color purple—what's not to love?!
12. More Pink Patchwork Nail Art
Here's another great example of a pink patchwork nail art design!
13. Colorful Heart Patchwork Nail Design
Subtle hearts in the center of a rainbow of colors makes this patchwork nail art design just about perfect!
14. Country Quilt Nail Art
This colorful patchwork nail art design reminds me of a cheerful country quilt!