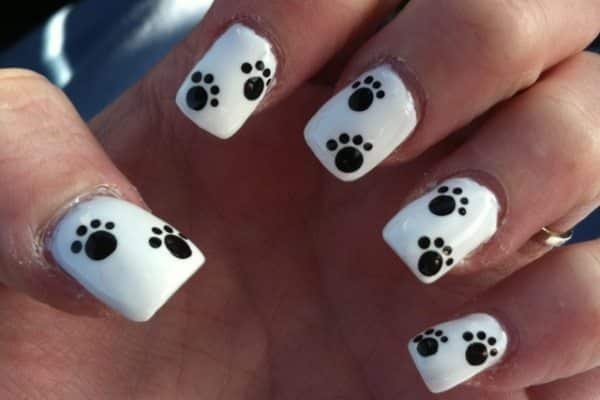 Sometimes you just need some fun nail art. Sometimes you need some paw print nails!
Paw print nails can give you a fun little lift on some days. They're also pretty easy to create too! They can be painted on plain or natural nails, or they can be painted on colored nails. Black and white are probably the most common colors for paw prints on nails, but don't feel restricted to these neutrals! Bright colors can make for some super fun paw print nails!
Some ladies also like to add a little something extra to their paw print nails. A small kitty or puppy on paw print nails can really finish the look.
Need some ideas for your own paw print nail art? Check out these cute paw print nails for some awesome inspiration!
1. White and Black Paw Print Nails
A couple simple black paw prints on each white fingernail makes some simple, yet very adorable, paw print nail art!
2. Bright Blue Paw Print Nails
Bright blue nail polish makes a beautiful and colorful background for these paw print nails. Create these nails in no time with some paw print nail decals.
3. Metallic Paw Print Nails
Try a pretty metallic polish for some fun and shimmery paw print nails!
4. Gray Paw Print Nail Art
It's not every day that you get to break out the gray nail polish! But, these paw print and bone nails look super cute in gray, black, and white!
5. Kitty Cat Paw Print Nail Art
Why not accompany your paw print nails with the inspiration for them in the first place? Perhaps a mischievous kitty cat?
6. Paw Print French Tips
The pitter patter of little paws across some stark white French tips can look pretty adorable!
7. Pink Kitty Paw Nail Art
A soft pink nail polish makes for a nice feminine and fun paw print nail art design!
8. Bright Pink Paw Print Nails
If it's color and vibrancy you're looking for, try using a bright pink polish as a base for little black paw prints.
9. Pink on Black Paw Print Nail Art
Pink paw prints also stand out quite nicely on black nails.
10. Yellow Paw Print Nails
Bright yellow is a nice cheery color for some cute puppy paw print nails!
11. Pastel Gradient Paw Nails
A pastel gradient nail art design make a nice colorful background for your paw print nails!
12. Rainbow Paw Print Nails
For lots of fun color, paint several little paw prints in different bright colors on each nail!
After you're done painting your paw print nails, don't forget a good quality clear top coat. This will help protect your nails and your design, ans it will last much longer.