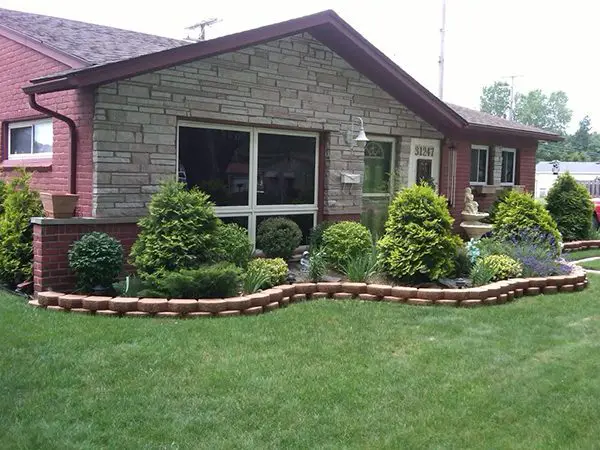 Not much expenditure or time is required to create a simple landscape that also looks good. A little imagination and some knick-knacks is all that is needed. Simple flowering plants add color to a home landscape. A combination of rocks, stones and pebbles can give a very earthy and natural look to a garden. These are some simple landscaping ideas that will suit even a limited budget. They do not need too much effort to create but will make your home look really nice and welcoming. A little brick work or stone work can work wonders with a home landscape.
Where simple ideas for landscaping is concerned only imagination is the key factor. Being simple, the landscaping is definitely not going to cost too much. Also, it will not involve too much effort or time. Some landscaping ideas can be deceptively simple and may require some effort, especially if you want symmetry in the arrangement. Yet, these are landscapes that are easy to create as well as maintain over a long period of time. The strategic placement of different sized bushes, a neat lawn, flowering plants, rocks, stones, pebbles, prickly plants, etc can work wonders where simple landscapes are concerned.
Different Sizes
Different sized bushes for a great background for the neat lawn and brick work in this landscape.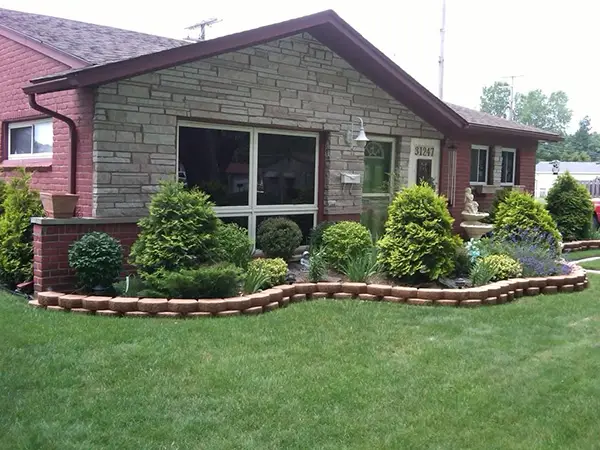 Tall Shaded Landscaping
Tall trees create a lovely shaded nook on the lawn making a superb simple landscape idea.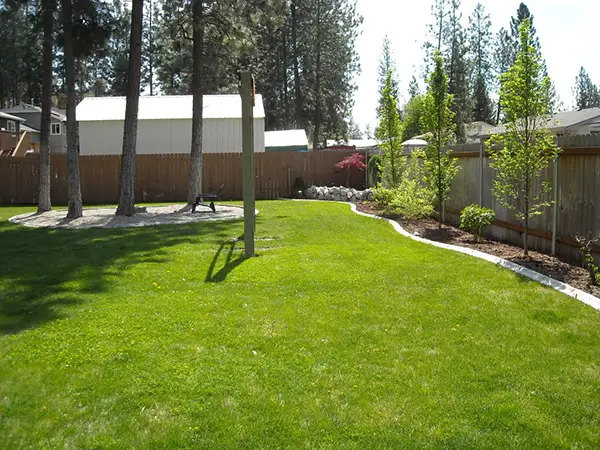 Outdoors Landscaping
The circular fire pit with stones is an easy DIY landscaping idea that will prove very useful for an outdoors party.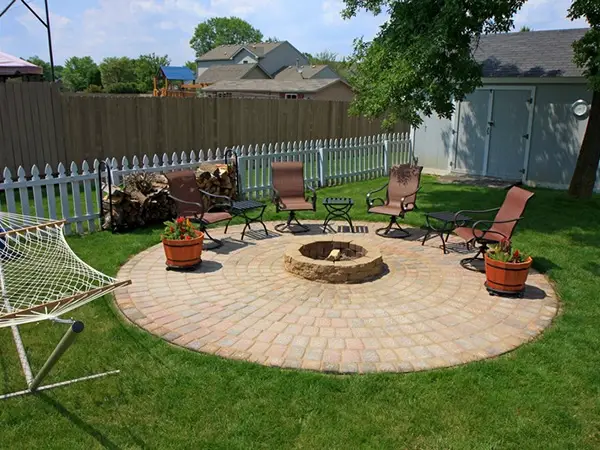 Birds Nest
Pretty pink artificial flamingoes arranged around a neat lawn lend a simple and exotic touch to this landscape.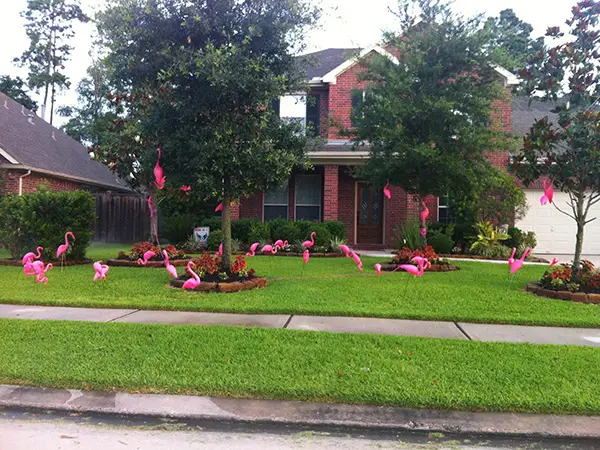 Wild Natural Landscaping
This is a simple and natural looking landscaping with a roughly grown lawn and a few different size bushes.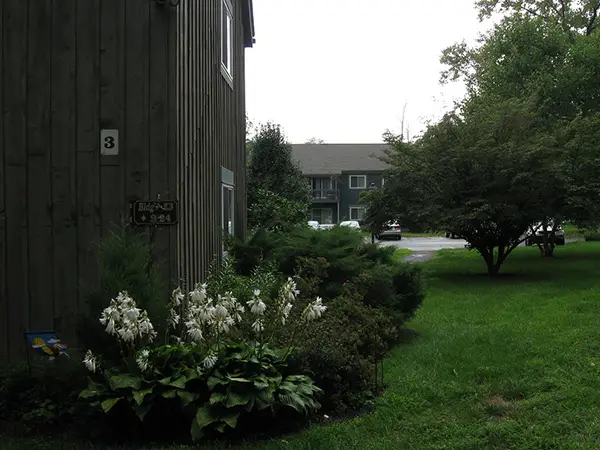 Just Right
This landscaping looks just right and simple with a few plants separated from the lawn by the lovely granite edge.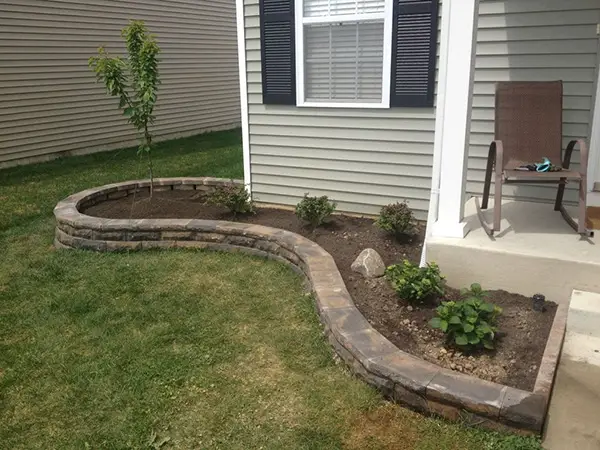 Small And Neat
This landscaping defines simplicity with its neat lawn and just a few bushes in different colors.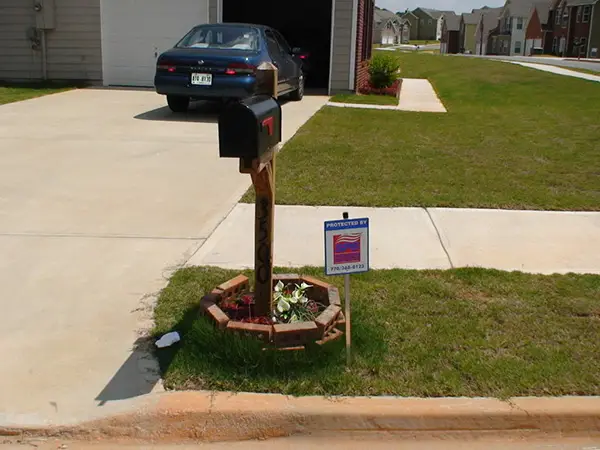 Great Combo Landscaping
Landscaping with a great mix of simple tall trees, short bushes, rock garden and flowering plants looks fantastic.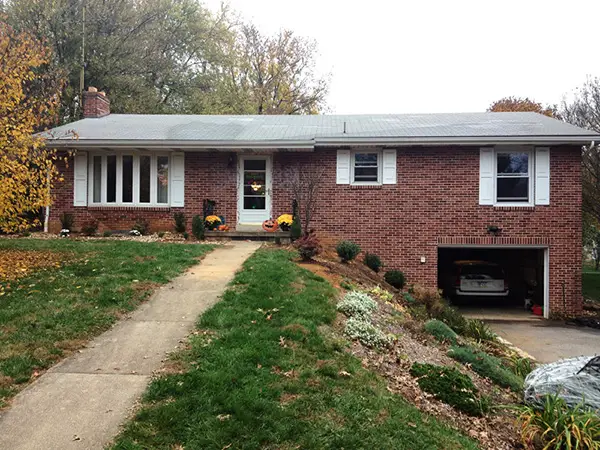 Forest Landscaping
To get the natural forest kind of look this simple landscaping idea of a log, rocks, stones and a stream are just perfect.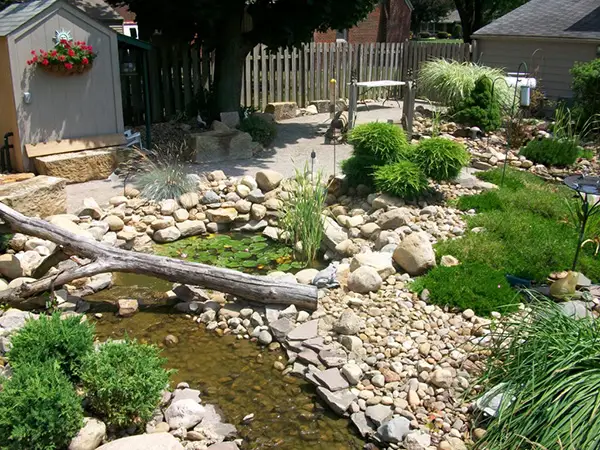 Simplicity Of Nature
Inspired by the simple things in nature this landscaping idea just needs a trees, lawn and large rocks to look good.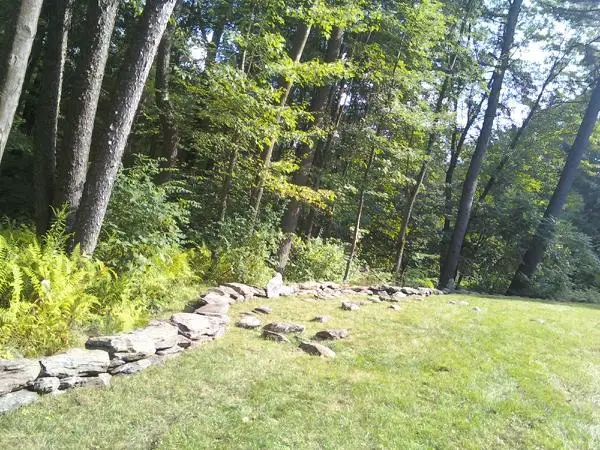 The Simplest Way
When you can't think of a landscaping idea some flowering plants and a little pool surrounded by rocks look fantastic.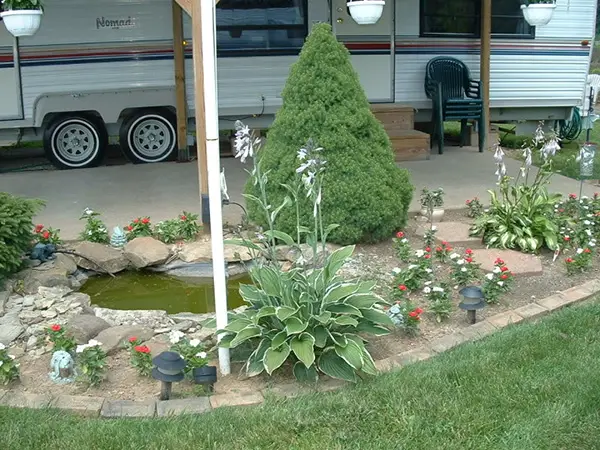 Red Walkway
A reddish stone walkway surrounded by tall trees form a lovely and simple landscape.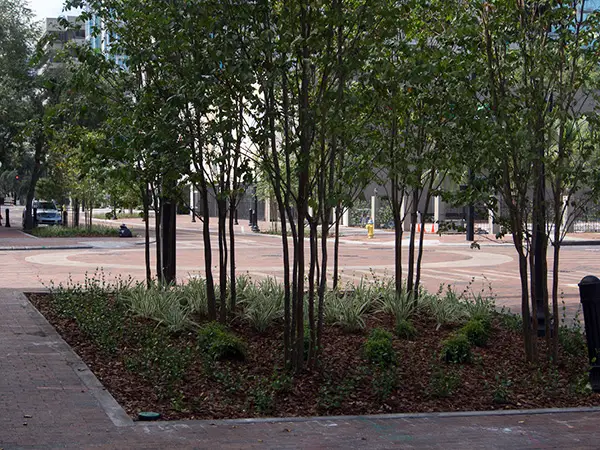 abc
Effortless Landscaping
A stone sit-out looking onto a naturally grown lawn and a few bushes is a simple yet lovely landscaping idea.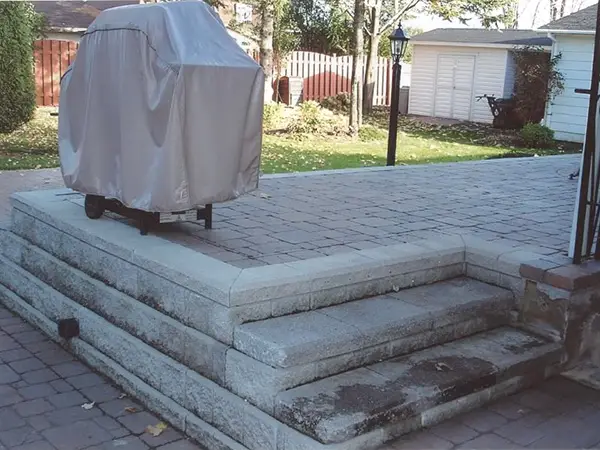 Nature's Bounty
This simple front yard landscaping is a superb mix of palms, trees and bushes that dot the naturally grown lawn.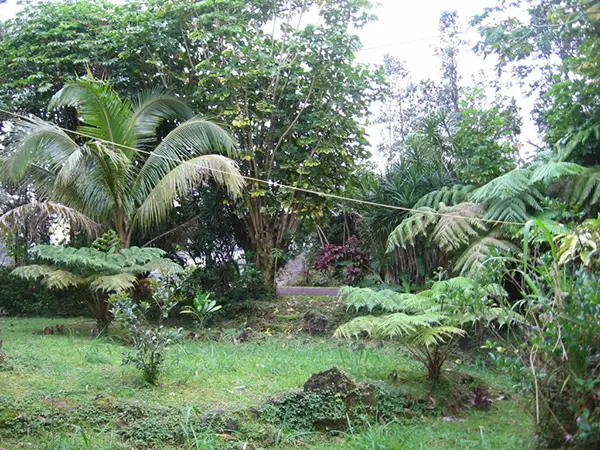 Path To Heaven
A wooden path flanked by a lovely rock garden that leads to a stone-bench retreat is a heavenly landscaping idea.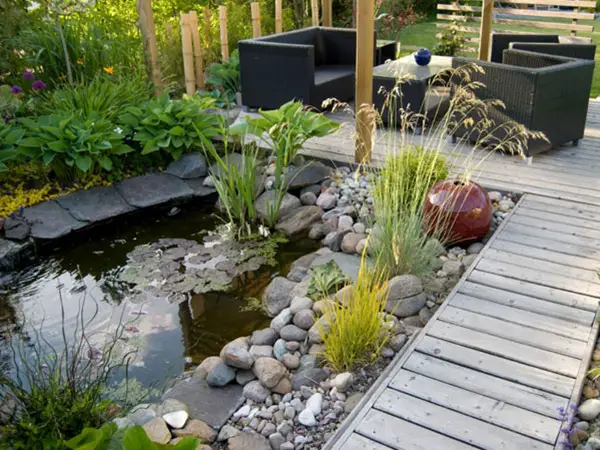 Balancing Act
A good balance of short bushes and tall trees gives this dark green lovely lawn a balanced that goes well with the garden furniture.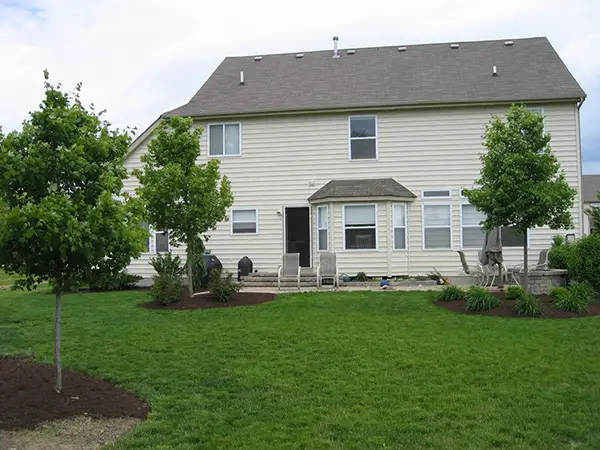 Bright And Small
As simple landscaping goes this is a superb idea with the circular red stone seating area and flowering plants.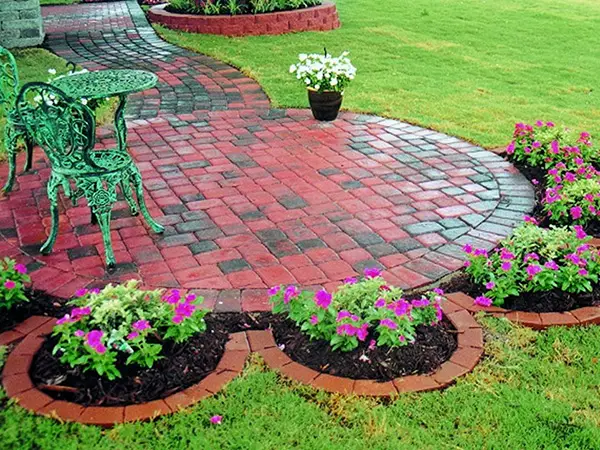 Flowers And Greens
A bright green lawn with stones and flowering plants at the edge is a fantastic simple landscaping idea.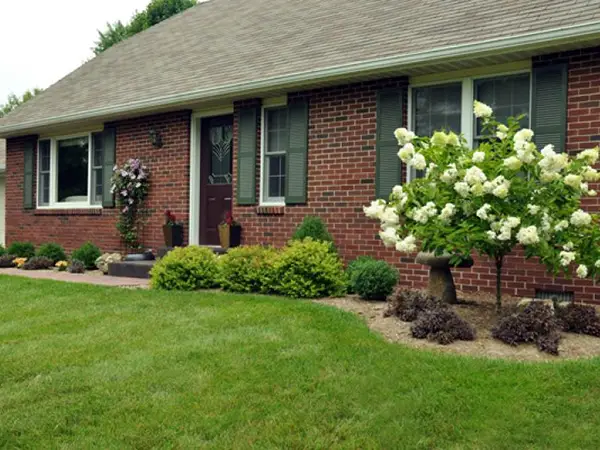 Flowers And Greens
Red Mud And Pots
Potted plants and red brick edge complement the lawn to create a simple yet attractive landscape.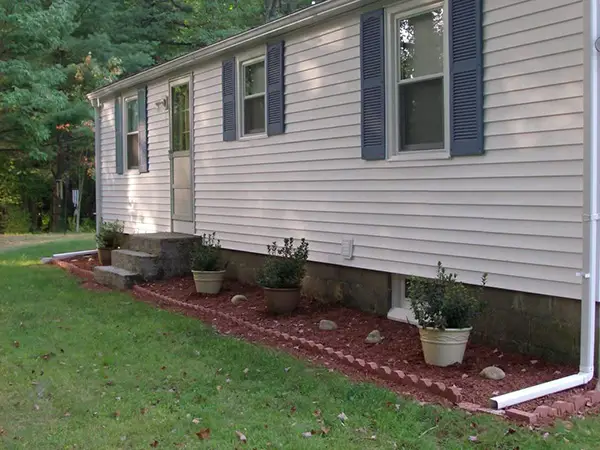 Lovely Symmetry
A rectangular lawn with edges on two sides of stones and flowering plants is a brilliant simple landscaping idea.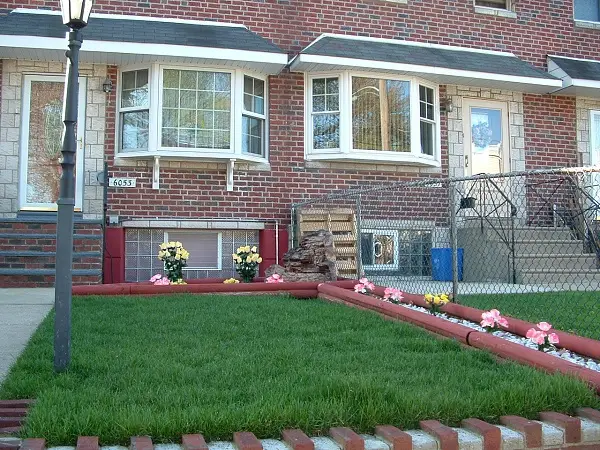 Pond And Flowers
As simple landscaping ideas go this one with a small pond, flowering plants and stonework looks classic.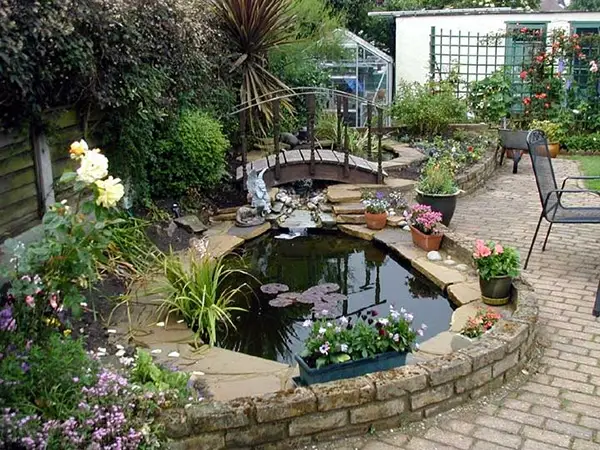 Nirvana
This is a place that defines Nirvana with its waterfall, stone paving, wooden bridge and a surfeit of greenery.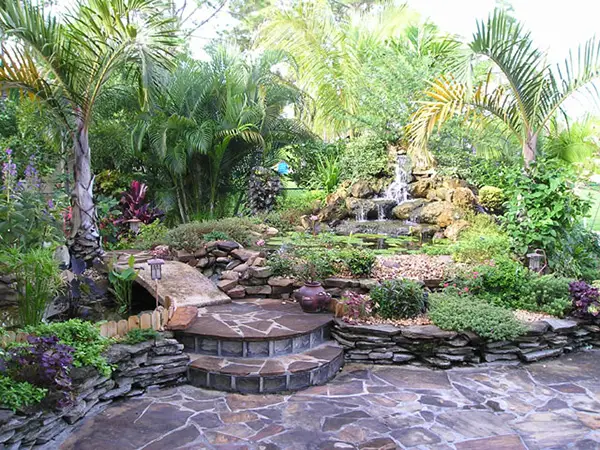 Nirvana
Cottage Landscaping
A lovely brickwork cottage like this one deserves a simple landscape with flowering plants and a small lawn.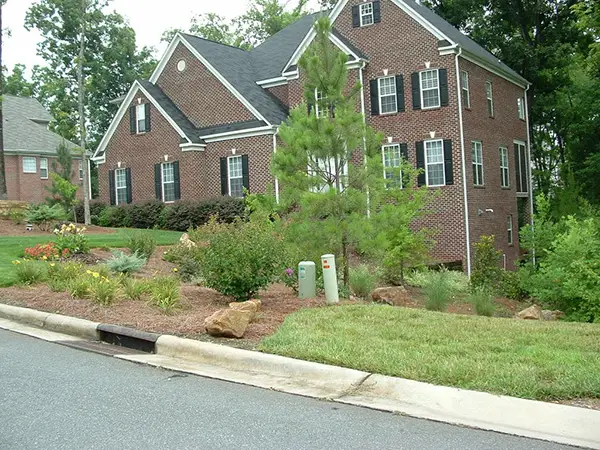 Rainbow Effect
Simple can look exotic says this landscaping with its different sized and different colored flowers and bushes.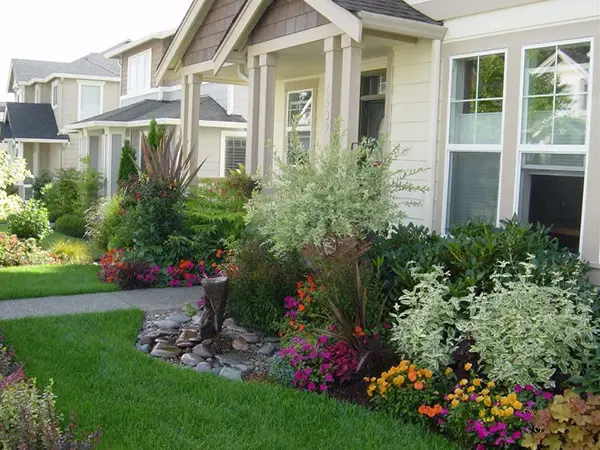 Stones And Rocks
Stones, rocks, flowering plants, green trees and a superb lawn are great ingredients for perfect landscaping.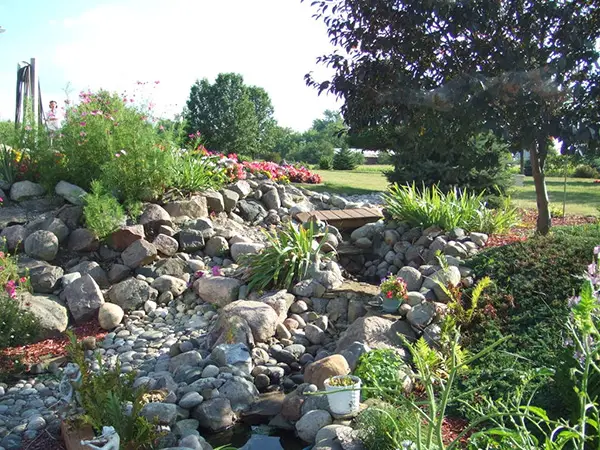 If you like this article, you might be interested in some of our other articles on  Bathroom Storage Ideas,  Teenage Girl Bedroom Ideas,  Photo Wall Ideas  and  Beach House Decorating Ideas.