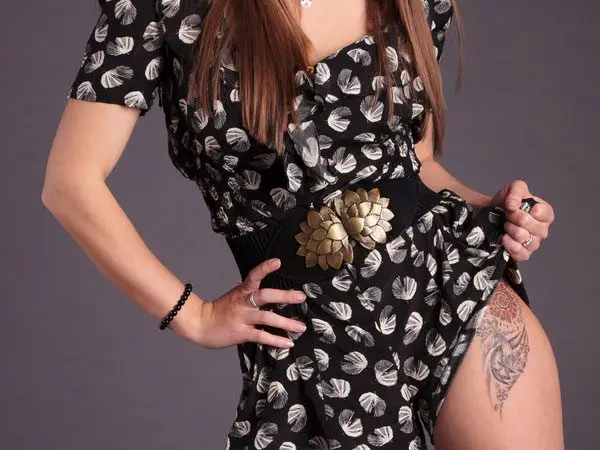 Tattoos are a great expression of personal style, and for a woman, the designs tell a story about her deepest fantasies and dreams. Inking tattoos on secret parts of the body is a gesture that is full of mystery, playfulness, and fun. It is a sexy idea in the sense that the tattoos are only revealed in secret, and once a beautiful woman is in the bedroom her private world comes alive through the tattoo designs. Tattoos, whether small or big, naughty or delicate and dreamy, all add to the wonderful appeal of a woman.
There is something totally sexy about a piece of art that a woman carries intimately on her skin. Touched by the master-hand of a tattoo artist designs such as stars, angels, and butterflies inked just above the cleavage, or delicate flower patterns trailing down the back, express a woman's beauty.
The body of a woman with its natural curves makes a gorgeous canvas for Sexy Tattoos For Women.
Whether it is bold and smart red 'Hello Kitty' lettering inked on the upper thighs, or tiny dragon designs on either side of the stomach area, or love quotes in colorful flowers shading a side of a woman's body, every tattoo idea gets a special magic appeal as a woman has such a graceful rhythm in the lines of her body. A colorful permanent ink design on a woman's bared upper arm shows her lively personality, while a big pink cartoon shape on the side of her waist shows her sense of fun. Graceful flower designs trailing down her arm look like sheer fairytale magic, while in the ultimate naughty and deeply sexy mood you may find a woman with a tiny bold ink design a little above her panty area. Suggesting a world of passion and bold beautiful fun, here are some cool tattoos for women.
If you like this article, you might be interested in some of our other articles on Script Tattoos, Sparrow Tattoos, Badass Tattoos and Palm Tree Tattoos.
Thigh Curve Sexy Tattoo
This intimate tattoo is done on the left upper thigh, the usual place for tattoos for women. It shows a red flower like pattern leading up to a tribal design. Tattoo designs like this are hot and sexy in a very tasteful manner.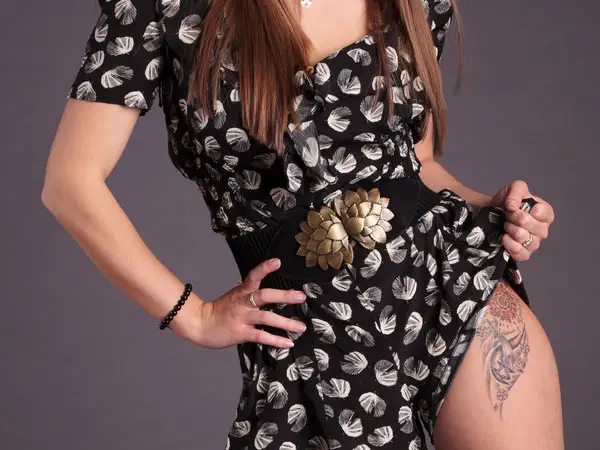 Sexy Stomach Tattoo
Take a look at this super subtle dragon motif tattoo in black inked on the woman's stomach area. Small and sexy the design whispers the most intimate invitation. This minimalist tattoo is one of the best tattoo ideas for women. Placed on the stomach area, women can choose to show them off anytime they want to.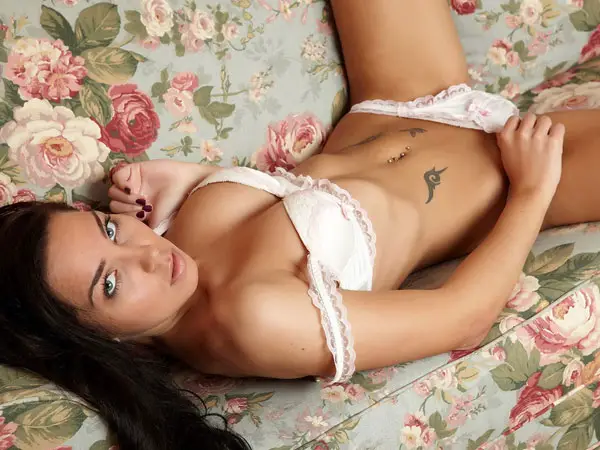 Flora Sexy Tattoo
The delicately inked flower petals sit in a rounded pattern in this sexy stomach tattoo design for women. Sexy tattoos put on the hip can be an enticing tattoo design that you can show off with a crop top. We guarantee that you will get everyone's attention.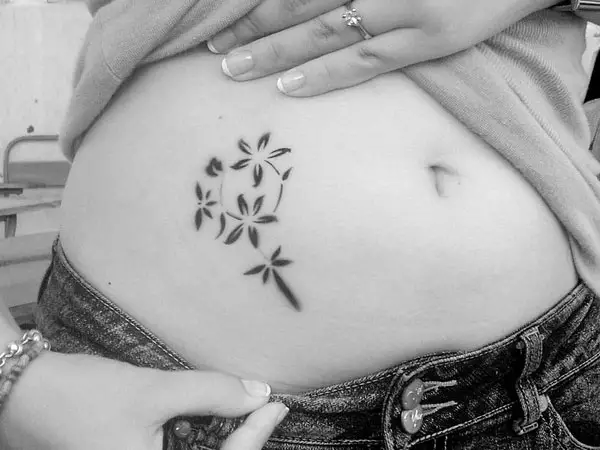 Sexy Tattoo Heart
This is a daring tattoo idea with the heart and two butterflies inked just above the cleavage area. This group of sexy tattoos are hot tattoo ideas for women as it adds a bit of spice to their overall aesthetic. Sexy tattoos for girls like this are abundant in tattoo parlors so make sure to ask your tattoo designer for some recommendations.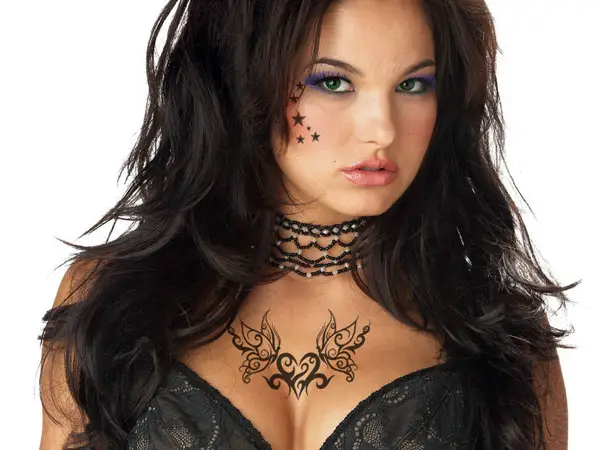 Her Flower Side
The rich and delicate black shades combine with subtle red hues in this awesome flowers theme tattoo for a woman's back. Back tattoos that are as intricate as this deserves a lot of recognition. Women who get these tattoos flaunt their sexy tattoos by wearing backless dresses.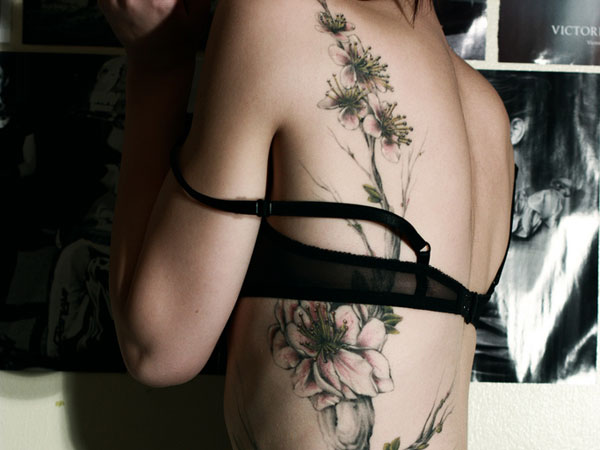 Her Flower Side
Hot And Fun Tattoo
You can see the 'Hello' and 'Kitty' making up this woman's thighs tattoo wording in this playful and naughty tattoo design. These thigh tattoos of the words Hello and Kitty not only pays homage to the Japanese cartoon charactor but is also one of those unique tattoo ideas that make any passerby turn their head.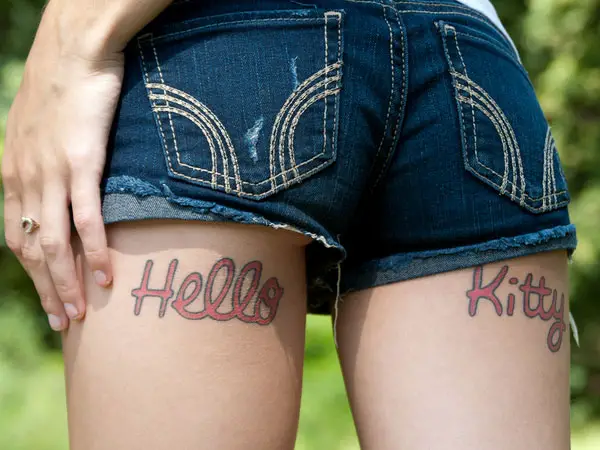 Dragon She Design
Check out the fine ink patterns making up two dragon shapes on either side of the woman's stomach area in this sexy tattoo design. These sexy tattoos uniquely add the right amount of elegance to your stomach.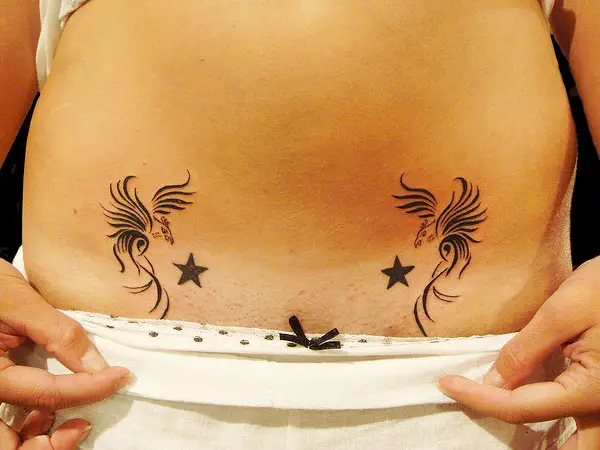 Love Side Colorful Tattoo
The word 'Love' along with lines of love quotes and colorful flowers in the tattoo design make this woman's body a piece of sheer living poetry. This love poem is inked on the side of this woman making up one of the more creative Tattoo ideas for women.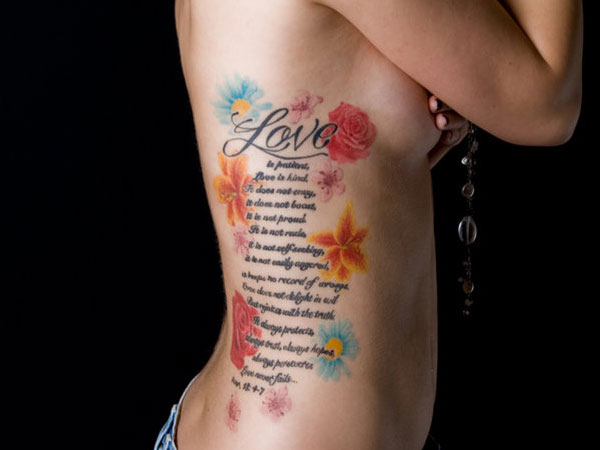 Tree Back Tattoo
The dense shape of a tree trunk comes down in intricate patterns with green leaves and pretty blue butterflies in this back tattoo design. Back tattoos are usually minimalist tattoo designs but this strays away from the norm.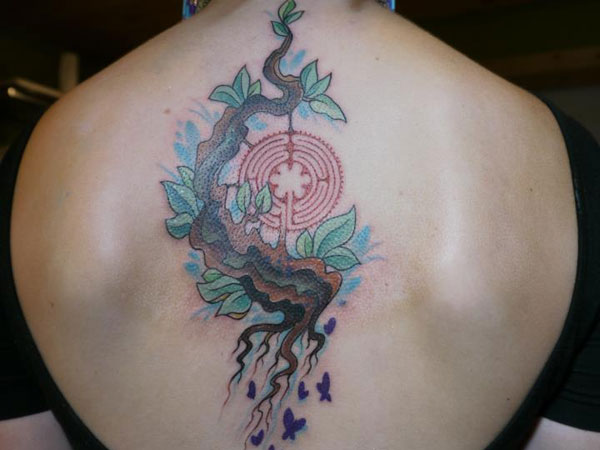 Tree Back Tattoo
Woman's Sexy Forearm Tattoo
Styled in vivid shades and black outlines this is a beautifully inked floral tattoo for a woman's upper arm area. This bicep tattoo is a great addition to your tattoo collection and allows you to immediately capture someone's attention.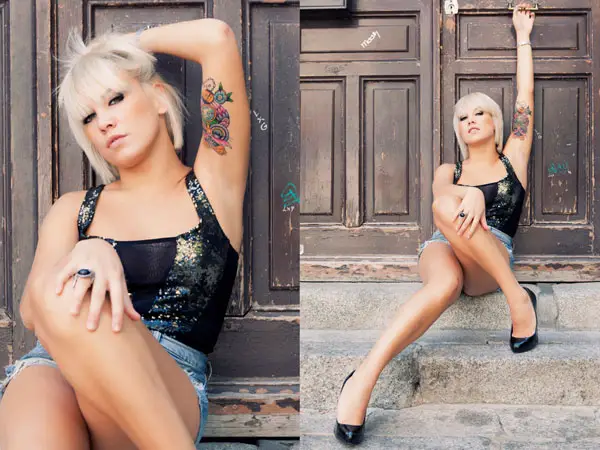 Woman's Sexy Forearm Tattoo
Robot Peek Show Tattoo
Check out this fun and colorful pink robot style tattoo as the woman shows it curving on the side of her body above her waistline. This side tattoo has a colorful design that perfectly acts as one of your cute tattoos that you can show off to your friends.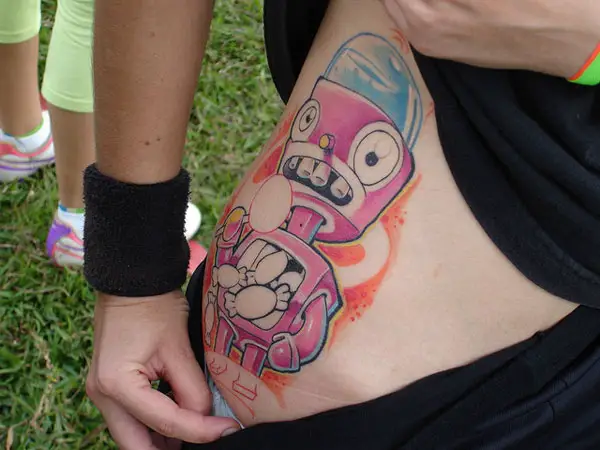 Flowers Woman Tattoo
The delicate shades of flowers make pretty patterns as they curve along the side of the woman's upper arm. Flowers are one of the most common tattoo styles. However, a great tattoo parlor and tattoo artist would ensure that each one they make is perfectly unique.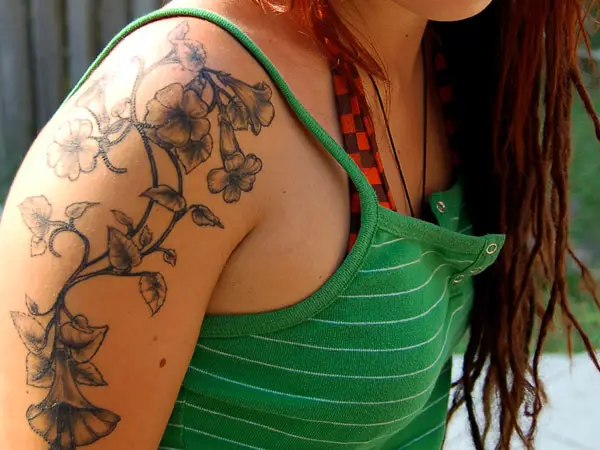 Desire Tattoo
The ultimate expression of desire through body art this is a bold and subtle tattoo with wings just above the panty area. This bold tattoo on the pubic section is daring, enticing and is definitely perfect as tattoo ideas for women.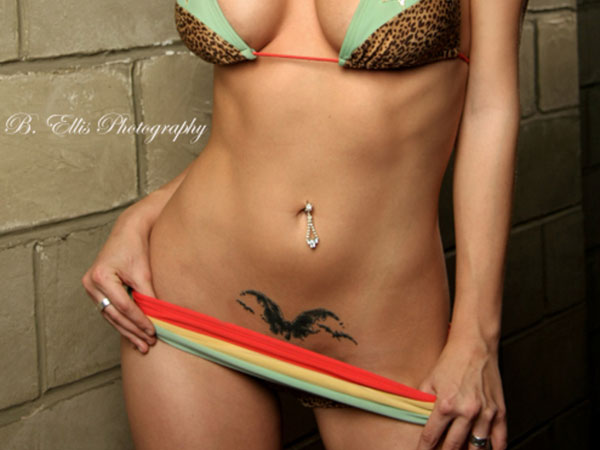 Sexy Floral Woman Tattoo
Get a look at the flowers that form an intricate gradually narrowing pattern curving along the side of the woman's body. If you want sexy tattoos, you only need to check out this rib tattoos to find one of the best tattoo designs.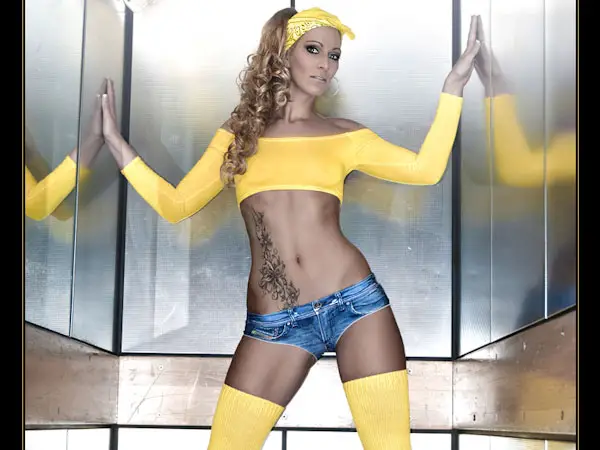 Secret Stars Tattoo
The stars form a dancing line from the largest stars at the side to the smallest stars vanishing below the panty area in this fun secret woman's tattoo design. Cheeky yet enticing, this tattoo design allows the wearer to seduce anyone they want.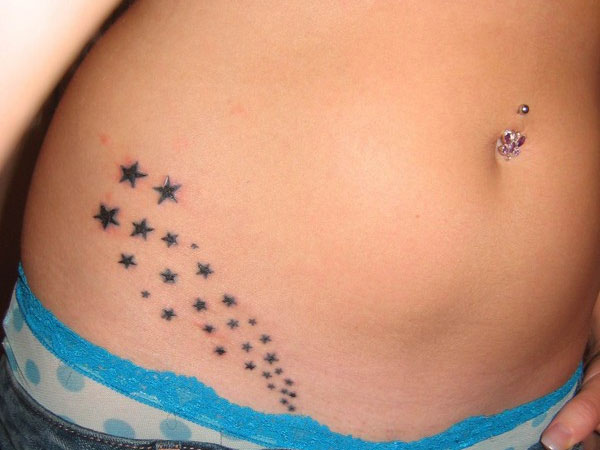 Tribal Sexy Design
The gorgeous large curves in narrow flowy patterns goes beautifully with a woman's natural curves in this stomach tattoo idea. Tattoos for women are usually known for being colorful and flamboyant. However, the wearer of this tattoo opted for a minimalist tattoo composed of curvy lines.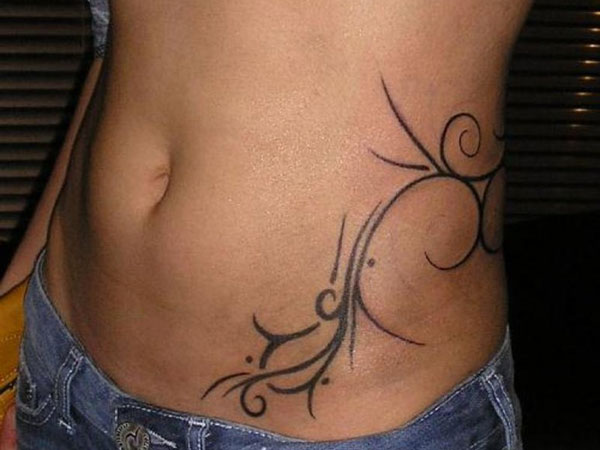 She Wolf Sexy Art
The wolf head with colorful feathers makes for a tribal patterned motif for this woman's secret tattoo inked on the side of her body. The wearer is obviously proud to show off her wolf tattoo at the beach as evidenced by the bikini line.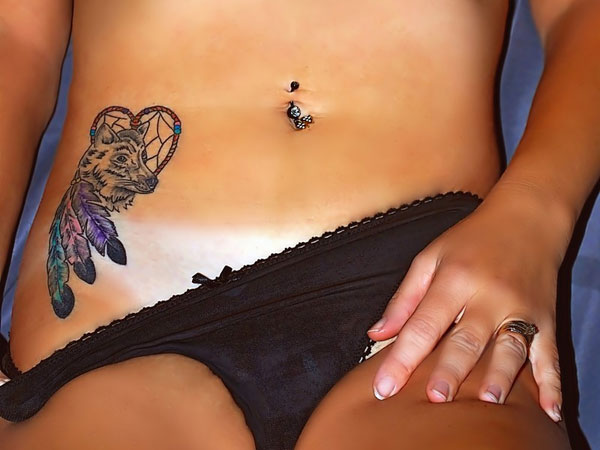 Shoulder Kissing Dragon
This woman indulges her private fantasies with a sexy tattoo design of a flying dragon just below her shoulder. Dragon tattoos are not just tatoos for men. It can also be considered as cool tattoo ideas for women.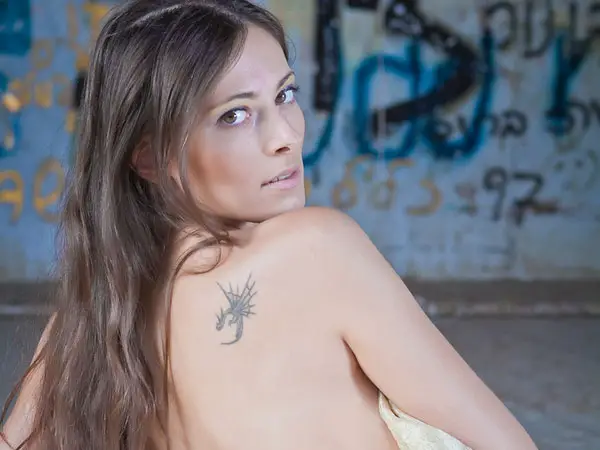 Sexy View Tattoo
Elegant wing shapes fly out of both sides of this centrally positioned sexy tattoo on the woman's lower back. This tattoo design is made up of intricate details that is perfect to have in your back tattooed.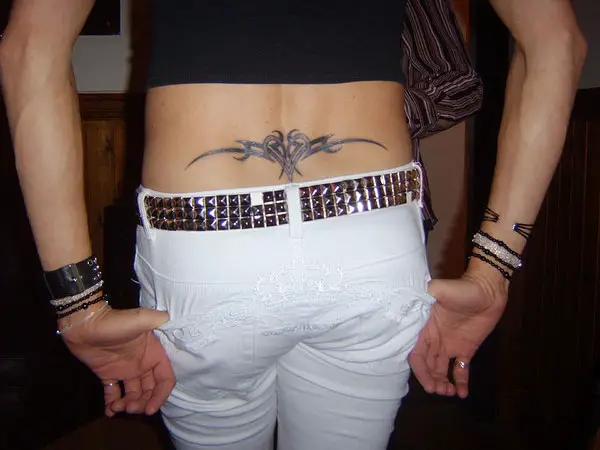 Skull Sexy Tattoo
Check out the sharp spikes and edges that make up the horizontal skull tribal motif on the woman's waist area. These tattoo drawings of a skull and bones are cool tattoos that you can have inked in your frontal area.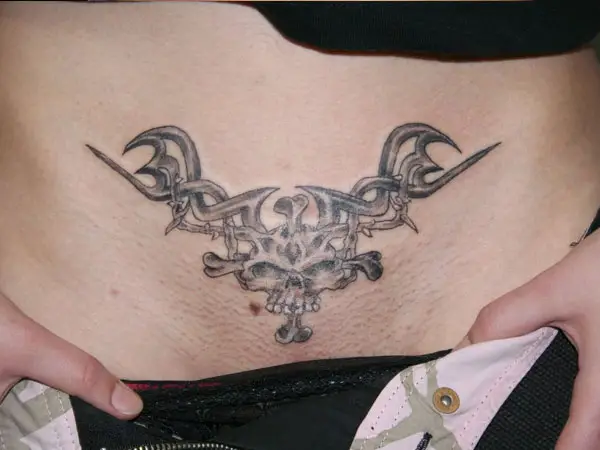 Heart Glow Tattoo
A lifelike heart tattoo with a red glow looks like it is about to light up on the beautiful upper back of a woman. This back tattoo is so lifelike and drawn meticulously by a talented tattoo artist.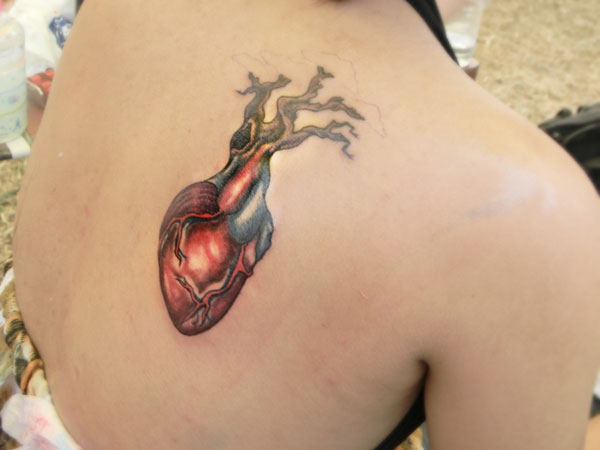 Heart Glow Tattoo
Geisha Graceful Curvy Tattoo
The awesome burst of colors making up this intricate geisha tattoo comes down to flower as a black tribal motif on the lower back of the woman. You can't get any more intricate than this back tattoo of a geisha. This colorful tattoo design takes a lot of time and effort for it to look as perfect as this.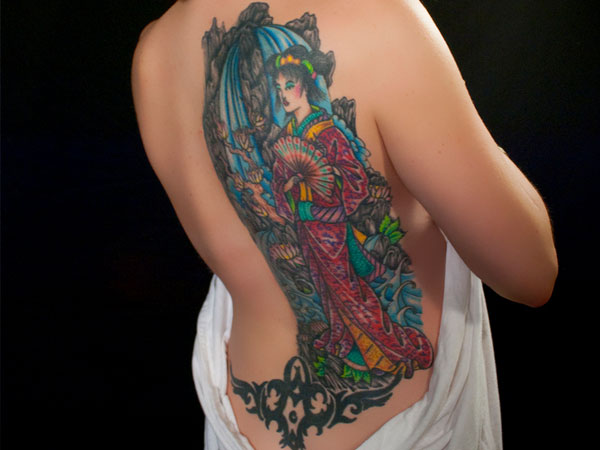 Butterfly Exposure
The four winged buttterfly looks just ready to take off as you look at its sexy shape molding to the natural dip of the woman's back. This butterfly tattoo is part of this woman's collection of cool tattoos. These colorful tattoos help add to this woman's preferred aesthetics.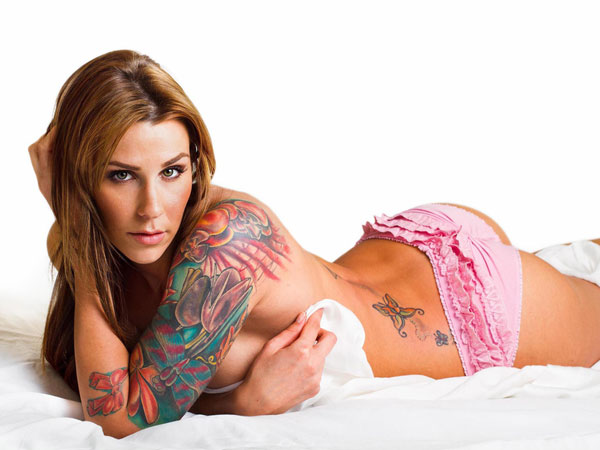 Tattooed Girl
A delicate flower girl in vivid colors sits on the woman's upper arm while her thigh is inked with single colored patterns.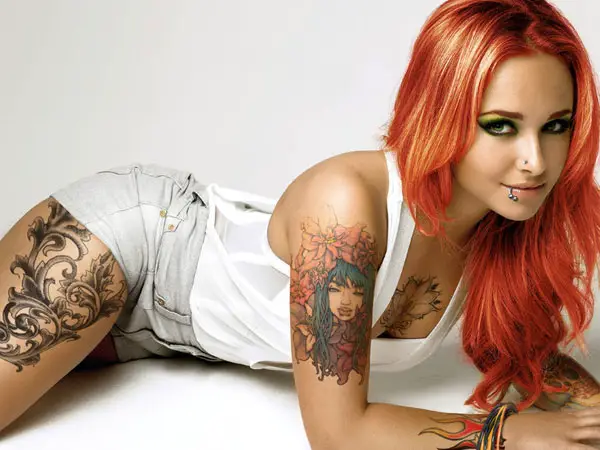 Back Woman's Tattoo
A woman's back becomes the canvas for the inking of traditional Chinese motifs ranging from a pagoda, to a hibiscus, to a Buddha face. This tattoo is made up of complex designs that fully decorates her entire back.