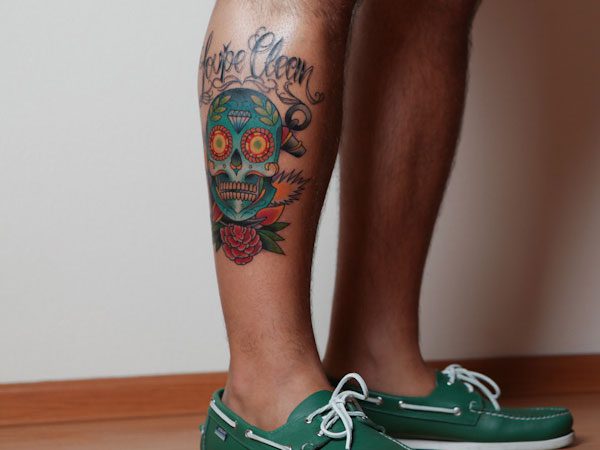 Tattoo art has evolved so much over generations that there is a lot of variety to choose from. Whether simple gray and black colors are used or vibrant blue, red, pink, green and yellow; tattoos are surefire attention seekers. And they succeed in their mission every time. If you are looking for some innovative and creative tattoos, here are a few options in Mexican skull tattoo designs. These tattoos usually follow the skull motif in vivid colors and shades. Other designs like flowers and geometric shapes that have a contradictory theme are tattooed within the skulls creating an unusual art form.
You want to try out a tattoo that is bright and draws instant attention? Then select a tattoo of Mexican skull motif from this collection. These are tattoos that usually have very bright colors and many colors within one design. What could be a better tool for getting attention? They have a superb artistic flavor and make a very noticeable style statement. Vibrancy of colors and intricate designs place them a class apart among tattoo art. These are tattoos that will look great with casual jeans and tees as well as hip hop outfits that are an essential part of being young.
If you like this article, you might be interested in some of our other articles on Eyebrow Tattoos, Russian Prison Tattoos, Hot Tattoos and Gang Tattoos.
Bulbous Eyes
The bulbous red eyes of this Mexican skull tattoo draw attention to the intricate design and bright colors.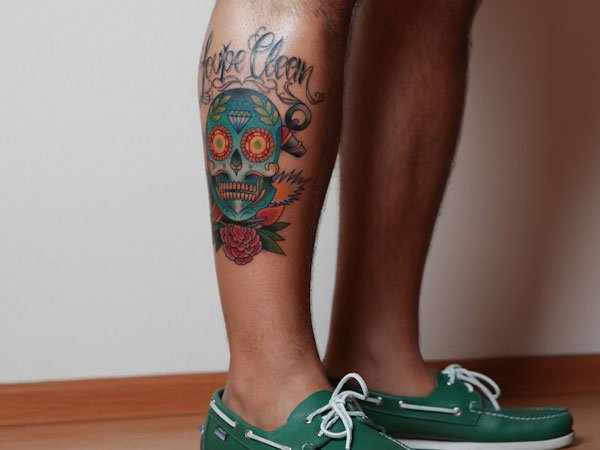 Class Tattoo
This Mexican tattoo is really classy with the skull motif flanked by flowers on either side.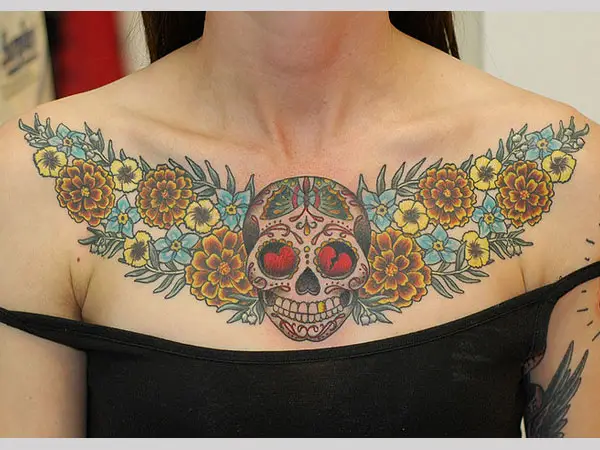 Themes Galore
The cross on the forehead, fire in the eyes and flowers all over makes this Mexican tattoo a colorful mixture of themes.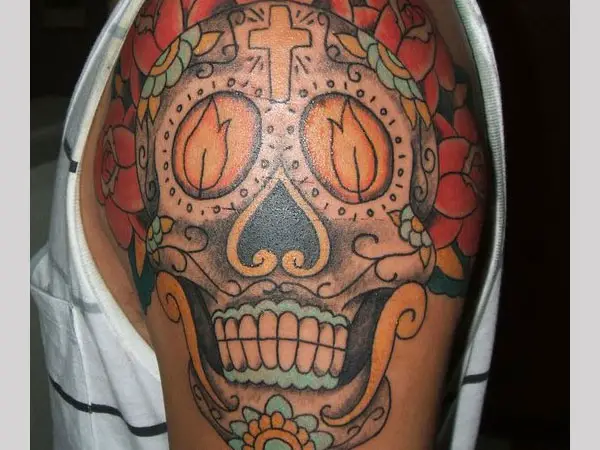 Patterned All Over
This Mexican skull tattoo has different patterns all over its form, making it a stylish design.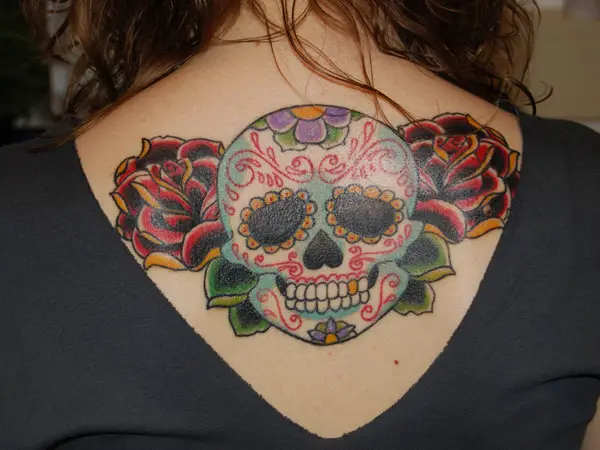 So Much Color
There is so much color and patterns in this Mexican skull tattoo that is definitely an attention grabber.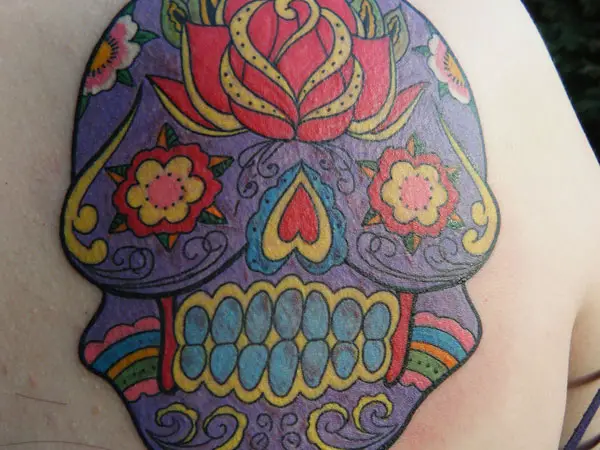 Intricacy And Color
The intricate design and vivid colors makes this Mexican tattoo look very bright and trendy.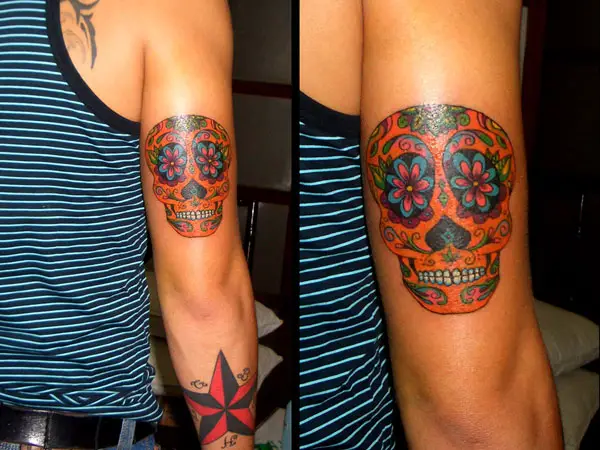 Multitude Of Colors
There is no color that's been missed in these twin Mexican skull tattoos. They are superb attention seeker.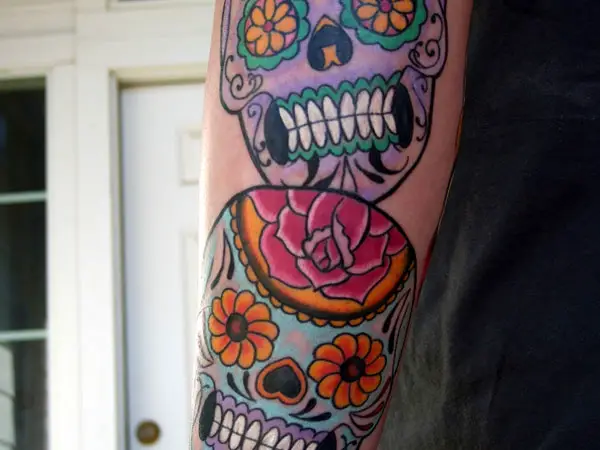 Reds And Blues
Vibrant reds and blues make this Mexican skull tattoo look very bright despite its lack of size.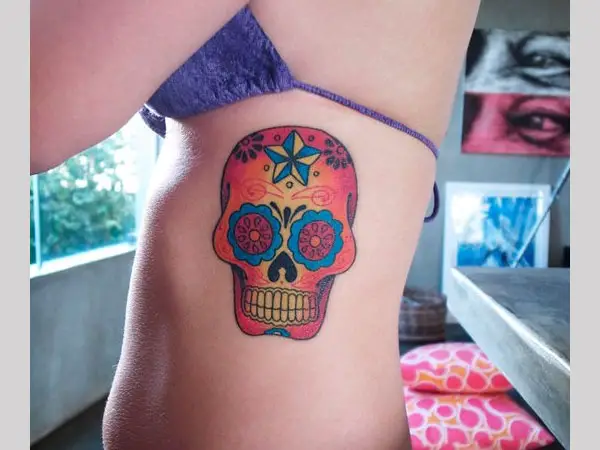 Reds And Blues
Simple Intricacy
Using one color might have made this Mexican skull tattoo very simple had it not been for the intricate design.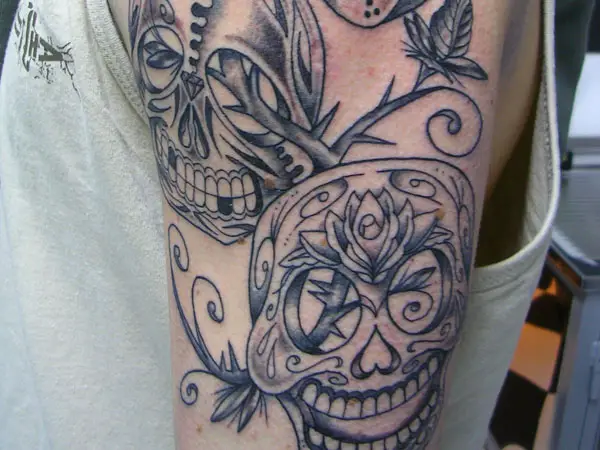 Mixed Bag
The Mexican skull tattoo in this snap is a superb mix of the skull theme with colorful geometric shapes and flowers.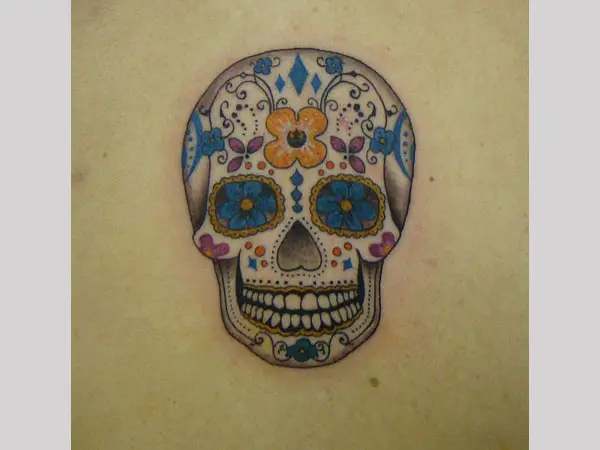 Making A Difference
The green hair makes this Mexican skull tattoo different from the usual. It looks very striking and bright.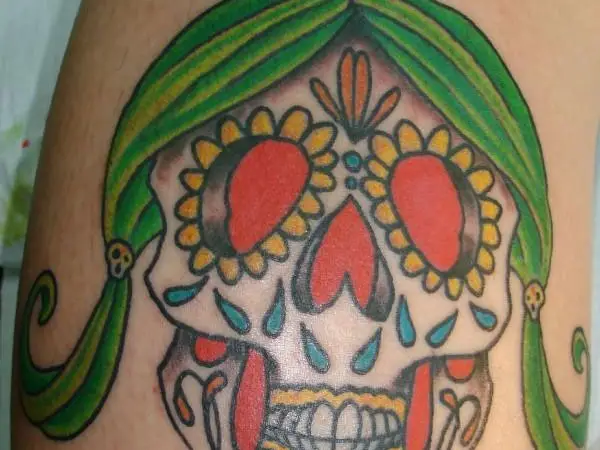 Making A Difference
A Sudden Red Splash
Subdued brown skull design of this Mexican tattoo has a sudden splash of red in the eyes drawing immediate attention.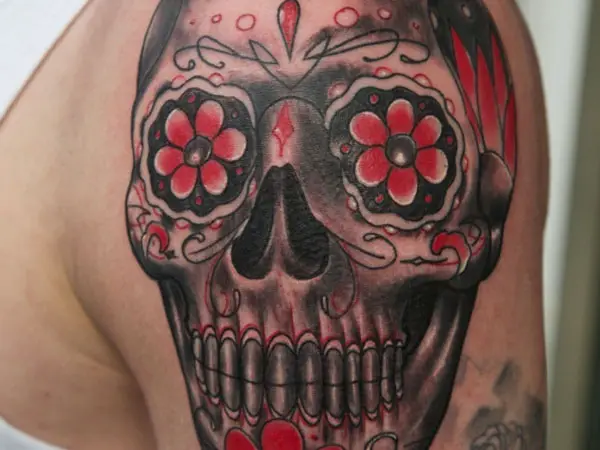 Small Is Smart
Even this small design has the attention grabbing effect because it's a Mexican skull tattoo.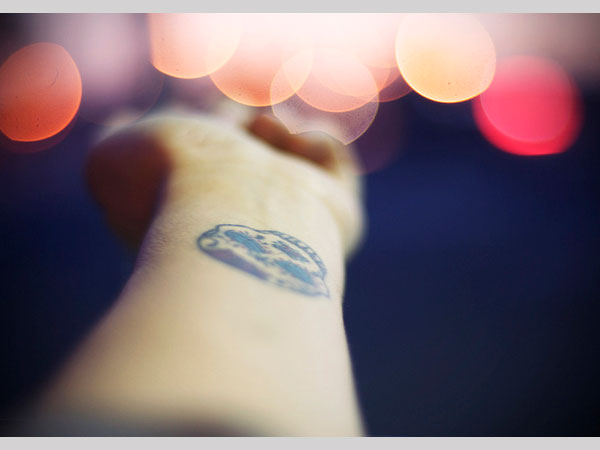 Smoking Skull
This Mexican skull tattoo is emitting smoke from its forehead. As tattoo art this is a great example.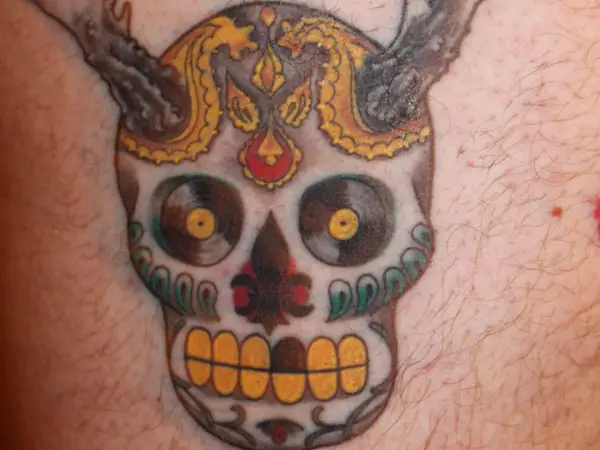 Smoking Skull
Primary Colors
The use of all the primary colors has made this a very bright and vibrant looking Mexican tattoo.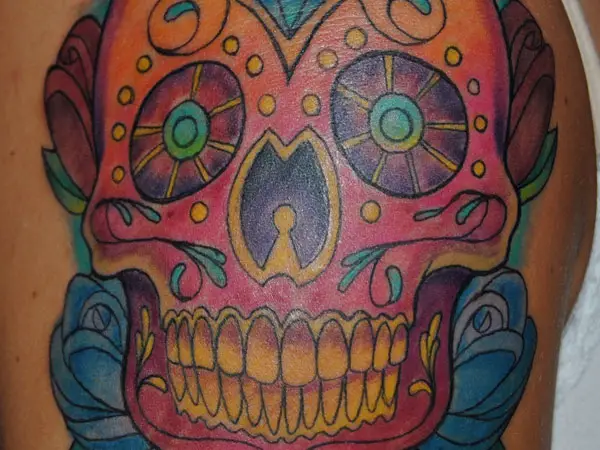 Crowded Place
This seems to be a crowded place. The Mexican skulls in subdued colors are vying with each other for attention.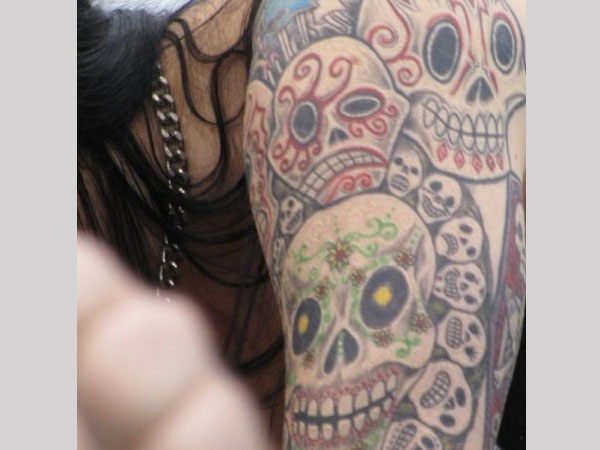 Tiny Mighty
This Mexican tattoo has the might of grabbing attention despite its simple and tiny design.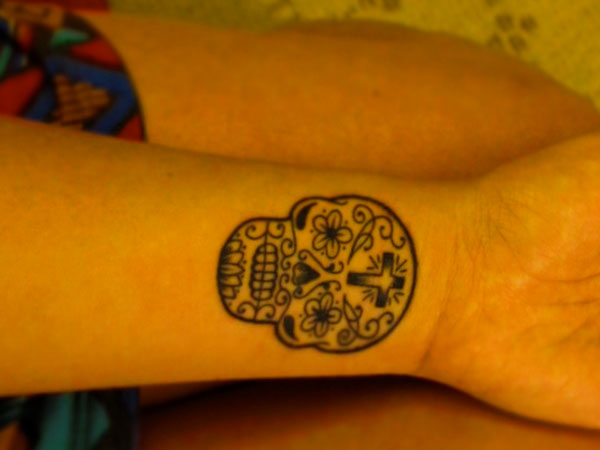 Tiny Mighty
Skull And Roses
The bright red roses make this Mexican skull tattoo look trendy and different from the usual.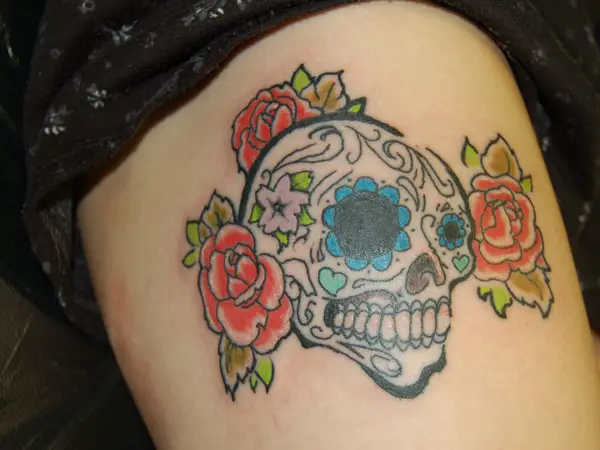 Aquamarine Skull
Using aquamarine and gray shades makes this Mexican skull tattoo look very stylish and attractive.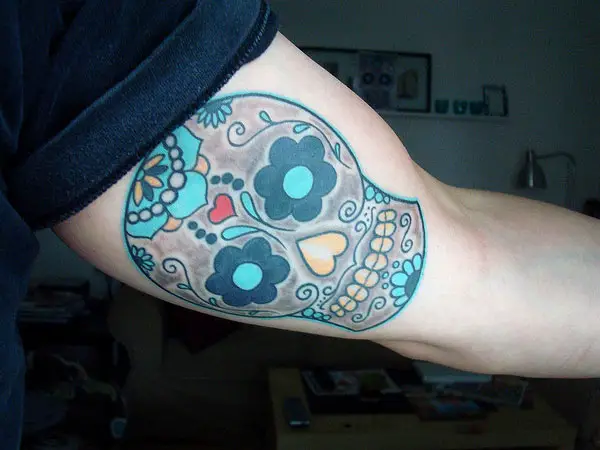 Protective Gear
It's a Stormtrooper helmet from Star Wars.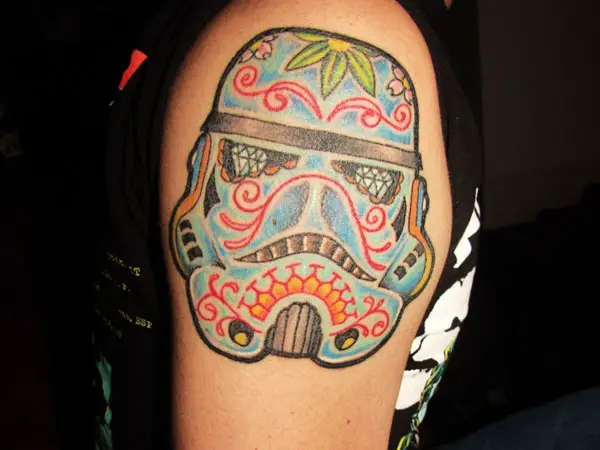 Protective Gear
A Heap Of Skulls
Vibrant red and green shades cannot dispel the horrifying effect of the pile of skulls in this Mexican tattoo.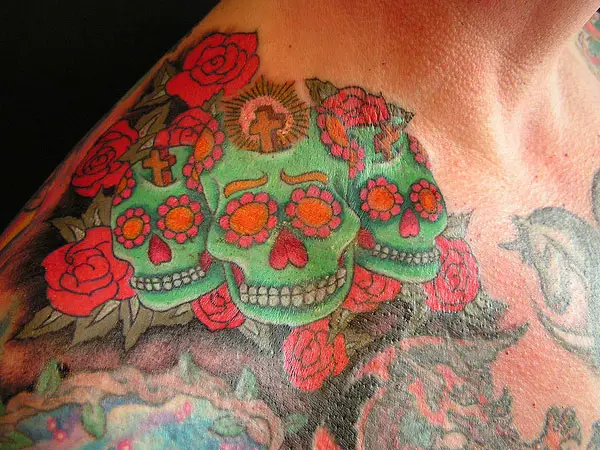 Gray Skull
Despite using just gray shading this Mexican skull tattoo and roses look very artistic and trendy.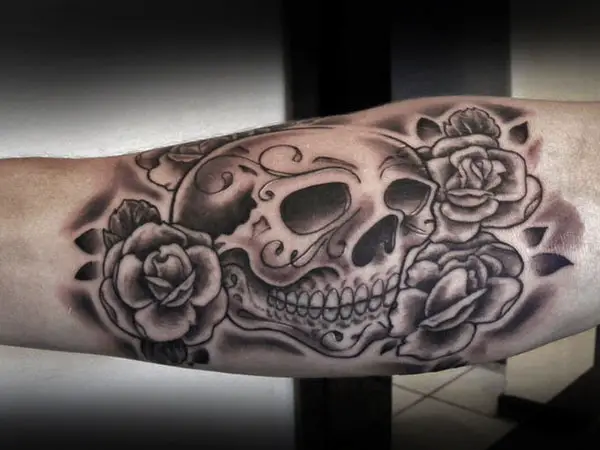 True Blue Mexican
This Mexican tattoo has maintained its tradition of having a multitude of bright colors in its design.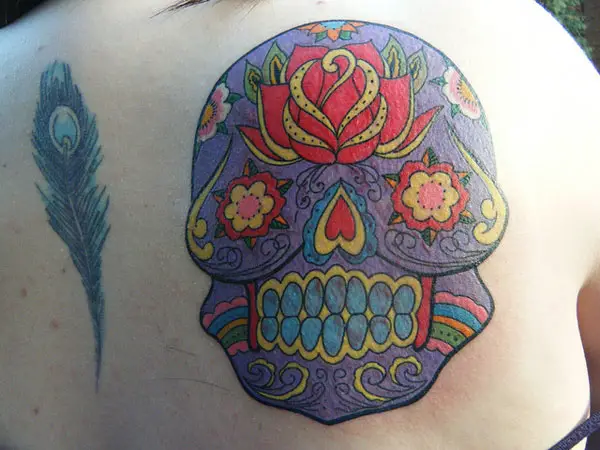 Horrifying Effect
The red and green colors look great on this Mexican tattoo. Then you notice the almost real gleaming teeth!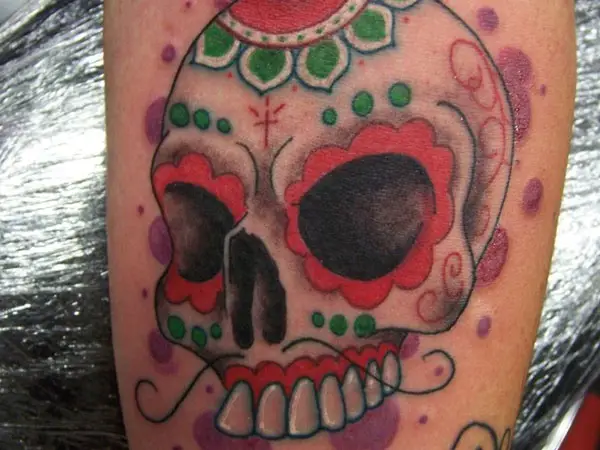 Haven't Missed Anything
The artist hasn't missed anything in this Mexican tattoo. Most colors have been used to create a bright tattoo.