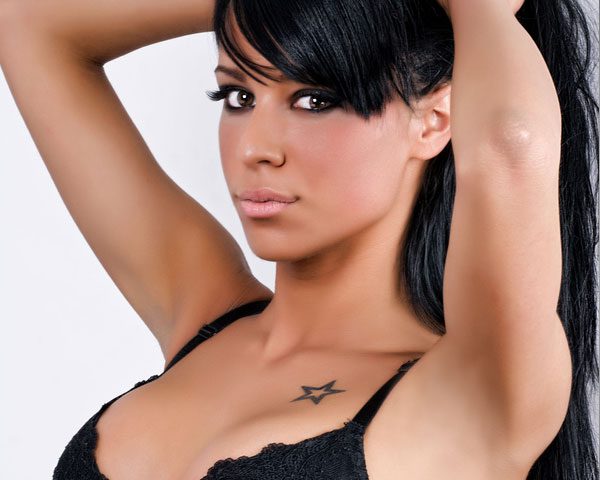 Tattoos are a cool style statement which can be worn in different ways and on different body parts to sport a hot look. There are many tattoo designs which otherwise look simple and sober but once placed on a strategic part; they acquire a new, sexy look. Today, it is all about displaying a flamboyant and crazy look because only then you are looked up as a stylish guy or gal. Clothing and accessories obviously do the tricks but tattoos add that distinct hot charm which can make you class apart from the rest of the crowd.
Hot tattoos, as the word suggests, pertains to the tattoo styles and images that show a seductive look. Besides this, they are also carved on body parts that are known to attract the eyeballs and arouse the fantasy of people. Being in-vogue, every woman nurses a secret want to get such a tattoo carved on her person so that she also looks hot and sexy. Here, in this post, we have collected 30 hot tattoos that are going to take your breath away, once you cast your glances on them. So, get started and let the excitement unfold before your eyes.
If you like this article, you might be interested in some of our other articles on Crazy Tattoos, Funny Tattoos, Pink Tattoos and Awesome Tattoos.
Sweet And Sassy
The sole black star placed above her cleavage, on one side, makes for a sexy chest tattoo.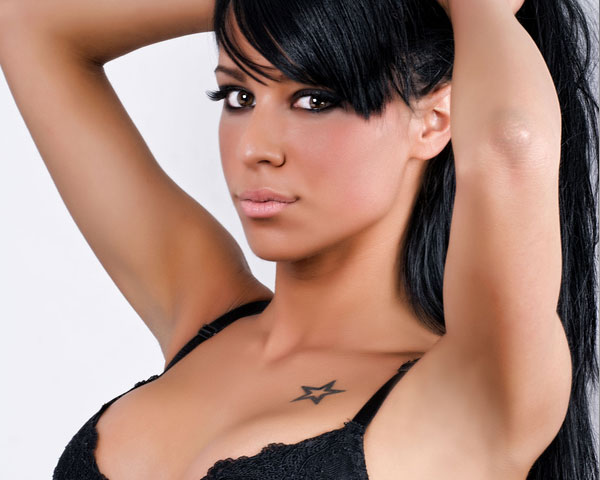 Sweet And Sassy
Crazy Gal
Live and love in present and have a blast, this seems to be the message of this hot back tattoo.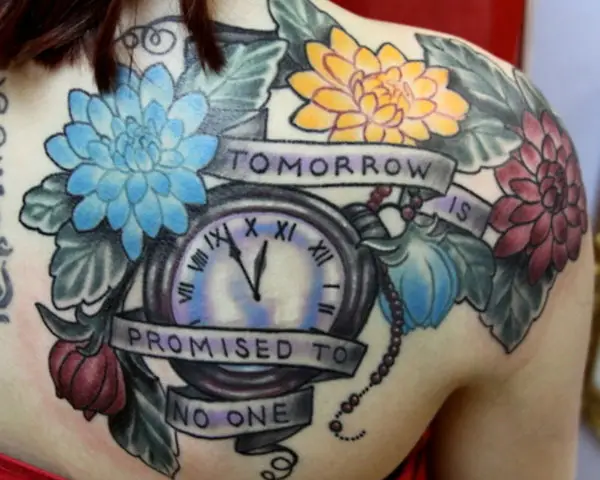 Sexy Curves
The vine like, black and white floral design carved on the ribs,inching towards the upper back, enhances the curves.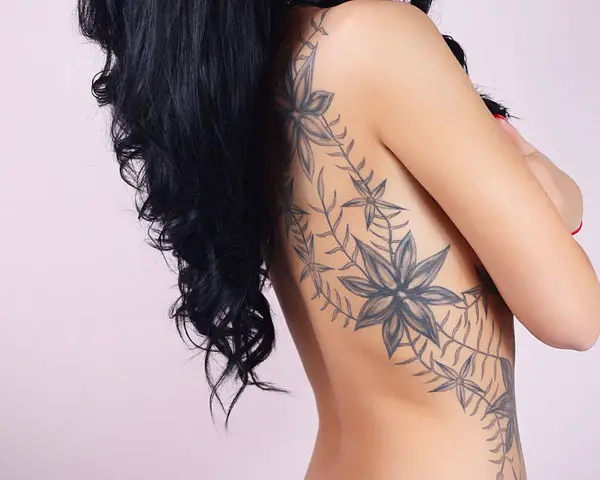 Sensuous
This model, wearing a soothing blue transparent dress, with tattoos on her arm and belly, oozes charm.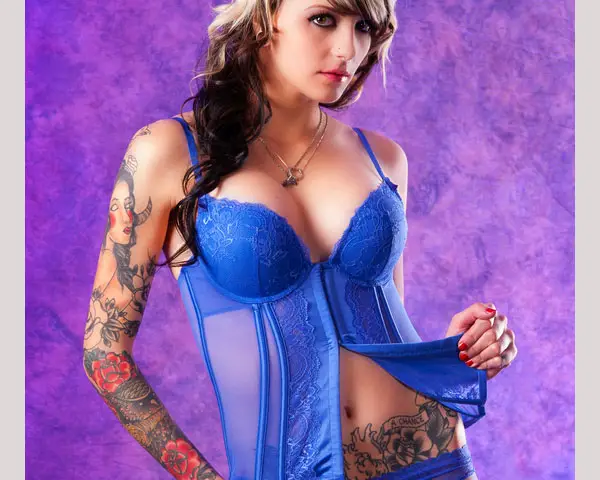 Red Hot
Colorful and vibrant tattoo designs on her arms and a flying butterfly motif below the belly makes for a hot damsel.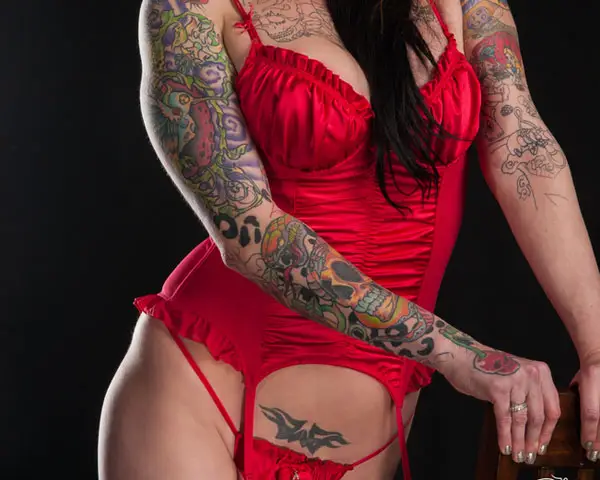 Seductive Pose
The blue peacock tattoo on the bare back of this girl is in progress and is gonna look super sexy once it is done.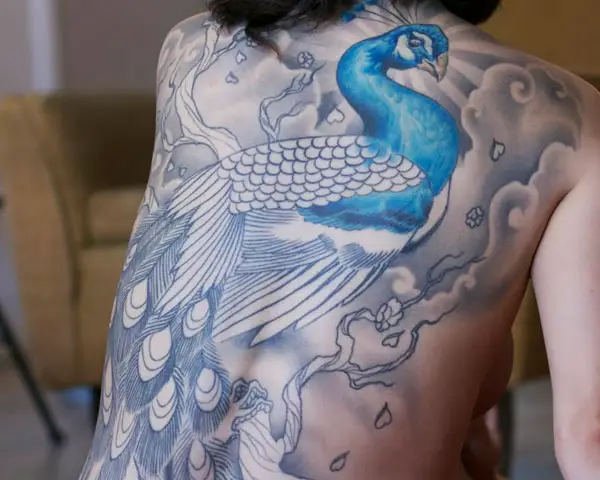 Dragon Tattoo
The small, snaky dragon in blue color painted on the edge of the thigh is looking really hot.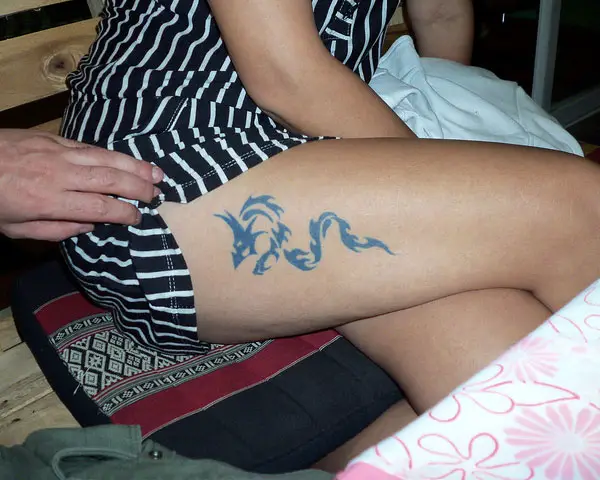 Belly Button
The voluptuous model, in a bikini, with a lucky you lettering carved below her naval, looks appealing.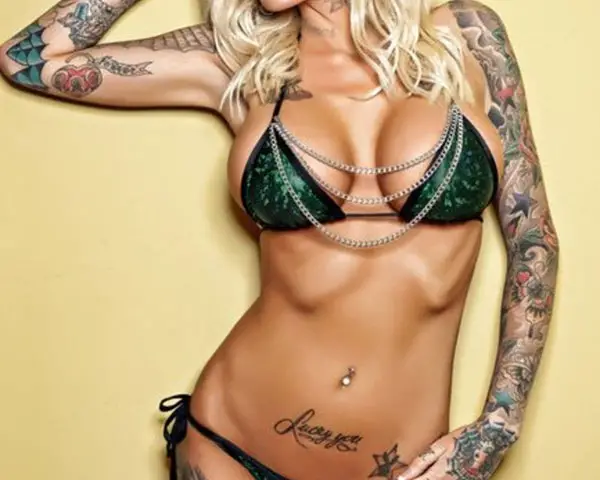 Back Tattoo
Amazing tattoo design with dragons and witches, which is in progress, makes for an edgy portrait.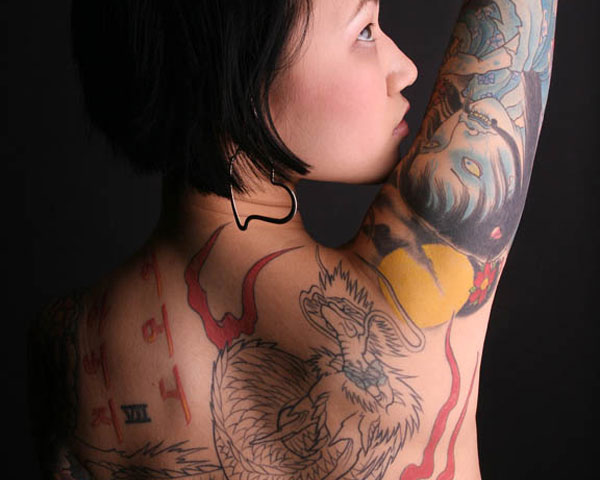 Shhhh
The charming woman with a fat, dancing kitty on her arm and musical notes flowing on the upper back makes a cool pose.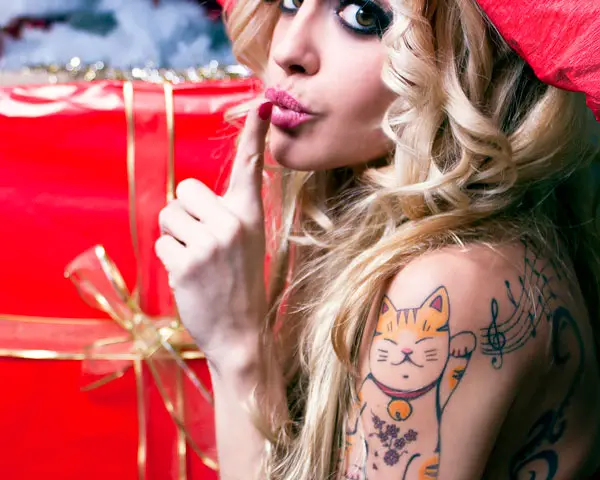 Bold
Black and white floral design on one arm and a tiny skull with red bow on another looks saucy.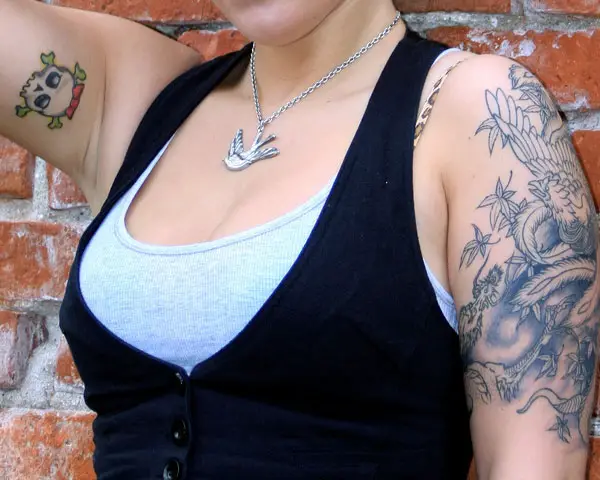 Bold
Teaser Pose
The hot chicks holding each other with their tattooed arms titillated the senses.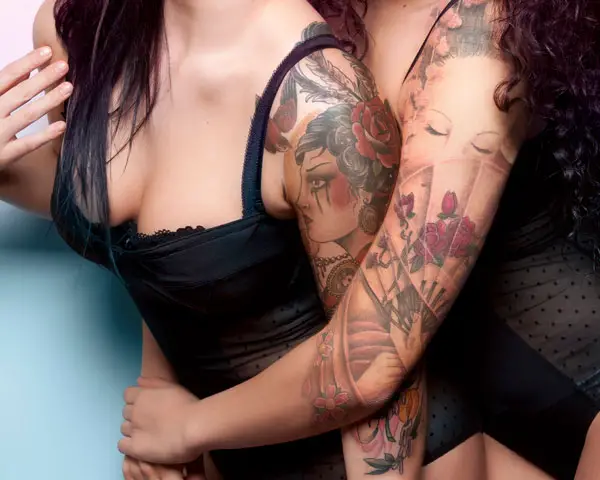 Teaser Pose
Love Craving
The wavy design created on the back has an appeal that reads love me all times like the stars.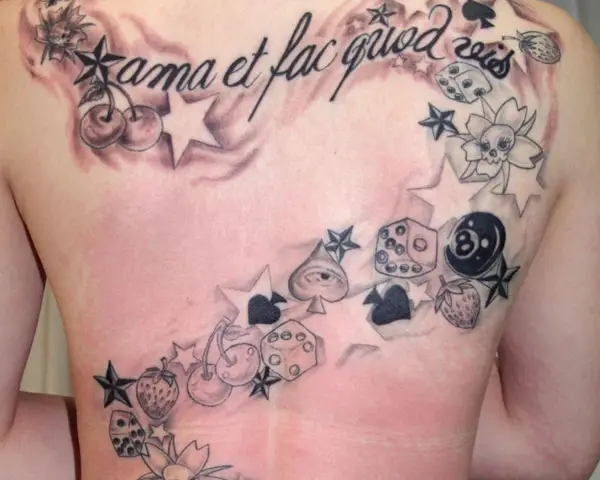 Crazy Bird
The furious wood pecker is a symbol of aggression and hot temper that can make one crazy.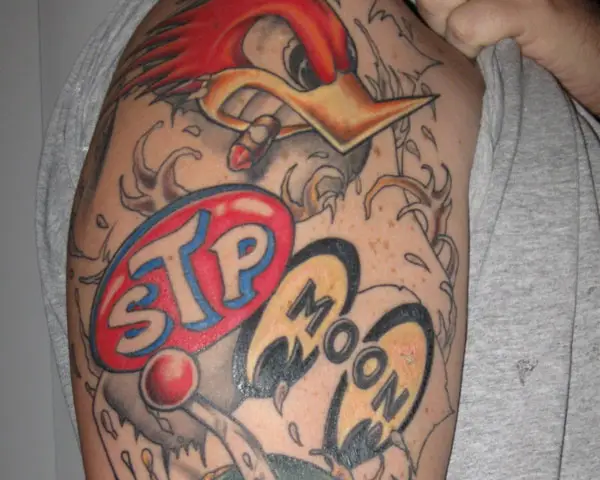 Belly Tattoo
Twin hibiscus of blue and magenta color placed below the belly stand for attraction between the opposite sexes.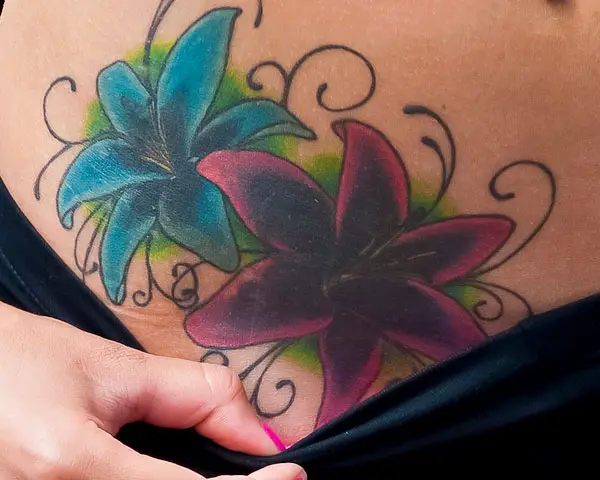 Longing
This girl with only her tattoos as covering for her body is longing for her lover to come back to her.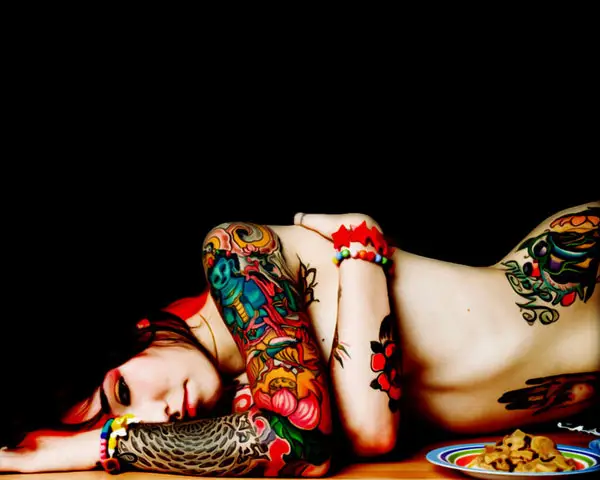 Feeding The Fancy
Lying on the bed, with a sheet wrapped around her chest and a butterfly tattoo above her hips, the model looks damn sexy.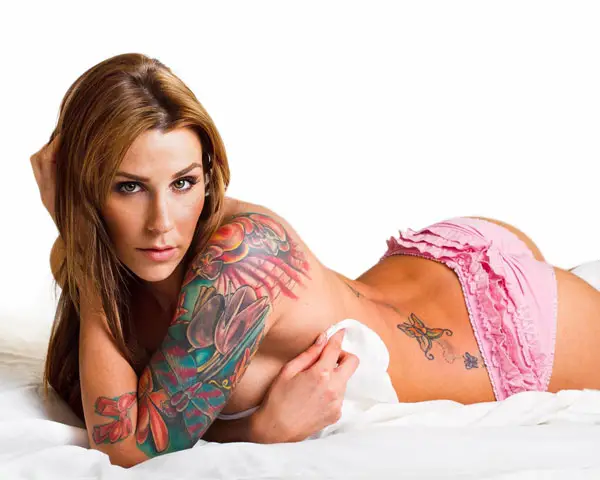 Stars Down My Side
The diagonal stripe of stars running down below the belly have a flirtatious display.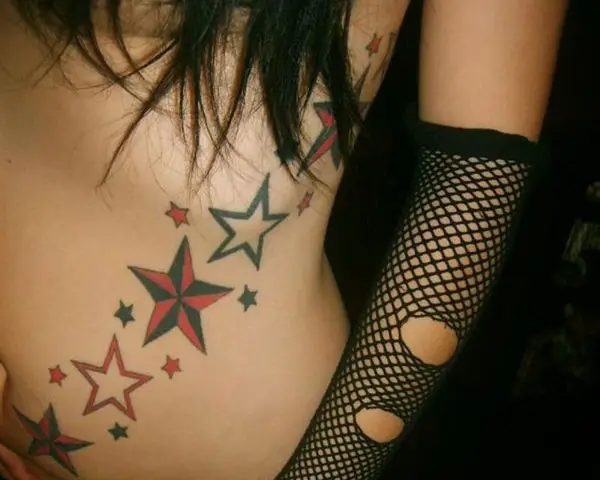 Stars Down My Side
Dark Desires
The girl in her sexy black top and tattooed chest and arms oozes oomph and appeal.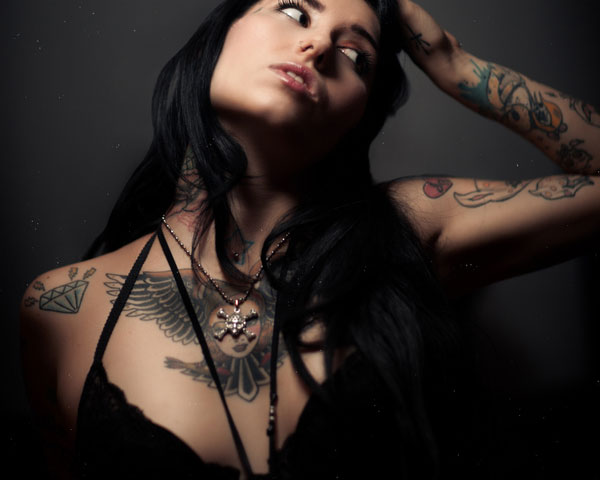 Hot Rod Pin Up
The sporty pin-up gal painted on the arm is a sexy addition to the scroll tattoo done in memory of her dad.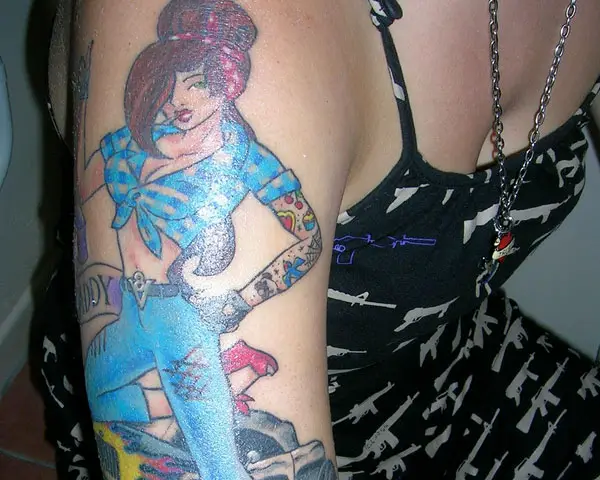 Erotic
Sitting in a seductive pose, the girl with her tattooed arms is looking saucy.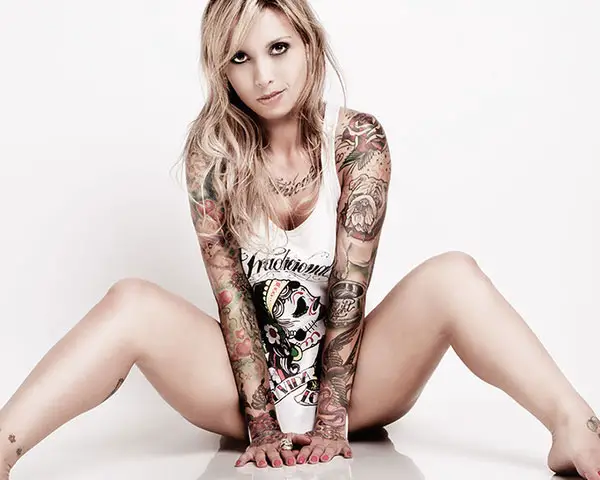 Come-Hither
The flat abs decorated with musical notes and piercing on the navel makes for a sweet,chic look.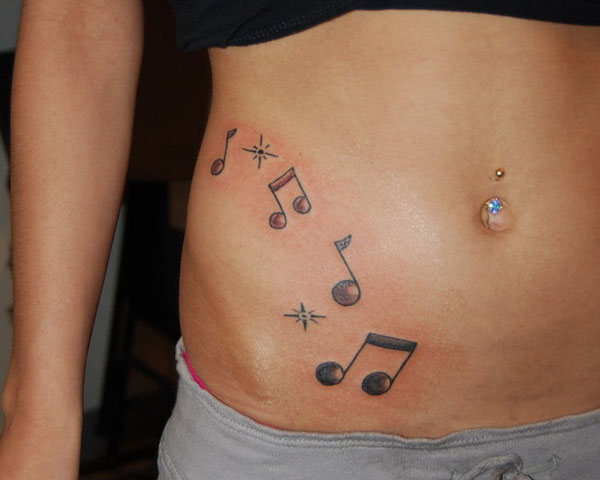 Colors Fantasy
Colorful and vibrant, this woman with tattoos and rosaries is looking racy.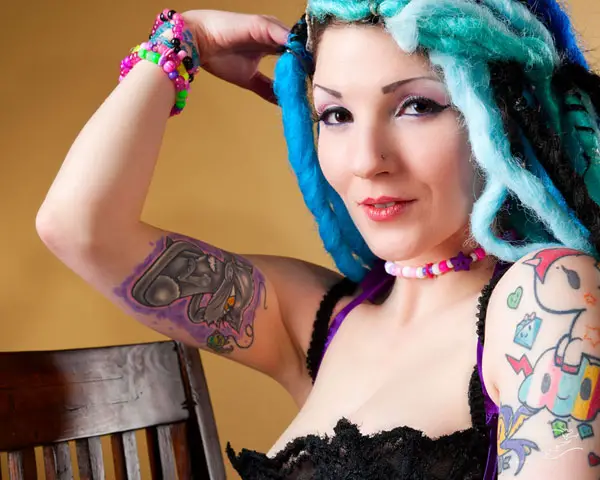 Dare To Bare
The cute image, carved over her chest, has a comic and erotic look at the same time.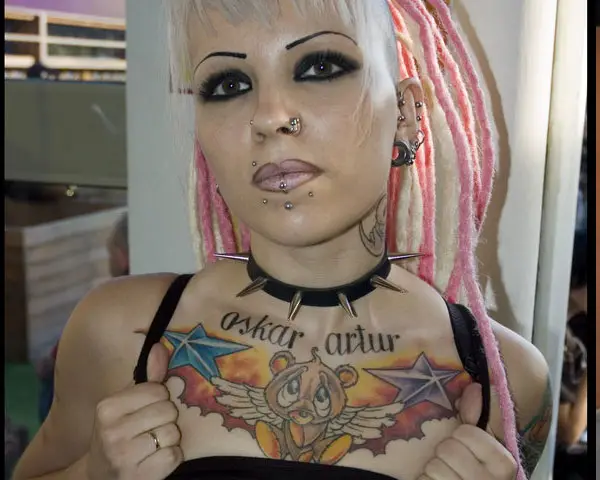 Some Like It Hot
Cool model with flowing red hair, sports a sensuous pose in the transparent black bikini.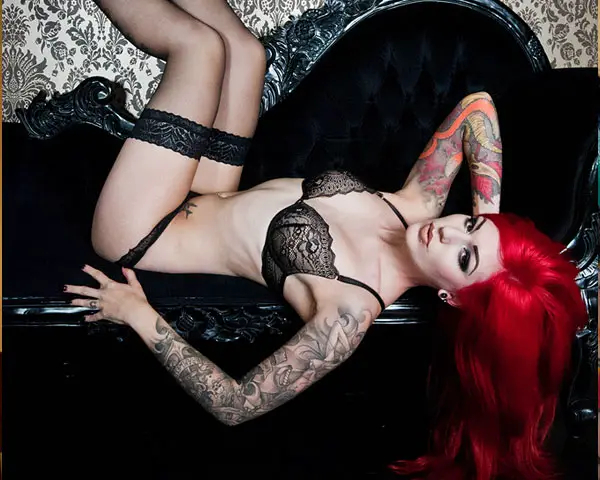 I Have Good Tattoos
The girl flaunts her colorful and lively looking tattooed arm in style.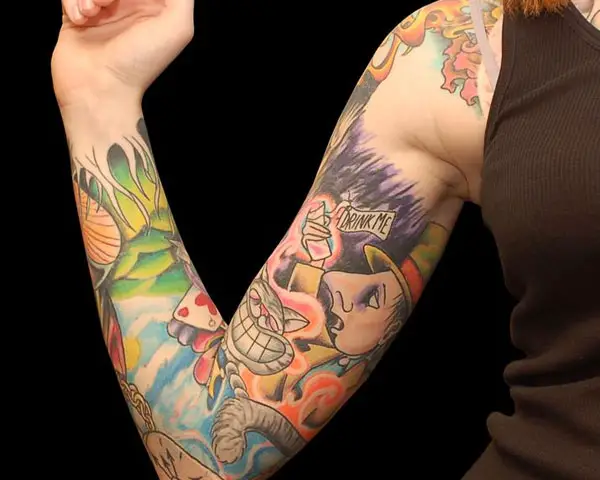 Mischief In Her Eyes
Black and white beauty with tattooed arms is in a naughty mood and wants to have some fun.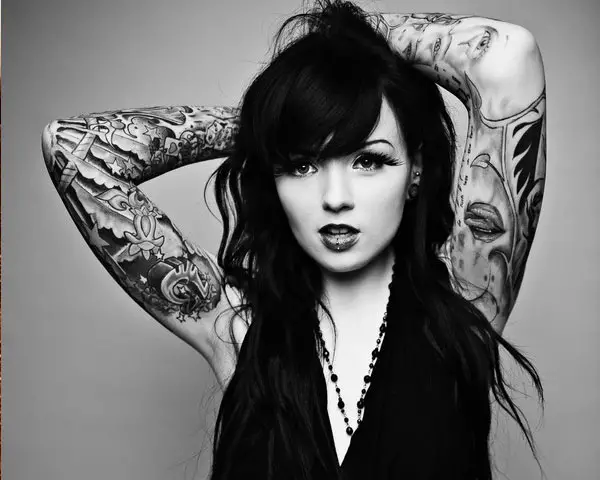 Frank
The girl wearing colorful flowers on her hands looks happy to have the floral design.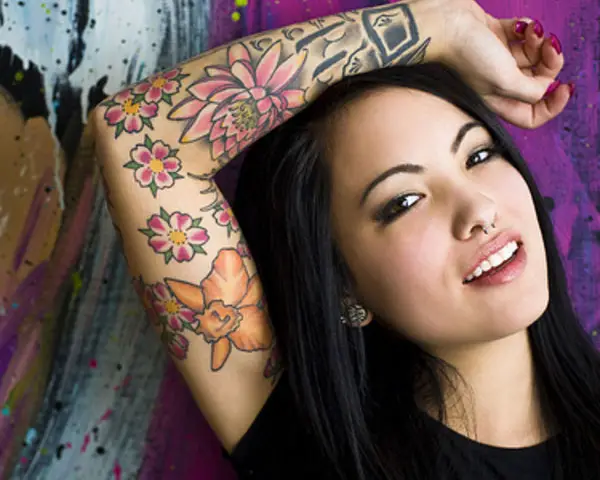 Creepy
Wearing lettering on her knuckles and mysterious pictures on her bare legs, the girl oozes a distinct charm.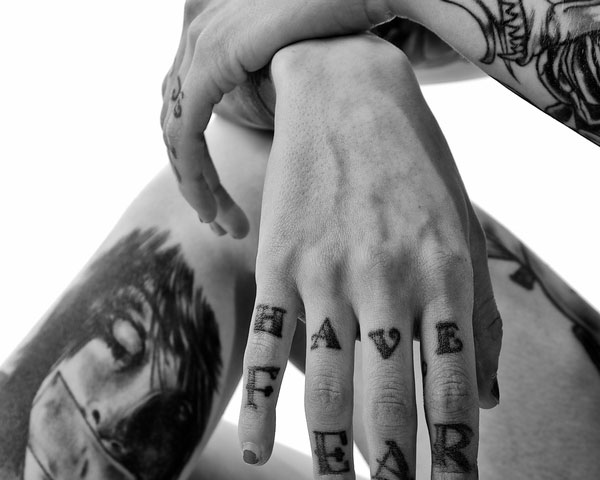 Feline Attitude
The leopard prints glove and tattoo design are a metaphor for the animal instincts hidden inside humans.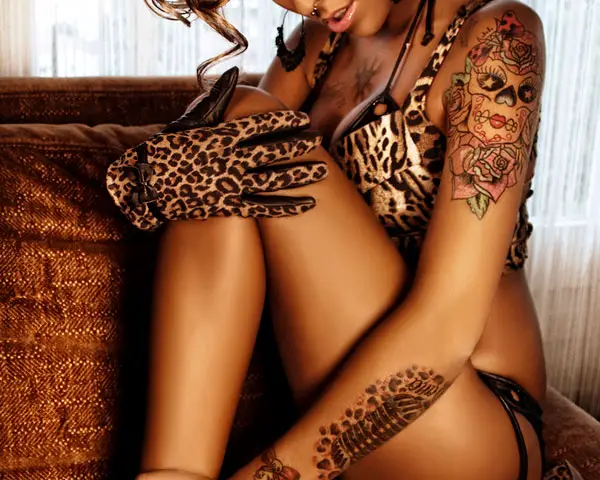 Feline Attitude