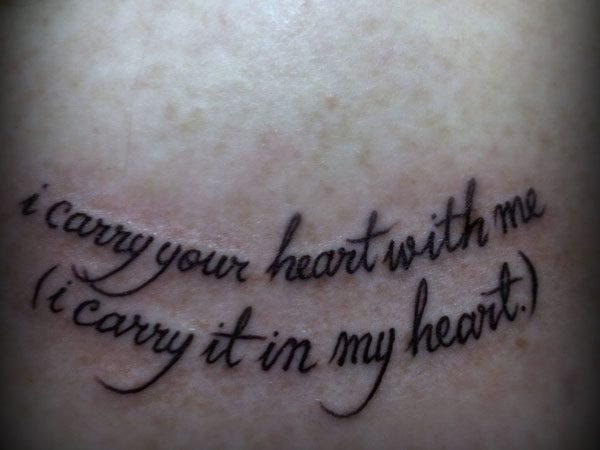 What is it to like to love someone forever and want a mark to celebrate that love? Perhaps a love quote tattoo comes closest to expressing that feeling of powerful and tender passion. There is something about words written in permanent ink that can carry the love feeling within you forever. If you have a love that you want to celebrate together as you grow over the years Love Quote Tattoos open up a world of ideas.
Literature and movies have so many examples of great love quotes. These quotes speak about what is love, how is love expressed most beautifully, and the notion of self-love. Rich and powerful these quotes look even more beautiful when they are inked in a flowy script. You can also go for a simple love quote tattoo which just says, 'Love'. The back of the neck is a great place for a quote tattoo to celebrate the power of one love. You can also combine the love quote with roses, stars, and other patterns for a rich and colorful effect. Many word tattoos dealing with the theme of love go for contemporary fonts with sharp edges and clean lines. You can also have a love tattoo that reads like pure poetry written on a wide area of your body, such as your stomach area or chest. Arms and legs are great places to get inked with horizontal quotes that fit over a small area.
If you like this article, you might be interested in some of our other articles on Script Tattoos, Misspelled Tattoos, Graffiti Tattoos and Simple Tattoos For Girls.
Heart Quote Tattoo
The lines of this love quote swing in a gentle curve in this script tattoo in black.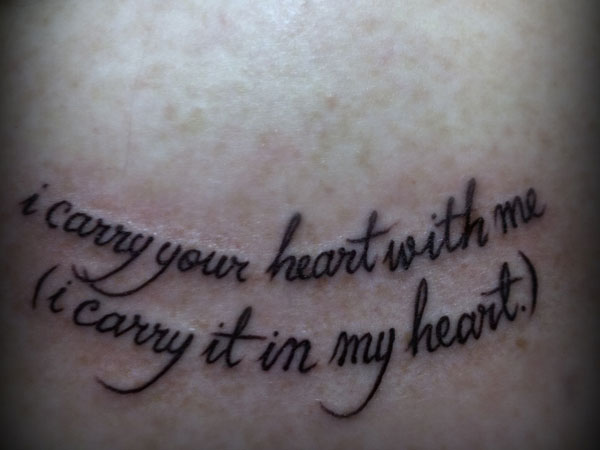 Hip Love Tattoo
'The ones we love never truly leave us', says this heartfelt ink work on the woman's hip.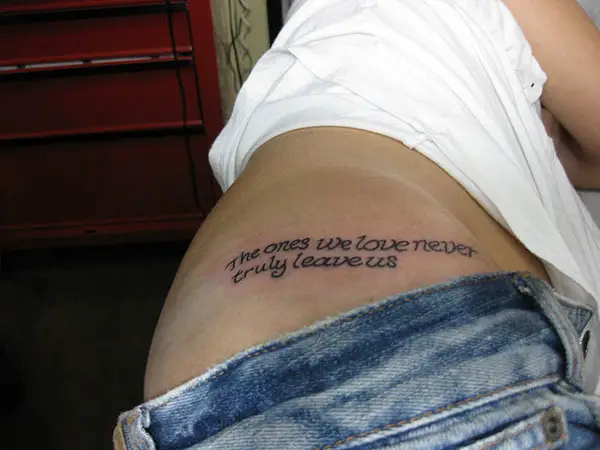 Joy Net Tattoo
This quote tattoo on the side of the body talks all about the net cast by love.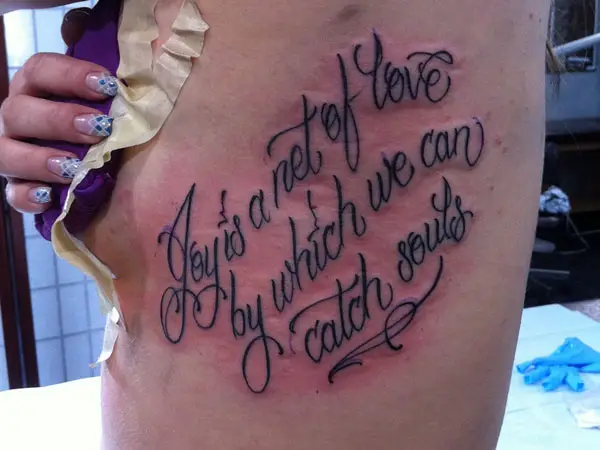 Red Black Script
The single words in red stand out powerfully amidst the black lettering of this two color love quote tattoo.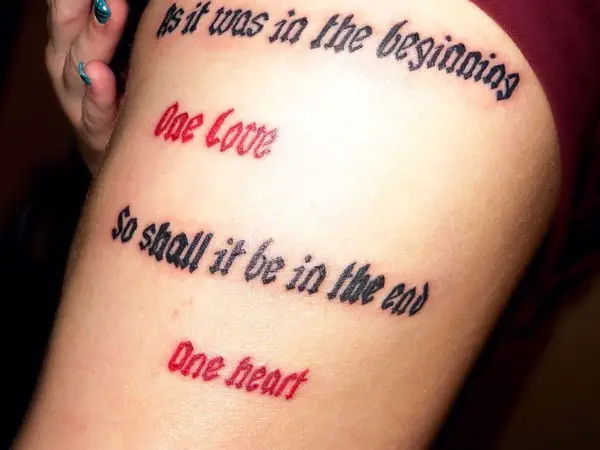 Amor Quote
Sometimes losing a love can bring dark feelings. Check out this dark quote on love inked on the woman's chest area.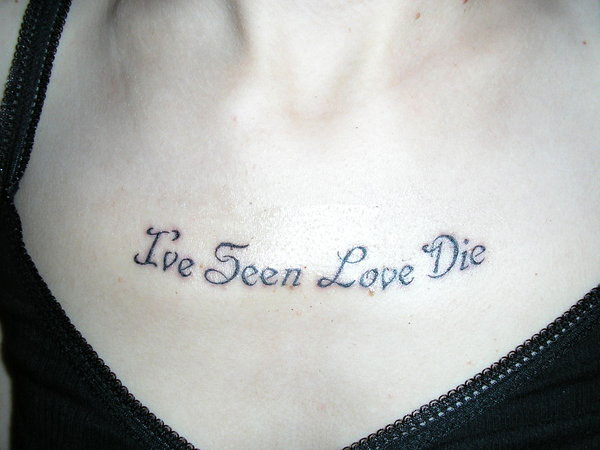 Love Quote Tattoo
This beautiful love quote tattoo inked in a simple Serif font celebrates love and life.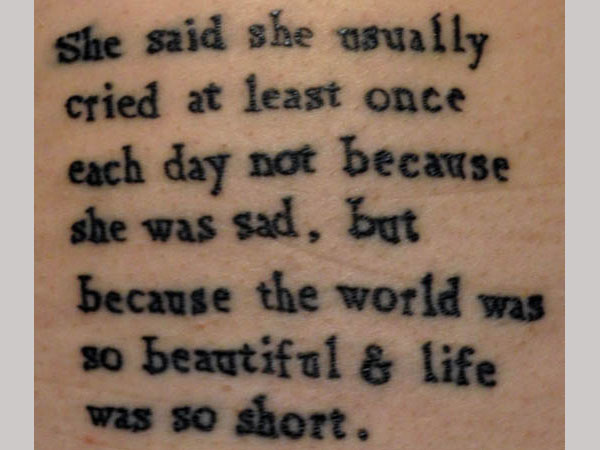 Love Quote Tattoo
Beautiful Love Ink
The gorgeous shades of a rose in red and many bright colors go well with this simple love quote tattoo.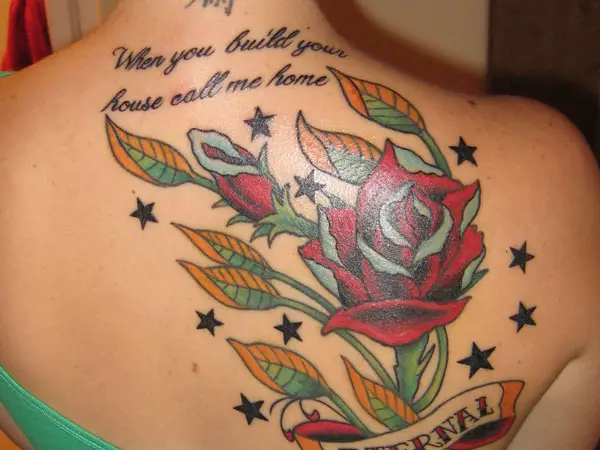 Love Tattoo
'Love without cause' is the simple but powerful quote tattoo inked on the man's arm.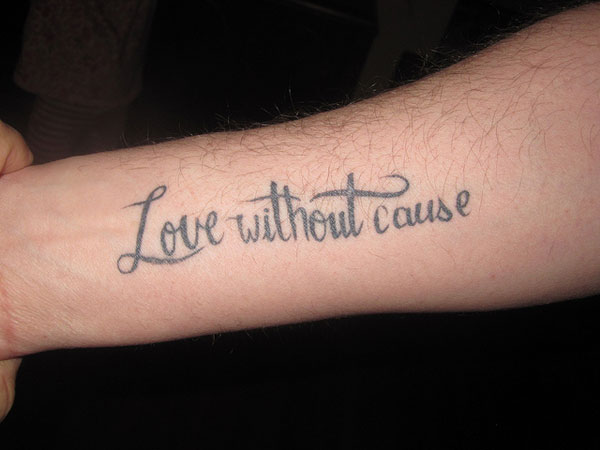 Eternal Quote Tattoo
This is a lovely two-line quote tattoo that speaks of what it is to live without love.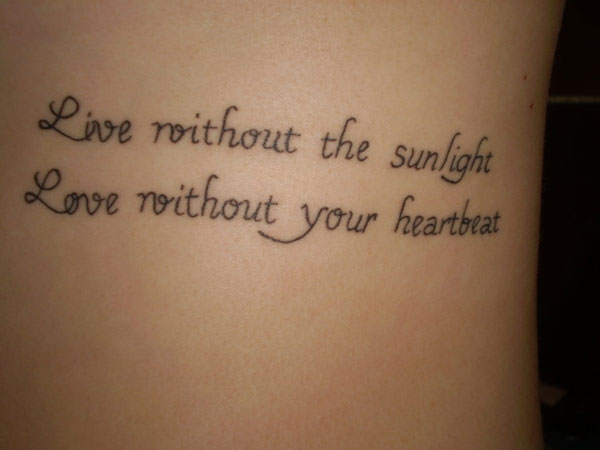 Rose Tattoo
Check out the Serif style love quote tattoo inked over the pink pretty rose theme design.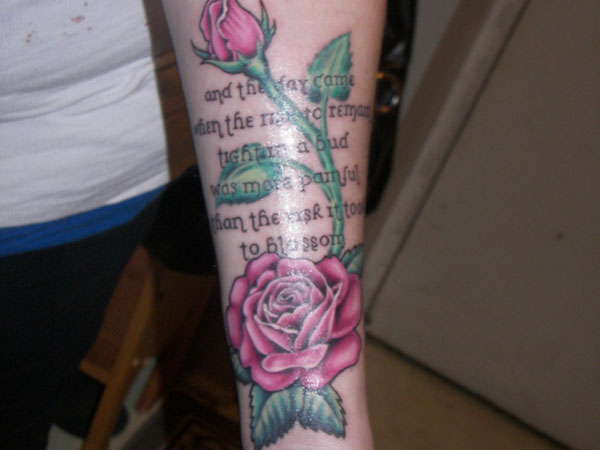 Script Tattoo
Delicate patterns inked in black with touches of white make up this pretty love quote tattoo.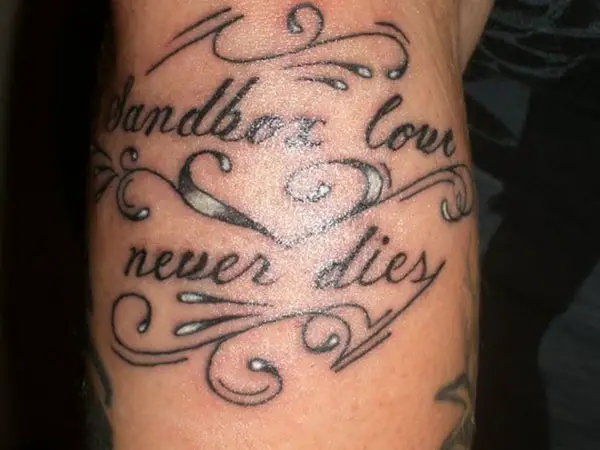 Love Accept Tattoo
This powerful love quote tattoo sits inked in a horizontal line on the upper part of the woman's thigh.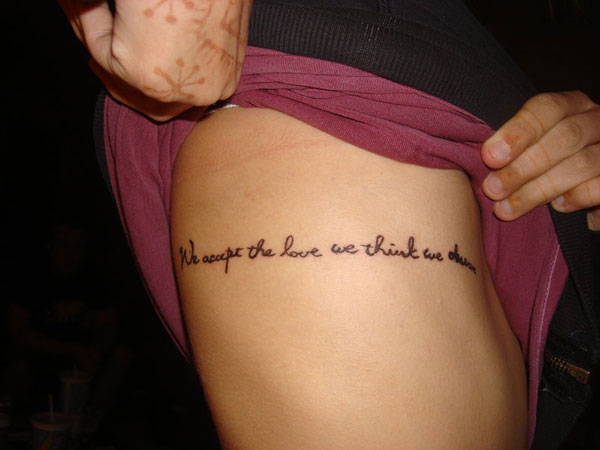 Love Accept Tattoo
Pledge Love Tattoo
Nothing can be as powerful than this pledge to keep loving that's inked as a tattoo on the woman's back.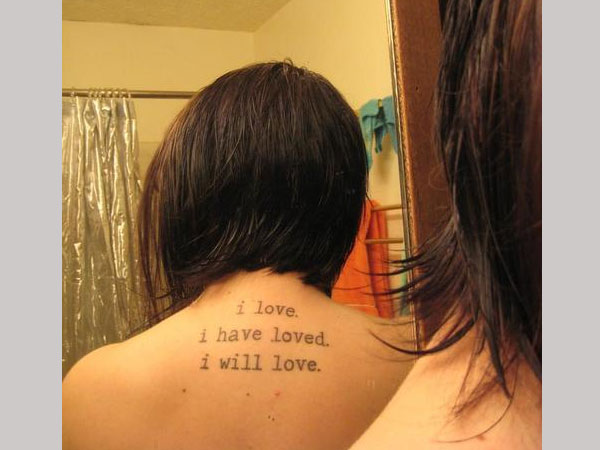 Pledge Love Tattoo
Rose Work
Take a look at the long love quote tattoo that sits inked beside the delicate fern designs in this tattoo.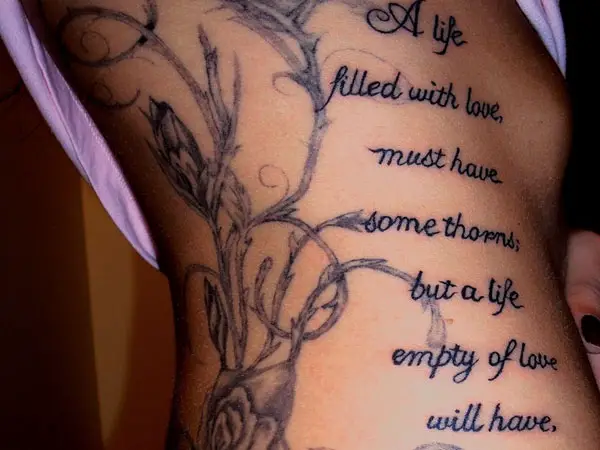 Love Reason Life
'Do what you love' says this simply worded powerful quote tattoo in a modern font.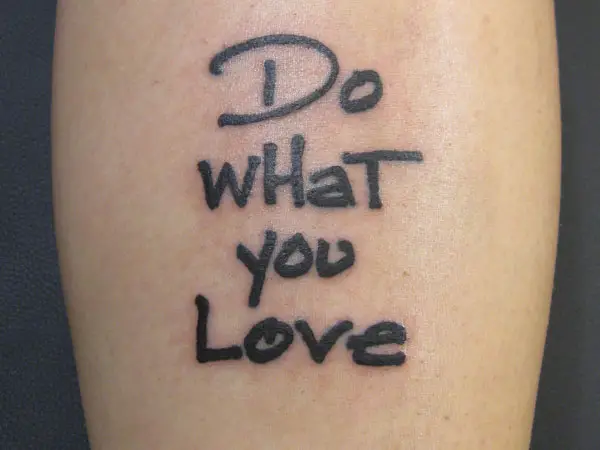 For Them Tattoo
Pretty blue clouds with black birds flying make a colorful design on the top and bottom of this black ink quote tattoo.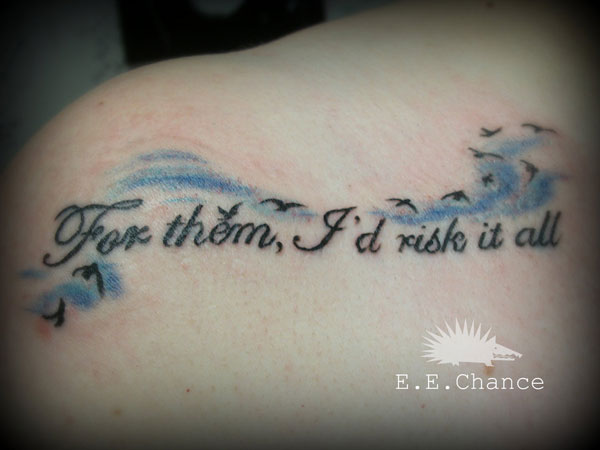 Deserve Love Tattoo
Check out the arty style in which this love quote tattoo is inked on the upper arm.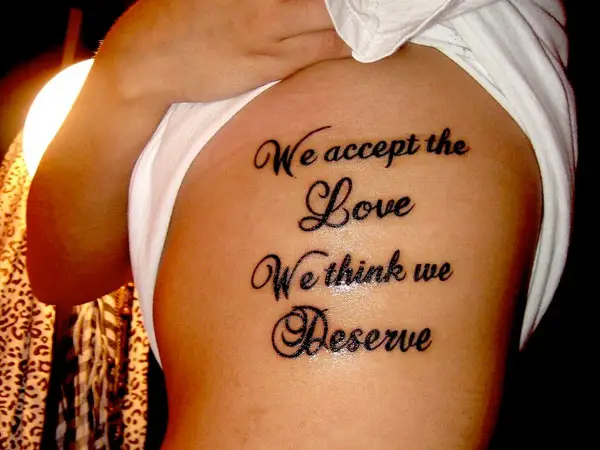 Delicate Love Tattoo
Styled in a delicate font this tattoo celebrates the power of love right on the foot.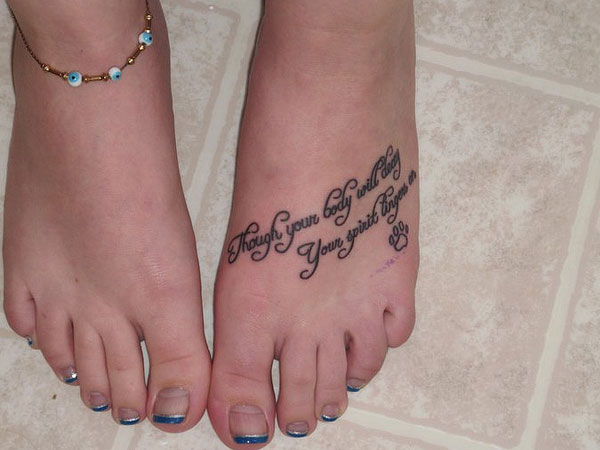 Religious Powerful Quote Tattoo
This powerful tattoo about love and living spreads over many lines all along the back of the neck of this woman.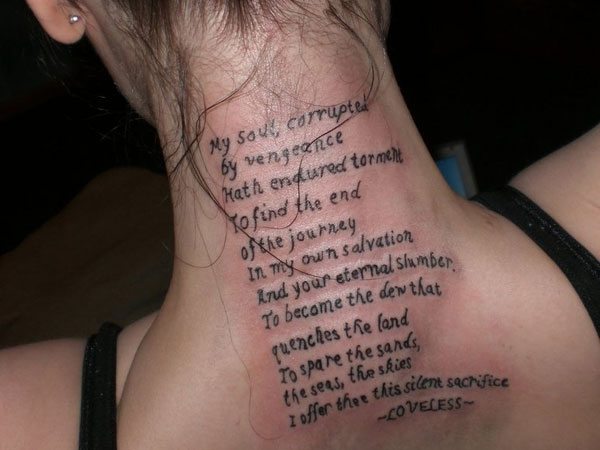 Religious Powerful Quote Tattoo
Mars Quirk Tattoo
The triangular design is inked right above the quirky love quote tattoo on the back.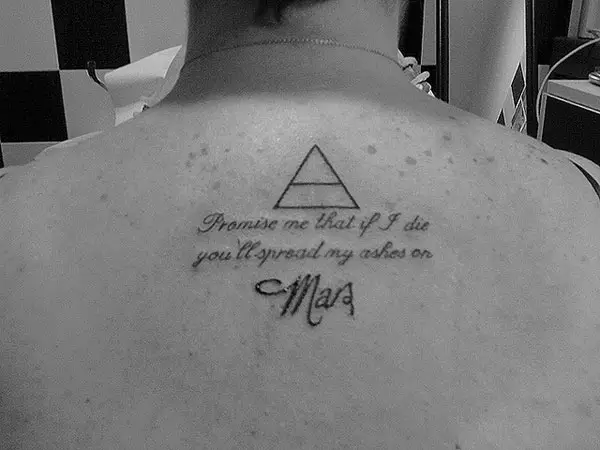 Love Life
Check out the angular patterns of the love quote tattoo inked on the stomach area.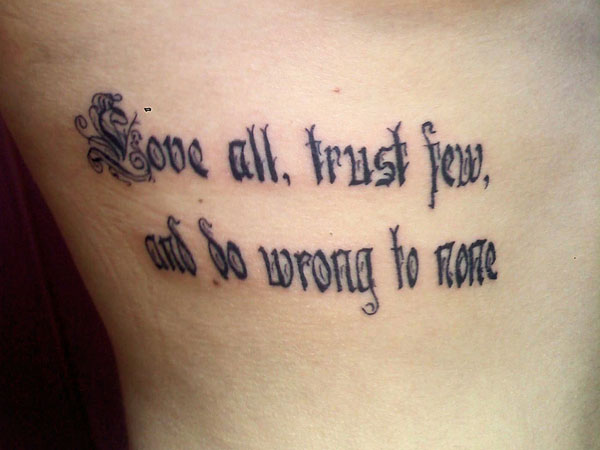 Simply Love Tattoo
'All you need is love' says this simple but beautiful love quote tattoo in black.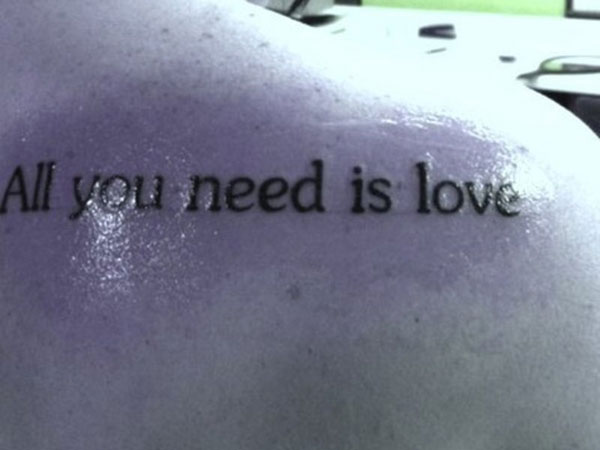 Power Of One Tattoo
Styled to resemble brush strokes the lines of this script tattoo speak about the power of one love.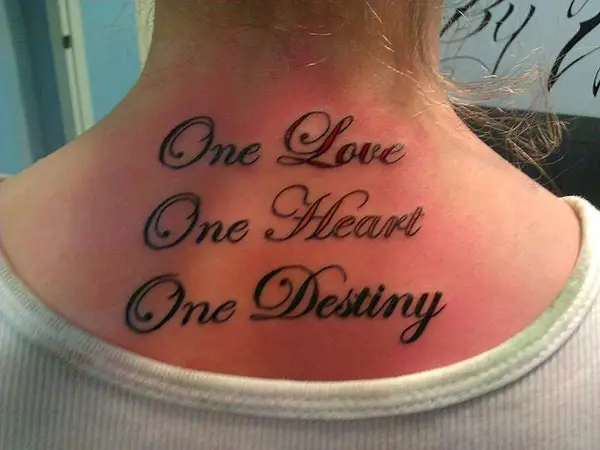 Arm Quote
This love quote tattoo about being authentic to oneself runs along three lines on the arm.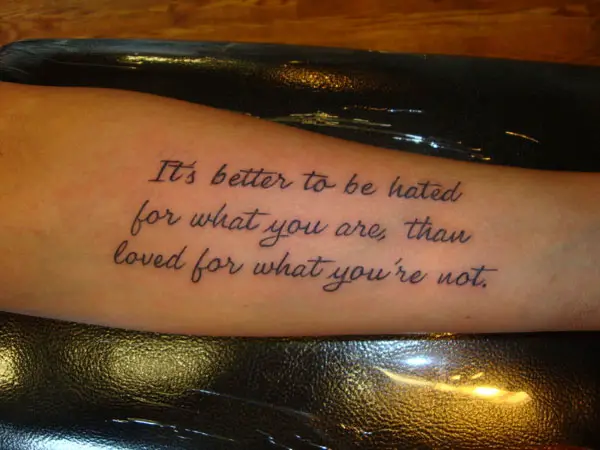 Love Pattern Tattoo
The magic word 'Love' and the pretty pattern of infinity symbols patterned in a loop come together in this beautiful tattoo design.