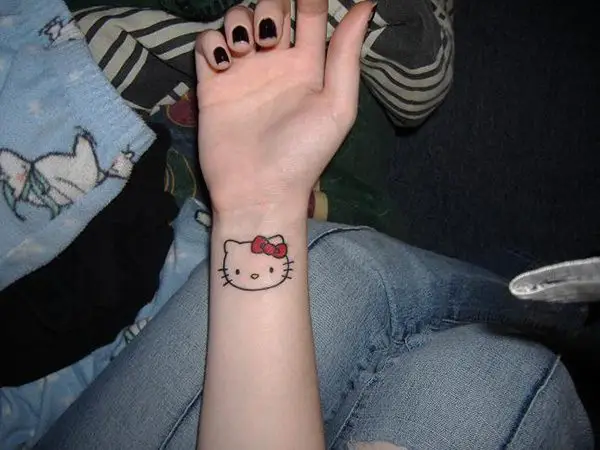 Most cartoon characters have a universal appeal. The Hello Kitty motif, with her gigantic bow on the forehead is an adorable design. It inspires a lot of art. From greeting cards and decoration to outfits and tattoos, Hello Kitty and her large bow are very popular forms of art. If you are looking for a Hello Kitty bow tattoo then you are at the right place. These tattoos, with just the bow or with Kitty's adorable face, are a superlative collection. Each one is a worth trying out. Hello Kitty's chubby cheeks, dot-like eyes, tiny whiskers and big red bow is a design that everyone loves irrespective of age.
A Hello Kitty bow is very distinct. Looking at the bow alone we can identify Hello Kitty. Those who wear outfits, accessories and tattoos with that motif are obviously Hello Kitty fans. This is a collection of tattoos of Hello Kitty bow that is so characteristic of her. Some show Hello Kitty with her bow. Some are designs of just the bow and yet look very cute. Hello Kitty with her cherubic cheeks, eyes like little dots and miniature whiskers is a very lovable character. This motif inspires a lot of art like greeting cards, mobiles, accessories, birthday party decorations, cakes, sweets, outfits, and even body paint.
If you like this article, you might be interested in some of our other articles on Cool Tattoo Ideas, Libra Tattoos, Traditional Tattoos and Black People Tattoos.
Adorable Kitty Face
The adorable Hello Kitty face looks even cuter in this bow tattoo with the bright red bow on her forehead.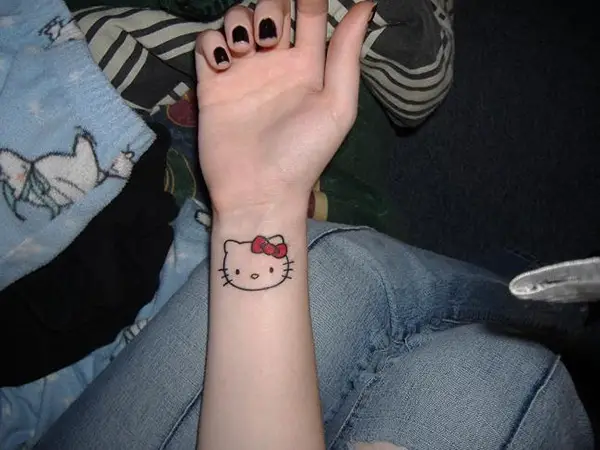 Pink Bow
A pink bow at the side of Hello Kitty's forehead matches her lovely tiered pink dress in this bow tattoo.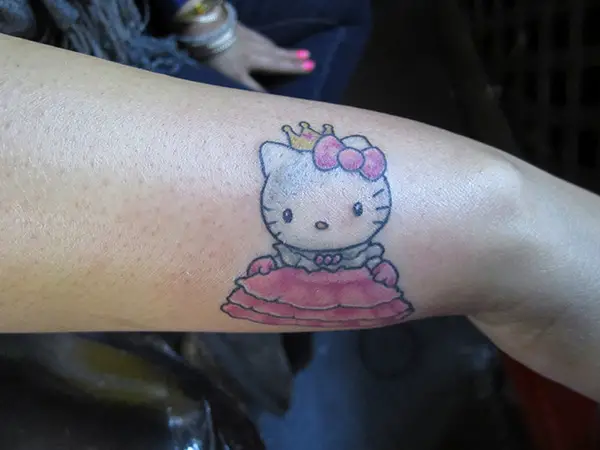 Kitty Pirate Of The Caribbean
This bow tattoo shows Hello Kitty looking green like one of the pirates of the Caribbean.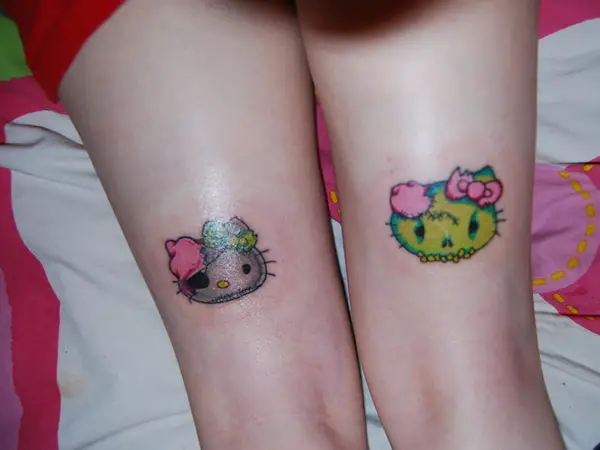 Trendy Hello Kitty
A modern outfit and boots makes Hello Kitty look very hip hop and stylish in this bow tattoo.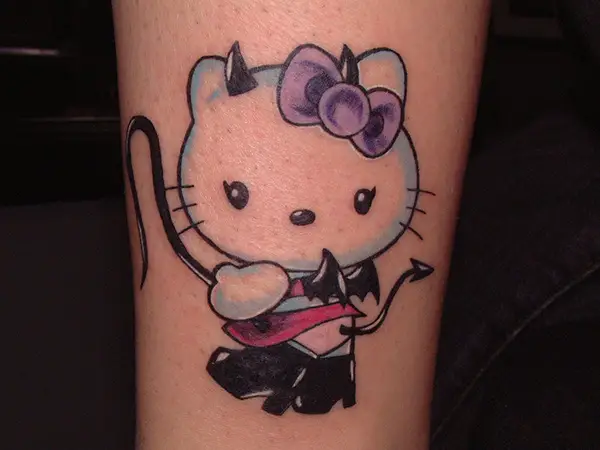 Indispensable Bow
The pink bow is such a striking motif of Hello Kitty that just that design tattooed looks fantastic.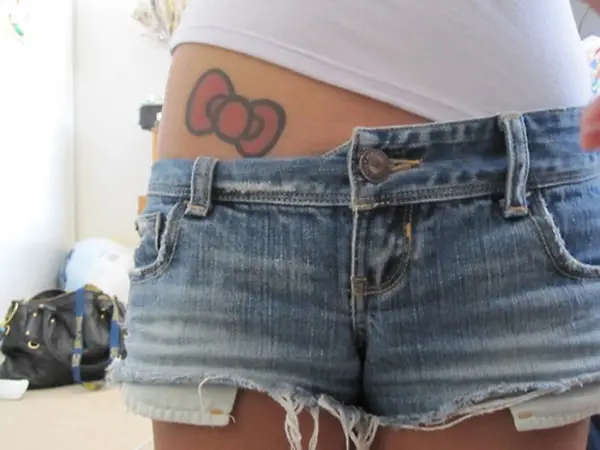 Indispensable Bow
Chubby Hello Kitty
In this bow tattoo, Hello Kitty with her chubby cheeks, whiskers and pink bow is the epitome of cuteness.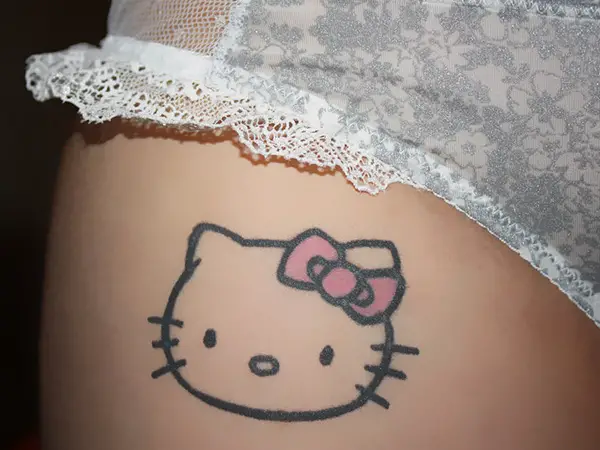 Bow Of Style
Hello Kitty has a stylish pink bow so even if you have a tattoo of just the bow it looks great.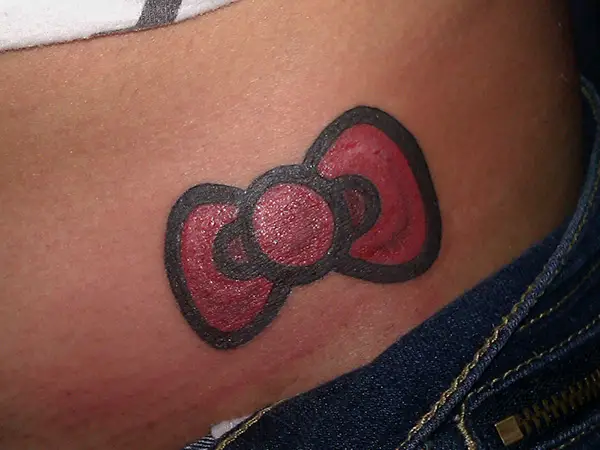 Bright Tattoo
Bright pink flowers, a Japanese fan and Hello Kitty with her bow are a superb combo as a tattoo.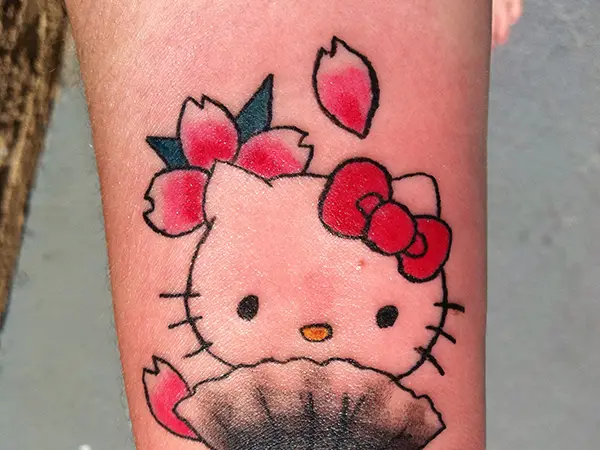 Bowed Kitty
Just a bright pink bow tattooed on the arm is a great indication that the wearer is a Hello Kitty fan.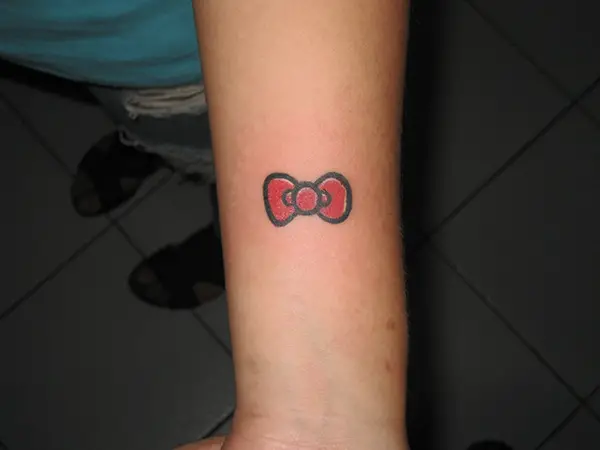 Bite Marks
Vampire-bite marks and Hello Kitty with her pink bow is an oddly attractive combo for a tattoo.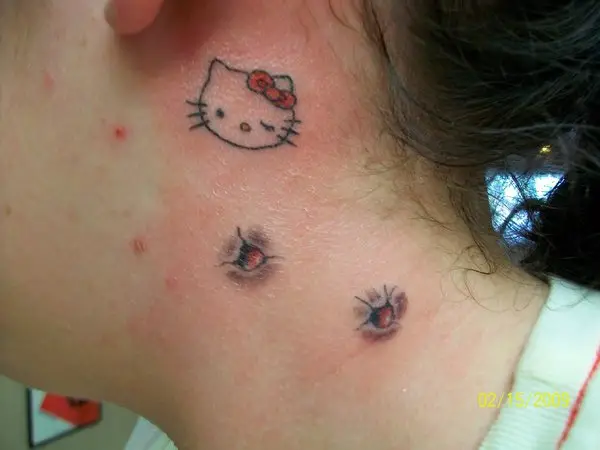 Hello Kitty With Wings
Hello Kitty with cherubic face and pink bow looks very angelic. And more so when she had angel's wings like in this tattoo.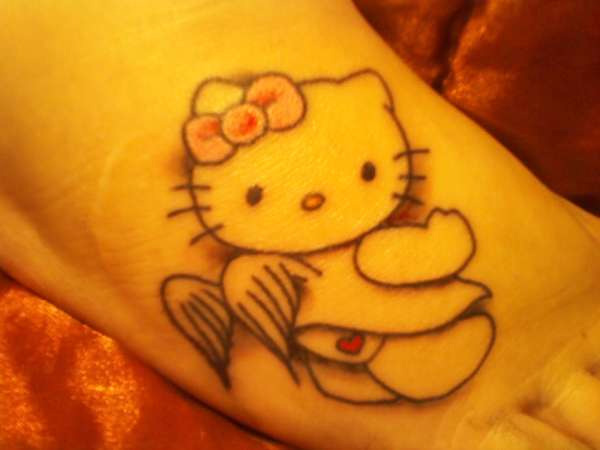 Singing Star Kitty
This tattoo shows Hello Kitty in modern clothes singing on stage. Her omnipresent pink bow cannot be missed.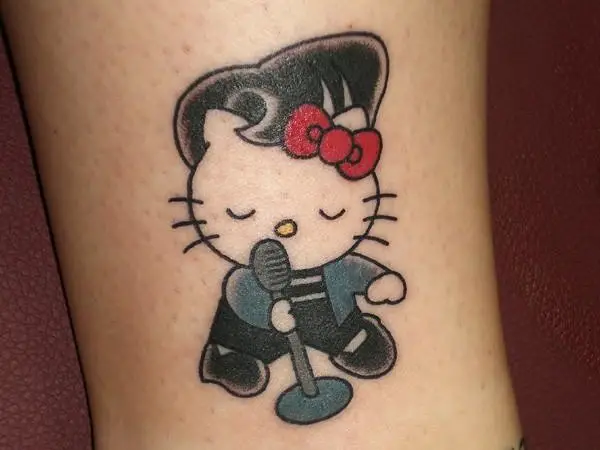 Skull And Bow
The skull is dressed in the Hello Kitty pink bow making this tattoo look strangely cute.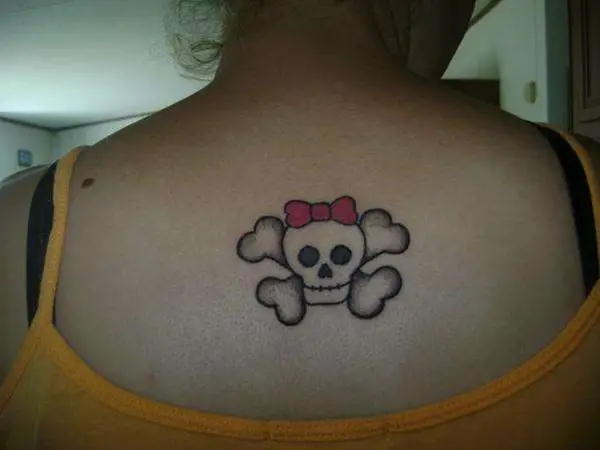 Adorable Kitty
Hello Kitty, with her adorable face and pink bow is a pleasure to see even as a simple tattoo.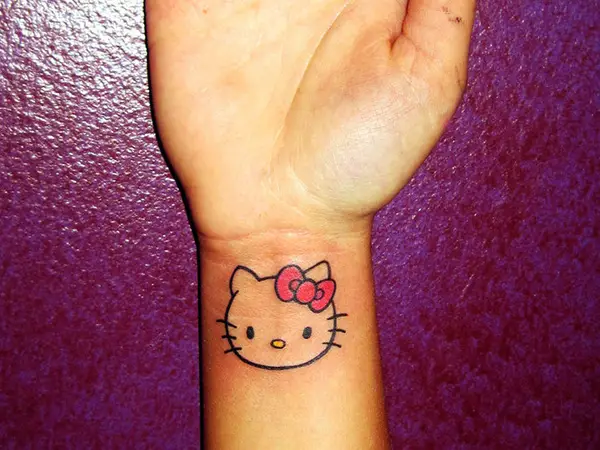 Adorable Kitty
Horrific Hello Kitty
Hello Kitty's bow is blue with a skull like pin attached to it making this an unusual tattoo.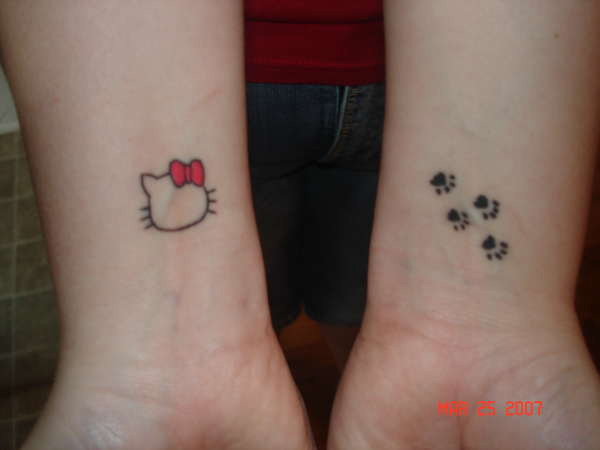 Ostracized Kitty
This Hello Kitty with her bow looks like she has been ostracized and beaten. Poor little Hello Kitty!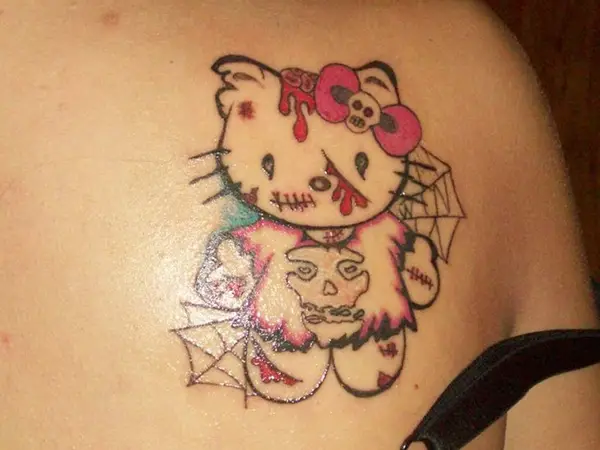 Little Mermaid Kitty
Hello Kitty tattooed with her pink bow looking like little mermaid is one of the cutest forms of this motif.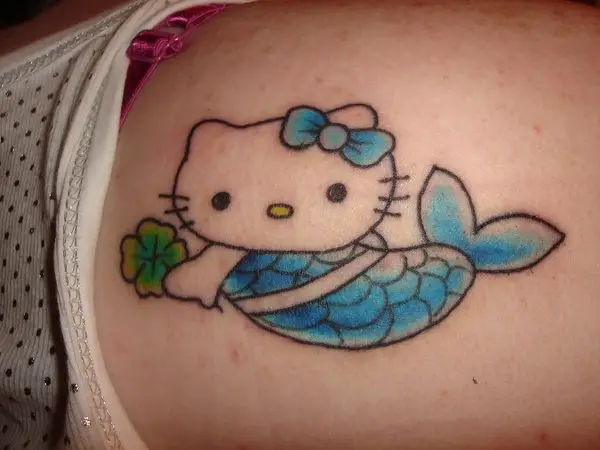 Stellar Kitty
Multi colored stars give this Hello Kitty bow tattoo a festive look that reminds you of Christmas.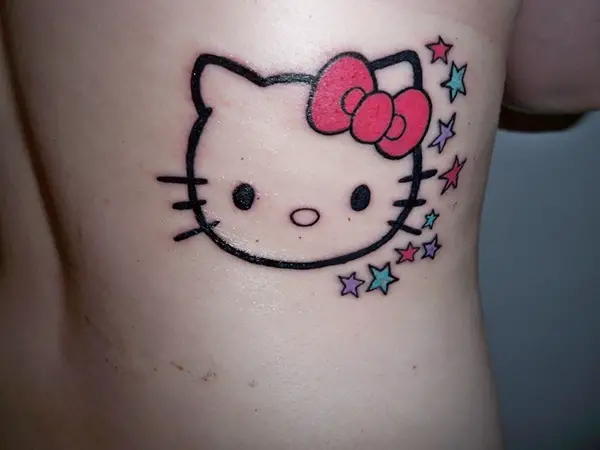 Always Cute Kitty
The Hello Kitty motif with her big bow in any form is an adorable motif for a tattoo.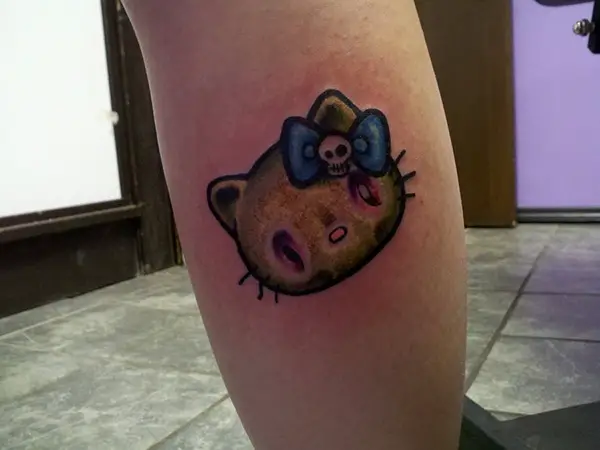 Subdued Kitty
The subdued grey color of this Hello Kitty's bow tattoo still can't hide her adorable quality.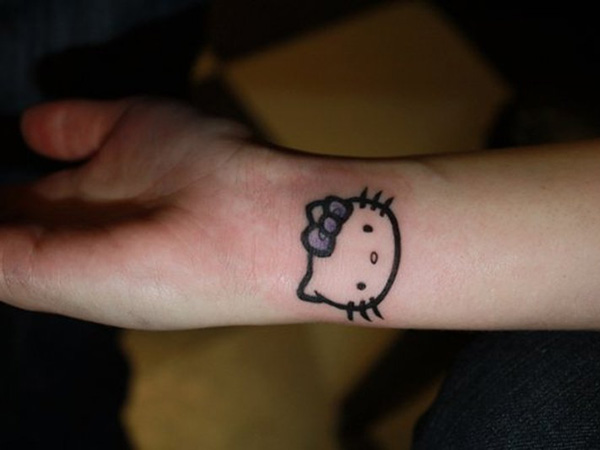 Dancing Hello Kitty
This is a very pleasing tattoo of a dancing Hello Kitty with her pink dungarees and pink bow.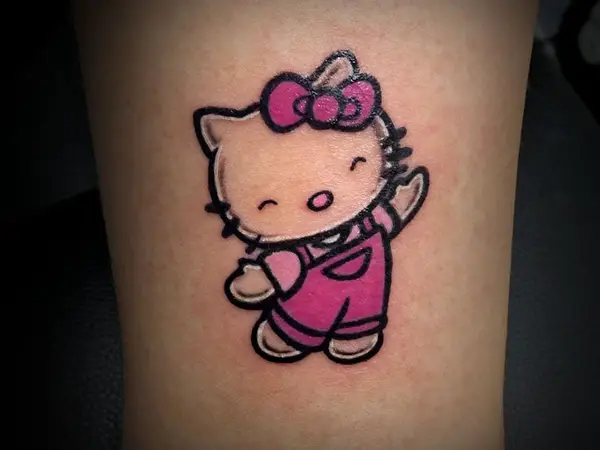 Dangerous Hello Kitty
Hello Kitty designed like skull and crossbones is an unusual tattoo. But don't miss the omnipresent bow.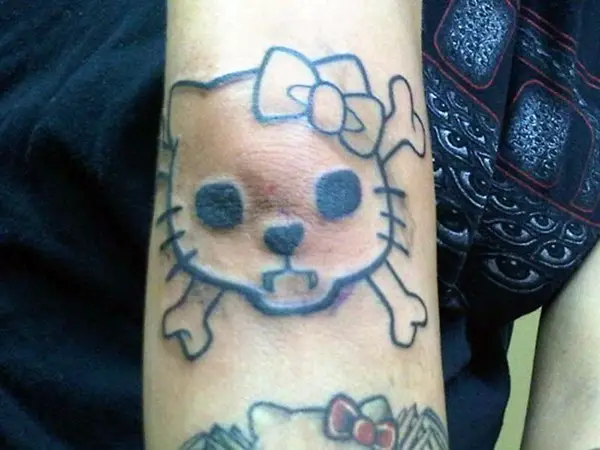 Summer Time Kitty
This tattoo shows Hello Kitty enjoying outdoors with her summer outfit, red bow and roller skates.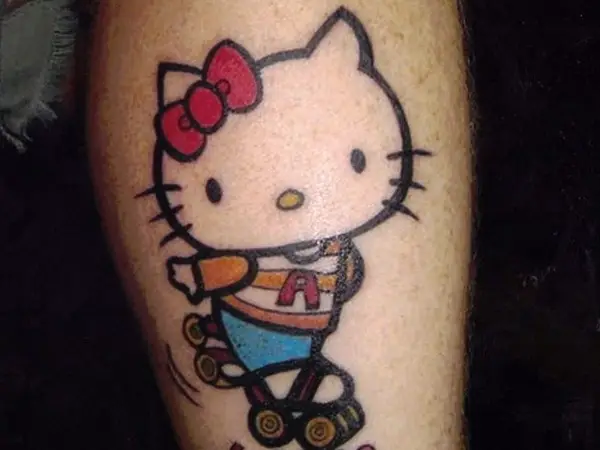 Riding On A Rainbow
This is a lovely tattoo of Hello Kitty with a red bow riding on a rainbow surrounded by colorful stars.