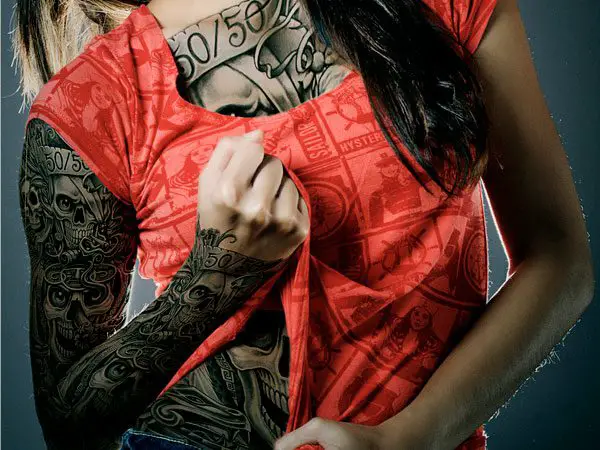 Tattoos are a fashion accessory that are displayed with equal fervor by both the sexes and the gender boundary is not so clearly laid out in terms of looks and designs. Boys and girls wear what they like and the design of the tattoo depends on the taste and choice of the person who is wearing it. Still, there are certain tattoo designs that are preferred by one gender more than the another. The craze may be the same but tastes do differ. After all, it is not said without reason that men are from Mars and women are from Venus. Their nature makes this distinction.
Talking about feminine tattoos, women like to sport designs that find consonance with their nature. These tattoos exhibit softness, grace, beauty, sweetness and various other qualities that are associated with women. The most common designs that they like are flowers, birds, fishes and cute cartoon characters. The world of feminine tattoos is quite colorful and interesting just like the women. Do you want to explore it? If yes, then you have landed at the right place. Here are 50 feminine tattoos that will bring out the essence of the feminine tattoos in a wonderful way. Take a look.
If you like this article, you might be interested in some of our other articles on Hot Tattoos, Girls With Tattoos, Beautiful Tattoos and Pink Tattoos.
Creepy Tattoo
This girl with grim reaper images on her arms painted in black is looks daring.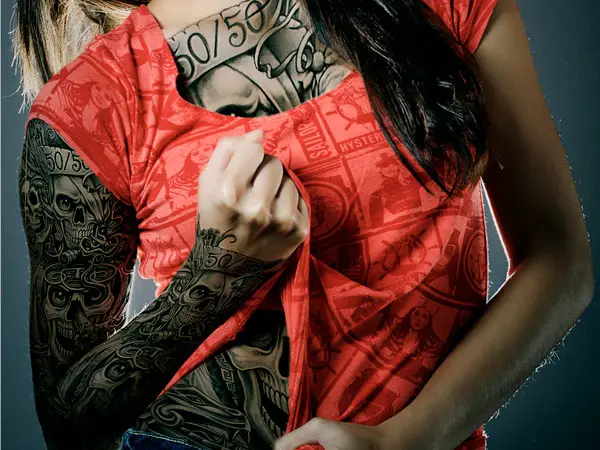 Bird Tattoo
Soft and dainty, the bird has a soft grace and sweet look that is quite similar to feminine charm of a woman.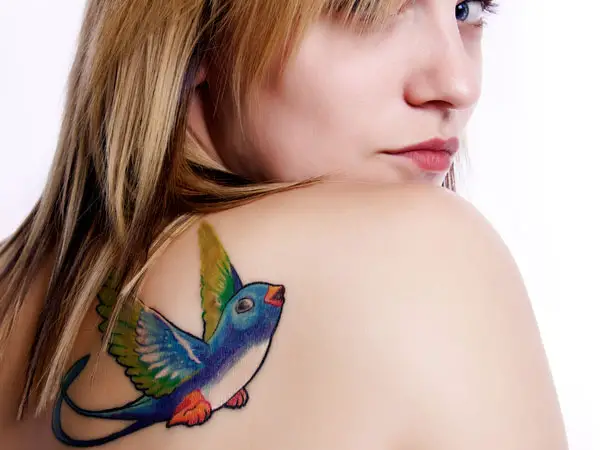 Aesthetic Look
A Japanese girl in the graceful kimono with yellow cherry blossom flowers looks graceful.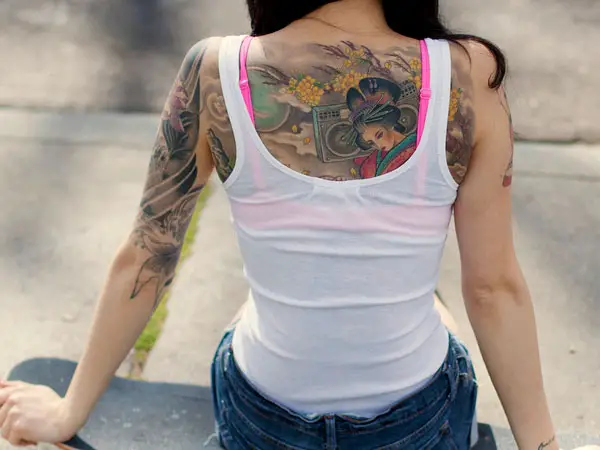 Live Laugh Love
Feminine arm tattoo that expresses the heartfelt desire of a woman carved with a charming red heart.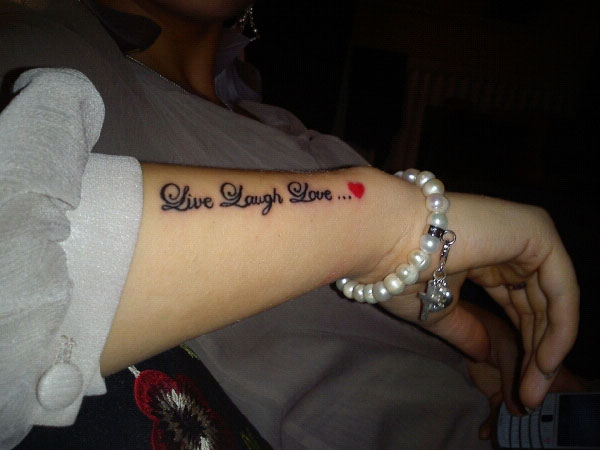 Wrist Tattoo
Roses and women are as inter related as fish and water, they love flowers more than anything else.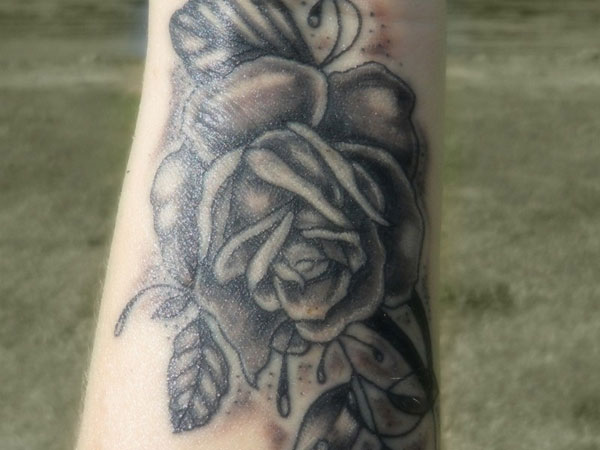 Wrist Tattoo
Upper Back Tattoo
The flames and the curvy design on the upper back of the woman, laid bare, looks appealing.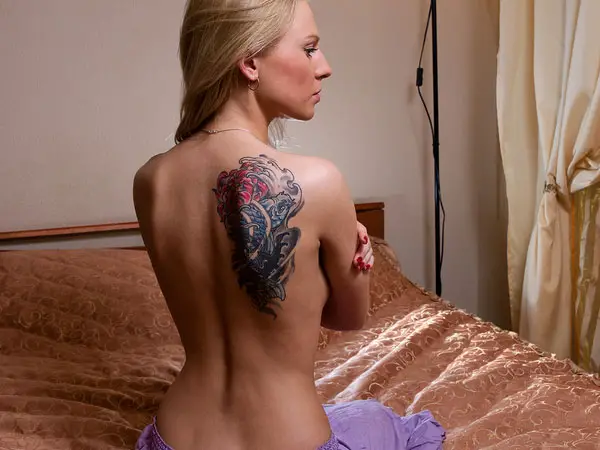 Hip Tattoo
The stars and vines, lying gracefully on the hip, make for a pleasant look.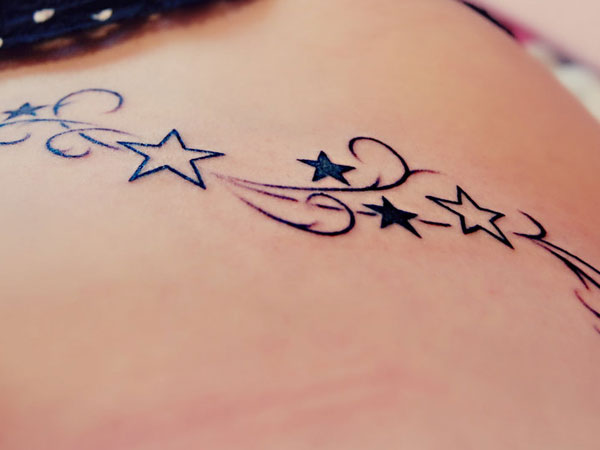 Cold Delight
Licking an orange candy with her tattooed arm bearing alien warriors, the girl looks cool.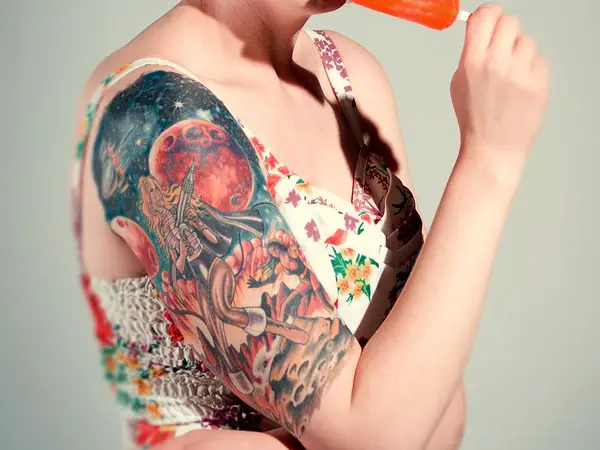 Cold Delight
Luscious
The innocent and delicate quail with the intoxicating California poppie flowers stand for the cocktail of feminine charm.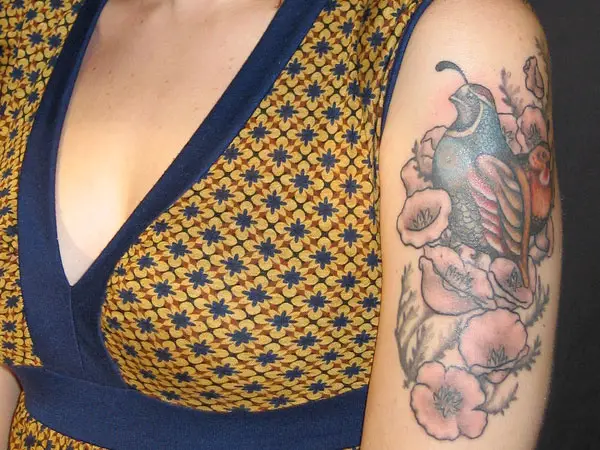 Pretty Tattoos
Stars and letters on fingers with violet bows on her belly look dainty and sweet.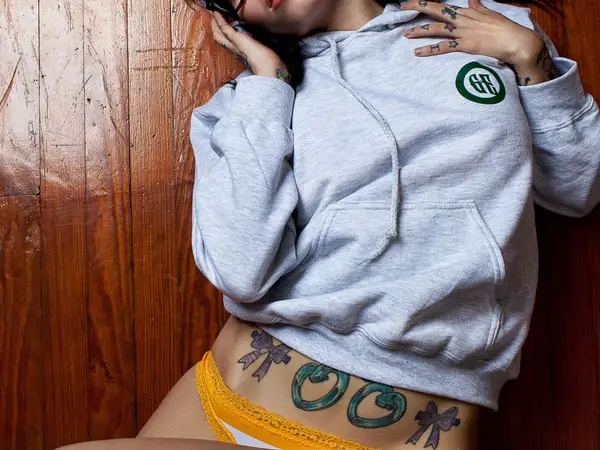 Fantastic Simile
The sleeping wolf painted in black and grey with shades of pink represents the cunning and soft shades of feminine nature.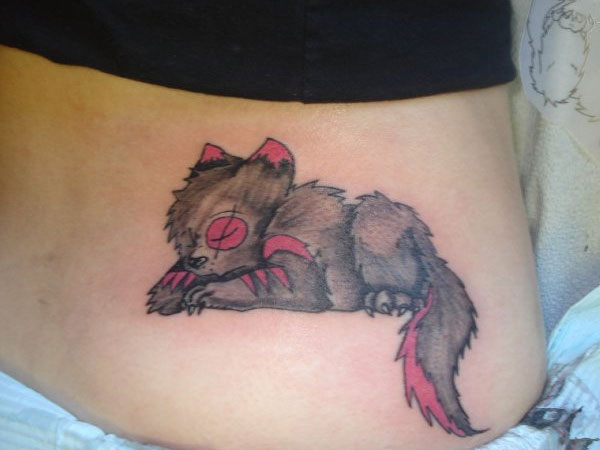 Lovely Feet
The love birds on feet with stars and little red hearts having a liner related to Valentine's day look cute.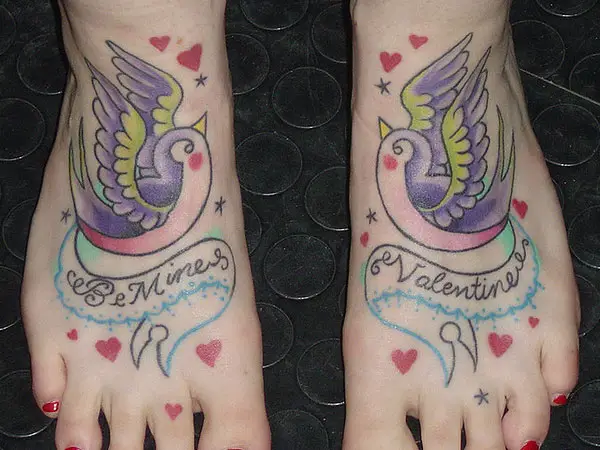 Rock And Roll
The Chubby kitty in a dancing pose with musical notes symbolises women's love for dance.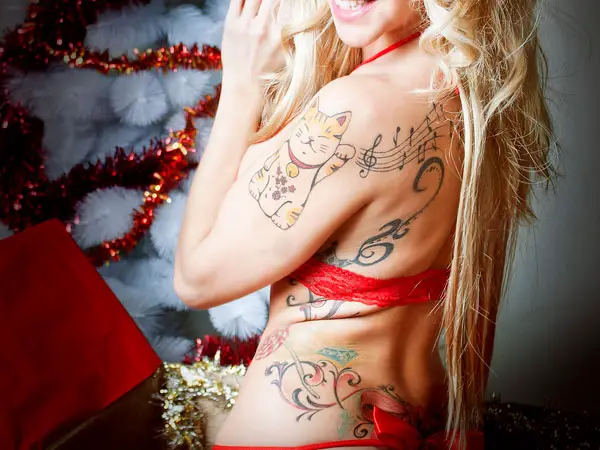 Soft Reflections
The butterflies and the pink and white cherry blossom flowers are a manifestation of the feminine grace.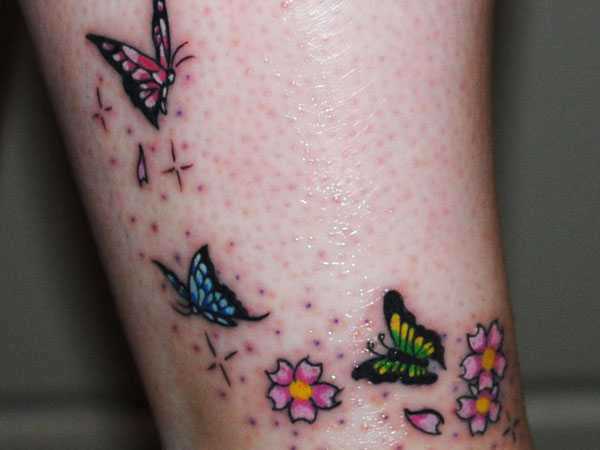 Dragon Sleeve Tattoo
Women also like to be daring and courageous and this dragon stands for these very traits.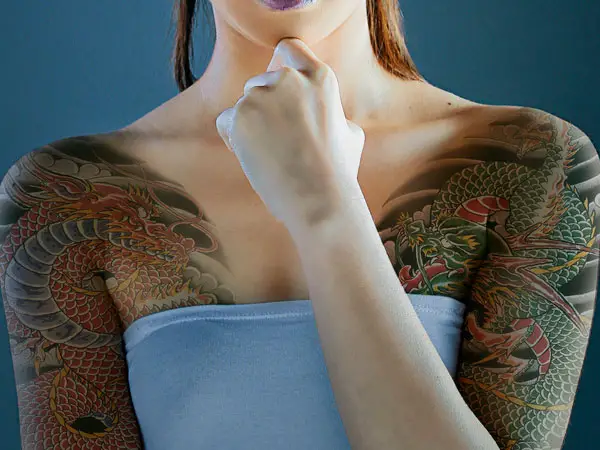 Mom Tattoo
Moms are special for girls too and this star tattoo is a tribute to the dear mother.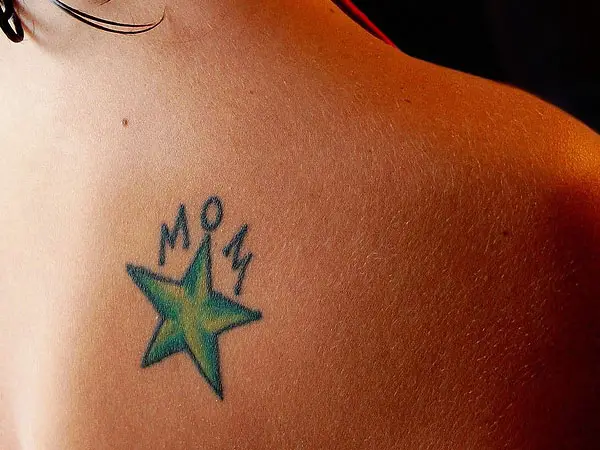 Arm Tattoo
The black cursive design resembling a heart shape, carved on the arm, looks elegant.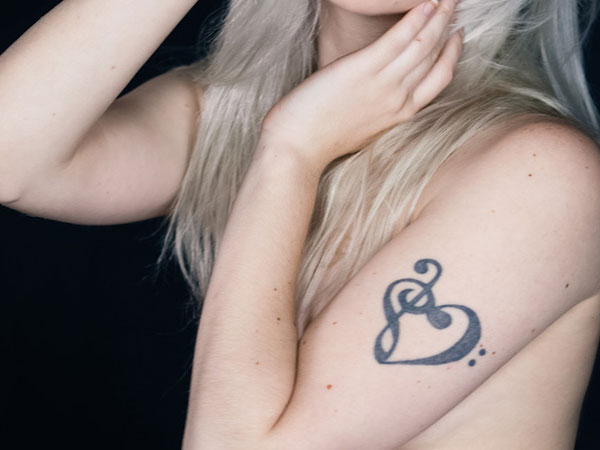 Stunning
Miniature space created on the upper back has an exquisite charm and looks simply breathtaking.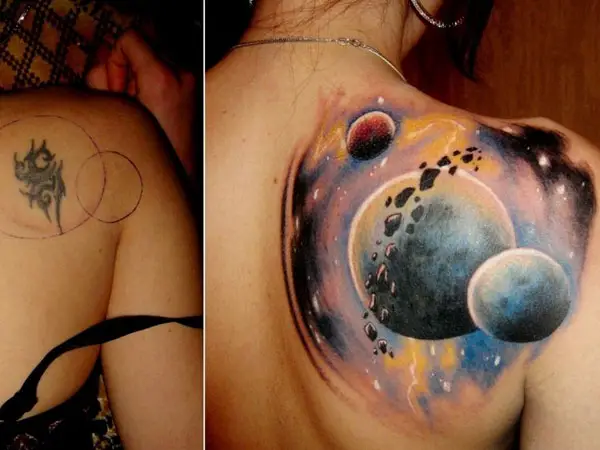 Black Rose
The black rose with leaves, resting above the ankle, looks pretty just like a woman.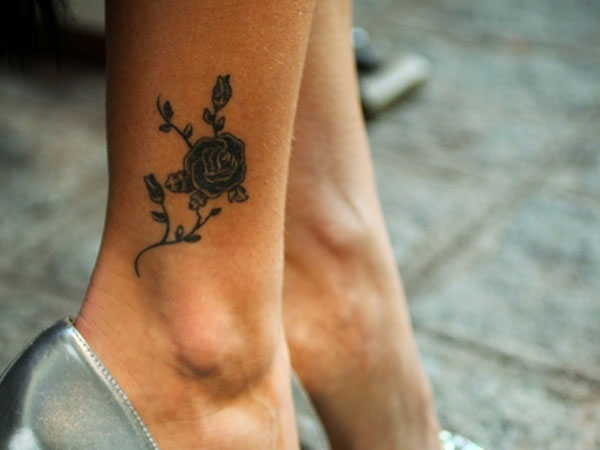 As Mellow As A Sparrow
The sweet little flying sparrow with a trail of musical notes, carved on the forearm, symbolises the honey-laden voice of women.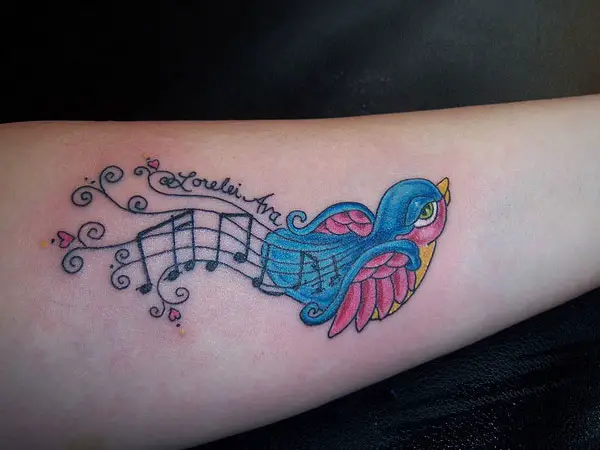 Mermaid Tattoo
The mysterious mermaids are in the process of being painted as a full back piece on the sexy back of this girl.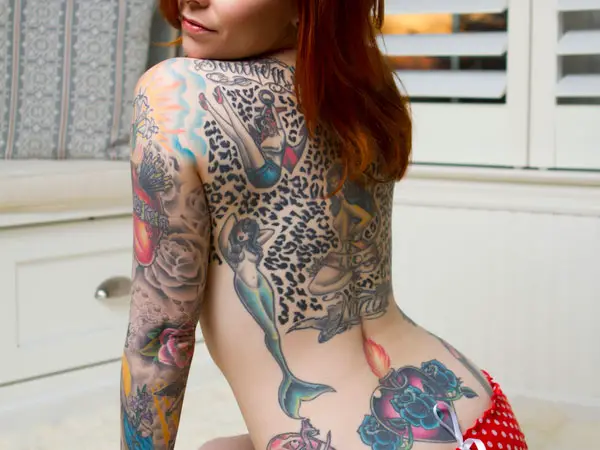 Feather Tattoo
The feathers woven in a circular shape to create a paisley look in center has a charming look.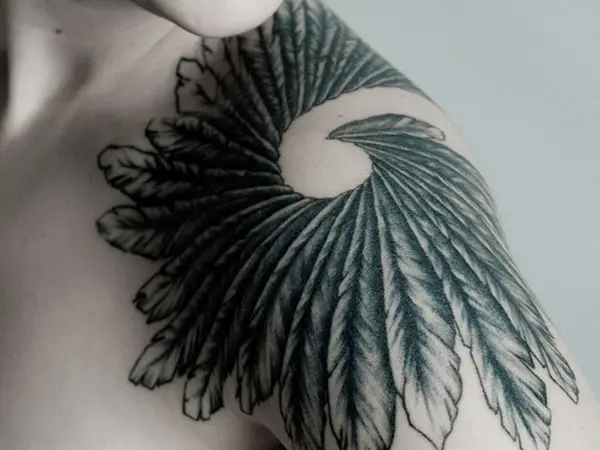 Cherry-Blossom Tattoo
Tiny cherry blossom flowers flowing on the shoulder look beautiful and typify the soft feminine grace.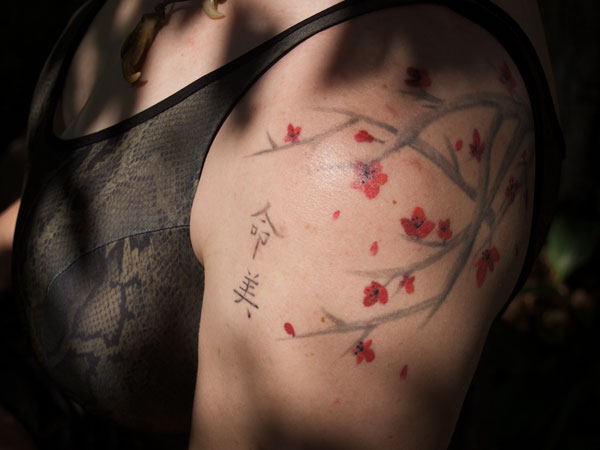 My Back Tattoo
The bright and vibrant orange fish along with flowers looks lively and curvaceous.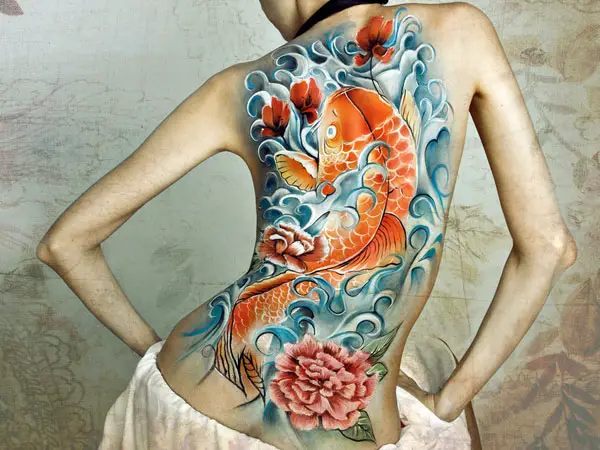 Foot Tattoo
Good tattoo quote carved on the foot of a woman along with a heart shape has a sober and deep meaning.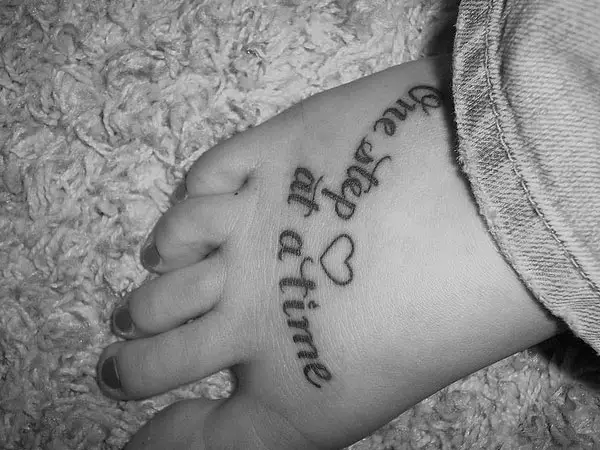 Sexy Woman
The dark and daring side of females is expressed through this skull and dragon tattoo.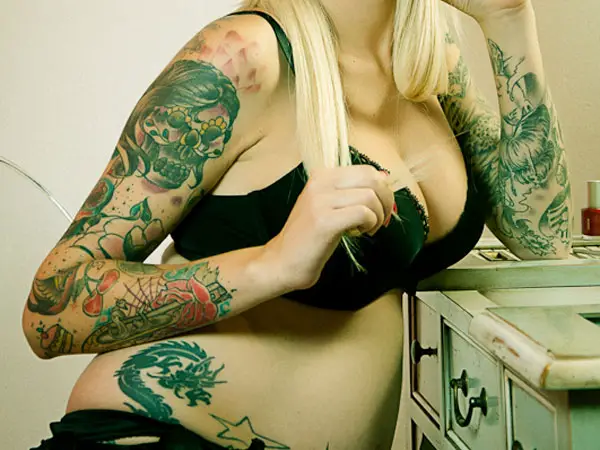 Feminine Tattoo
In the Chinese culture, cherry blossom flowers represent sexuality, power and femininity.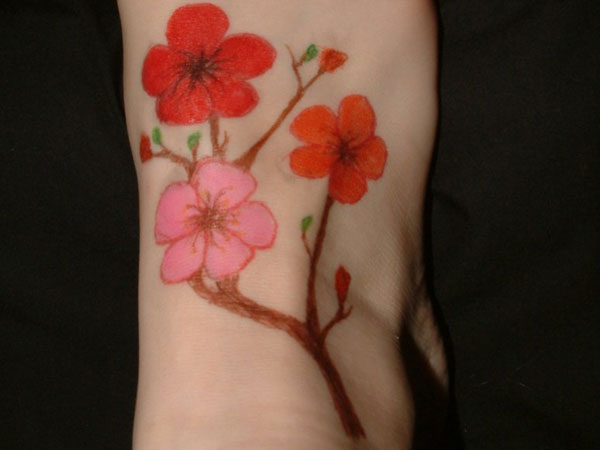 Pondering
The black and white tattoo design with floral prints, carved on the arm, has a feminine touch.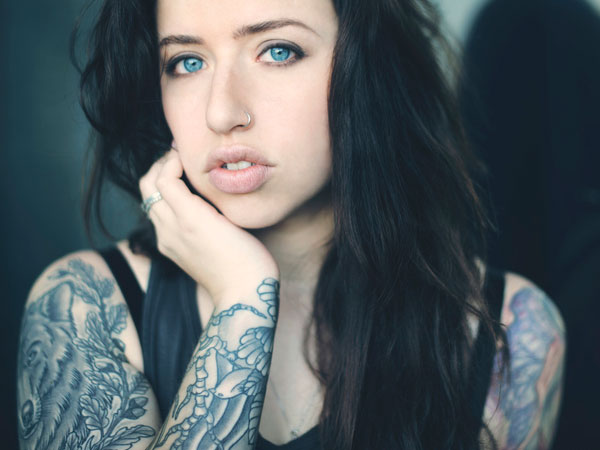 Feminine Strength
Chest tattoo with the line "this too shall pass away" stands for the fortitude women own.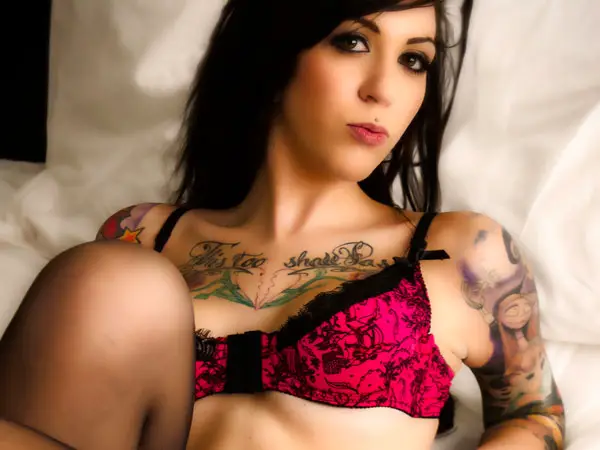 Sleeve Tattoo
Flowers and floral designs are a favorite with the women and they love to wear them as tattoos.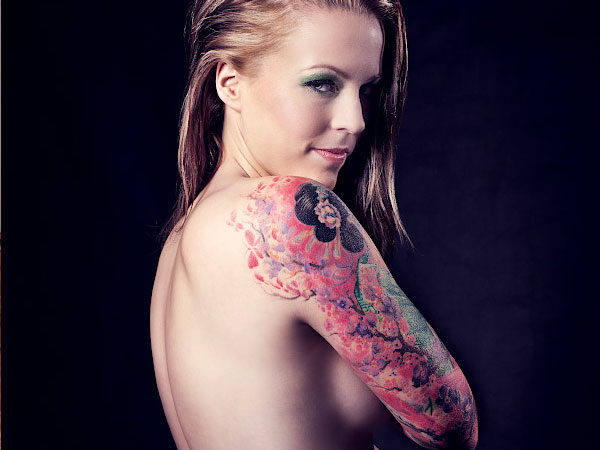 Cool Look
This woman from Bangkok looks cute and carefree in her sleeveless top and tattoos.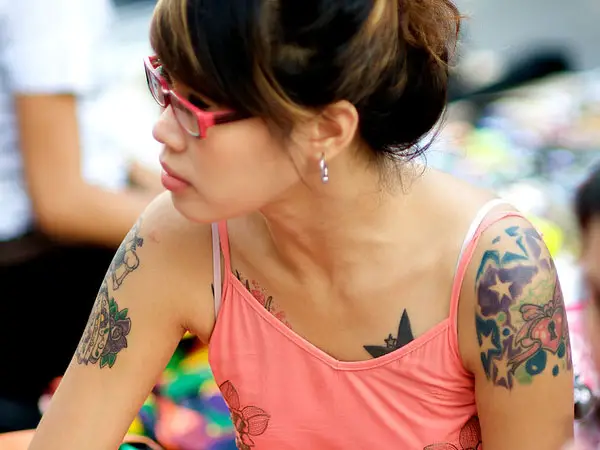 Artistic Tattoo
The leaves and flowers, carved on the arm and back, look elegant and soft.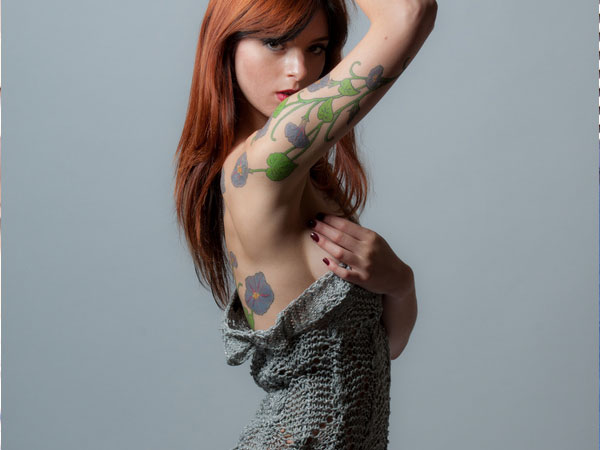 Gorgeous
This tattoo design with fish and waves, created on the lower back, looks sexy.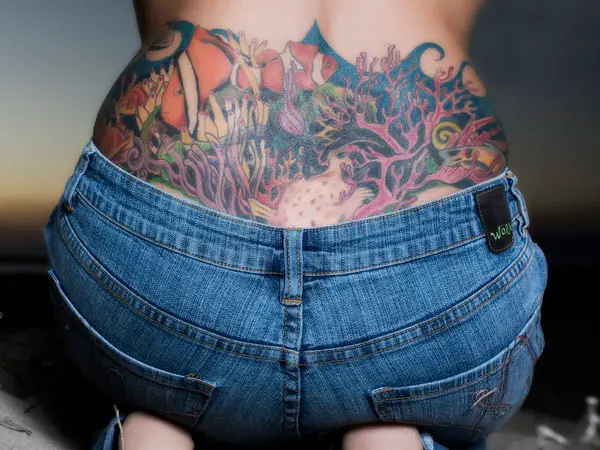 Thigh Tattoo
This photographer woman with Polaroid land camera image on her thigh looks cool.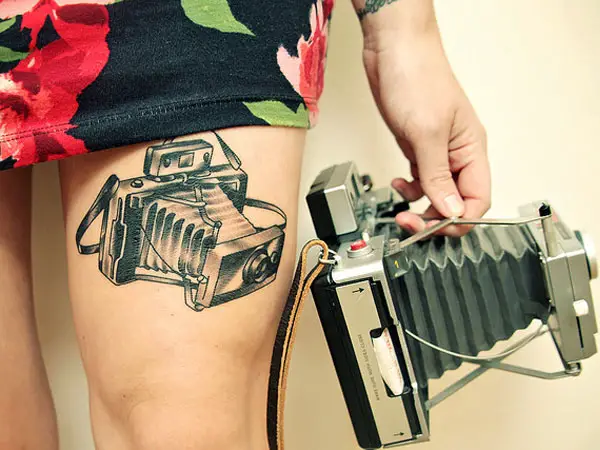 Tattooed Hotness
Hot and sensuous, this model looks more appealing due to the tattoos placed on her different body parts.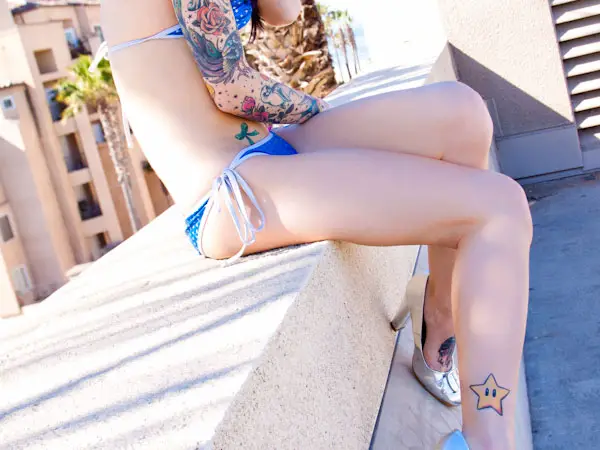 Dancing Beauties
The gorgeous woman with their tattooed arms, bearing flowers and branches, make elegant dance poses.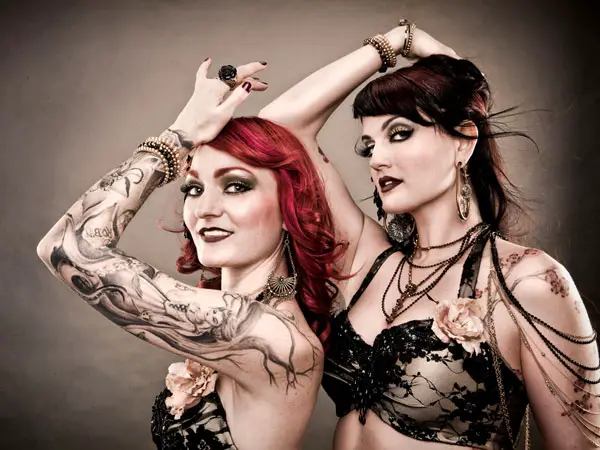 Back Tattoo
Large angel wings covering the back stand for the benevolent nature of the women.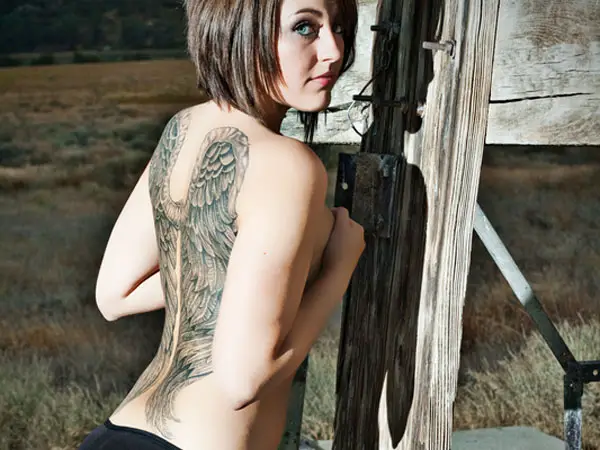 Cheerful
The woman with tattoos on her thigh and arms is looking extremely pleased and ecstatic.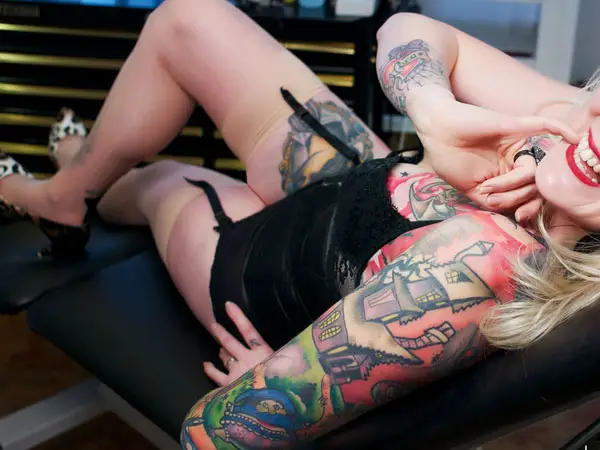 Cheerful
Enigmatic
Skull and flower, created on the arm, have a dark and mysterious color scheme that looks attractive.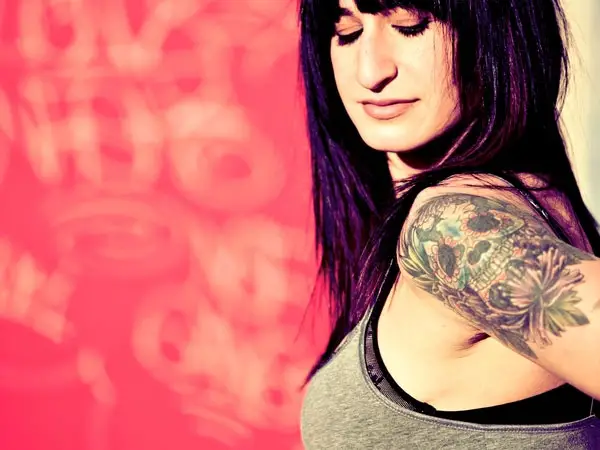 Curvy Fantasy
The black and white design on the back and arm of this voluptuous model has a sensuous look.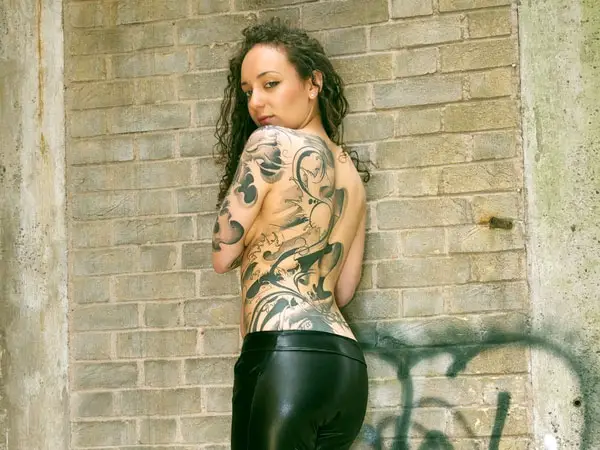 Edgy Attitude
Fanning herself and wearing a short black dress, the model gives a sassy look.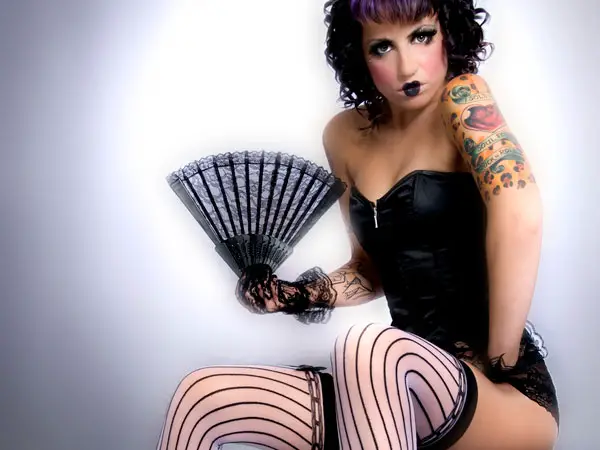 Camera Tattoo
Women always look for grace and beauty and this is clear in this camera tattoo embroidered with flowers.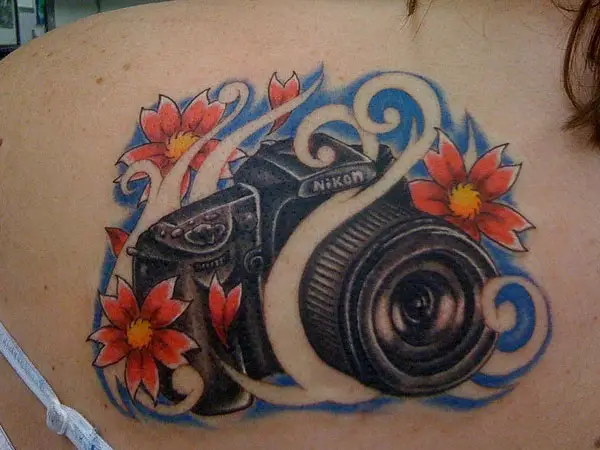 Rock Star
The singer wearing sunglasses looks vivacious in her black outfit and tattooed arm.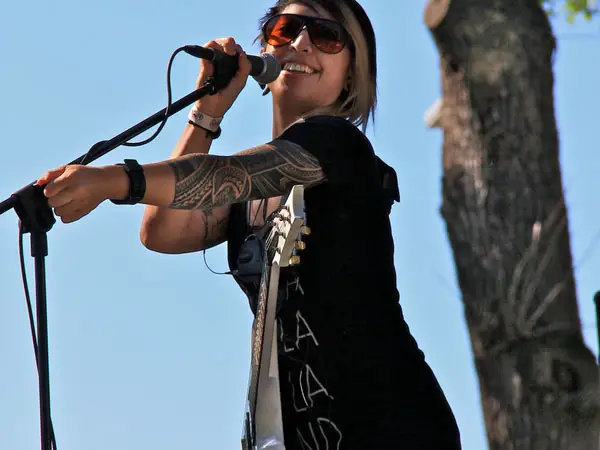 Woman Angel
The dainty angel wings with a slight twinkle look absolutely feminine.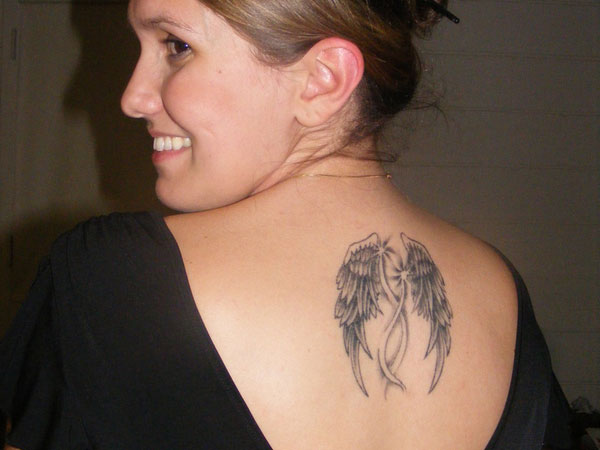 Saucy
The tattooed arm of the model has tiger, roses and a seal, together creating a cool collage.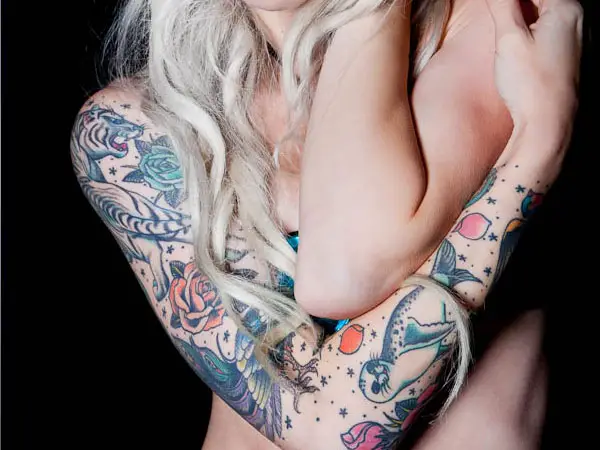 Crown Tattoo
Neat and pretty, the little crown, carved on the forearm, looks sober.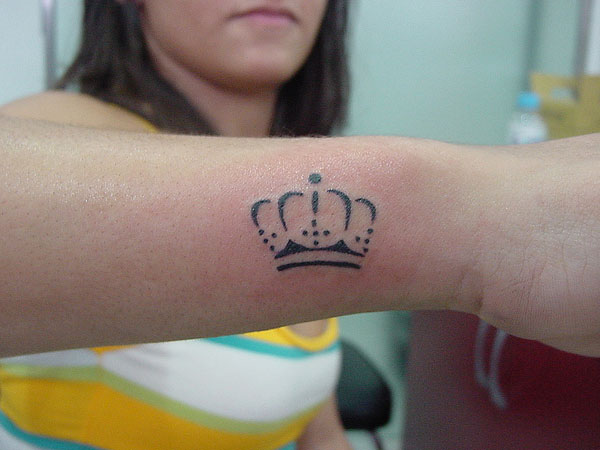 Amazing Model
The model in her blue dress with a tattooed belly and hands makes for an alluring portrait.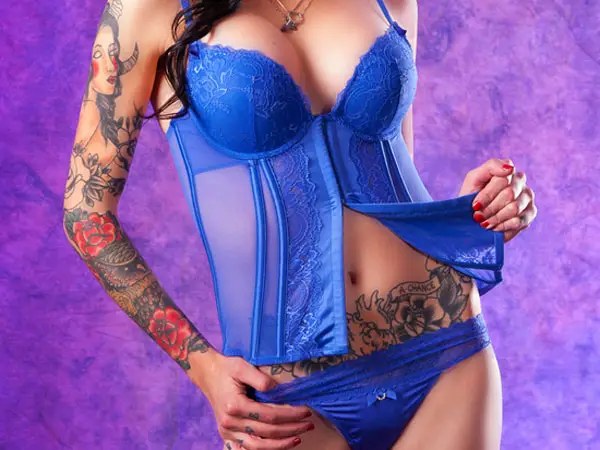 Cute Fish Tattoo
A small green fish, on the upper back, with bubbles is looking pretty.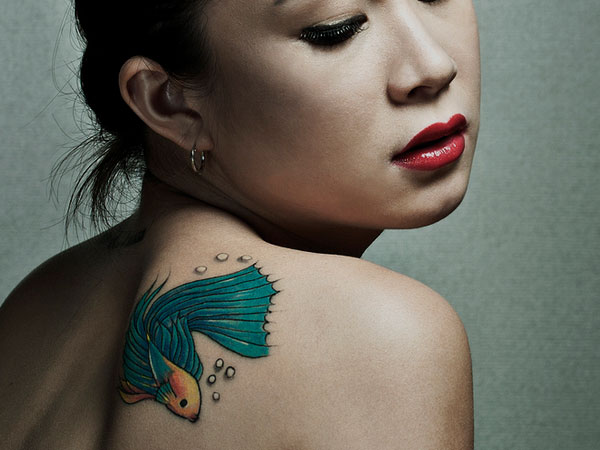 Awesome Picture
Sitting in a river, the model with red hair makes a cool pose that shows her tattooed arm in full display.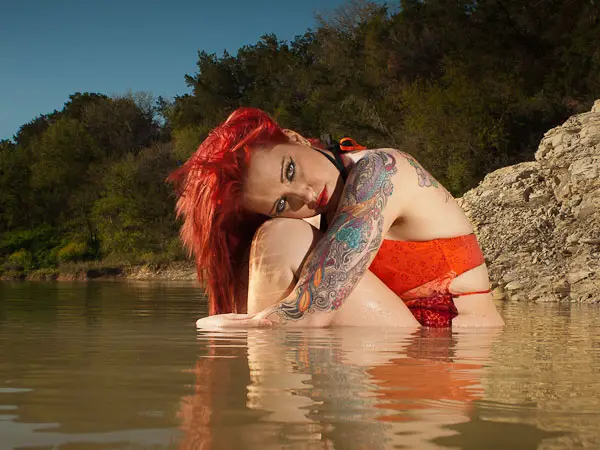 Awesome Picture
Luscious Look
The model holding flowers in her hand and sporting a side tattoo running from toe to arm looks damn sexy.