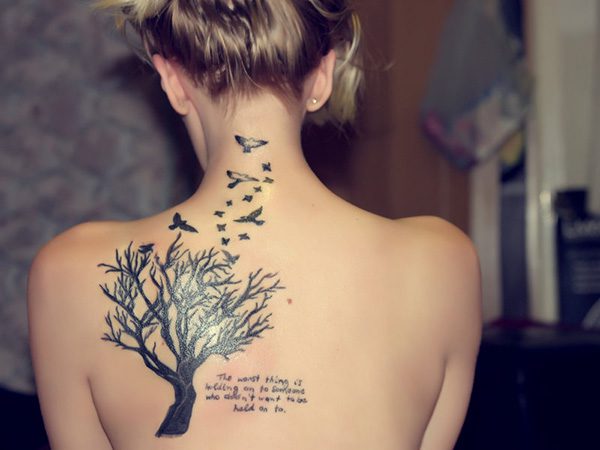 A tattoo showcases your unique ideas and messages to the world. It is a piece of personal art that you carry forever on your skin. The skills of the tattoo artist in filling in the outlines can make a design leap to life in vivid and colorful patterns. The use of colors and flowing lines causes the tattoo to grow more elegant as the artist proceeds in the inkwork.
Elegant Tattoos tell you about the marvelous vision and talent of the tattoo artist who spent hours in inking the perfect design.
If you are looking for interesting themes for your permanent body art, you can draw on different sources for design inspiration. Fantasy stories and ancient myths are great repositories of ideas for rich tattoo designs. The cosmic peace turtle, a serpent dragon fighting with a woman, a stately ship and a blind pagan god are some design ideas full of imagination and creativity. These designs can be inked with delicate inkwork that is either colored with bright pigments, or left bare for the black lines to tell the story. Often, small tattoos done on the back or the wrist can have great elegance. The form of a colorful bird in flight can be drawn in flowy lines to give a graceful feel to the design. Images drawn from Nature are innately sensuous and lend themselves to some of the most attractive tattoo designs. Be it a flowering plant, a tree, birds in flight, waves, or a collection of vibrant flowers, every nature theme tattoo celebrates the life flowing around us. You also come across dreamy designs in which the use of soft colors like lavender gives a gentle feel to the tattoo. The eternal cycle of life and death can be depicted through graceful designs that play with color and its absence, or living forms and their skeletal counterparts.
If you like this article, you might be interested in some of our other articles on Famous Tattoo Quotes, Pig Tattoos, Black and Grey Tattoos and Old People With Tattoos.
Just Let Go Tattoo
In this upper back tattoo, wise words about letting go sit alongside the form of a tree from which birds are flying away.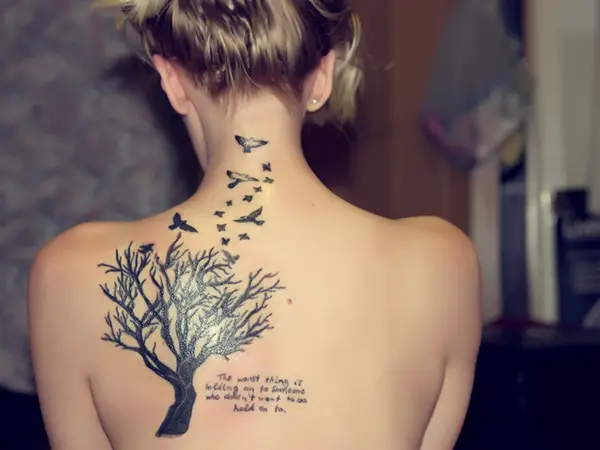 Peacock Healing Tattoo
Gorgeous ink pigments have been used to give a life like feel to this peacock feather tattooed on the arm.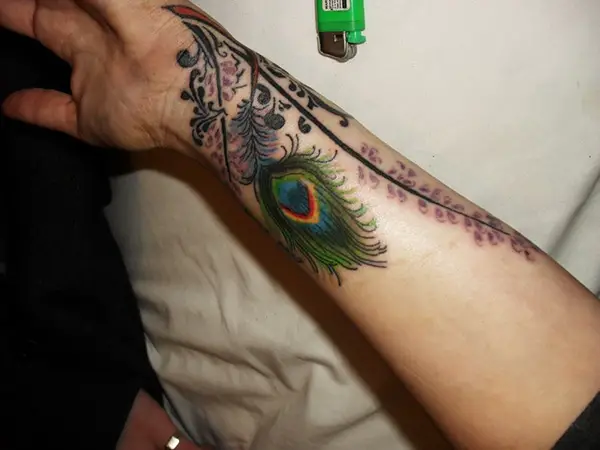 Elegant Purple Flower Tattoo
This colorful tattoo shows a big flower in shades of violet sitting amongst red flowers in a flowy wave pattern.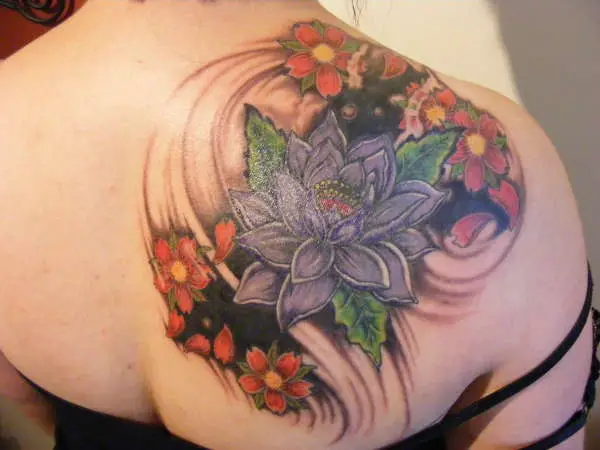 Elegant Piscean Tattoo
This artistically shaded tattoo portrays twin mermaids swimming in tandem. Visual cues such as color and its absence, living fish and fish skeletons, and the infinity symbol point to the eternal cycle of life and death.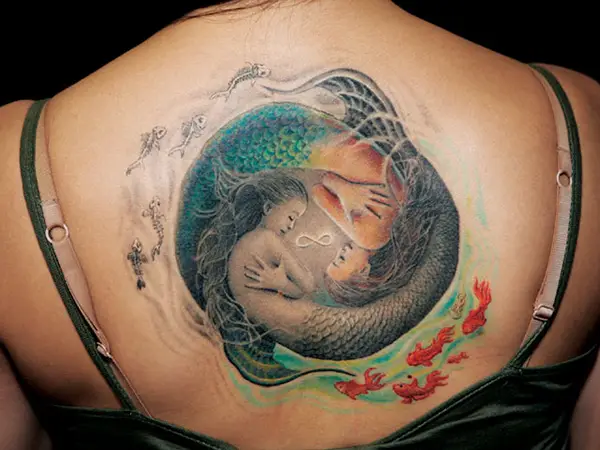 Back Entwined Tattoo
A dragon and a woman are locked in mortal combat in this fantasy theme back tattoo for women.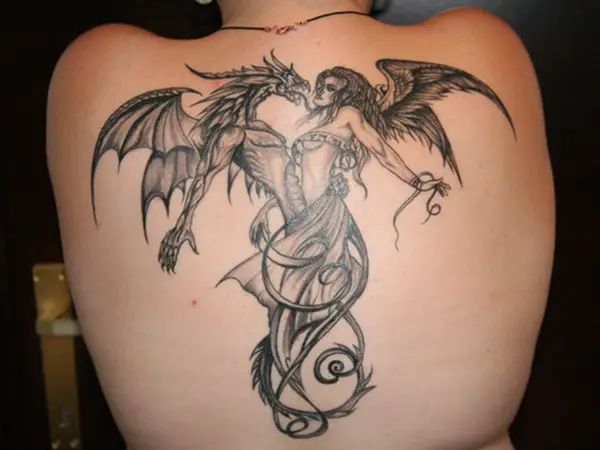 Pimply Face Weird Tattoo
Check out this powerfully inked chest tattoo for sailors. It shows the face of a blind pagan god, a rose and a stately ship.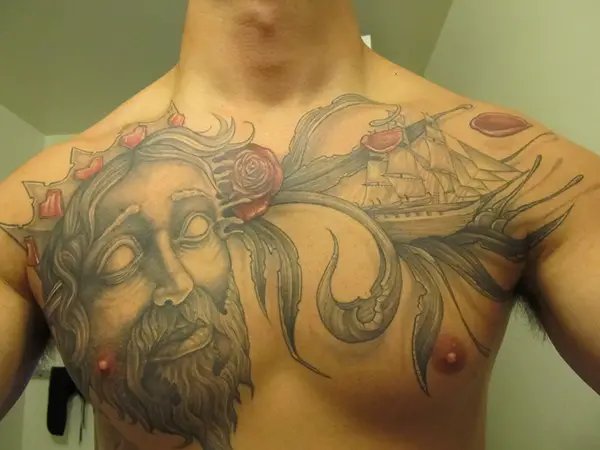 Pimply Face Weird Tattoo
Bloody Fight Tattoo
A pair of feathered wings, one whole and the other bloodied, depicts the themes of healing and injury.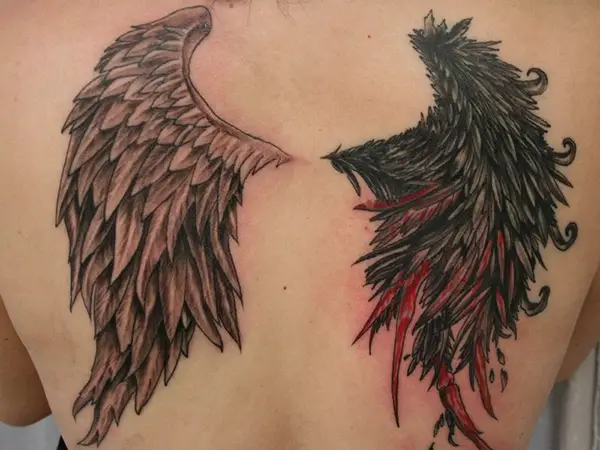 Chest Americana
An eagle and a shield are draped in the colors of the American flag in this upper chest tattoo design.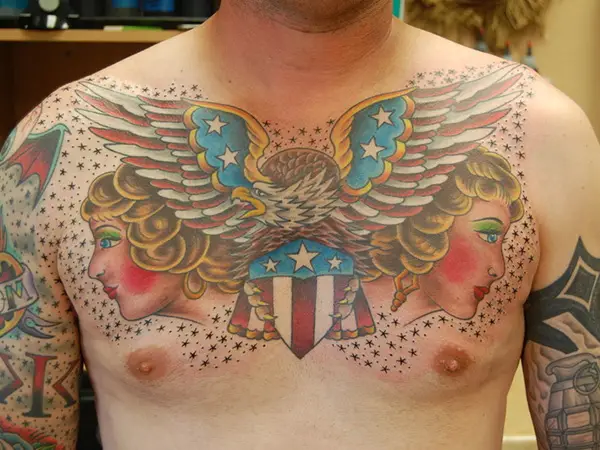 Honeybee Flower Elegant Tattoo
In this floral theme tattoo on the back, elegant purple flowers blossom on a green plant while honeybees fly about.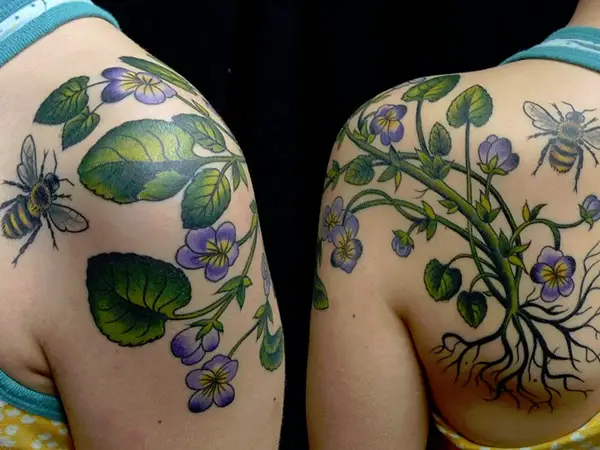 Honeybee Flower Elegant Tattoo
Veritas Eleganti Tattoo
In this shoulder tattoo for men, you see two guns placed side by side with smoky shades underlying the design. Latin text frames both the guns.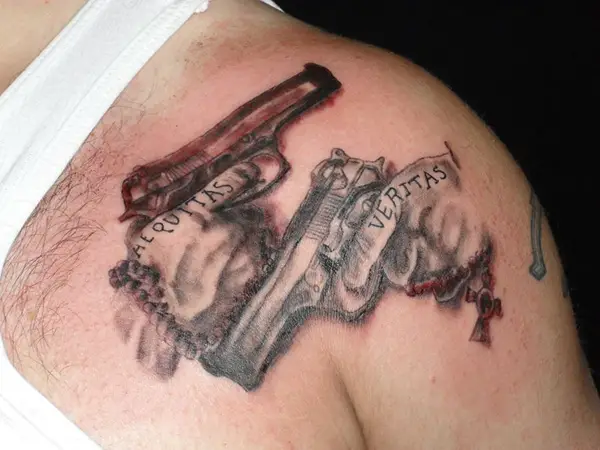 Cosmic Hole Tattoo
Delicate artwork brings out the rich beauty of a nebula in this cosmic theme tattoo on the upper back.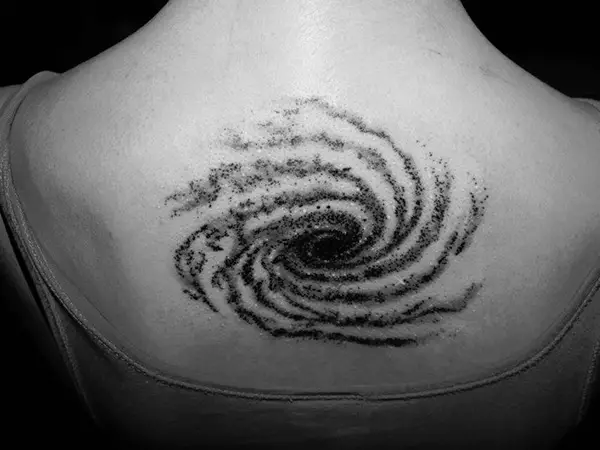 Cosmic Hole Tattoo
Dog Elegant Tattoo
The realistic shading of this back tattoo shows the face of a black dog with the word 'Bear' below the design.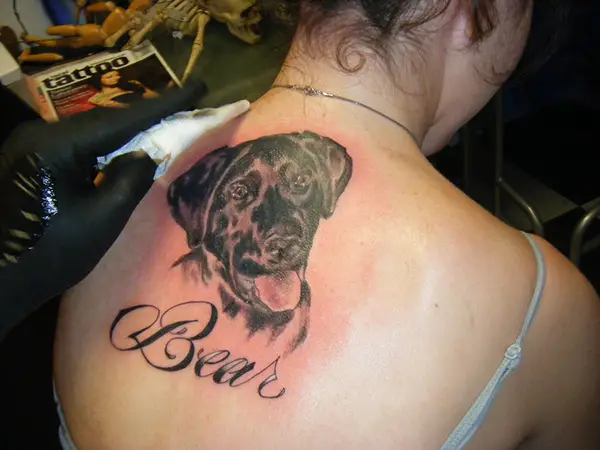 Fantasia Elegant Tattoo
Elegant inkwork bring out the details of this powerful tattoo showing a woman in profile. Fantasy themes making beautiful abstract patterns emerge from her head.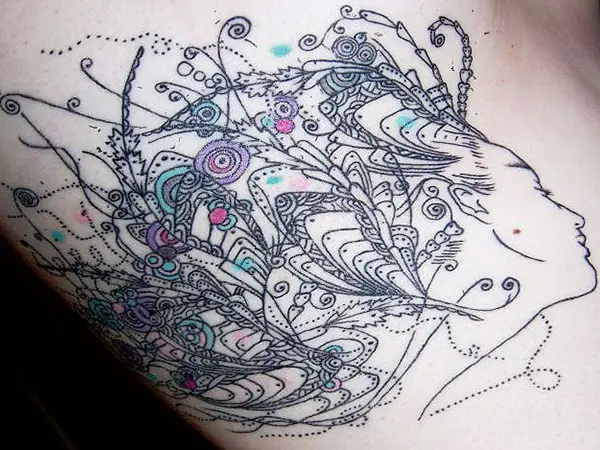 Fantasia Elegant Tattoo
Elegant Collar Tattoo
You see an upside down lotus sitting at the heart of the patterned wing like tattoo on the upper back.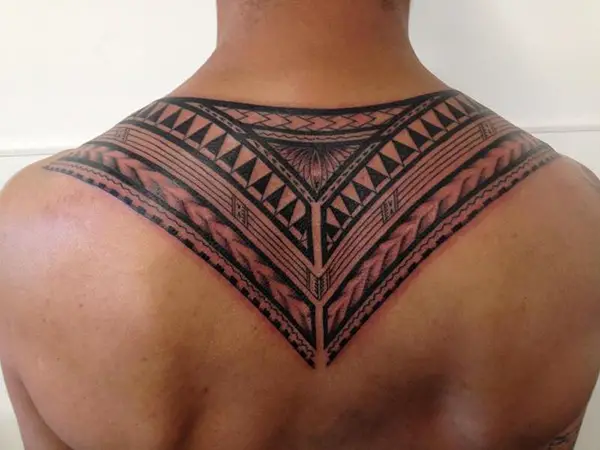 Turtle For Peace Tattoo
Inspired by ancient myths, this tribal design back tattoo depicts a cosmic turtle with the peace sign.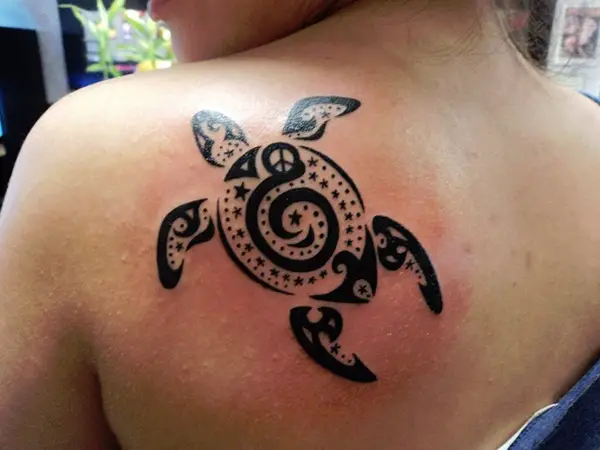 Big Cat Tatt
Carefully inked with handsome white whiskers and green eyes, this big cat tattoo looks like it will come to life at any moment.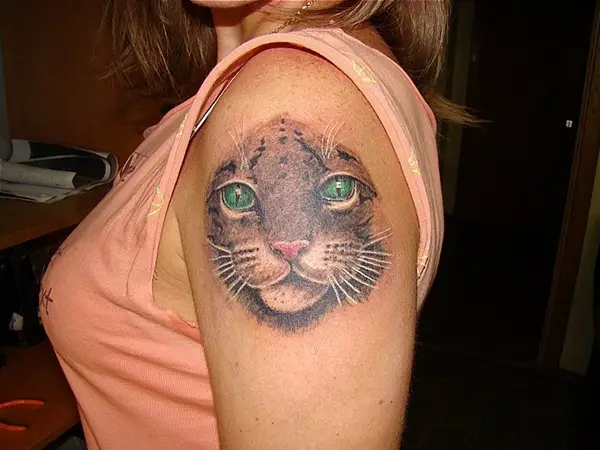 Age Of Metal Elegance
This brilliant tattoo gives a metallic twist to the erotic theme of lips with a tongue snaking out.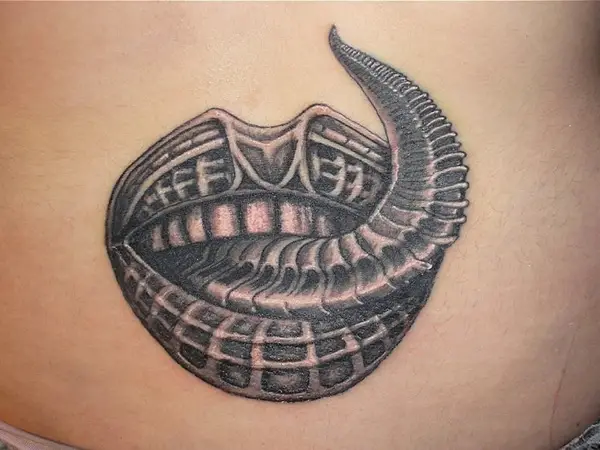 Elegant Leg Tattoo
This sensuous leg tattoo shows a pattern of gorgeous flowers and vines, ending with the form of a modern-day pixie.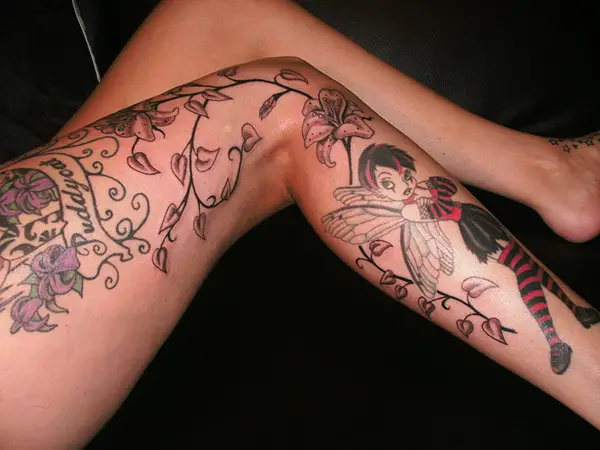 Elegant Bird Tattoo
This tiny but very colorful tattoo shows a pretty flying swallow in shades of red and blue.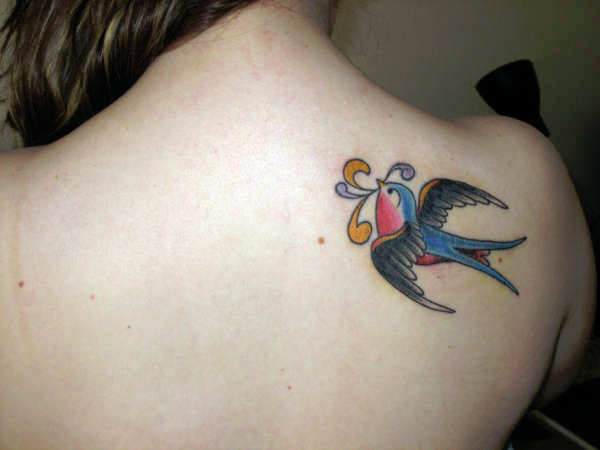 World Travel Tattoo
Delicate shading brings to life the world map in this chest tattoo on the theme of wanderlust.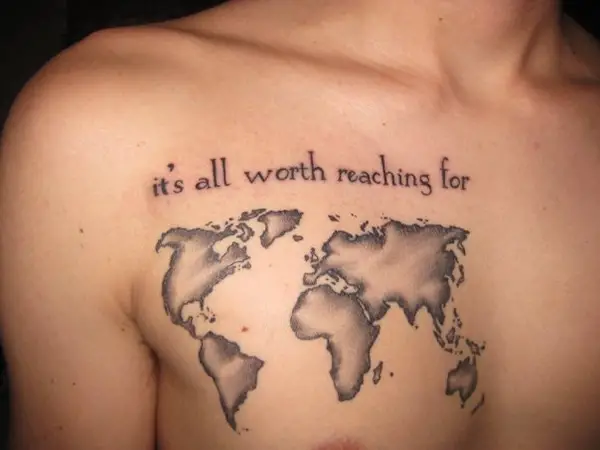 World Travel Tattoo
Heart Art Piece
In this dreamy and colorful love tattoo, you see merry purple clouds, a red heart with blue love potion, and a flying bird on either side of the heart.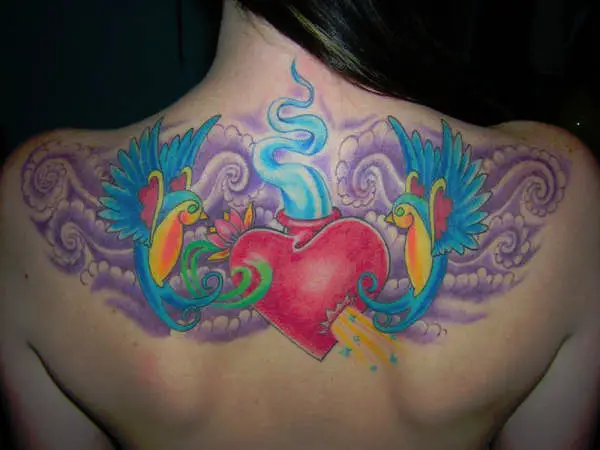 Feather Fly Tattoo
This cute and vibrant tattoo shows a pretty butterfly with a mysterious leaf patterned body and feelers.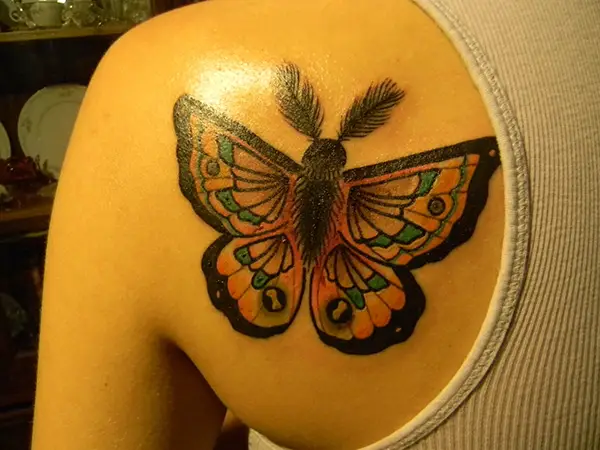 Feather Fly Tattoo
Elegant Herald Design
The smooth lines flow across the upper back to trace out an elegant trophy theme tattoo design. Note the graceful black patterns adding to the beauty of the tattoo.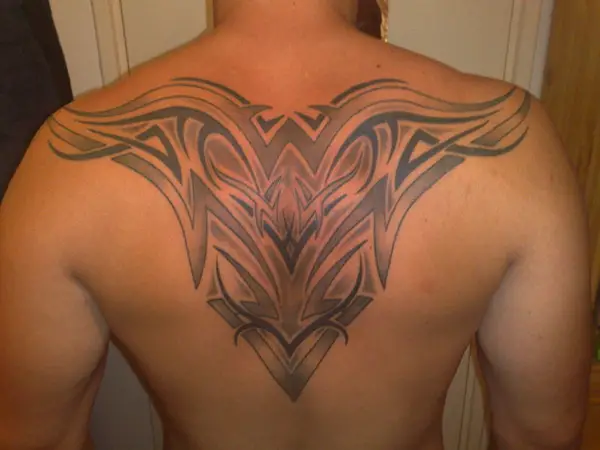 Red Bird Tattoo
You see a bright red angry-looking bird sitting on a pink flowering branch in this upper leg tattoo.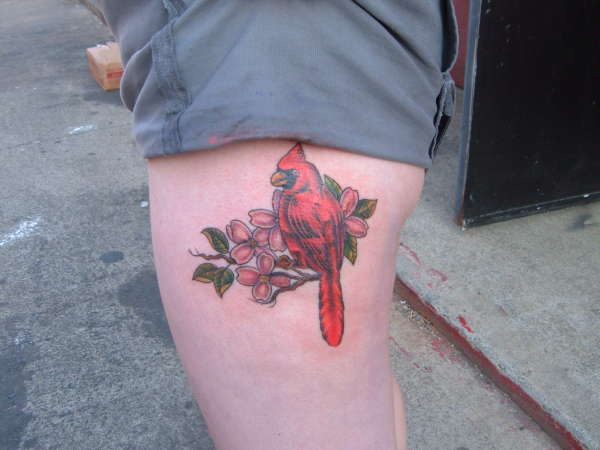 Fire Cards Tattoo
Check out the Ace of Spades cards going up in flames in this collar bones tattoo design for men.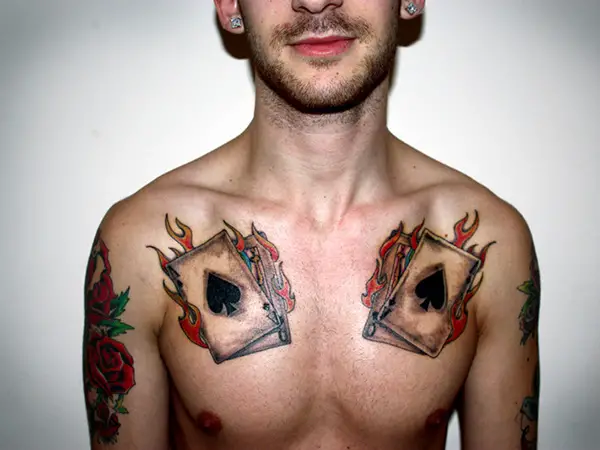 Heart Wisdom Quote
'Tomorrow is never promised' are the wise words traced in elegant lettering on the foot.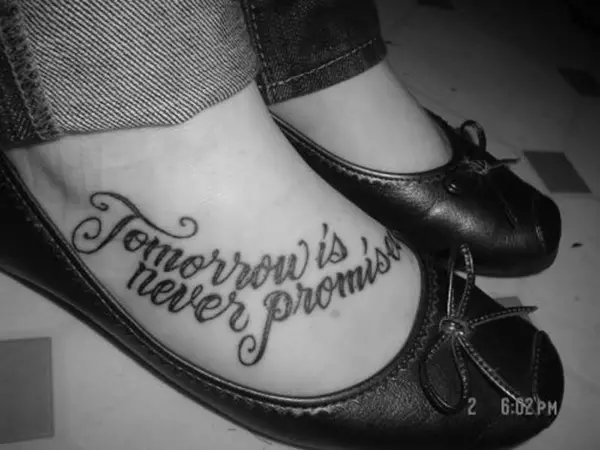 Heart Wisdom Quote