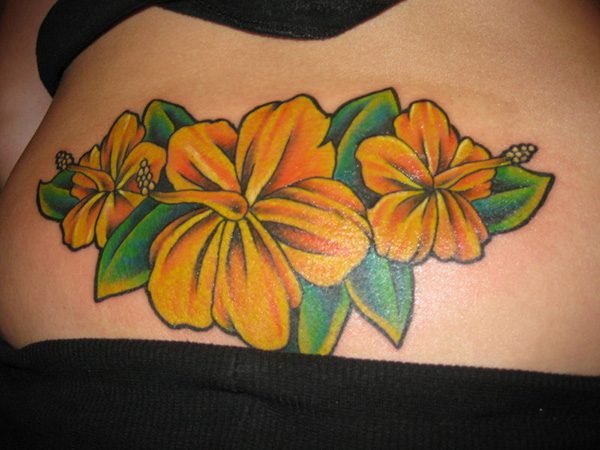 Tattoos are an expression of a person's imagination. They represent a person's inner soul and creativity in a visually appealing fashion. Getting a beloved's name inked or symbolizing one's faith in the form of body art, whatever be the reason a tattoo justifies it all! Tattooing is a centuries-old tradition that goes back to medieval times when ancient mariners used to ink their body for fashion or symbolism. Currently tattoos are done almost everywhere on the body and represent a culture of their own!
Getting a tattoo done is easy but choosing what to get inked can be a dilemma. Tattoo designs are infinite and boundless in number and nature and can be as generic as your name or as specific as hibiscus tattoos. Expert artists and tattoo connoisseurs have mastered the art of inking to such perfection that they can replicate almost anything on your skin. Tattoos make a great deal of possession and can tell a lot about its owner's personality, style, thinking, values, likes, dislikes and many other aspects. There are plenty of studios these days where body art is worshiped and one can get a clean, safe, hygienic environment and a fine tattoo for themselves. So flaunt your imagination by getting stylish and indigenous hibiscus flower tattoos for yourself!
If you like this article, you might be interested in some of our other articles on Scripture Tattoos For Women, Disney Princess Tattoos, Elegant Tattoos and Stargazer Lily Tattoos.
Hibiscus Hip Tattoo
Try out this orange and yellow shaded hibiscus multi-floral tattoo design to flaunt your inked body art.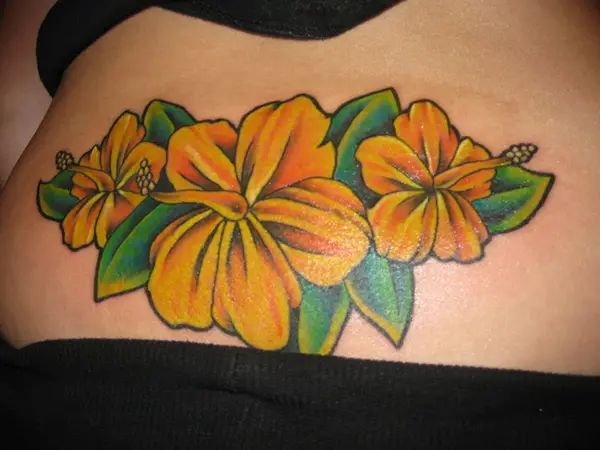 Blossom Heart Tribal Climb
An abstract yet beautiful pink and black hibiscus tattoo that adorns multiple designs to create a masterpiece of utmost perfection.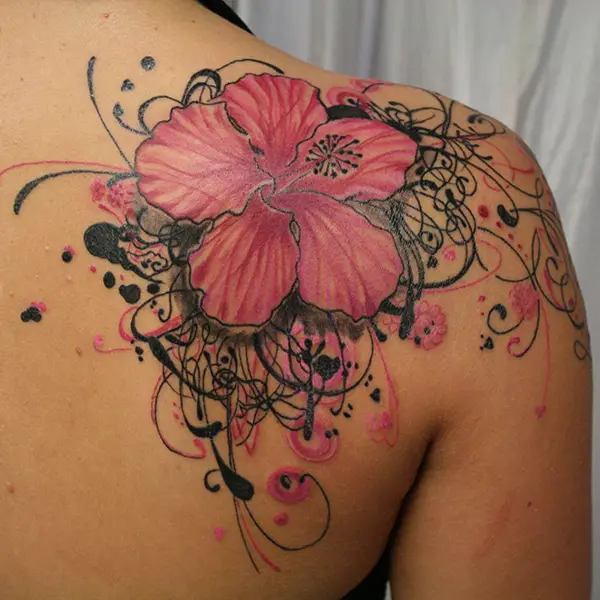 Tiny Hibiscus Tattoo
Try out this tiny yet pretty hibiscus flower design for a flaunting tattoo that can be inked anywhere on the body.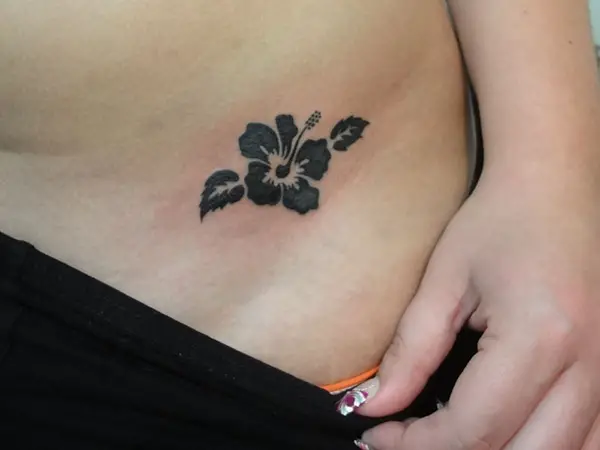 Bright Red Hibiscus Tattoo
Check out this bright red hibiscus flower with green leaves as a forearm tattoo.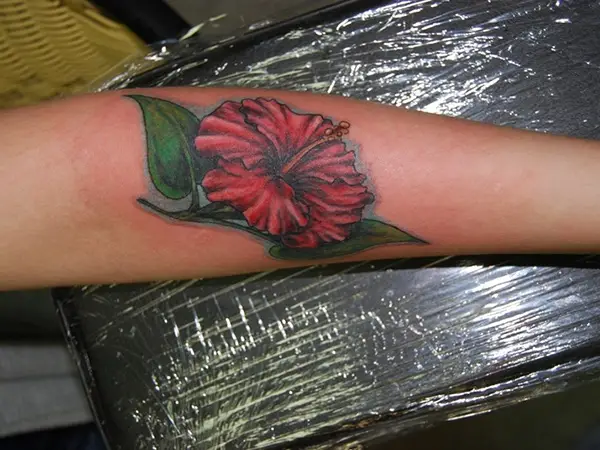 Hibiscus Tattoo With Butterfly
A lovely tattoo design depicting a hibiscus flower with a beautiful blue butterfly to add perfection to utmost precision.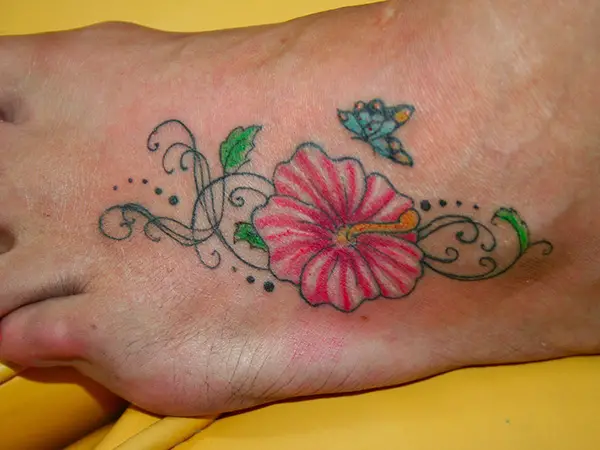 Hibiscus Tattoo With Butterfly
Hibiscus Flower Tattoo
A detailed tattoo design of a hibiscus flower with beautiful petals and choice of bright colors.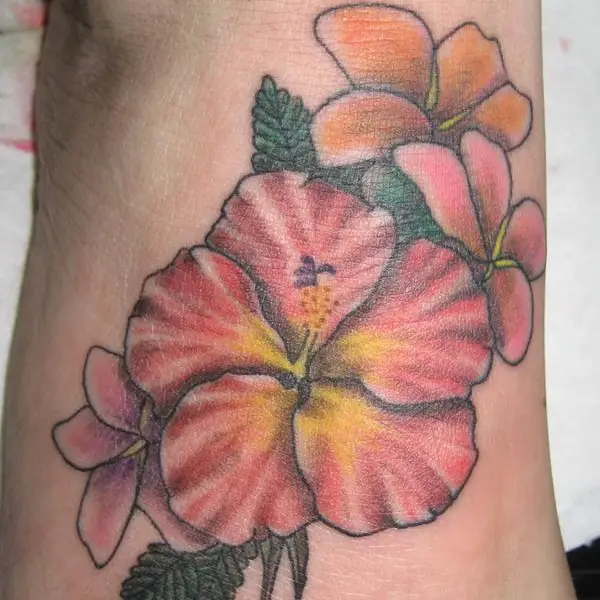 Hibiscus Tattoo Design
A pretty combination of pink and orange hibiscus flower tattoo with a stunning blue flower and tiny green leaves.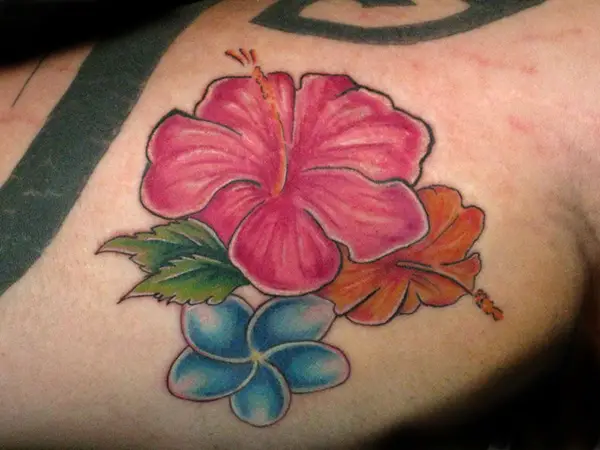 Chest Hibiscus Tattoo
An astonishing masterpiece of animal skull tattoo design with horns wrapped artistically with hibiscus flowers and a ferocious blue snake.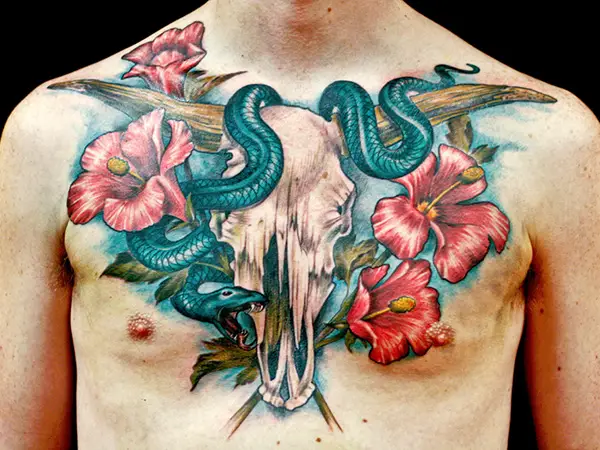 Chest Hibiscus Tattoo
Beautiful Hibiscus Tattoo
An immaculately detailed hibiscus tattoo design that is made with utmost precision and perfection.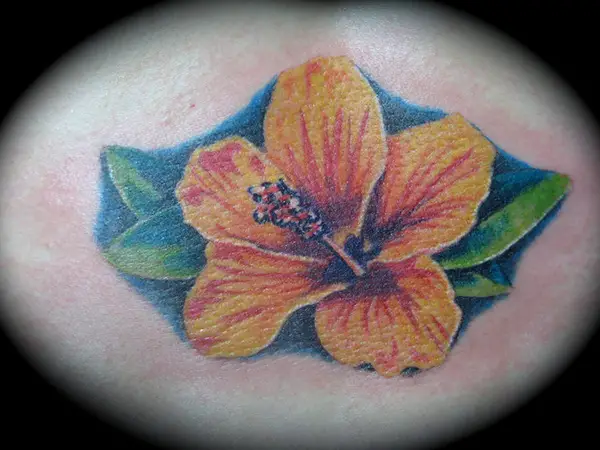 Ladyline Hibiscus Tattoo
Check out this cool tattoo design with a trail of hibiscus flowers running along a pretty creeper.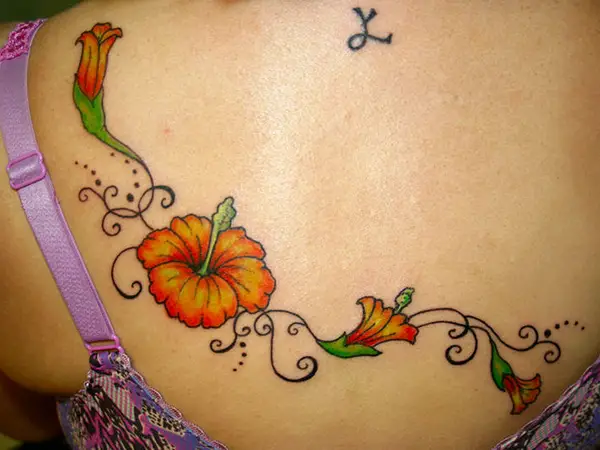 Foot Hibiscus Tattoo
A beautiful pictorial representation of an orange hibiscus flower in the form of a foot tattoo.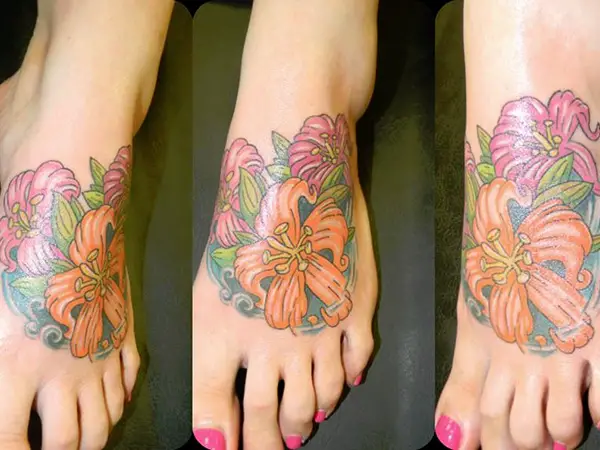 Pink Hibiscus Tattoo
A girly and pretty pink hibiscus tattoo idea for you back to accentuate your style and appeal.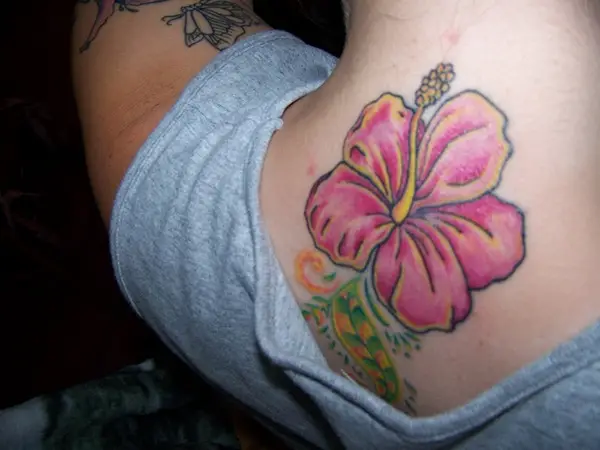 Hibiscus Filigree Tattoo
Try out this unique designer hibiscus filigree tattoo on your arm to sport a trendy look.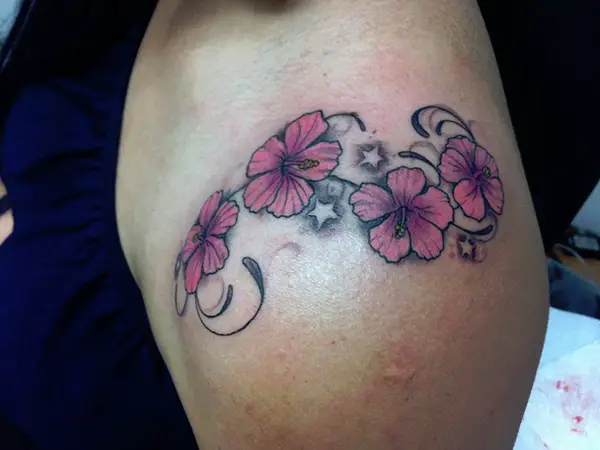 Hawaiian Hibiscus
A unique tattoo design depicting a Hawaiian hibiscus flower in sepia on the foot.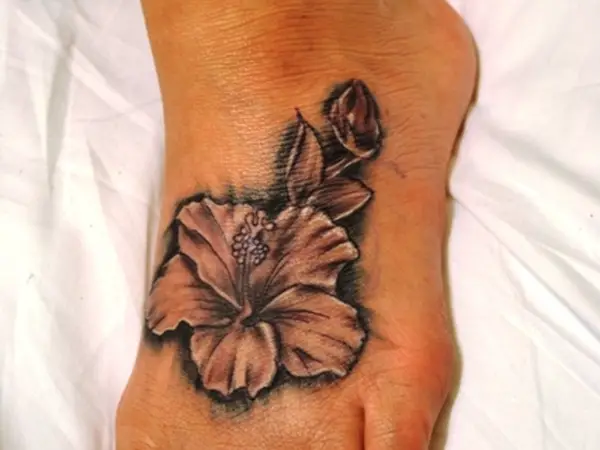 Hibiscus Flower Waves
Check out this dashing blue hibiscus flower tattoo on the back with petals in the shape of stunning oceanic waves.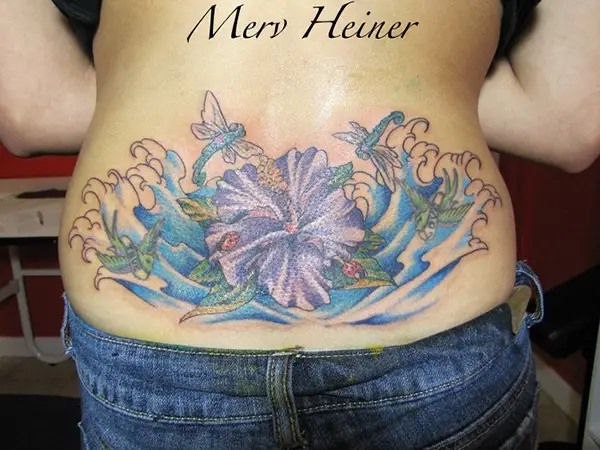 Wrap Around Hibiscus Tattoo
Check this cool hibiscus wrap around hibiscus tattoo design in a striking combination of vivid colors.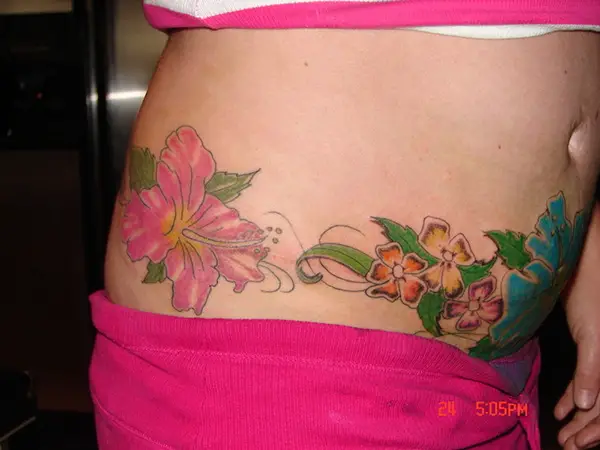 Bird and Hibiscus Tattoo
A unique freehand tattoo design adorning a carefree bird pecking on a ravishing red hibiscus flower.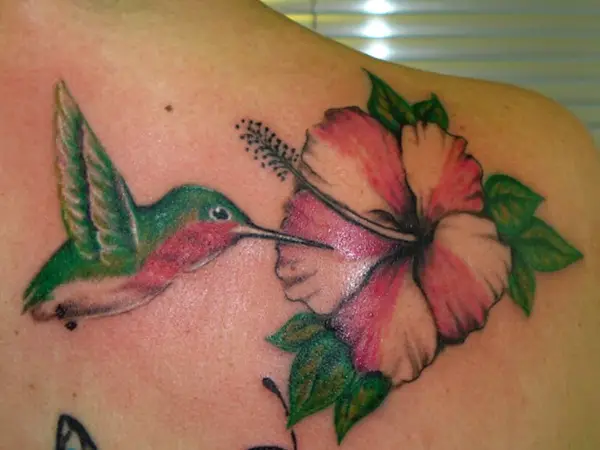 Detailed Hibiscus Tattoo
A detailed representation of three hibiscus flowers in the form of a spectacular tattoo on the back of the neck.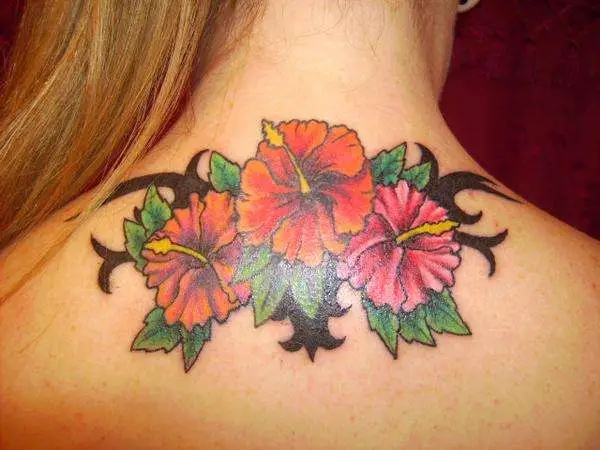 Simple Hibiscus Flower Tattoo
Check out this simple yet classic hibiscus flower tattoo in red and black.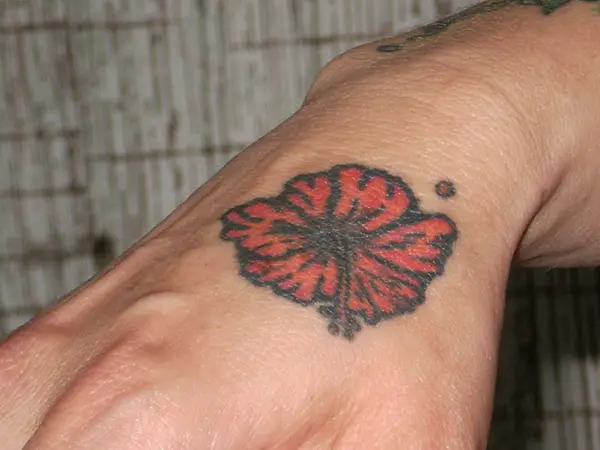 Ribs Hibiscus Flowers
A breathtaking body artwork of hibiscus flowers on the front body with spectacular detailing and bright colors.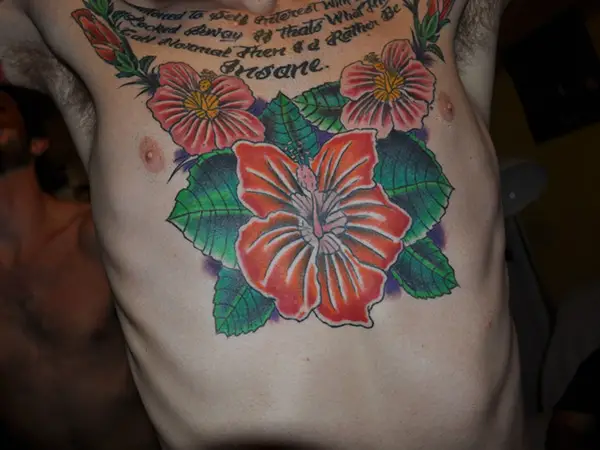 Ribs Hibiscus Flowers
Hibiscus Flower And Butterfly
An ankle tattoo that depicts a silver-lined hibiscus flower trail, a wandering butterfly and amazing beauty.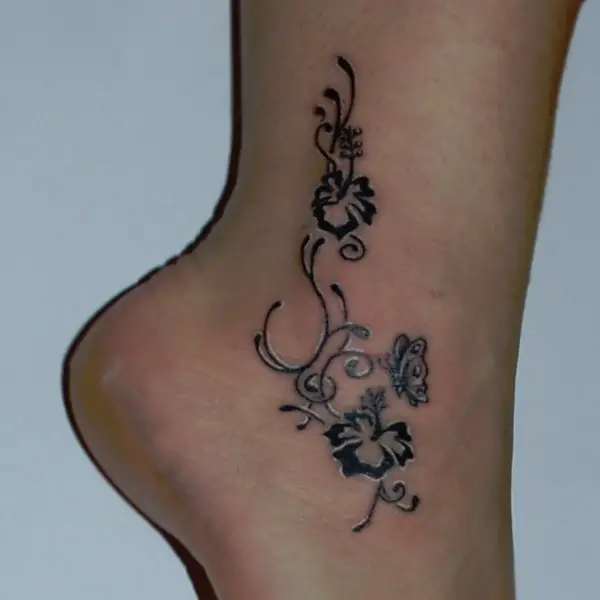 Pretty Hibiscus Flower Tattoo
A pink and blue colored hibiscus flower tattooed on the foot with tiny stars matching the color palette.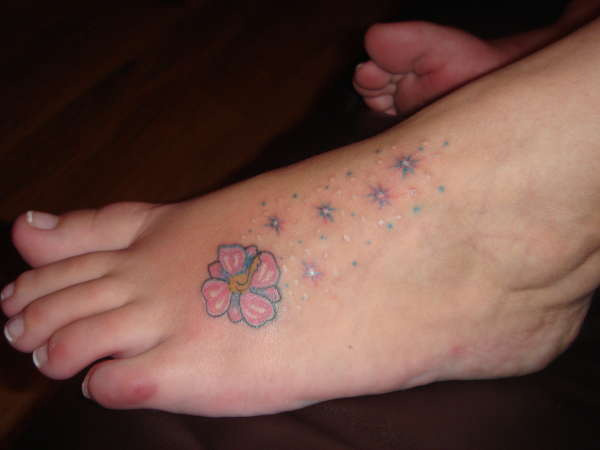 Black and White Hibiscus Tattoo
A classic black and white tattoo picturing a bird pecking on a beautiful hibiscus flower with leaves and buds.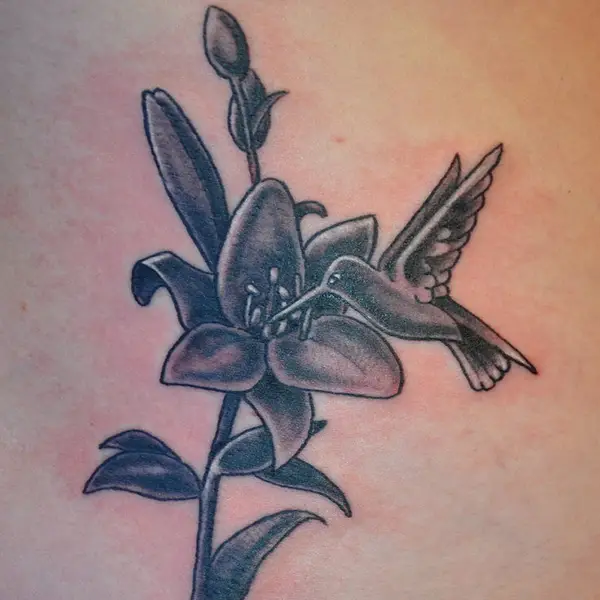 Black and White Hibiscus Tattoo
Twin Hibiscus Flower Tattoo
Try this red and green colored twin hibiscus designer tattoo on your lower back for a stylish body art design.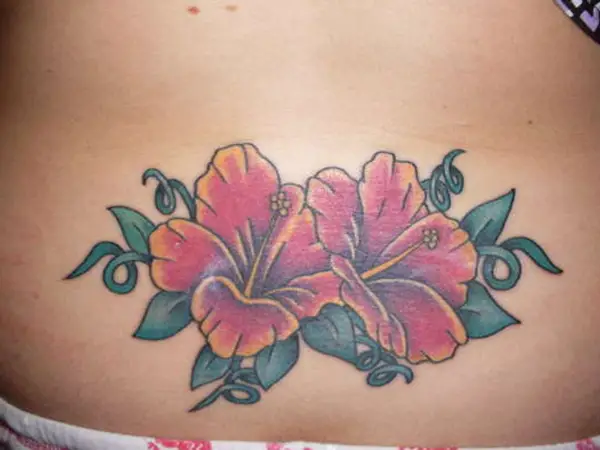 Blue Hibiscus
Check out this unique blue hibiscus tattoo design that has a cute green leaf and soft detailing.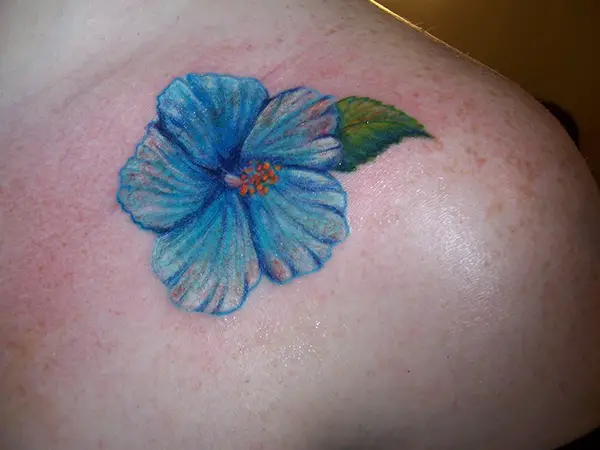 Vivid Hibiscus Tattoo Design
A cool and contemporary hibiscus designer tattoo idea for your back with immaculate detailing and bright choice of colors.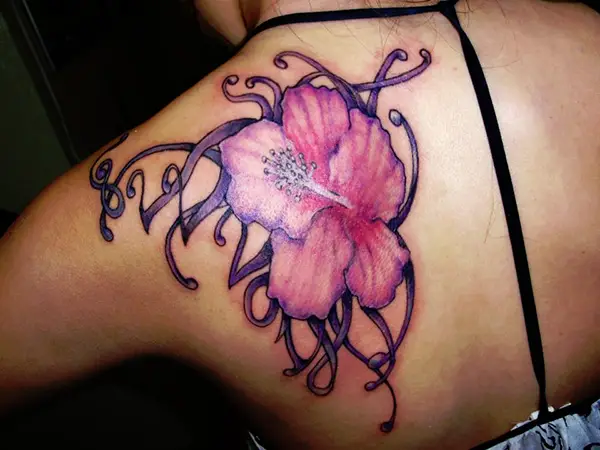 Vivid Hibiscus Tattoo Design
Aloha With Hibiscus
A truly welcoming hibiscus designed tattoo in bright red color to try out on your leg.