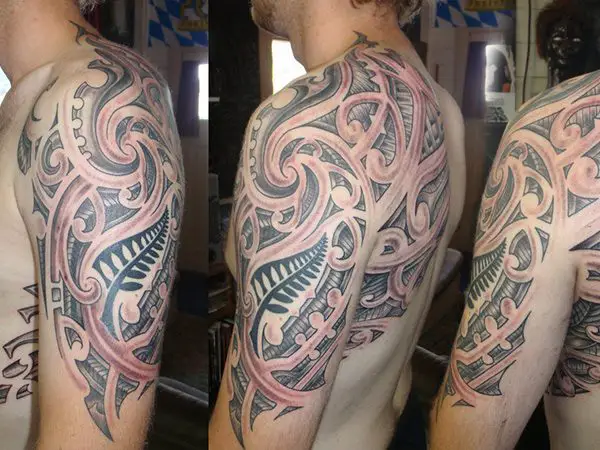 The world of tattoos for men brings out many colorful and interesting themes. Whether it is power and boldness, courage and generosity, or creativity and grace, there are so many themes that are expressed through the lines and colors. The inner tribal in all men is brought out by intricate tribal tattoos for men.
Many tattoos for men are placed where they can be prominently seen. The forearm is one such place, where an intricate tattoo goes really well with a bulging bicep. Men also get inked all along their arm or back with intricate patterns. The designs for men's tattoos come from everyday life, symbols, literary allusions and so on. Often, the world of private symbols features in a tattoo. The smooth and straight strokes make a stunning impact in men's tattoos.
Among interesting Arm Tattoo Ideas For Men, the theme of the machine man stands out.
By virtue of depicting what may really happen in the future, the machine man tattoo offers a teasing look at the human fascination with machines. The confident inking and rich images used in tribal art, make them a rich source of inspiration for men's tattoos. Take a look at some interesting tattoos for men.
Tribal Tattoo
Delicate pink vines dance among black leaf patterns in this intricate upper body tattoo.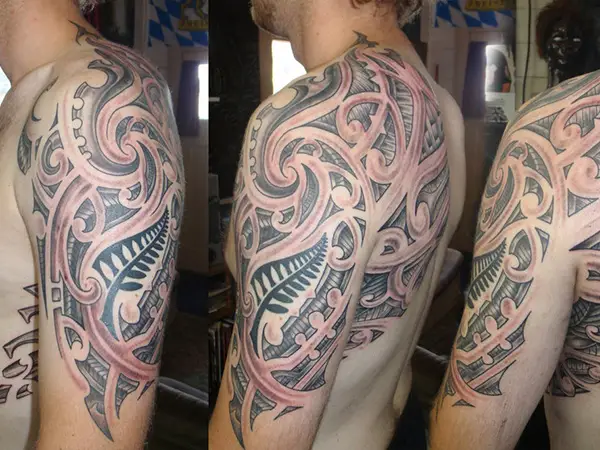 Fish Tattoo
The brilliant orange and gold-fish contrasts with the shaded black and white backdrop.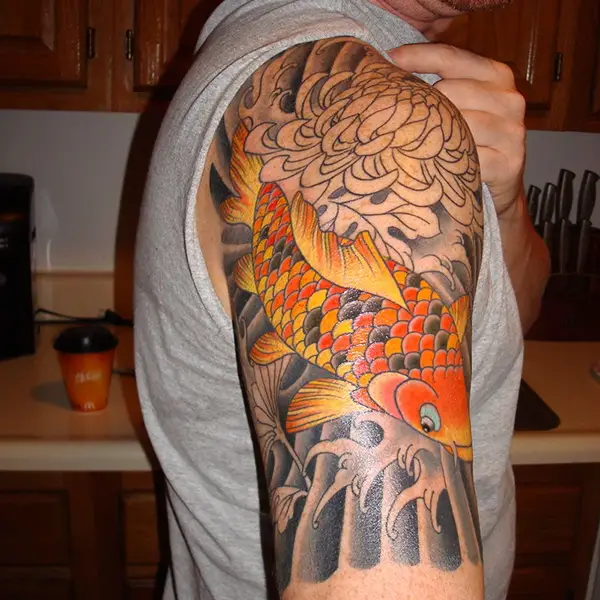 Entangled Tattoo
In this finely inked tattoo, you see an octopus tangling its tentacles on the man's forearm.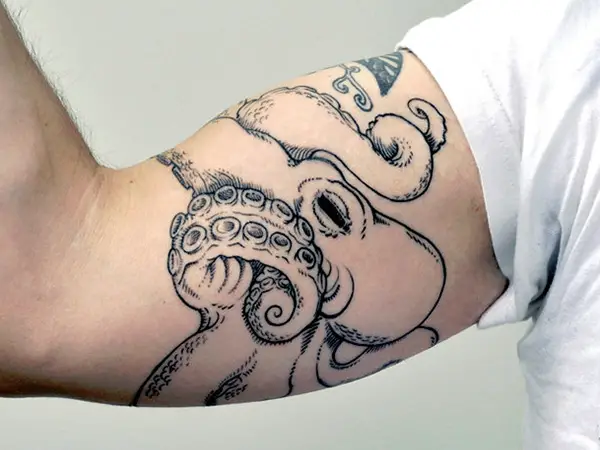 Entangled Tattoo
Cracked Tattoo
A huge shaded round with cracks, molds to the bulge of the upper arm, in this pencil sketch style tattoo.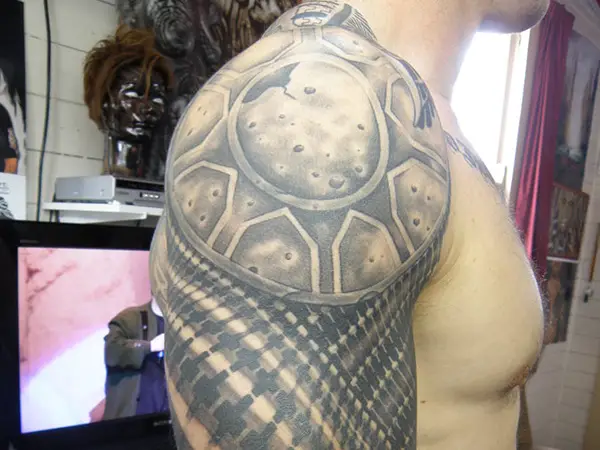 Call Of The Tribe
The bold broad lines bring out the call of the tribe, in this primitive arm tattoo for men.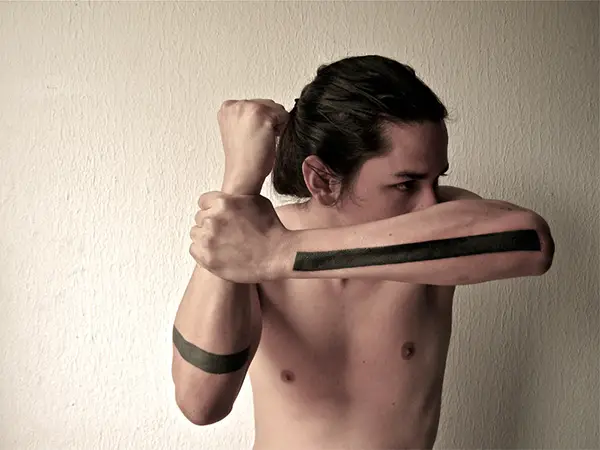 Call Of The Tribe
Tribal Elegance Tattoo
The elegant 'S' shape combines with intricate patterns in this sleeve arm tattoo.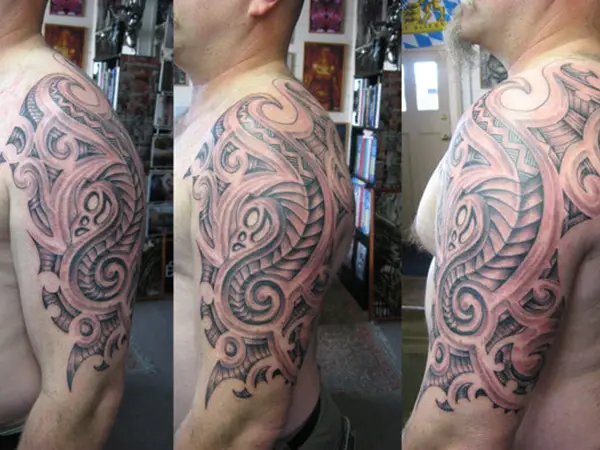 Lover's Time Tattoo
Tiny dandelion petals fly off, one by one, marking the passage of time.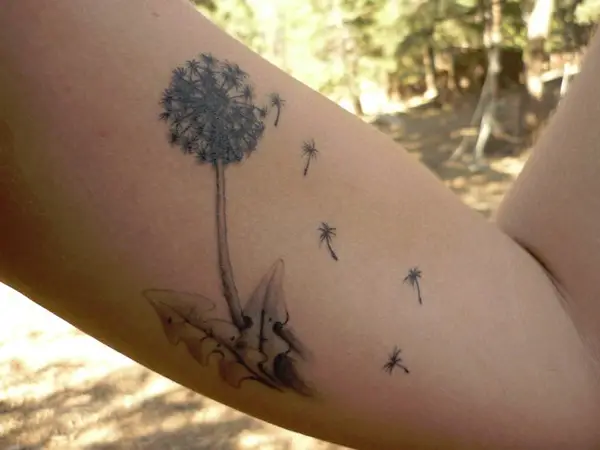 Lover's Time Tattoo
Men's Horse Tattoo
The quirky horse with arms folded, makes for an interesting forearm tattoo.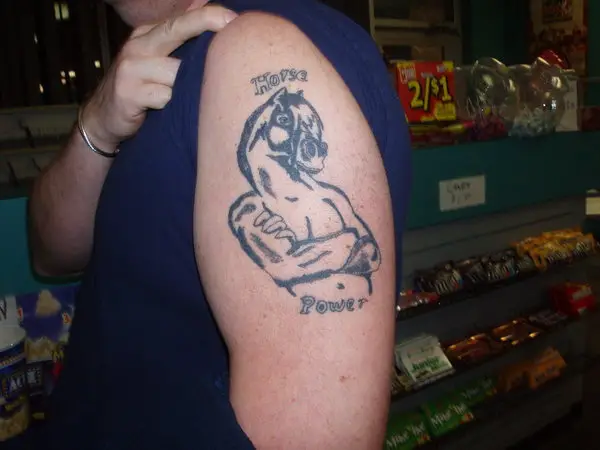 Android Tattoo
Machine meets man in this android theme tattoo featuring closely placed circuits and switch boards.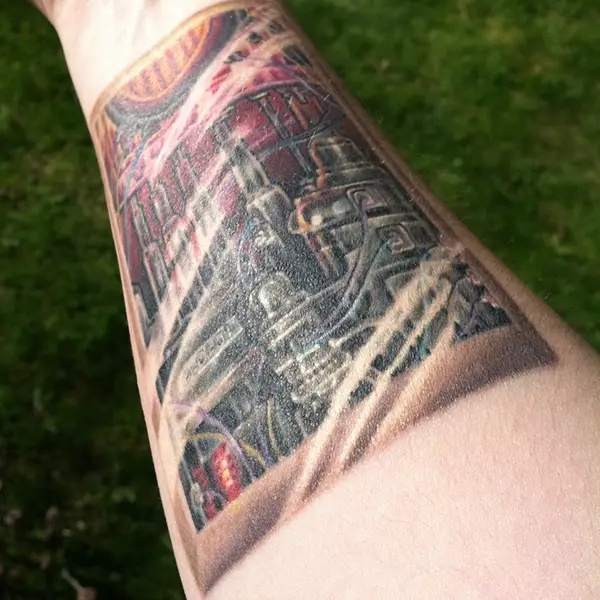 Android Tattoo
Femme Masculine Tattoo
Check out the oval and delicate crochet style tattoo on the man's forearm.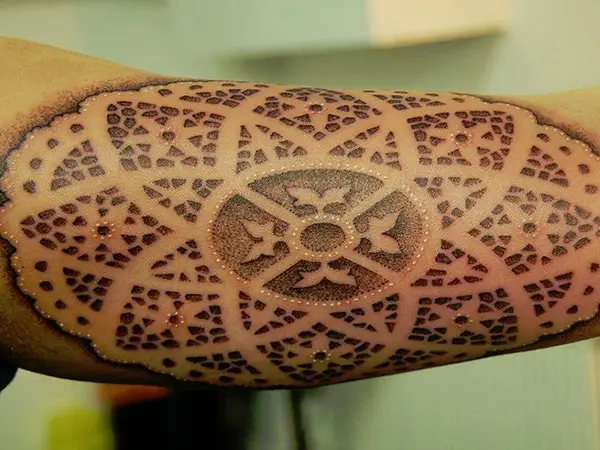 Basic Patterns Tattoo
The fine spaces between the lines give a dramatic effect to the solid black areas, in this tribal pattern tattoo.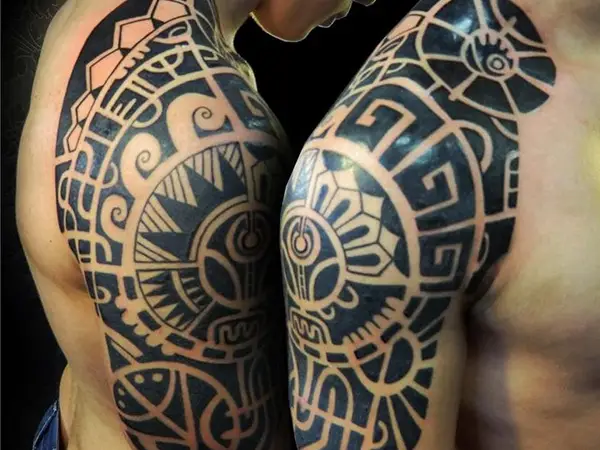 Lightwarrior Tattoo
Check out this elongated Lightwarrior tattoo, with a bulb added for effect, on the lower arm.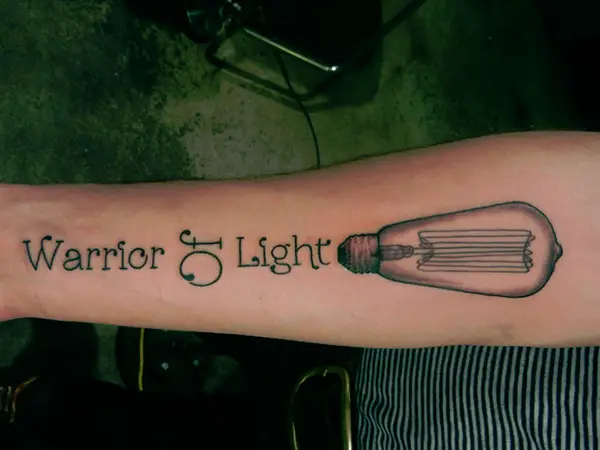 Eagle Tattoo
Fine lines give an acutely finished look to this intricately inked tribal eagle tattoo.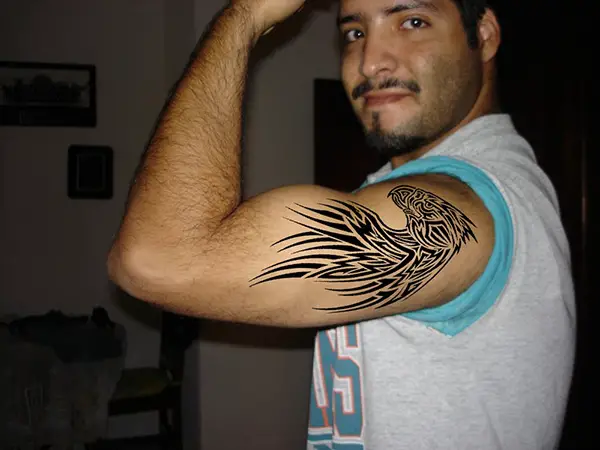 Lettering Mystery
The pencil sketch style faded shading makes a suitable backdrop for the archaic lettering.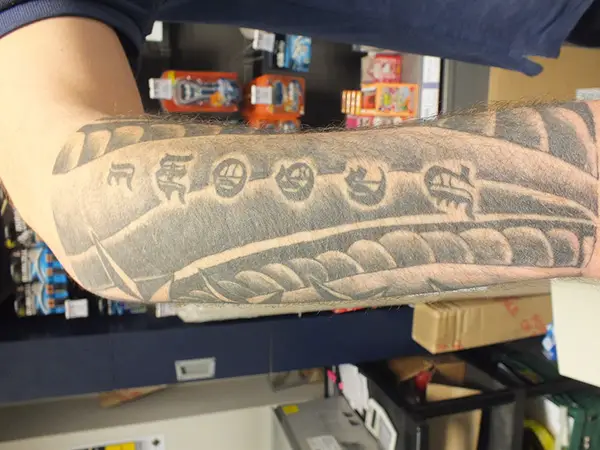 Emblem Mysterious Tattoo
Inked with a three-dimensional effect, this bold tattoo depicts a circular tribal ornament. Note the rich patterns surrounding the central masked face.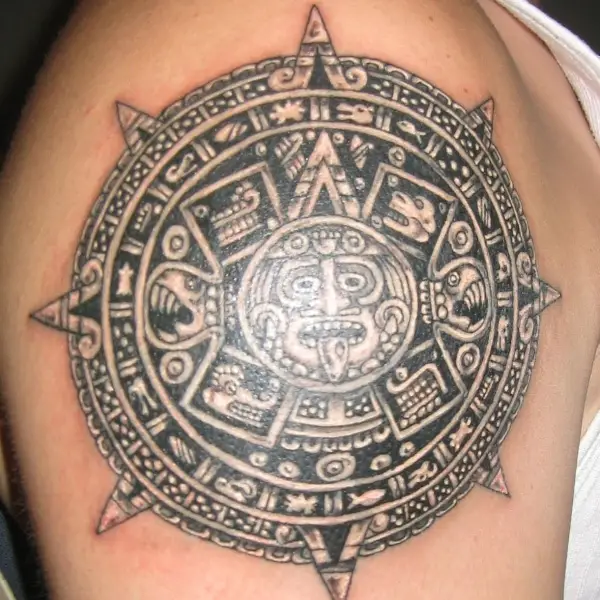 Men's Gore Tattoo
Fat and squishy worms work their way into the bloodied flesh. A truly gory and realistically inked tattoo.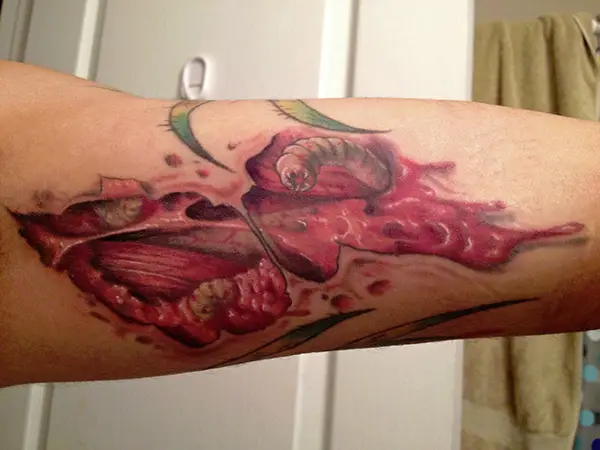 Men's Gore Tattoo
Bold Men's Tattoo
The broad lines lacing through the geometrical patterns, give this tattoo an intricate look.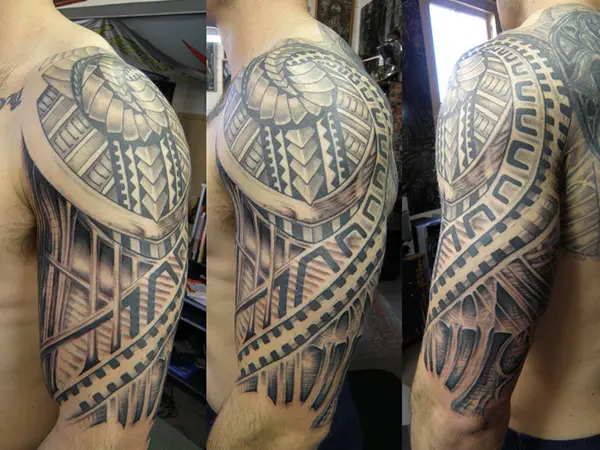 Dramatic Display
Black cubes one hand, play against cube shapes on a black background on the other hand. A dance of contraries.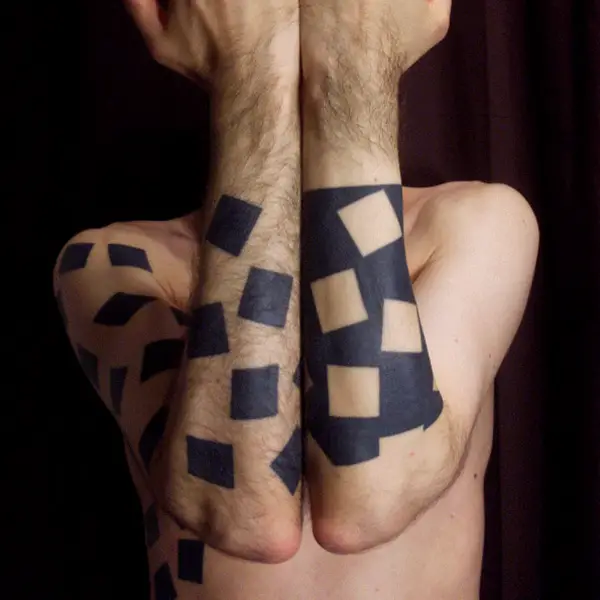 Dramatic Display
Ripped Leaf Tattoo
In this leaf-shaped tattoo, the red muscular inkwork depicts how the skin would look, ripped.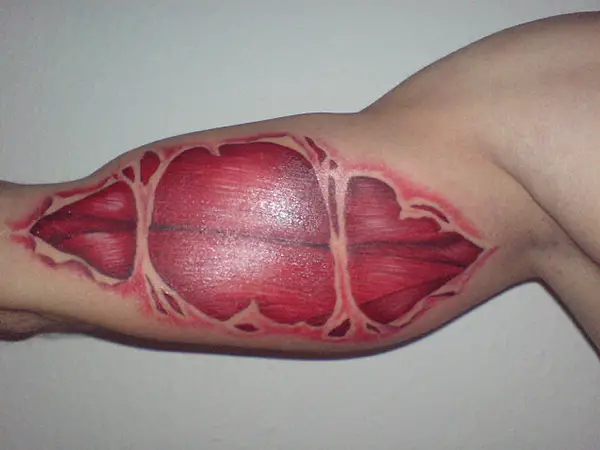 Spiral Tattoo For Men
The big spiral gracefully tapers into a multi-tailed shape, in this tribal pattern forearm tattoo for men.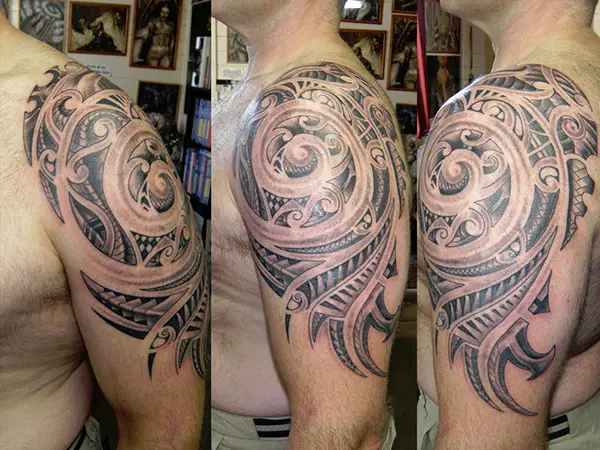 Chinese Tattoo For Men
The bold lines contrast with the delicate and soft shading inside the geometrically patterned shapes.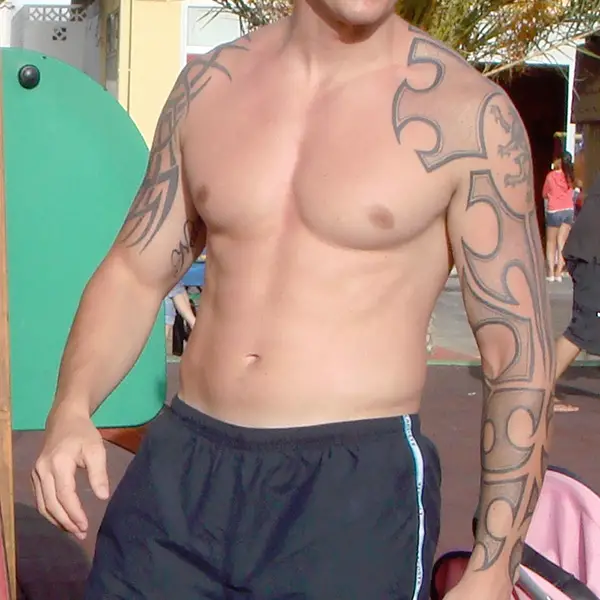 Text Body
Text along the entire arm flows out to become a pattern of wavy text along the upper back.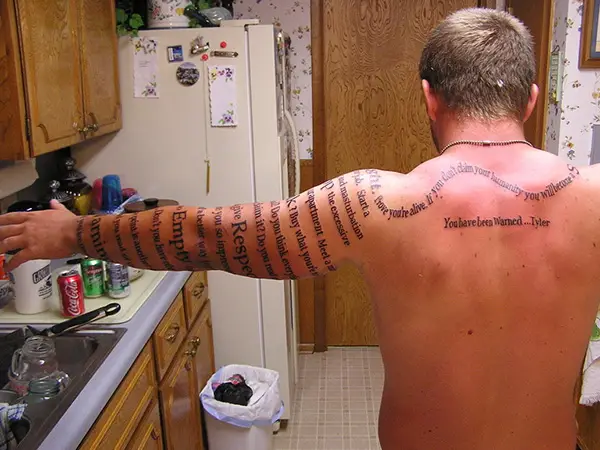 Star Tattoo For Men
Two triangular frames interlock to make up the esoteric five-pointed star.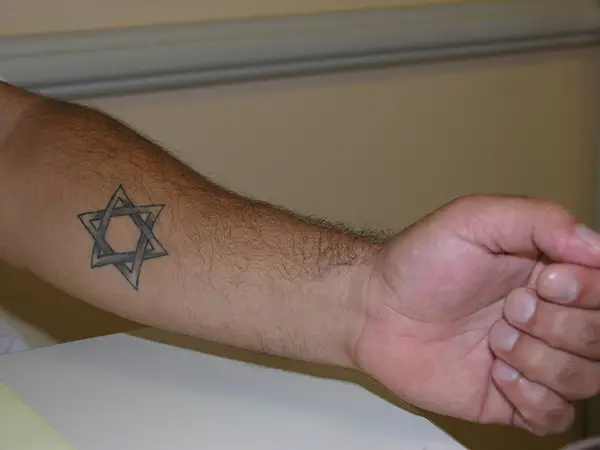 Retro Love
This rainbow theme radio tattoo paints the colors of vintage music on the arm.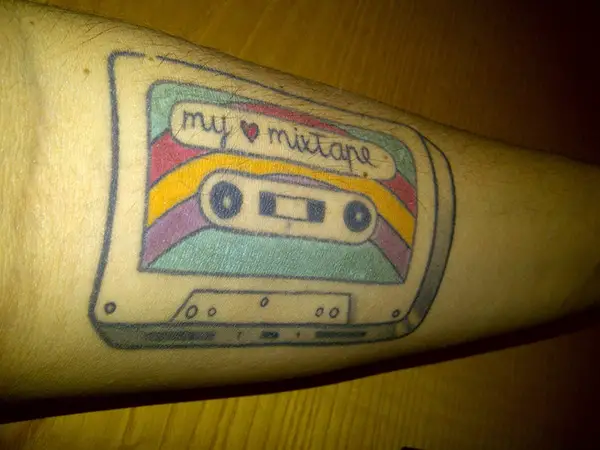 Retro Love
Machinery Arm
Complex machinery is inked against a dark shaded background, in this upper arm tattoo.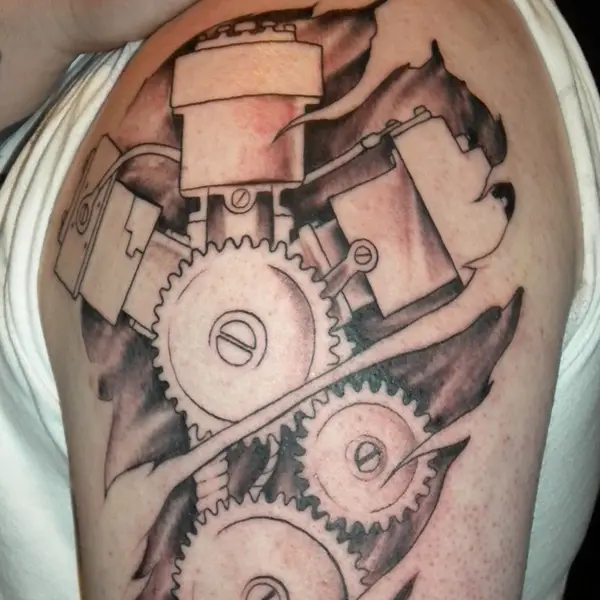 Seeing The World
A pretty roll of photographic film, with a red edge and a black edge, unspools.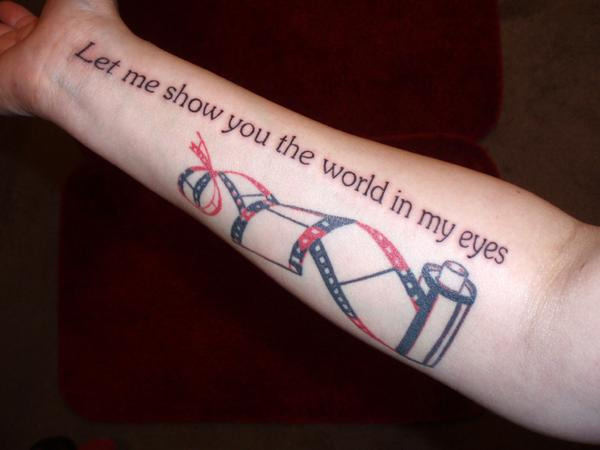 Seeing The World
If you like this article, you might be interested in some of our other articles on  Skull Tattoos For Men,  Calla Lily Tattoo,  Ancient Art Tattoo  and  Sacred Art Tattoo.