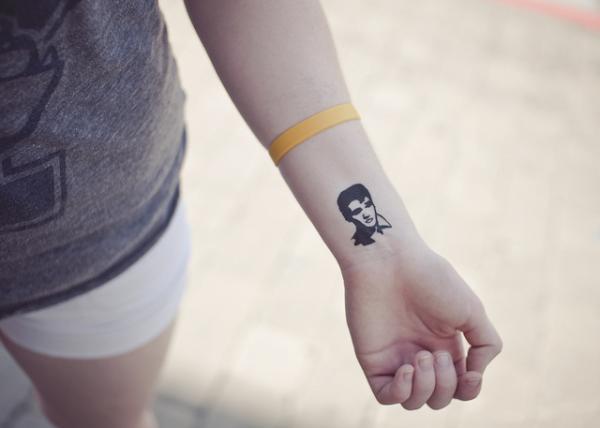 Many people get themselves inked when there is some sort of turning point in their life or some very special event, like a relationship, a death in family, child birth, break-up or marriage. Sometimes they want to dedicate their emotions or feelings to their loved ones. A tattoo design should be well researched and one should be very sure about the tattoo because you will have the tattoo on your body forever. Therefore. you certainly don't want to make any mistakes and get a tattoo that you are later going to go on and dislike. It's a pretty big decision and it's a decision that you can't take lightly.
Below is an amazing picture gallery which has 100 tattoo ideas for you to look over and possibly customize them with your own personal touch.
It requires a lot of time to look for the perfect design, so we have created this collection of designs which include some exclusive designs and some designs that we find to be very attractive. Check out the list and I am sure you will find the design you want to get for yourself. Don't waste your time and jump up to the image gallery that is below!
RIP Elvis
Can't help falling in love with the "Jailhouse" rocker. Elvis portrait on inner wrist.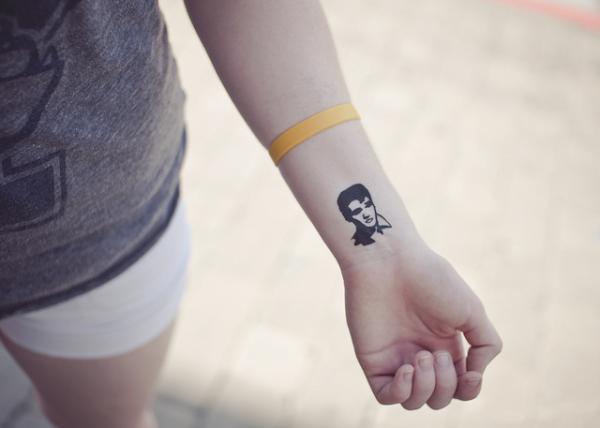 Tape Measure Bow Tattoo
Super cool measure tape bow tattoo inked on inner arm.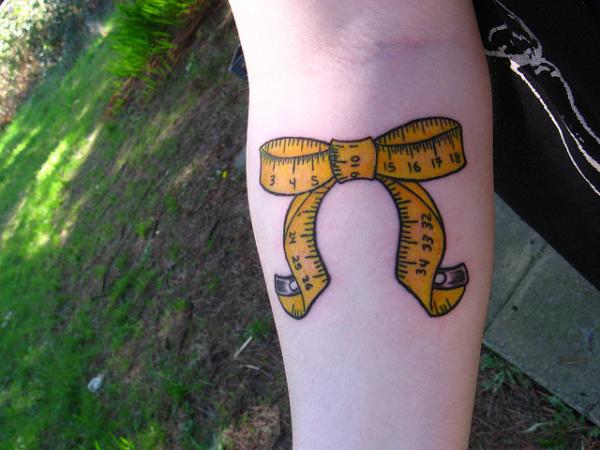 Final Tattoo
Creative idea for a small tattoo on wrist, which is a dark shaded spool of thread.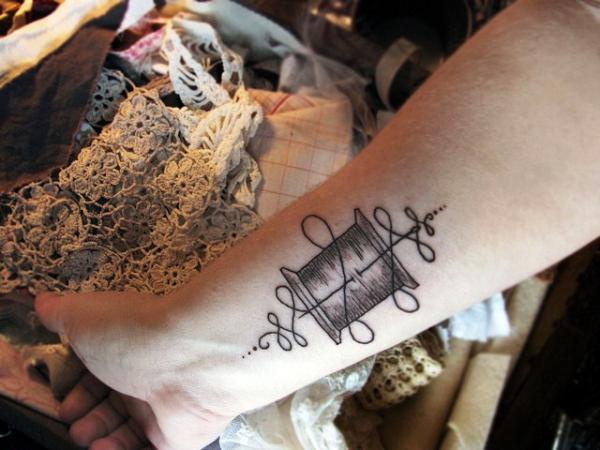 New Tattoo Ideas
Stylish script tattoo on inner wrist saying, "regrette rien" meaning "I have no regrets".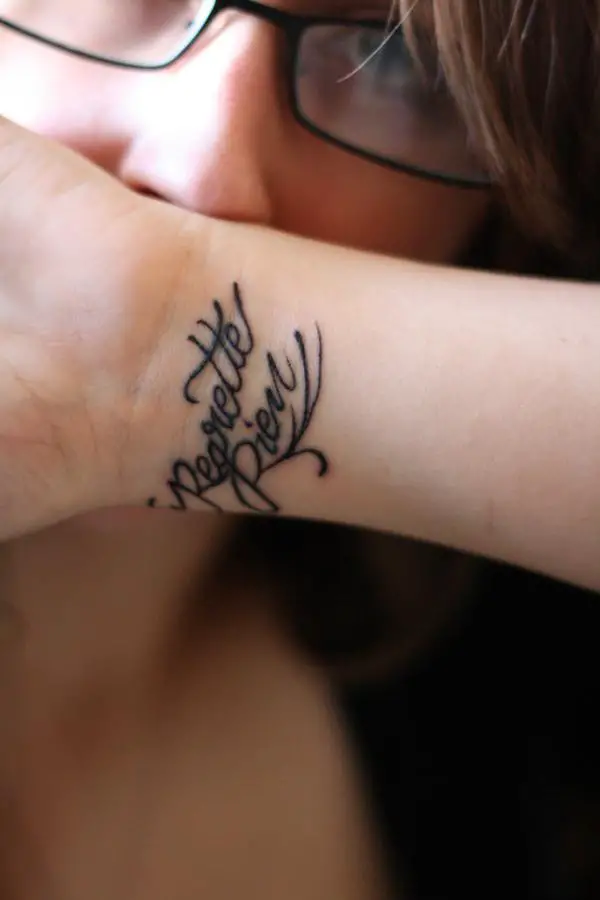 Tattoo Machine
What better than this could be to represent enthusiasm for tattooing.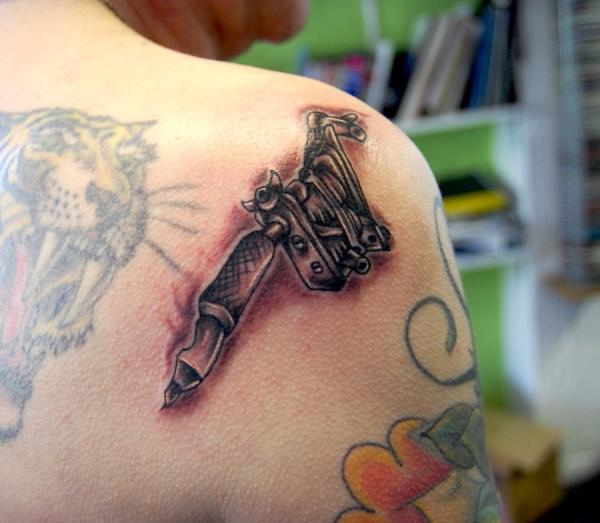 Moon Goddess Tattoo
If you want a heavenly symbol, you would love this design of Moon Goddess.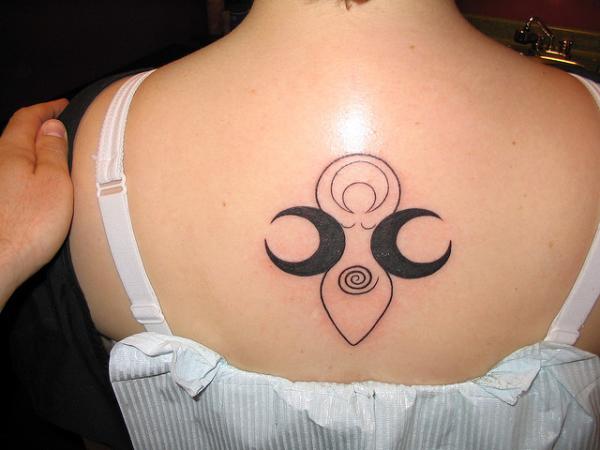 Nice Little Birdies
Cheerful swallow birds and lovely colorful flowers.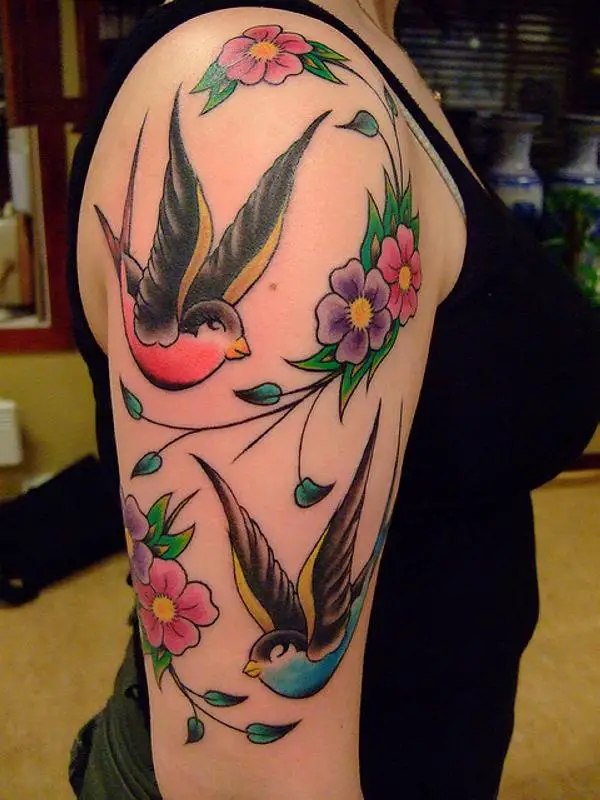 Elephant Tattoo
Cute miniature sitting elephant tattoo on hand.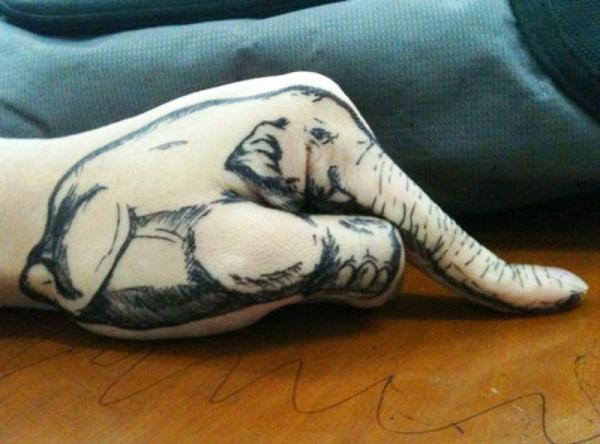 Chest Piece
Terrific chest piece including portraits of Jesus, boy and a mechanical skull with an ambigram text saying, "Family".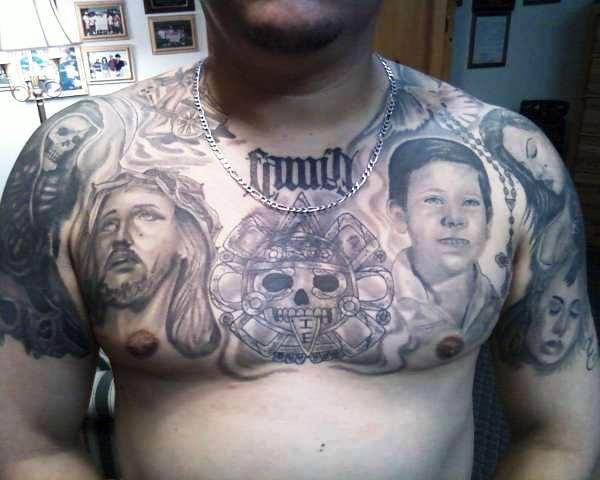 Wing Tattoo
Get the wings and represent your free-spirited personality.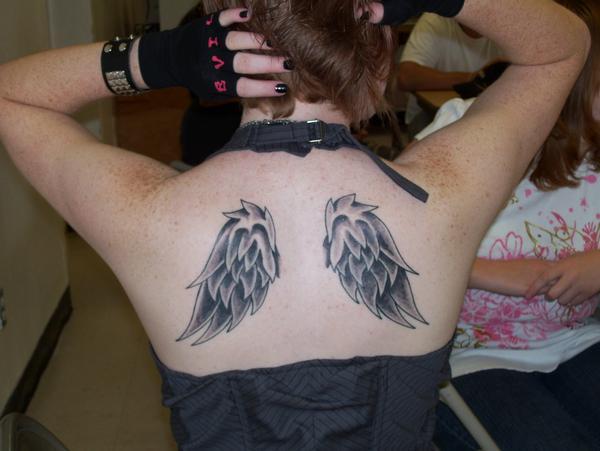 My Fresh Ink
Awesome looking design of a divine tree with beam like wings and text that says, "Believe".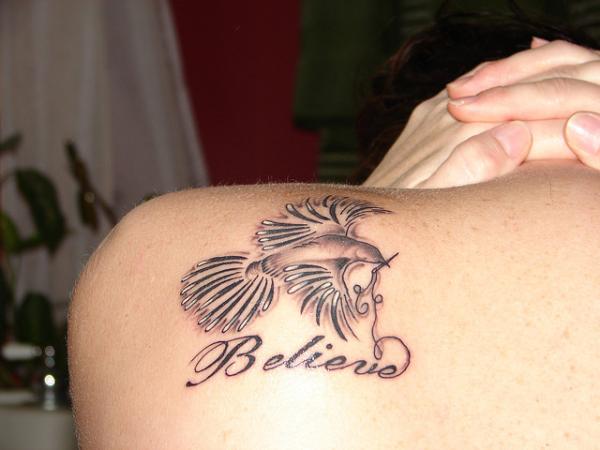 Mickey Mouse
Love Disney? Get a Mickey Mouse face silhouette for a simple tattoo design.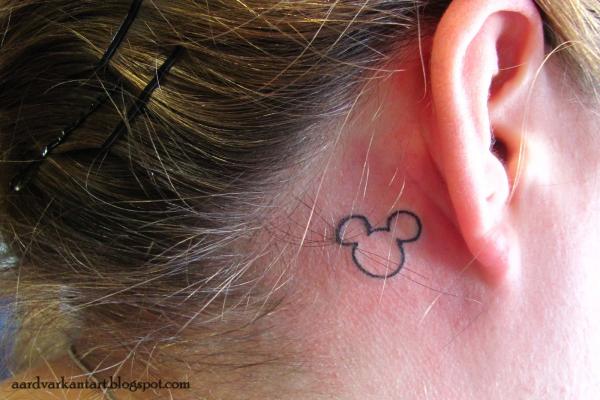 Quotation Tattoo Idea
Quote your exclusive style statement with little quotation marks on inner wrist.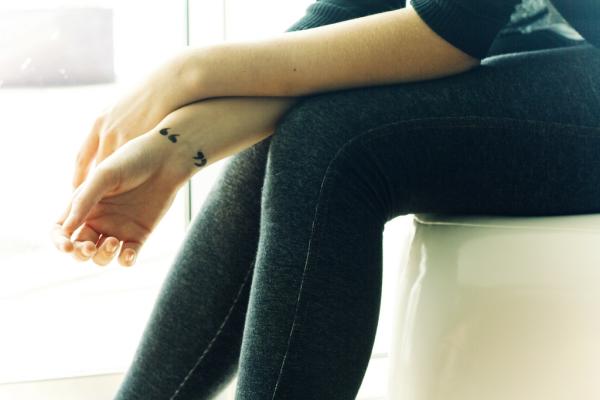 Believe Tattoos
Believe tattoo with a small heart to represent self-belief.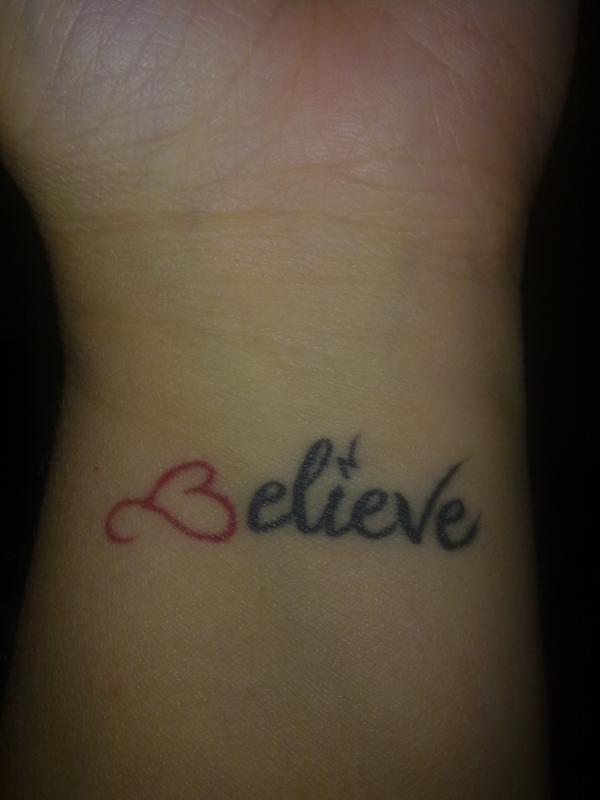 Believe Tattoos
Gun Tattoo
Cool guy with a classy pistol tattoo on his bicep.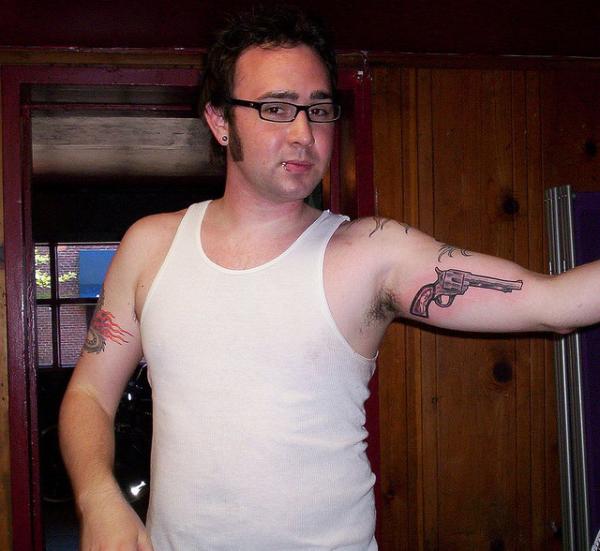 Gun Tattoo
Round Owl Tattoo
Little round fat owl sitting on a twig in fabulous dark shade.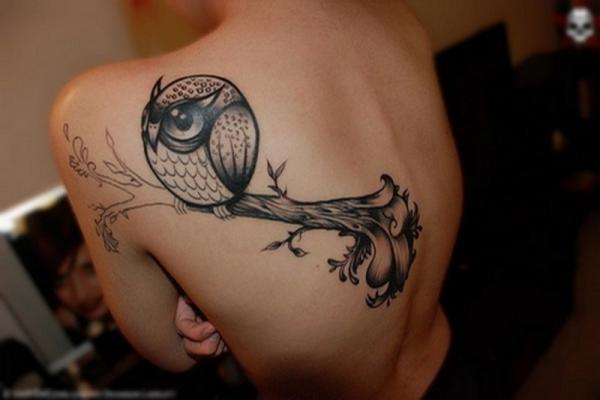 Spider Chip Tattoo
Cool spider chip design for hard core geeks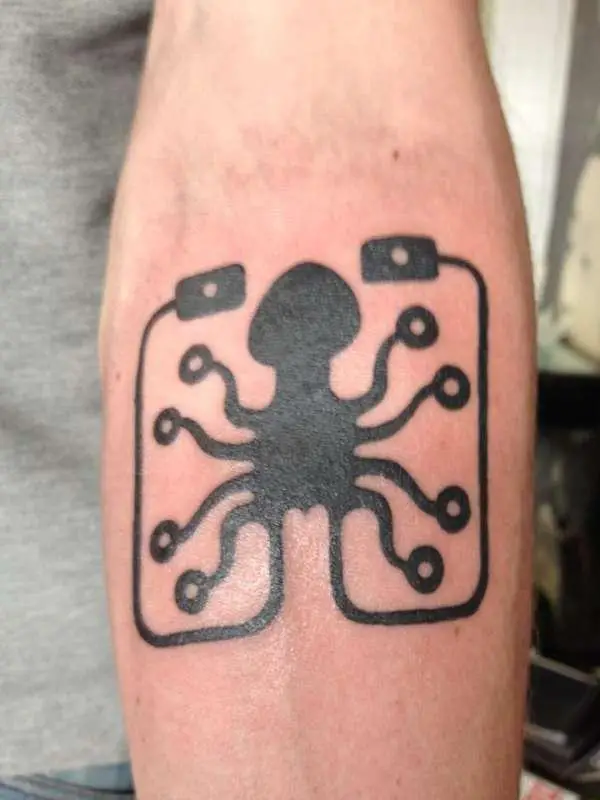 Physics Tattoo
Express that you belong to a niche of geniuses with an Einstein and Newton's formulae tattoo.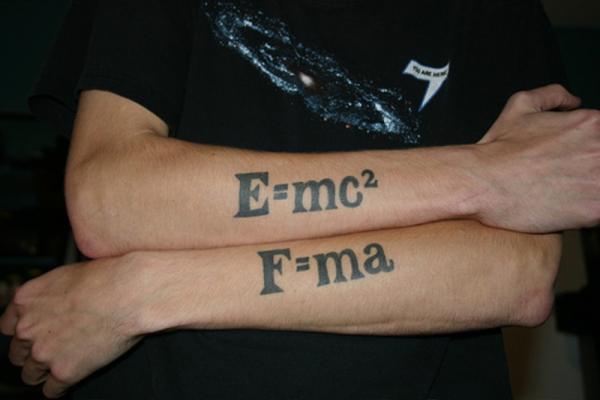 Autism Awareness
Great gesture of strength to support awareness against autism with a ribbon and puzzle pieces.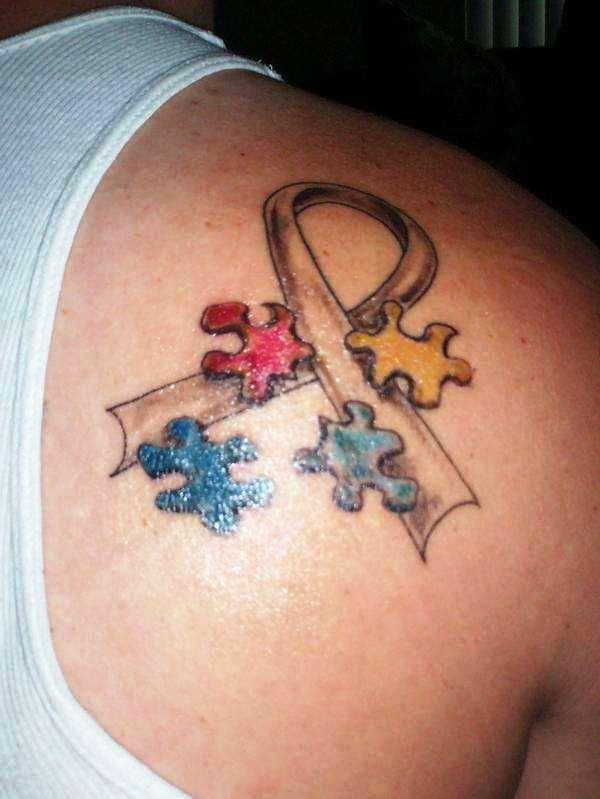 Butterflies And Stars
Chic butterflies and stars based on Rihanna tattoo idea.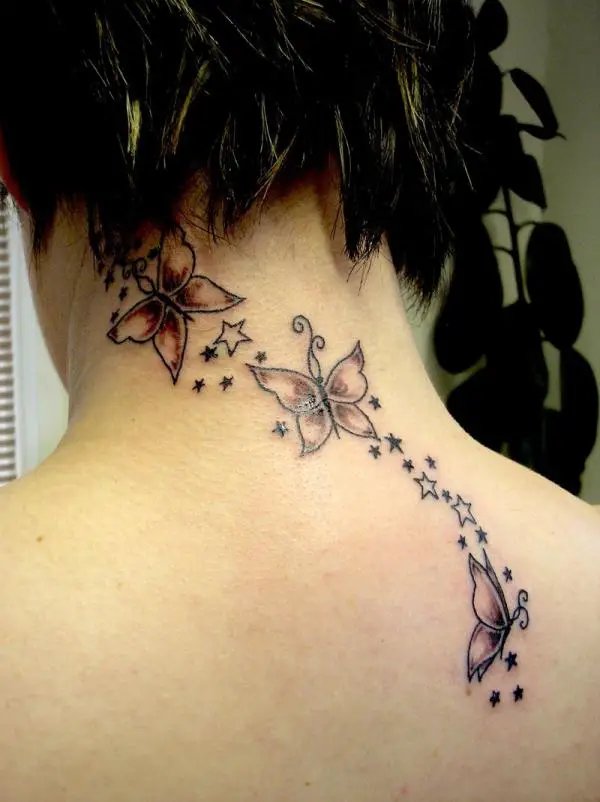 Foot Tattoos
Beautiful tribal tattoo of lovely flowers and swirls n foot.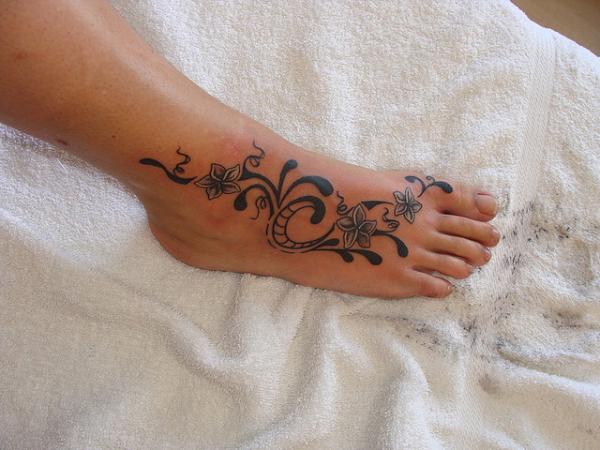 Homer Simpson
Head of the Simpsons family, Homer, pondering seriously over something critical.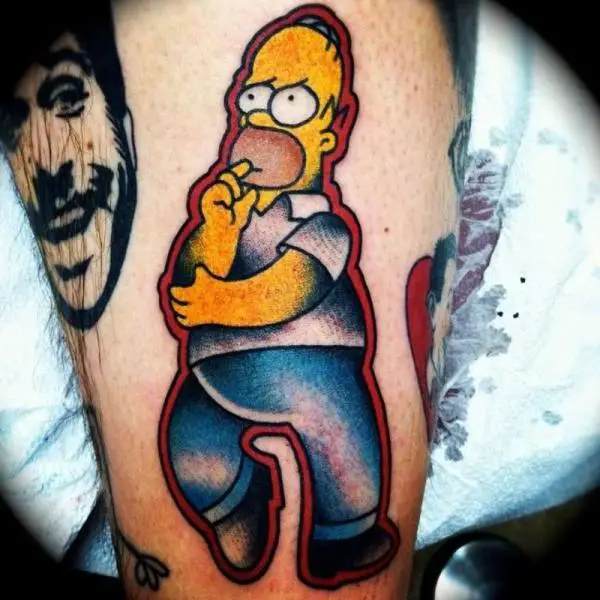 Sacred Heart
Unique dark shaded sacred heart with roses making a spectacular half sleeve tattoo.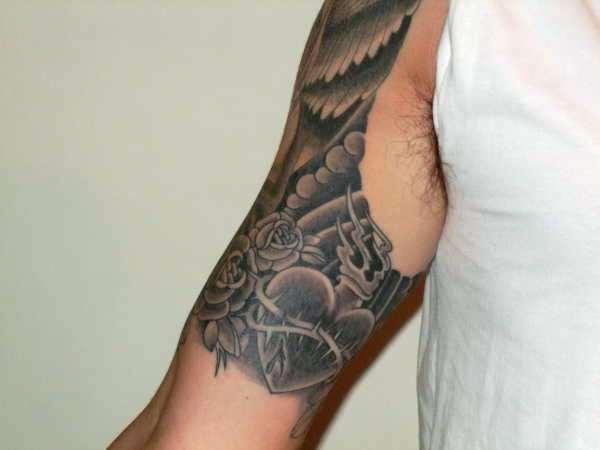 Dragon Tattoo
Deadly full back dragon in black and purple flashing intricate details and little dragonflies and flowers.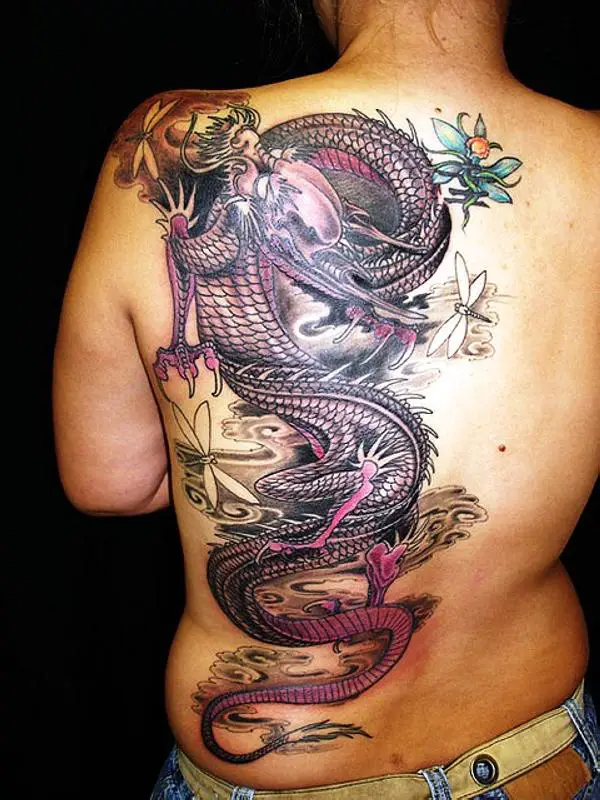 Script Tattoo
Popular quote of the rebels, "Only God Can Judge Me" tattoo.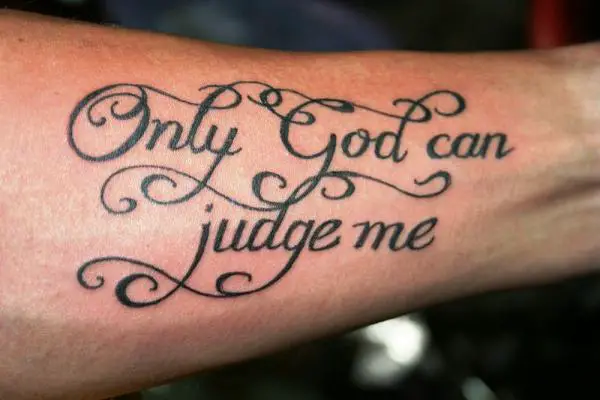 Campfire Companion
Terrific concept of protective hands saving a guy from killing chill.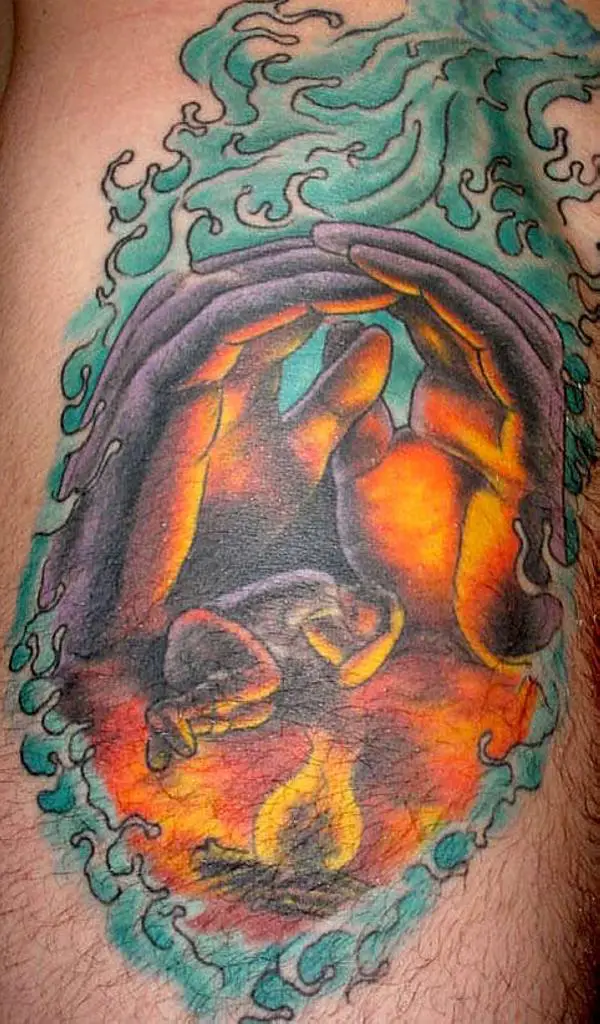 Wrist Tattoo Ideas
Cute little heart outline on inner wrist for a loved one.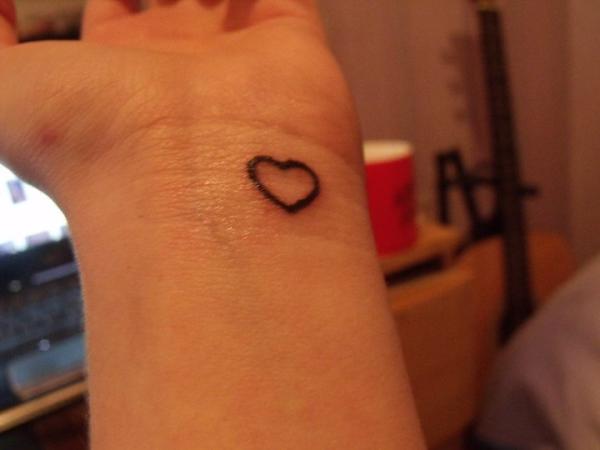 Art Inside Me
Crazy fan of the luxury brand sporting Louis Vuitton pattern tattoo on head.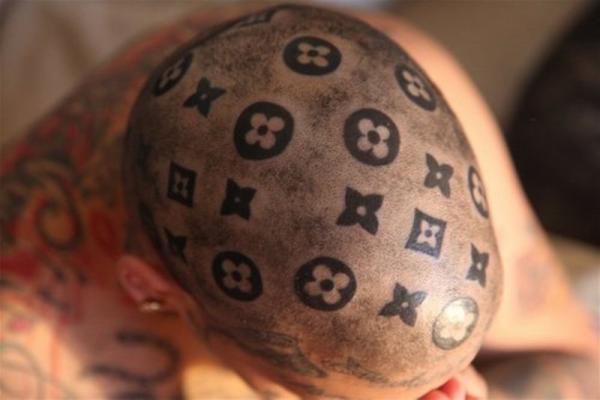 Seahorse Tattoo
Little creature that holds quite intricate and diverse mystical meaning.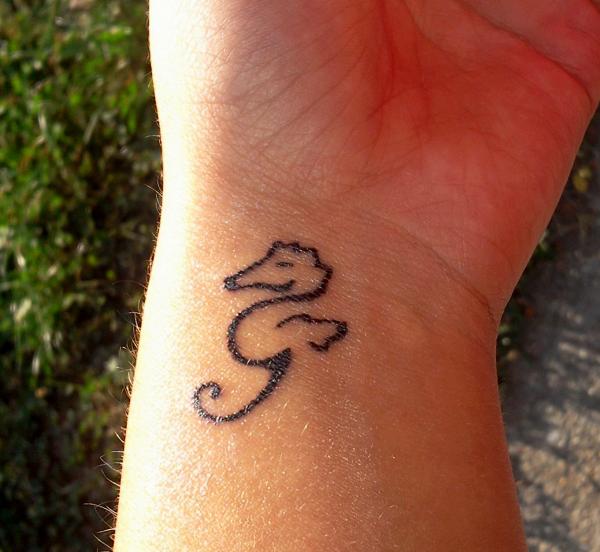 Seahorse Tattoo
Cross Tattoo Ideas
Gorgeous tribal tattoo with Celtic knot details, inked on upper back.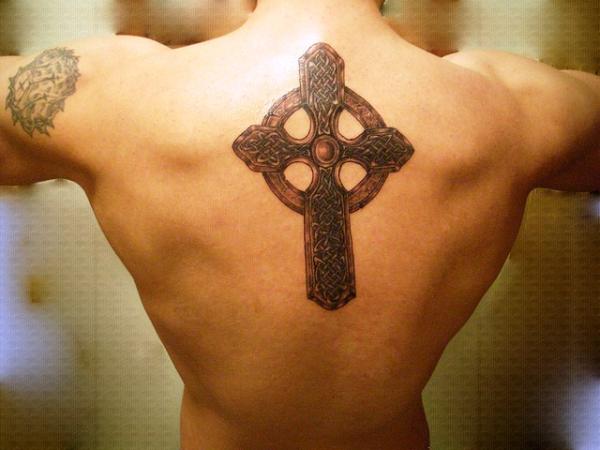 Shoulder Back Star Tattoo
Beautiful big black stars inked on back shoulder on a background of several tiny stars.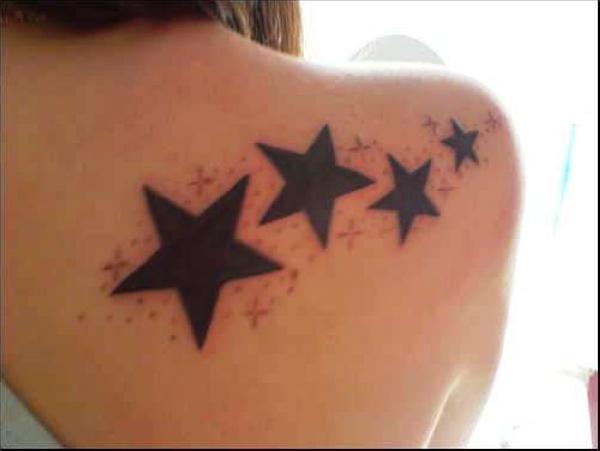 Side Arm Tattoo
Bold kanji script tattoos on arm that mean "love and hate" on left arm and "pleasure and pain" on right arm.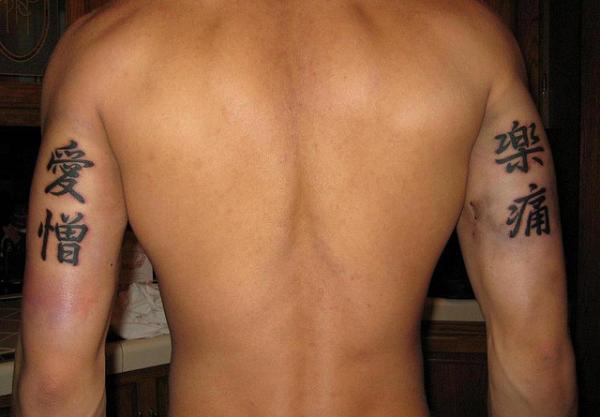 Baby Portrait
Adorable realistic baby portrait on arm looking simply fabulous.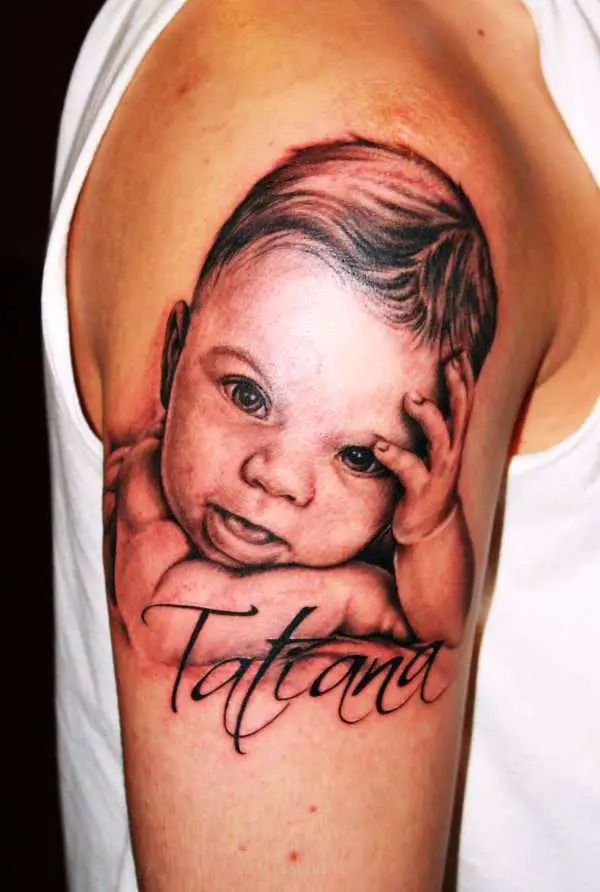 Gothic Rose Vine
Fashionably intense gothic roses and vine on ribcage looking stunning.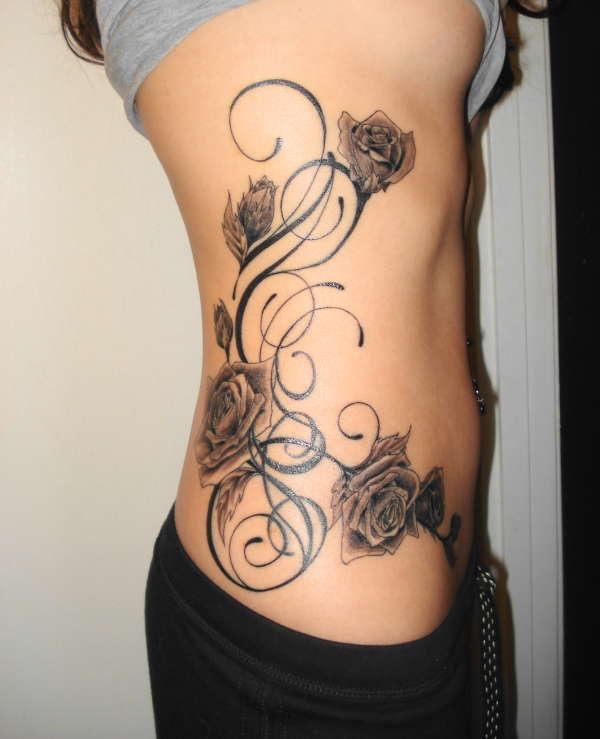 Tribute Tattoo
Gorgeous tribute for a loved one. It includes a beautiful text piece, Irish flowers, scroll and butterflies.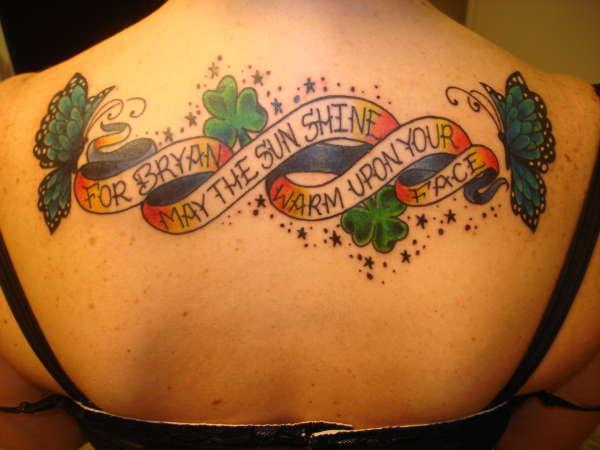 Koi Fish Tattoo
Twin koi fish tattoo in orange and blue arranged like Yin Yang.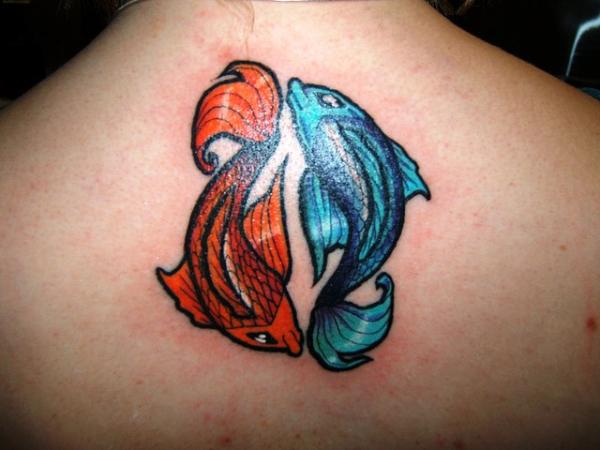 Descendents Tattoo
Milo mascot logos styled as skull and crossbones to make it look totally worthy.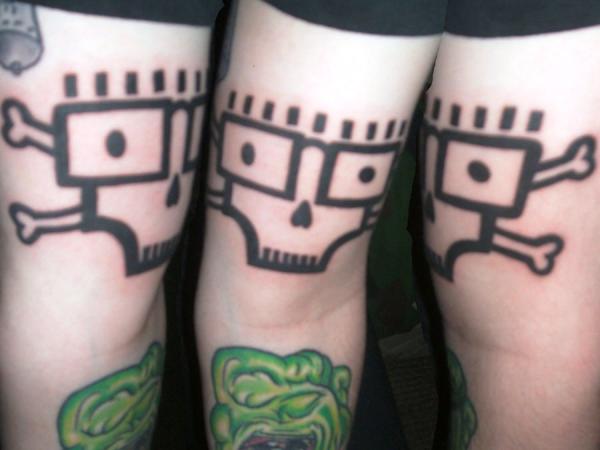 Bug Tattoo Ideas
Take out the insect of creativity inside you and reflect it on your style.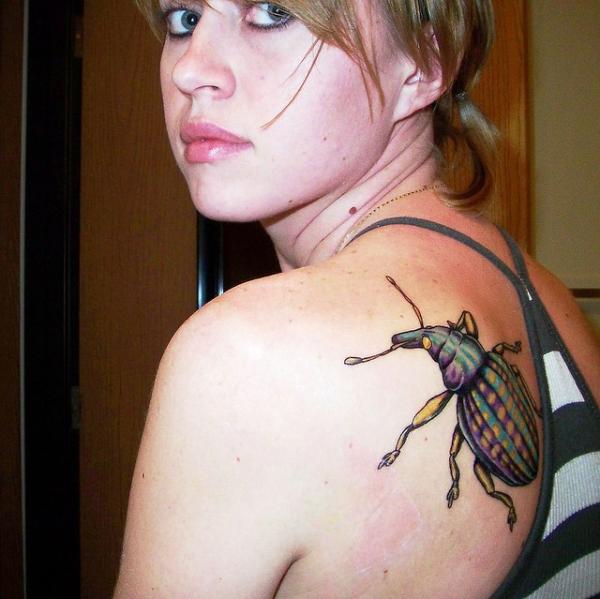 Mom Approved Tattoo
Innovative design to tattoo, it's a diagram of a serotonin molecule that contributes to how happy you feel.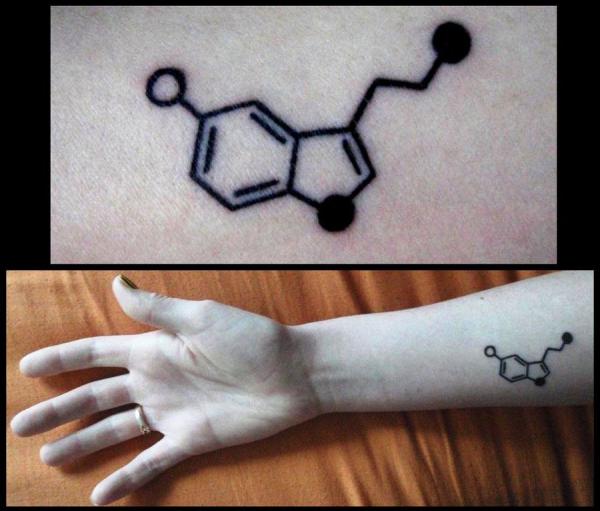 Bird Silhouettes
Silhouettes of birds flying on shoulder for a sexy style statement.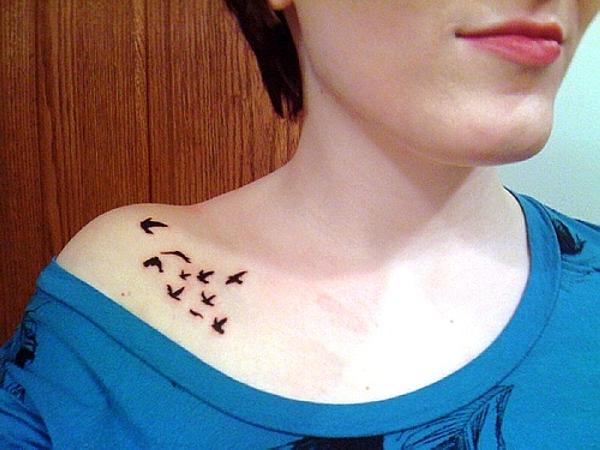 Peace And Love Tattoo
Nice inner wrist tattoos, one is a symbol of peace and the other is a heart to express love.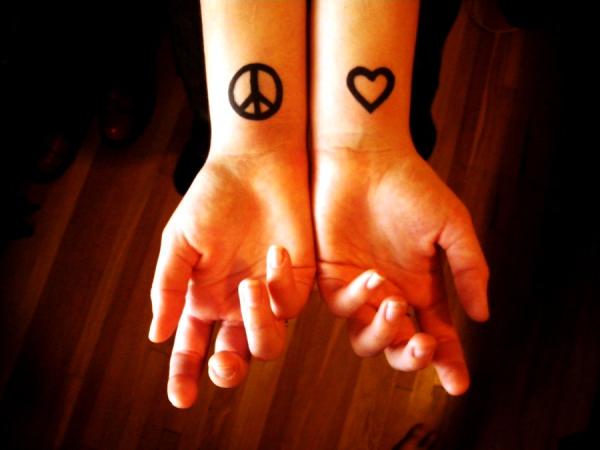 Peacock feather tattoo
Beautiful tribal floral design accentuated with a colorful peacock feather piece.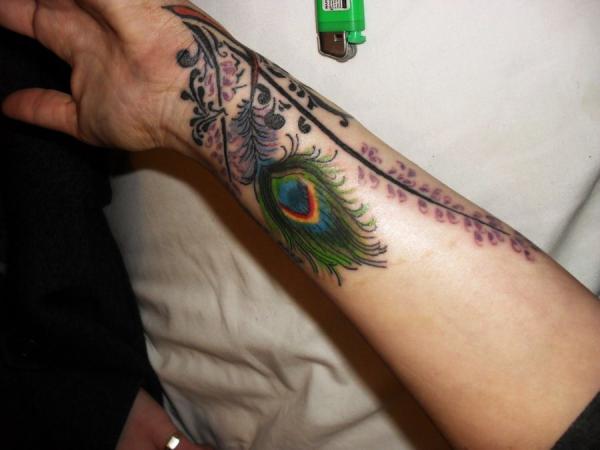 Wedding Tattoo Ideas
Initials tattoo to mark the eternal union of two people that began with their wedding.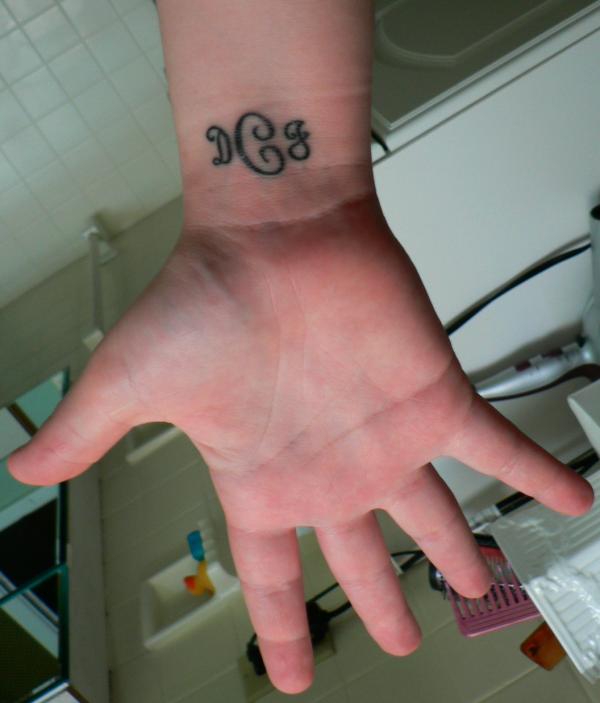 Tree Tattoo
Large silhouette of a tree in autumn inked in glossy black color.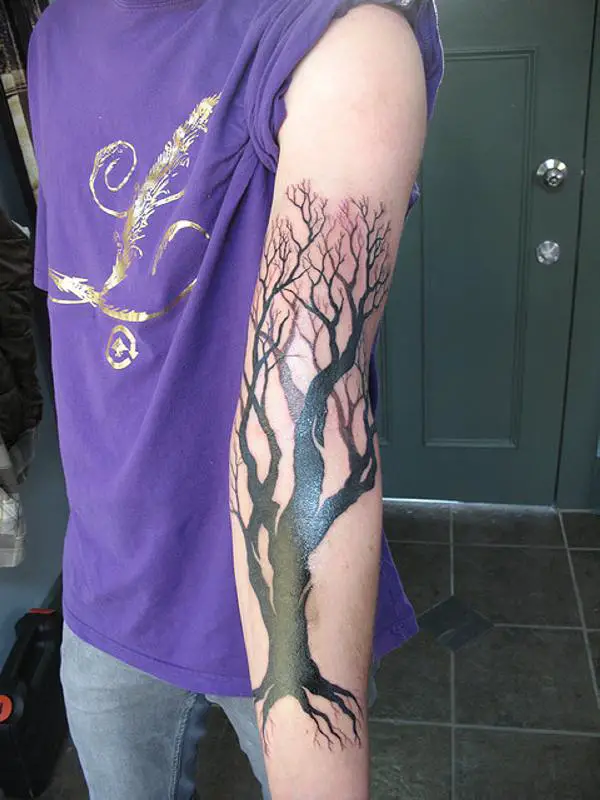 Tree Tattoo
Wow Dragon Tattoo
Guys' favourite, deadly dragon with meticulous details and deep shade work.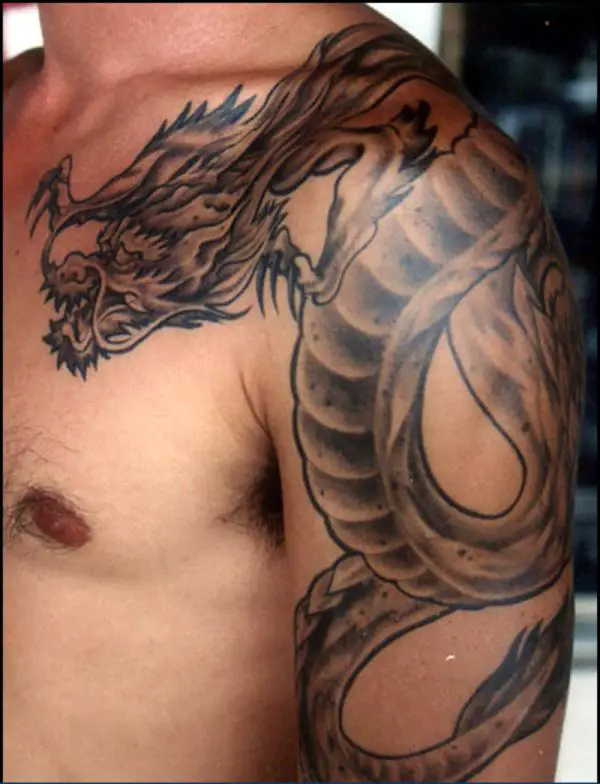 Cool Tattoo
While he is still unable to decide which design to go for, you may pick an idea from here, if you like either of these two.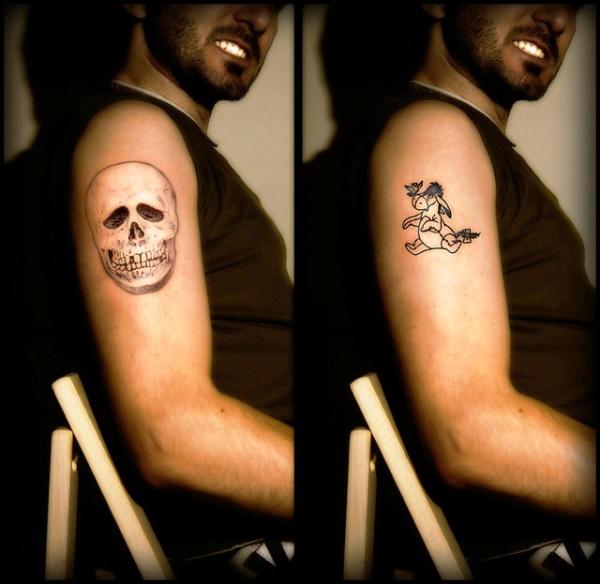 Samurai Tattoo
Amazing warrior Samurai piece on sleeve looking simply fantastic.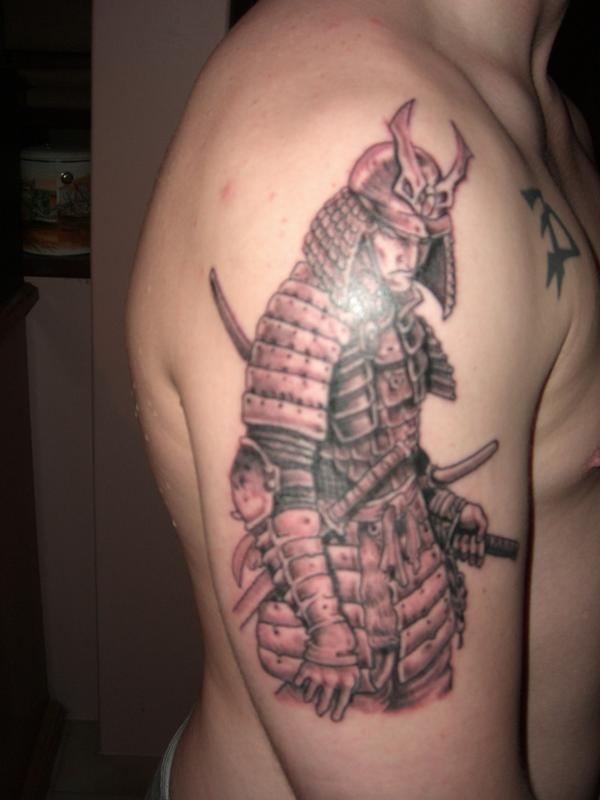 Harry Potter Tattoo
Fanciful Harry Potter inspired tattoo that includes stars, waves, birds and Harry's magic wand.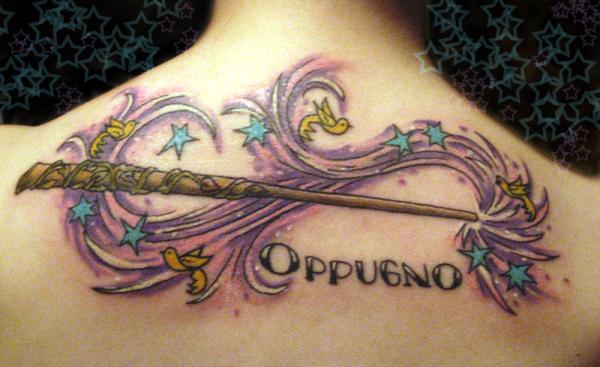 Cool Arm Tattoos
Very beautiful design of a bird and a dark heart.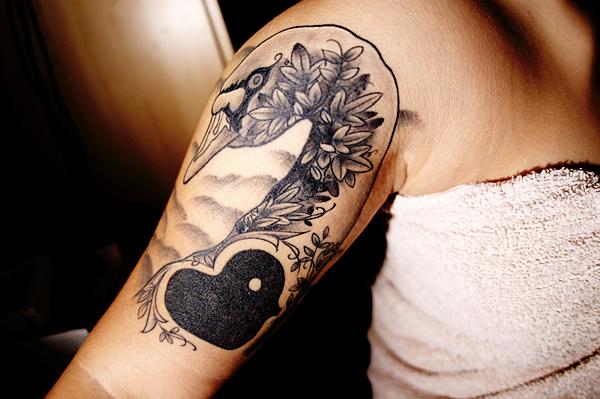 Jesus And Virgin Mary Tattoo
Jesus and Virgin Mary portraits for self-motivation of spirituality.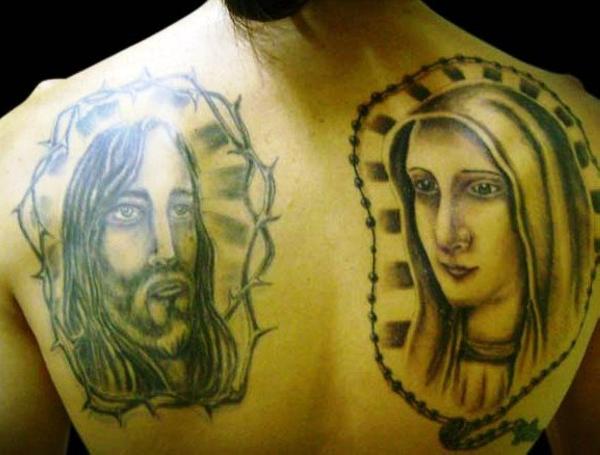 Lace Bow Tattoo
Gorgeous lace bow tattoo on wrist and forearm.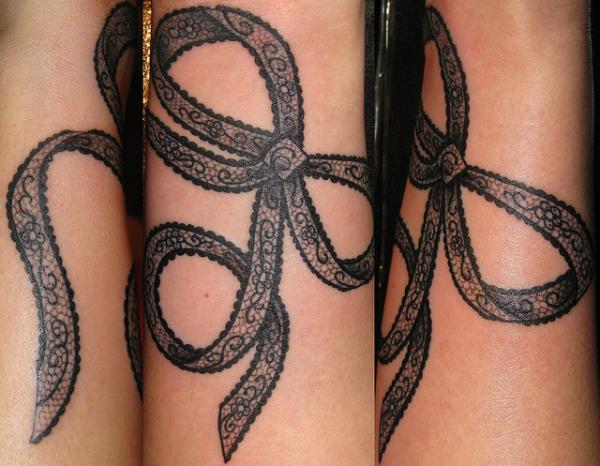 Spooky ID
Two wild beauties admiring each other. It's an Inanna piece who is an ancient Sumerian goddess.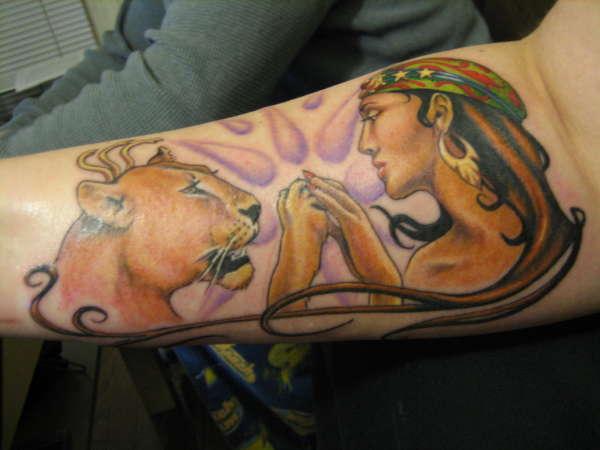 Swallows Tattoo
Little swallow bird silhouettes on inner wrist to express peace and love.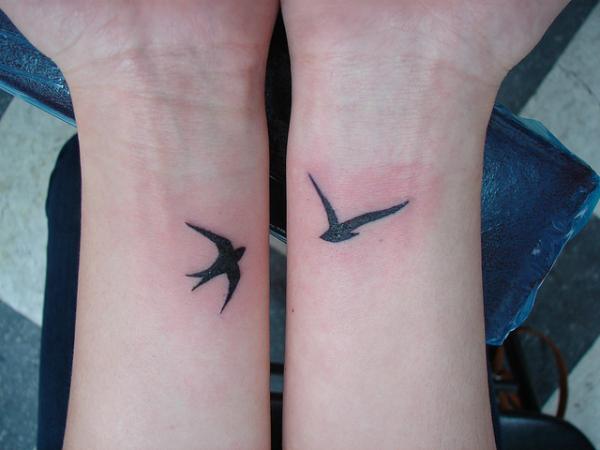 Swallows Tattoo
Enso Circle Tattoo
It's an incomplete circle, inked in a brush drawing style. Originating from Japan, Enso circle is strongly associated with Zen, school of Mahayana Buddhism.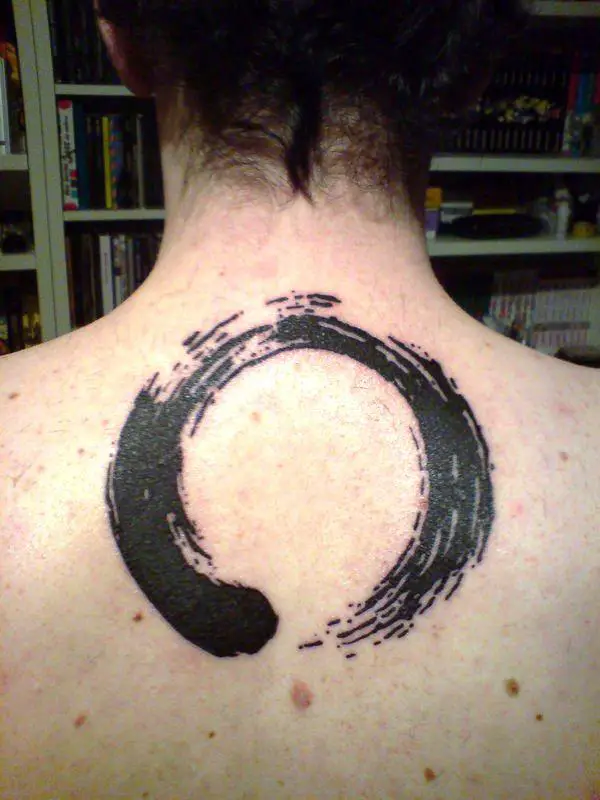 My Hibiscus Tattoo
Red and yellow hibiscus flowers inked in painting style on side lower back.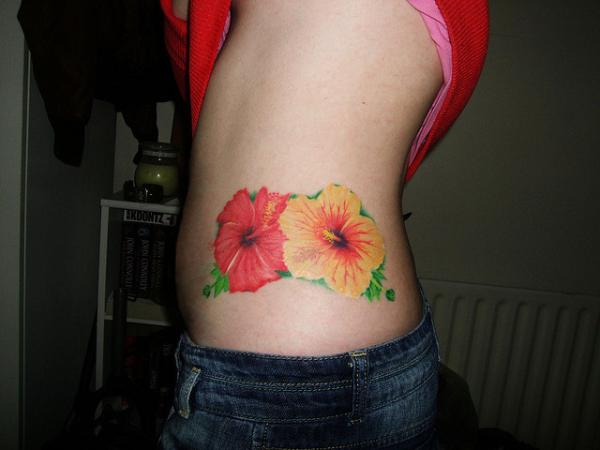 Cool Owl Tattoo
Cute owl piece looks inspired from Cult Of Luna's "The Eternal Kingdom".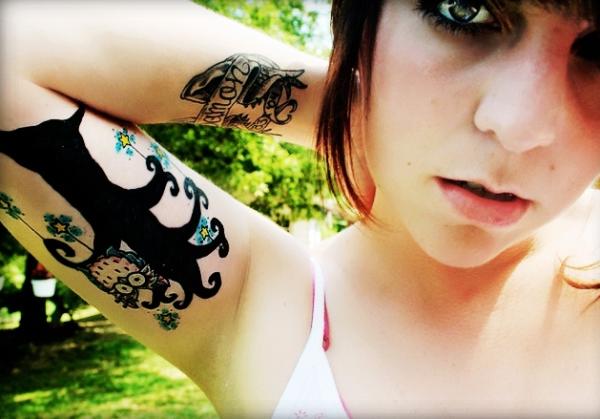 Remembrance Anchor Tattoo
Remembrance tattoo design, which has an anchor with rope.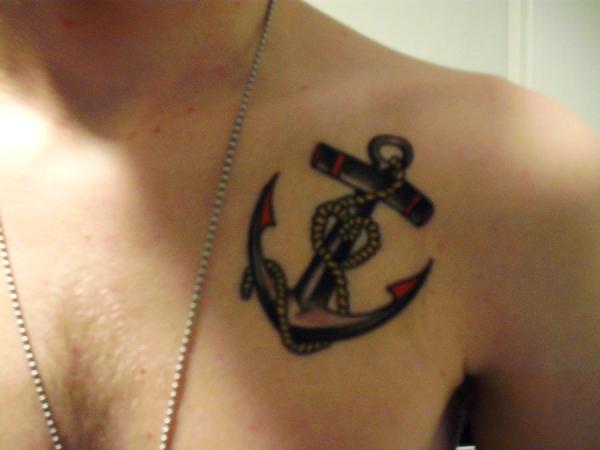 Hand Tattoo
Devilish blue hand with screaming face for a crazy style statement.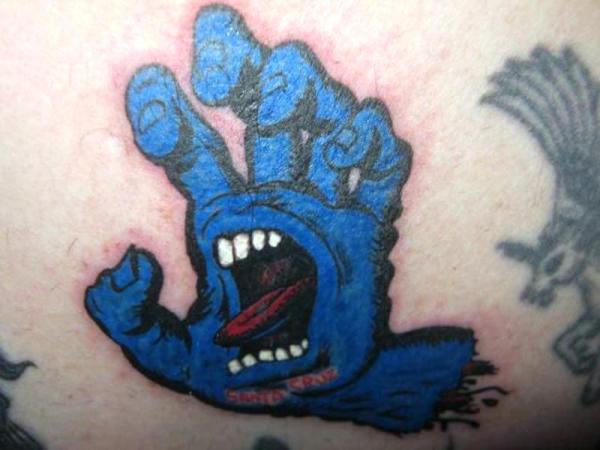 Fight Club
Beautiful woman portrait bearing bruises and Band-Aids.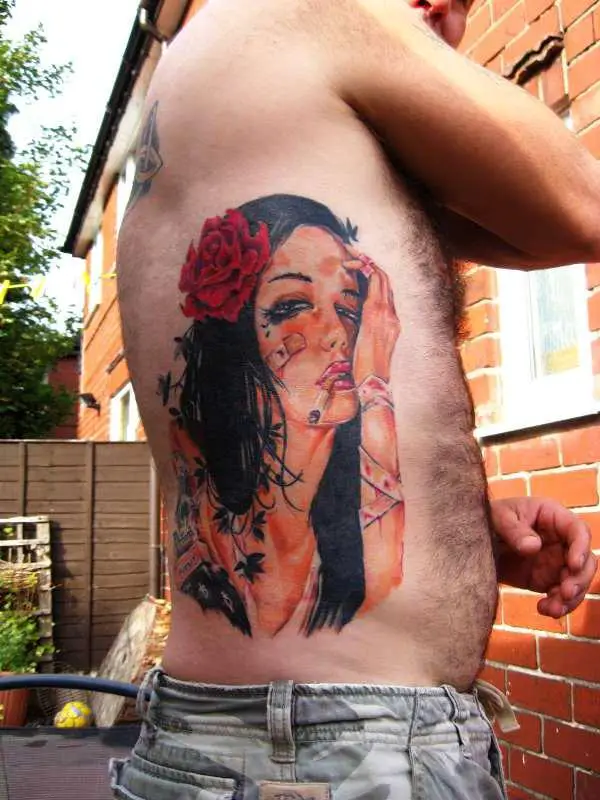 Red Jazz Bass
Rocking tattoo of a plectrums and a guitar for deep love for strings.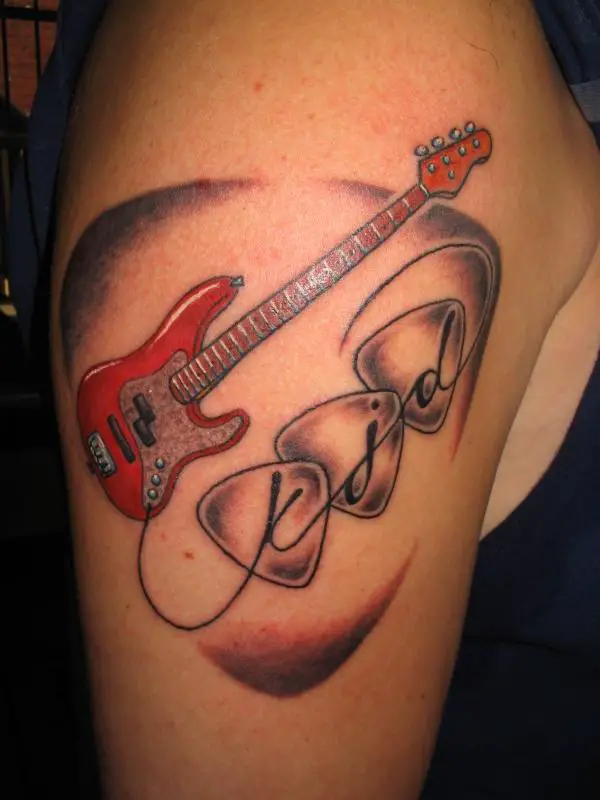 Reminder Tattoo
Lovely piece on inner wrist. It's a wave inked in teal ink, and the lines above are light blue-grey.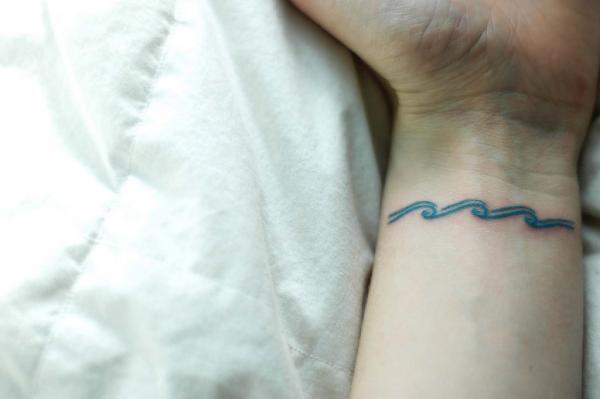 Spine Tattoo
Show out your spine to express your strength and out of the box creativity.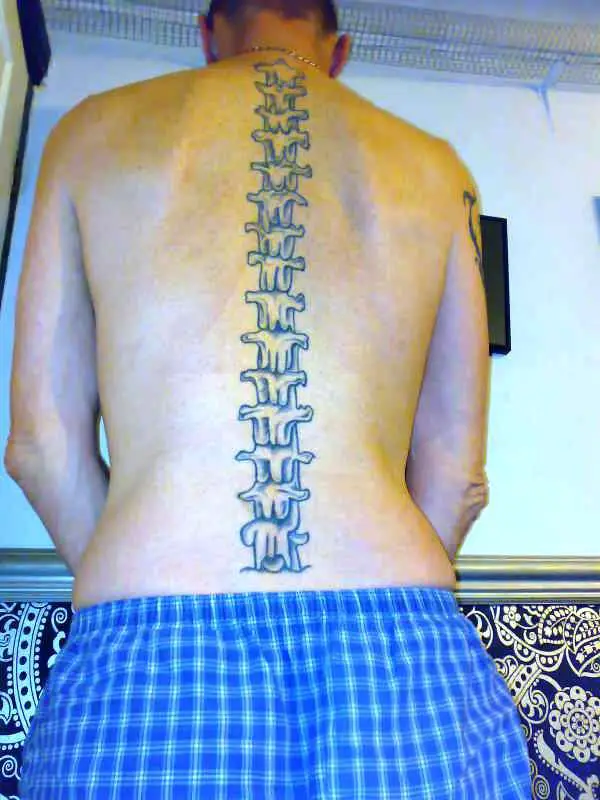 Comic Skull Tattoo
Comic skull piece with dried leaves surrounding it.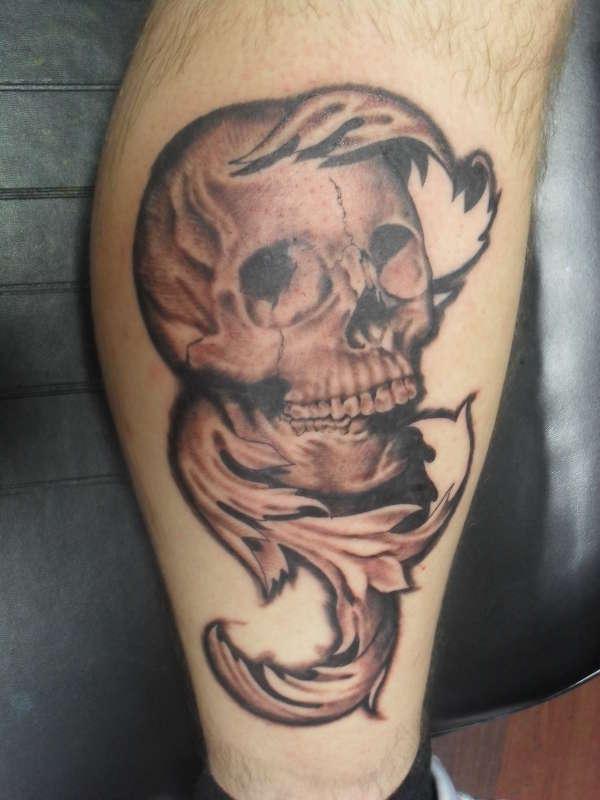 Little Birdy Tattoo
Do not snatch freedom of pretty birds by putting them into cages.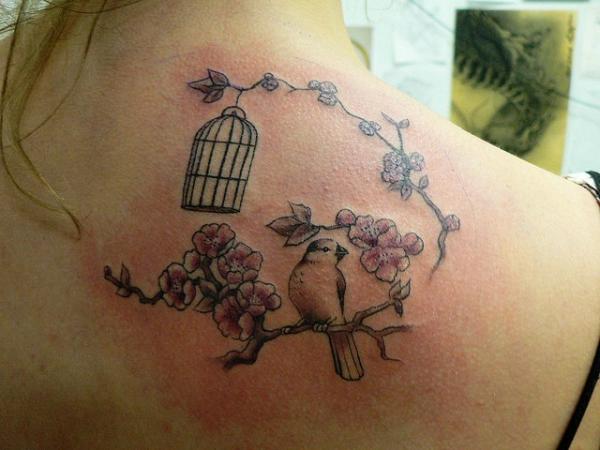 Inspired Tattoo
Classy tribal butterfly with nice sleek swirls.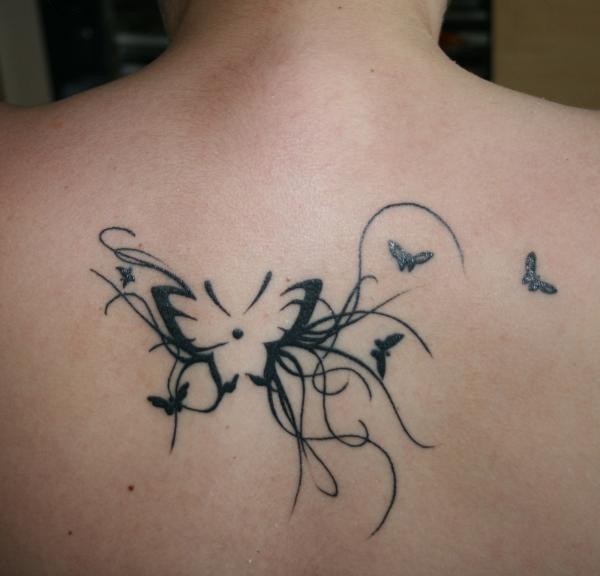 Inspired Tattoo
Hooray Feet Tattoo
Cute custom designed landscape tattoo inked on foot.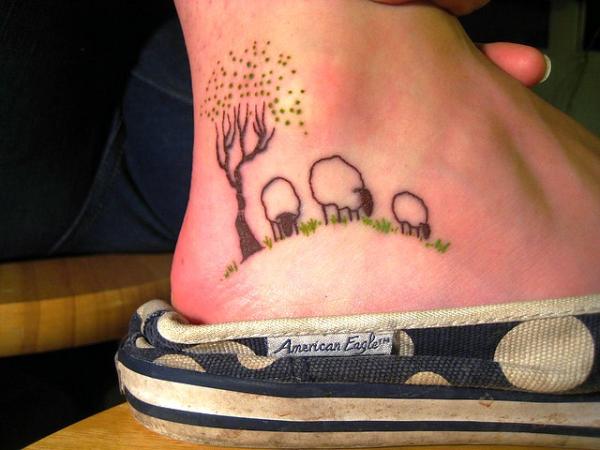 Thumb Tattoo Ideas
Show your sophisticated pink fanaticism with little pink bow tattoos.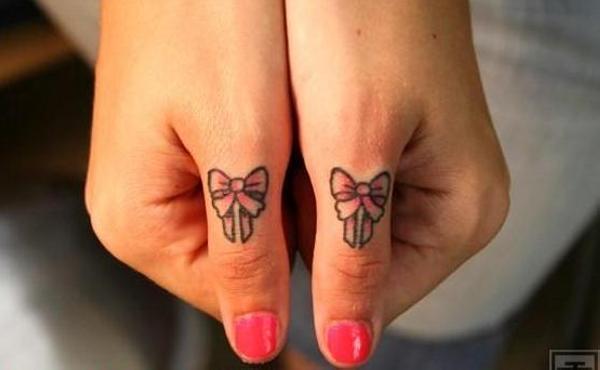 Bio Feet Tattoo
Explore the charm of bioorganic design for an sultry style statement.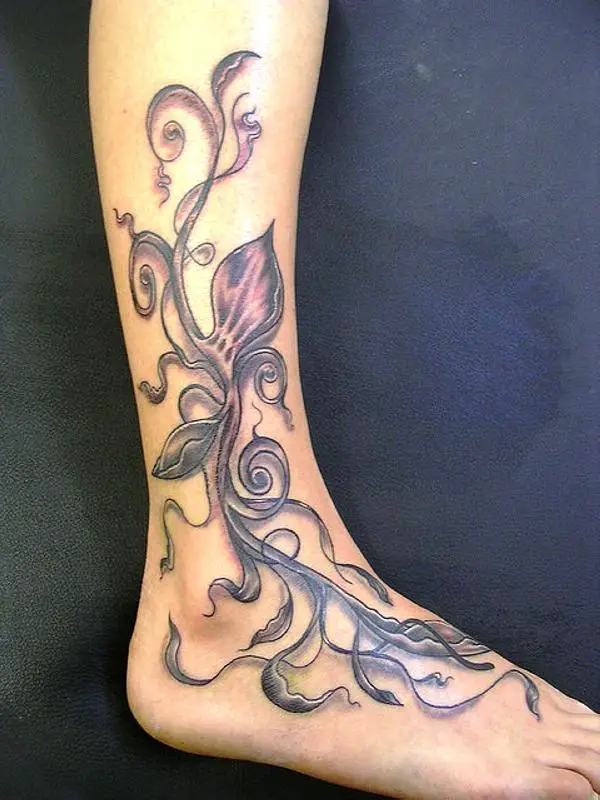 Chase Your Dream
"Chase Your Dream" with music notes and swirls, looks like a rockstar piece.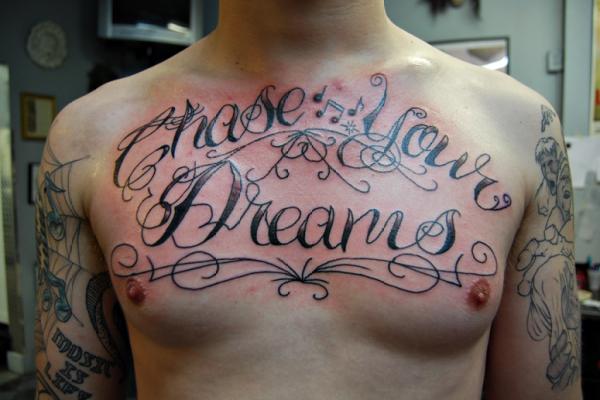 Owls Tattoo Ideas
Tribal owls on tree twig in lovely hippy colors.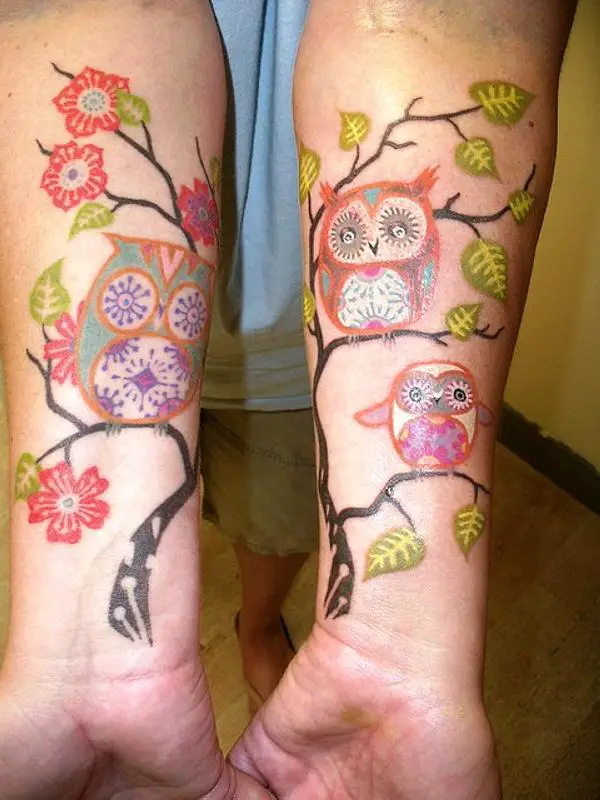 Celtic Cross Tattoo
Express your spiritual freedom with a bold looking Celtic Cross with wings.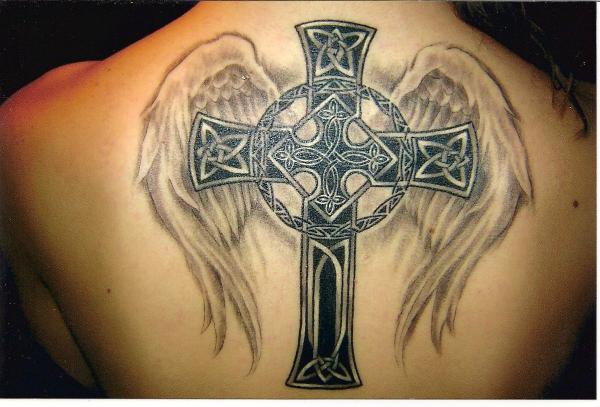 My First Tattoo
Sweet idea for a perfect feminine small tattoo. It's a little butterfly's outline.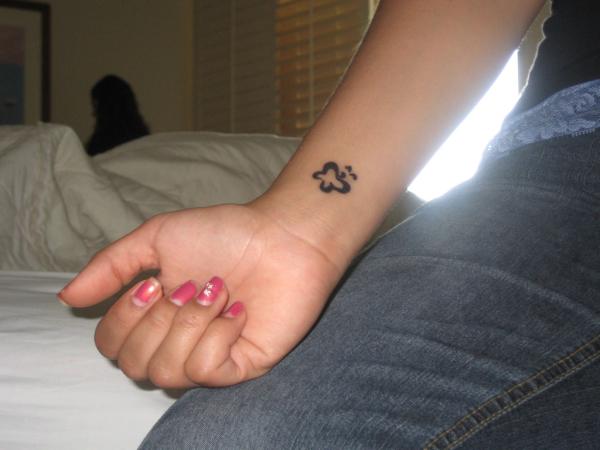 Feather And Bird Tattoo
Big feather in glossy black with little birdies flying.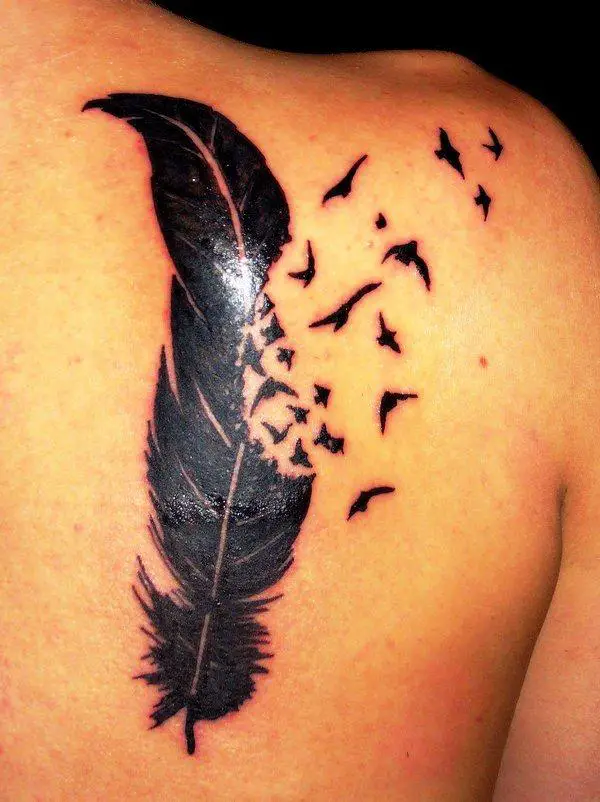 Beetle Tattoo
A deadly beetle with intricate work on its abdomen.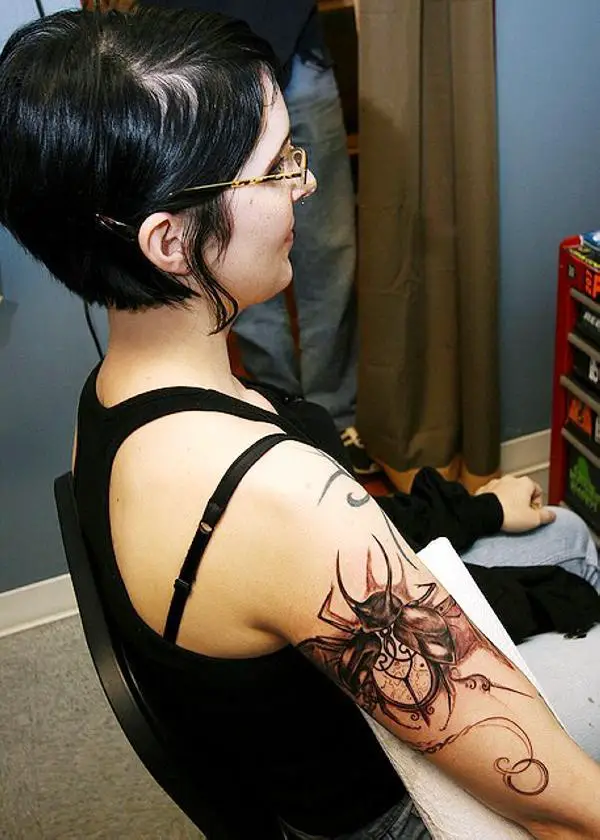 Stylish Tattoo Ideas
Another Enso circle inspired from deep philosophy of Buddhism.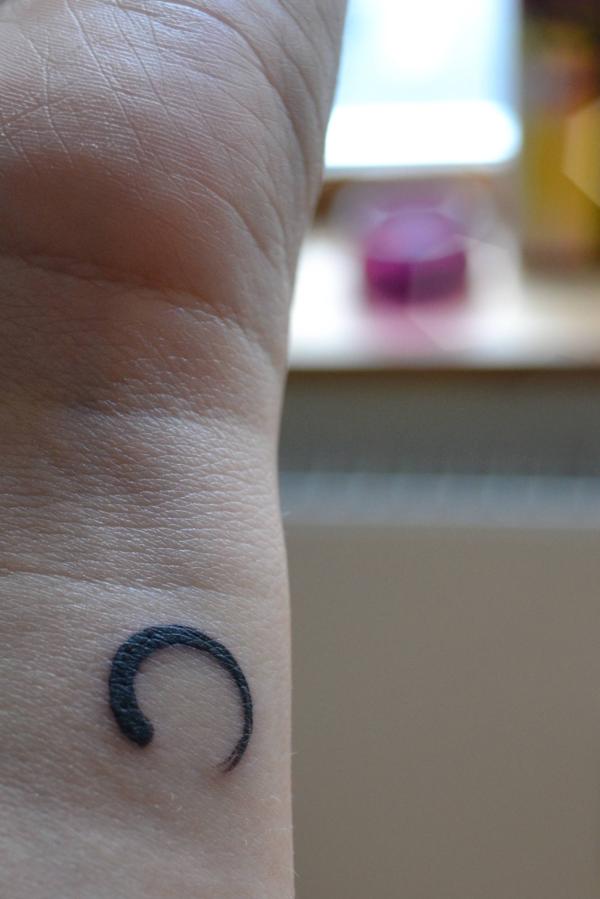 Watership Down Tattoo
If you are proud to be a vegan then this design is for you.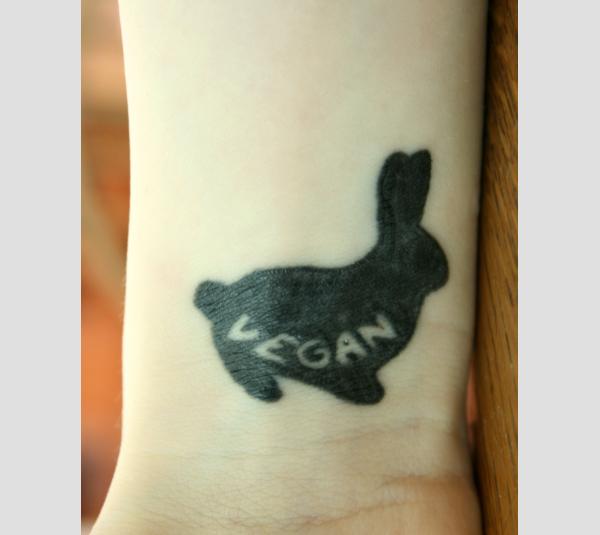 Spades Chest Tattoo
Spade cards on top of the deck with fuming flames behind.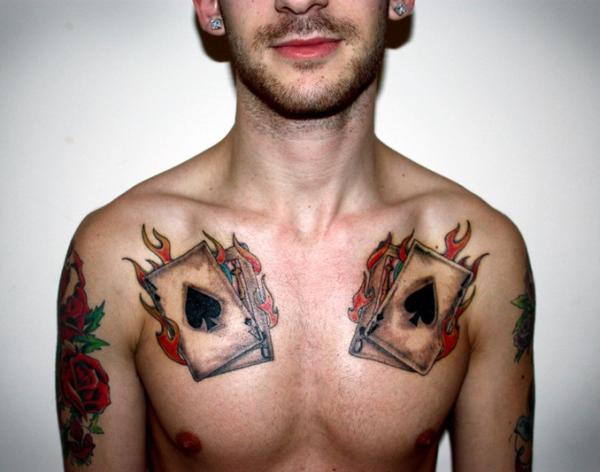 Boombox And Stars
Boombox emitting colorful little stars representing the golden era of rocking retro music.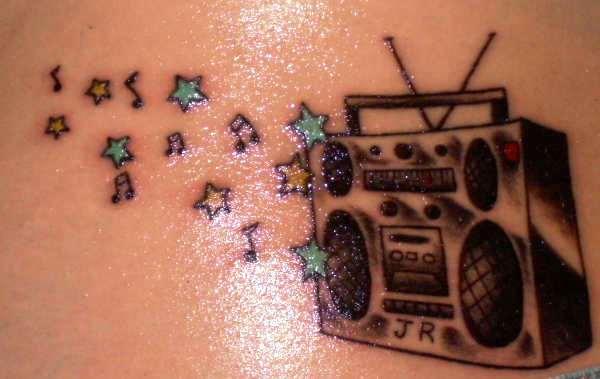 Surrealistic Tattoo
It reminds me of an Eddie Vedor song, "Society, you crazy breed, hope you're not lonely without me".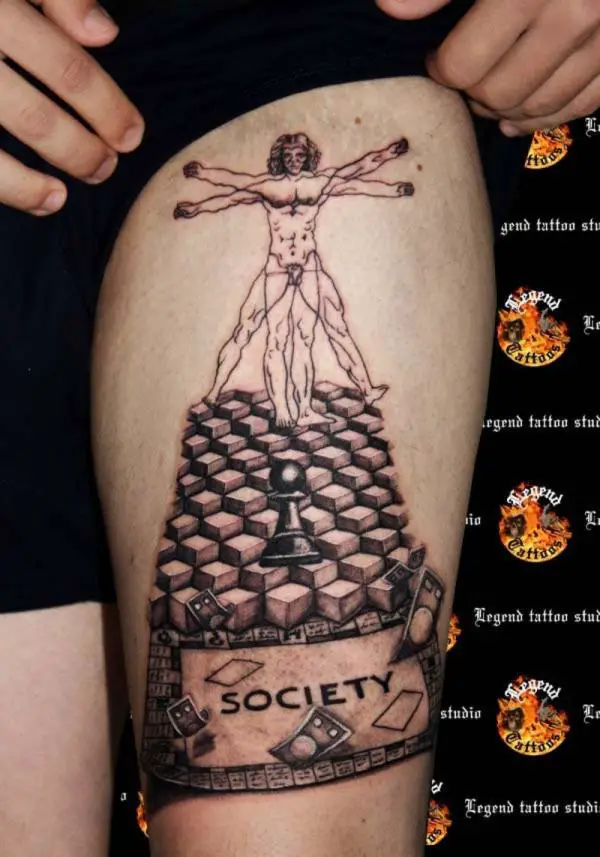 Angel Baby
It's known as irony. Gothic skull on a little angel baby.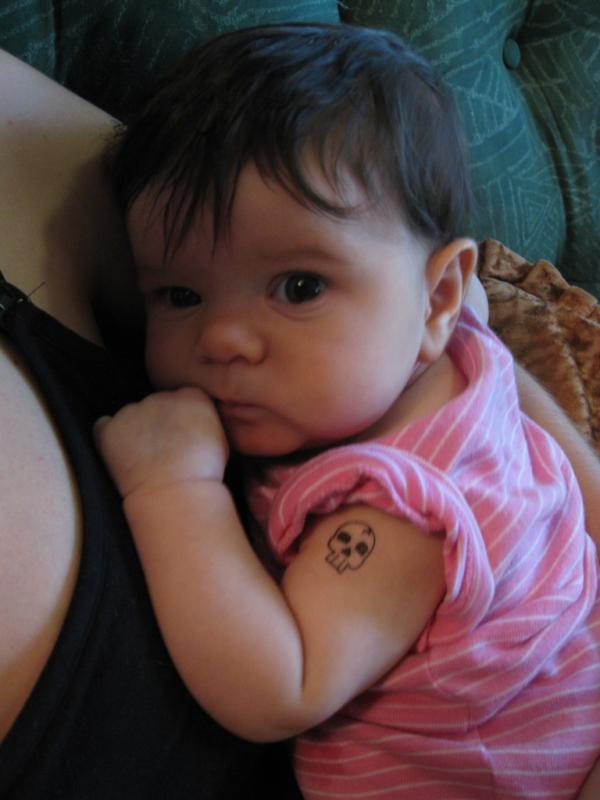 Tribal Tattoo Design
Tribal tattoos are in great demand and it's a worth design to try if you too want one.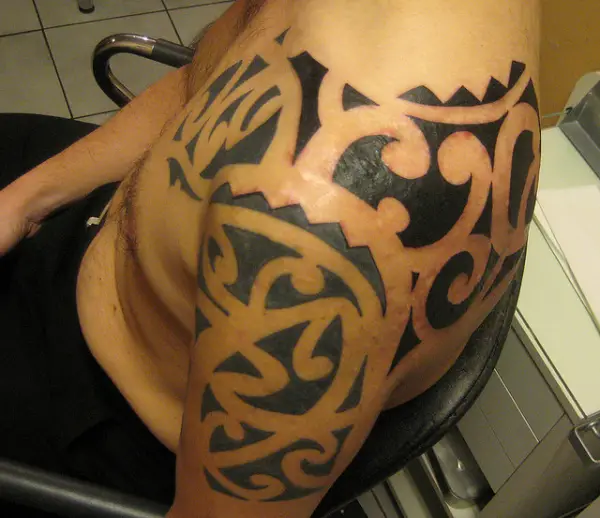 Arm And Foot
The foot tattoo is a Latin piece, which means, "Glory to God alone" and the arm display a fabulous message with a winged symbol.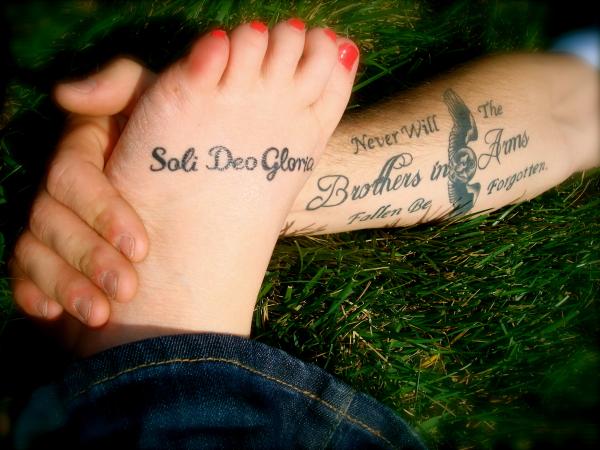 Quetzal Bird Tattoo
Glorious Quetzal bird flying across the back, honoring love of birds.
Chinese Love Symbol
Though love needs no language to be expressed, it feels amusing to say it with difference.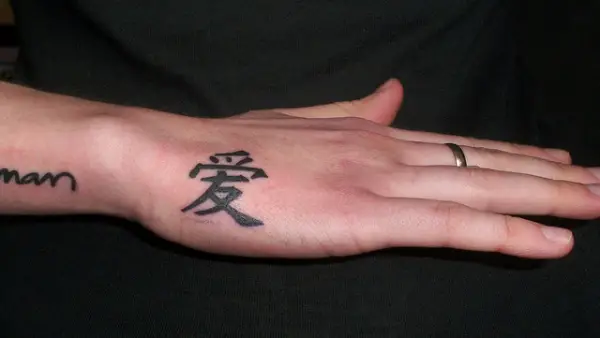 Fallen Angel Tattoo
A fallen angel tattoo with custom-added mushrooms to conceal his moles.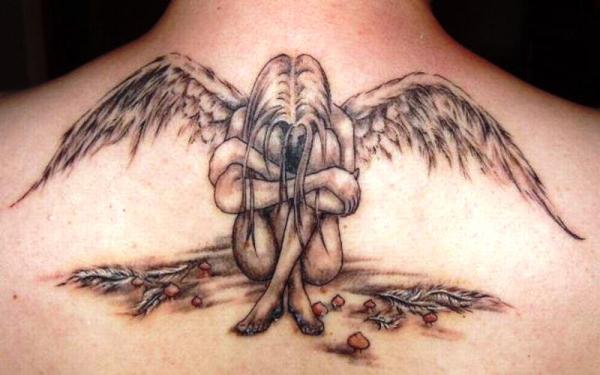 Two Butterflies
Butterflies are girls' favorite and it is always a treat to have them on lower back.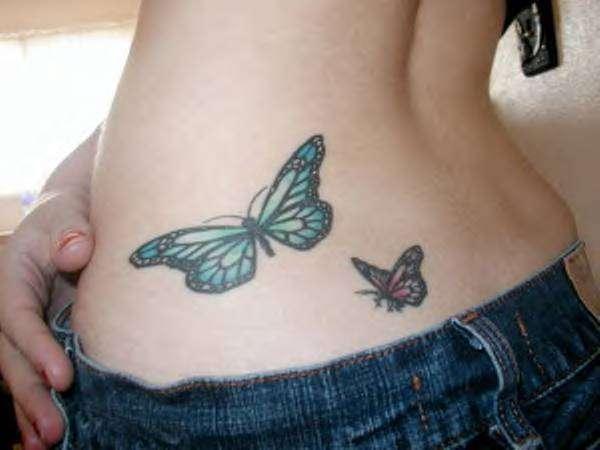 Gibson Les Paul
Gibson Les Paul body if you are passionate about the electric tunes.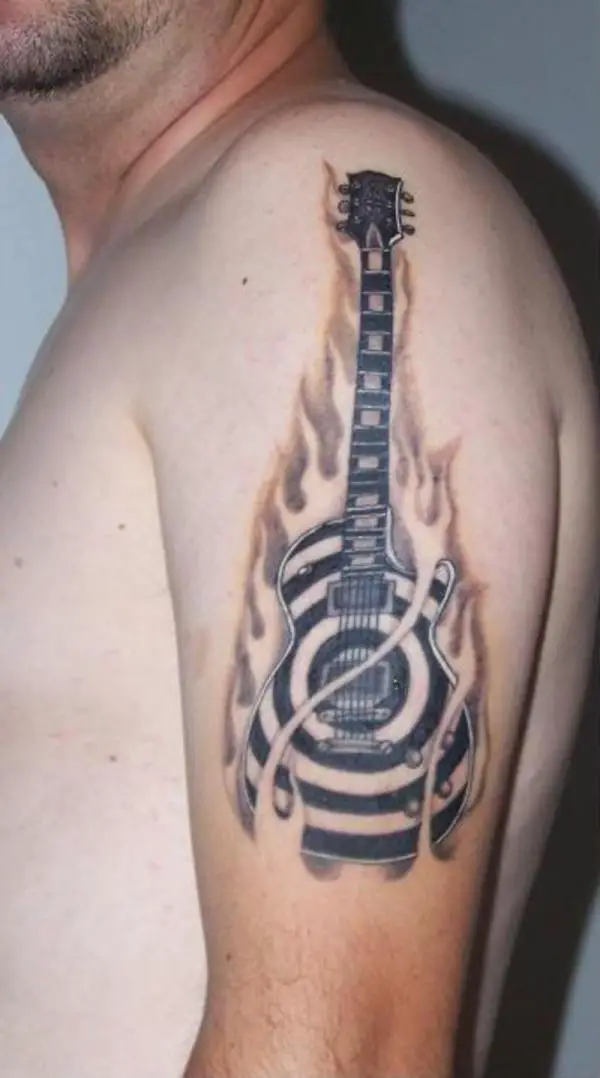 Angel On My Back
Angel tattoo design on back inspired from David Beckham's back piece.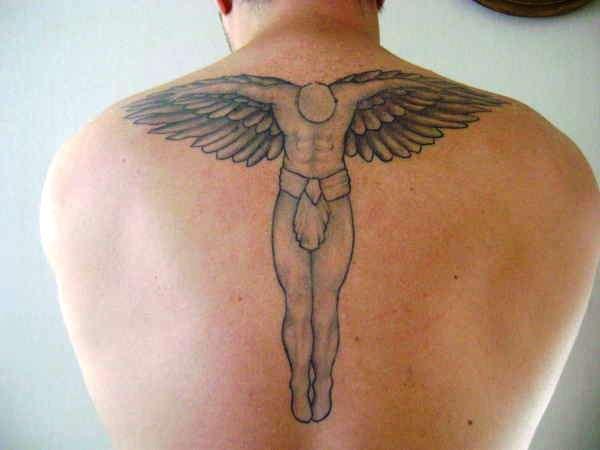 Cherry Ear Tattoo
It's crazy idea but you like to look edgy, here are skull cherries for your ear.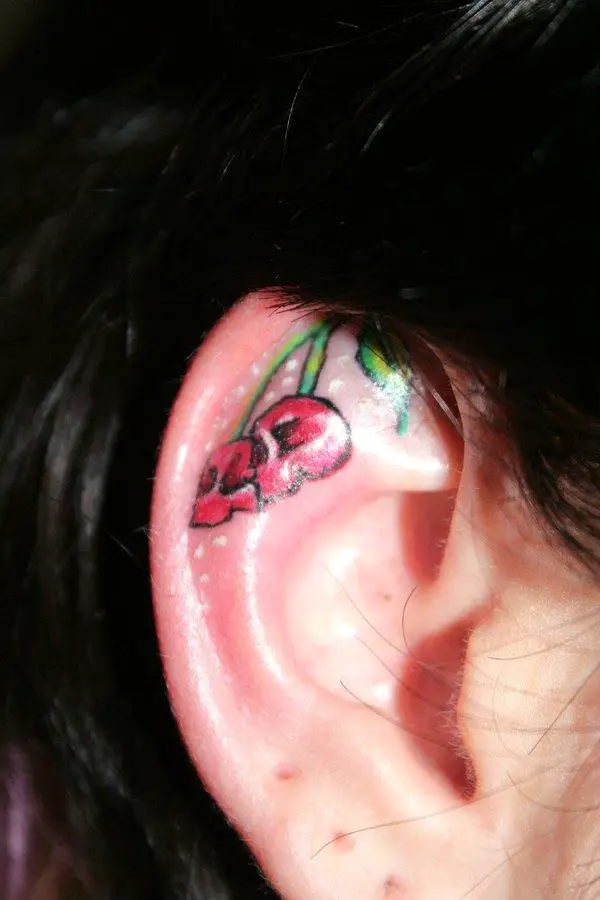 Lotus And Ohm
Sacred lotus in unusual dark shade combined with red outlines and the Om symbol in the centre.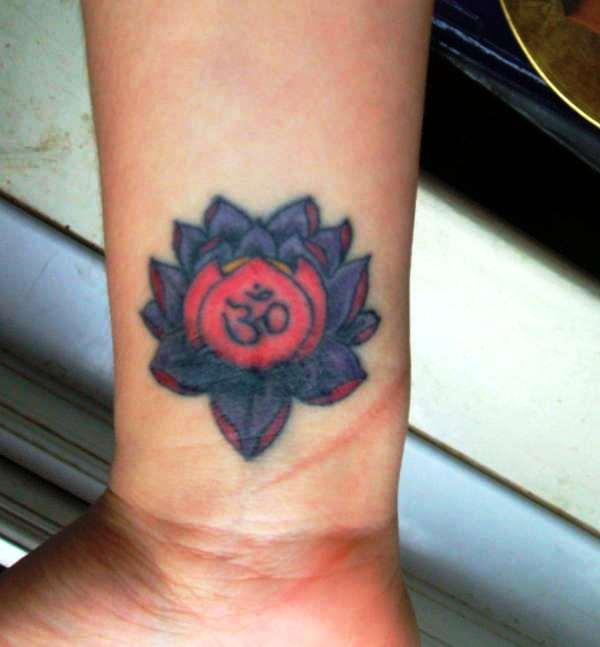 Lotus And Ohm
Hello Kitty
Sport the popular Hello Kitties with hearts to make a real cute tattoo.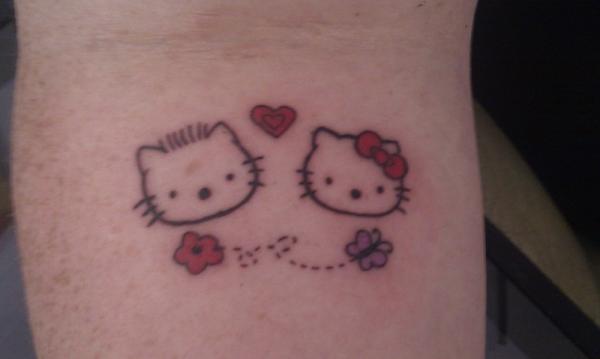 Shamrock Tattoo
If you want a distinctive Irish tattoo, here's a glossy Shamrock in flames.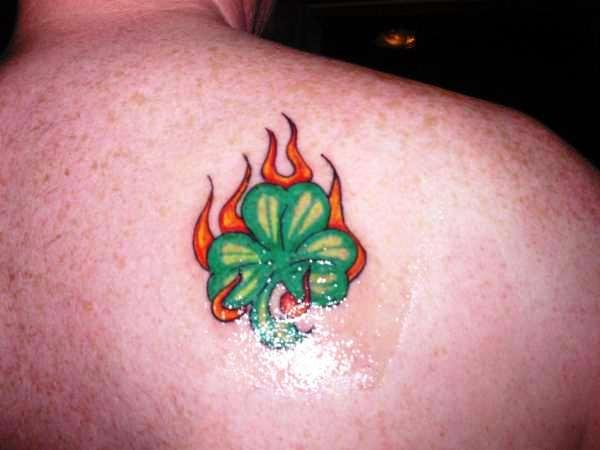 Corvid Cluster
Awesome design of a Corvid with a cluster of little birdies.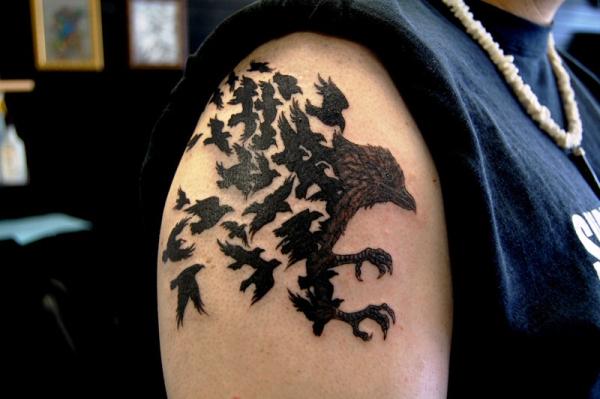 Veritas Aequitas
Cool Veritas Aequitas word tattoo from the Boondock Saints.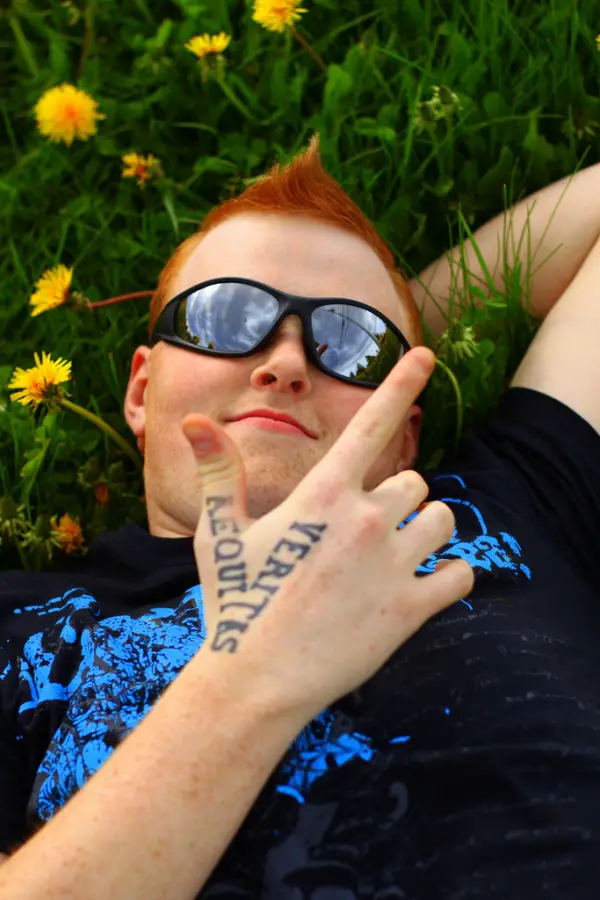 Corset Tattoo
Sexy corset pattern covering the entire back with a fabulous bow at bottom.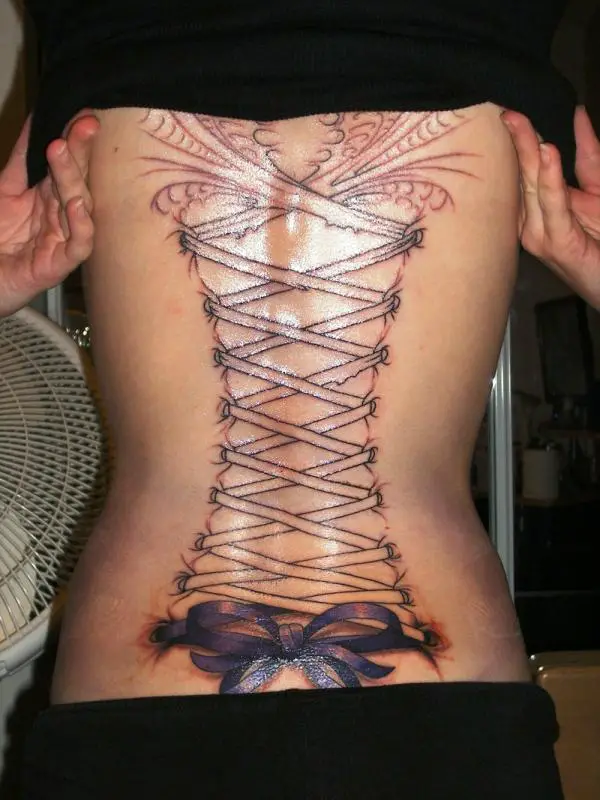 Metallica Snake
Cool Black Snake from Metallica's 'Black Album' with lyrics of "Nothing else matters".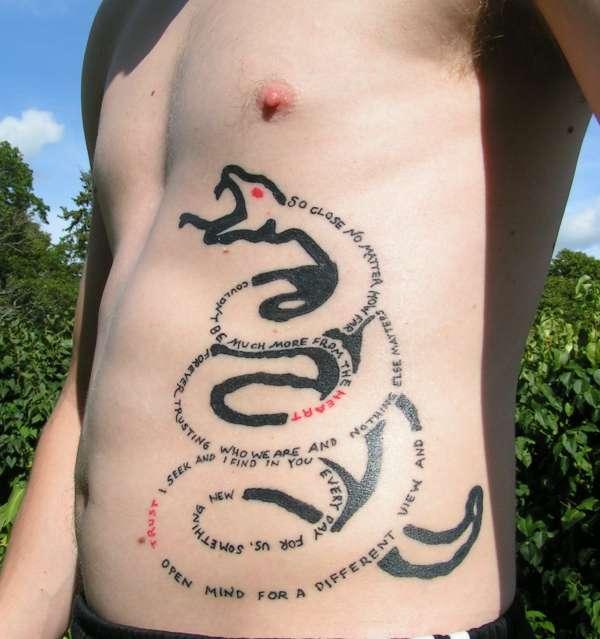 Metallica Snake
Light Bulb
Totally unique idea to dedicate a tattoo to a daughter who illuminated their lives. It's a light bumb with her name on it.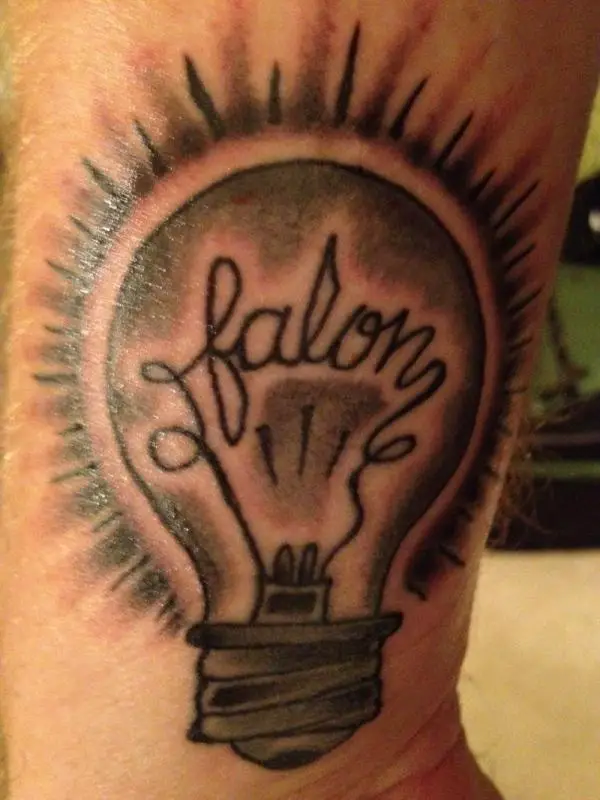 Atheist Tattoo
Stand for your belief in self-empowerment with ambigram impression.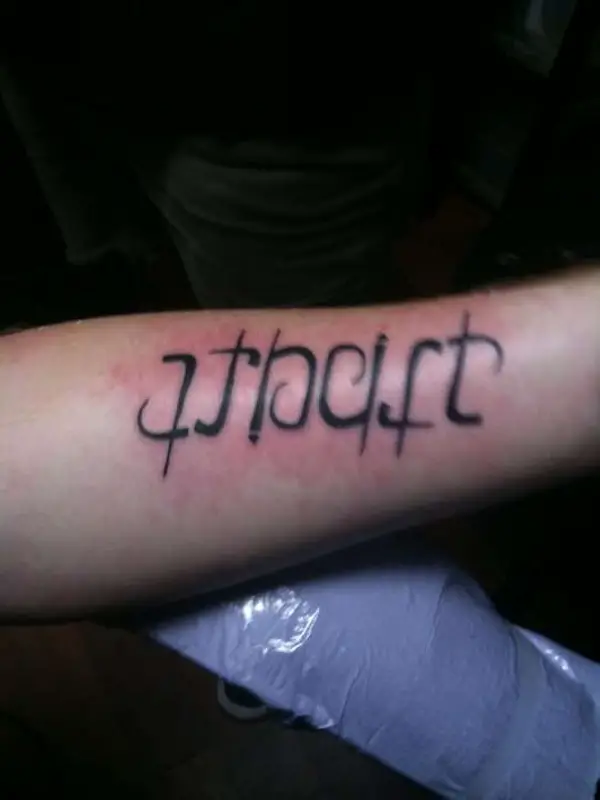 Traditional Japanese Tattoo
Exotic Japanese sleeve with lots of flowers and highlighted cherry blossoms.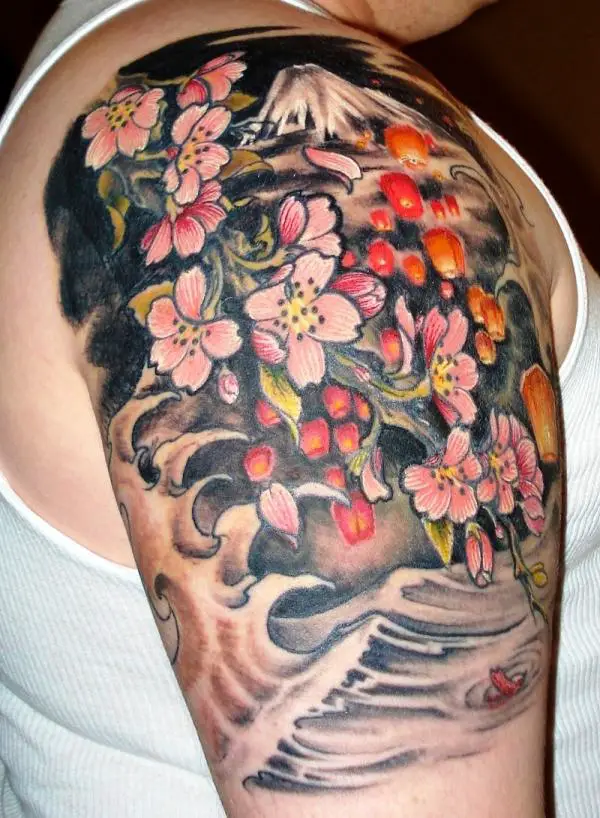 Baby Boy
Welcome and cherish the arrival of new life in your world with his or her foot prints.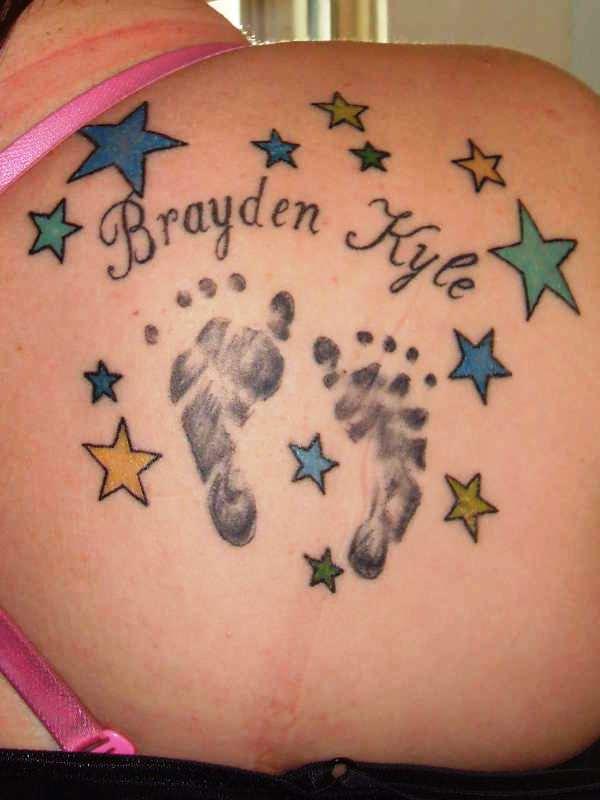 So, you have finally made it to the bottom of the list. Did you find any tattoos that you truly liked? If so, you can print out that particular tattoo and take it to a tattoo parlor. From there, a tattoo artist can put the design anywhere you want on your body. If you didn't find a tattoo design that you liked, you probably found some designs that sparked some ideas in your mind. Either way, getting a tattoo is not something that you can take lightly. Make sure you think your tattoo design over before you have it put on your body for the rest of your life.
If you like this article, you might be interested in some of our other articles on  Crazy Tattoos,  Funny Tattoos,  Knuckle Tattoos  and  Hand Tattoos.