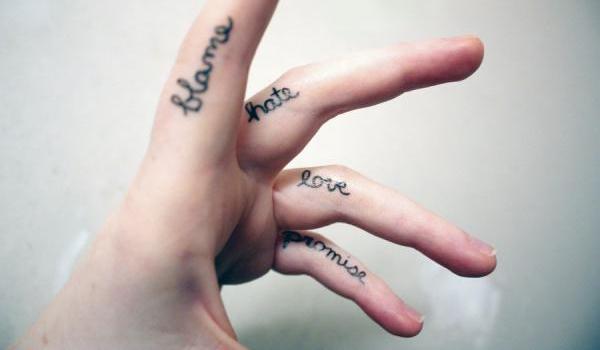 Awesome Fingerprint Tattoo Designs
Fingerprints are one of the few physical characteristics that are completely unique to an individual. This makes them extremely personal and unique symbols. It's actually a wonder why more people don't choose fingerprint tattoo designs!
Fingerprint tattoos designs are almost instantly recognizable because of their characteristic loops and swirls. Even when they're incorporated into other designs, it' hard to not notice a fingerprint in a tattoo.
Check out these awesome fingerprint tattoo designs to see what I mean…
Heart Shaped Fingerprint Tattoo
Heart shaped fingerprint tattoo designs are a sweet way to honor a couple of special people.
Red Matching Heart Fingerprint Tattoos
Heart shaped fingerprint tattoo designs also make amazing matching tattoos for couples, family members, and friends!
Quote and Fingerprint Tattoo
Here's a unique artistic twist in some fingerprint tattoo designs! They add a nice little pop of color, don't they?
Dandelion Finger Print Tattoo
Hidden fingerprints in a dandelion tattoo make this sweet design so much more personal and unique!
Astounding Finger Tattoos
Rings and nail paints are not the only way to decorate your fingers. Tattoos are equally capable of making them beautiful through intricate designs and beautiful images. Finger tattoos have a very long tradition of being worn by people especially women on their ring finger that bore the name of their husband. However, today, the finger embellishments have become a part of male fantasy too and their position is not restricted to a single finger only among the fairer sex. Now they are being worn on as many fingers as the person likes and the number of images on a single finger can also be more than one or two.
Since the fingers are the most exposed part, people want the tattoos sitting on them to look impressive. Well, the designs to be worn by the person depends on her/his personal interest or taste. Some like to keep it simple and neat while some want it to be flashy and unique. There are also a few who get a statement or lettering inked on their fingers. The choices and variety is endless.
Nice Finger Tattoo
Wow! this one is a stunner and will definitely make the onlookers take notice.
Claddagh Wedding Rings
Identical wedding ring tattoos with simple heart-shaped design are a symbol of commitment and love.
Tribal Finger
The tribal artwork is a hot favorite of the sporty, wild men.
Shhh Finger Tattoo
If you want to sport a cool attitude, try out some unique words like this.
Glamorous Wedding Ring Tattoos
Wedding is one of the most important events in the life of a person. It is like a new life where you start your journey with your partner on the foundations of love and commitment. The rituals are an important part of the marriage ceremony and so are the wedding rings that bear the initials of the spouses. Well, these days a new and stylish ritual has made its entry in the wedding ceremonies which is known as wedding ring tattoos. As the name suggests, the wedding ring tattoo is a tattoo in the form of a ring carved on the ring finger as a symbol of love and devotion.
The wedding ring tattoos are not necessarily done on the wedding day, you can get them etched afterwards too. The good part about this tattoo is that you don't have to fear about losing it like the gold and diamond rings. This is why the trend is catching so fast. If you are looking for ideas on such tattoos then have a look at this post that we have created for people like you. It has 30 wedding ring tattoos that give great ideas for designs. Enjoy.
Name Initials Tattoo
This wedding ring tattoo has got a fresh and pleasing look and always reminds the couple of each other.
Simple Symbolic Tattoo
The infinity symbol carved as tattoo design on the ring finger holds deep meaning that is for the love bond between the couple.
Identical Ring Tattoos
The couple have got similar wedding ring tattoos as a symbol of their marriage and commitment to each other.
Heart Ring Tattoo
This wedding ring tattoo represents the hearty feelings associated with the conjugal union of two souls.
Cool Wedding Ring
This man has got a thick knotted tattoo on his finger that is a symbol of the strong and complex relationship he shares with his wife.
Infinity Symbol Ring Tattoo
If you are getting married, you may have realized that a diamond is just a rock. It doesn't really have any meaning other than that given to it by the jewelry industry. On the other hand, an infinity symbol tattoo literally means "forever" and will look good on the fingers of you and your spouse.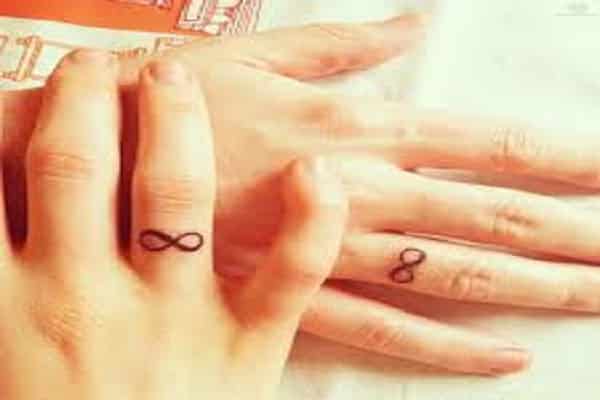 Diamond Engagement Ring Tattoo
If you must get a diamond symbol, why not get it tattooed on instead of purchasing a rock for $3,000. Getting a tattooed diamond engagement ring tattoo is more customizable than going to a jeweler and even allows you to get initials tattooed on the finger as well.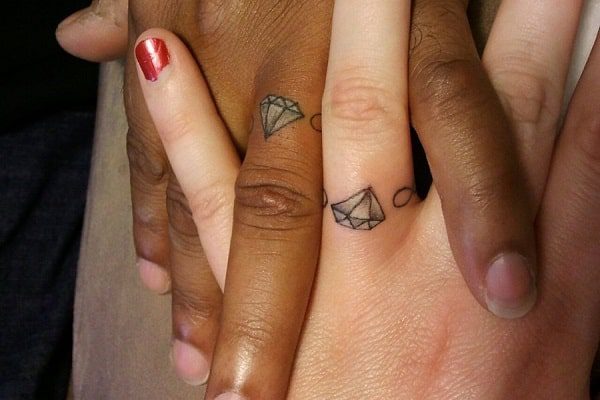 Diamond Engagement Ring Tattoo
Tribal Ring Tattoo
If you have a tribal style ring, there is a good chance that it is either very cheap or very expensive. Instead of wearing cheap jewelry, or taking the chance at losing a cool and valuable accessory, get the tribal tattoo design on your ring instead.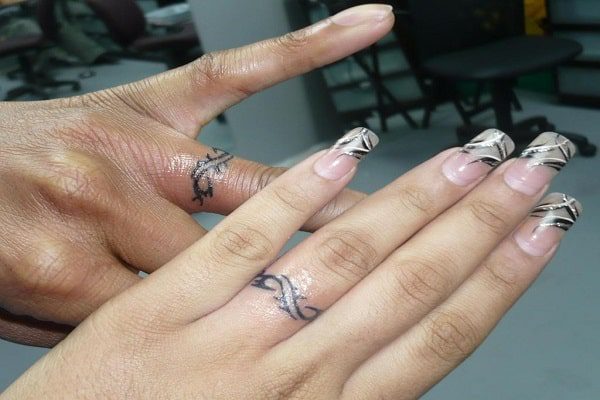 Flower Tattoo
Getting a ring tattoo can be dramatic and serious, but it can also be light and whimsical. Daisies, sunflowers, even roses can be inked on your finger to make a cool ring tattoo.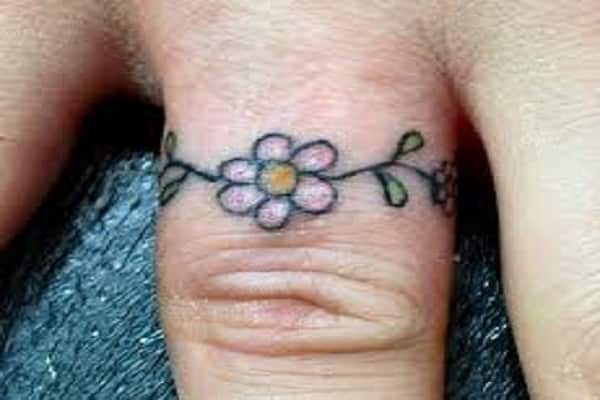 Short Quote Tattoo
When you are getting a quote tattoo on your finger, it has to be short because there is not a lot of real estate around. If you get a quote tattoo with another person, a spouse or a significant other, you can double the amount of real estate and create a bond with each other that penetrates beneath the skin.
Religious Symbol Tattoo
Ring tattoos can show of your devotion to another person, and they can also show of the faith you have to a religion. Getting a religious symbol tattoo is a much more powerful way to express your faith than by simply wearing another accessory.
Roman Numeral Tattoo
Roman numerals as a ring tattoo are a great way to commemorate an important date like a wedding anniversary, birthday, death or other special occasion that you hold dear.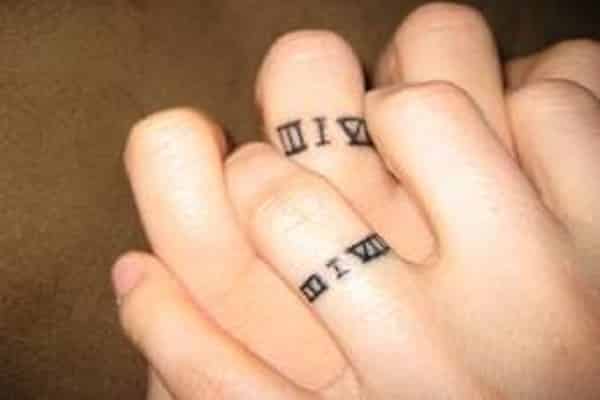 Cool Skull Tattoo
While most of this list focuses on serious dedications, your ring tattoo can get a little darker as well. Get a full-blown skull tattoo if you are part of a heavy metal band, a biker, or someone who appreciates embracing his or her inner dark side.
Heart Tattoo
A simple heart tattoo on your ring finger is a great way to show that your own heart is always open and that you are always open to accepting the love of others.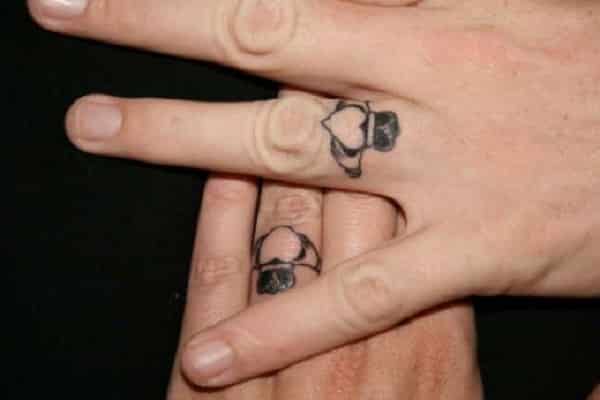 Bow Tattoo
Do you consider your finger, or yourself a Christmas present to the world? What better way to show yourself off than by putting a bow on your ring finger?
Ace of Spades Tattoo
Whether you are a fan of Texas Hold 'Em, Blackjack, or the song by the band Motorhead, nothing shows that you like to take chances against the odds more than getting an Ace of Spades ring finger tattoo.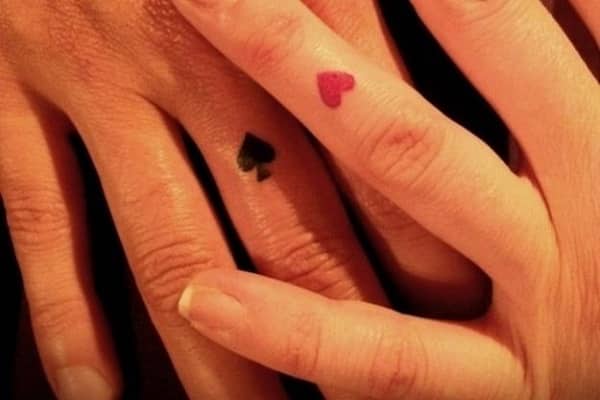 White Ink Tattoo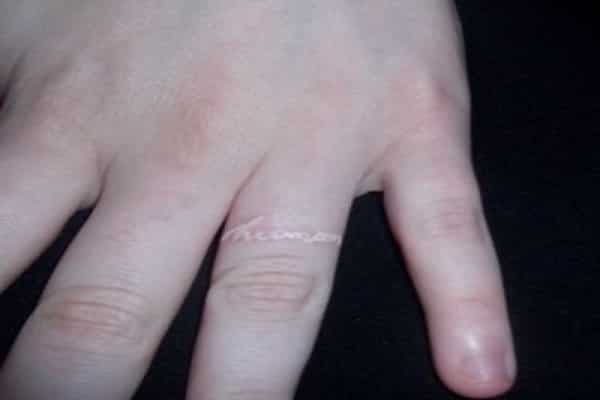 Getting a tattoo is still somewhat of a cultural taboo in our society. If you are looking to get a ring tattoo, but don't want to feel stigmatized by your work colleages, consider getting one in white ink. These are barely noticeable and almost look like mild scars more than tattoos, plus you'll always get the special meaning behind it.

White Ink Tattoo
Knot Tattoo
If you are a sailor of the high seas, or just enjoy fishing at your local lake, you should consider getting a knot tattoo that represents your love of the water.
Cool Design Ring Tattoo
Your ring tattoo doesn't necessarily have to make sense. Any cool abstract, geometric or calligraphic design you can think of will transform your finger and your hand into a work of art.
Before getting a ring tattoo, make sure you are absolutely sure about the commitment it takes. Ring tattoos and other finger tattoos tend to fade more quickly than others, so be prepared to visit your tattoo artist for touch-ups on occasion.