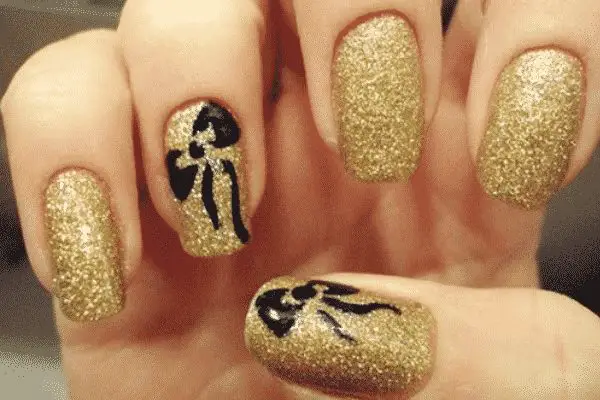 One of the fun things about being a girl is doing your nails! Girls get to try out all different sorts of nail art designs, from stripes to polka dots to gradients. Sometimes, you just want something soft, feminine and just plain girly. That's where bow nail art designs come in!
Bows exemplify everything it means to be a girl. Little girls wear bows in their hair, and bows are still sweet and feminine enough to be worn by women too. Bow nail art is fun way to try this trend. Bow nail art designs are also easier than you might think. With a steady hand and a little practice, you should be able to create a fun bow nail art design that suits you.  Bow nails can be simple or more complex. They can be painted on every nail or just used to accent one or two nails. Bow nails are often painted in feminine colors, like pink, or classic colors, like black and white. However, bow nails can be any color you like and still look stunning!
Inspiration for bow nail art is just a scroll away too! Scroll down the page for ideas on different bow nail designs!
1. Gold Glitter and Black Bow Nails
Gold glitter and black polish make some fun party bow nails!
2. Red Bows on Nude Nails
Dress up nude or natural nails with some pretty red fluffy bows.
3. Minnie Mouse Insired Bow Nail Art
If you're headed to Disney, these cute bow nails might be a fun look. The red and white polka dot tips and black bows are very Minnie Mouse chic!
4. Diagonal Black Bows on White Nails
For a sophisticated look, paint back bows diagonally across white nails.
5. Black Polka Dot Bows
Black and white polka dot bows really dress up white nails too. Studs or rhinestones add a 3D effect.
6. Black Bow Nail Art With Rhinestones
Rhinestones add some sparkle to this black bow nail art.
7. Black Bow Nail Art Accent Nails
Bow nail art can also be used to dress up a fun glitter gradient manicure as well.
8. White and Black Polka Dot Nail Art
Black poka dots on white nails are cute, but the black bow nail art elevates this mani to the level of super cute!
9. Yellow Bow Nail Art
If you want a little color in your mani, try this black and yellow polka dot and bow nail art.
10. Blue Bow Nail Art
A simple blue stripe across the nails is made adorable with the little bow accent on the ring finger!
11. Blue and Red Bow Nails
These little red polka dot bow nails are much easier than you might think to create!
12. Black Bows on Pink Tips
Dress up a pink French manicure with a black bow nail design.
13. Striped Nail Art With Bows
Stripes or bows on your nails…? Get the best of both worlds by combining the two designs!
14. Pink Tips With Black Bows
Pink tips with black bows outlined in silver glitter polish is pretty and feminine. The black polka dots make this mani fun and carefree.
15. Pink and White Bow Nail Art
White bow nail designs can look just as cute when paired with pink nail tips.
16. French Manicure With Pink Bows
Or dress up a traditional French manicure with some pink bows outlined in black.
Don't feel that you need to stick exactly to the bow nail art designs above. Make bow nails your very own by using colors and patterns that you love!