Michael Ray Nguyen-Stevenson, who is popularly known as Tyga, is a famous American rapper. Tyga gained instant popularity with this debut single, "Coconut Juice". He soon grew to become a popular mixtape artist featuring alongside Chris Brown, Bow Wow, Lil Wayne, and Kevin McCall.
The birdman rapper is also widely known for his tattoo fanaticism, there is barely any visible part on his body, which does not have a tattoo. Tyga's obsession for Lil Wayne was always known, but it became more popular, when he let Wayne to ink his face with a Jimmy Valvano tattoo. While this is just one example of ink enthusiasm, the list below will take you on its complete trip.
If you like this article, you might be interested in some of our other articles on Pauley Perrette Tattoos, Octopus Tattoos, Coy Fish tattoos and Moon Tattoos.
Cool
Posing to the shutterbugs, flashing his gems and tattoos on hand.
Cool Tyga
Take a look from a distance at his neck and hands full of tattoos.
Tyga's Arm
Rocking the crowds, rapping on hip-hop beats, Tyga sporting the Dollar sign and funny face with a crazy backdrop inked on his arm.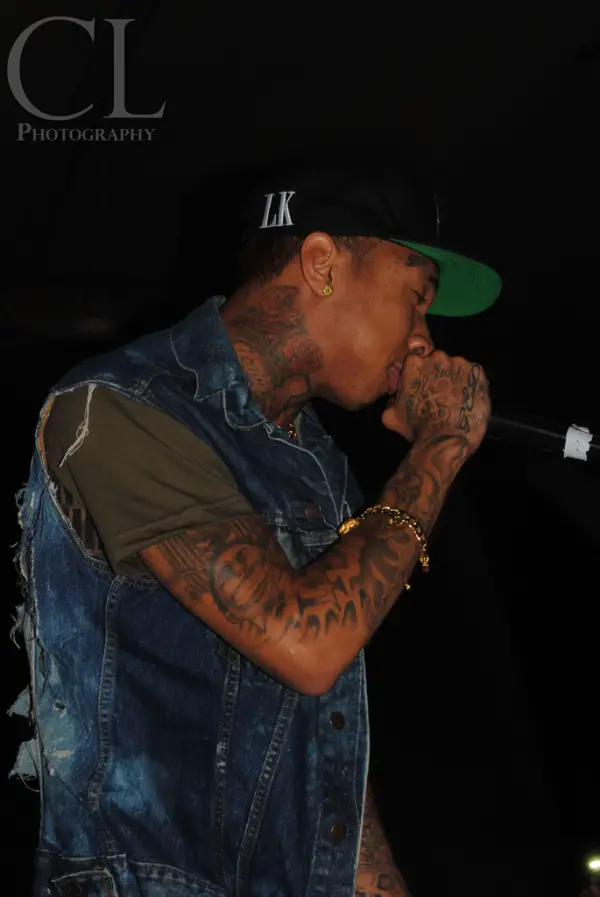 Tyga Awesome Tattoo
Young rapper showing his permanent and eye-catching full front body tattoo.
Tyga Awesome Tattoo
POW
While his eyes are there, ours are on him and his intimidating tattoo pieces.
Born Stylish
In his signature pose, Tyga allowing a closer look of his arm and hand piece.
Shoulder And Sleeve
Another cool piece on his shoulder and sleeve. Tyga has got plenty more to flaunt.
Tyga @ Sound
Roses on neck, Jimmy Valvano on forehead and Dollar on hoand, this is the fanatic rapper for you.
Chest Piece
"Fear None But God' says this enormous piece on chest of this crazy rapper.
abc
Holy Flames
Cross, flames and holy lettering, shows Tyga's faith and belief in himself and God.
Pay Me Dollars
Tyga's hand tattoo making demands, saying, "Pay Me Dollars".
Pay Me Dollars
Jesus Tattoo
Crucified Jesus below the lettering with lots of clouds.
Neck And Arms
Living and moving canvas with astounding tattoos. He is a fearless rapper.
Full Body Tyga Tattoo
Tyga in his style icon avatar flaunting his tattoos and gold banner.
Full Body Tyga Tattoo
Tyga Rose Tattoo
It is amazing to see the freaky rapper wearing pretty red and pink roses on his neck.
Tyga Full Back Tattoo
It is never ordinary for Tyga, like this spectacular full back piece.
Tyga Neck Tattoo
Tyga posing with his neck piece during announcing his upcoming album, Careless World: Rise Of The Last King.
So Reckless
So reckless yet stylish – Rapper Tyga and his tiny tattoos on fingers and forehead.
Tyga Tyga
On his way to become the next eye-popping sensation, Tyga inventing his another signature style
abc
Kid Ink
Ink prince has always got a new piece to surprise with – Tyga's cheek birdie.
Rapper Tyga
Yet another killer expression with his tattooed fingers.
Rapper Tyga
Blowin Swishers
Flexing his muscles and portraits of his heroes, who he admire like crazy.
Jerry Tattoo
If you are wondering why the rapper looks so intense, it is his Jerry tattoo with that look.
Tyga The Rapper
His "Legend' arm, 80 BAB neck and loads of flames. Tyga is on fire.
Star Eyebro Tattoo
Look at those lettering and a star on his eyebrow. Rapper leaves no space empty.
Sport Tyga
Another portrait on his arm making Tyga go groovy.
Sport Tyga
Tyga Hand Tattoo
Rapper guy singing and posing on his cool tattoo song.
The Jewelry And Ink Boy
Tyga, the epitome of glitterati and extreme tattoo fanaticism.
The Jewelry And Ink Boy