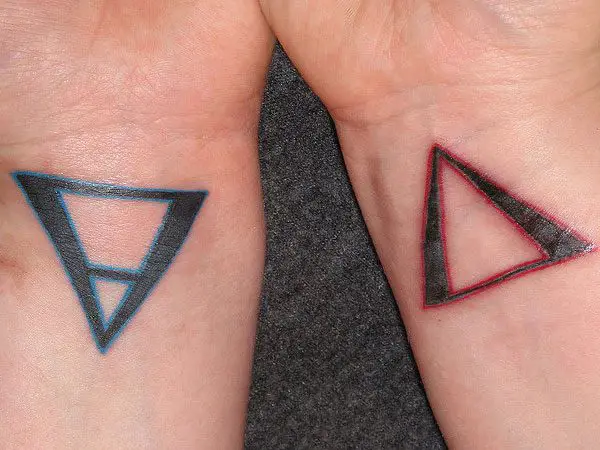 The triangle is a shape that comes from the dawn of time, and you can see it in so many objects in nature, from the form of fish to leaves on trees. This classic shape with three arms interlocking to make a pattern is a great inspiration for tattoo artists. The number 3 itself is considered to have a special magic, and triangle tattoos play with fascinating themes that step into a world of fantasy and imagination. The shape of a triangle, broad at the base and meeting at the top is simple in the way the lines join the three dots.
Yet when you look at triangle tattoo designs it is really awesome how this simple shape can be played with in such complex and creative ways.
Every Triangle Tattoo pattern is unique, be it the tiny finger triangle that is inked like a permanent ring, or a solid black triangle alternating with a circle in a leg tattoo design. A single colored triangle can easily fit into the area at the back of the ear. Many triangle tattoos use combinations of text to give the design an added meaning with words full of freedom and peace. The triangle form can be used to make rich designs such as triangles within triangles, or to ink an intricate broken Egyptian framed design. You also see triangle tattoos that draw on classic Pink Floyd movies such as 'The Wall' and show the hammers raised in a triangular formation. The arms of the triangle can be simple and elegant narrow ink lines, or very thick blocks, according to the theme of the design. The eye itself, a double triangle shape, can be the center of a triangular frame made of bones. Lovers can choose for themselves triangle tattoos in contrasting colors like red and blue, or go for a basic theme such as a black ink lined tattoo for him, and a white ink line tattoo for her.
If you like this article, you might be interested in some of our other articles on Harry Styles Tattoos, Demi Lovato Tattoos, Tattoo Designs For Men and Selena Gomez Tattoos.
Lovers Triangle Tattoos
The bases are thicker to meet in sharp points on top in this awesome pair of black triangle tattoos touched with red and blue.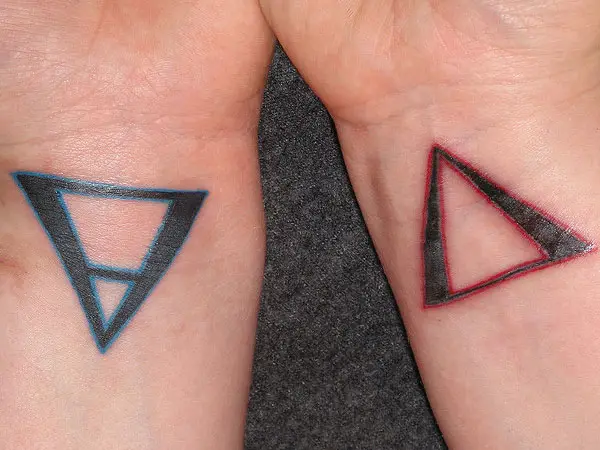 Tiny Black Triangle Tattoo
The tiny triangle below the woman's cheek is colored a solid black in this small geometrical tattoo idea.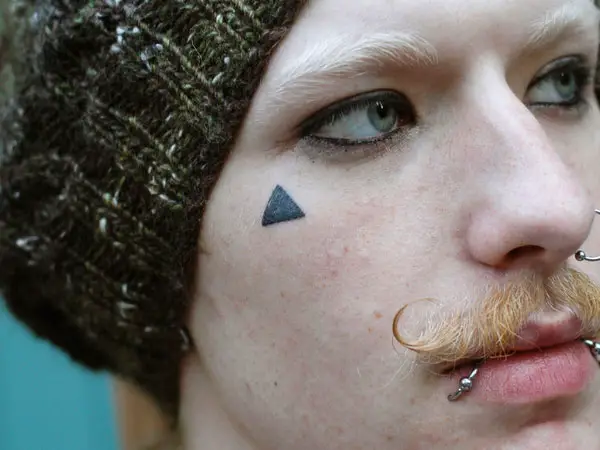 Vines Triangle
Take a look at the pretty vines coming together to form a triangle shape with the verse in the bible, John 3 verse 30 in this tattoo.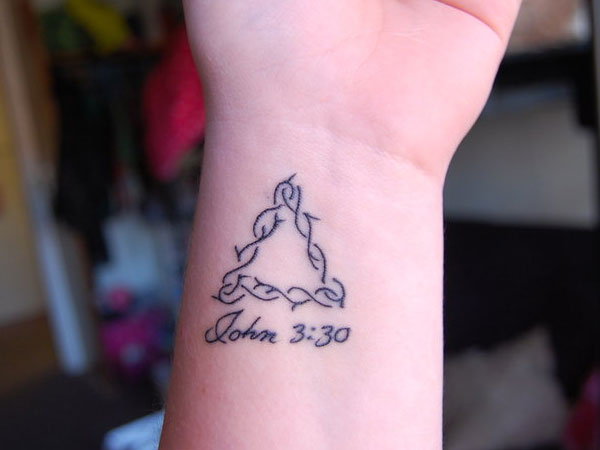 Circle And Triangle
A blue triangle locks onto a black circle in amazing 3D patterns styled in an impressionistic dotted manner in this tattoo.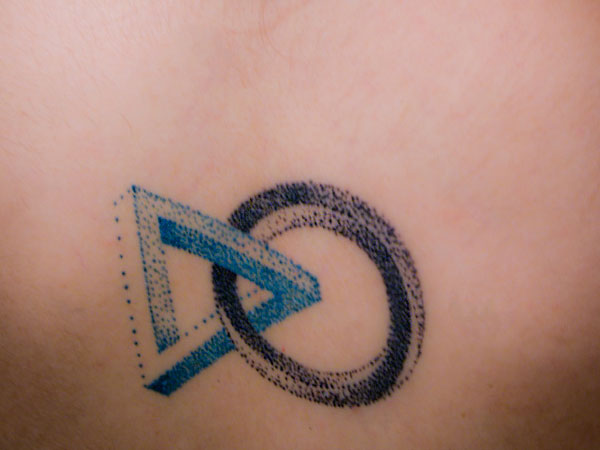 Circle And Triangle
Pretty Floral Triangle Tattoo
The triangular tattoo design is touched up in black and blue shades with floral motifs to make it more beautiful.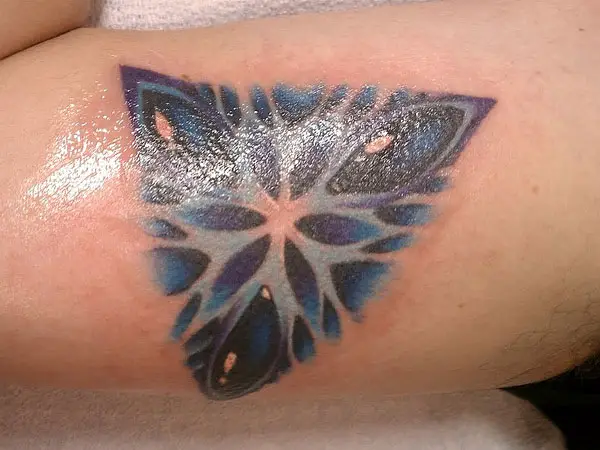 Shoulder Triangle
A simple triangle shape in narrow black lines sits inked on one shoulder in this woman's basic tattoo.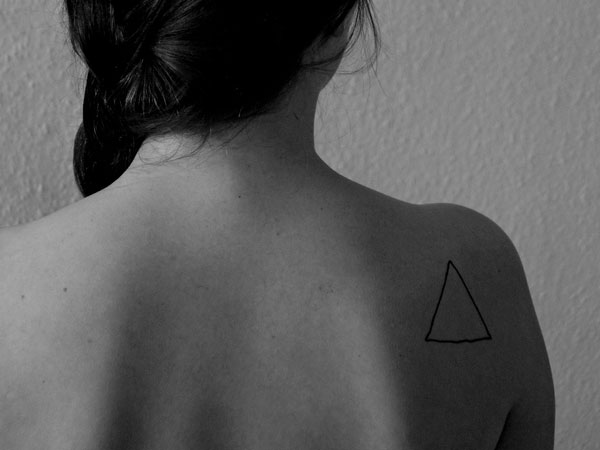 Shaded Triangle
Here is a look at the way light and shade effects combine with a block feel in this 3D triangle tattoo design.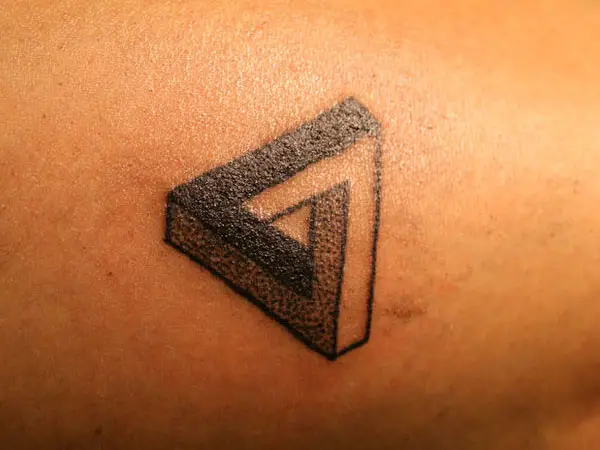 Artistic Triangle Tattoo
This 3D triangle tattoo is beautiful in black. See how the arms of the triangle are partly shaded in black dots for a deepened effect.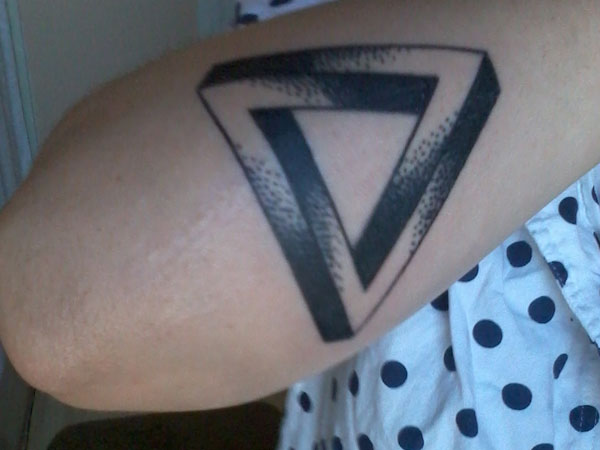 Artistic Triangle Tattoo
Deathly Hallows Wrist Tattoo
This inner wrist tattoo shaped like a triangle with geometrical patterns is inspired by the Harry Potter series.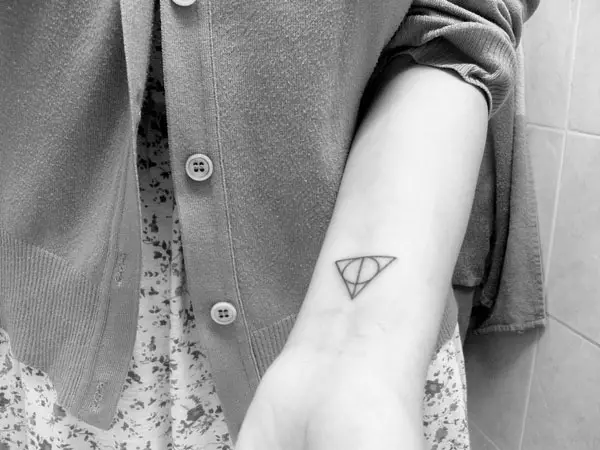 Elegant Harry Potter Geometry Tattoo
Here is a look at the Deathly Hallows, a simple and elegant design composed of a circle with a line through, framed within a triangle.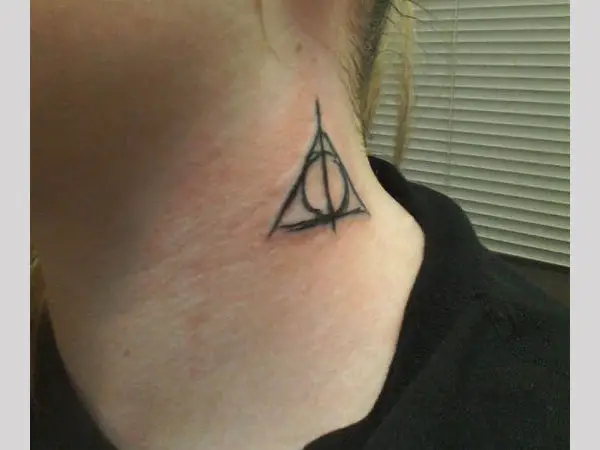 Elegant Harry Potter Geometry Tattoo
Triangular Play
The thick arms of this triangle tattoo have a bold 3D look while the pretty vine design holding the triangle is also done in a shaded 3D look.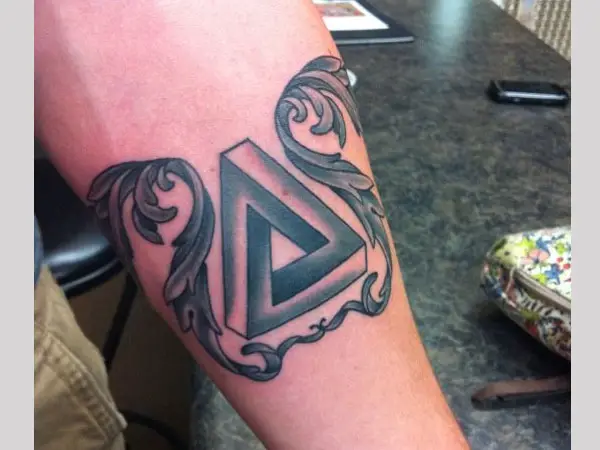 Triangular Play
Funky Triangle
The arms in this awesome 3D triangle and text theme tattoo are stylized to be broader one side to give a funky look to the design.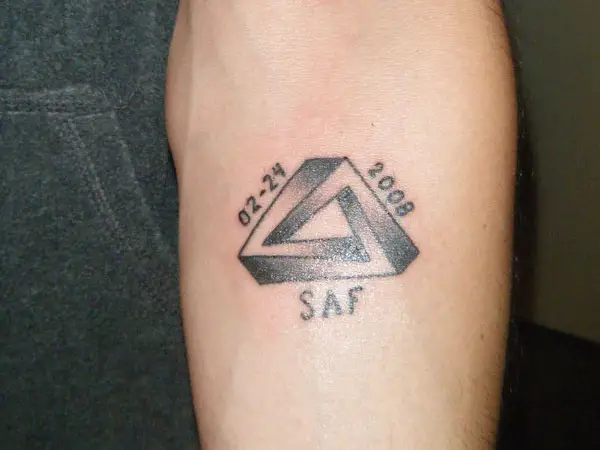 Dry Bones Triangle
This awesome tattoo is richly detailed in its black shading. The huge eye is framed within a triangle made of three dried bones.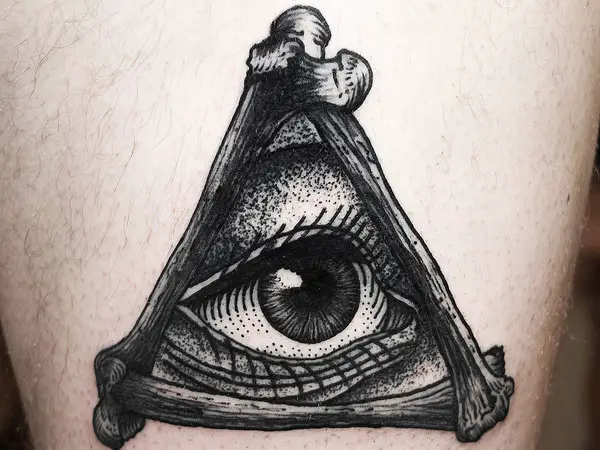 Dry Bones Triangle
Flames Triangle Tattoo
Check out this fantastic circle of flame and triangular prism theme tattoo inked on the arm.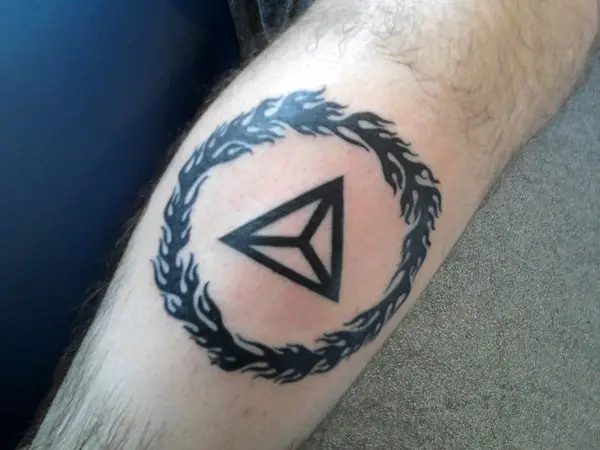 Play Of Tri
The three triangles, the upper one in red and the other two in black are arranged in a triangle formation in this tattoo design.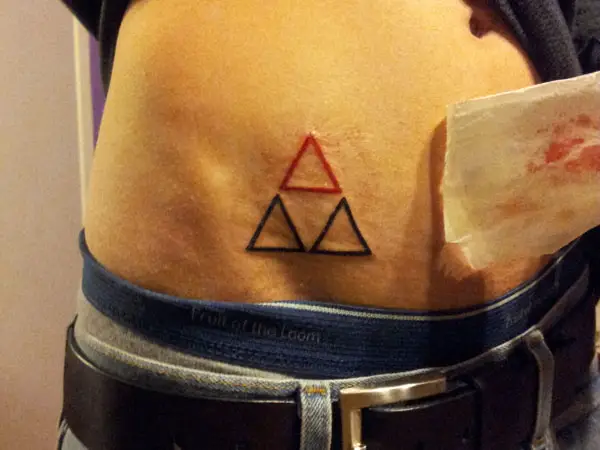 Play Of Tri
Magic Words Triangle
The delicate shades bring to life this subtle tattoo in which the words 'Serenity', 'Courage', and 'Wisdom' are inked in a triangular pattern.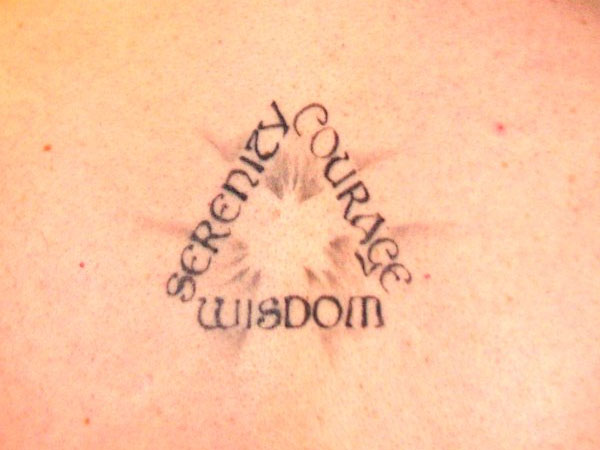 Our Triangle Tattoos
A fantastic triangle tattoo idea for lovers tattoos in this design you see a black lined tattoo contrasting with a white lined tattoo.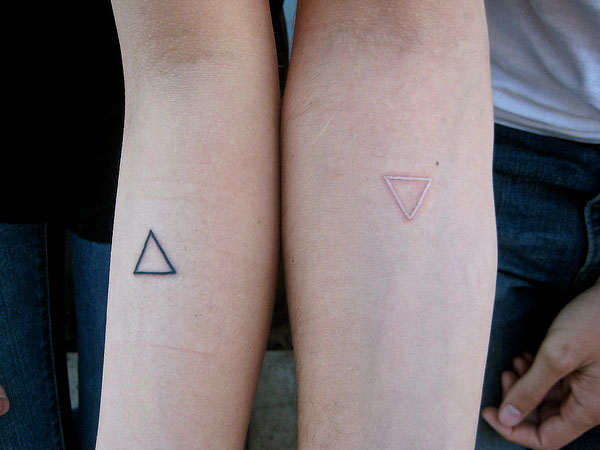 Triangle Block Style
The arms in this closeup of the tattoo design are formed into 3D block lines with shading to give a lifelike look.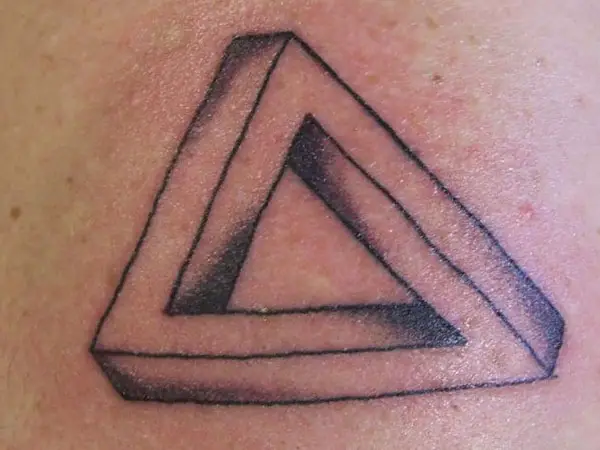 Finger Ring Triangle Tattoo
This tiny tattoo with shadings and black ink lines sits prettily on one finger just like a permanent ring.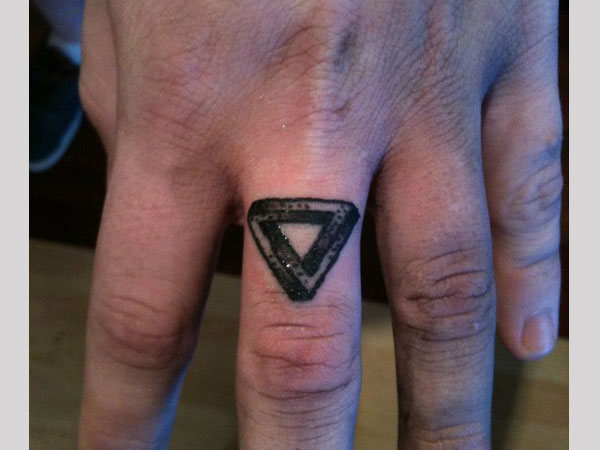 Finger Ring Triangle Tattoo
Eye In Egypt Broken Tattoo
Check out the amazing hieroglyphics patterned Egyptian tattoo with an eye at the center, split into two uneven halves.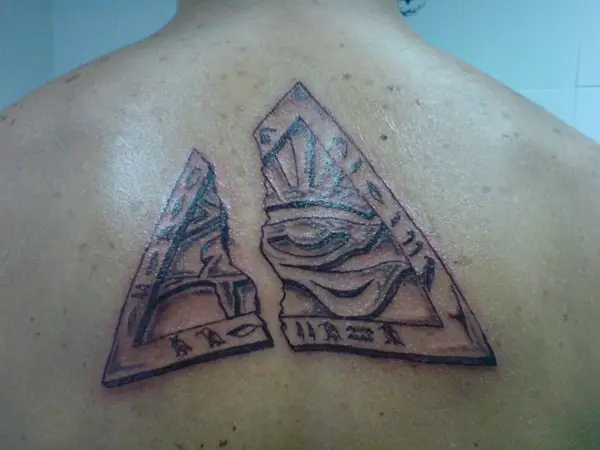 Small Triangle Tattoo
You can see a solid black ink triangle tattoo behind the ear in this small woman's tattoo idea.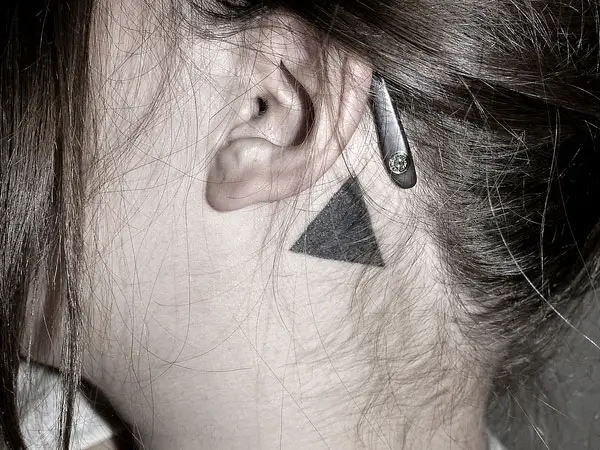 Small Triangle Tattoo
Geometrical Tattoo
This Deathly Hallows theme hand tattoo done in narrow black ink lines is done a little below the point where the thumb and forefinger meet.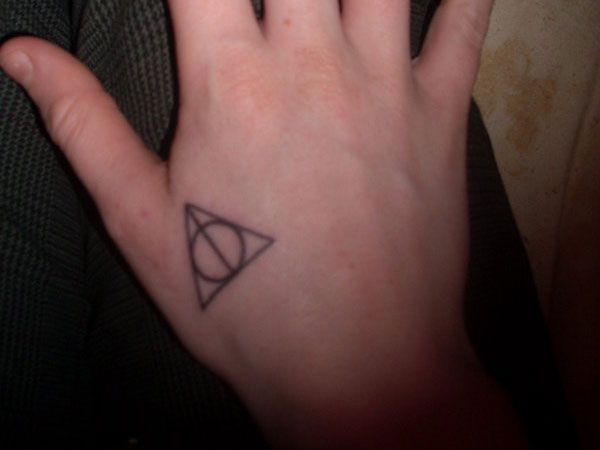 Awesome Pink Floyd Triangle
This rich Pink Floyd theme tattoo combines the eternal marching hammers theme from the movie, 'The Wall' with the rainbow streaming through a prism, from the album cover of 'The Dark Side of the Moon' into a stunning design.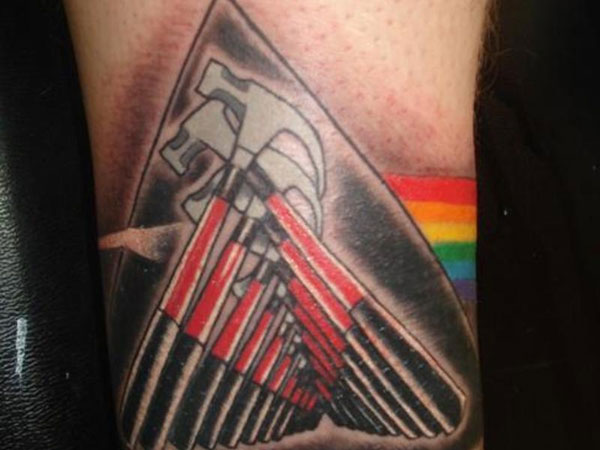 Interlocked Triangle Tattoo
Here is a look at a triangle with arms interlocking with each other to make a bold 3D style tattoo on the back.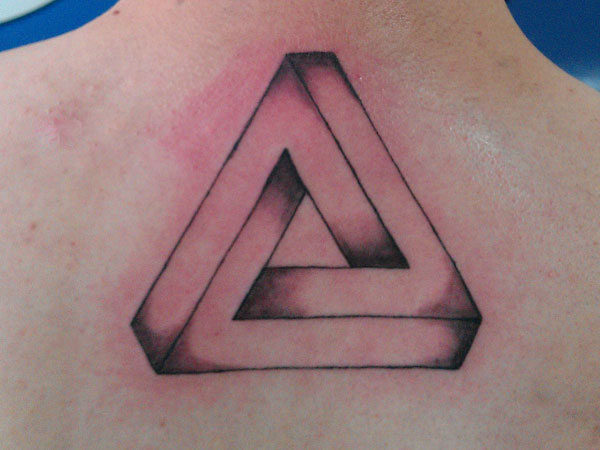 Vertical Tattoo
This vertical tattoo design inked down the leg is made up of alternating solid black triangles and solid black circles.