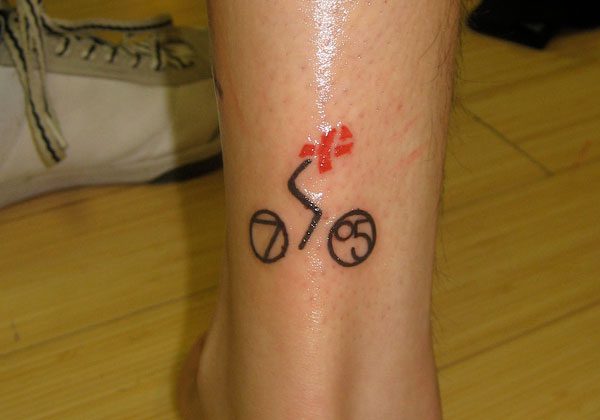 Tattoos are a great way to carry a symbol meaningful to one self on the skin. Tattoo designs do not always have to be large and dramatic to draw attention. A tiny design inked with artistic shades and holding a deep meaning can be equally impactful. Tiny Tattoos look really pretty when they are inked on the fingers, toes, and other small parts of the body.
The best part about tiny tattoo is that they give you a miniature world to play with. Whether numbers are your deep interest area, or you love ladybirds, or a tiny butterfly is more your thing, you can get your favorite design inked in a tiny pattern on any part of your body. Within the small space of a few inches, you can have fun being creative and imaginative. Tiny tattoo designs can be something religious and deeply powerful such as a Christian cross or the Jesus fish.
You also see tiny tattoos inked near the ankle showing a colorful bug, or a six petaled flower inked in black on the foot.
The area behind the ear is great to get tiny tattoo designs inked. You can also get your favorite phrase or group of two or three words inked in a tiny design at the back of your neck. Hearts always make a lot of meaning, so even in a tiny form a red heart design on your back can say a lot in a tiny format. Welcome to the magically powerful world of tiny tattoo ideas, where big ideas can be expressed artistically in a tiny space on your skin, to be with you forever.
If you like this article, you might be interested in some of our other articles on Sparrow Tattoos, Badass Tattoos, Leopard Tattoos and Zayn Malik Tattoos.
Meaningful Red Tiny Tattoo
The black and red design gives a vibrant look to this tiny tattoo showing the red ribbon symbolizing AIDS, and the numbers 7 and 5 locked inside circles.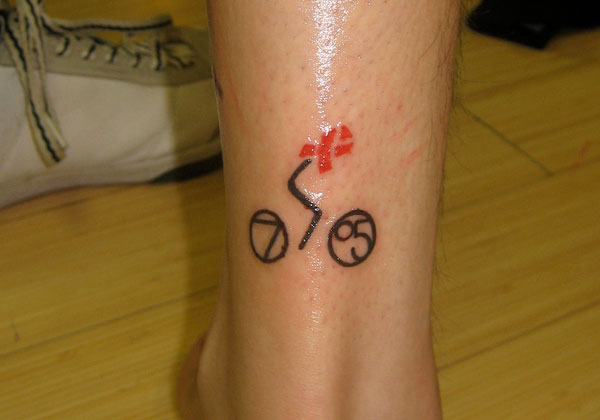 Star Knee Tattoo
Check out the pretty little black star tattoo design peeping out from below the skirt in this subtle and fresh tattoo idea.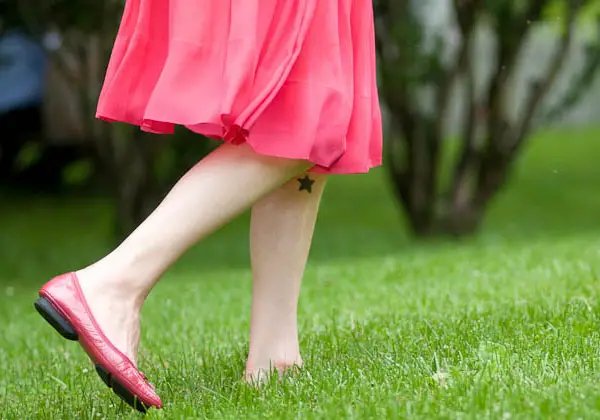 Finger Ladybird
A teeny red and vibrant ladybird with black spots makes for a cute and colorful finger tattoo idea.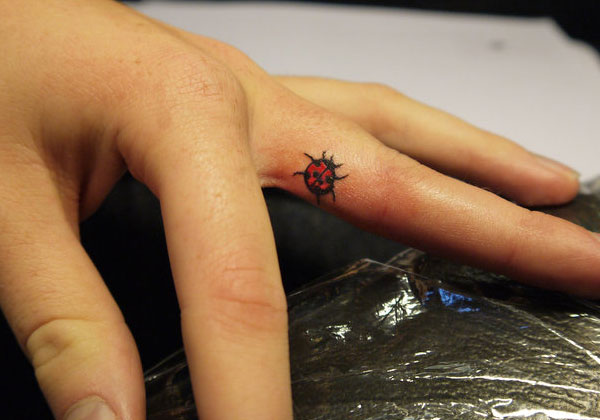 Bluebird Tattoo
Take a look at this perfectly shaded blue and black little bird tattoo with its wings out stretched for flying.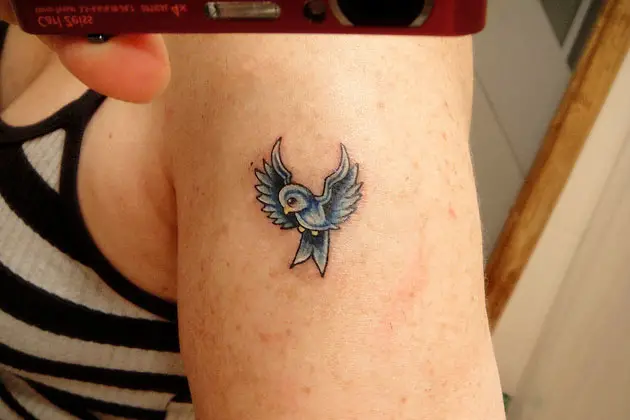 Teeny Ladybird Ankle Tattoo
This is a richly detailed ladybird theme tattoo inked near the ankle. The tiny bug tattoo design is pretty in red, golden, and black.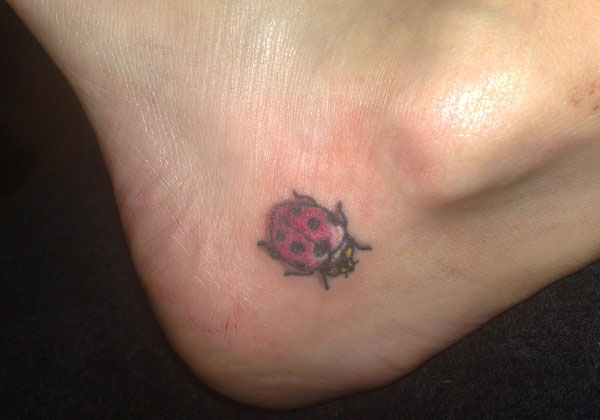 Tiny Heart Tattoo
A heart inked in pure red sits inked on the inner wrist in this tiny tattoo design idea. Check out the uneven edges giving a hand drawn look to the heart.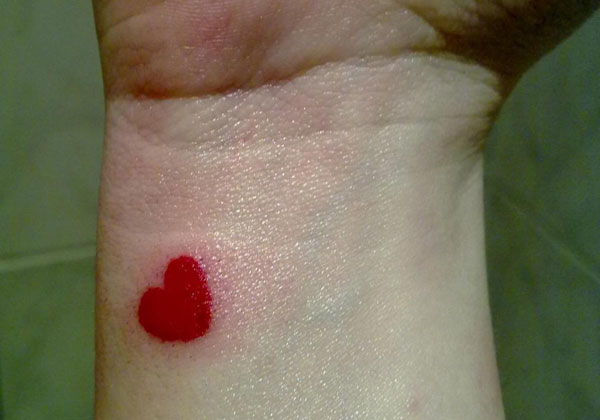 Tiny Heart Tattoo
Religious Tiny Tattoo
Inked in simple black lines this is a tiny religious tattoo on the ankle showing the Jesus fish.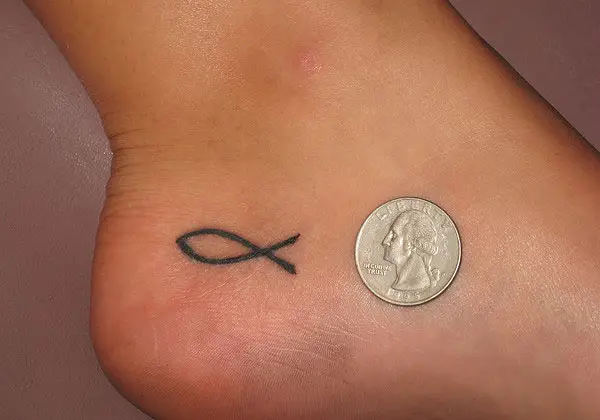 Deathly Hallows Tiny Tattoo
Right near the ankle you can see a tiny ink design showing the famous Deathly Hallows symbol from the Harry Potter series.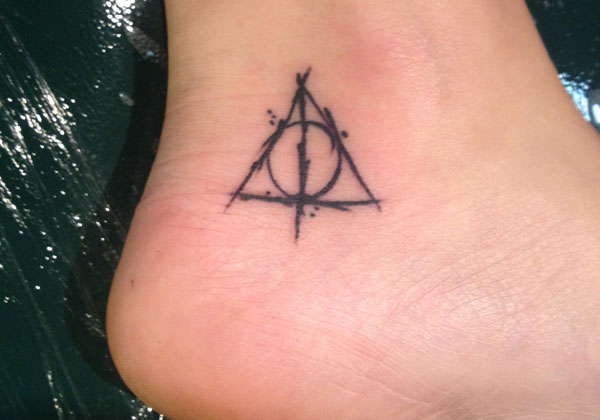 Deathly Hallows Tiny Tattoo
Tiny Music Tattoo
Teeny musical notes dance in simple black on the side of the hand. A great tattoo idea for a musician's hand.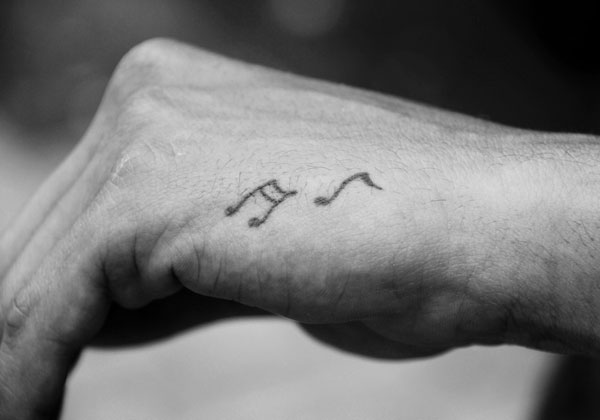 Tiny Infini8 Tattoo
This infinity love tattoo plays on the theme with elegance by twisting one part of the '8' into a heart shape.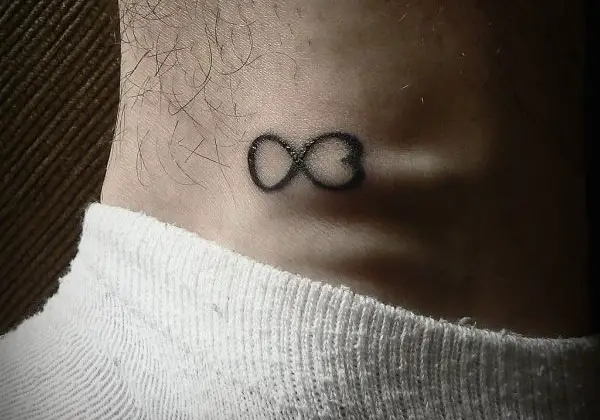 Tiny Peace Tattoo
Peace is a big concept but that does not mean the ink design showing it can't be tiny. Check out this simple tattoo showing a peace sign on the inner wrist.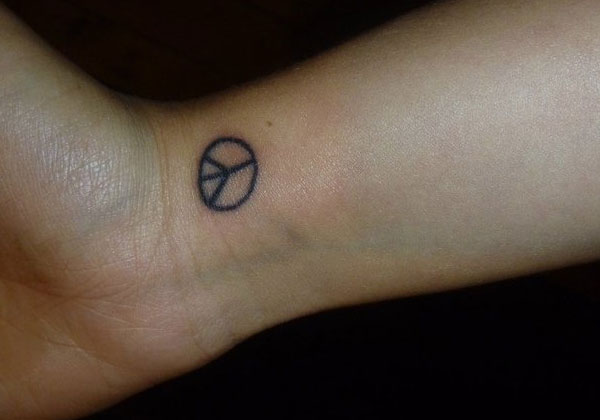 Leg Tattoo
This is a circular outline shaped tattoo design inked right near the ankle. You can also see a few numbers and symbols inside the design.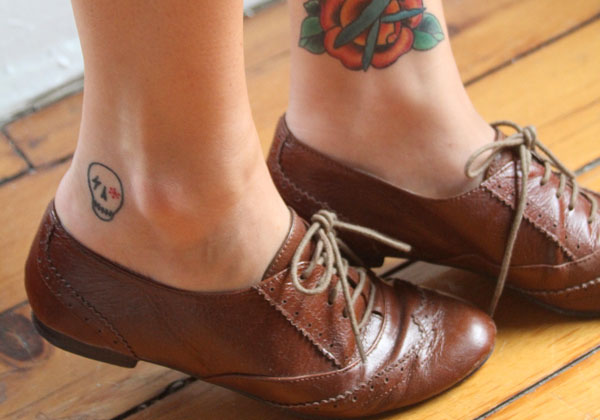 Leg Tattoo
Heart Inc
The back looks gorgeous and expressive with this tiny ink design showing a heart completely filled with black.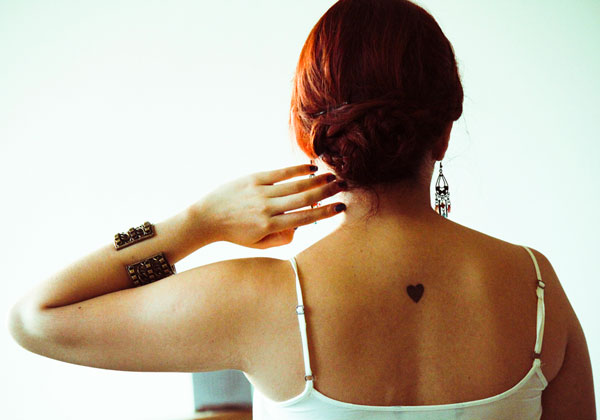 Tiny Spiral
This is a tiny geometrical tattoo inked on the foot. The triangle with a dot is surrounded by three elegant spiral shapes.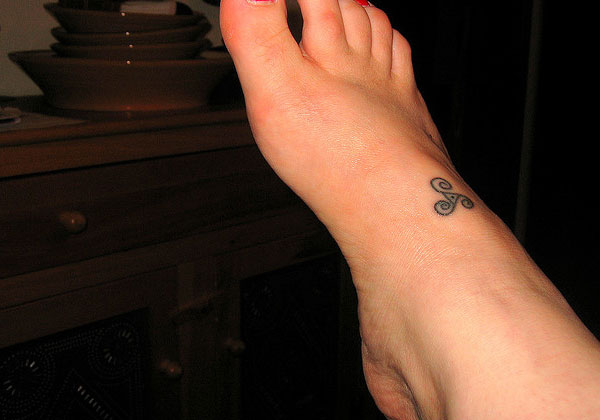 Heart Spiral Tattoo
Get a look at this tiny heart tattoo tucked behind the ear. One curve of the heart curls shapes into a spiral making for an interesting design.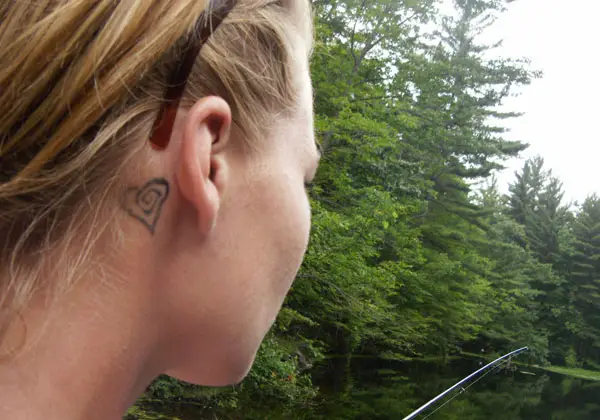 Pet Tiny Tattoo
This smudgy looking tattoo of a pet's paw is just right for a pet lover. The ink design on the wrist has a warm feel in its imperfect edges.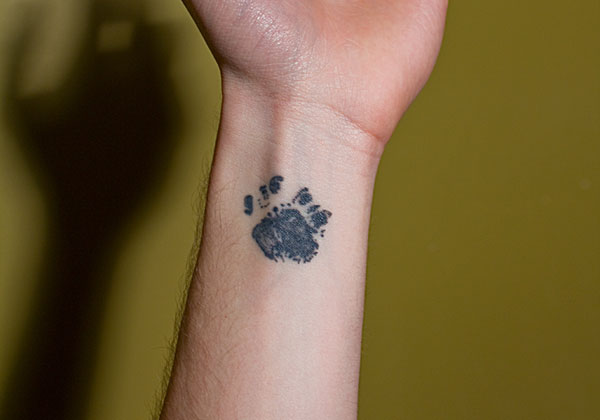 Pet Tiny Tattoo
Tiny Tattoo
You can see a simply inked tiny tattoo on the wrist showing the powerful religious symbol of a Christian cross.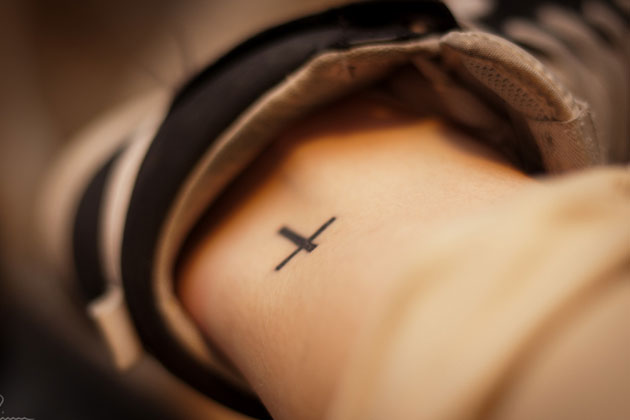 Tiny Tattoo
Self Love Tattoo
What better way to show your love for yourself save with a teeny black word tattoo with the word Self' and a black heart expressing deep love?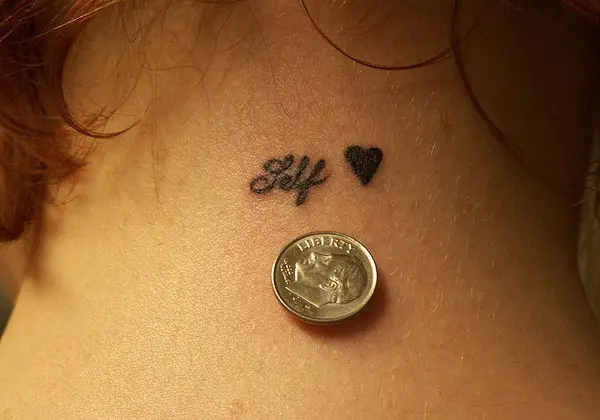 Spooky Tiny Tattoo
Tiny can also be spooky. Check out this cute little spongy black nettle ball tattoo with two big eyes out to spook you. This tattoo is a soot sprite from My Neighbor Totoro film.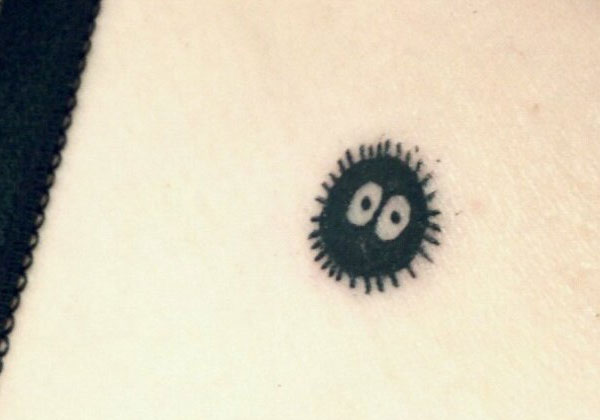 Spooky Tiny Tattoo
Tiny Brown Flower Tattoo
This is a beautiful and simple tiny tattoo showing a brown flower with five petals, considered an ancient symbol of luck.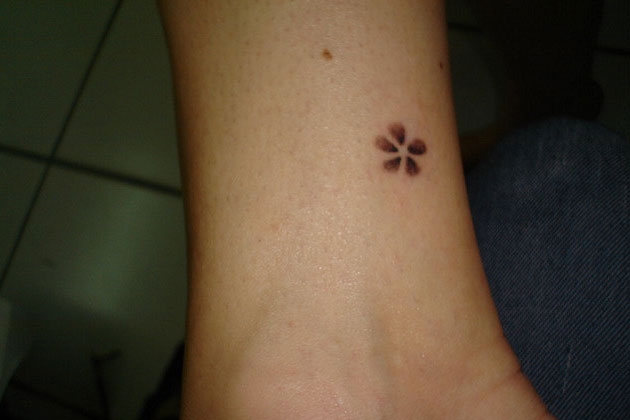 Heart Red Tattoo
The back of the neck is a really cute and unusual place to get inked with a teeny red heart tattoo.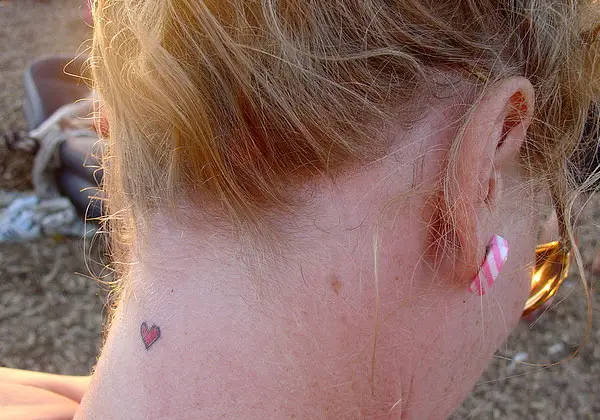 Tiny Triangle Tattoo
The thick black lines touch a narrow base making an interesting triangle shape in bold black in this tiny tattoo design.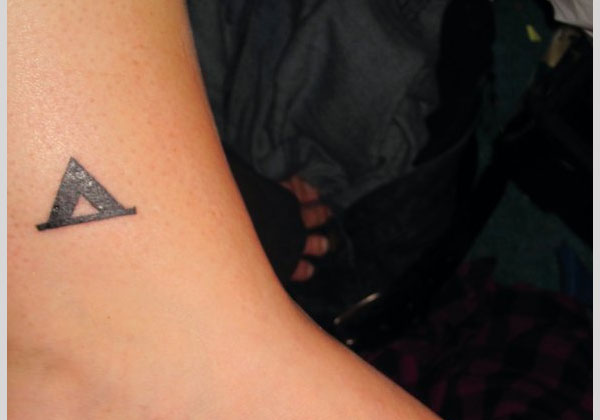 Tiny Triangle Tattoo
Red Black Tiny Tattoo
Small is really beautiful as you see from this elegant and curvy red and black tiny tattoo inked on the inner wrist.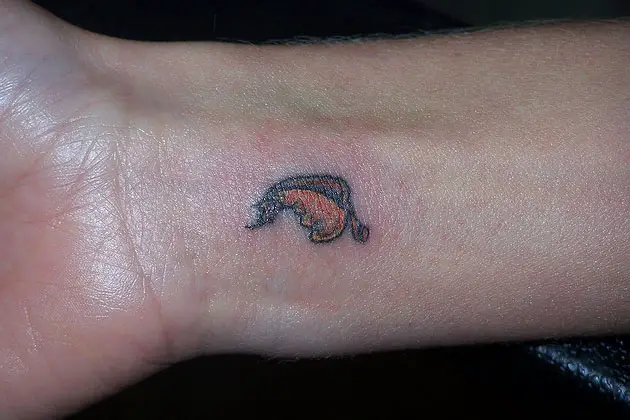 Butterfly Finger
This beautiful tiger butterfly tiny tattoo in orange and black on the finger looks like it's just about to fly away.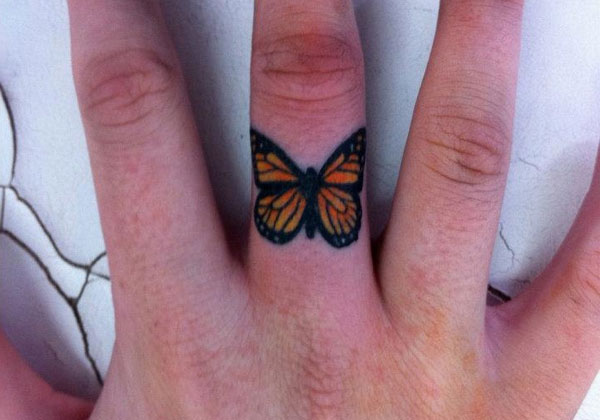 Six Petaled Tattoo
This tiny tattoo inked right on the big toe is perfect in its depiction of a six petaled flower with a smaller flower inside.