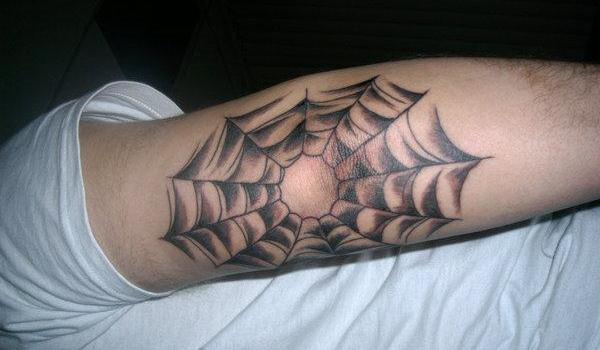 Tattoos, the cool style statement of the modern youth have undergone numerous changes and are still on the way of evolving themselves. One welcome change that has touched them is the way people perceive them. To put it in other words, tattoos associated with a particular group or ethnicity are no more the preserve of their members only. There has been a large-scale shifting of domains in the tattoo culture and now people freely wear any tattoo that they want to without bothering about the message it will convey. Reason: the provincial mindset has weakened.
The spider web tattoo is one such tattoo that has crossed its criminal boundaries and found acceptance in the mainstream.
Today the wearers of a spider web tattoo wear it not because they belong to a gang but because they like the design of a spider web or because they can draw different meanings out of it. The intricate and superb weaving pattern is no less than an artwork and it fascinates many. This explains the craze for spider web tattoos. If you are also a crazy spider web tattoo enthusiast, do check this post that we have created with 35 diverse designs.
Spider Web Tattoo
The spider web tattoo has been associated with prisoners and criminal gangs in past.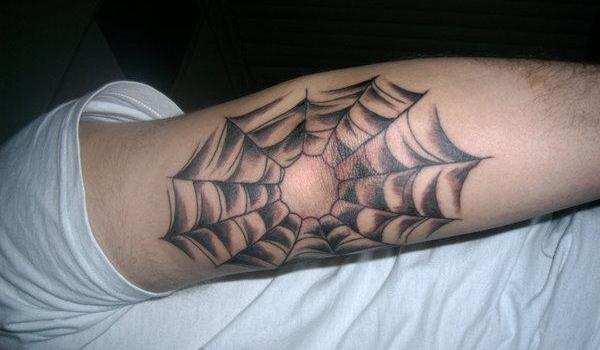 Spiderweb Elbow
Elbow is the most common and best place for wearing a spider web tattoo.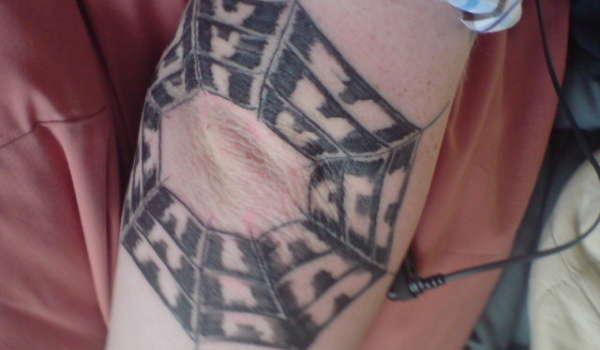 Spiderweb With Nautical Star
A red and black star embossed on the spider web resting over the elbow looks awesome.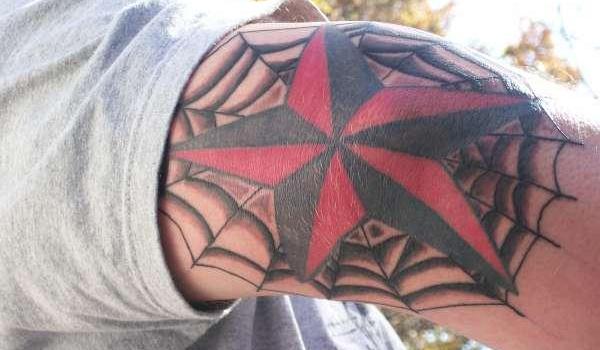 Negative Spider Web
A fat spider seated on a reverse web intimidates the onlookers with its look.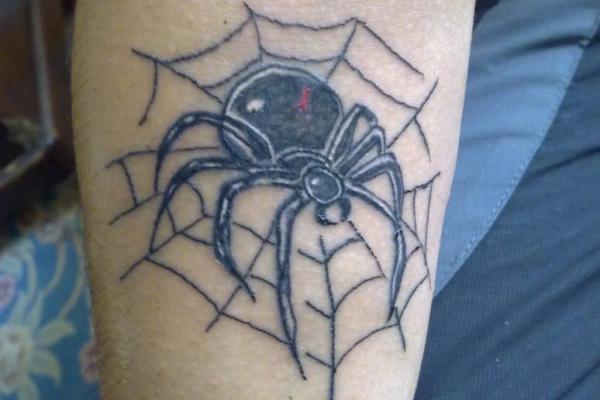 Leg Spider Web
The spider at the side joint of the ankle and a web framing it around draws attention with every step the wearer takes.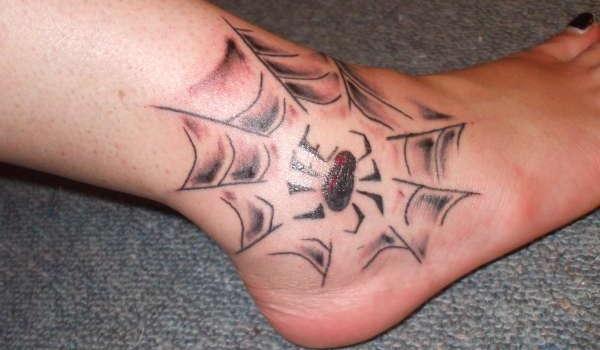 Spider Web Shoulder Tattoos
Full body tattoo with spider web on shoulders gives the macho man a distinct look.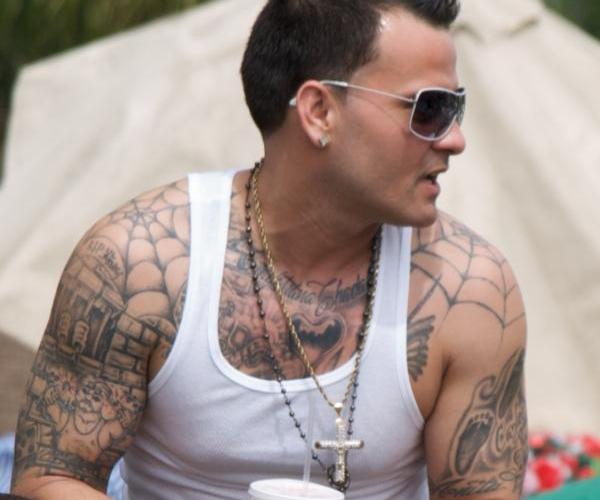 Hang On
A spider hanging from its web is symbolic of the fighting spirit of the tiny insect.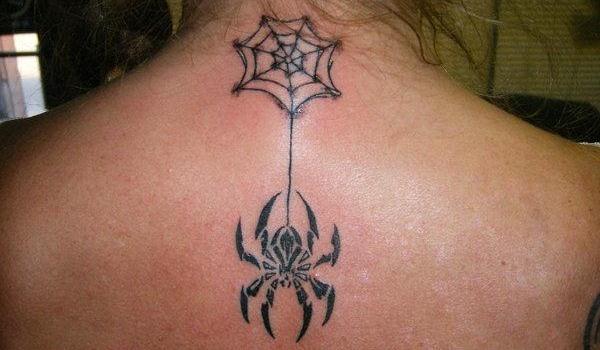 Spider Web With Raid Can
Queer tattoo with a pesticide bottle and web painted on forearm which has several insects stuck inside it.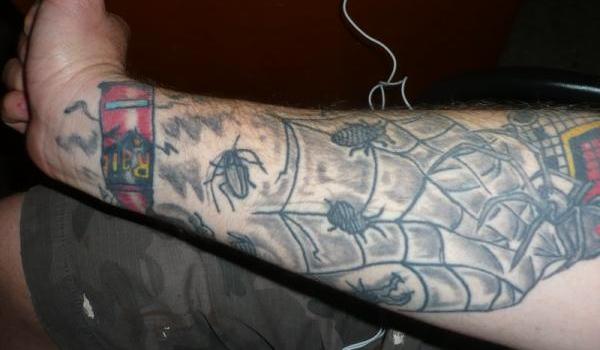 Colorful Spiderweb
Inked in red, the colorful web has a pretty charm.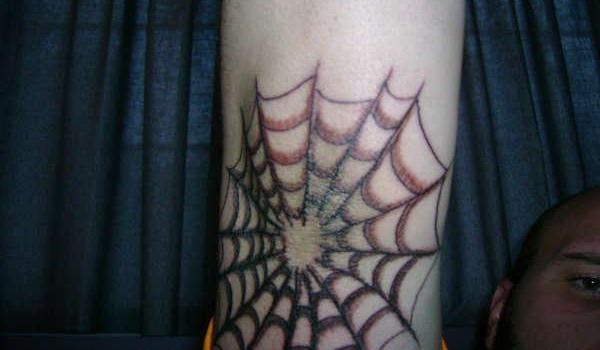 Palm Spider Web
A couple of spider crawling inside their web carved on palm must be sending fear waves to the one who shakes hand with this guy.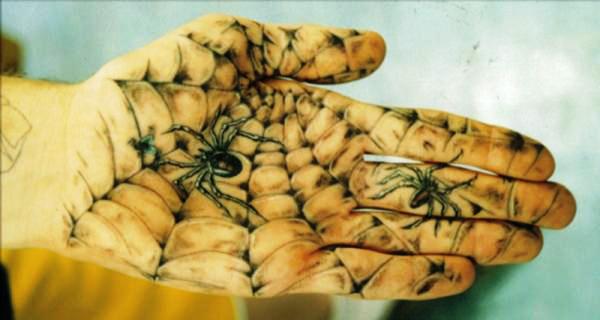 Web On Head
The spider web inked on a bald head looks intriguing and amuses the onlookers.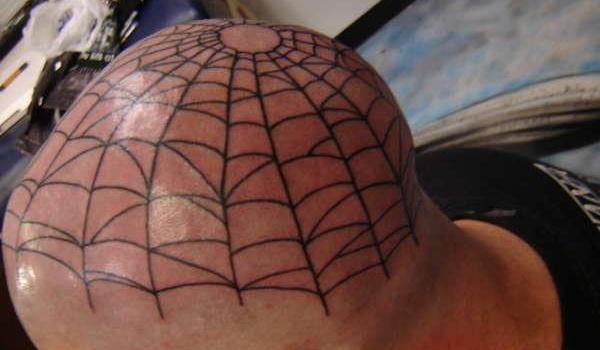 Shoulder Spider Web Tattoo
A black spider web tattoo inked on shoulder-blade looks plain and elegant.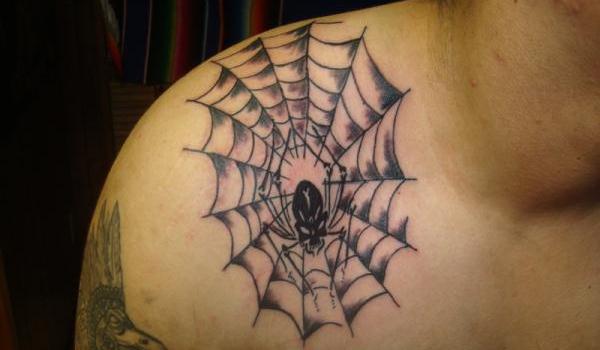 Spiderweb And Wicked Jester
Adding some funny image with the web tattoo enhances its effect.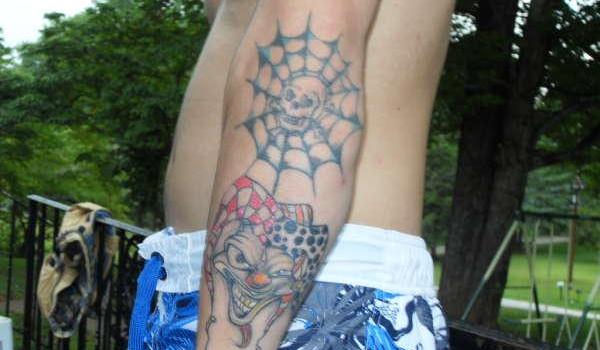 Ear Spider Web
The tiny red spider web with a green spider carved inside the ear and at its back looks cute and colorful.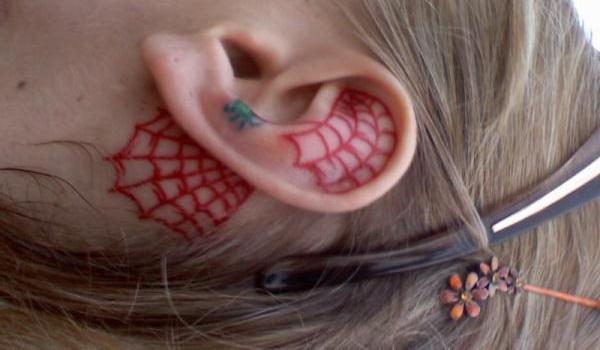 Custom Skull And Spider Web
This large tattoo with a skull face at the center of the web is unusual and fearsome.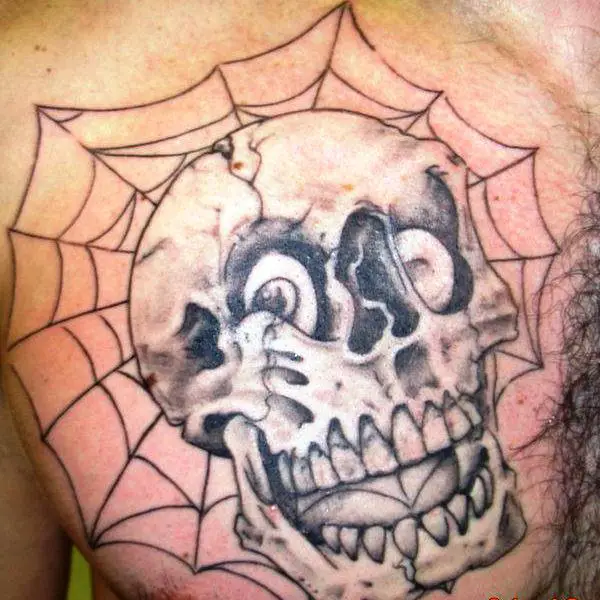 Spider Web Tattoo
A portion of the spider web inked on neck near the ear is sexy.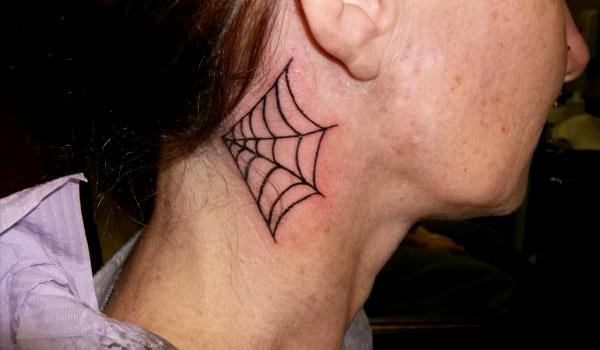 Spider Web Skull
The neat, elegant design in a spider web has a fantastic allure.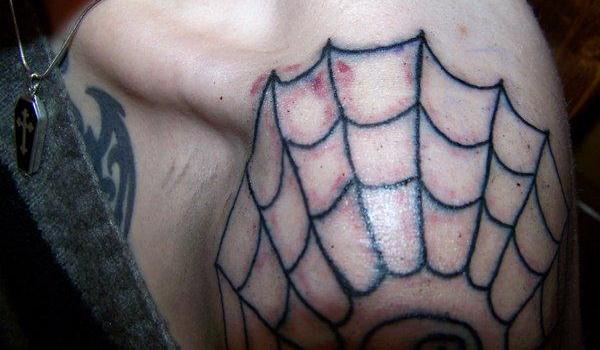 Elbow Spiderweb Tattoo
The adventurous spirit of the weare comes out clearly with this bright web tattoo in blue and red with the face of a bird carved on elbow.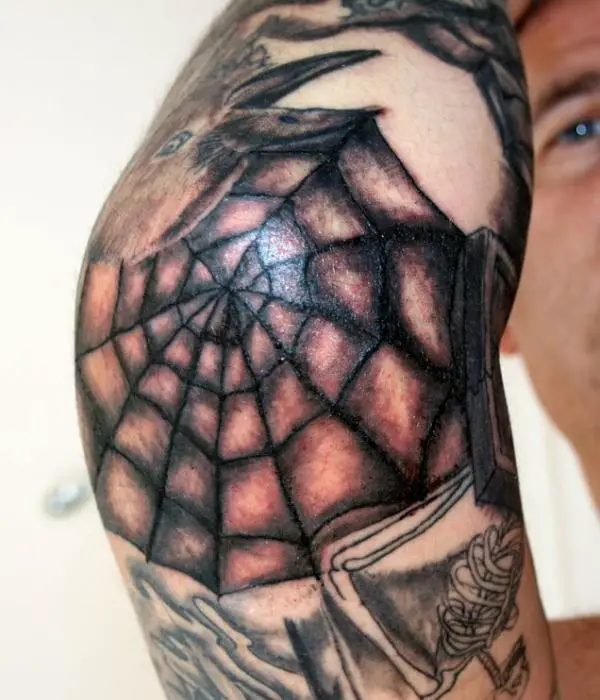 Vintage Spider Web
The vintage spider web tattoo design is an all time favorite.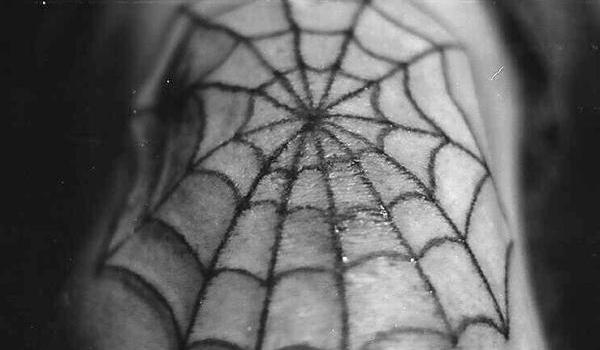 Tattoo Spider Web
The inside of the elbow painted with a blue spider web and a skull.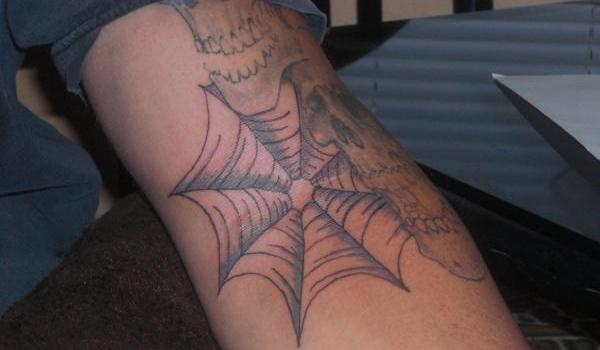 About To Catch
The spider inked just above the elbow about to catch its prey creates fear.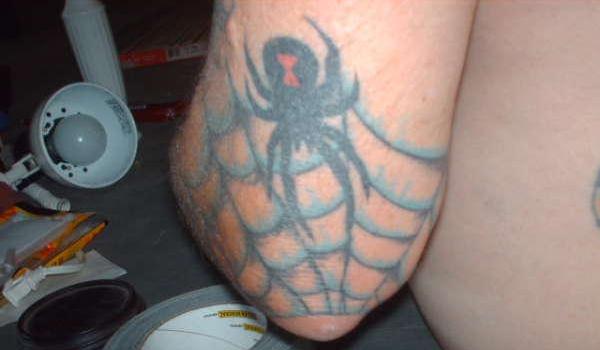 Black Widow Spider With Web
The reverse spider web with the black widow spider spreading its legs carved on upper back.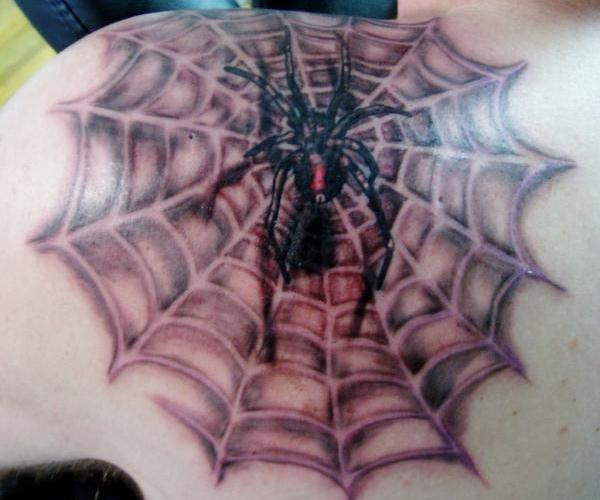 Chest Spider Web
This wheel of a spider web with flagged edges has an attractive structure and looks interesting.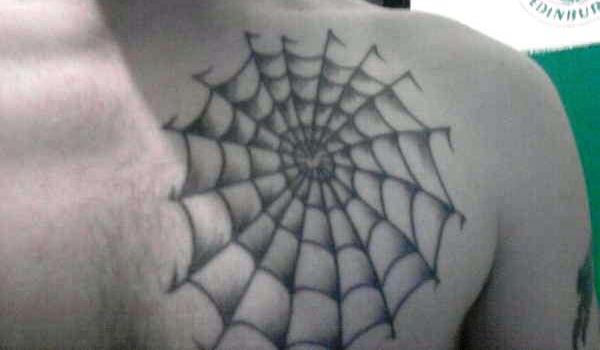 Head Spider Web
A large blue spider web with an equally majestic spider created on skull is extremely eye-catching.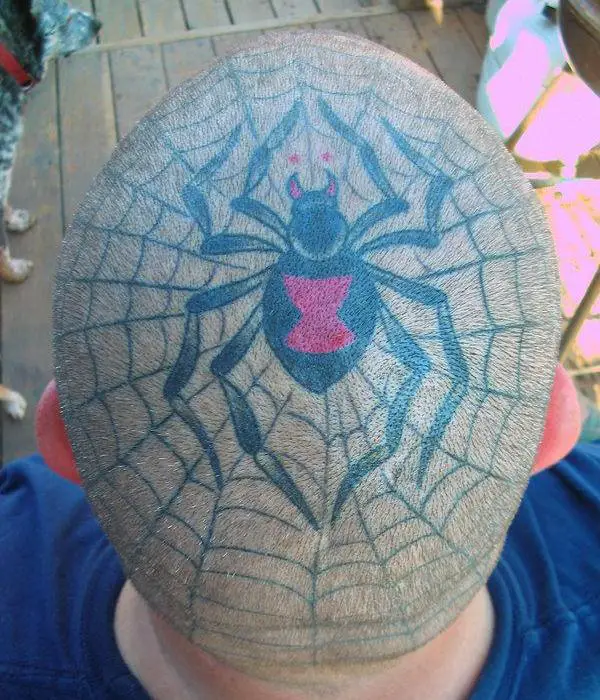 Simple Spider Web Tattoo
The best place adorned with a plain black spider web has an undying charm.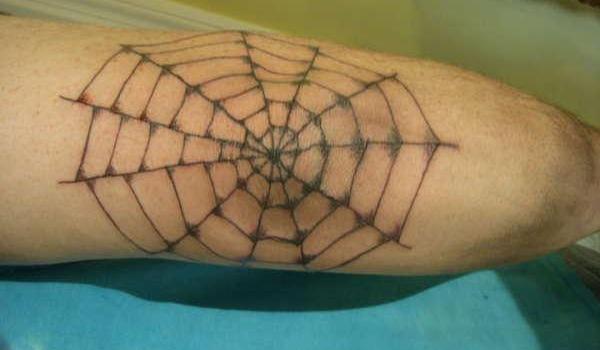 Green Spider
The green colored spider moving to the side of its red web appears to be falling.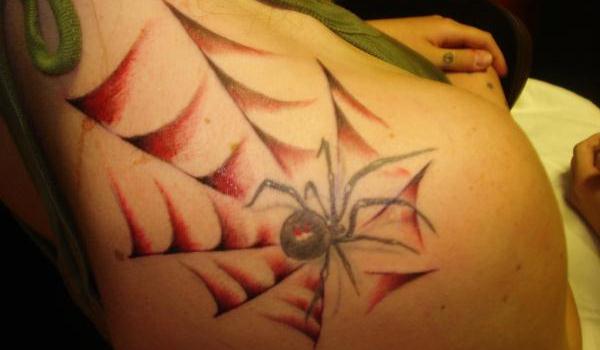 Spider Web Tattoo
A small and elegant web tattoo worn below the ear on the neck is lovely.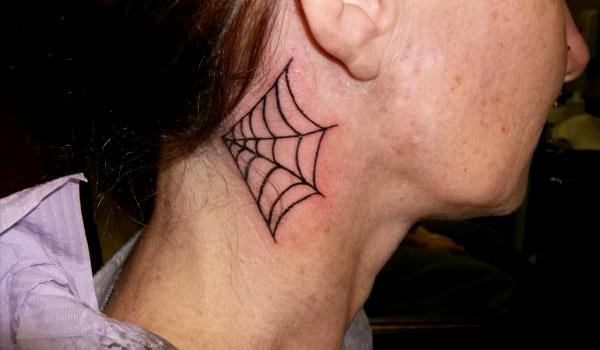 Biceps Spider Web
Try this vibrant, red spider web tattoo on your biceps and count the looks you get.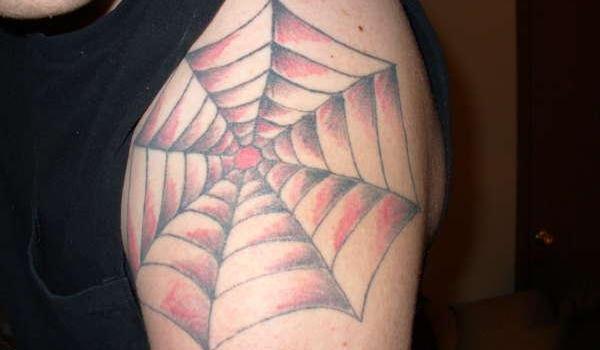 Spider Web Elbow
The combination of blue and black on this spider web looks splendid.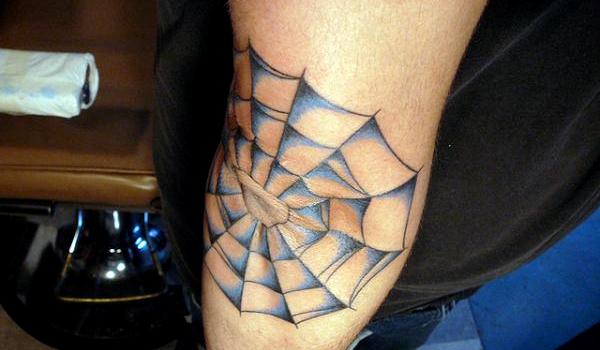 My Spider Web
A piece of the web created in bright red on back signifies the strength of the threads of the web.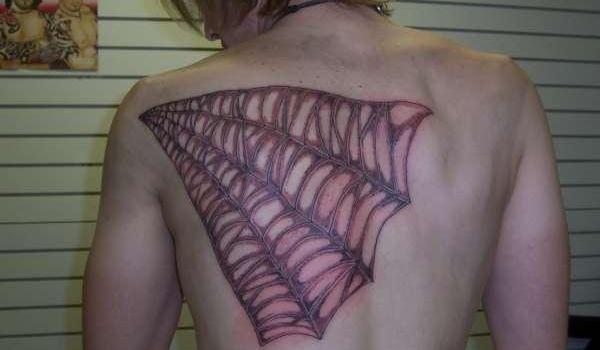 My Spider Web
This colorful spider with pink heart-shaped eyes weaves a love web on the hand.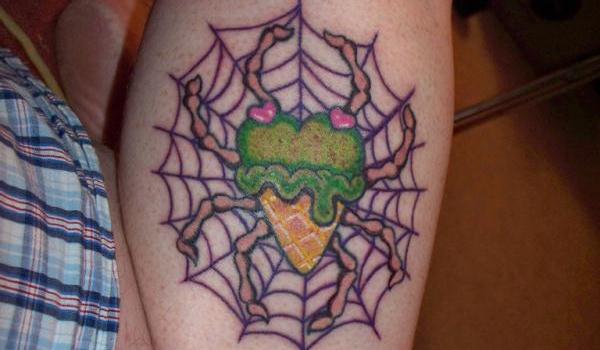 Spider Web
The spider web worn around the elbow looks charming on a robust arm.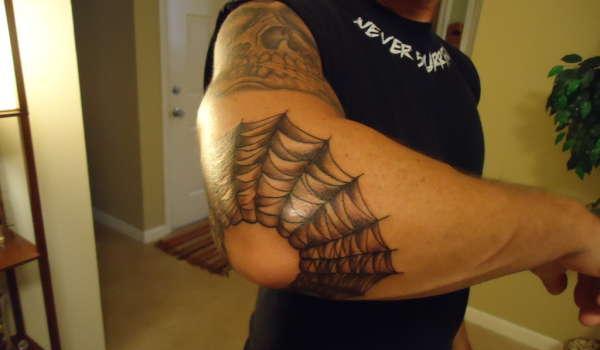 Cat Spider Web
A collage of butterflies, cat and spider carved on chest looks sexy and saucy.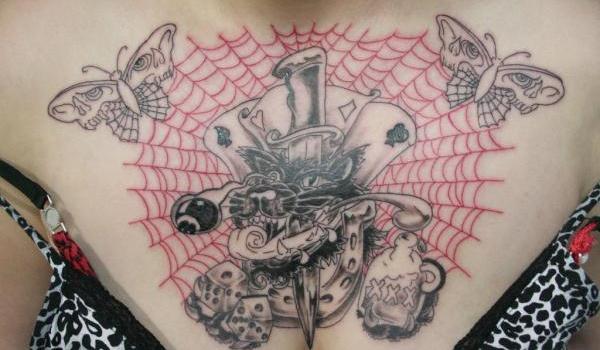 Back Spider Web
Fynny and creative, this web has a holy cross with name initials shaped as spider and a skull wearing a cap about to grab it with its bony hands.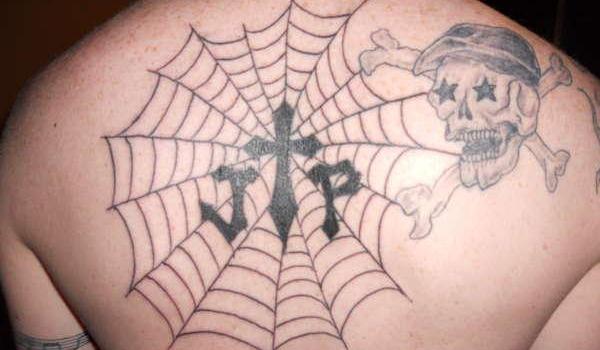 3D Spiderweb
Want to scare others with an alive spider hanging from your body then try this 3D spiderweb on your rib.