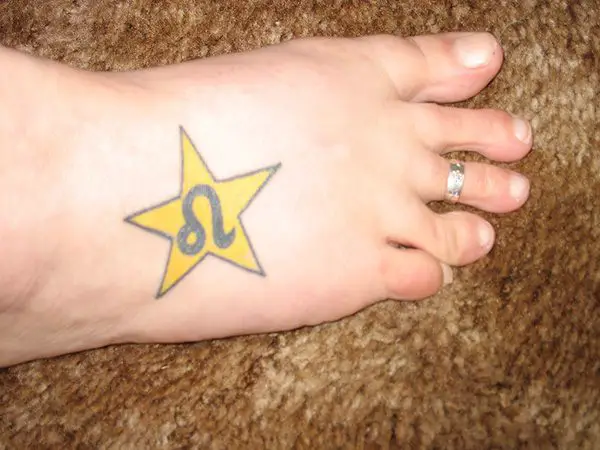 Strong, bold, and confident the Leo woman is one of perfect grace and poise. She is born to rule over hearts and kingdoms, and she does it with a natural style. Leo is the sign of the lion, and the woman who is born under the star sign Leo has all the fine qualities of a lioness.
If you are a Leo woman and want to get your special sign tattooed on your skin, look up the Internet for Leo Tattoos For Women.
When you look at a Leo tattoo design the shape normally looks like a U that is turned upside down. The curves are full of soft beauty and show the feminine side of a Leo woman. You can get this sign inked in a smooth black design on any part of your body, such as your upper back, upper arm, or leg. The design of a Leo Tattoo is full of motion and flow, with the ends of the U curling upward to form a distinctive shape. You can have a tattoo showing your star sign inked with the word 'Leo' alongside. Since Leo is a fire sign, you can have a tattoo colored in the shades of a fire to show your strong and spirited personality. This Leo star sign could be the heart of different kinds of designs. The Leo star sign could be included in a design showing a beautiful yellow star, colorful patterns dancing on both sides of the design, a bold outline giving a 3D look to the design, and much more. If you want to celebrate your inner lioness you can have a beautiful lion face inked on your body. Let the lioness face roar from your foot, or have her inked proudly on your waistline. You can also have the U-shaped Leo design inked inside a pattern of pretty flowers to highlight the beautiful woman you are. Here are some gorgeous Leo tattoos for ideas.
If you like this article, you might be interested in some of our other articles on David Beckham Tattoos, Lip Tattoos, Tongue Tattoos and Twilight Tattoos.
Starry Leo Tattoo
A lucky five-pointed star in bright yellow holds the black Leo star sign within in this colorful foot tattoo for women.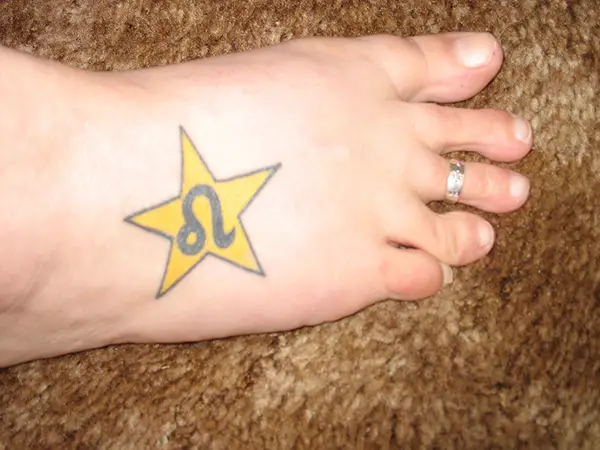 The Leo Woman
The lion face inked in a large softly shaded design on the back of this woman is realistic enough to look like it'll jump out. A bold tattoo for a bold Leo woman.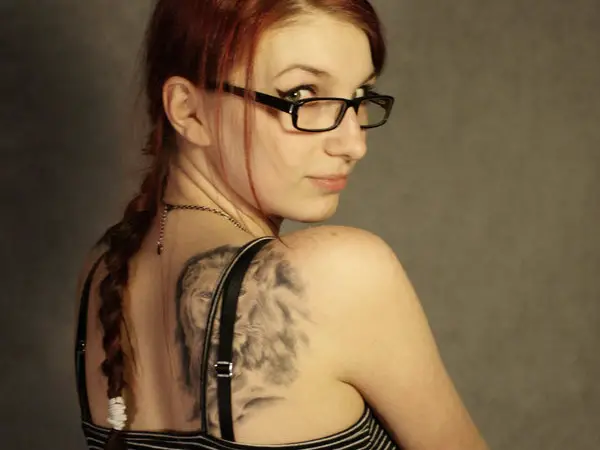 Leo Sensuous Tattoo
Inked in thick bold black lines this Leo tattoo coils rather like a sensuous snake along the upper back of the woman.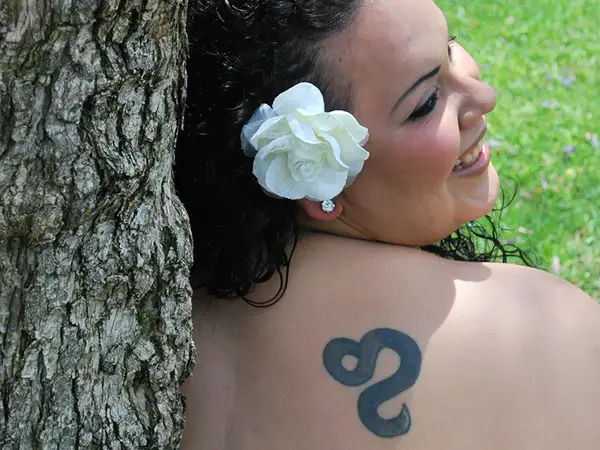 Being Leo
This woman lowers her head to show off the freshly inked curvy shape of the Leo star sign on the back of her neck.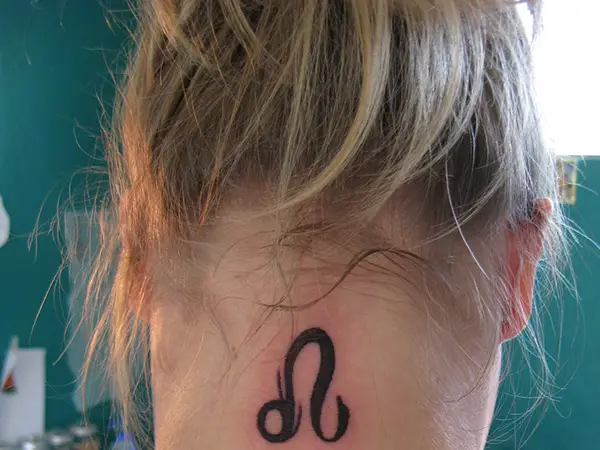 Fire Leo
The pattern inked in orange and black gives a fiery look to this Leo star sign with the word 'Leo' inked below in proud black letters.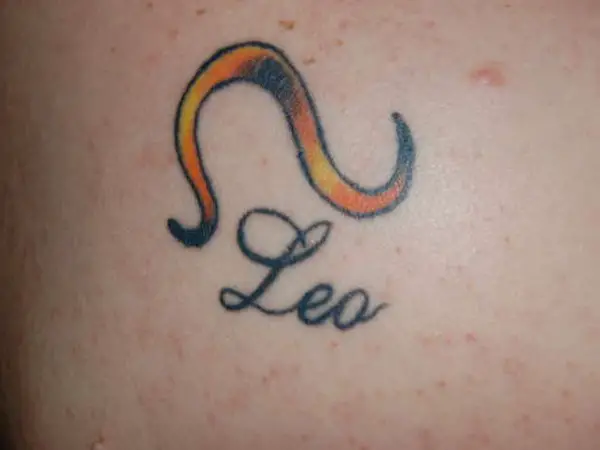 Gracefully Leo
Inked along the lower back of this woman is her sensuous and perfectly curvy Leo tattoo inked in narrow black lines.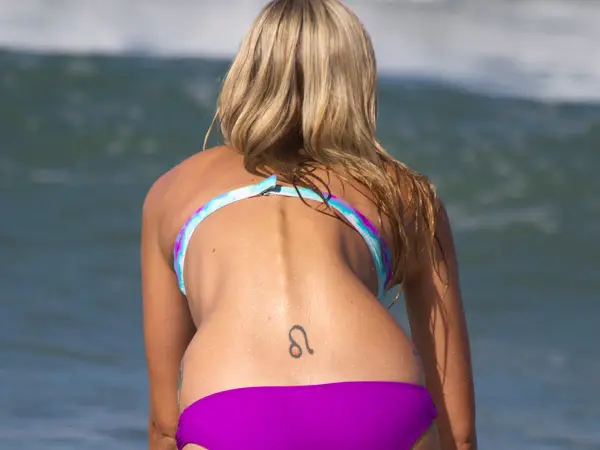 Leo Abstract
Check out the abstract pattern showing a lioness face with stars pouring out of her mouth in this shoulder tattoo design.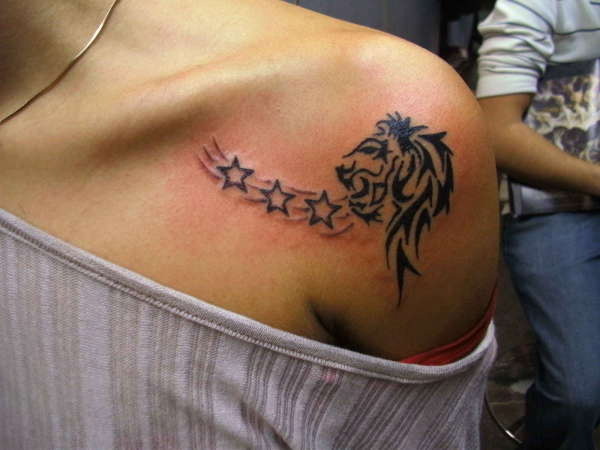 Star Patterns Leo
You can see the curvy form of the Leo sign at the center of this design of colorful pretty stars extending on both sides.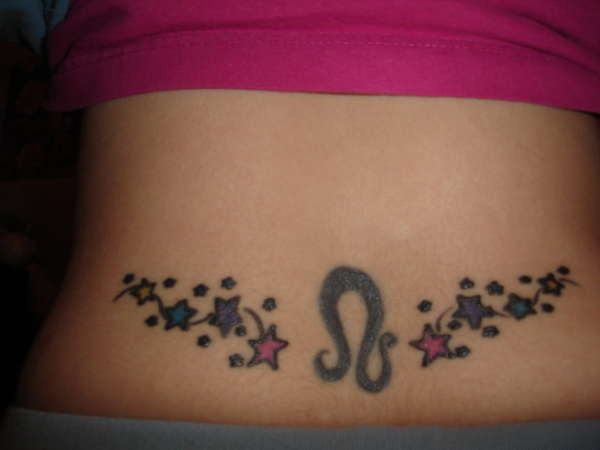 Chinese Leo
An elegant script tattoo in Chinese is inked on the upper back with the Leo U curve overlapping the design.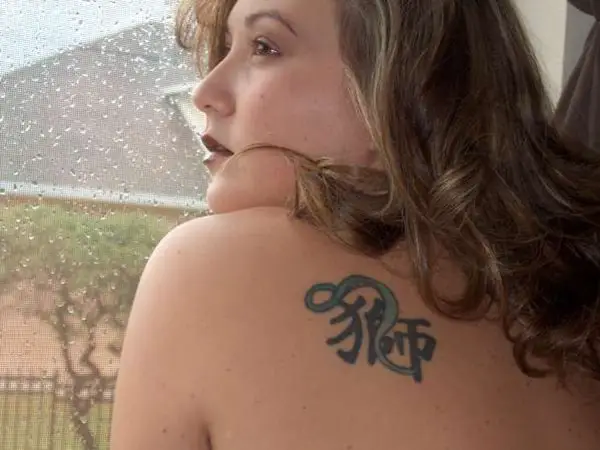 Leo Pride
The proud mane of a lion is inked in delicate artistic strokes forming a lion face in this Leo tattoo for women.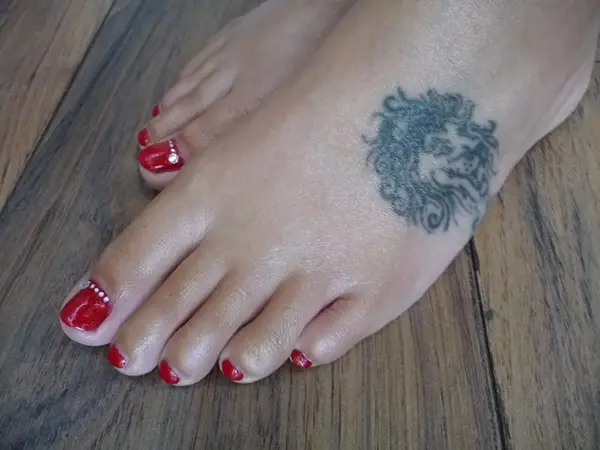 Leo Outline
A delicate blue outline forms the border of this powerful, black, and curvy Leo tattoo inked on the upper chest of the woman.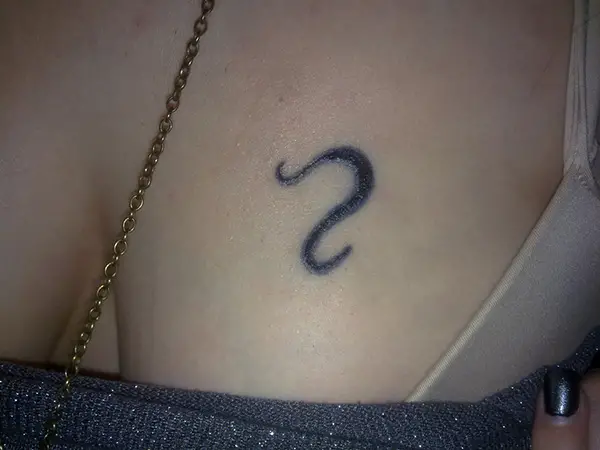 Stylized Leo Tattoo
Drawn with strong straight lines to make a stylized shape of a lion this is a colorful Leo tattoo inked on the leg.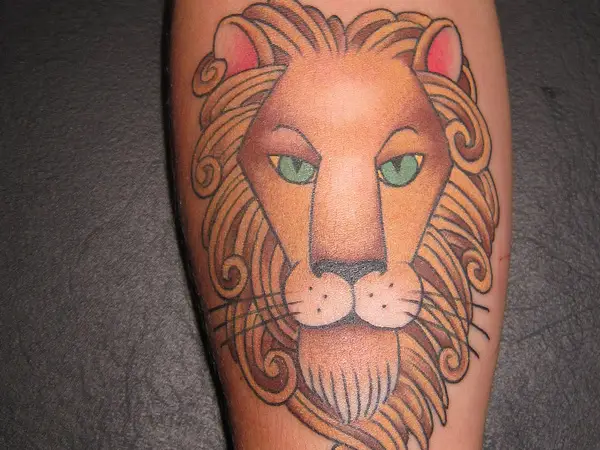 Scent Of A Leo Woman
Take a look at this sexy Leo tattoo with the U curve interlocking with pretty flowers in a black design on the woman's upper back.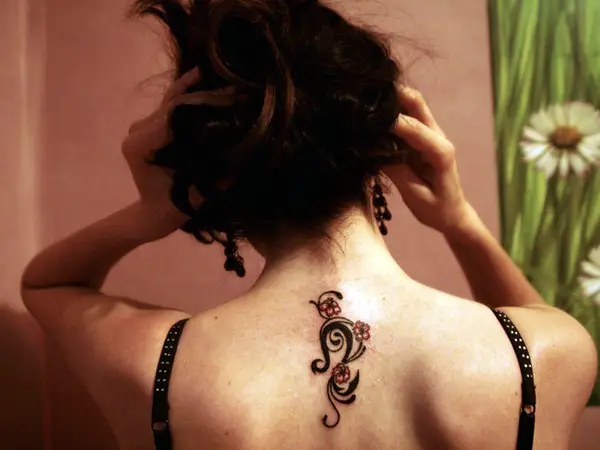 Tiny Leo Tattoo For Women
This Leo tattoo with a tiny closed loop at one end and an open loop at the other end is tucked neatly below the woman's ear.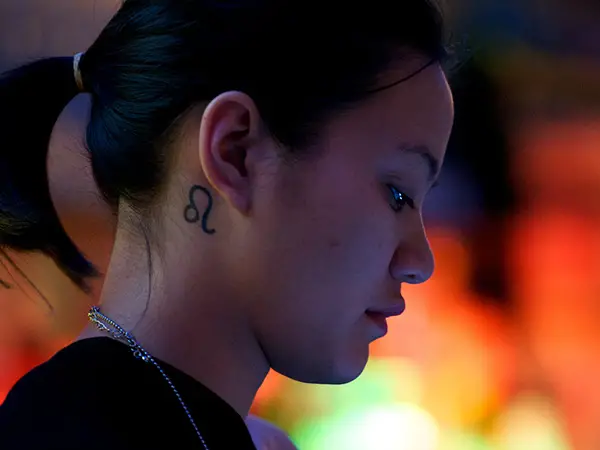 Woman's Leo Foot Tattoo
Take a look at the elegant lines of the bold solid black Leo U curve shape in this tattoo inked a little above the ankle.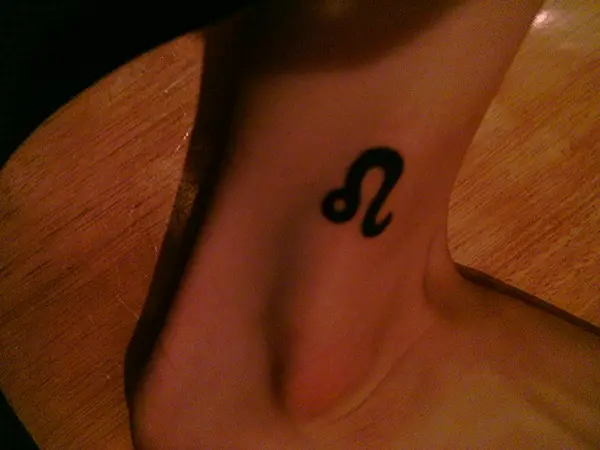 Leo Tattoo Windy
The lion's powerful mane is swept to one side by the wind in this artistic Leo tattoo that looks like it's been shaded in with a pencil.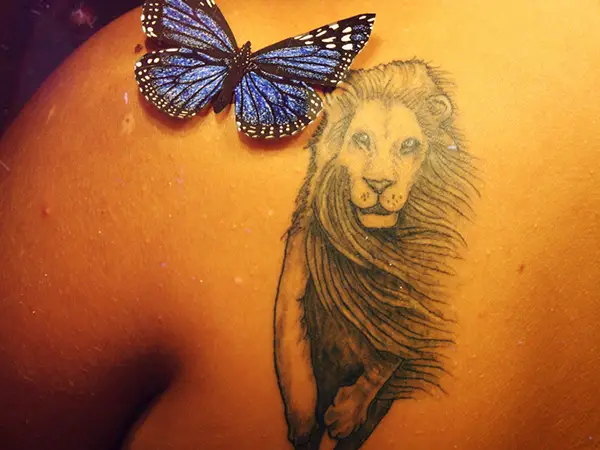 Leo Tattoo Windy
Leo Curves
You can see a distinctive black Leo curve peeking above the waistline of this bold and beautiful Leo woman.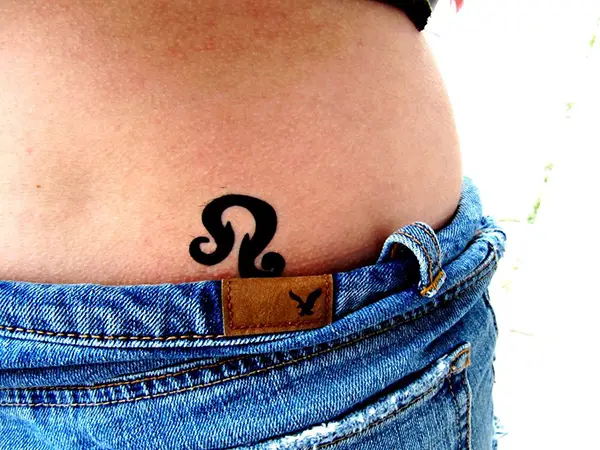 Symmetrical Leo Tattoo
This Leo woman has her star sign inked in a pretty curvy design on her back. Check out the way the arms of the U rise to the same level making for a symmetrical tattoo design.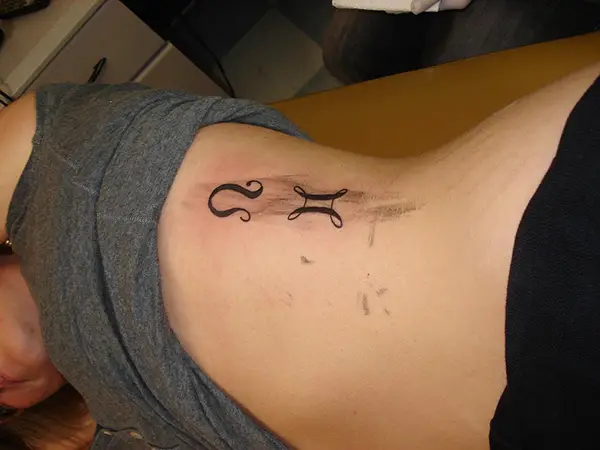 Leo Friendship
This wonderful upper arm tattoo with two star signs and a shining star on top celebrates a friendship for life.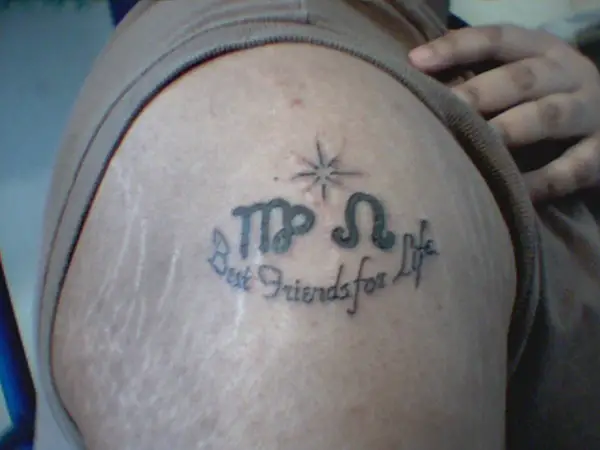 Colorful Leo
This vivid and colorful foot tattoo shows a golden lion with pink flowers and green leaves completing the artistic design.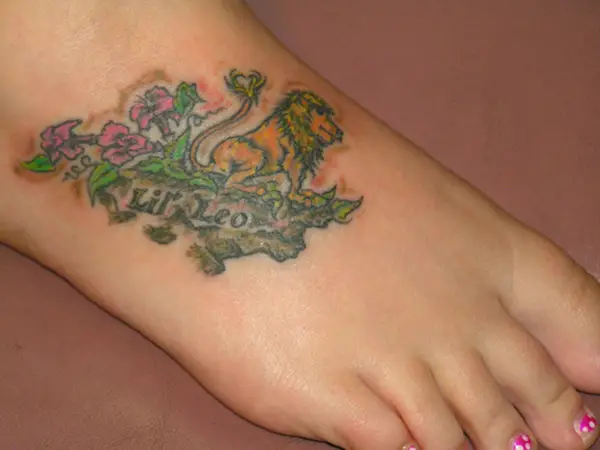 Playful Leo Tattoo
This Leo tattoo inked in a black and white alternating pattern with a cartoon feel like it's moving shows off the playful side of a confident Leo woman.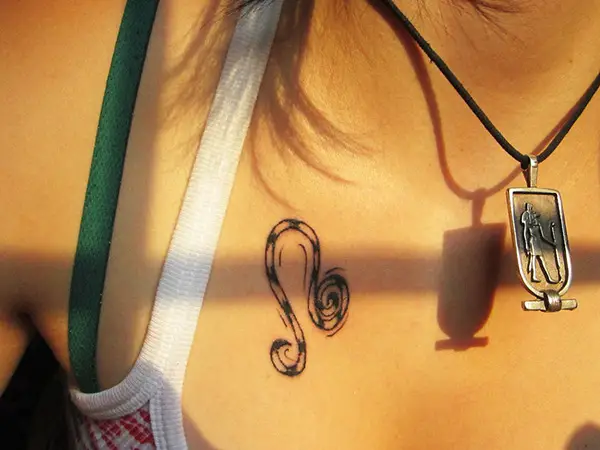 Flowy Leo Tattoo
See the way in which black flowy lines combine to make artistic shapes with loops and curves in the star sign tattoo design.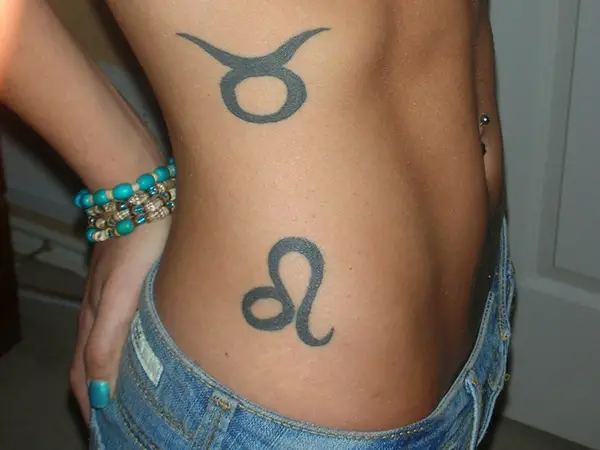 Vertical Leo Tattoo
The curvy lines of the Leo star sign form the center of this vertical three zodiac signs lower leg tattoo design.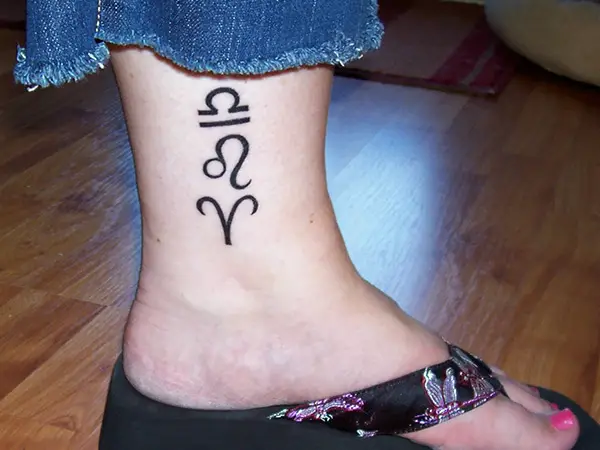 Flower Leo Tattoo
The bright sunflower sits at the center with the flowy lines of the Leo star sign curving around to form an elegant Leo tattoo design.