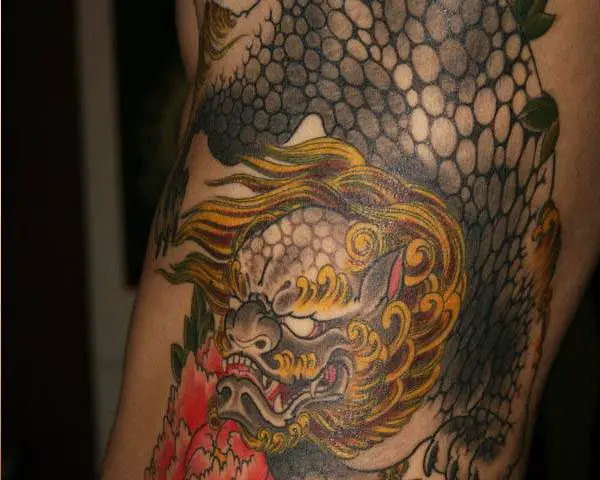 The foo dog is a popular mythical figure in the countries of Japan and China. They can be easily found on the entrances of restaurants, historical tombs, imperial buildings and other places and have become very famous decorative figures throughout the world. You can have statues, wall hangings and even tattoos with the foo dog as the central theme.
The exchange of trade and culture has made the foo dog a very well-known tattoo design in all parts of the world.
People of all nationalities can be seen flaunting the foo dog tattoo in cool designs and colors.
The foo dog, apart from being a decorative piece, is also believed to wield magical and spiritual powers. It is also associated with the basic twin elements of yin and yang that keeps the balance of powers intact on earth. Getting it carved has been believed to yield positive benefits. If you are an admirer of the foo dog and want to get a tattoo on your body, then this post would be helpful. It features an exhibition of 25 foo dog tattoos images in colorful and cool styles. You can pick up some wonderful ideas from here.
Flower Lover
Black foo dog pouncing on a vibrant red flower, carved on the rib.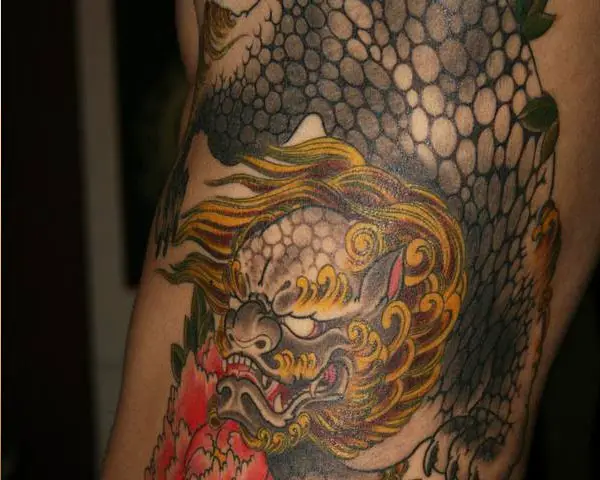 Raging Foo Dog
This black and white foo dog, carved on the calf, is in a ferocious mood and is growling hard.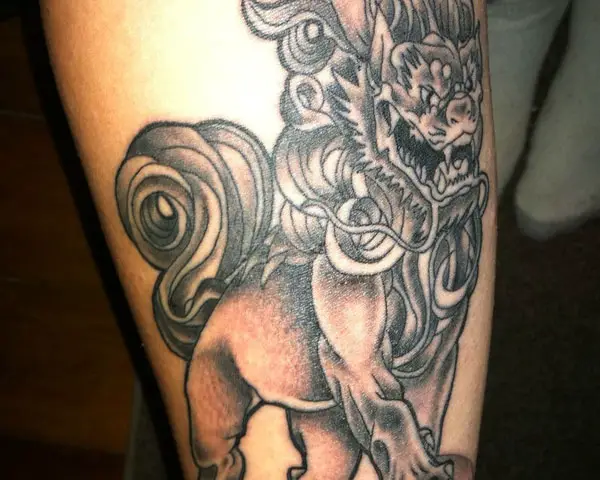 Awe-inspiring
This sleeve tattoo, bearing the foo dog in his majestic form, arouses awe in the hearts of the onlookers.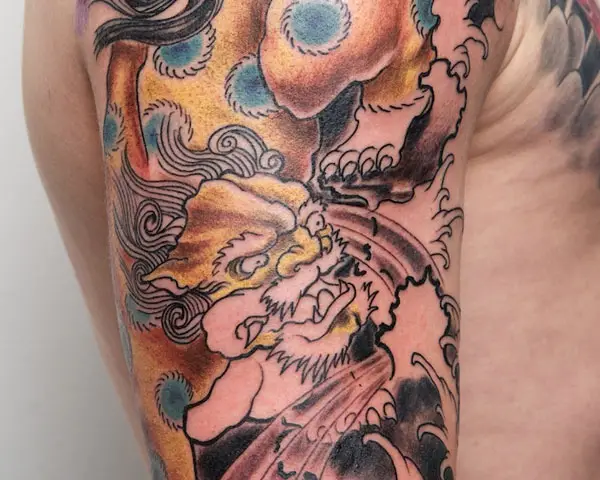 Sleeve Tattoo
Chest Panel Tattoo
Foo dog face visible peeping from the colorful flowers branch is looking very vivid.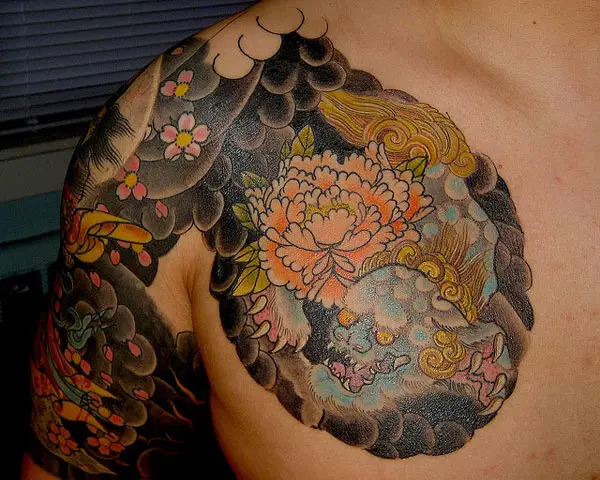 Jubilant Foo Dog
This sky blue color foo dog is in a merry-making mood and this is quite visible from its smiling face.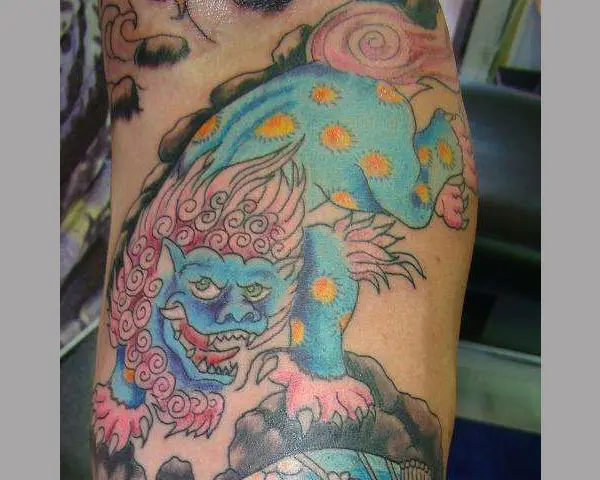 Amazing
Foo dog with green and black mane, sitting on the back side of the palm, has a cunning look on its face.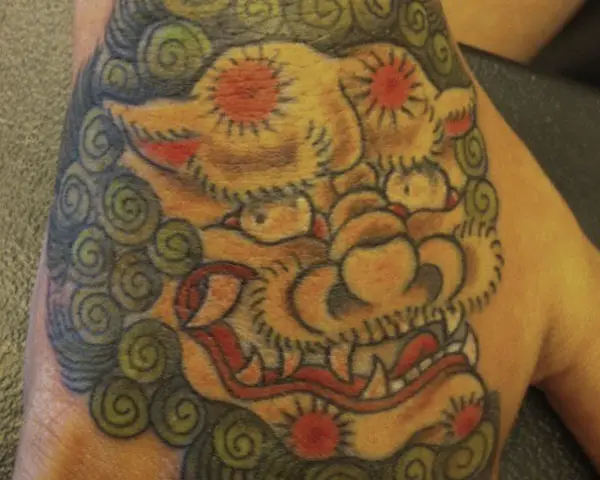 Tattoo In Progress
This chest piece with a purple foo dog and flowers is in progress and will take some more time to get completely colored.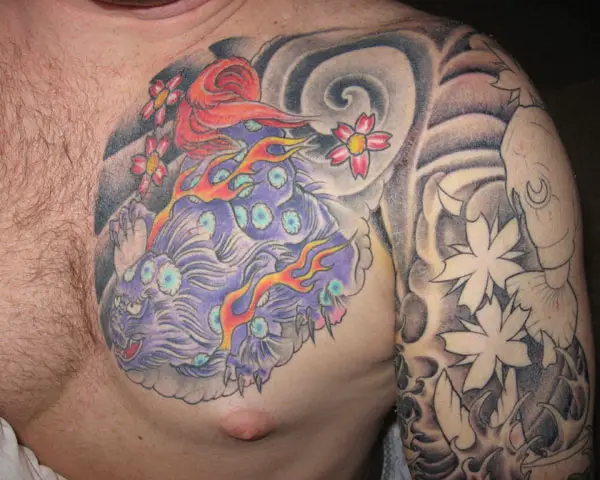 Foo Dog With Flowers
Black and white tattoo piece showing a foo dog with flowers, spread on chest and arms, looks mysterious.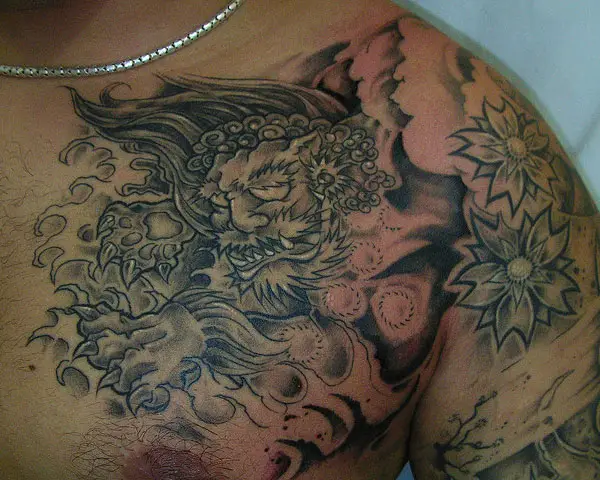 Thigh Tattoo
Twin shades of blue with orange spots adorns this menacing foo dog.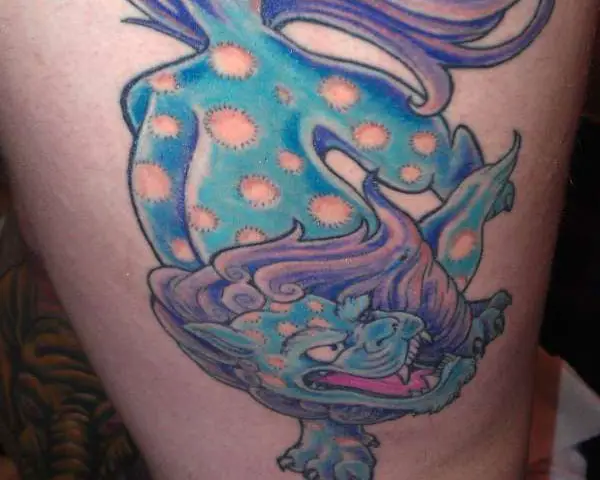 Glorious
This full back colorful tattoo piece showing a foo dog with dragon is looking quite attractive and vibrant.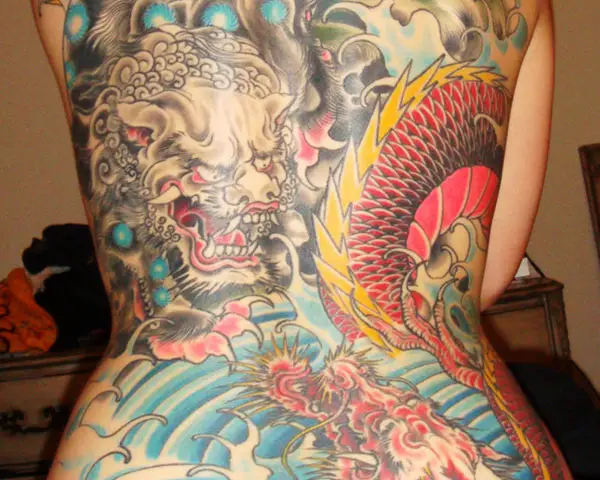 Arm Tattoo
Black and grey foo dog sitting in an authoritative way on the arm looks formidable.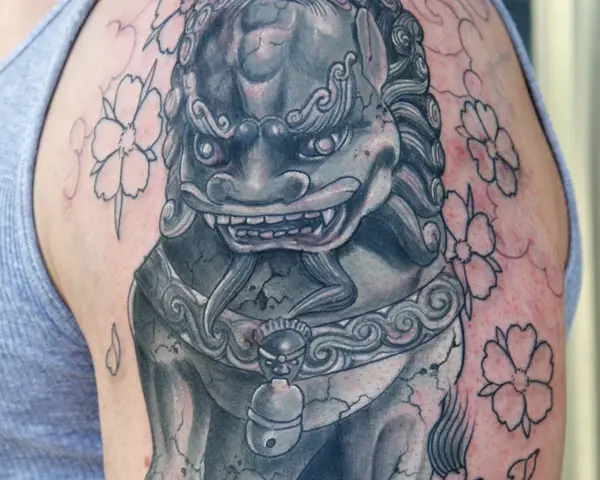 Before And After
Foo dog tattoo initial figure and the colored piece, visible side by side, are looking cool.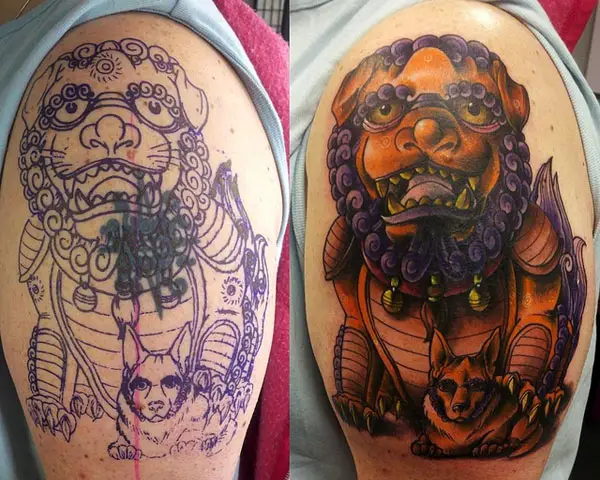 Bright
This foo dog tattoo piece, engraved on the leg, has a vibrant and colorful aura.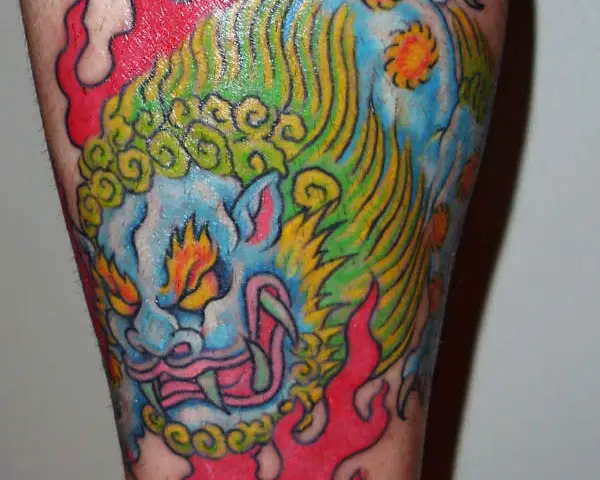 Strength
The foo dog is invested with magical and muscle power and the lethal combination of both makes it invincible.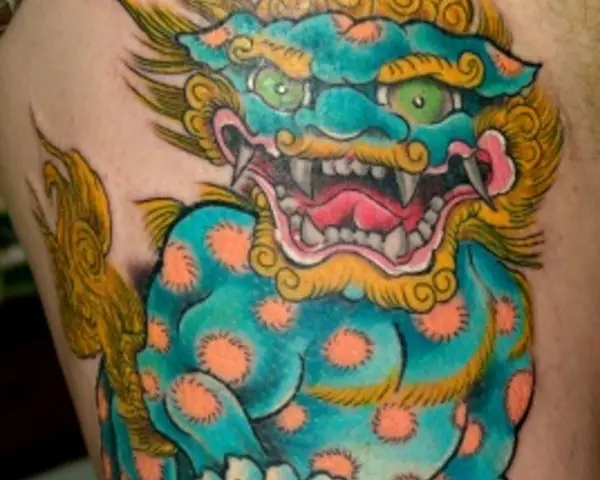 Palm Tattoo
This black and white foo dog, carved on the back side of the palm, has a vicious look on its face.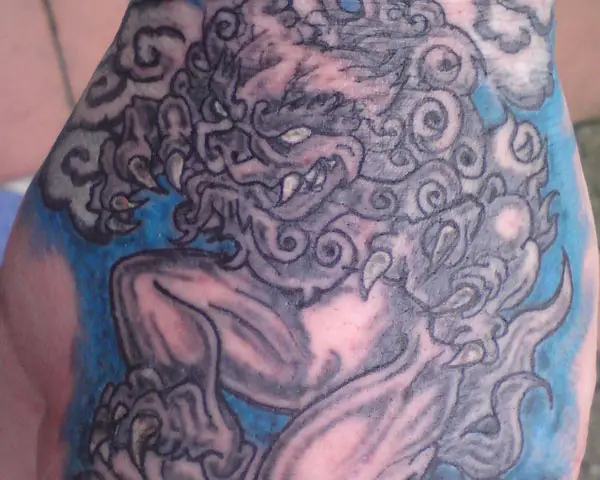 Wonderful
Upper arm tattoo, showing the foo dog holding the globe in its paws, arouses alarm.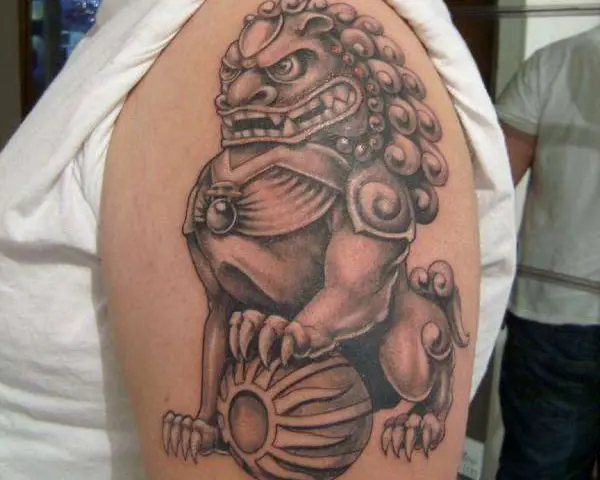 I Am The Owner
Holding a red ball in its paws, the foo dog looks playful and fearsome at the same time.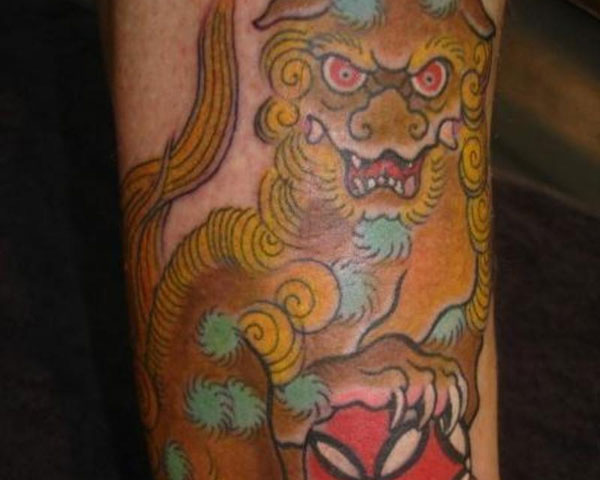 New Tattoo
A mix of black and white and color in this foo dog tattoo piece looks innovative.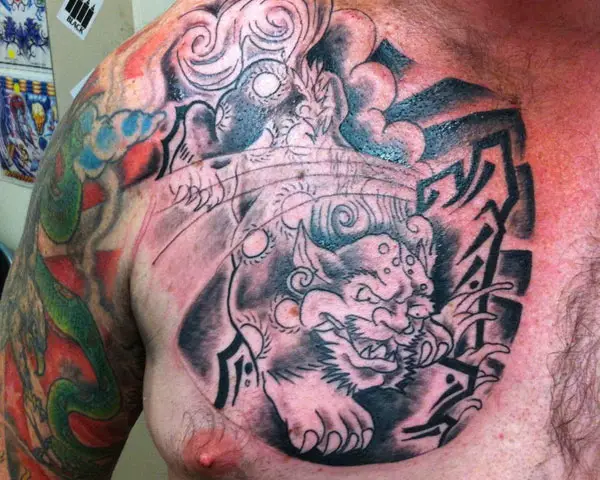 Lively Tattoo
Bright and catchy, this orange foo dog with sky blue spots, on the thigh, is looking blissful.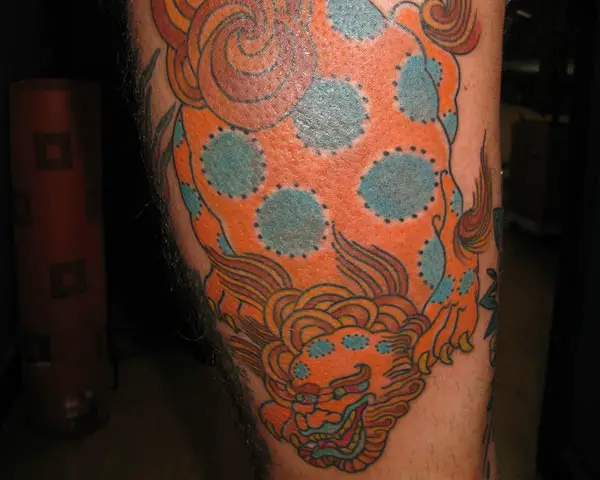 Angry
This foo dog, shouting loud, carved on the foot, has a simple and elegant look.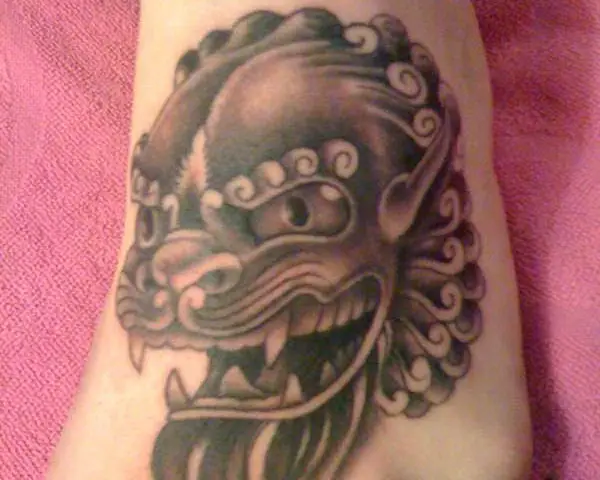 Radiant Piece
This red foo dog, crawling on the chest, has a queer attraction and is looking cute.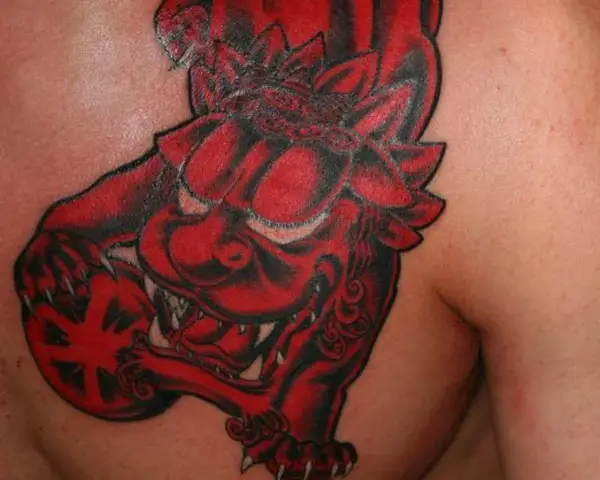 Outcry
Yelling at its highest voice, the foo dog is challenging its rival to get even with him.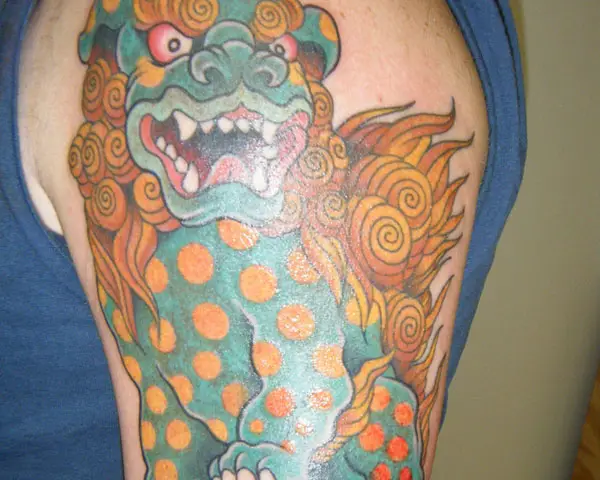 Merciless
The foo dog, on the arm, is looking murderous and does not seem to be in a mood to relent.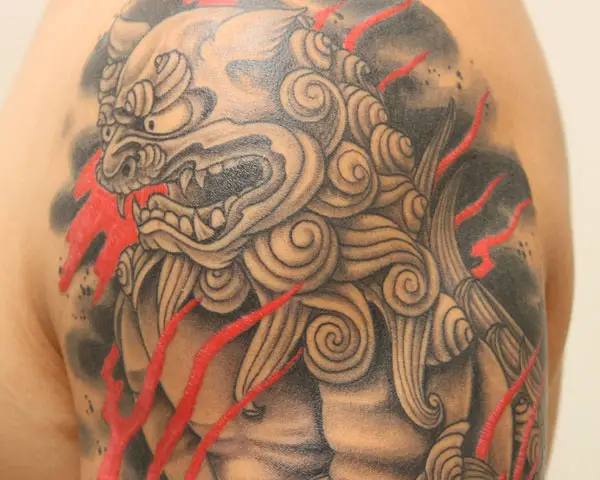 At Rest
Sitting inside a lotus flower, the foo dog presents a cool look.