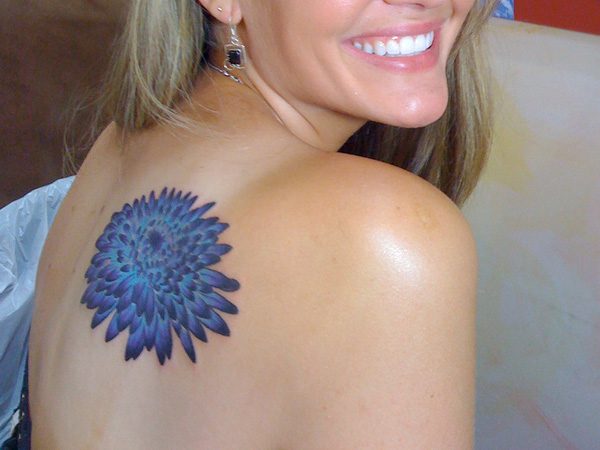 The chrysanthemum flower signifies joy, optimism and hope. Being a flower with such positivity, it has naturally become a favorite motif in tattoo art.
Therefore, a chrysanthemum tattoo is found in a variety of colors and styles from simple to exotic.
The plentiful petals in bright shades and the equally bright centers make this a very popular flower in tattoo art. There are small depictions that look very intricate and attractive. The larger tattoos bring out the real worth of the flower as an art form. Some of these are in subdued colors, but usually the chrysanthemum is designed with its full regalia of colors and shapes.
Whether a chrysanthemum is closed like a bud or open in full bloom, it looks really attractive. It comes in different colors and each one has its own individual beauty. Being a flower that implies positive emotions like hope, optimism and joy, it is used widely in most art forms. A chrysanthemum tattoo looks very stylish. With its vibrant colors and shading it is a surefire attention grabber. Each tattoo in this collection is worth copying. The fine lines and choice of colors make them an irresistible art form that would attract even the most conservative person.
If you like this article, you might be interested in some of our other articles on Black Rose Tattoos, Cherry Blossom Tree Tattoos, Palm Tree Tattoos and Simple Tattoos For Girls.
Brightness has Uses
This bright blue chrysanthemum tattoo looks superlative. It could cover an old faded tattoo very well.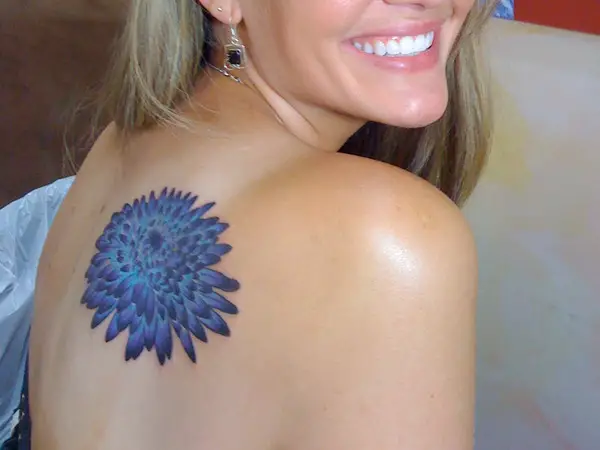 Flames of Mum
The red petals of this chrysanthemum tattoo seem to rise up in flames making it very life-like.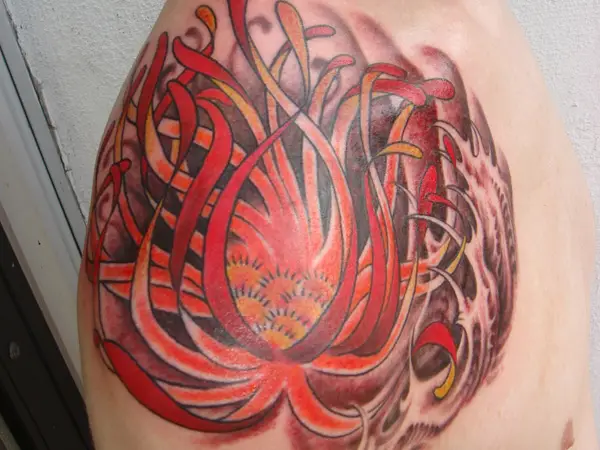 Chrysanthemum and Filigree
This is a very unusual chrysanthemum tattoo. The lacy look of the petals makes it a classy piece of art.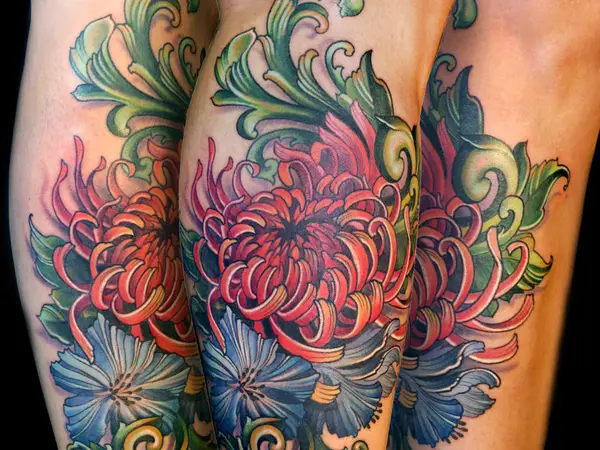 Intricate Display
This is very intricate tattoo art. The chrysanthemum tattoo has been designed in one color yet looks fantastic.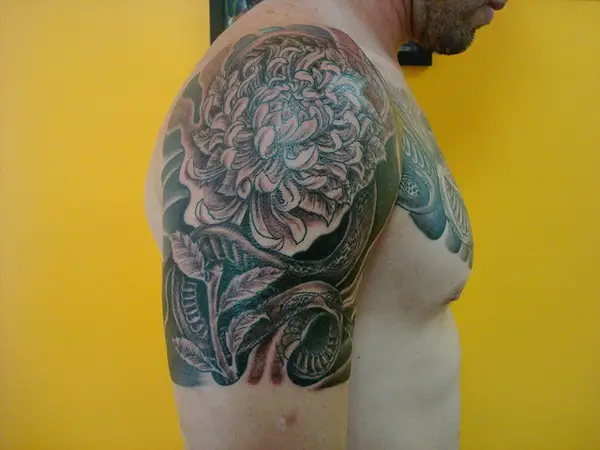 Full Glory
This chrysanthemum tattoo shows the full glory of the flower in blue and green creating a cool effect.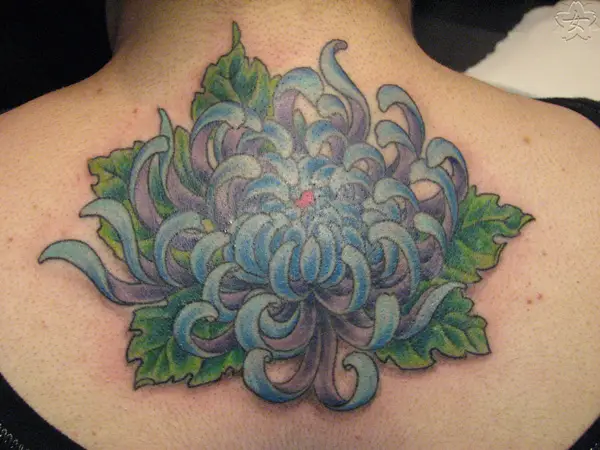 Open to Nature
This is a great chrysanthemum tattoo with the flower in full bloom welcoming the forces of nature.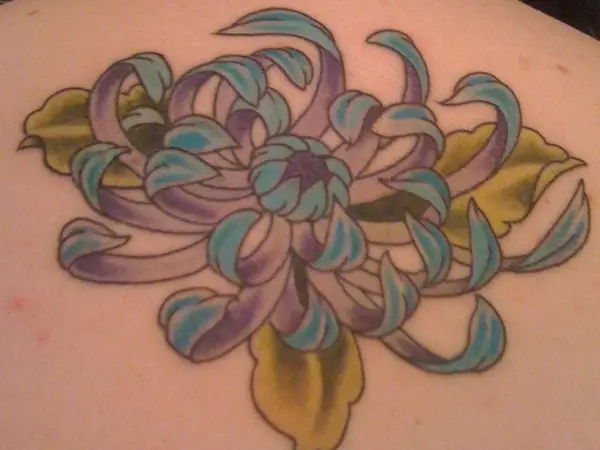 Vibrant Chrysanthemum
As chrysanthemum tattoos go, this one is a class act with it vibrant purple shade and artistic design.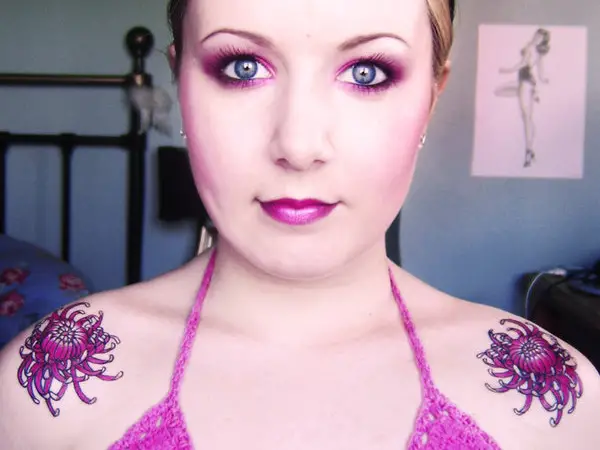 Multi Colored Tattoo
This is a truly colorful chrysanthemum tattoo. It has been designed beautifully to create a 3D effect.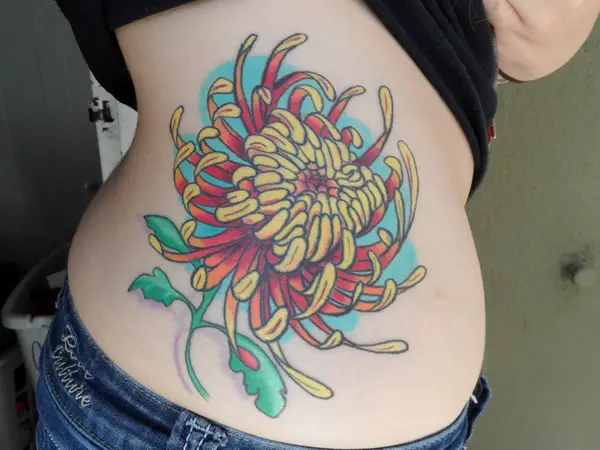 Multi Colored Tattoo
The Pretender
A skull pretending to be a chrysanthemum is a very unusual tattoo indeed! As tattoo art it is a trend setter.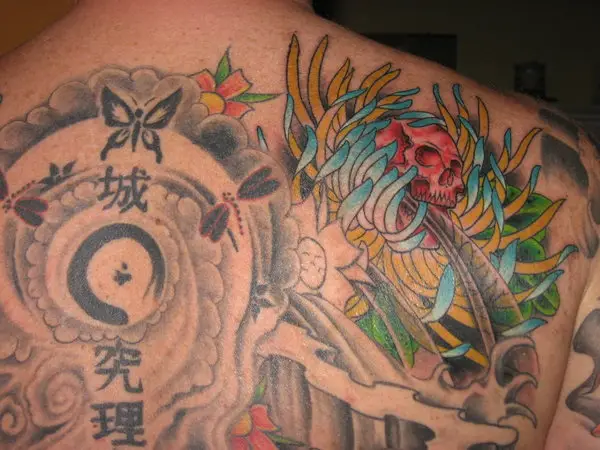 An Intricate Fresco
This back tattoo with the red and white chrysanthemums looks bright and beautiful, especially with the butterfly.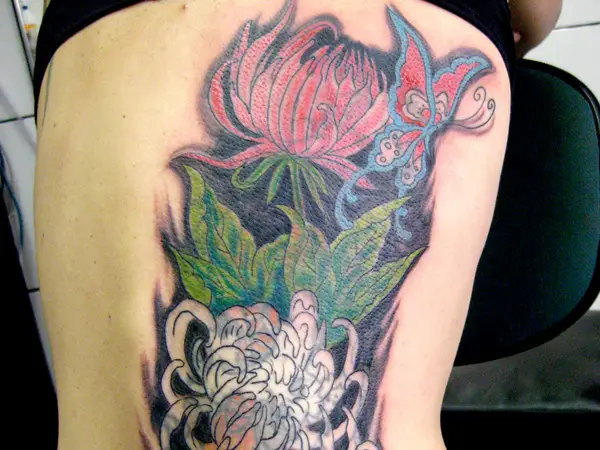 Blazing Chrysanthemum
The blazing red and shaded brown of this chrysanthemum tattoo is very classy and worth imitating.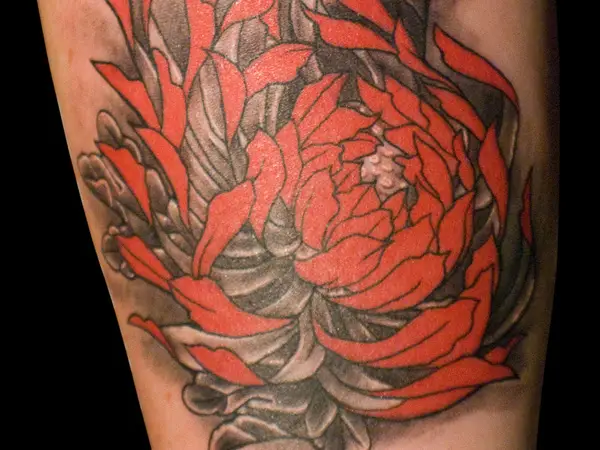 Dragon and Chrysanthemum
The dragon entwined in the chrysanthemum makes this a very non conventional and colorful tattoo.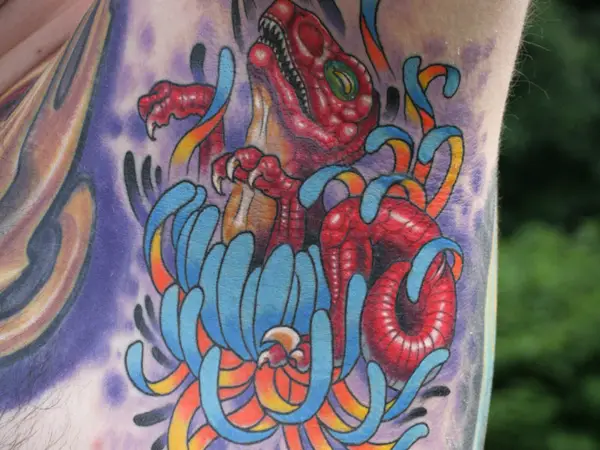 Colored Splashes
The bright red, orange and green shades have made this chrysanthemum tattoo very bright and attention grabbing.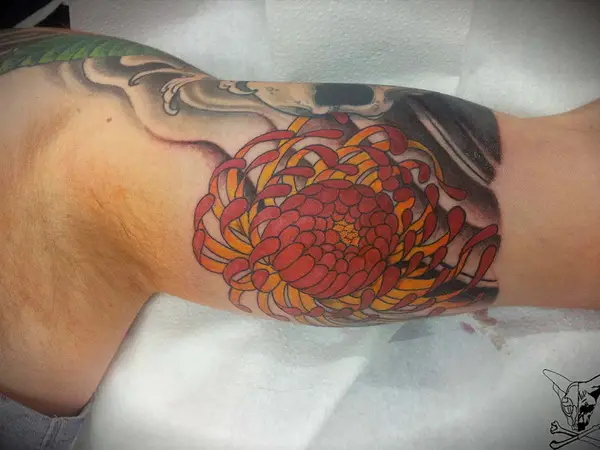 Colored Splashes
Subdued Style
This chrysanthemum tattoo has subdued colors but its size and artistic design makes it very prominent.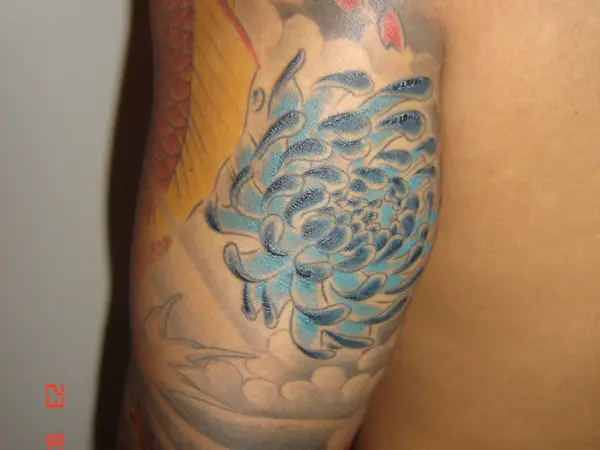 Shaded Chrysanthemum
The shading of this chrysanthemum tattoo makes it a class apart that the subdued color cannot hide.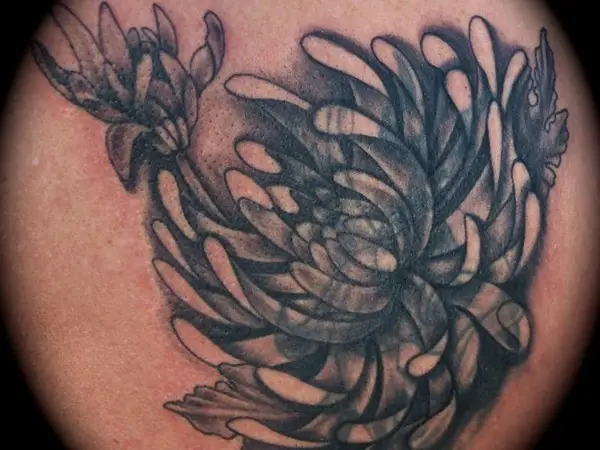 Armed Chrysanthemum
A pistol designed along with a chrysanthemum tattoo is a novel idea and it looks great too.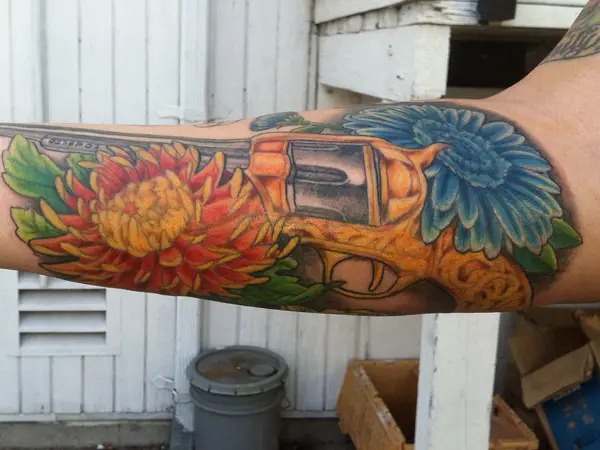 Ferocious Chrysanthemum
A red flower and a dark tiger are an unusual combo for a chrysanthemum tattoo. But this looks very artistic.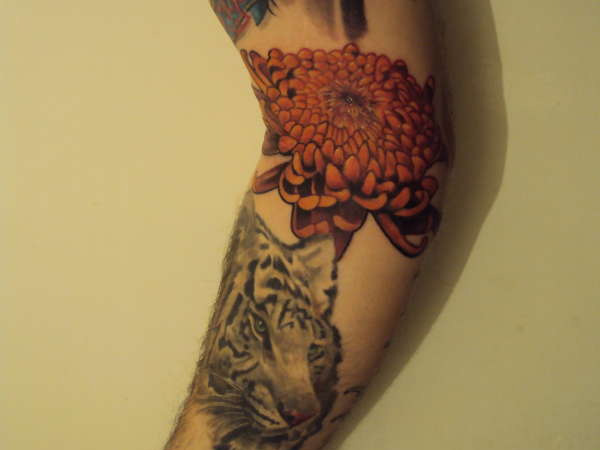 Red Glory
These chrysanthemum tattoos with bright red flowers are classy attention grabbers.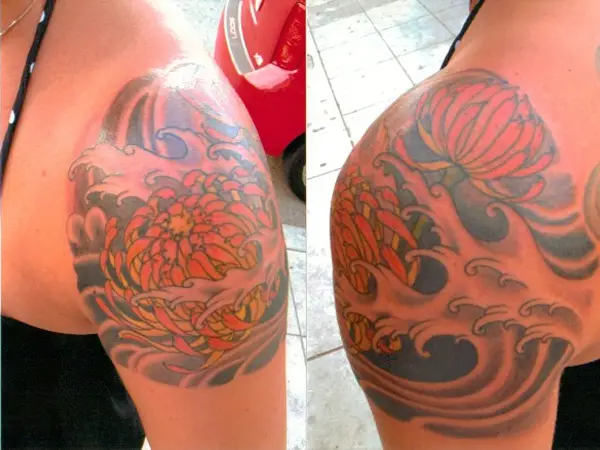 Dragonian Chrysanthemum
The motif of the Chinese dragon and the chrysanthemum form an exotic display in this tattoo.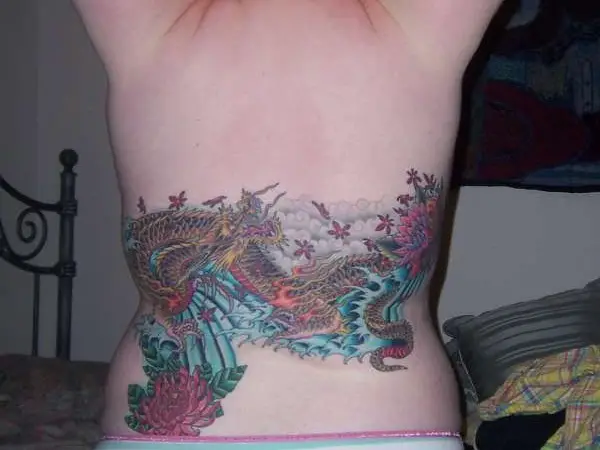 Is Any Color Missing?
This is obviously a splash and show chrysanthemum tattoo. It has been designed superbly with bright colors.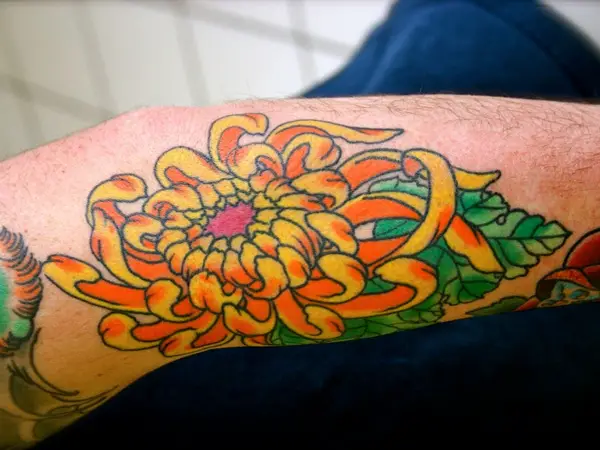 Unusual Mum
The grayish purple shade of this chrysanthemum tattoo makes it a stylish piece of art.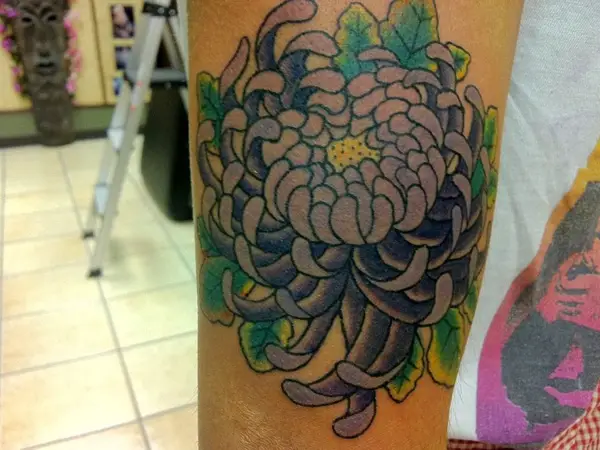 Unusual Mum
Intricately Woven
This chrysanthemum tattoo in bright yellow and green has been intricately designed and looks class.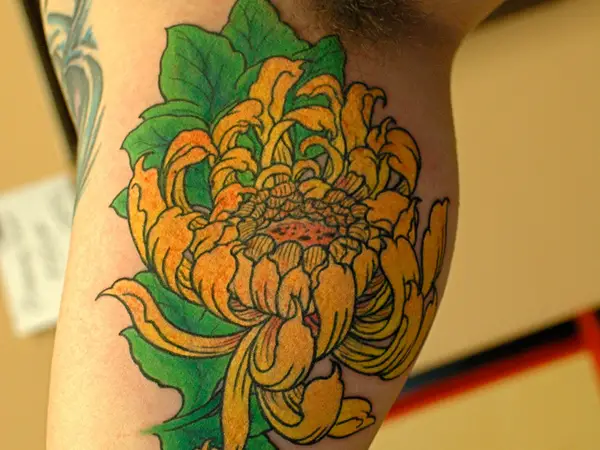 Every Line Lovely
Every line and color of this chrysanthemum tattoo has been designed with superlative art.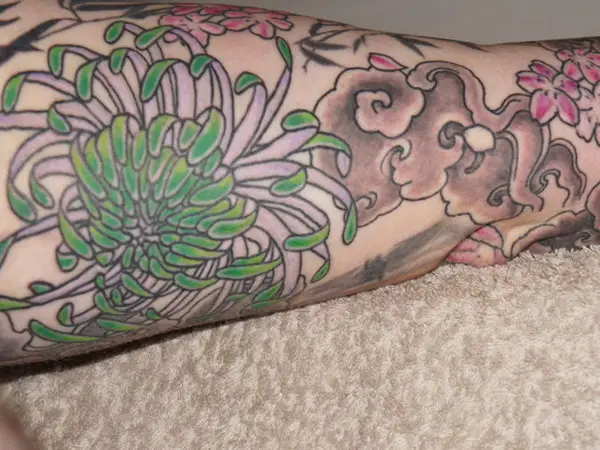 Purple Royal
This chrysanthemum tattoo looks very classy with its royal purple petals and bright green leaves.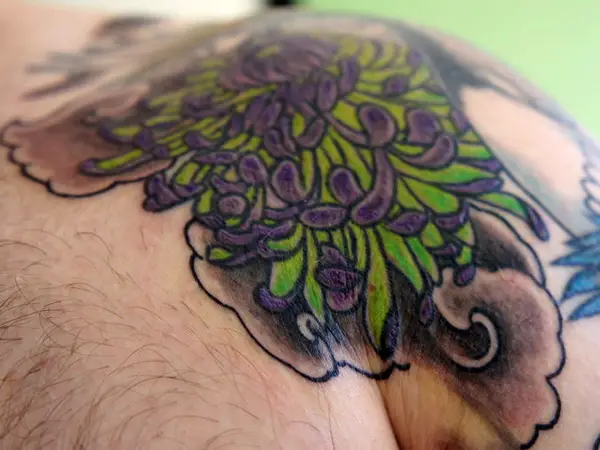 Great Mum
This colorful chrysanthemum tattoo looks almost real with its fine artistic lines and fantastic shading.