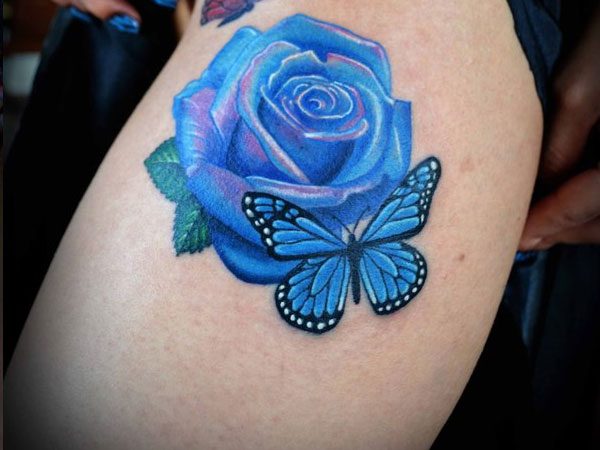 You really have plenty of choices when it comes to the king of all flowers the rose. The colour of a rose decides its meaning.
The rose that stands apart in meaning is the blue rose. You could choose from a range of blue rose tattoos for yourself.
This rose is not available in nature but a white rose may be dyed to achieve the desired color. It represents accomplishing an impossible deed or treading on an unknown path. Since it is an artificial rose, it also symbolizes a manipulative behavior or a complex personality. Whatever the reason, why not wear a blue rose?
If you are looking for a rose tattoo, why not go for the unusual blue? Wear this tattoo of a blue rose as a single bud, garland or bouquet. It can be in full bloom, with or without thorns. This artificial colored rose, made with blue dye, represents the imaginative or the wishful thinking world. A blue rose could also mean fighting against all odds to attain the impossible and walking on an unknown path. On the other hand, a blue rose also represents a manipulative and a conniving person and a complex personality. Decide what your blue rose tattoo would like to say.
If you like this article, you might be interested in some of our other articles on Tattoo Quotes, Tattoo Art, No Lies Just Love Tattoos and Tribal Rose Tattoos.
Butterfly Blue
Team this blue rose with a butterfly to make it look as natural as possible.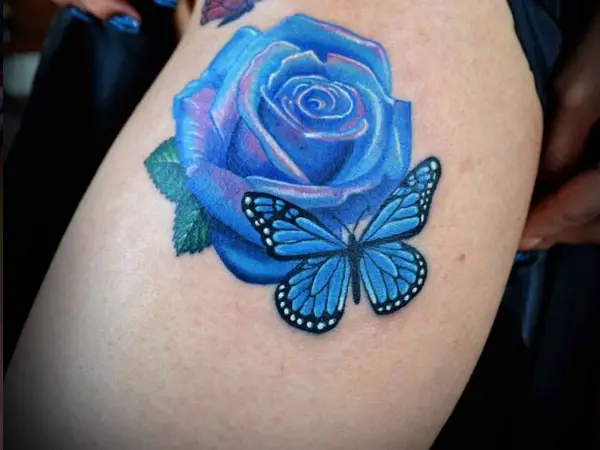 The Sting
Get this interesting tattoo of a blue rose with a bee; which has a story to tell.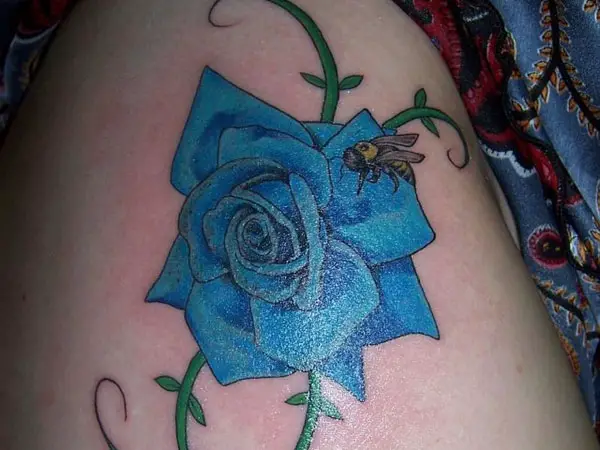 A Wing
Highlight your go getting spirit with a blue rose and a wing on your shoulder-blade.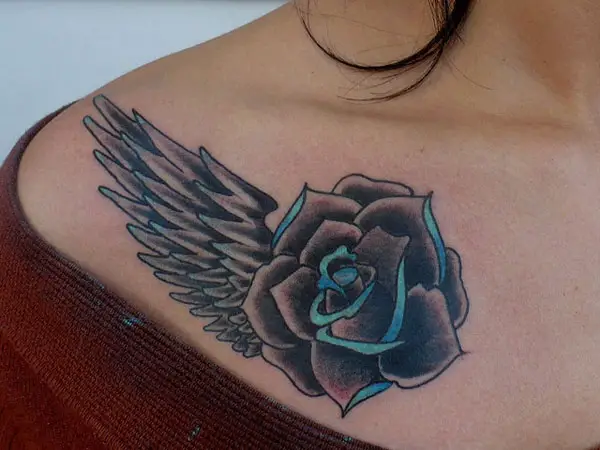 Love Interest
Exhibit your feelings for your beloved with this elegant blue rose tattoo and the inscription.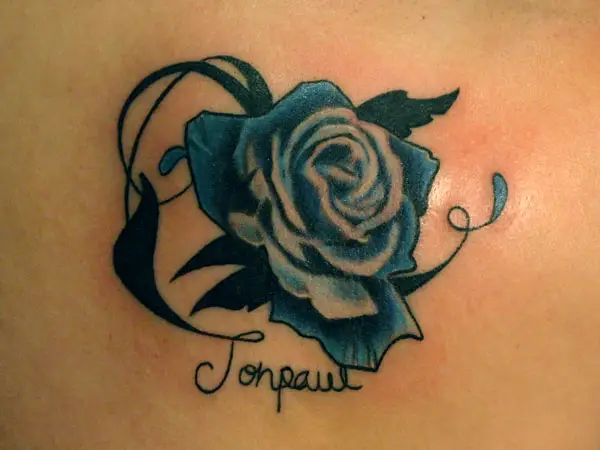 Bold Blue
Go and get this turquoise blue rose tattoo, representing your achievements, engraved on your shoulder.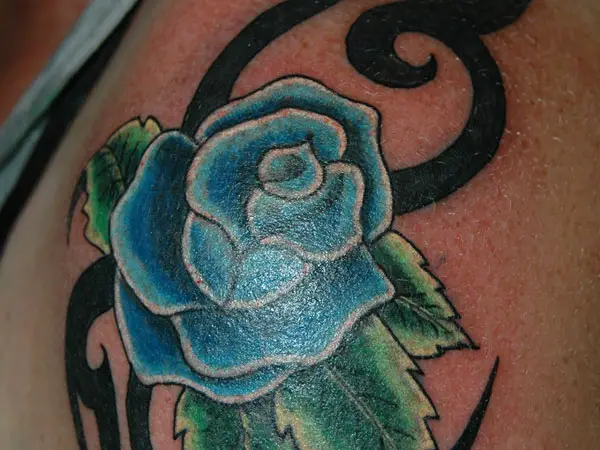 Beauty among Flowers
Show you are different; get this tattoo of a blue rose standing out against the background.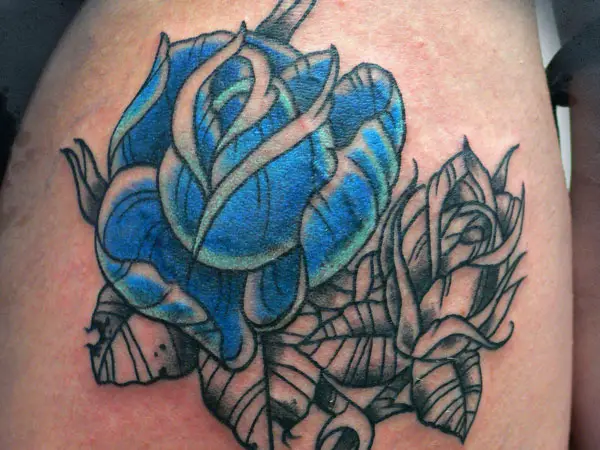 Beautiful Blue
Get this tattoo on your shoulder with an inscription of encouraging words to keep you on your path.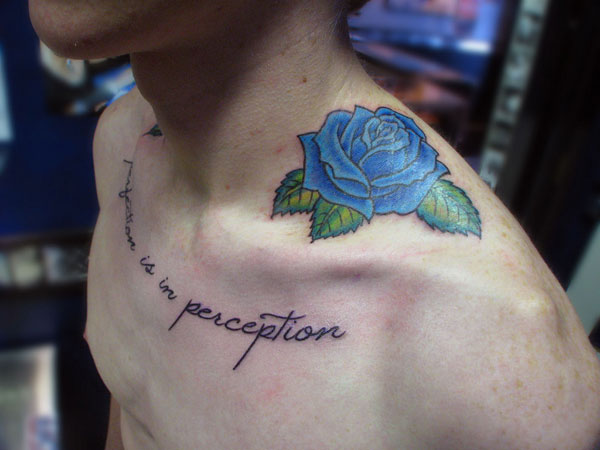 Shades of Blue
Display your never say die attitude on your sleeve with this unusual blue rose.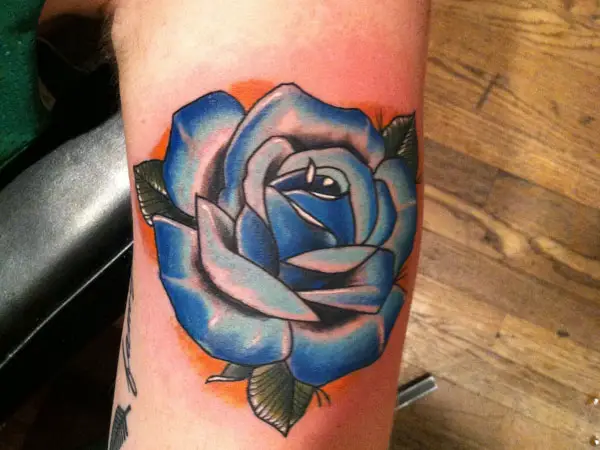 Warm Heart
Reach for the unattainable and wear this symbol of a rose as a lucky charm.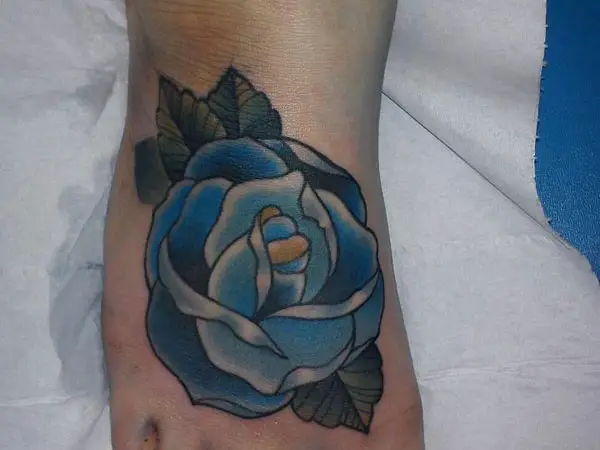 Complexity
Flaunt a blue rose tattoo on your foot to display your imaginative streak and fighting spirit.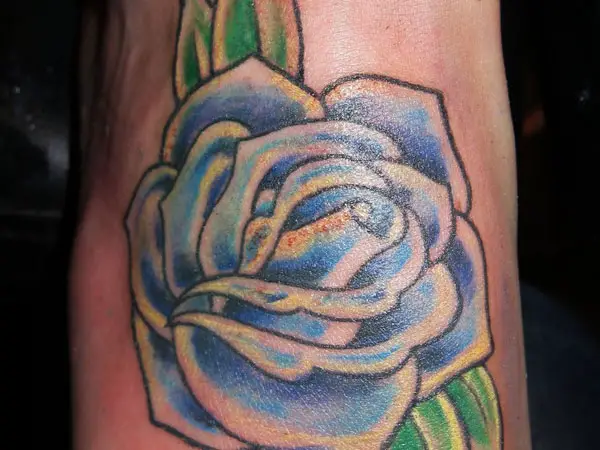 Blue Bud
As you move on an unknown difficult path, let this bud be your guide and inspiration.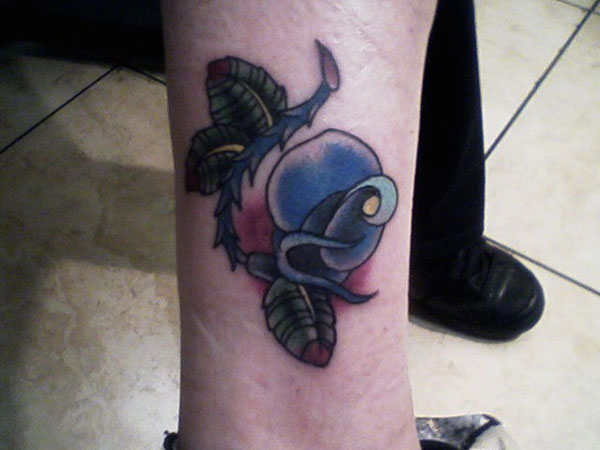 Thorny Path
Set against black thorns, this rose is a reminder of the challenges that life brings with it.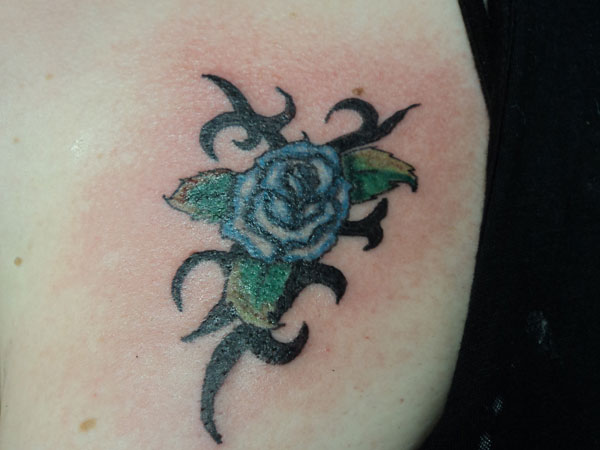 In Love
Set a blue rose and a pink one in a heart along with a date that is special for you and your loved one.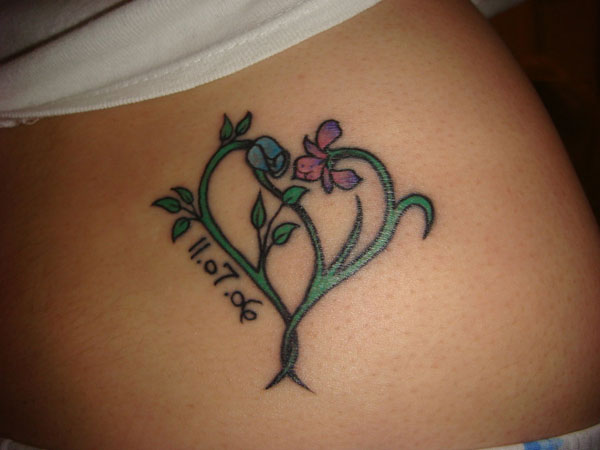 In Remembrance
Engrave this blue rose with an inscription to remind you of a special person.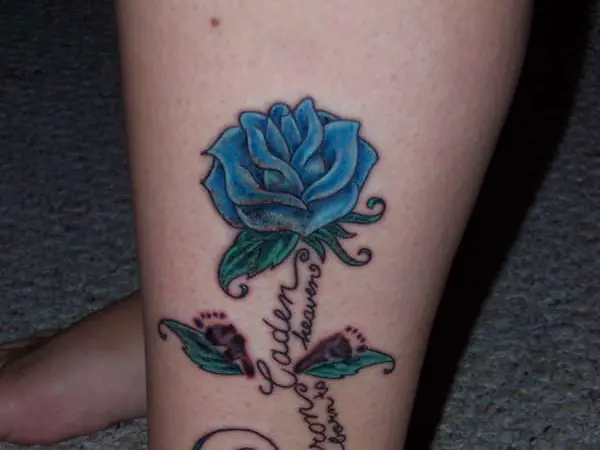 Perfection
Wear this tattoo as a symbol of all your dreams that you want to achieve.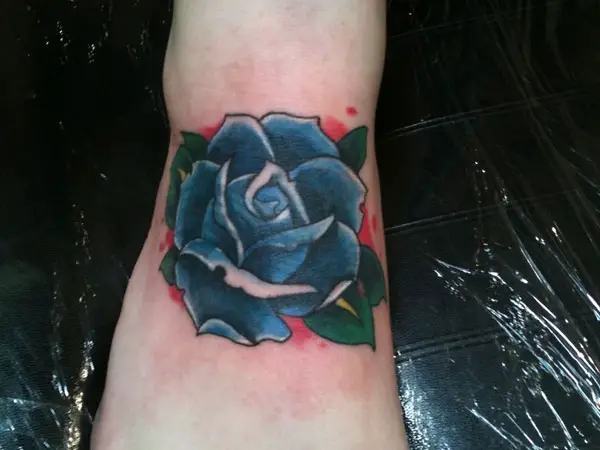 Thorny Affair
This rose is paired with a barbed wire to remind us of all the challenges that life offers.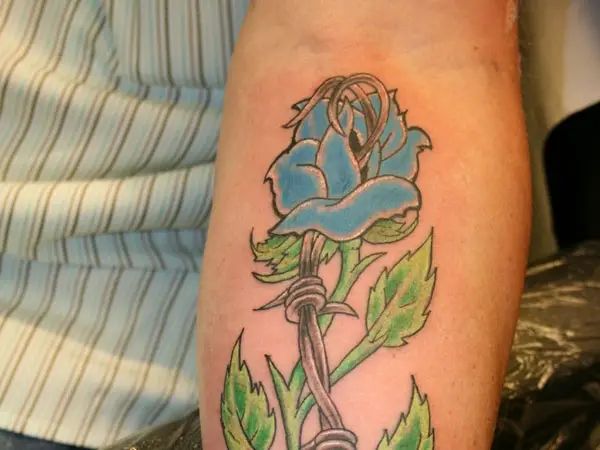 Fighting Spirit
Wear a rose tattoo on your wrist which is a symbol that encourages us to carry on in spite of our problems.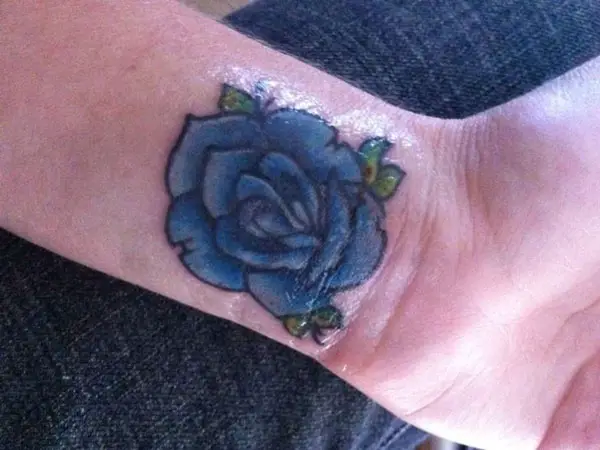 Secret
Wear this blue rose tattoo on your thigh as a symbol of love, beauty and passion.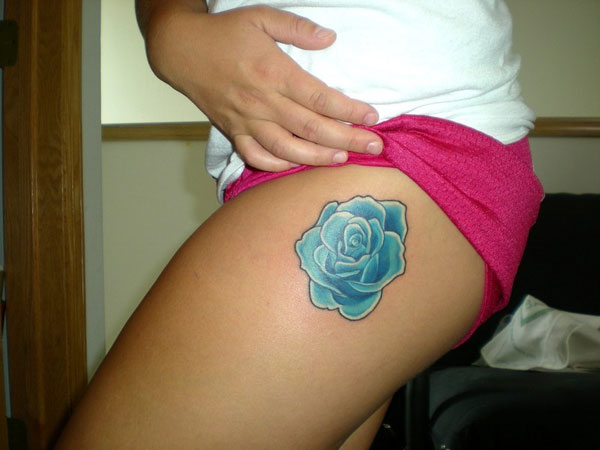 In Full bloom
Show off this blue flower on your arm as a reverence to the holy flower.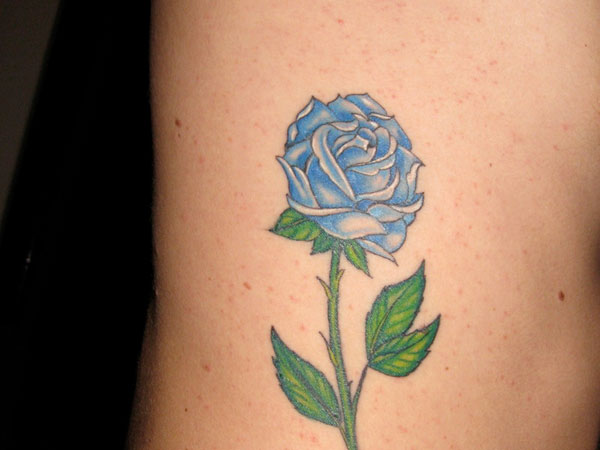 A Beginning
Let this rose tattoo be a good luck charm as you start on a new journey.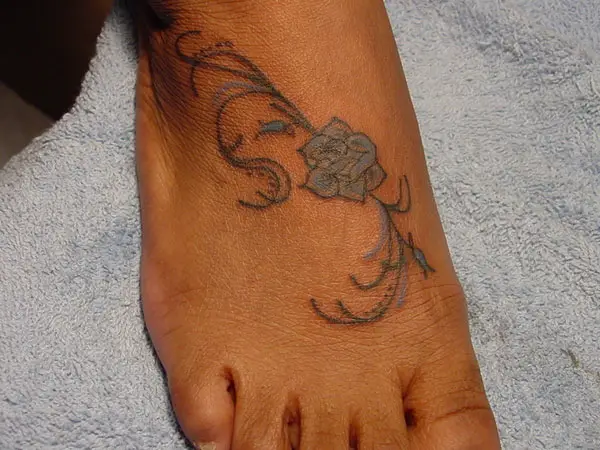 Inspiration
Always be inspired to reach for the unattainable with this attractive rose tattoo on your arm.