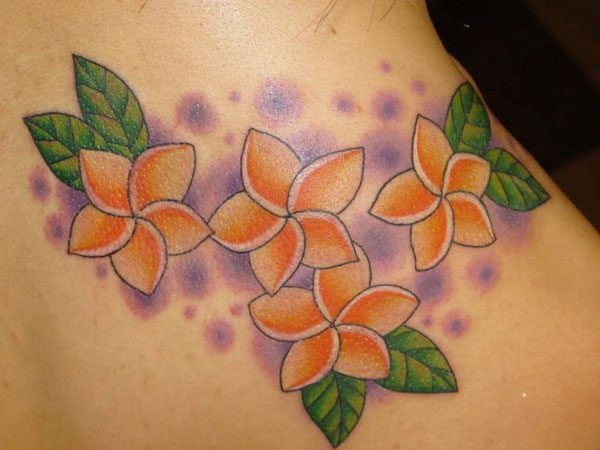 Plumeria is a group of flowering plants, well-loved for colorful and vivid blooms. The pretty hues and patterns of the five petal flowers inspire many tattoo designs. The petals come in a wide range of colors and shades, making plumeria tattoos quite popular. Colorful flowers inked around the lower foot, make for a pretty permanent anklet design. A pair of flowers with names, expresses romantic love. The upper thigh is a great location for sensuous tattoo designs featuring five petal flowers and butterflies.
The flowers in their perfect finish and rainbow hues, reflect the beauty of Nature. Every petal is shaped with a rounded edge, giving the flowers a soft and sensuous look. This radiant beauty of the flowers comes out in tattoo art. Many tattoos feature a single flower and two leaves, or a combination of three differently colored flowers. The five petal flower also beautifully combines with tribal designs.
A plumeria tattoo can be framed with tribal design curves to create a sexy lower back tattoo for women.
Many people also go for plumeria tattoos in a monochromatic finish. Deep tones are used to give a three dimensional look to the floral tattoos. Take a look at these tattoo ideas.
Dreamy Plumeria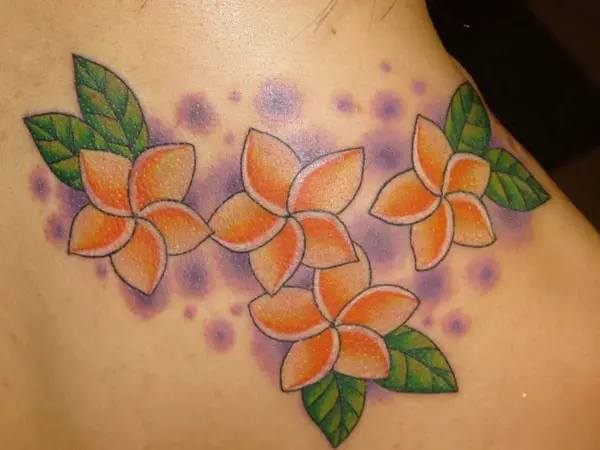 The orange five petal flowers are featured on a backdrop of blurry violet dots.
Patterns Plumeria Tattoo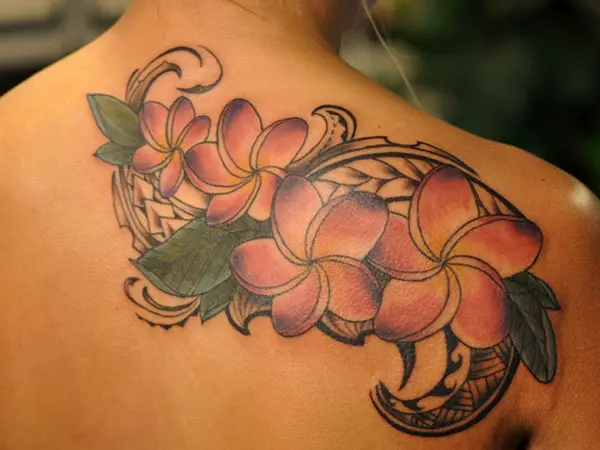 Intricate curvy patterns look dynamic in this pink flowers tattoo design.
Plumeria Motif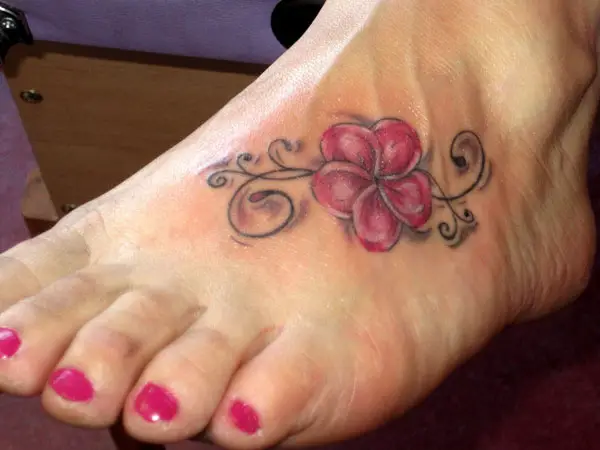 The pretty magenta bloom is framed by intricate curvy motifs, in this foot tattoo for women.
Plumeria Resting Butterfly Tattoo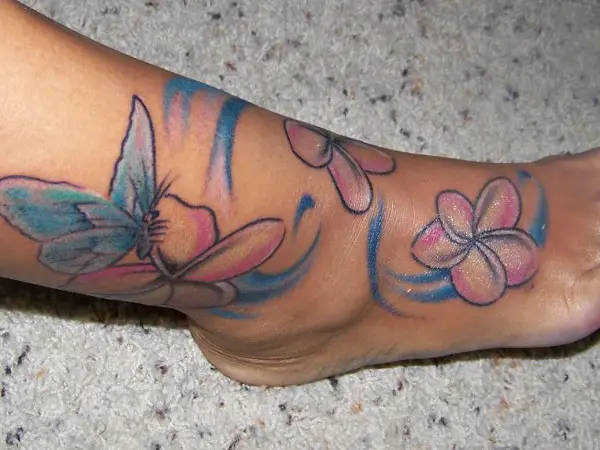 The blue butterfly comes to rest on one of the shaded pink blooms, in this foot tattoo.
Plumeria Resting Butterfly Tattoo
Plumeria Design Tribal Turtle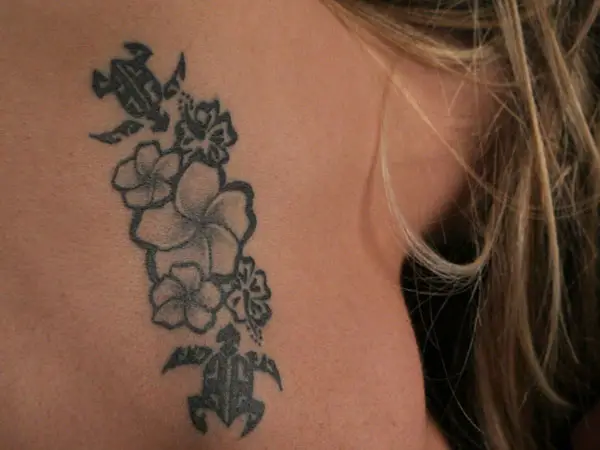 The cluster of flowers is framed on either side by a tribal design turtle.
Plumeria Shades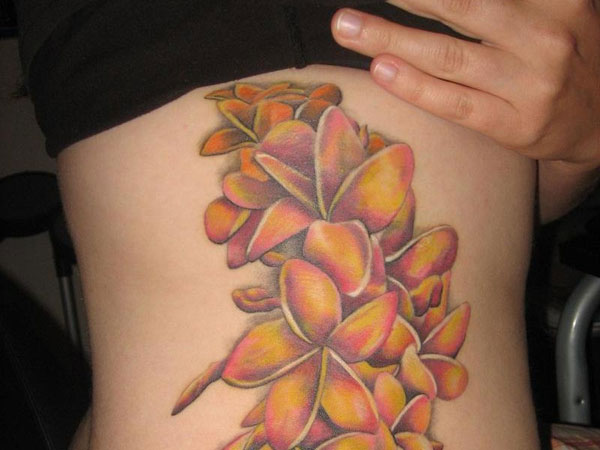 Golden and pink hues have been used to shade this cluster of pretty flowers.
Vibrant Tat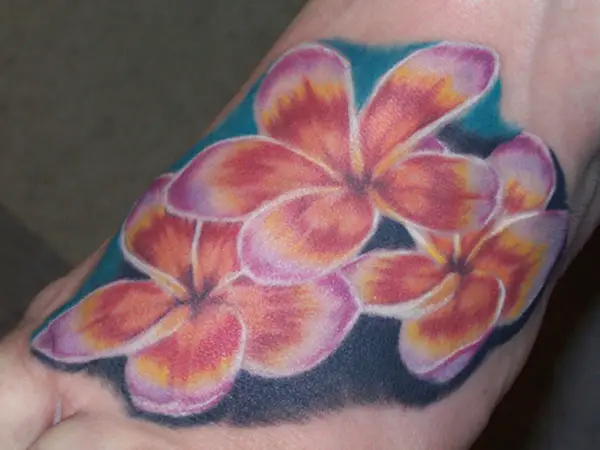 Rich shades of maroon, golden, pink, and blue look stunning in this floral tattoo.
Vines Plumeria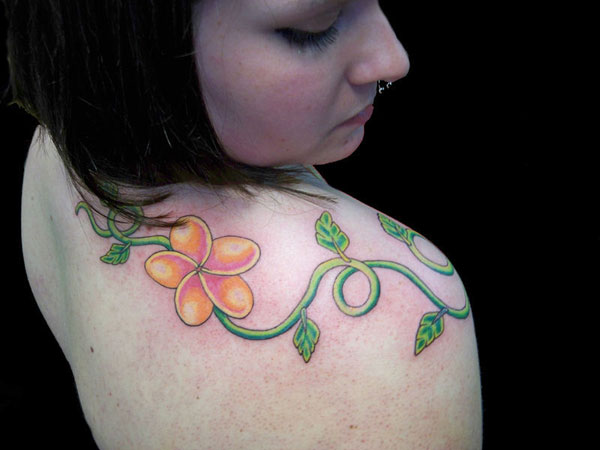 Serpentine green vines run across the upper back, in this floral tattoo.
Plumeria Frame Tattoo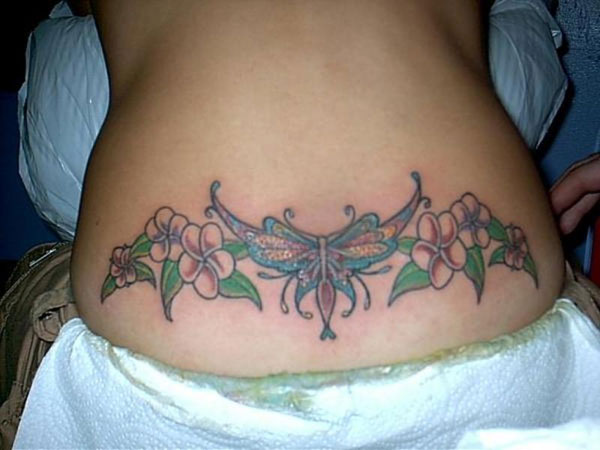 Flowers frame the central butterfly, in this symmetrical tattoo.
Fresh Love Plumeria Tattoo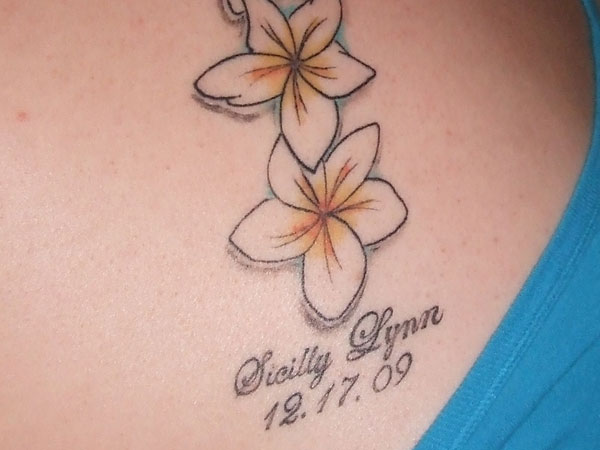 A pair of elegant white blooms with golden hearts makes up this simple tattoo design.
Pink Blue Tattoo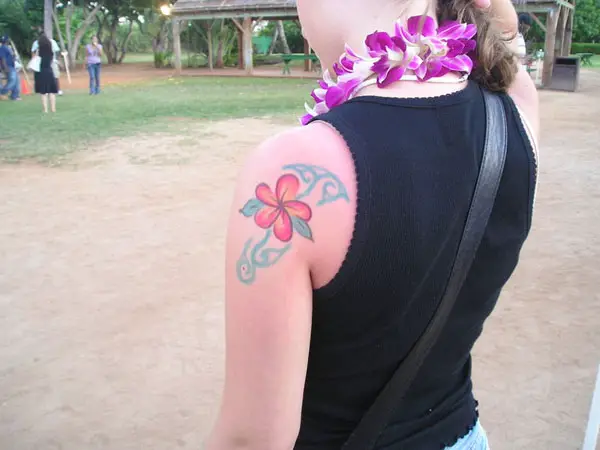 Pink and blue make a charming contrast in this single flower tattoo.
Flowering Plumeria Bough Tattoo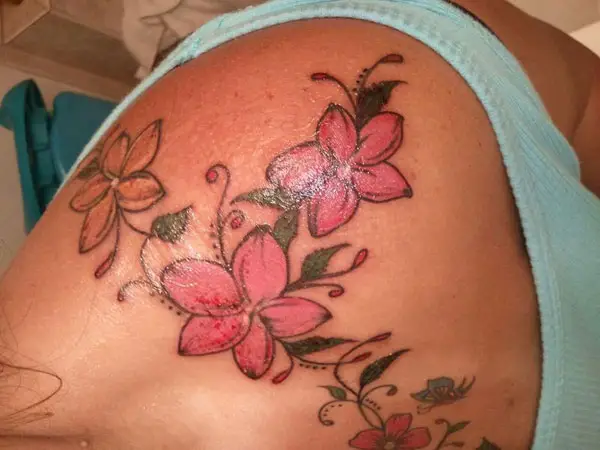 A small blue butterfly hovers near the flowery bough, in this upper thigh tattoo.
Flowering Plumeria Bough Tattoo
Windy Plumeria Tattoo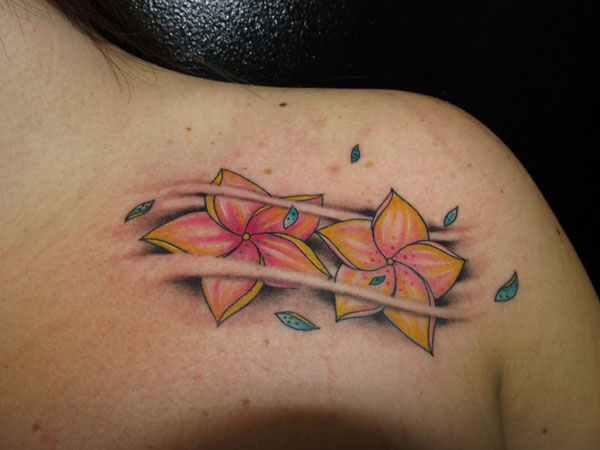 Elegant lines sweep through the colorful two flowers shoulder tattoo.
Clusters Plumeria Tattoo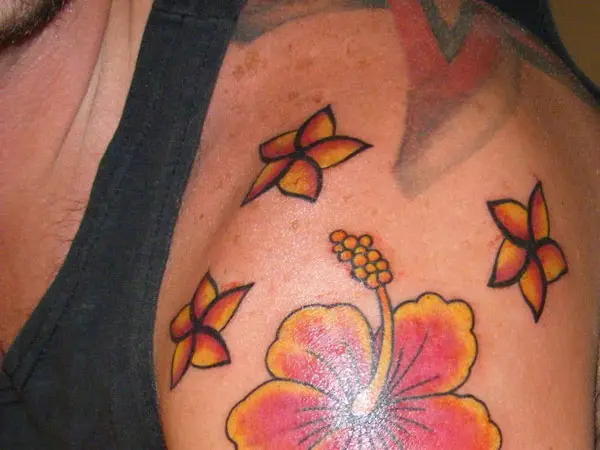 A large hibiscus is surrounded by small five petal flowers, in this red and gold tattoo.
Bright Plumeria Tattoo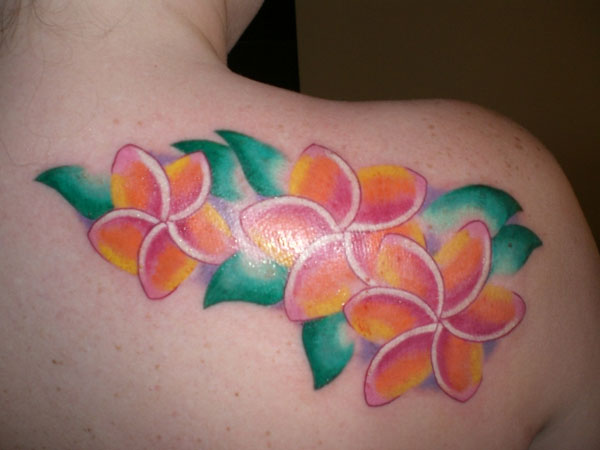 The orange, golden and green hues look sensuous in this upper back tattoo.
Waves Life Tattoo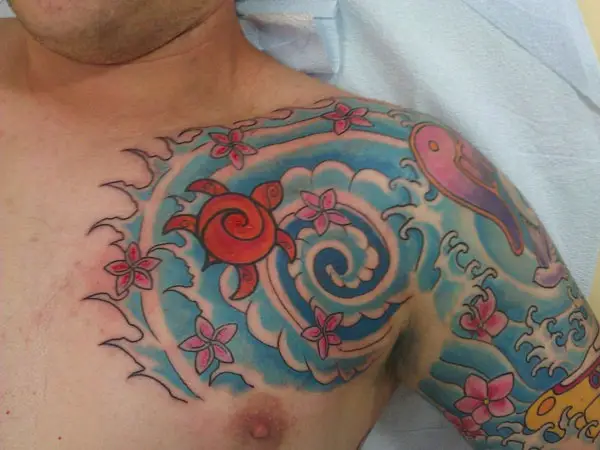 Marine creatures and five petal flowers create the spiraling waves.
Deep Floral Hues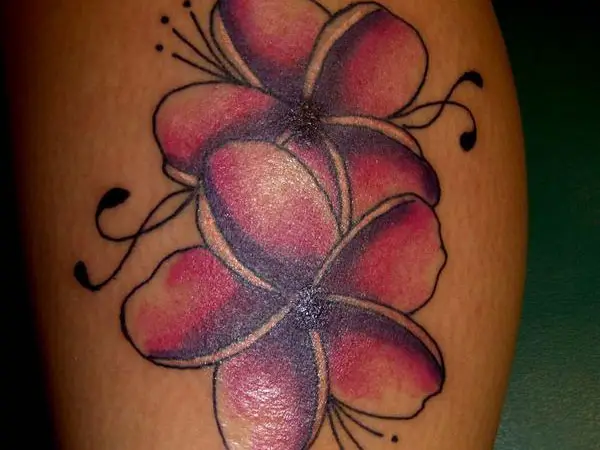 The purple shading gives a different dimension to the pink two flowers tattoo.
Bright Golden Heart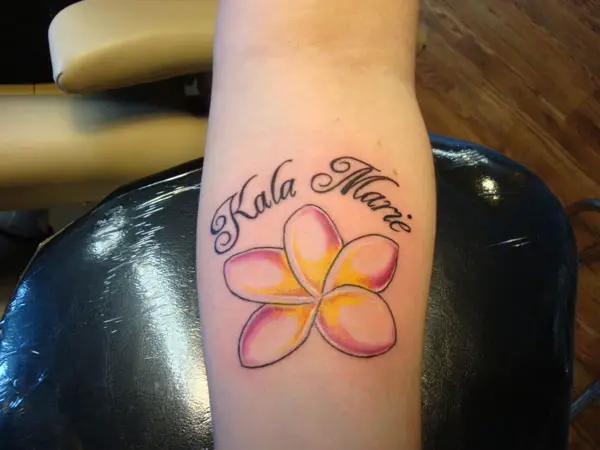 The golden shading at the center gives a bright look to this single flower tattoo.
Bright Golden Heart
Plumeria Dynamic Design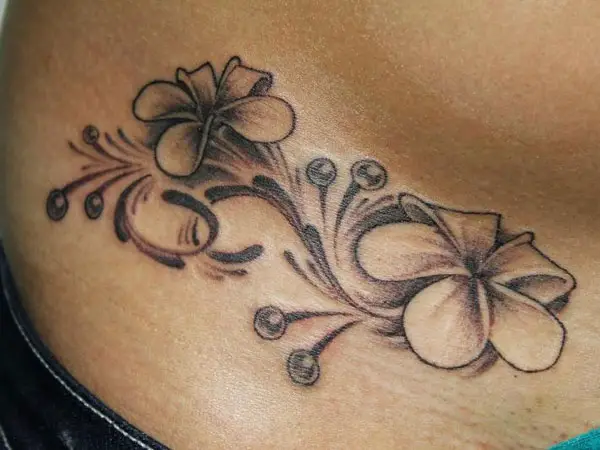 A curvy design dances through the realistically inked flowers. A dynamic floral tattoo.
Plumeria Sacred Turtle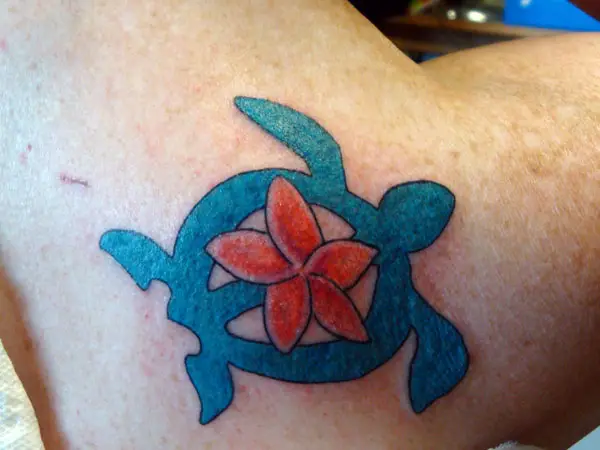 A red five-petal flower sits at the center of the bright blue turtle design.
Plumeria Sacred Turtle
Plumeria Anklet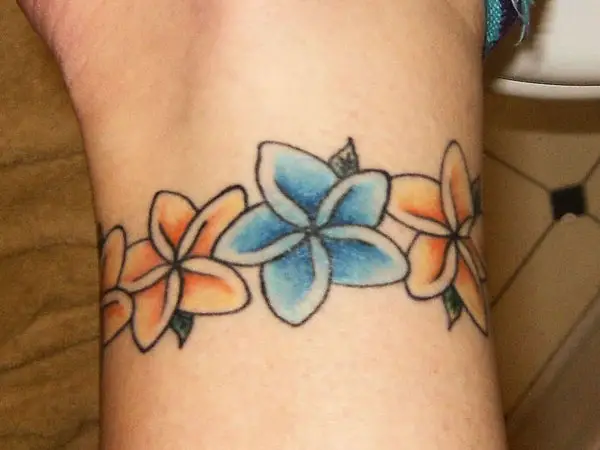 The blue flower looks lovely among the pale golden blooms, in this anklet tattoo design.
Floral Back Design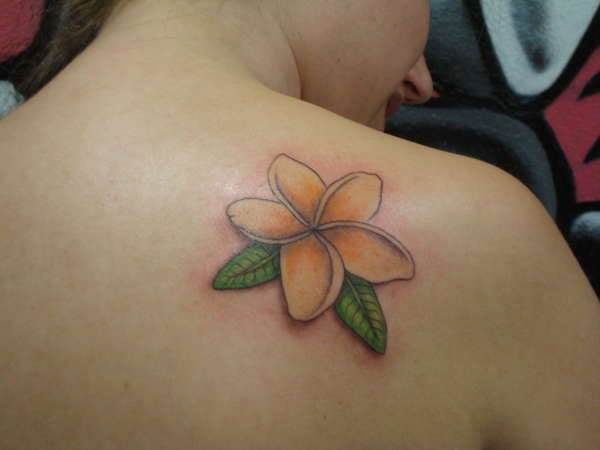 A softly shaded flower with two green leaves makes up this upper back tattoo.
Three Flowers Design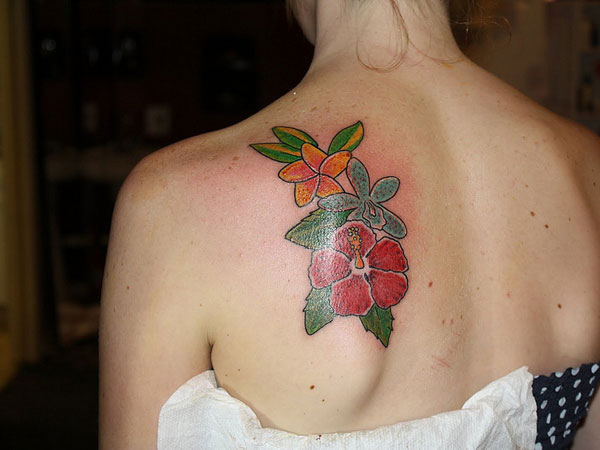 Three brightly shaded blooms make up this vertical design back tattoo.
Sexy Plumeria Design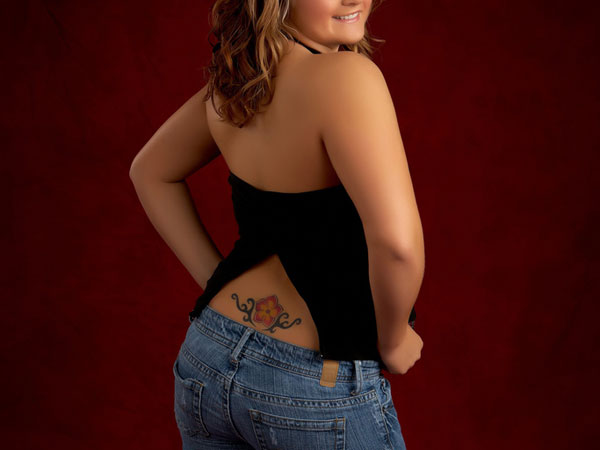 Elegant tribal patterns frame the flower, in this stylish lower back tattoo design.
Love Plumeria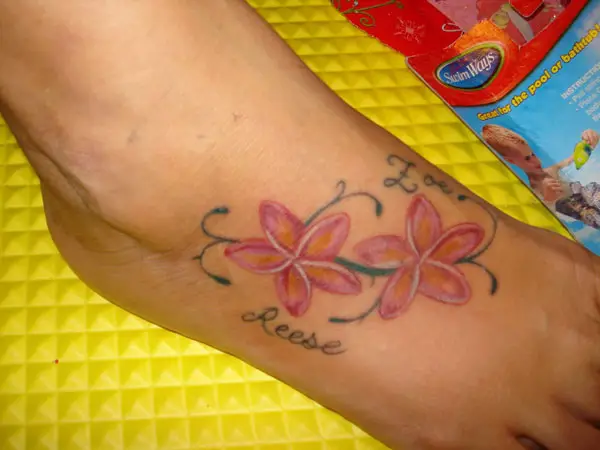 Two pink flowers with names make up this romantic foot tattoo design.
Rich Plumeria Colors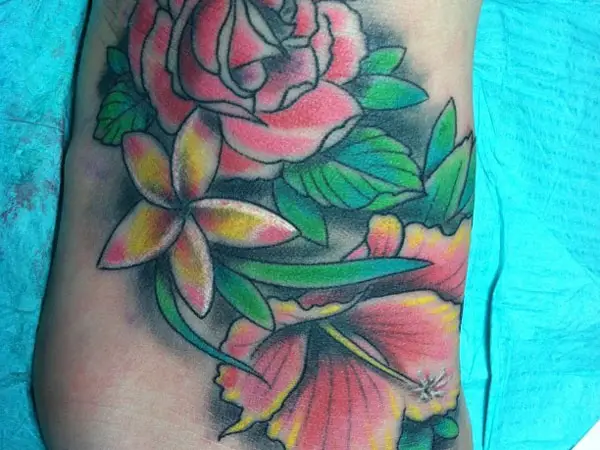 The pink and golden petals contrast with the green leaves, in this rich floral tattoo.
If you like this article, you might be interested in some of our other articles on  Tattoo Sleeve Ideas,  Bad Ass Tattoos,  Steampunk Tattoo  and  Dreamcatcher Tattoo Designs.